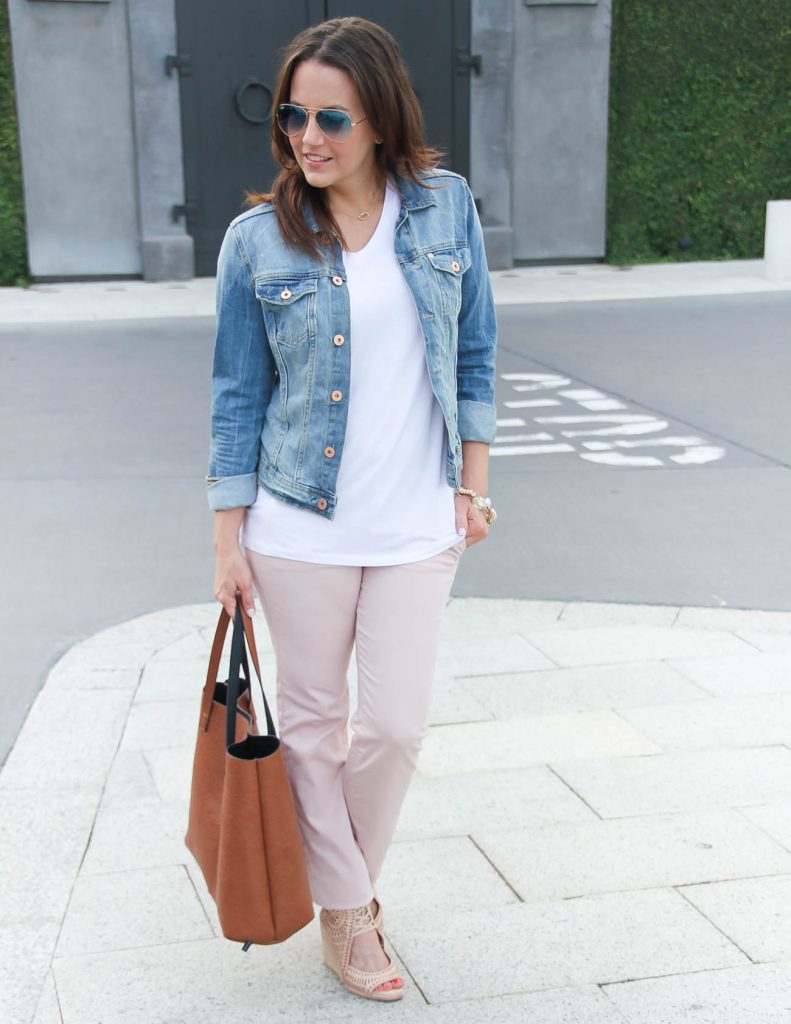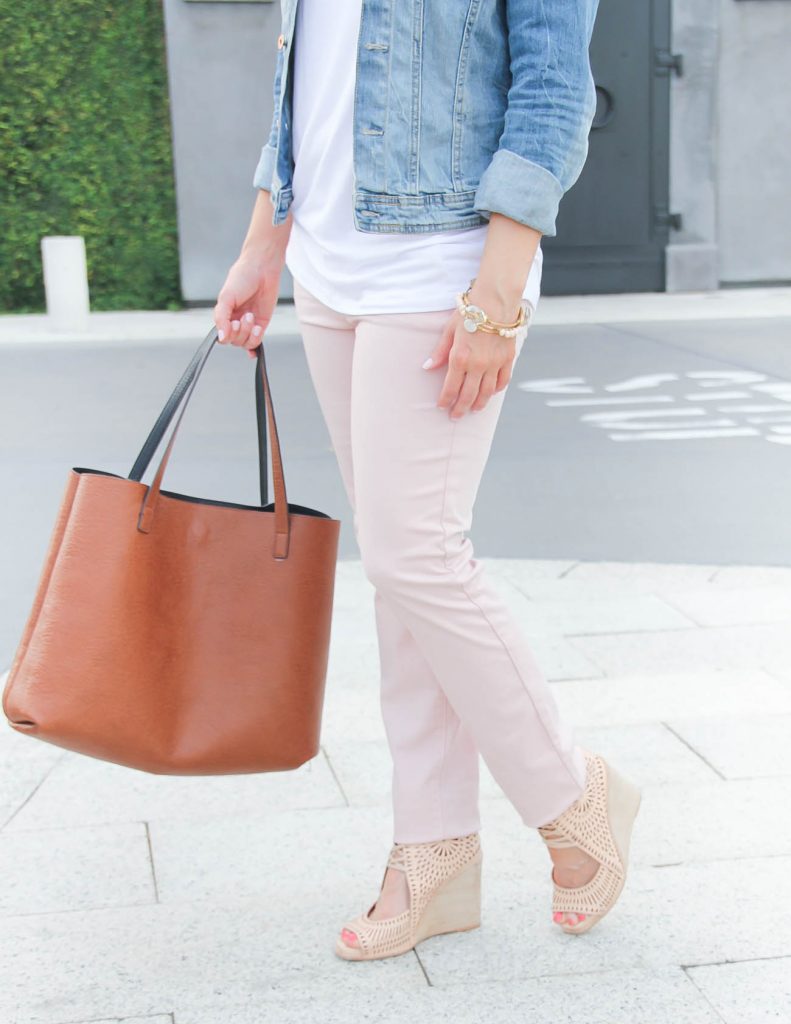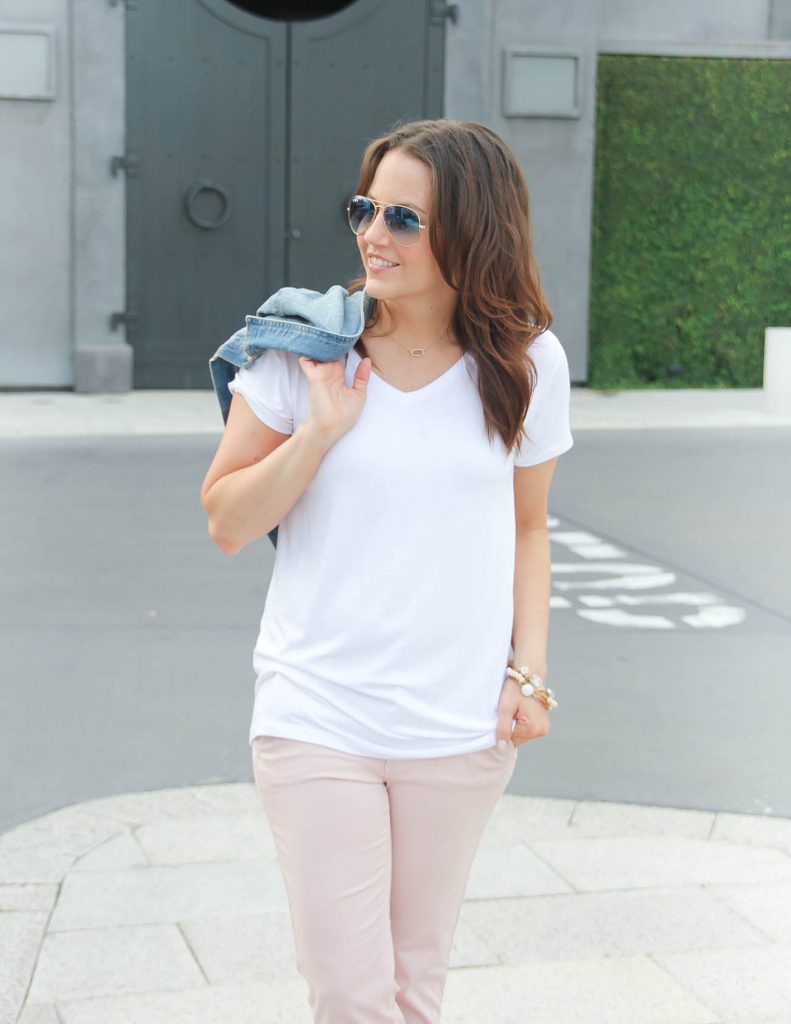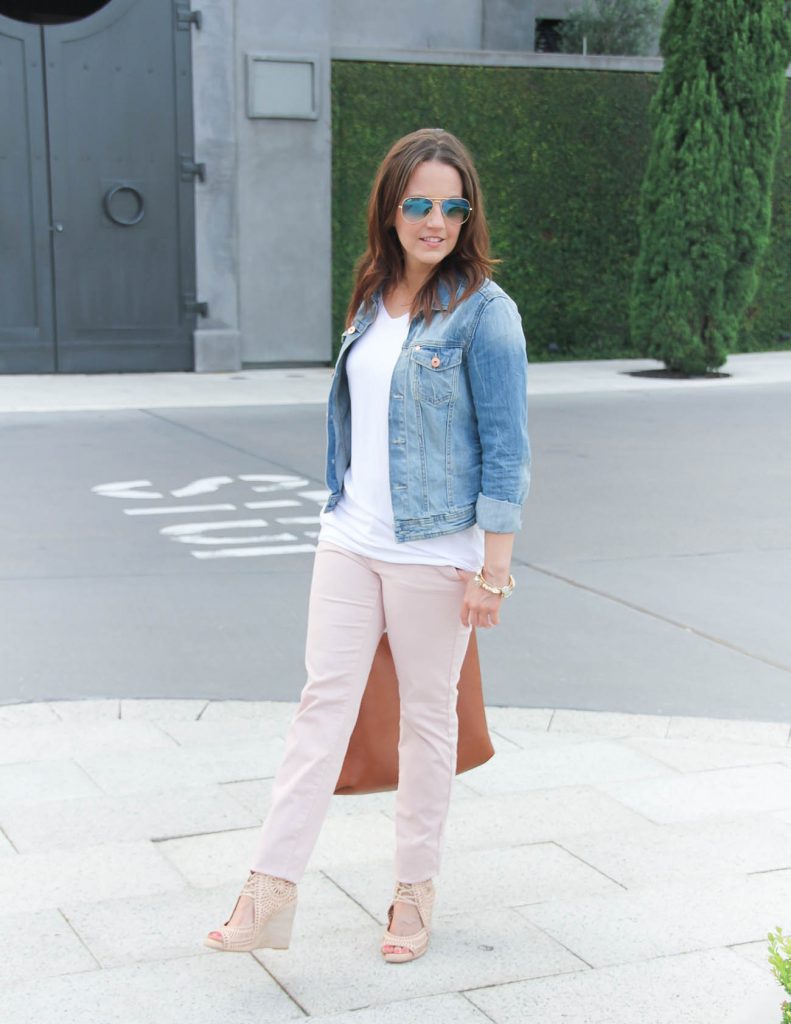 Happy 4th of July!!  Have any big plans for today?  We celebrated Saturday night with friends and fireworks.  It was fun and the guys got all the firework popping out of their system for another year.
I have been searching for a comfy pair of pink cotton pants for a few months now.  My sister raved about these cotton twill ones to me last month.  She owns them in multiple colors and loves the fit and that they don't get baggy.  She mentioned she preferred them over jeans when it's hot because they breath a little better.  I feel like when someone buys something in multiple colors, it has to be good.  A week later, I ordered these pink ones and an olive pair, because they were under $50 and I had been looking for olive pants too.  I wore the olive ones a couple weekends ago to a party, and ya'll so comfy!!  I would agree with everything my sister said about them.
For a size reference, I am wearing a 6 Short.  I usually wear a 4/27 in jeans.  I'm 5'3 and the short is a little long for what I want.  I have them rolled in about an inch in the photos and could probably use a little more with these wedges.  I'm planning to have them altered soon, but I always like to wear pants a couple times first to be 100% sure how long I want them.  I'll probably end up doing these just above ankle.  Oh and bonus for you guys, all colors of these pants are 40% off today as part of a holiday sale, so they are only $27! Total Score!
This plain white tee is the same one I wore in this post a few weeks back.  I love a white and pink combo for summer, and of course I'm always cold inside so a denim jacket was an instant add on.  I made sure to snap a pic without the jacket so you can see why I love this top.  Not sheer or see through, no need to wear anything underneath but a bra.  I love this for hot summer days when you just want to wear a plain white tee.
So I'm going to be playing around with the layouts of my posts for the next few ones. I just want to try something new, and I'd love to hear your thoughts on it.  Love or Hate where I have moved info too?? Shoot me an email at ladyinvioletblog@gmail.com and let me know.  I want to be sure you can still easily and quickly find everything you need in each post.  Thanks for spending a bit of your holiday with me and be sure to scroll on down because it is also Style File Link up day!!!  Can't wait to see what you share!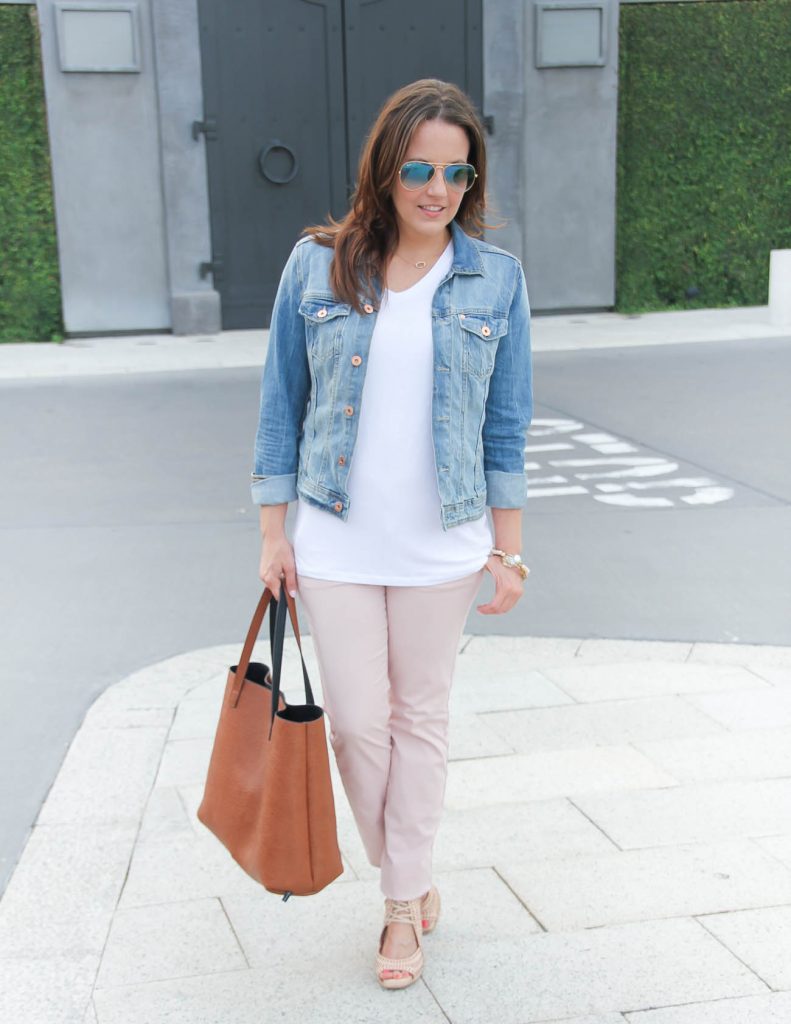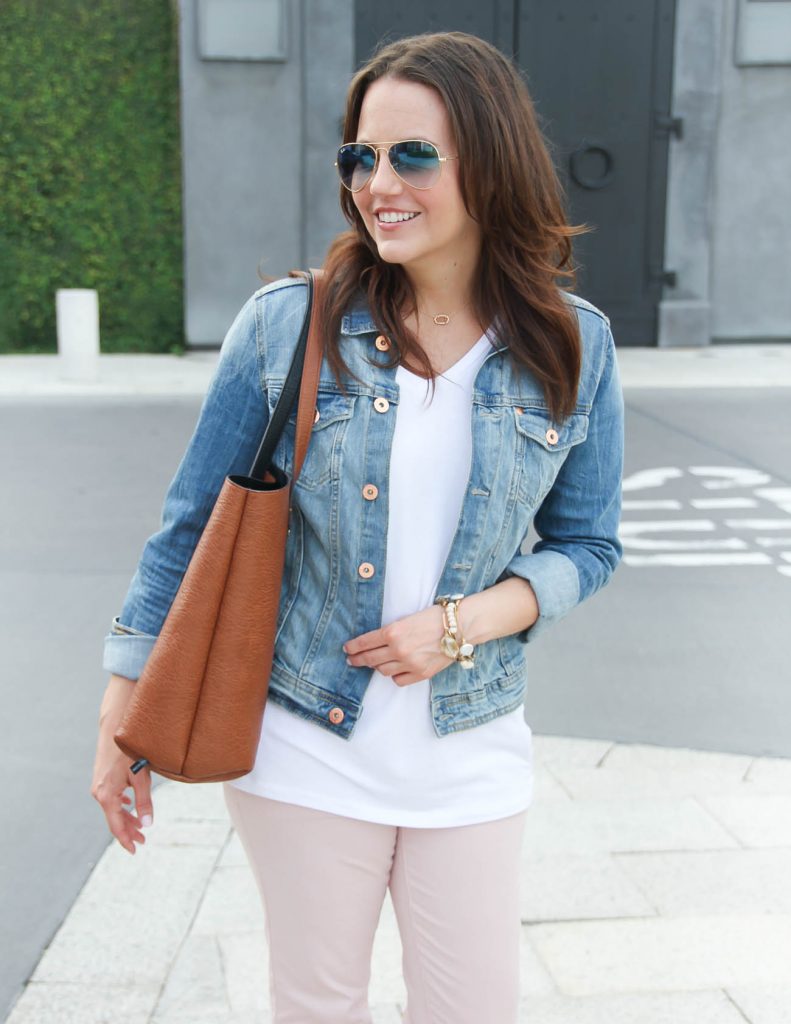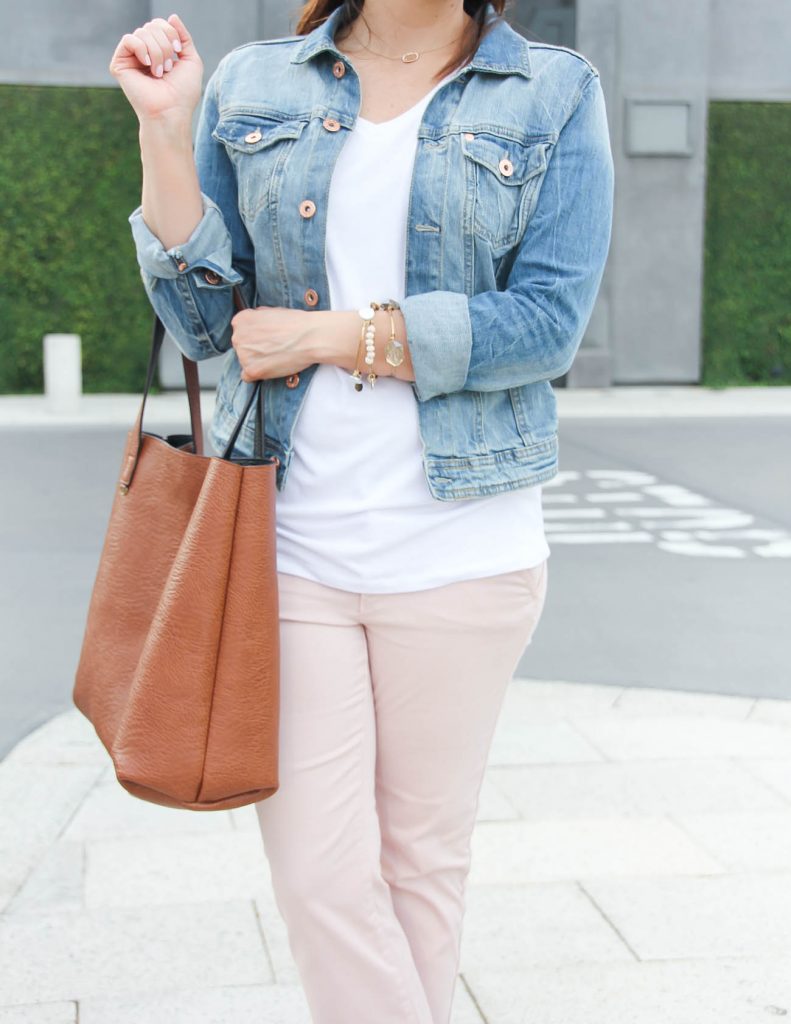 SHOP THE LOOK

Love this post? You may also love: