Happy Nordstrom Anniversary Sale Part 2!!  The sale is officially open for everyone today!!  I'm so excited that everyone can now shop the sale and take advantage of some of these amazing deals.  I have TWO try-on posts coming for you today and tomorrow.  Today's post is my Nordstrom Anniversary Sale Dressing Room Diaries, and tomorrow I will share outfits from the items I ordered online.  The picture above is a little sneak peek of that post.  For today, I included lots of cardigans, jeans, basics, cute tops, and a couple beautiful dresses.   Enjoy the post and Happy Shopping!
PICTURED ABOVE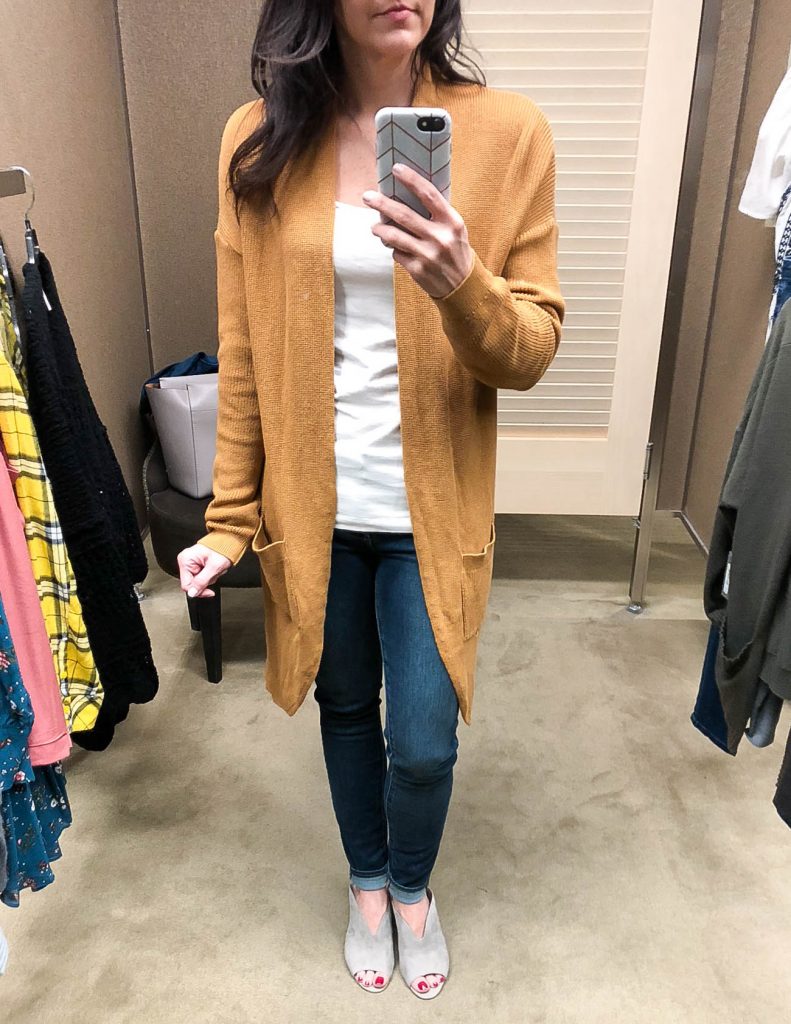 First, these suede mules were an online purchase. They are a cute spring/summer/fall shoe, and I wore them the day I shopped.  The fit is true to size (TTS).  If you are looking for an affordable dark skinny jeans, this pair is a good choice.  I have another pair by them, and the quality is pretty decent.  I purchased this cardigan in dark green and love how comfy it is.  This yellow color was my second choice.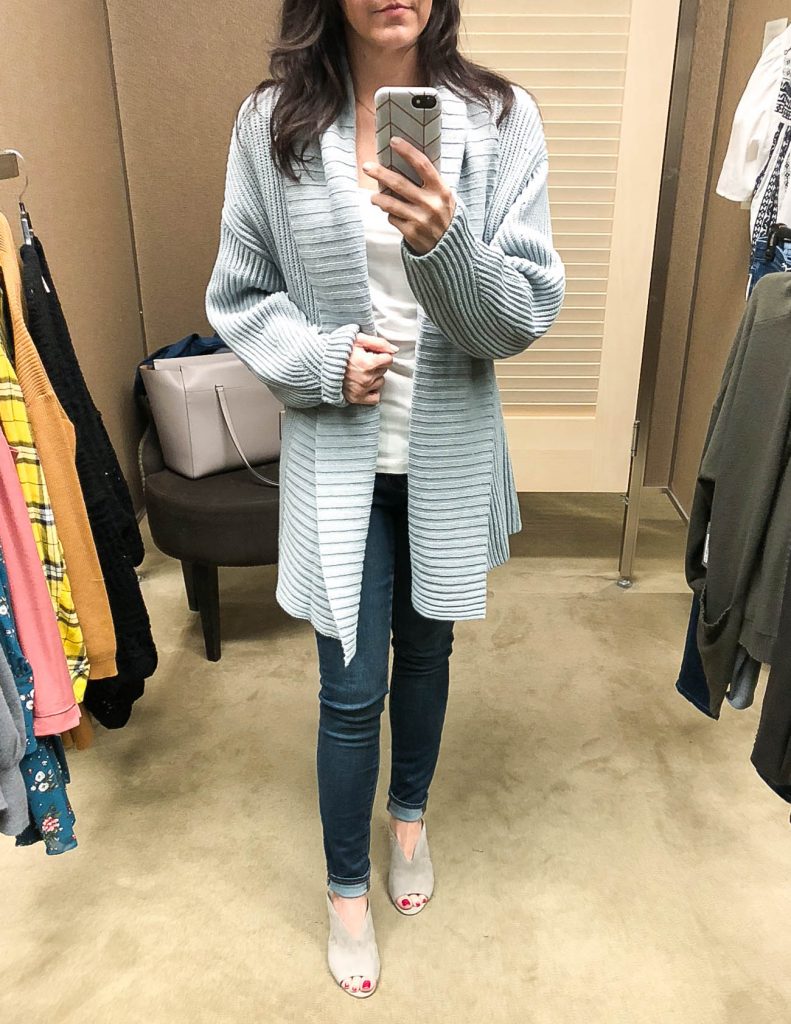 cardigan |  jeans  |  shoes
This cardigan is SO cozy!  It's the perfect oversized fit where it is not swallowing you, and I love that you can cuff the sleeves easily.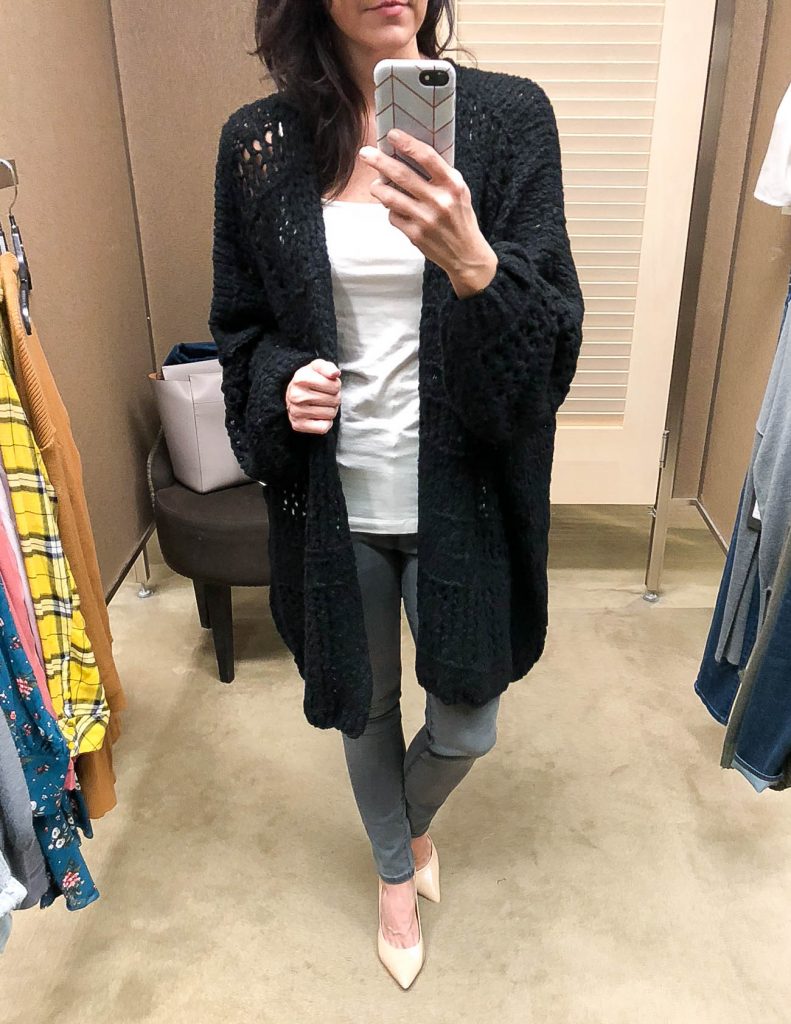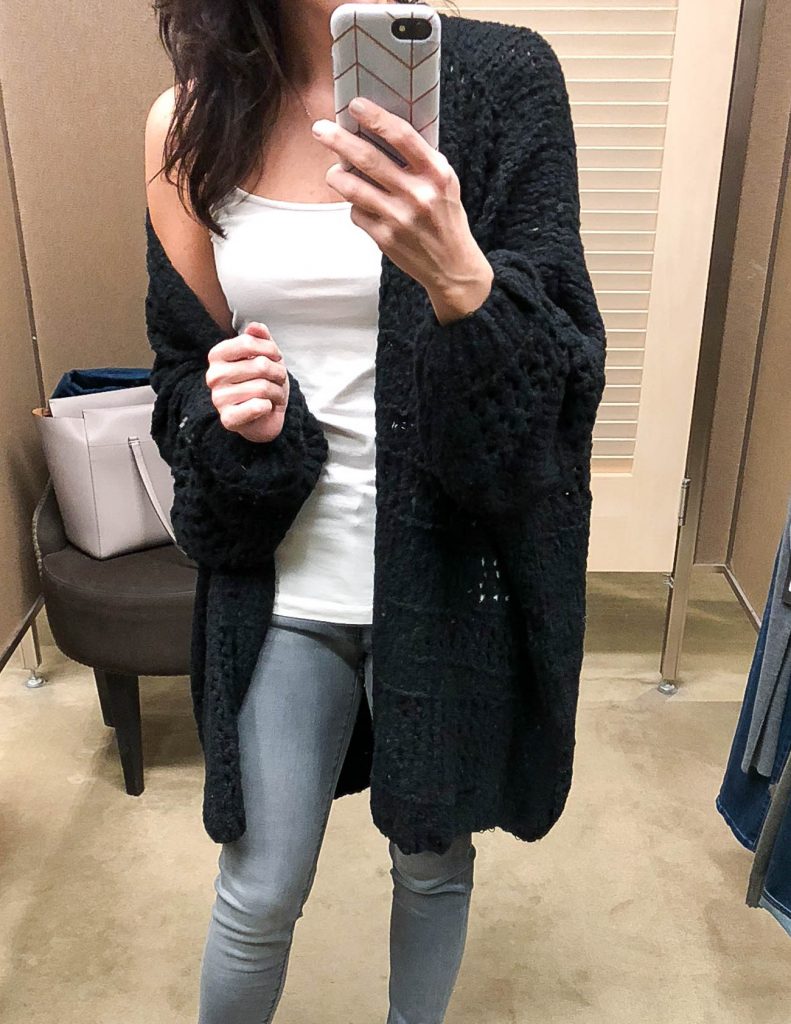 cardigan |  jeans
I have seen so many people rave about this oversized cardigan.  It was super comfy, but honestly not something I would wear much.  I think it would be cozy to wear around the house.  If you like these chunky open knits, then this may be the cardigan for you.  The fit is very oversized.  I am wearing the XS/S.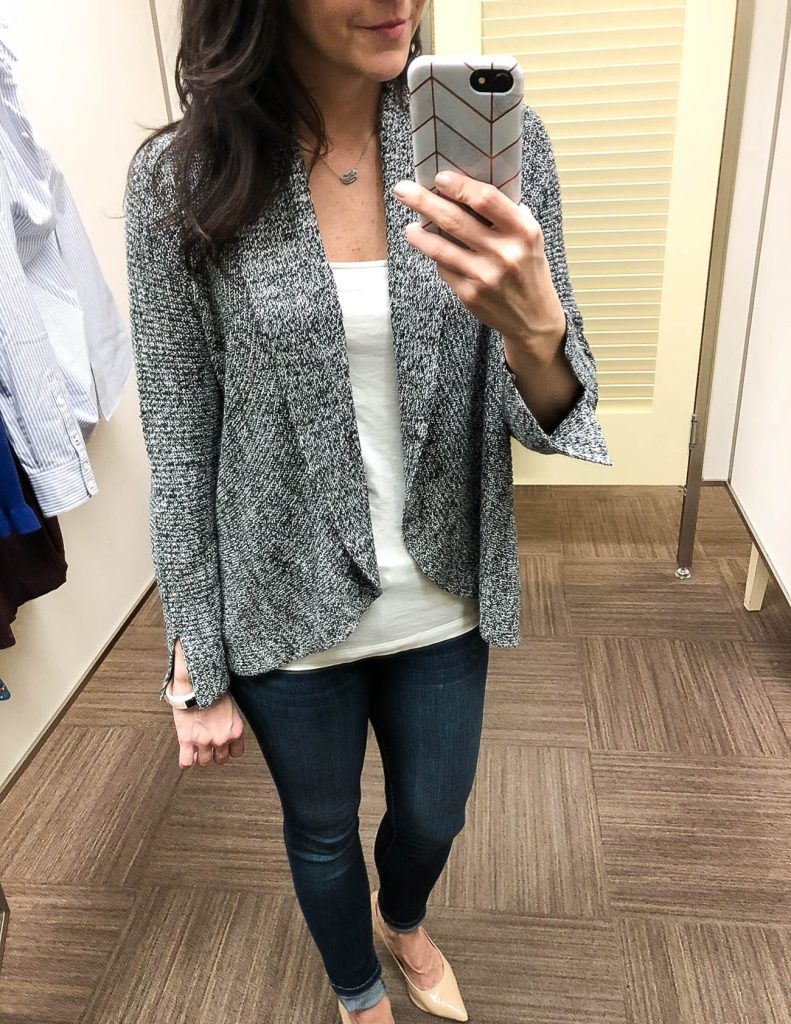 cardigan
I always love this brand, and their cardigans are a good, durable quality.  They are on the pricier side, but I feel like the style and color makes this a classic staple.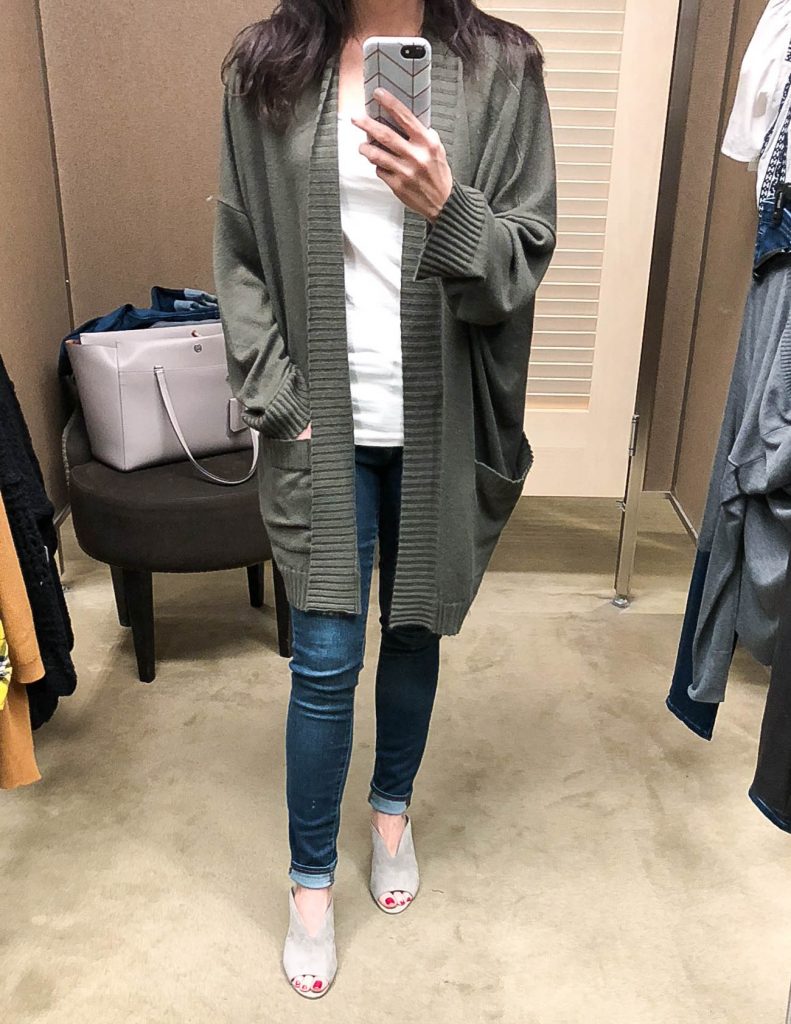 cardigan  |  jeans  | shoes
This cardigan was SOOOO soft and comfy, but way too oversized for me! I'm wearing the XS/S, and I felt it was still a couple sizes too big.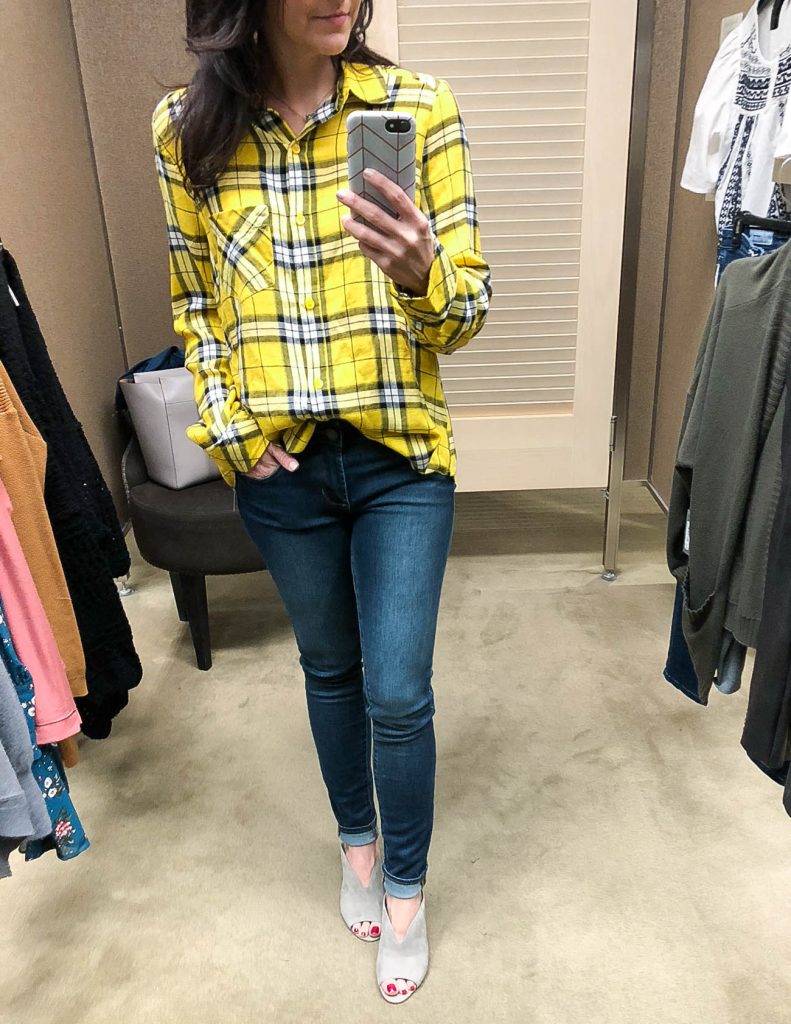 yellow plaid |  jeans  |  shoes
I am on such a yellow kick and immediately grabbed this yellow plaid shirt.  You could also wear this with black jeans or a black skirt for work.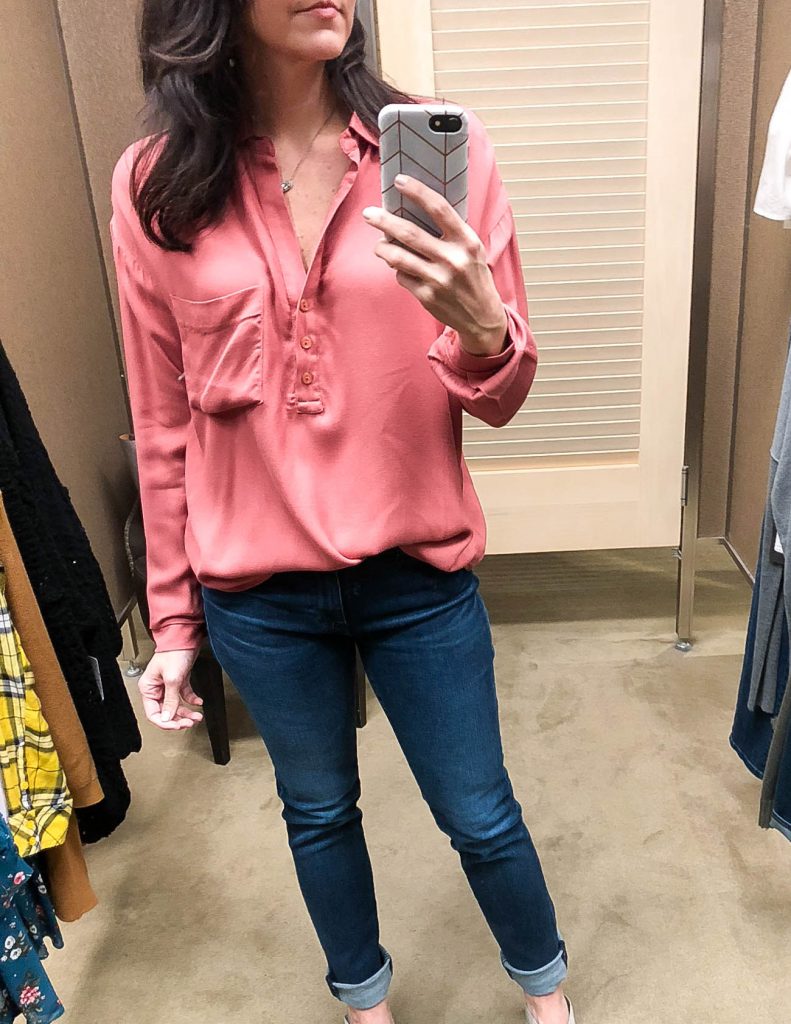 pink long sleeve tee  |  jeans
I loved the coral pink color of this top, and it was really soft.  Unfortunately, it was too big on me.  I'm wearing the XS.  These jeans would be a great everyday denim, but I would need to size down one size.
striped button down blouse  |  gray jeans
I'm wearing the small in this top, and it was a little big on me.  Other than that, I loved the fit and construction of this striped blouse.  Definitely a great basic to wear to work or on weekends with jeans.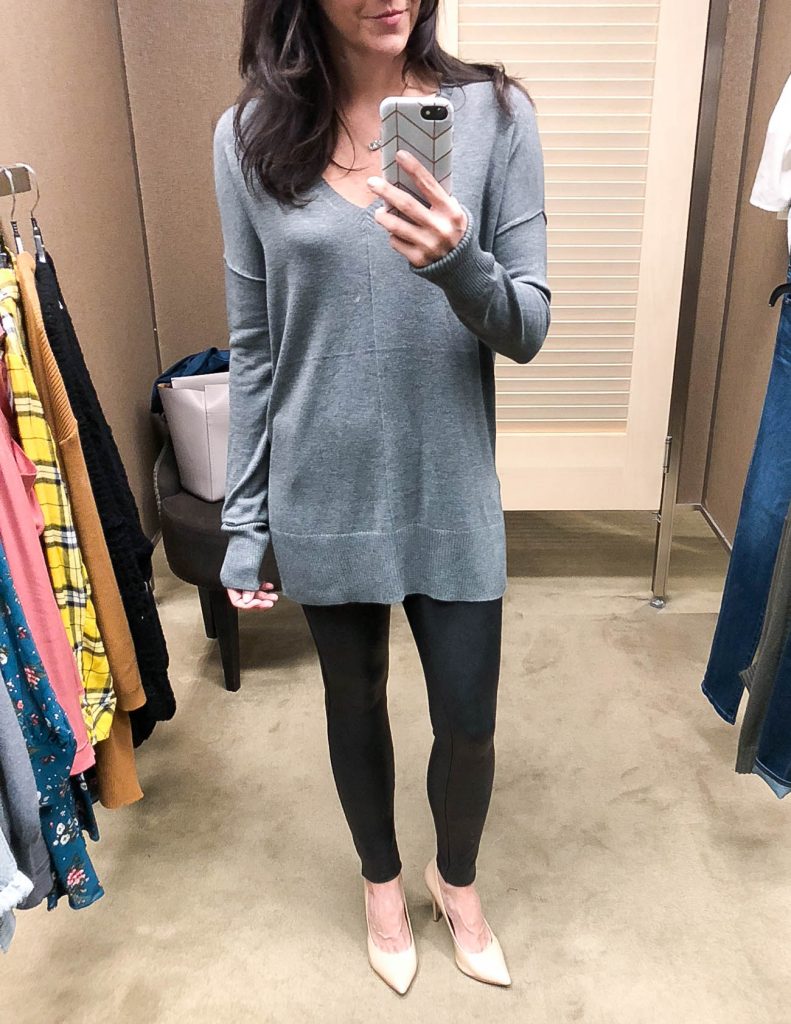 long gray sweater |  faux leather leggings
Oh these leggings, I LOVE them!!  They fit like a glove and are so comfy!  For winter, I would wear this outfit with a pair of suede slouchy boots.  The gray sweater is really soft, and I love that it is long enough to wear with leggings.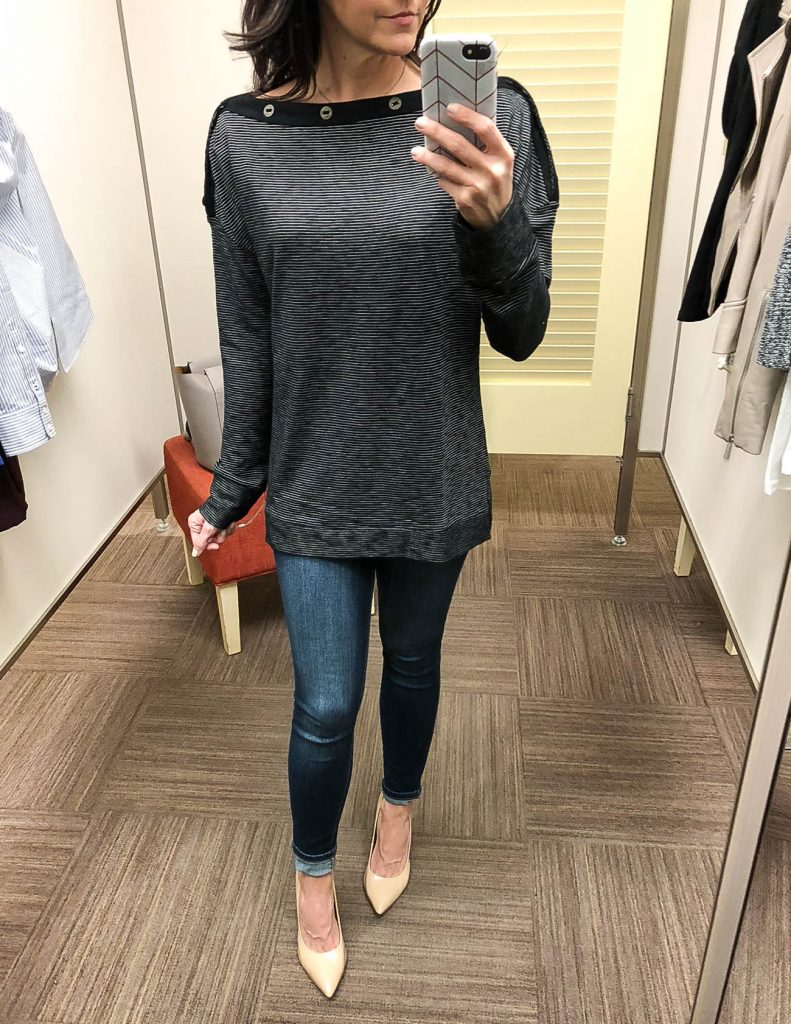 boatneck top
This boatneck top is so perfect for fall!  It comes in a few other colors, but I of course gravitated to the black and white.  You would need to wear a strapless bra with this one.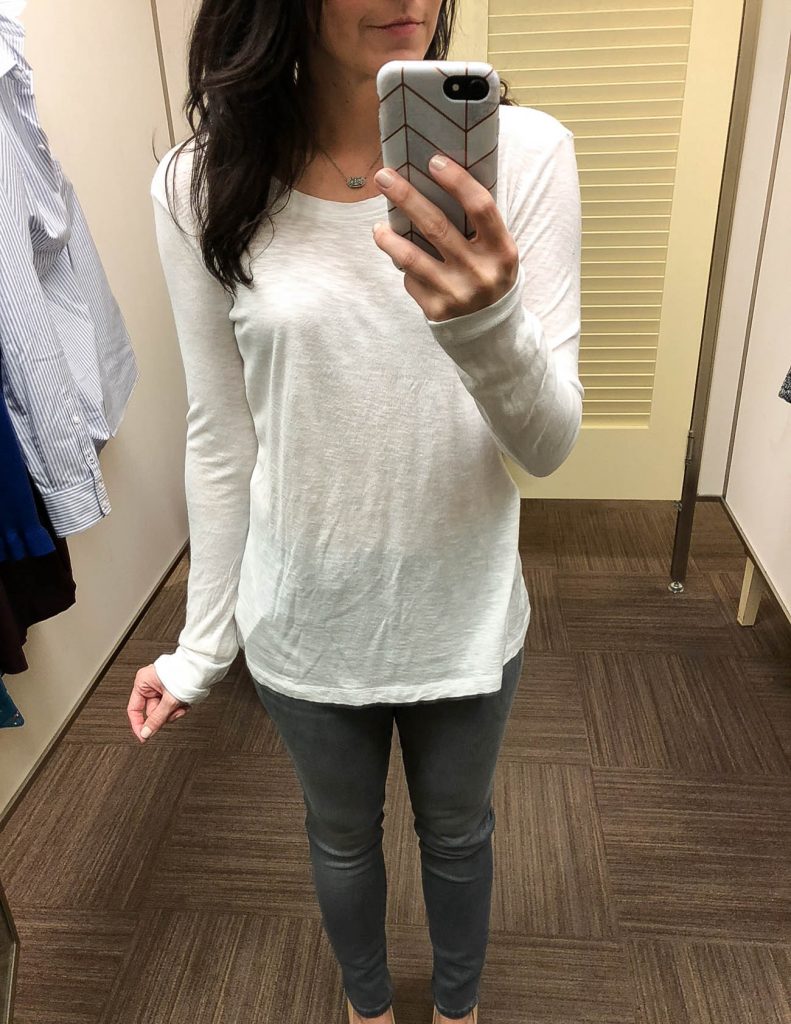 long sleeve white tee |  gray jeans
I love these basic tees. The white was is a little on the sheer side for me, but it's still a great tee for layering.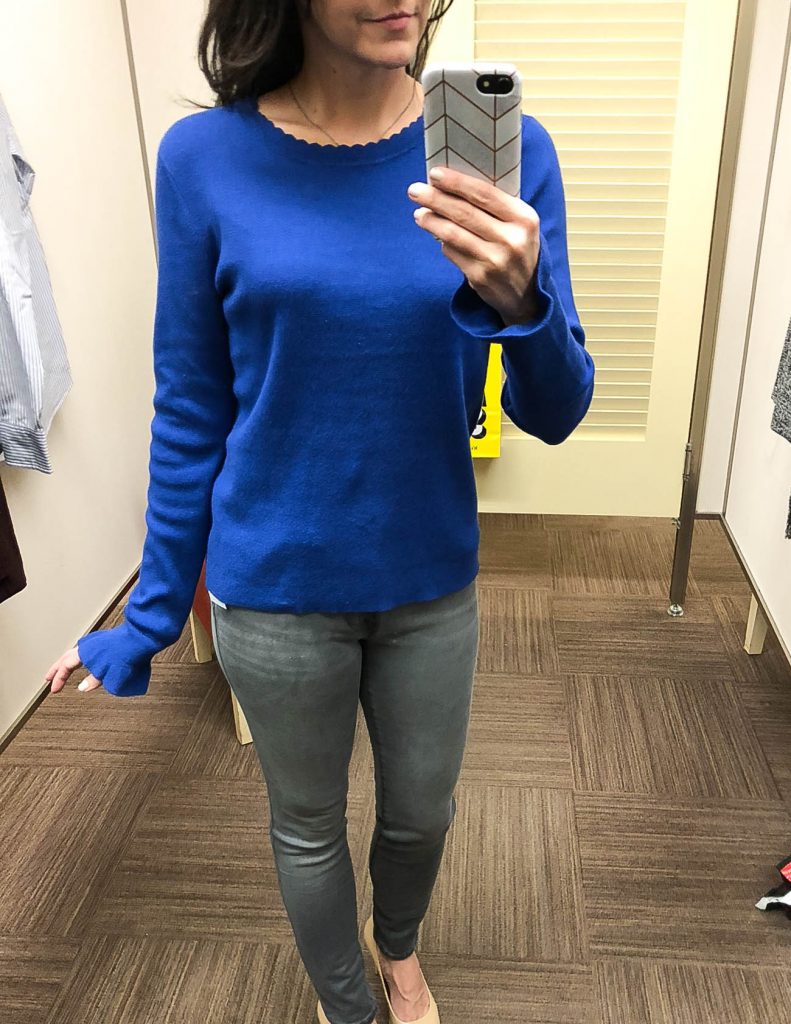 blue sweater |  gray jeans
I love the small scalloped and ruffle details of this sweater, and the blue is so gorgeous.  This sweater could also work with black jeans or for work with both a skirt and slacks.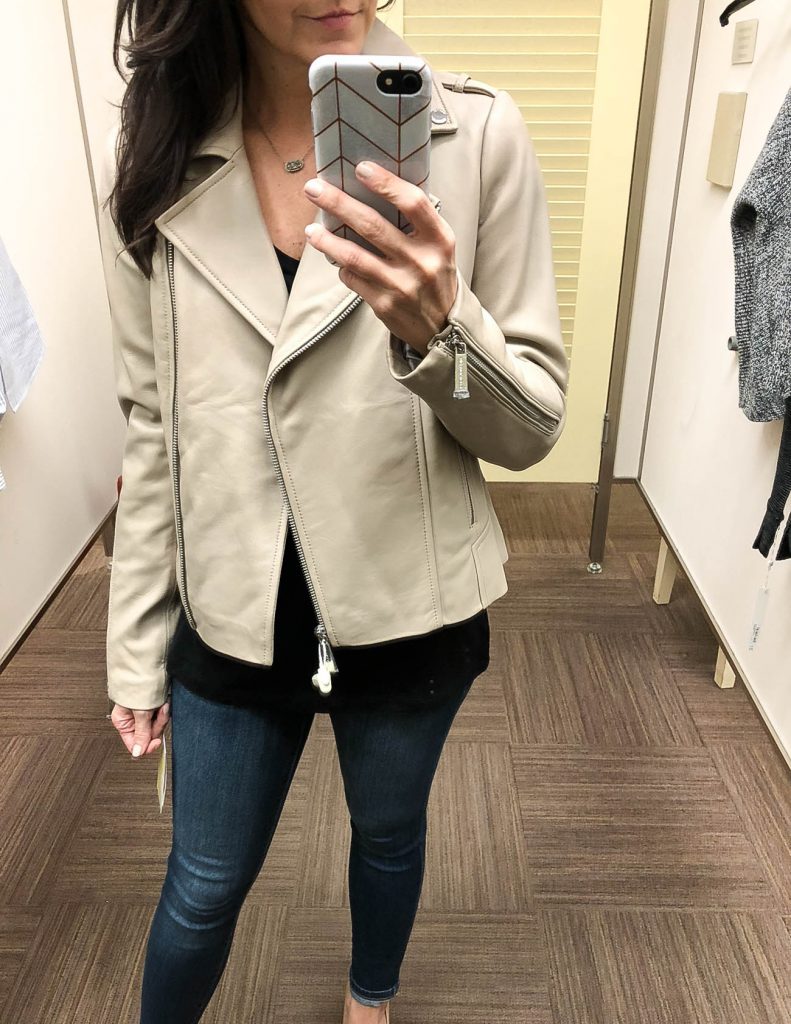 leather jacket  |  black tee
Oh this jacket, I loved it!  A good quality leather, and beautiful neutral color!  I wish it would have stayed a little more open in the middle.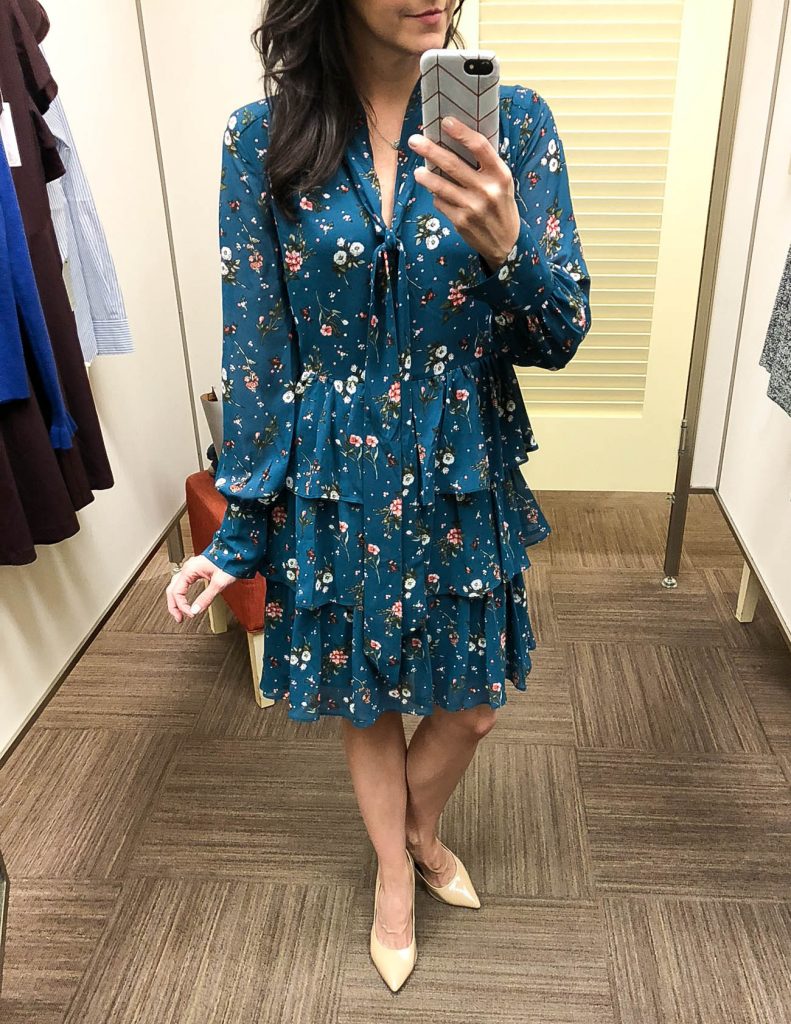 floral dress
This dress would be so cute for work or a bridal shower.  I like the ruffle bottom, but this could also make you look a little wide if the top portion isn't fitted.  I would possibly consider sizing down in this dress.  I'm wearing the XS, and it was just a little loose on me.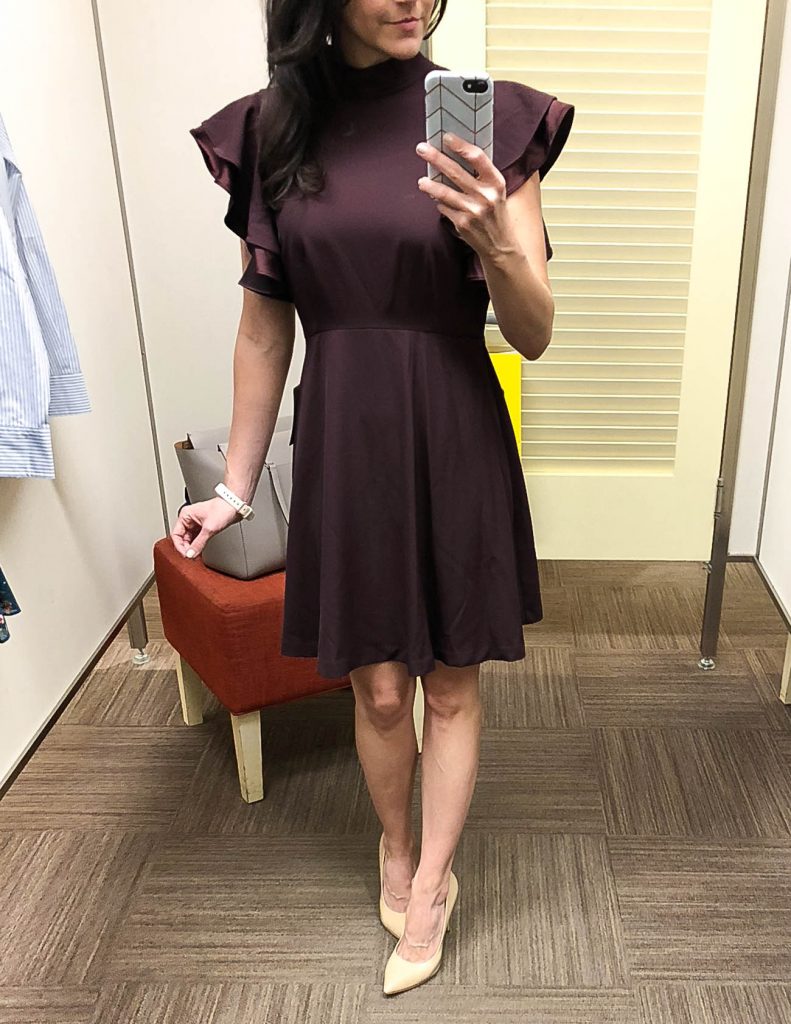 burgundy dress
Ya'll this dress is a stunner! The most amazing dramatic shoulder detail and gorgeous burgundy color.  If you want a statement dress for weddings, events, or date night, this is it!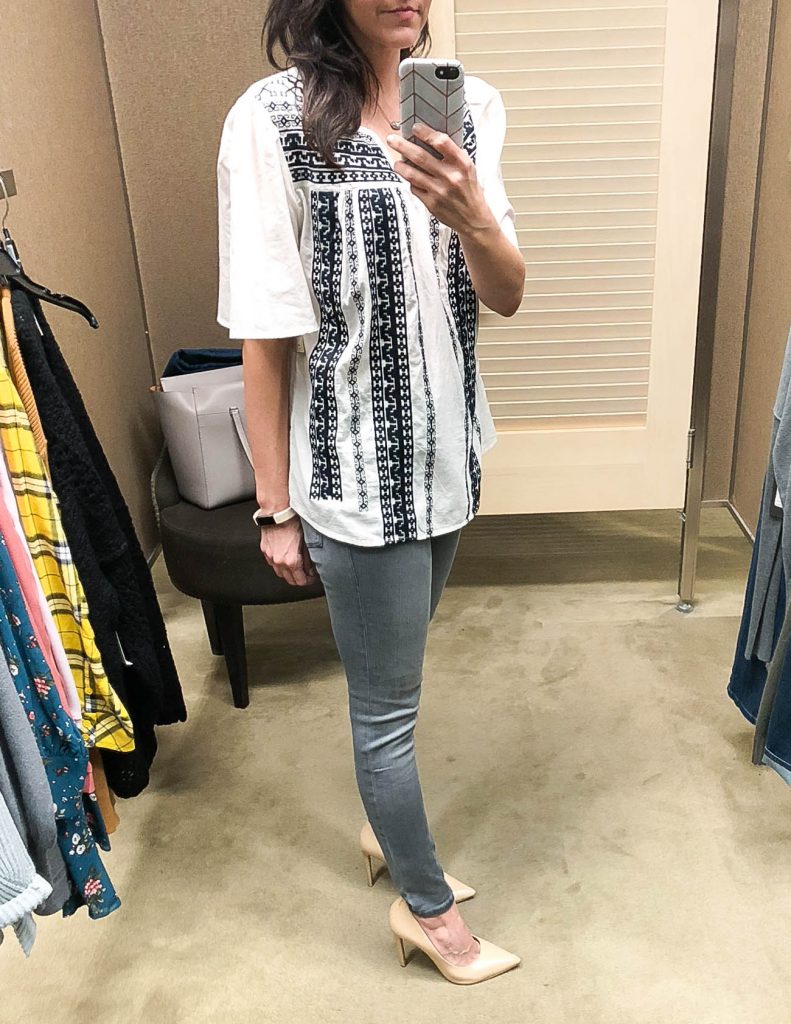 embroidered top  | gray jeans
These jeans are my first high waist pair, and I'm obsessed!  They fit like a glove and are really comfy! I wanted to wear them out of the store.  I also love that I don't need to have them hemmed.  The embroidered tee was super cute, but a little too oversized for me.  I'm wearing a small, and probably would have needed 2 sizes smaller.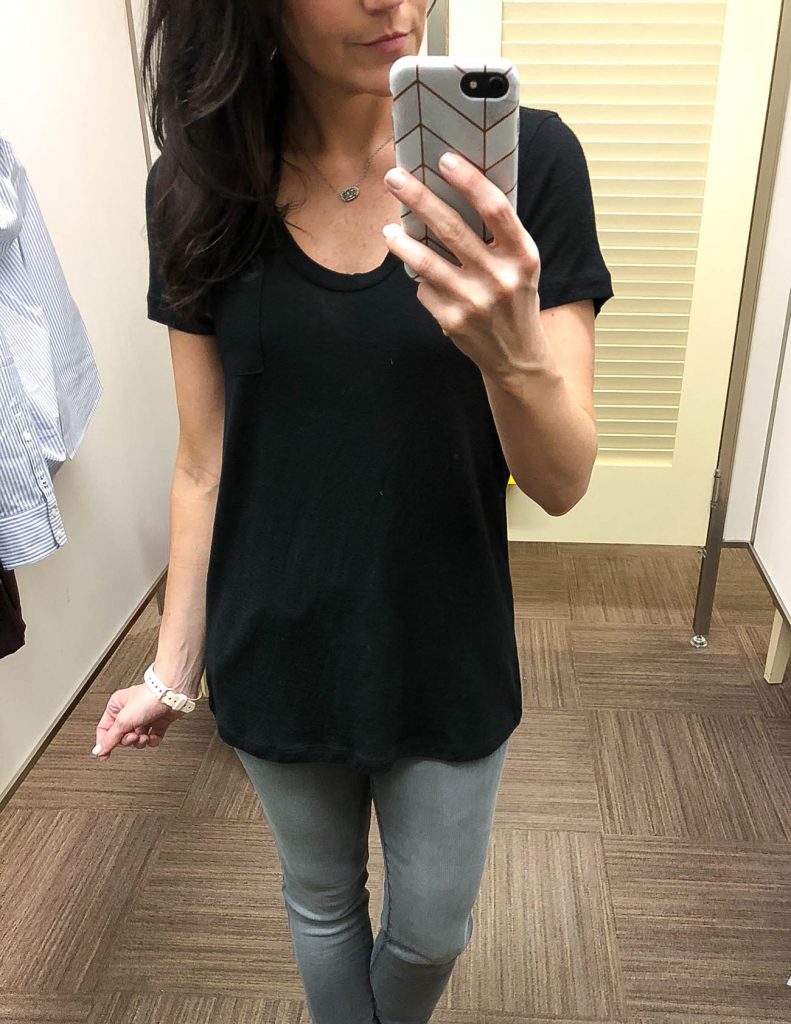 black tee |  gray jeans
A great basic tee!  I'm wearing an XS which is a little loose on me.  I probably could have gone one size down.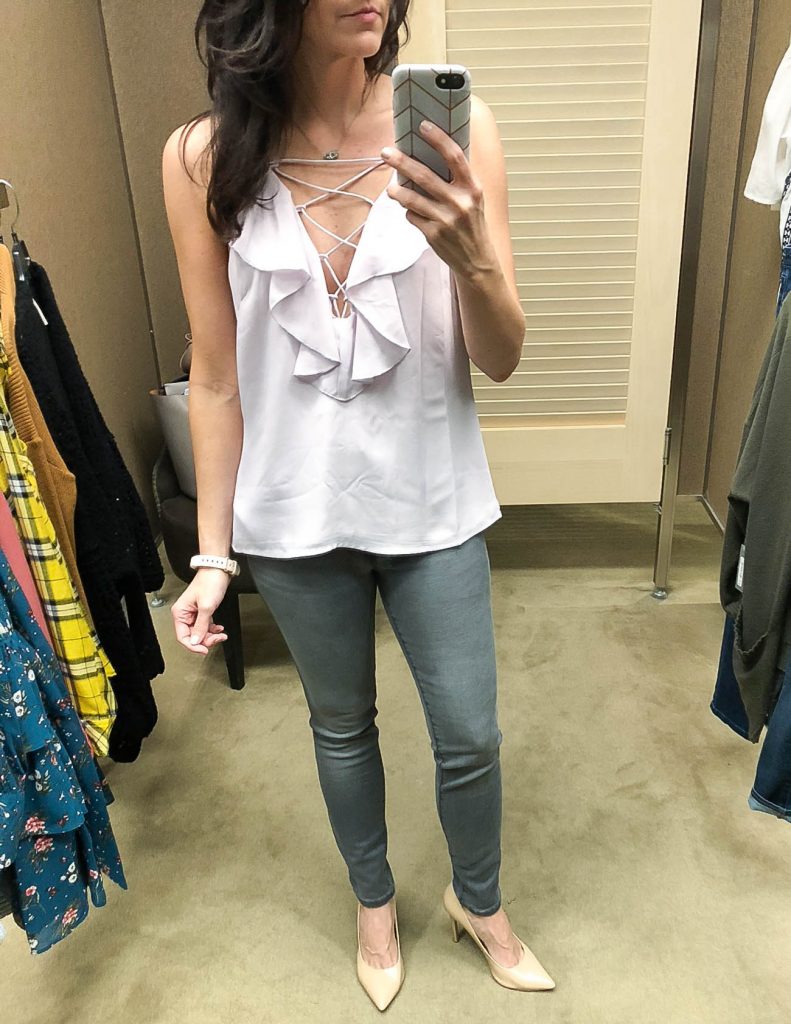 wayf cami  |  gray jeans
Ok, I had to try this Wayf cami, because everyone is always raving about it.  I didn't want to like it, because you can NOT wear a bra with this top.  BUT, I kinda did.  I'm wearing the small and would have preferred one size down.  I would probably need a little double stick tape, but I think the way this top is built does hold your assets inside well.
Most of these items were what did not make my budget cut, but I still liked most of them.  Oh if we could all just buy ALL the things we loved during the sale, am I right?!?!  Be sure to check back tomorrow for a look at which items did make my budget (also will be on Instastories today), and for more sale goodies, check out my favorites post from last week!
SHOP THE LOOKS

Love this post? You may also love: