Yearly Archives:
2020
Hello Hello, back with a little fall fashion inspiration for you.  As I add more casual pieces to my closet, I really wanted to give a graphic tee a go.  Of course, I put my spin on it adding leather, heels, and a skirt to create five ways to wear a graphic tee in the fall.  It's a mix of warm fall days to casual looks to a night out all featuring a band tee.
Also, the holiday gift guides are back!  I'm doing my guides a little different this year and adding them all to one page so you don't have to scroll through different posts to find the best gift ideas.  You can find it all on my dedicated GIFT GUIDE PAGE.  Bookmark it to check back as I add gift ideas all month long.  You can also find a link on the menu bar of the blog.
FIVE WAYS TO WEAR A GRAPHIC TEE IN THE FALL
with a long cardigan and booties
A classic fall outfit combo.  The olive green of the cardigan works really well with the ivory of the tee.  Since the cardigan is long, I opted to tie the tee at my waist.  This helps the two long tops from overwhelming my petite frame and can add a height illusion.
long cardigan | graphic tee | blue jeans | booties | bracelet | earrings
with a leather jacket
A leather jacket adds an edgy and chic feel to the graphic tee.  The black jeans contrast well with the print on the tee, and my brown heeled boots add to the chic factor of the overall look.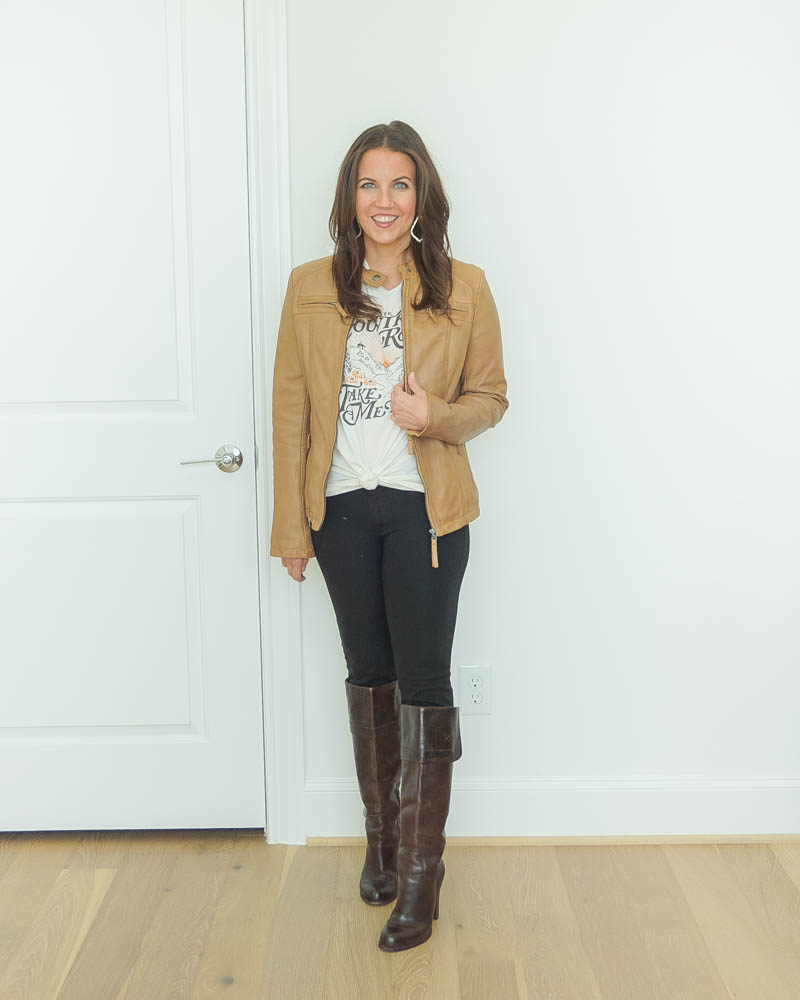 c/o leather jacket | graphic tee |black jeans | similar boots | earrings
with a denim jacket & leather leggings
For an ulimate comfy and casual look, toss on a pair of faux leather leggings, denim jacket and sneakers.  The jacket and sneakers help create a dressed down casual look, and the leggings add just a hint of edginess and comfort.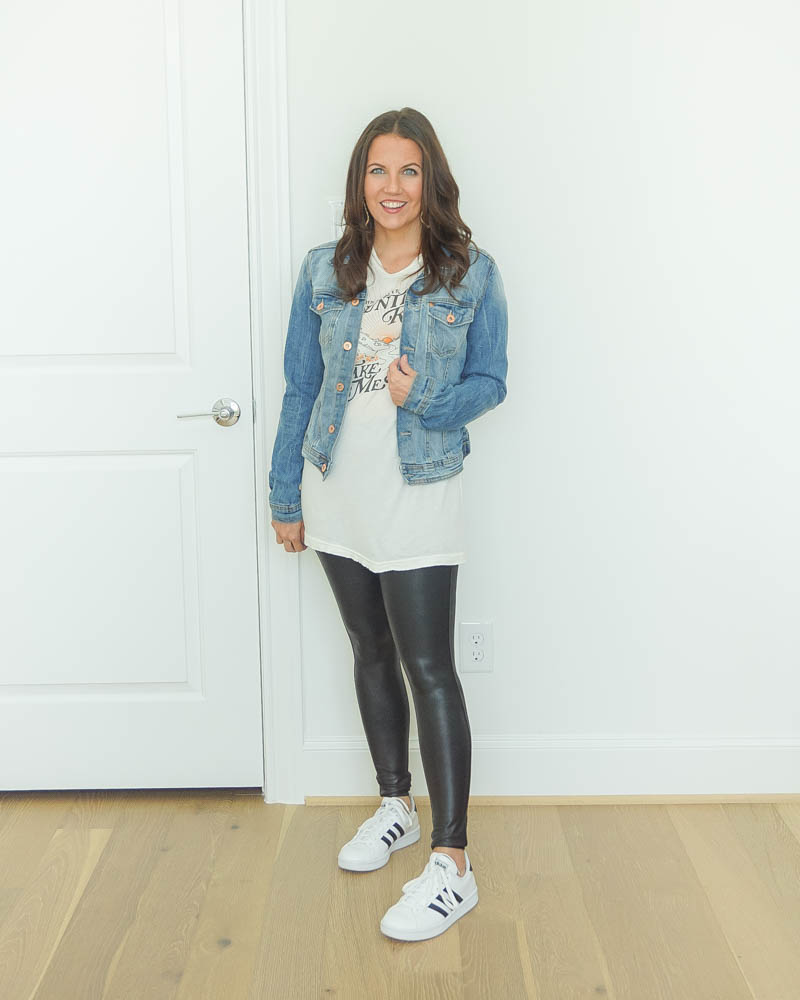 similar denim jacket | graphic tee | faux leather leggings | sneakers | earrings
with a leather skirt & booties
An easy way to dress up a graphic tee is with a chic leather or suede skirt and pair of heeled booties.  I opted for a warm brown leather to work with the warm colors in the tee, and a black bootie to contrast the skirt and pull out the faded black of the print on the tee.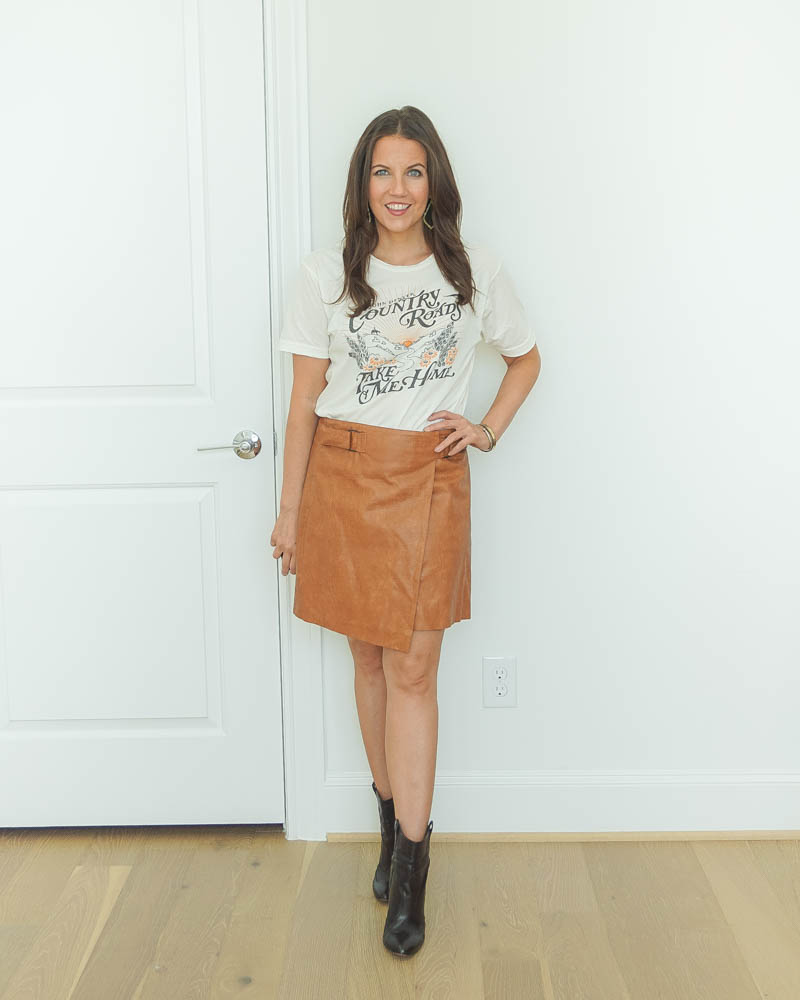 graphic tshirt | similar skirt | similar booties | earrings | bracelet
with cutoff shorts & booties
Living in Texas, I'm always thinking up ways to dress for fall and deal with that early fall heat.  A pair of faded black jeans shorts are the perfect pair for early fall.  I tossed on my brown western style booties to bring this outfit even more into fall.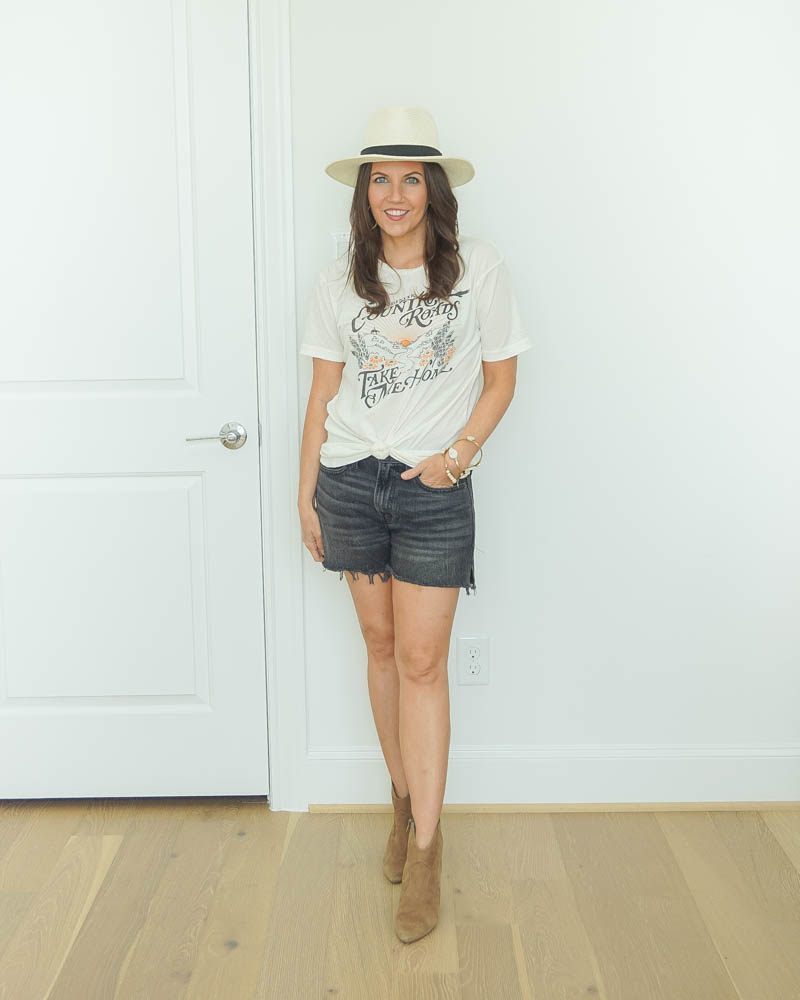 graphic tee | faded jean shorts | similar booties | similar hat | stone bangles | earrings
PIN IT & SAVE FOR LATER