Monthly Archives:
November 2014
| DETAILS |
MICHAEL MICHAEL KORS Fingerless Glove  | FORZIERI  Red Perforated Fingerless Leather Gloves | CAROLINA AMATO Fingerless Moto  Gloves | LEITH Check Pattern Infinity Scarf | AQUA AQUA Oversized Houndstooth Scarf | DOROTHY PERKINS Multi Small Two Check Blanket Scarf | MICHAEL MICHAEL KORSWool Blend Duffle Coat  | BB DAKOTA Dillane Coat | TOMMY HILFIGER Double-Breasted Pea Coat
Living in Texas, winter only lasts for a few months.  After every winter I pack away all my winter clothes, shoes, and accessories to give me more closet and dresser space.  I finally had to pop open my boxes this weekend for a sweater with the cold front that swept in Saturday.  When I first crack open my winter boxes, I like to take the time to do a little inventory to see what I can donate and what I need to buy.  I also do the same thing when I pack them away, usually donating what I did not wear that season.  Today, I am sharing with you some of the items on my winter wish list, which does include some things I have already snatched up.  One of my favorite things on this list is the leather fingerless gloves. I already ordered them in gray!  I have a knit pair of fingerless gloves from Michael Kors similar to the ones above, and I live in them every winter.  My favorite part is you can still use your touchscreen phones and tablets without having to take off your gloves!  I am also adding a couple new jackets this year.  I already picked up the gray BB Dakota one, but now am on the quest for a red one!  I always add a new scarf or two every year and had to add a blanket scarf to my wish list.  What winter items are you looking to add this year?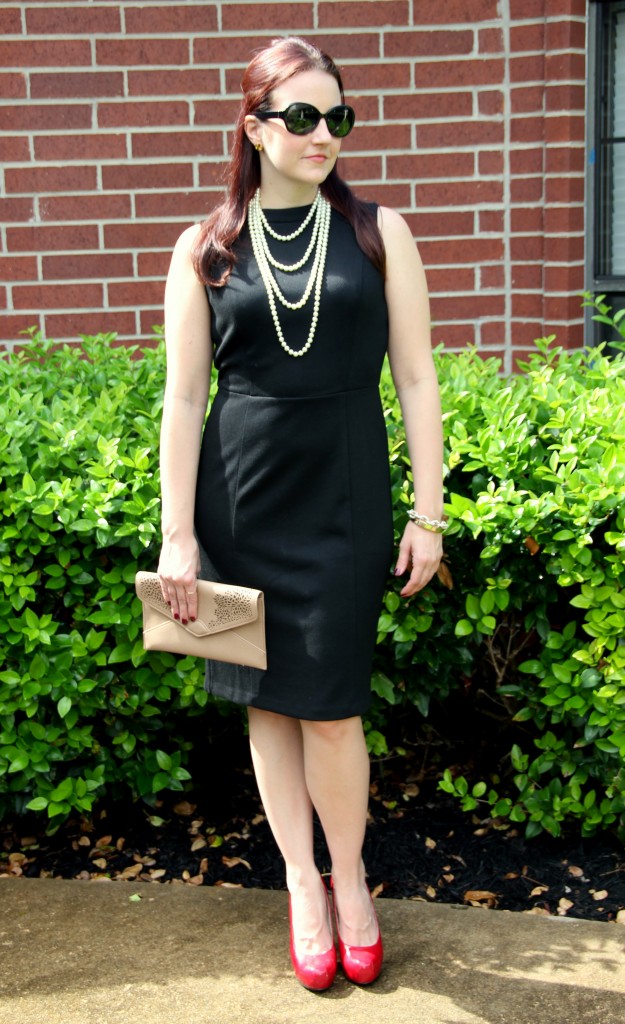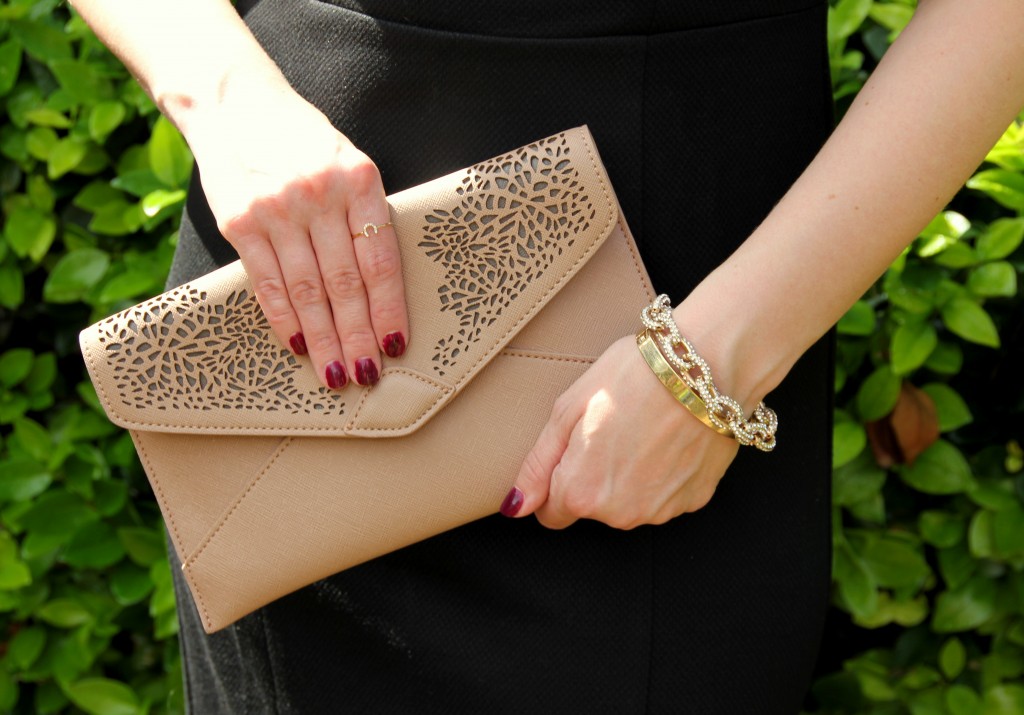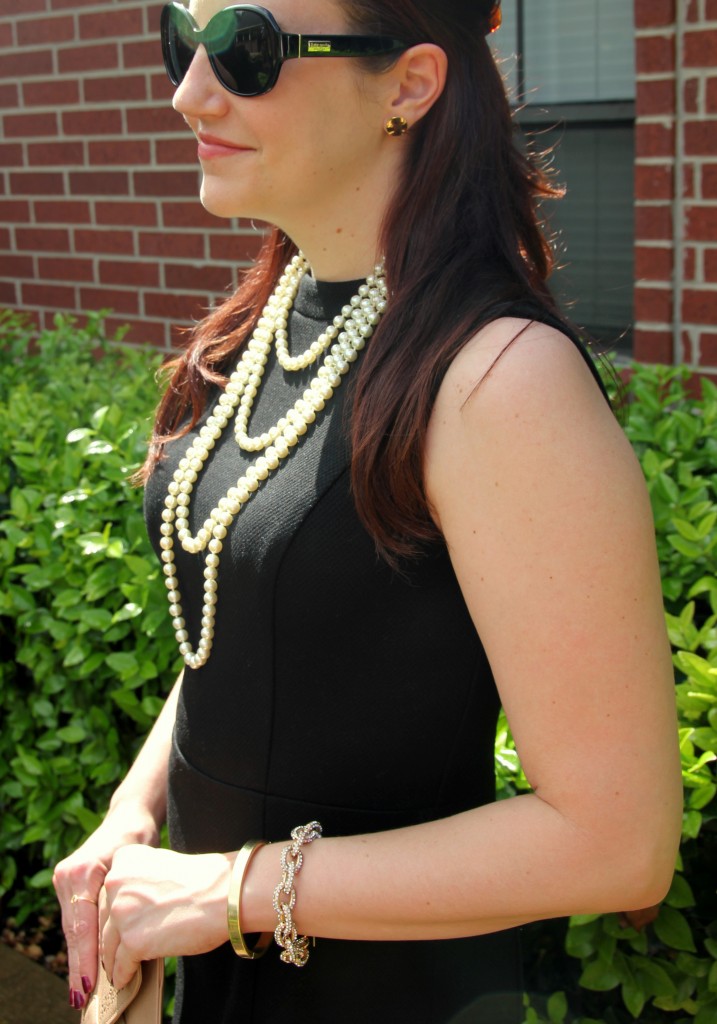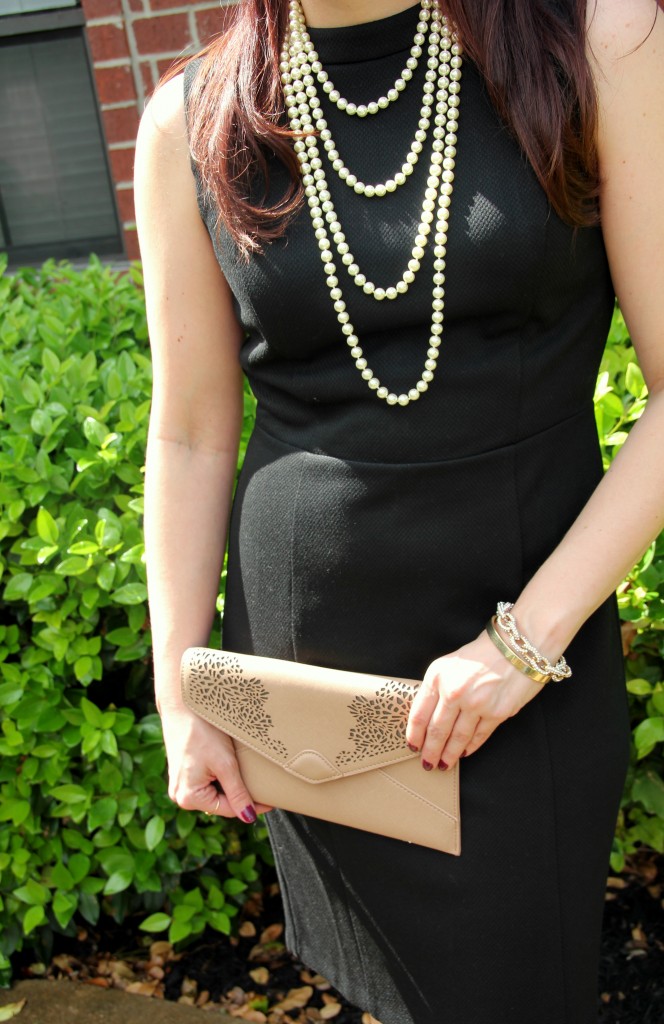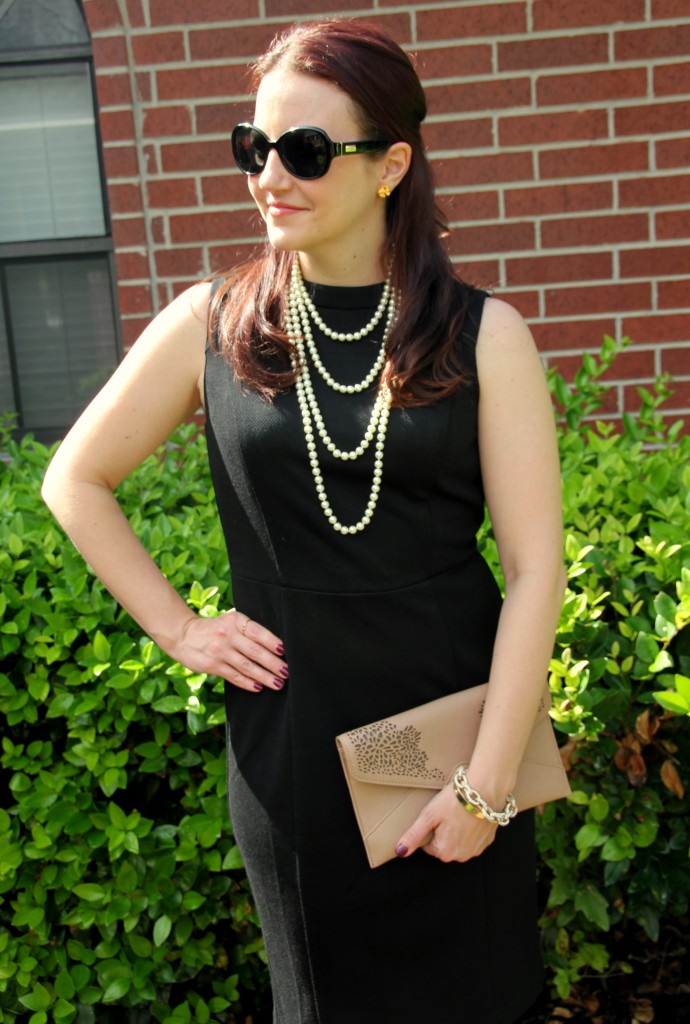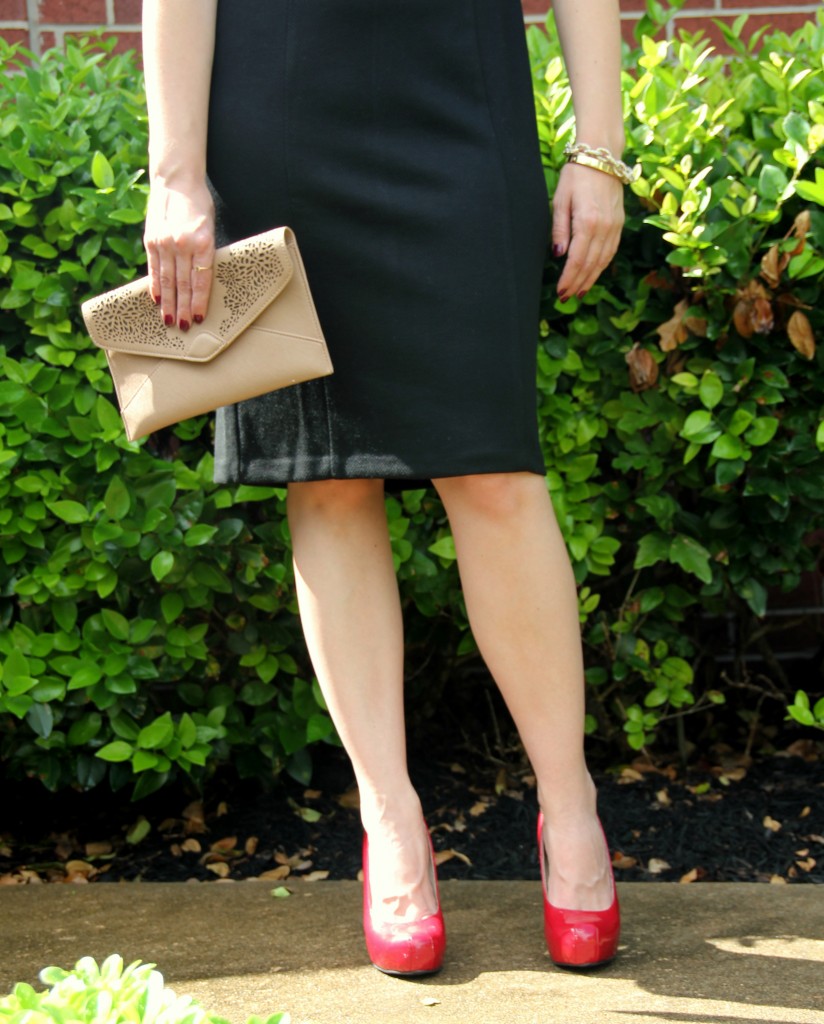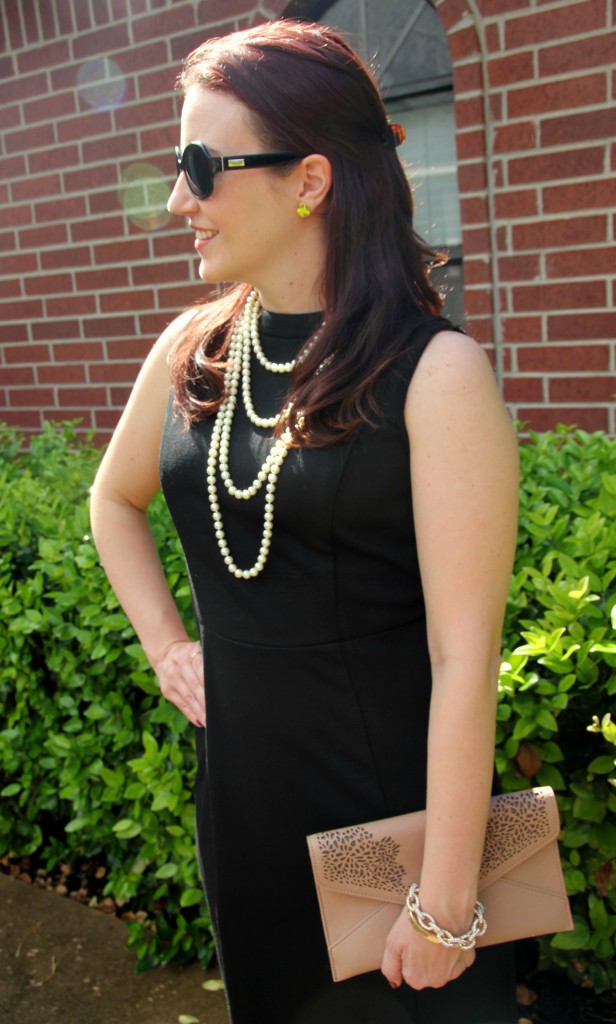 | OUTFIT DETAILS |
LOFT  Mock Neck Sheath Dress | DANIELLE NICOLE Adeline Laser Cutout Clutch  [ALSO LOVE THIS] | CHINESE LAUNDRY  Patent Leather Pumps, old  [SIMILAR]| String of Pearls, Old  [SIMILAR]| GORJANA Shimmer Horseshoe Ring ,  Chloe Large Studs | BAUBLEBAR Slim Hinge Bangle, Old  [SIMILAR]  , Mini Pave Links Bracelet  [ SIMILAR ] | ESSIE Bahama Mama | MAC Lipstick 'Faux'
These rainy days make me want to stay in bed all day and watch old movies.  Breakfast at Tiffany's is one of my favorite old movies; it's definitely my comfort movie.  Nothing is better on rainy days, freezing cold days, or sick days, than to stay in your pajamas all day and watch your favorite movies! The movies you have watched so many times you can practically recite them by now.  Today, I am channeling my inner Audrey Hebpurn and Holly Golightly, but adding a little pop of color with my shoes.  Audrey Hepburn has always been one of my style inspirations.  I love her classic, elegant and timeless look.  Some of the looks she helped make iconic are still fashion staples today. She had her own style and stuck to it. I think it is very important to know and maintain your own personal style. It can be easy to get caught up in the latest trends, but you should always make them work for you.  Most importantly, if you don't love the trend, then don't wear it!  If you aren't happy or comfortable in what you have on, it will definitely show.  Your personal style is a way to express who you are to the world, and Audrey definitely understood that! Now, who wants to go eat a Danish pastry and sip coffee at Tiffany's?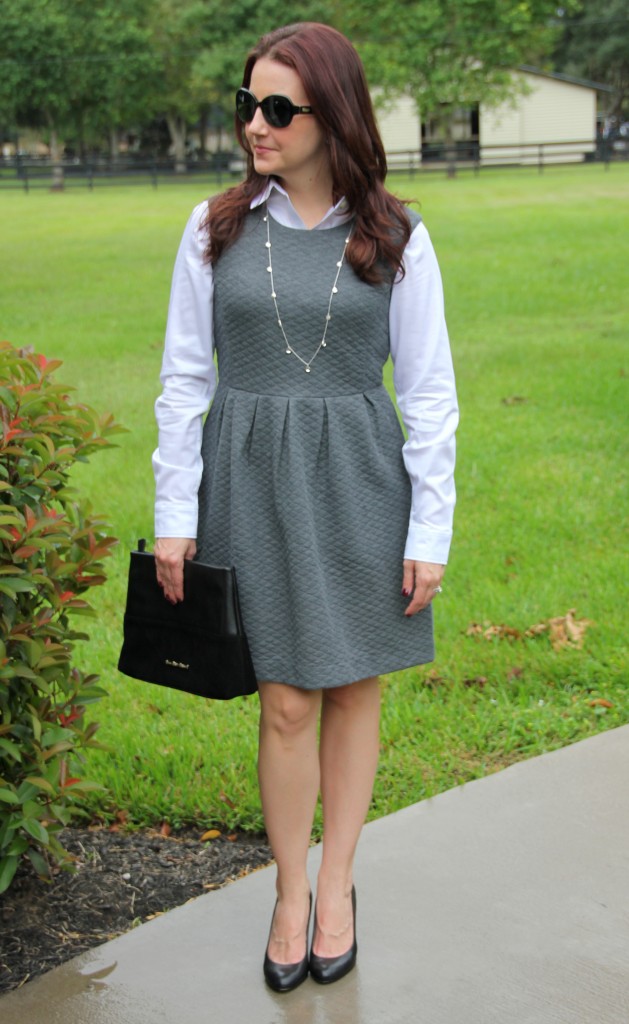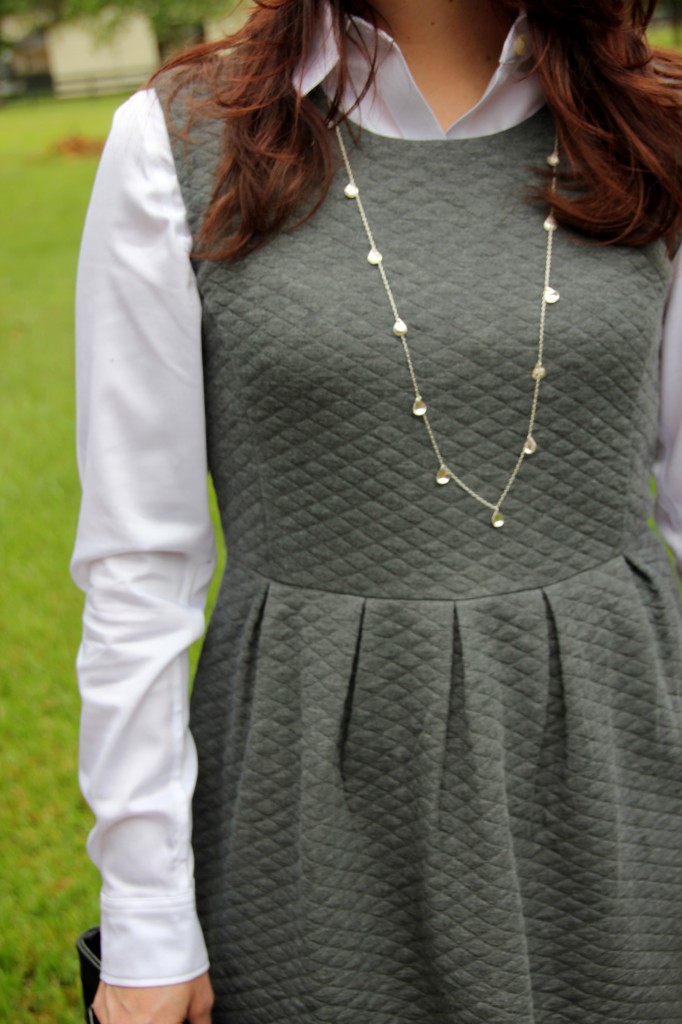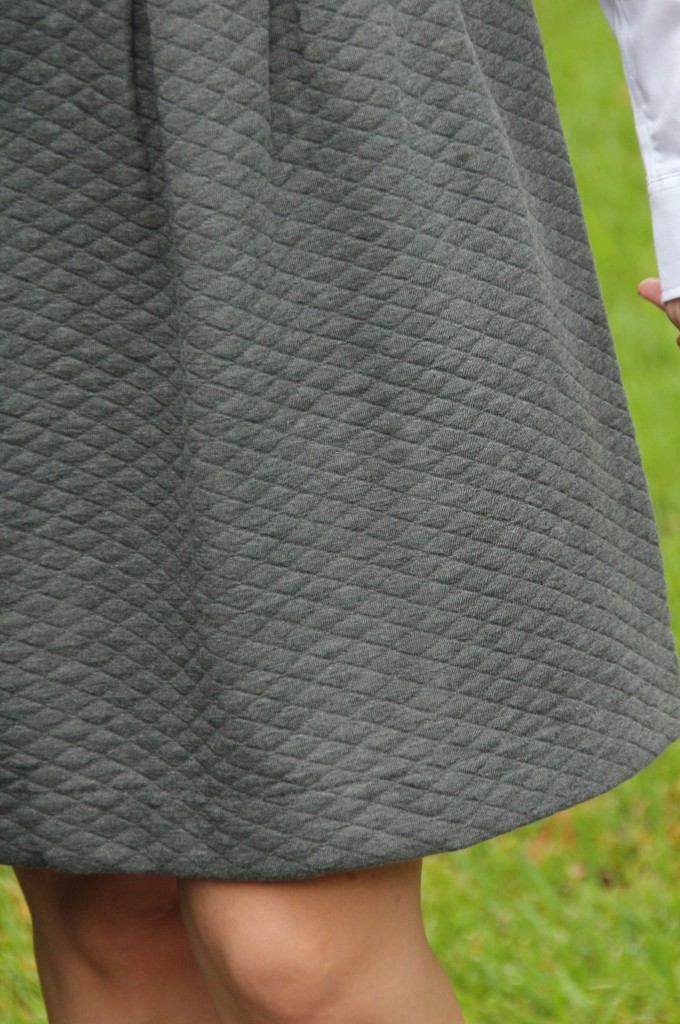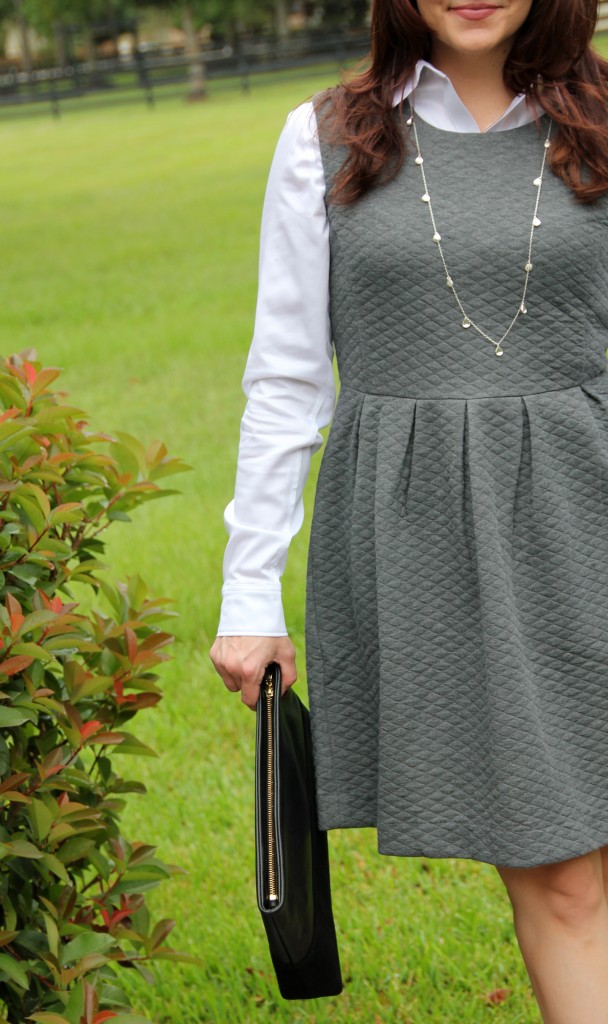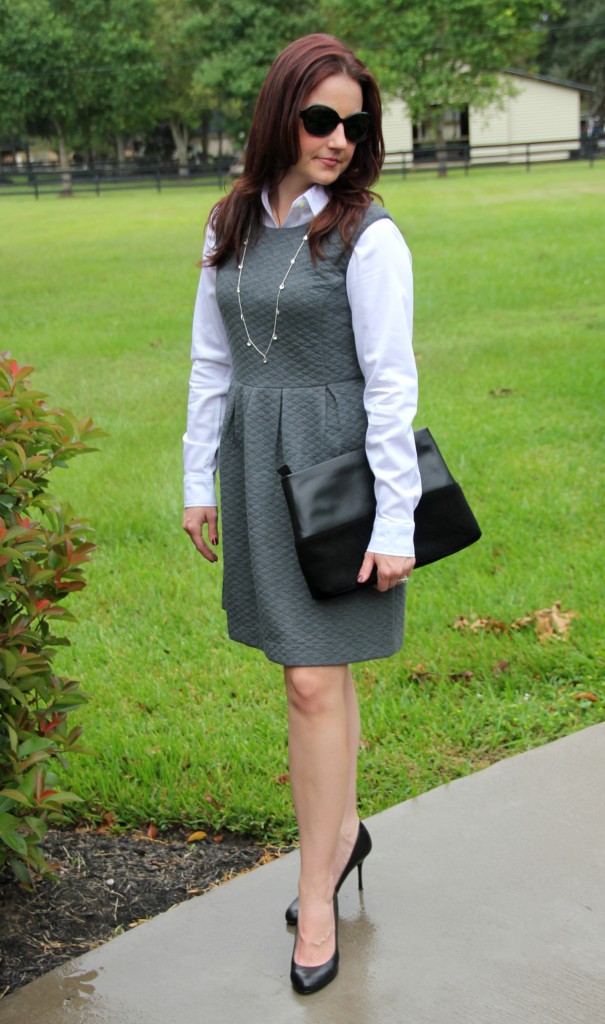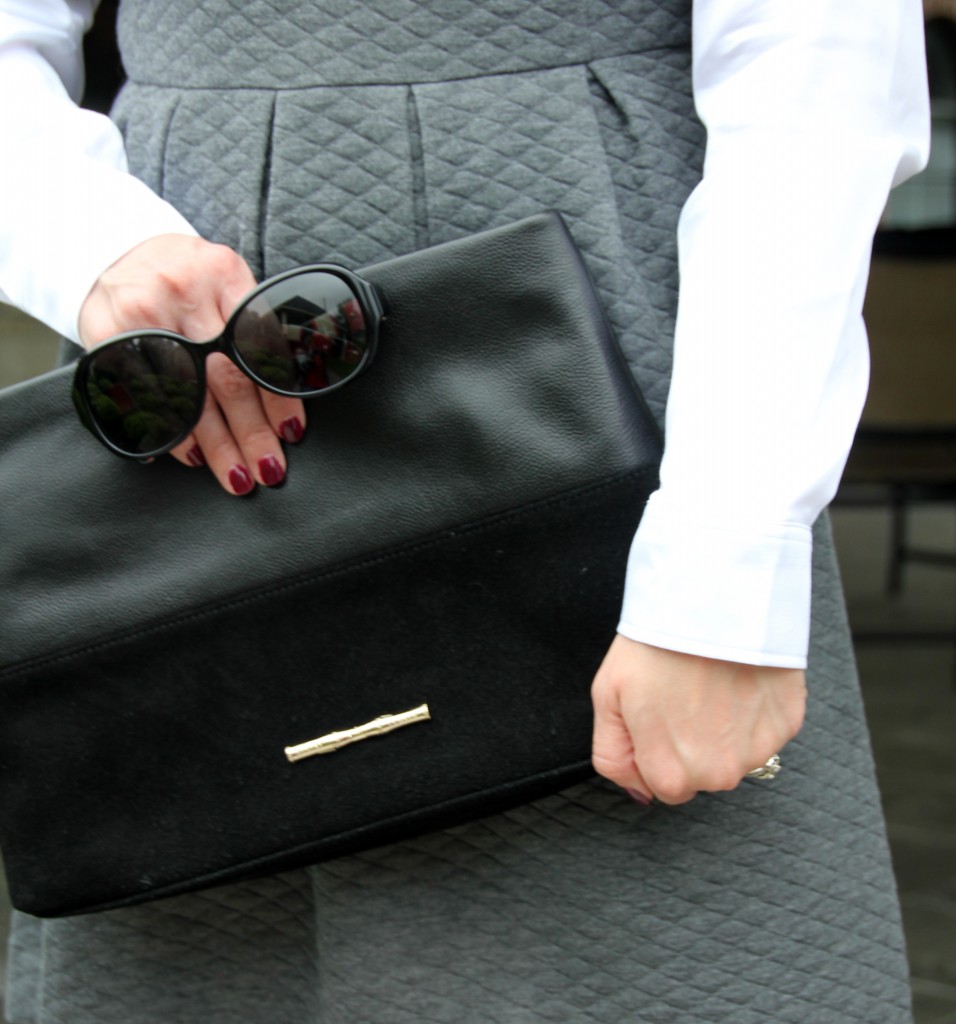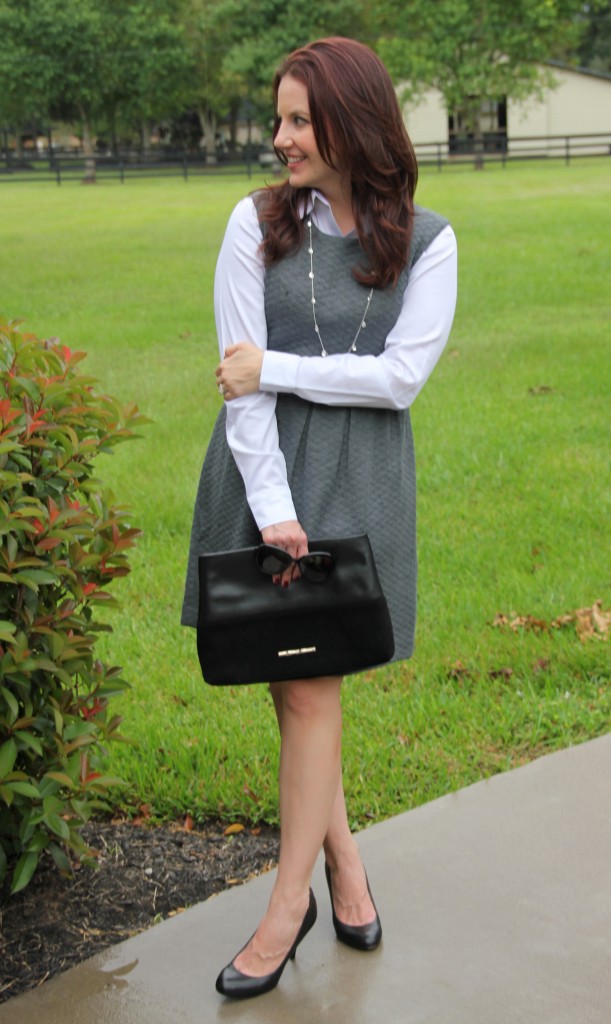 | OUTFIT DETAILS |
LOFT Quilted Skirt Dress | BANANA REPUBLIC Fitted Non-Iron Sateen Shirt | SAM EDELMAN 'Camdyn' Pump | STELLA & DOT Demi Layering Necklace | ELAINE TURNER Drew Leather Clutch | ESSIE Bahama Mama | MAC Lipstick'Faux'
I went to the Loft on my lunch break a few weeks ago for a pair of pants and my saleswoman said the magic words "Everything is 50% off".  Talk about a lunch power hour!  This amazing quilted dress was one of a few dresses I picked up.  I absolutely love the quilted detailing of the dress. I am a huge fan of solid colors with textured detailing right now.  I think the texture adds a fresh look on everyday silhouettes.  Shopping on my lunch break can sometimes lead to impulse shopping, so when speed shopping I think about how many ways can I style this piece, the more ways I can think of the more likely I am to buy it.  I usually apply this philosophy to all shopping ventures, but especially when speed shopping to prevent impulse buys I will regret later. When I saw this dress, I immediately thought of multiple ways to style it and I was SOLD! For fall when the weather is still warmer, a pump is perfect. This dress also looks great solo with a colorful cardigan over it.  With the temperature slowly dropping, I plan to style this with black boots and a darker button down for winter.  I think this gray will look amazing with a maroon/oxblood top!  Next time you are out shopping and undecided about a purchase, think about how many different ways you can wear the piece.  If you can think of at least 3, it may be worth purchasing!