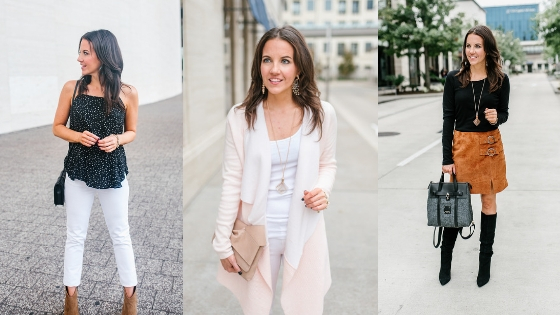 MEET KAREN
Hi! I'm a 30-something newlywed and corporate working gal, living in Houston, Texas with my husband Steve and our sweet and adorable dogs, Harlow and Lucy.  You can usually find me enjoying a good cup of coffee or fabulous glass of wine, probably on a patio somewhere.  A spin class addict who cannot be left alone in a beauty store or say no to a bowl of queso.
I have always been a firm believer that a fabulous outfit can change your life. Why? Because if you feel put together, fabulous, and love what you have on, you will walk out that door feeling confident, happy, and ready to take on whatever life is going to bring you today.  Somedays for me that might include sky high stilettos and a dress, other days a silk blouse and jeans, and even an athlesiure leggings outfit.   Styling outfits has long been a passion of mine.  A way to create the person I feel like being today.  I love affordable fashion finds and a good designer splurge.  I created this space to share my love of fashion and creating confidence boosting outfits.  I hope in this space you find inspiration to live out your best life, an outfit that makes you feel like you can conquer the world, and while we are at it a killer pair of shoes.  Consider me your new shopping partner and hopefully your newest gal pal!
ABOUT LADY IN VIOLET
In 2014, Lady in Violet launched as a place to share daily outfit inspiration, beauty tips, and a love of shopping.  Since that October launch day, Lady in Violet has grown into a daily ritual for women seeking fashion and beauty inspiration.  Styling outfits, sharing beauty favorites, and connecting with women have grown into some of the blog and Karen's greatest passions.
For partnerships and other inquires, please email ladyinvioletblog@gmail.com.