Monthly Archives:
May 2015
This is it! The post I have been promising – my full review of my experience with Rocksbox.  Let's start at the beginning, just in case you have not heard of Rocksbox.  Rocksbox is a jewelry subscription service.  For a monthly fee of $19, you can borrow 3 pieces of jewelry at a time.  A box will arrive at your doorstep, keep for as little or as along as you like, and then mail back the pieces to receive your next box. Rocksbox sends well known brands like Gorjana, Kendra Scott, House of Harlow and Loren Hope. They also have a few brands you can only purchase through them like Slate and Perry Street.  If you really love a piece you can purchase it at a discounted price.  To purchase a piece, you simply do not send it back when you return the box.  Rocksbox will charge your credit card for the purchase price.  It is important to note, you must keep a credit card on file with Rocksbox for both your monthly subscription and to purchase jewelry.
How do they know what to send you?  After signing up, you fill out a style survey.  The survey consists of questions like – Do you wear more silver or gold jewelry? When do you wear jewelry? and What types of jewelry do you wear?  You can retake the survey whenever you want.  They also have a wishlist section where you can peruse some of the jewelry they send out to pick pieces you would like to receive. I always go through the wishlist section after I send a box back.
How many boxes do you recieve a month?  This all depends on you and how quickly you send your box back.  It took my boxes about a week and half to arrive starting with the day I dropped my box off at the post office.
How do you send back your box?  You use the same mailing bag that your box arrived in, so open carefully.  Inside your box is a preprinted mailing label for you to attach. (You can also print online if you lose it.) You can then put it in your mailbox or any USPS drop-off location. I personally take mine directly to the post office.
Below are the four boxes I have received in my three months with Rocksbox.  All the pieces come individually wrapped inside the white box.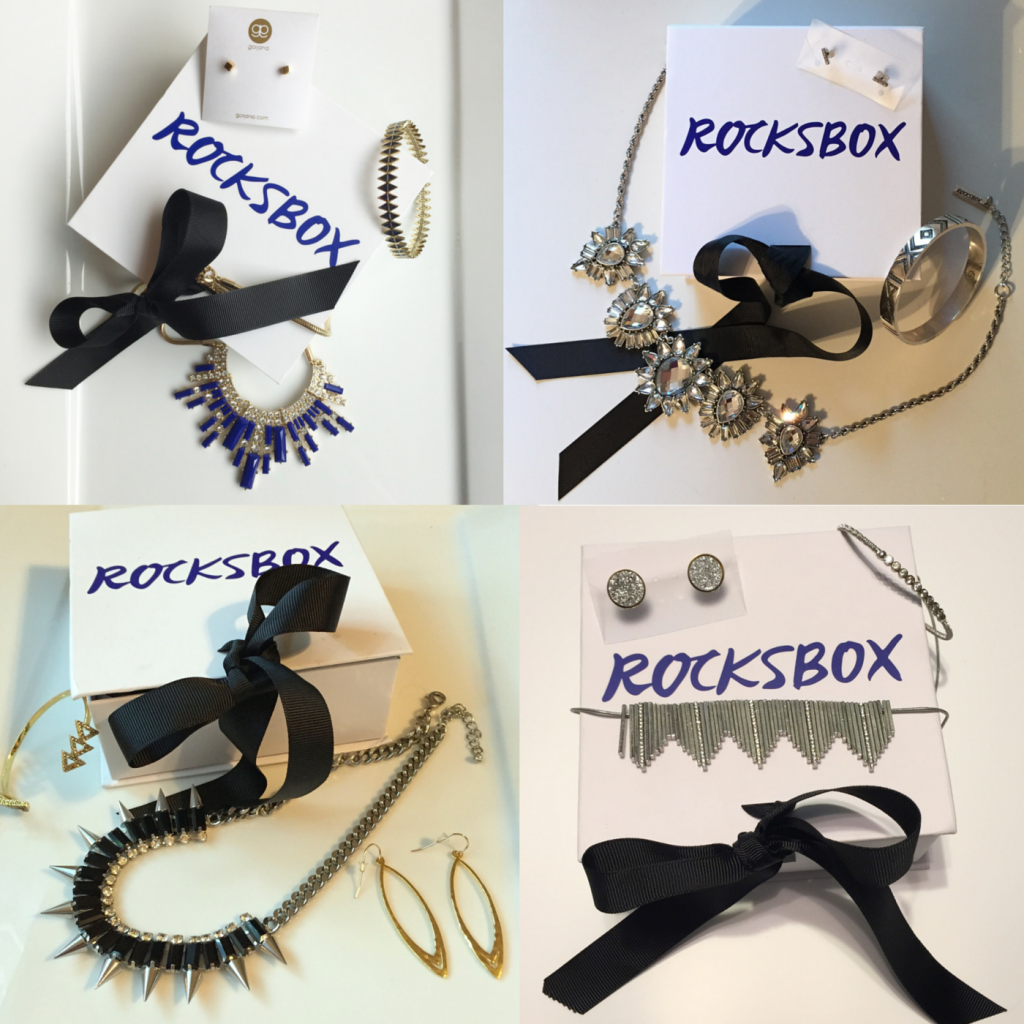 After I returned each box, I signed into Rocksbox and reviewed each item.  The stylists use my reviews to curate my future boxes.  If you leave feedback as soon as you return your box to the post office, this will speed up the process of them sending out your next box.   Overall I have liked all the pieces I have received, some more than others.  I have never felt pressured to purchase any of the pieces.  In addition to the discounted price, you also receive $10 off one piece each month.  I receive an email at the beginning and end of the month reminding me about the $10 off.  Below are detailed descriptions of what I received in each of my four boxes, how I styled them, and my feedback for each item.
BOX 1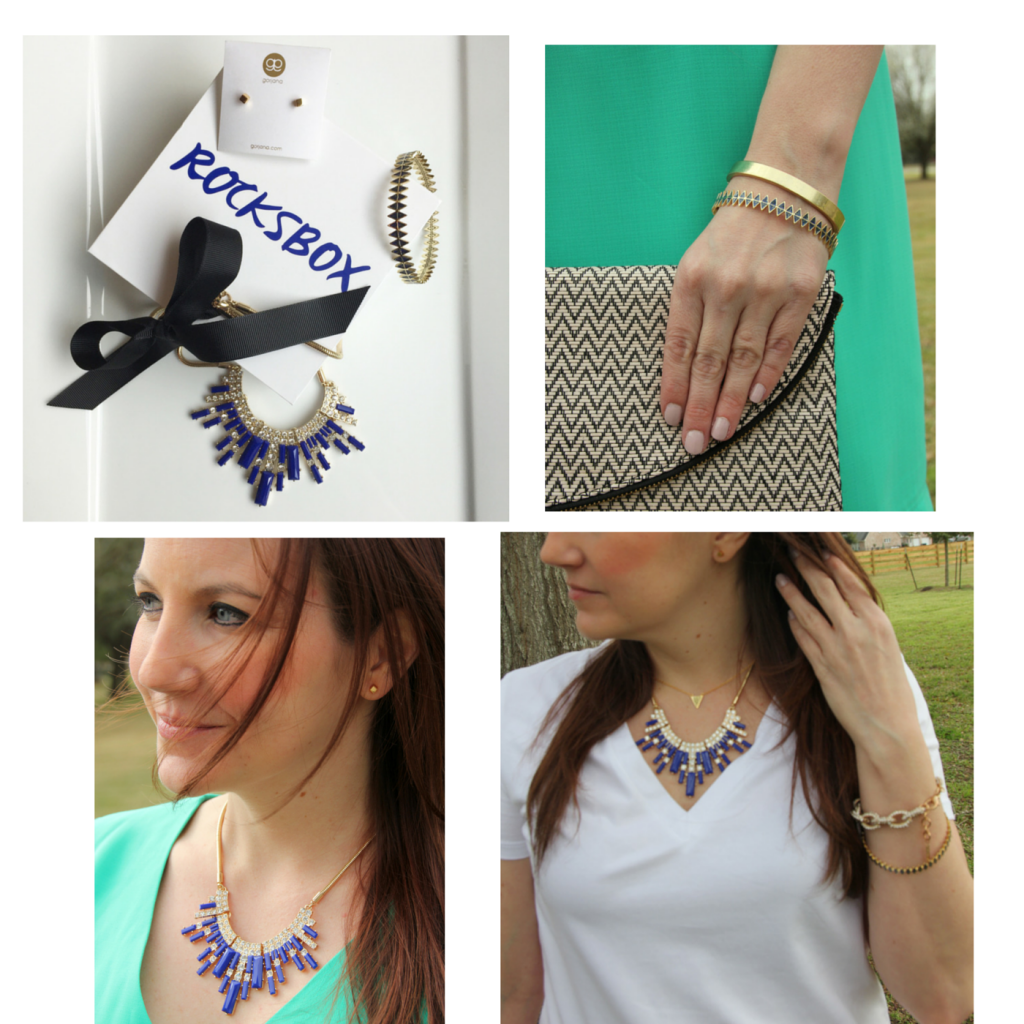 PERRY STREET Cicily Necklace, HOUSE OF HARLOW Reflector Bangle, GORJANA Zoe Studs
One thing that was important to me was being able to style this jewelry with clothes I already own.  I thought this necklace was pretty, but I did not have much in my closet to wear with it.  I also wore it with a black crew neck sweater.  I knew when it arrived I would not keep it, but it was fun to wear.  I love Gorjana, so I was excited to try more earrings from her.  These studs were way too small for my taste.  I really liked this House of Harlow bracelet, but it was too big for my wrist.  Overall, all three pieces were fun to wear for a week, but I didn't love any of them enough to make a purchase.  I sent this box back rather quickly after only one week.
BOX 2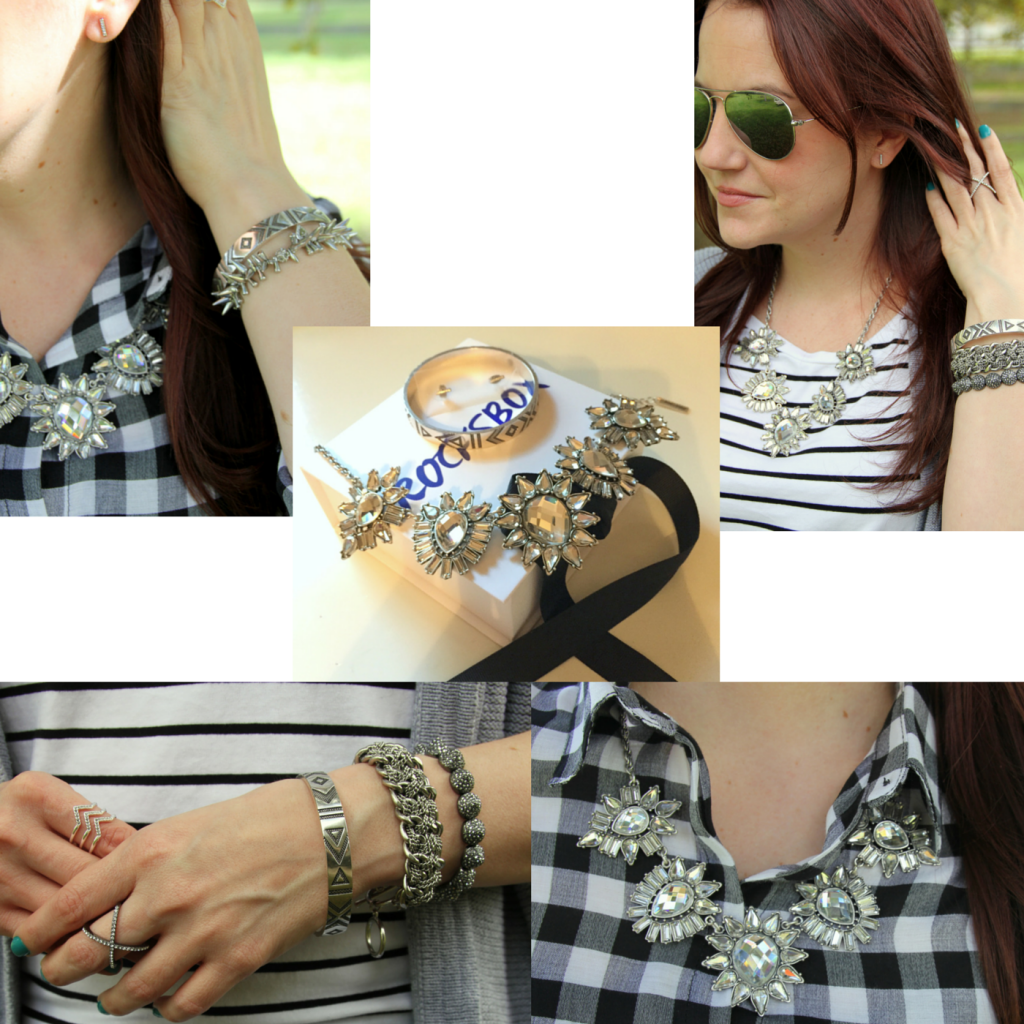 PERRY STREET Selina Crystal Necklace, HOUSE OF HARLOW Symbols and Signs Bangle, SOPHIE HARPER Pave Taner Bar Mini Studs
For my second box, I requested a clear statement necklace.  In my style survey, I had selected that I wore mostly silver jewelry.   This box was way more me than my first box.  I have looked at statement necklaces along the same design as the one I was sent.  My only problem with this necklace was the big stones, they felt a little like big mirrors.  I did enjoy getting to try out this necklace though, and have since started looking at similar statement necklaces to purchase.  I loved this bracelet!! I wore it almost daily while I had this box.  The only reason I did not purchase was because it was a little big. I have small wrists, so most bangles fit me big.  I also like these studs because they were pave.  I toyed with the idea of purchasing them because they were pretty and great to wear in the office.  In the end, I returned all the items in the box.  I did keep this box longer for just over two weeks, because I really enjoyed wearing all three of these pieces.
BOX 3
SLATE Spiked Out Necklace, GORJANA Aldridge Drop Earrings, HOUSE OF HARLOW Tessellation Cuff
After sending feedback that the bangles were too big, my third box arrived with this gorgeous cuff bracelet.  I only have one other cuff, so I was excited to try out another one for a bit. I liked that they listened to my feedback and sent me a sizeable bracelet.  Cuff bracelets can be slightly opened and closed to fit all size wrists.  I wore this bracelet a lot while I had it, and I sometimes miss having it.  I chose not to purchase because I didn't like how open the cuff still was when I squeezed it closed.  This necklace was one of my wish list items. I was really excited to receive it, but once it arrived I found I did not have much to wear with it.  I think that is one thing I like about the whole borrow thing.  I thought I would wear this necklace all the time, but in reality it just wasn't as me as I thought.  I didn't have to spend $82 to find that out, so that was nice.  I had been shopping for some new gold drop earrings, so I was over the moon excited when these Gorjana earrings arrived.  I wore them almost everyday, I think my other earrings were a bit jealous. 🙂  These earrings were my first and only purchase from Rocksbox so far. I saved $15 off retail price (I checked the Gorjana website to be sure) plus my $10 monthly discount, which means I scored these $75 earrings for only $50!
BOX 4
SLATE Beyond the Horizon Necklace, VANESSA MOONEY The Castaway Bracelet, MOON & LOLA Chrysler Round Studs
My current box included another necklace from my wishlist.  As I mentioned in yesterday's post, I had seen someone with a similar necklace and loved it.  I have worn this with a few different tops both to work and on the weekends.   I have also been getting good use out of this delicate bracelet.  It is also a bracelet that can be sized to fit a variety of wrists which I really liked!  I was really excited to receive these earrings because I had almost purchased a similar pair about a month ago.  After wearing them a couple times, I am honestly happy I did not purchase them previously, at least in silver.  The size of the earring and color is just a bit bright to me.  I haven't worn these more than a couple times.  I currently still have this box, so the verdict is still out as to whether or not I will keep the necklace or bracelet.
Overall, I have enjoyed having the subscription.  I may have a closet full of clothes and shoes, but my jewelry box is a little bare.  It has been fun to sample different styles of jewelry.  I like being able to see how they mix in with my current jewelry and clothes.  It is fun to see what they will send you each time. I totally cheat and sign in to my account as soon as I get the your box is sent email to sneak peek what is coming.  I have no patience!  Outside of my first box, I have kept all my other boxes for 2-3 weeks.  I think with each box, the items inside become a little more my style.  They definitely listen to your feedback and look at your wishlist and put thought into what they send you.  The only feature I have not tried out is requesting specific items for an event.  However, I do have an event at the end of June that I may try this out on.  The value of my boxes varied from $175-$235.  Even if you subscribe with zero intention to purchase, you get to wear about $200 worth of jewelry every month for only $19.  I think that is a pretty awesome! It leaves me more money for shoes!! 🙂  I personally am currently looking to add to my jewelry box, so I weigh the pros and cons on purchasing all items I am sent.
OH MY GOSH that was long!!  I hope I have answered any questions you may have about Rocksbox.  If you have not yet subscribed, you can enjoy your FIRST MONTH FREE with code LADYINVIOLETXOXO.  If you receive items and need some styling ideas, feel free to email me (karen@ladyinviolet.com).  I love talking fashion!!
Thanks for reading my long Rocksbox review!!!
This post is in partnership with Rocksbox.  All opinions are 100% my own.  Thanks for supporting the brands that support Lady in Violet!
OUTFITS FROM BOX 1: First Impression | Plain White Tee
OUTFITS FROM BOX 2: Gingham and Sparkle | The Clear Statement Necklace
OUTFITS FROM BOX 3: Living on the Edge | Spring Midi Skirt | Black Lace
OUTFITS FROM BOX 4: Striped Midi Skirt