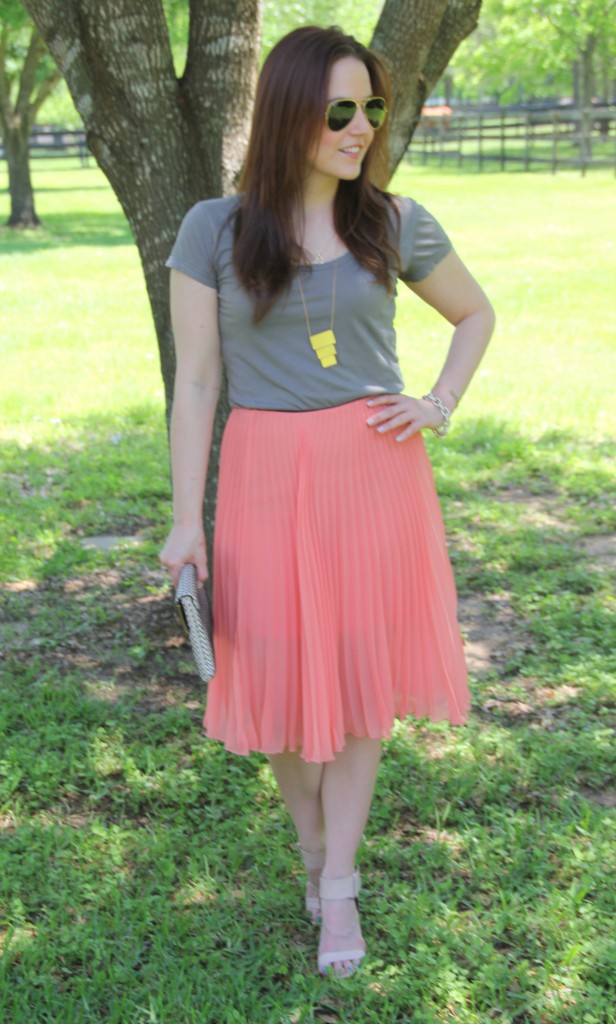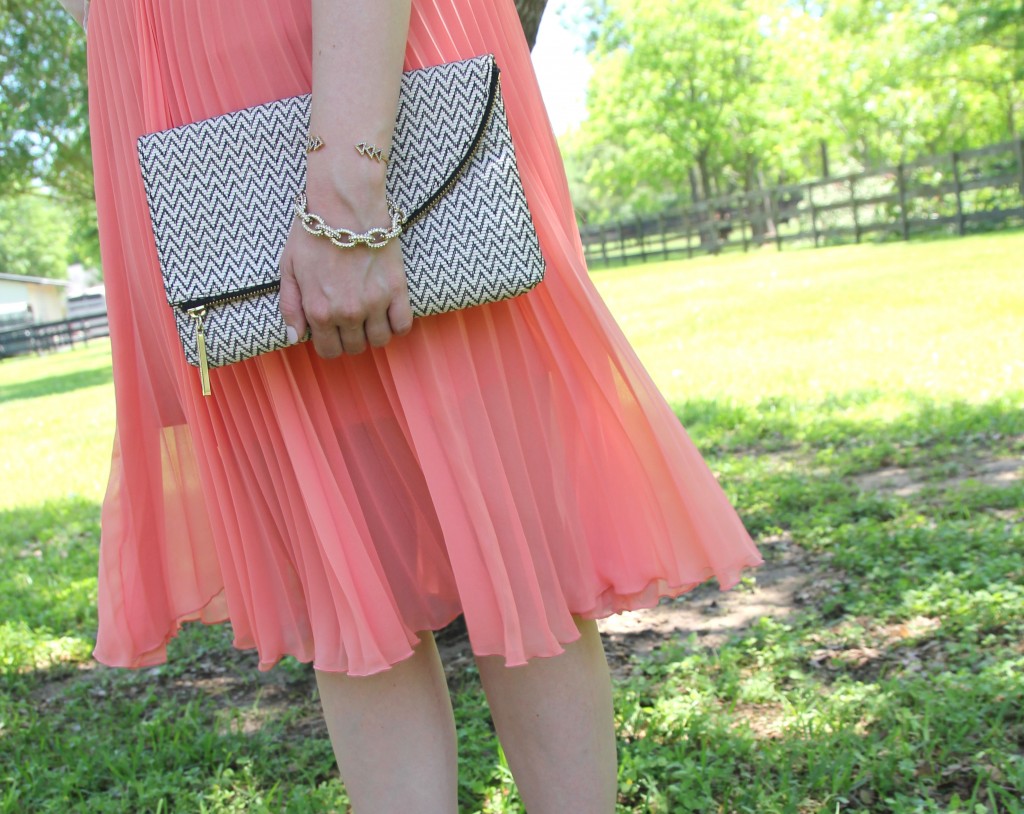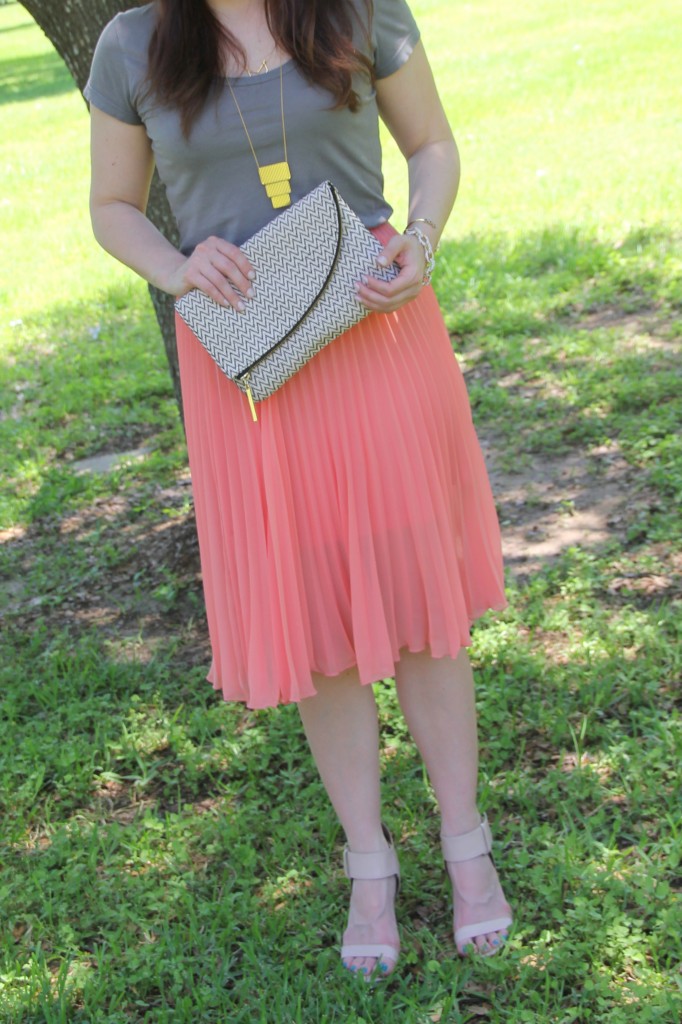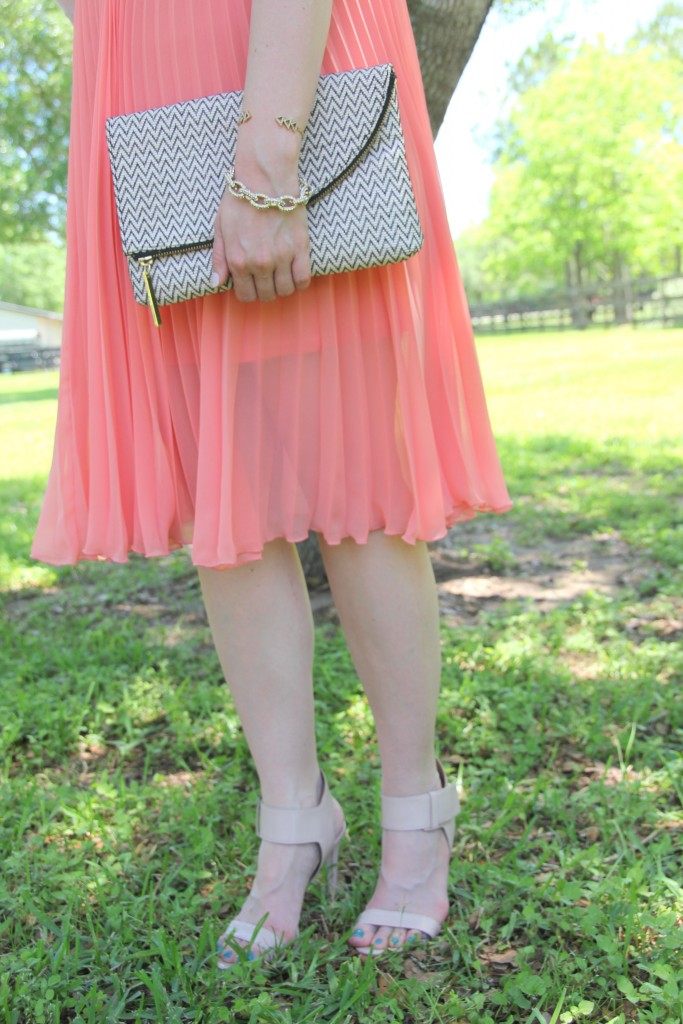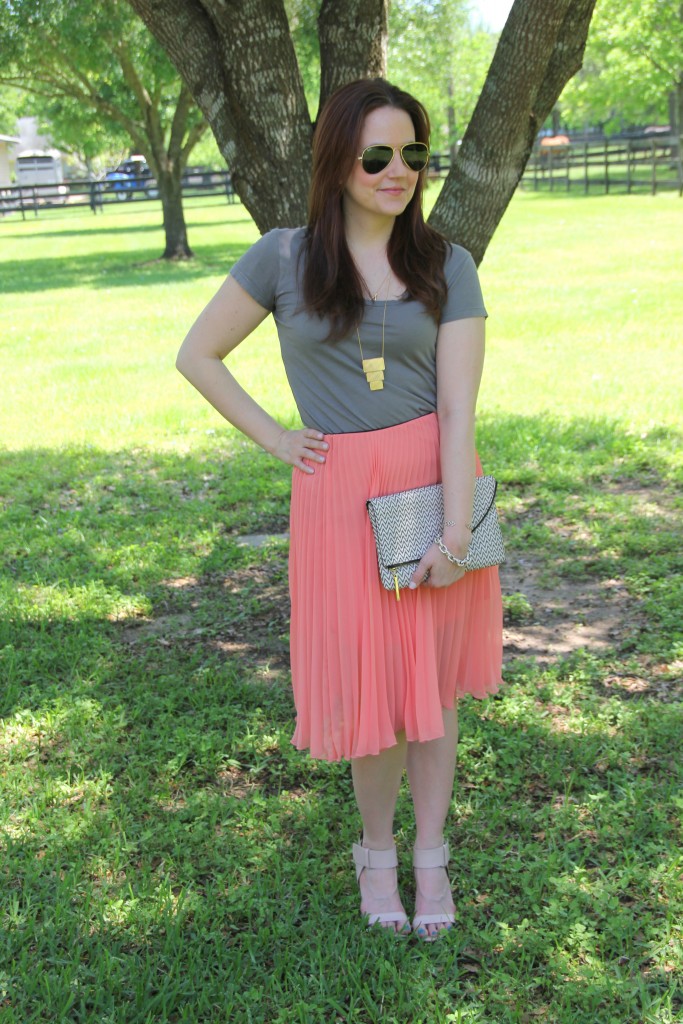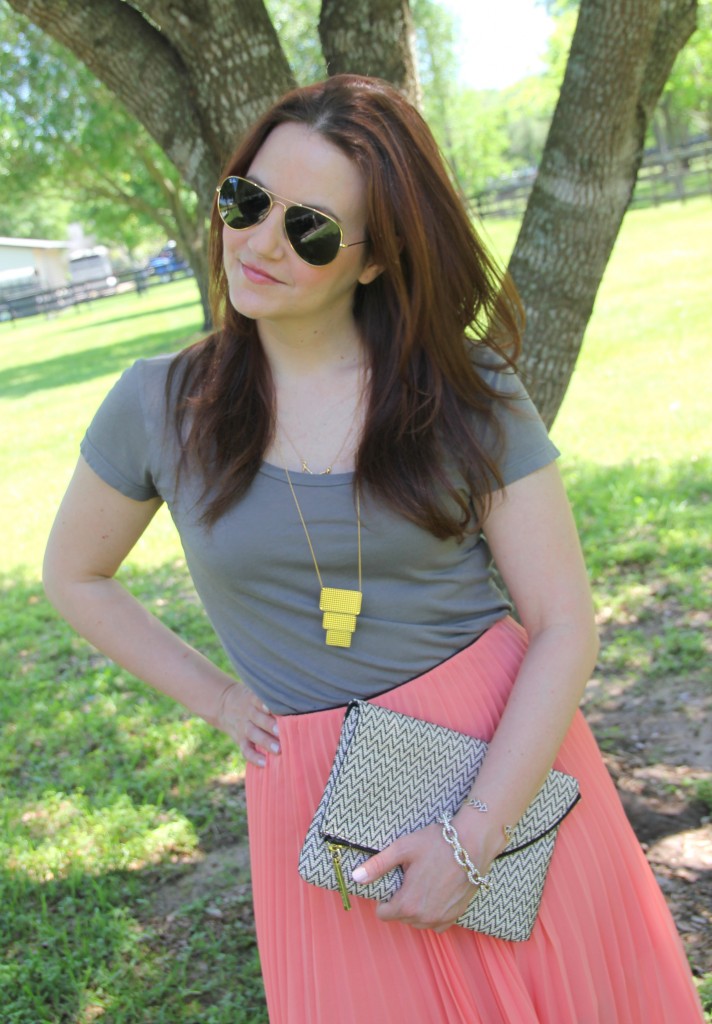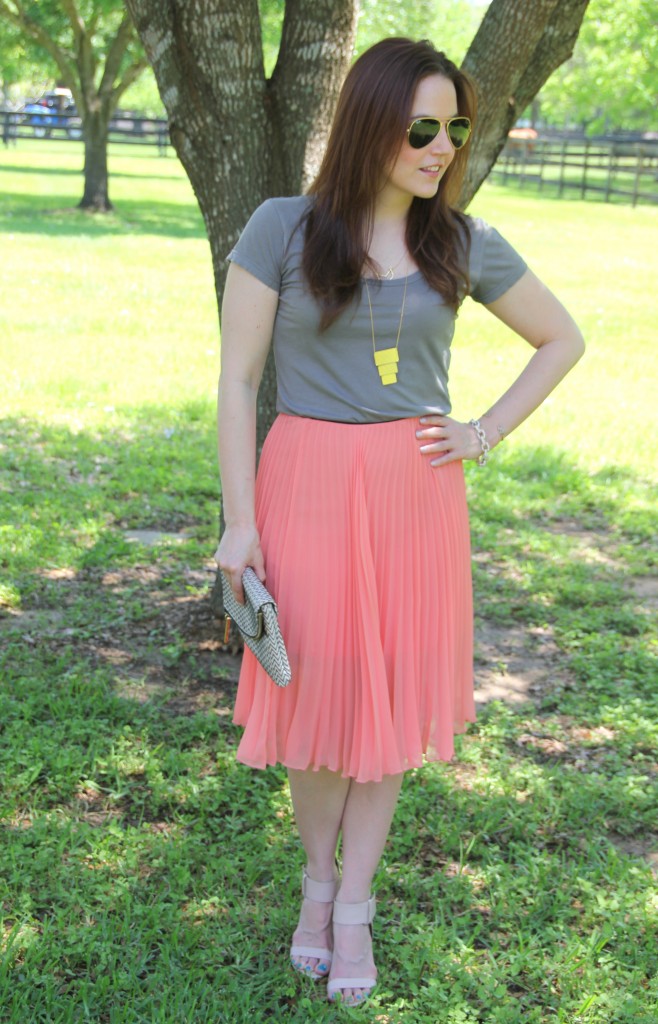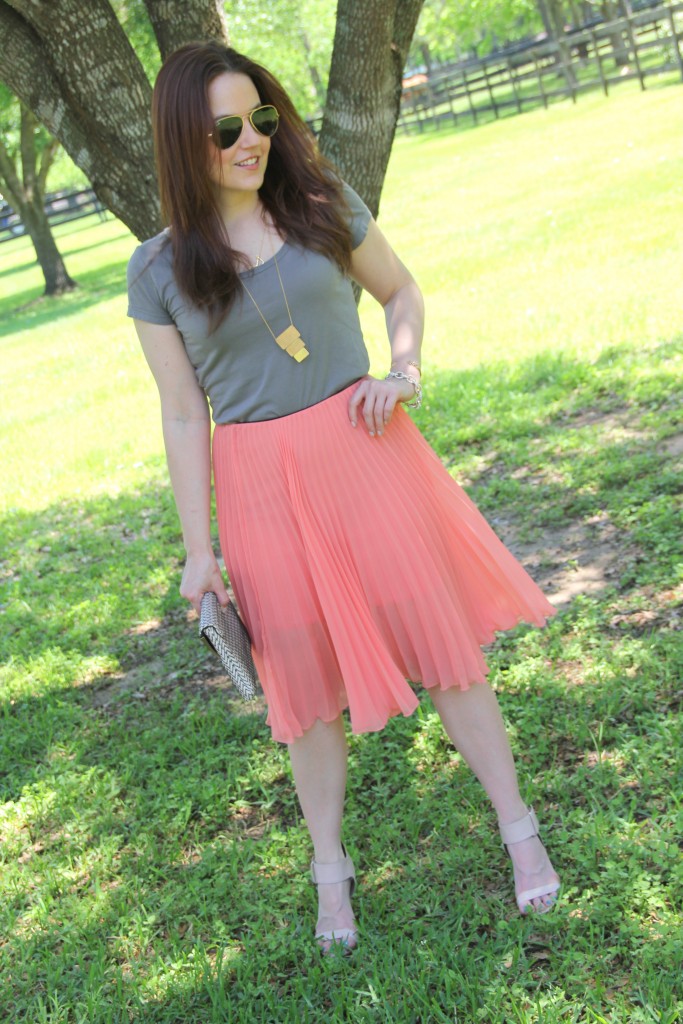 | DETAILS |
4PAIX Scoopneck Tee, old [SIMILAR | SIMILAR] | TOPSHOP Pleat Midi Skirt *ON SALE | ENZO ANGIOLINI Brodee Sandal | ELAINE TURNER Annabella Chevron Clutch | GORJANA Chevron Pendant Necklace, Mia Tiered Necklace | Pave Links Bracelet, Old [SIMILAR] | HOUSE OF HARLOW Tessellation Cuff** | RAY-BAN Original Aviator Sunglasses | JULEP Shari | GLO MINERALS Empress Rose
** c/o Rocksbox Jewelry Subscription (First Month Free with Code LADYINVIOLETXOXO)
I usually hate when there is any sort of breeze or wind while my sister and I are taking blog photos because my hair usually ends up in my face for a good half of the shots.  On this day though, the light breeze was perfect to showcase just how fabulous this skirt moves!  I have to give major props to my sister for perfectly catching it moving in the breeze.  These pictures show just how gorgeous this skirt looks when you move and walk in it.  I have found my favorite way to wear this skirt is with a t-shirt.  I love that its is fancy on the bottom and casual on top.  Pairing it with a tee is also a great way to wear this skirt to a baby shower or brunch without looking too overdressed.  Midi skirts are in every store right now! I think they are complimentary style on an array of body types which means they might be around for awhile.  Despite that the length of a midi skirt is different on everyone based on height, the skirt never seems to be at an unflattering length.  I am a petite 5'3 and one of my besties is about 6 inches taller than me.  We were both talking the other day about our love for the midi skirt length.  It's a professional length for work, but you can still wear it on the weekends too.
I have to give a special thanks to Lauren of Style Elixir for naming me Head Stylist on her blog yesterday! Check out my Q&A with her here!  You may just learn something new about me!  Thanks for stopping by!!
RESTYLED & REMIXED
PLEATED MIDI SKIRT: Peach Pleats
ENZO ANGIOLINI SANDALS: Hello Color!
Follow Lady in Violet INSTAGRAM | TWITTER | FACEBOOK | BLOGLOVIN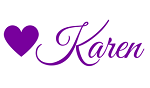 [jetpack_subscription_form title=" " subscribe_text="Enter email to subscribe and receive notification of new posts by email." subscribe_button="Submit"]
Love this post? You may also love: