Monthly Archives:
April 2022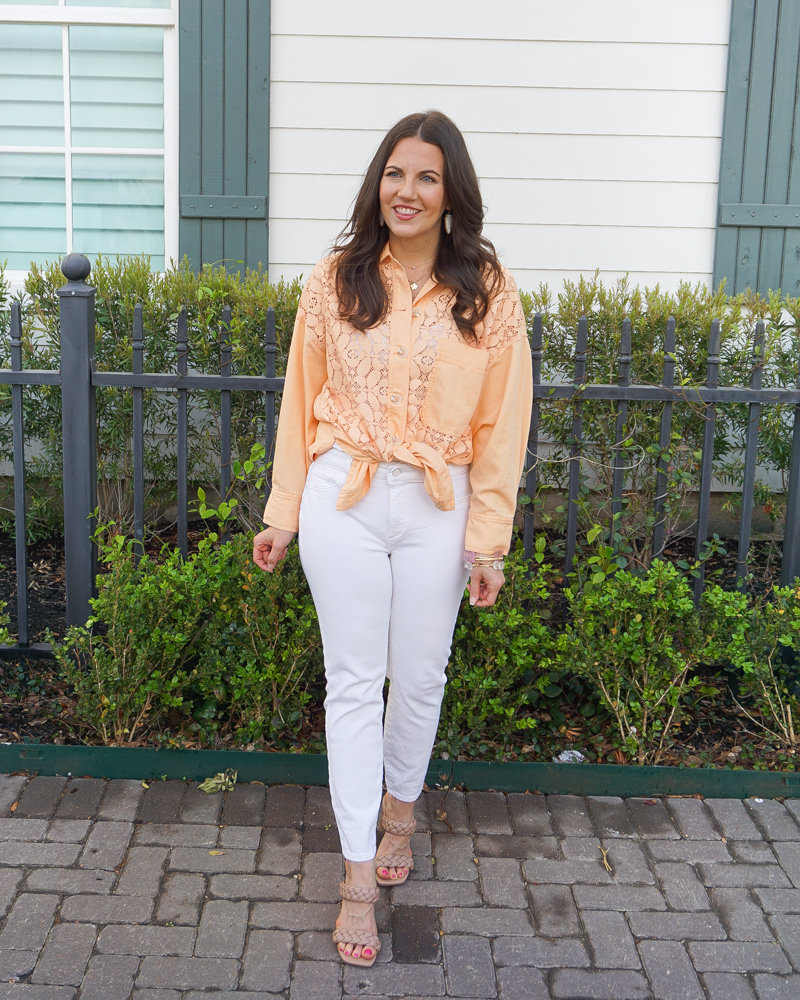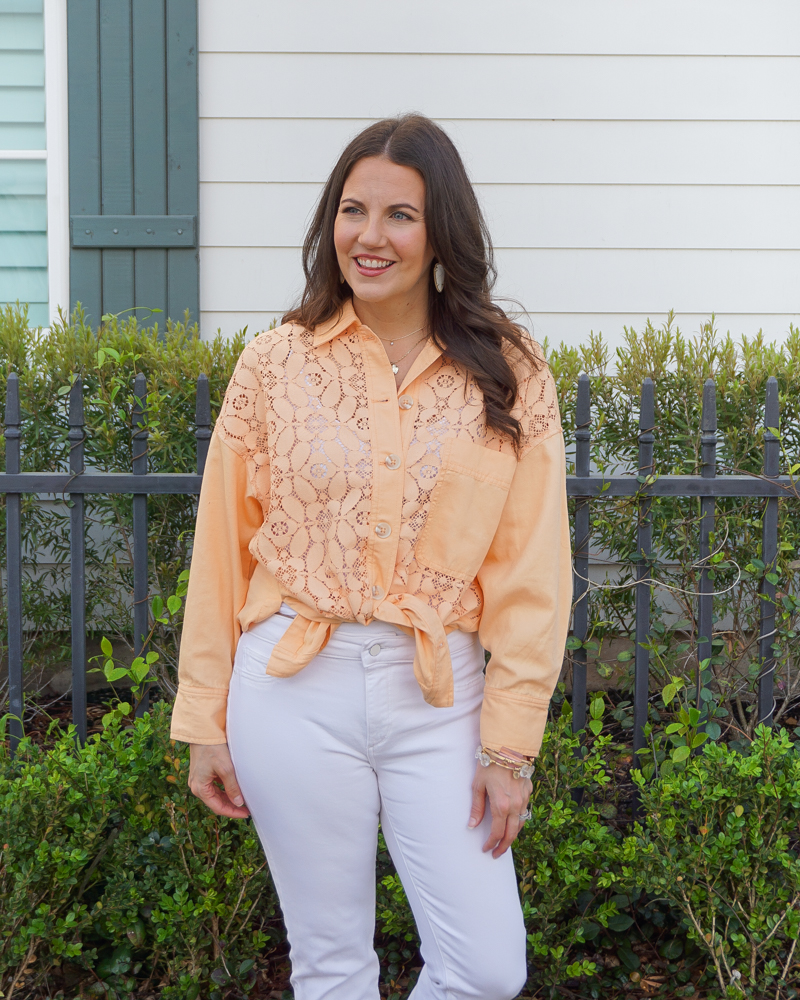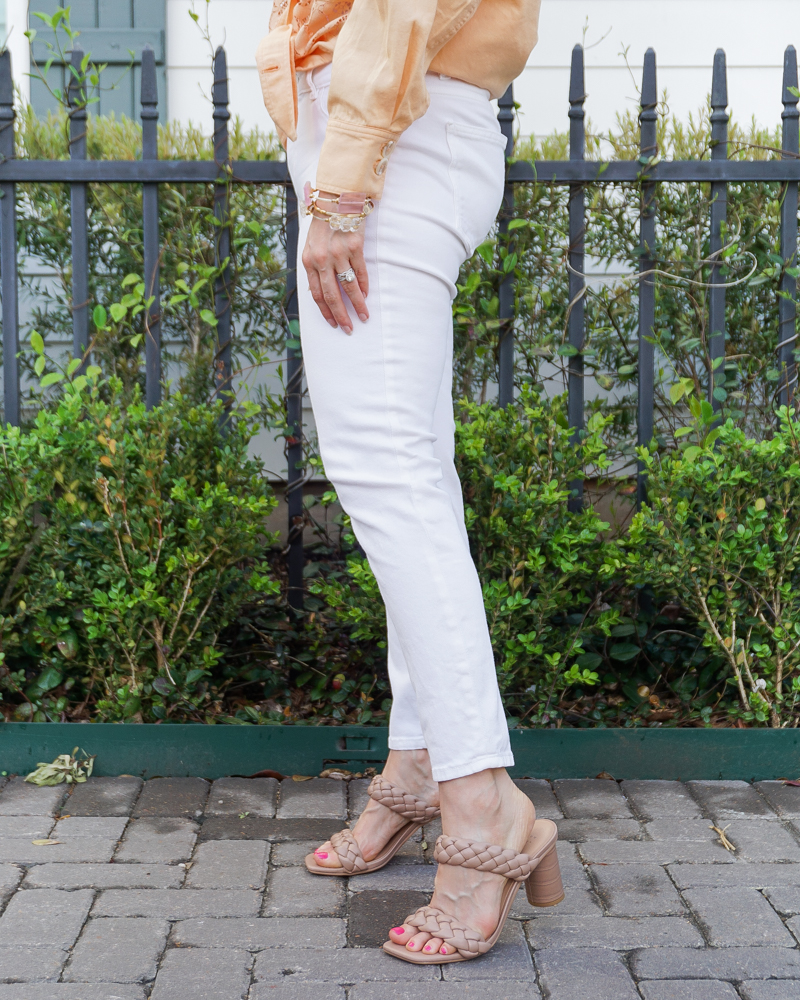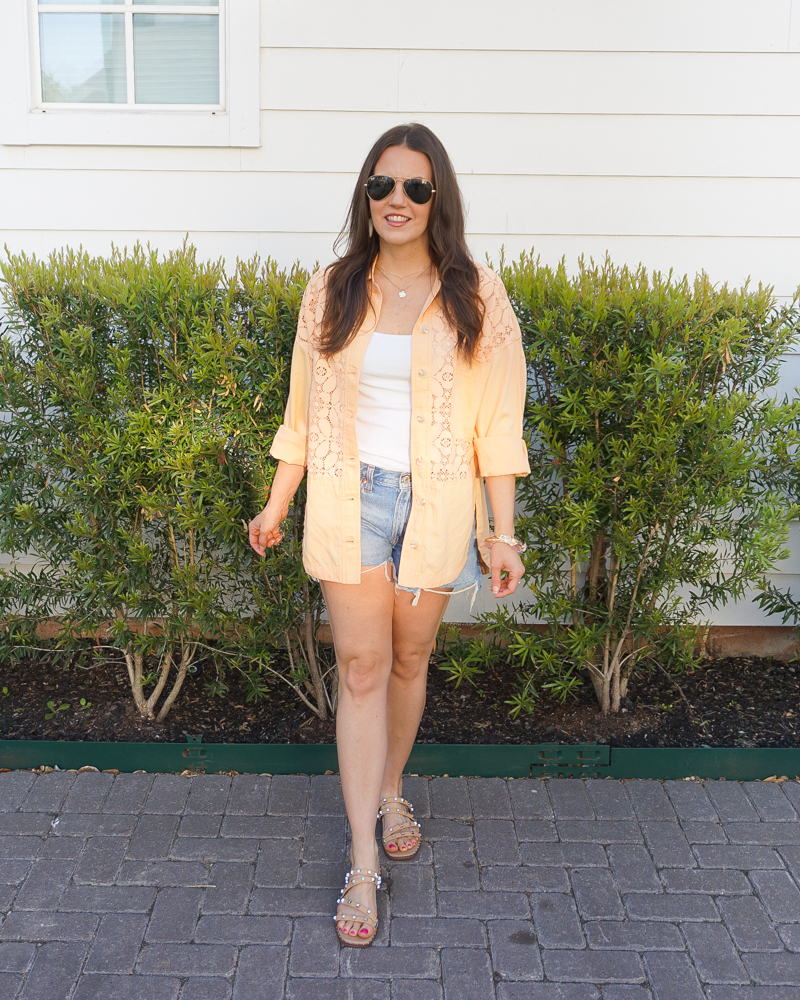 TWO WAYS TO WEAR A BUTTON DOWN SHIRT
A button down shirt is an easy item to quickly transition into multiple outfits and across several seasons.  I'm featuring two ways to wear a button down shirt that will work for this spring and summer season.  A bonus third look, make this cute colorful top work as a swimsuit cover up.  Its the perfect length for it!
First outfit idea – A pastel coral orange color like this one will be perfect paired with an all white ensemble.  You could easily wear this open like a short kimono or for a chic polished look tie this top at your waist.  I love how this defines the waist line and adds a little length to the leg.  I folded the back part of the shirt up to give the shorter top look all around.  Since this has a dressier look to it, I paired it with my braided heeled sandals.  The perfect Spring outfit for lunch, brunch or a colorful happy hour.
Second outfit idea – To carry this top into summer, I paired it with a white tank top and ripped shorts.  I kept the top open to give that kimono airy vibe and rolled up the sleeves to mix up the look even more.  My flat sandals are the perfect pairing for this summer vacation inspired look.
The front of this top includes the prettiest lace detailing. You need to wear a top underneath it.  I opted for white in both looks, but you could play with different pops of color like yellow or pink to change up the look of this top a little bit more.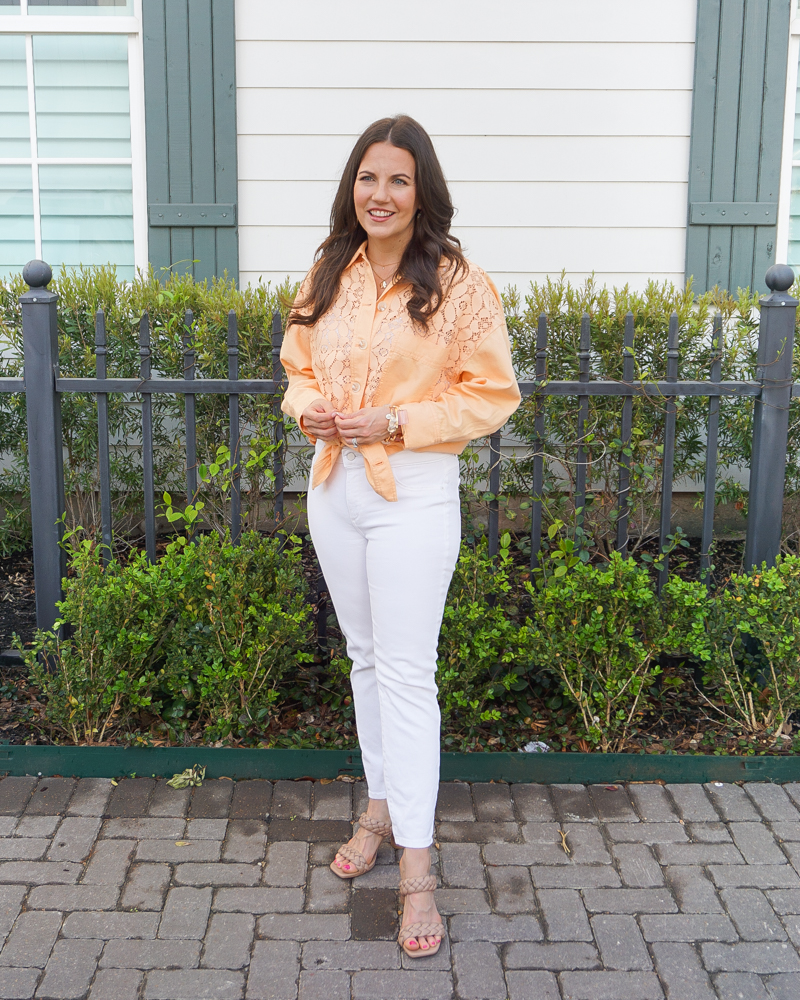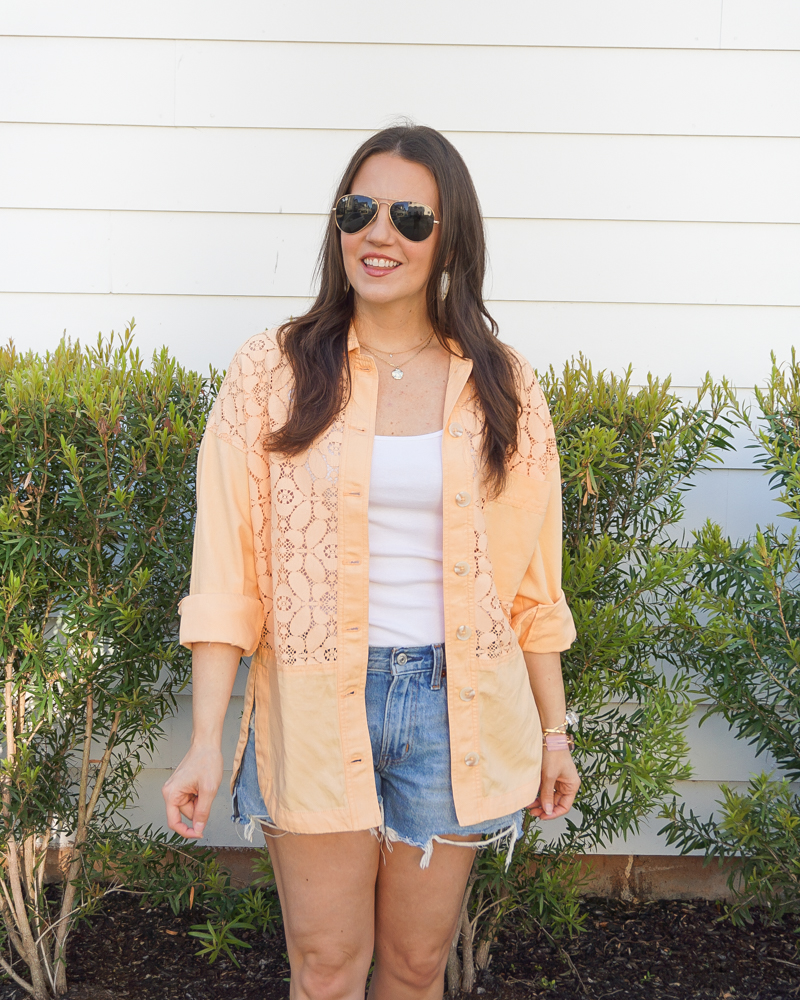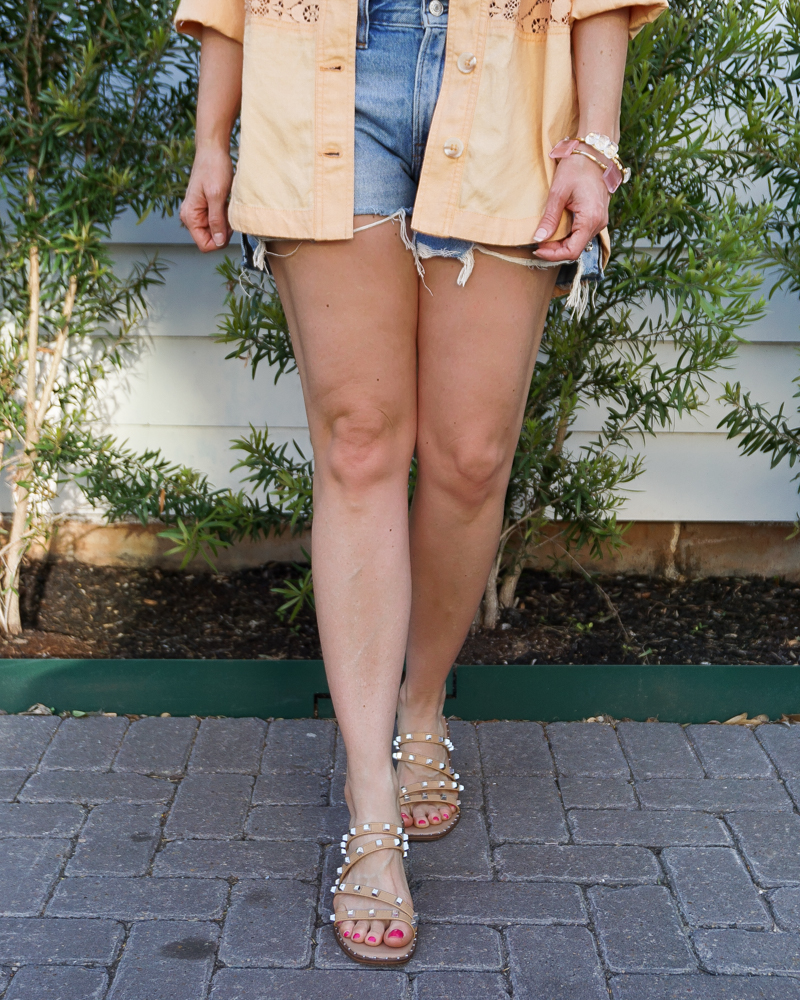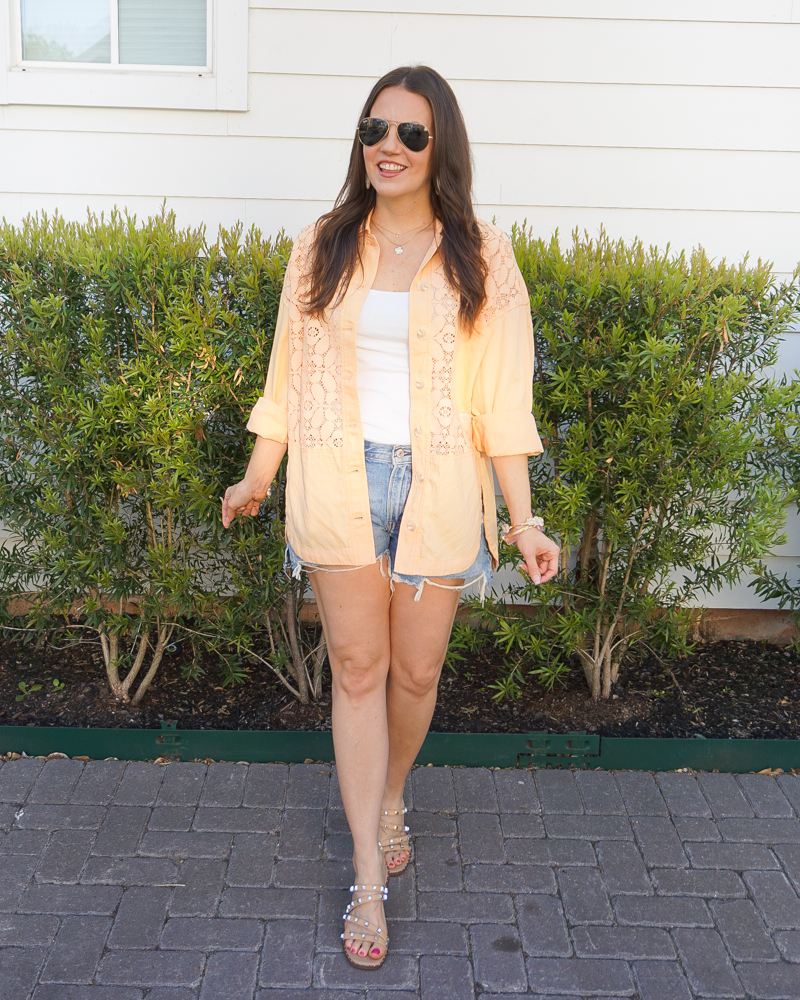 SHOP THE LOOKS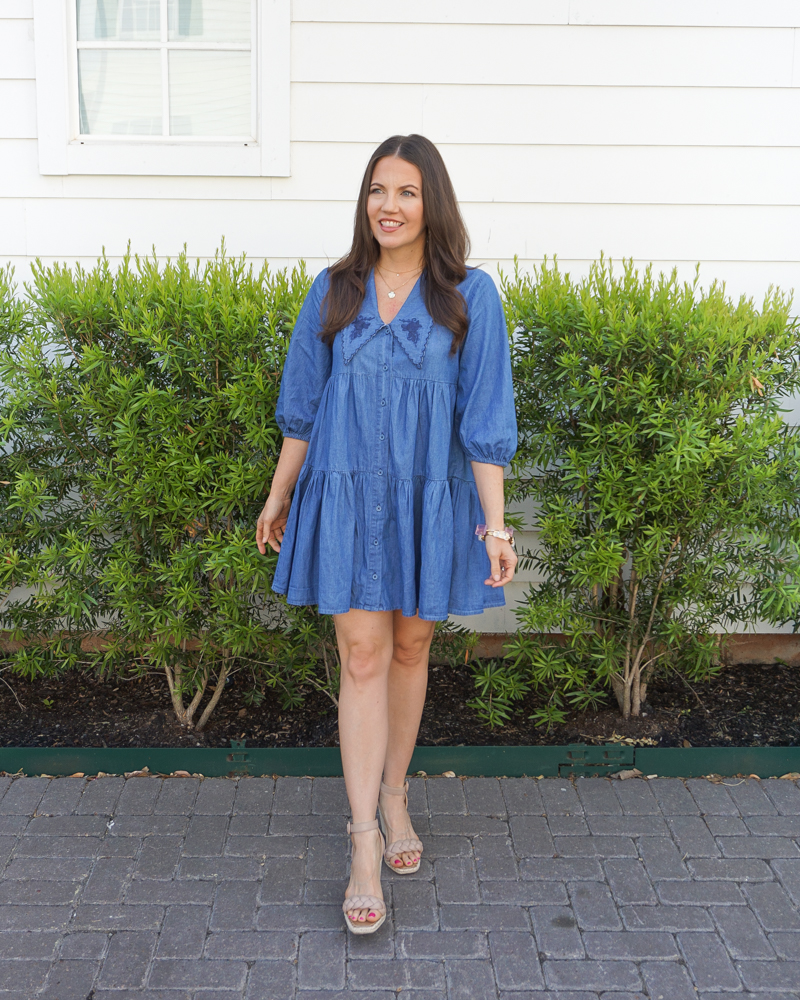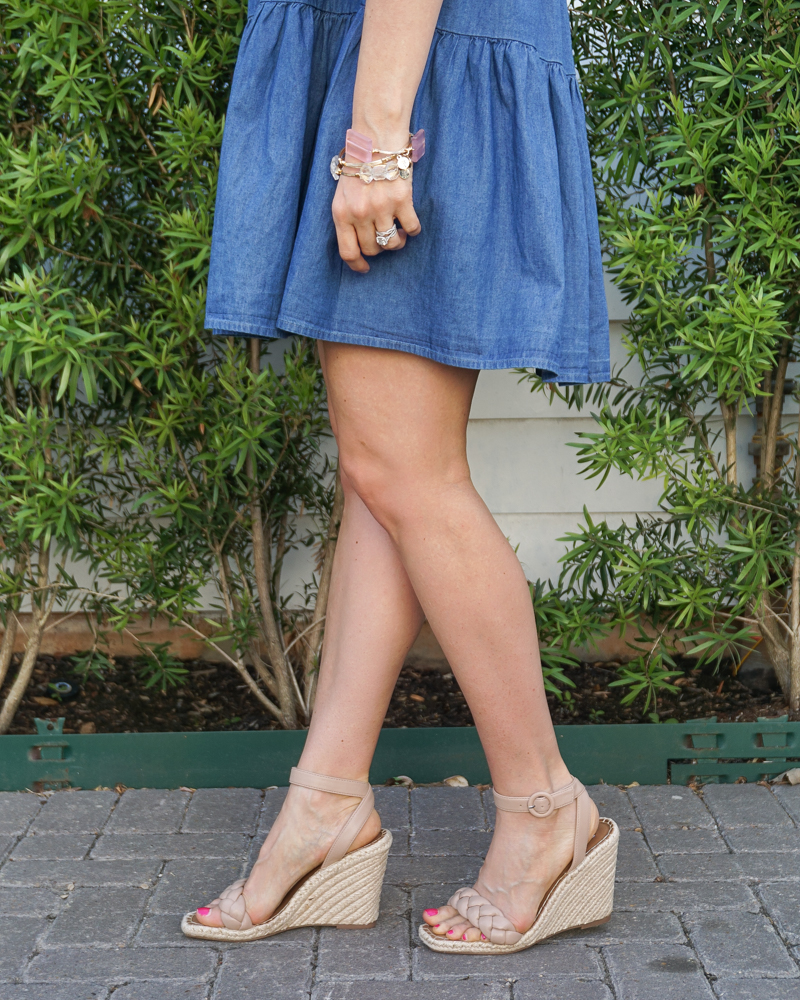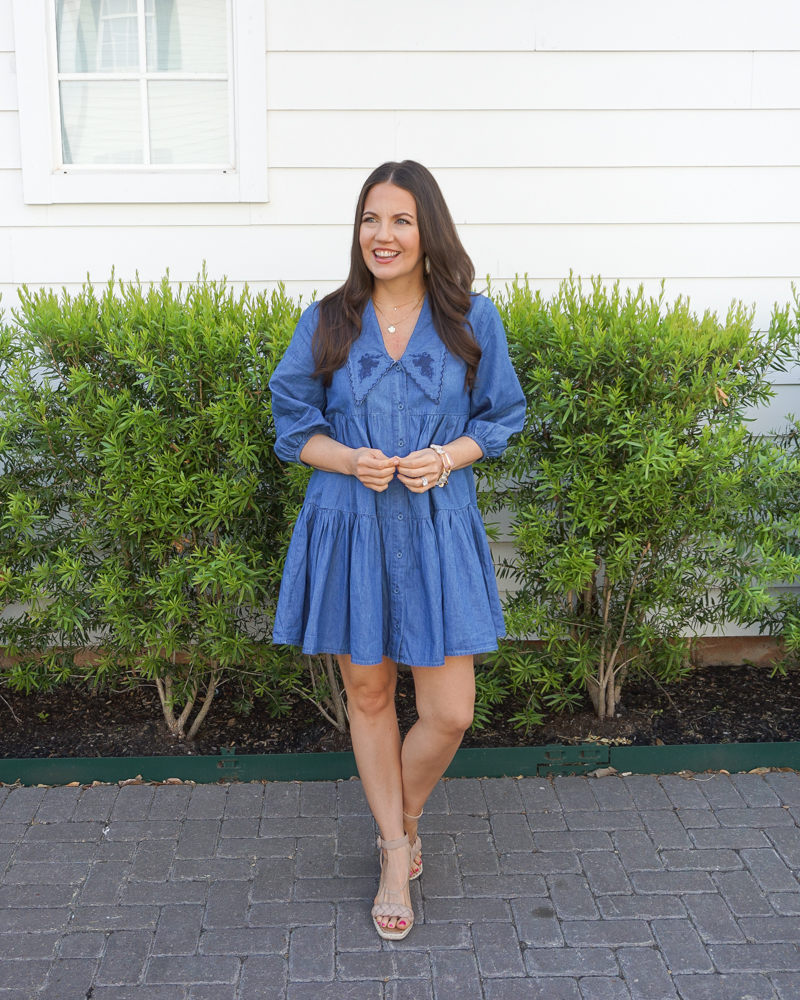 CHAMBRAY MINI DRESS WITH SLEEVES
I feel like I've shared so many dresses lately, I promise I have more jeans and shorts outfits coming soon.  The dress game this year is so good, plus I have more places to go this year and wear all of these fabulous spring dresses. While many spring dresses are sleeveless, I like to make sure and add a few dresses with sleeves.  Some occassions call for a dress with sleeves.  This chambray mini dress with sleeves stole my heart. The sleeves are the perfect amount of loose.  The band at the bottom of the sleeve doesn't sit too tight, but it will hold the sleeve up if you need it too.  It's such a fun and playful silhouette.  The material is lightweight and perfect for a warmer spring or summer day.  The collar has a pretty ruffle trim and embroidered detail to give this mini dress just a hint of statement factor.
I paired it with a braided wedge sandal for an outfit perfect for a bridal/baby shower or lunch with your gal pals.  This outfit idea will also work for Easter.  For a work friendly look, I paired this dress with a pair of tan loafer flats.  For a western inspired outfit, I paired this dress with a pair of western style booties.  Cowboy boots would be perfect too!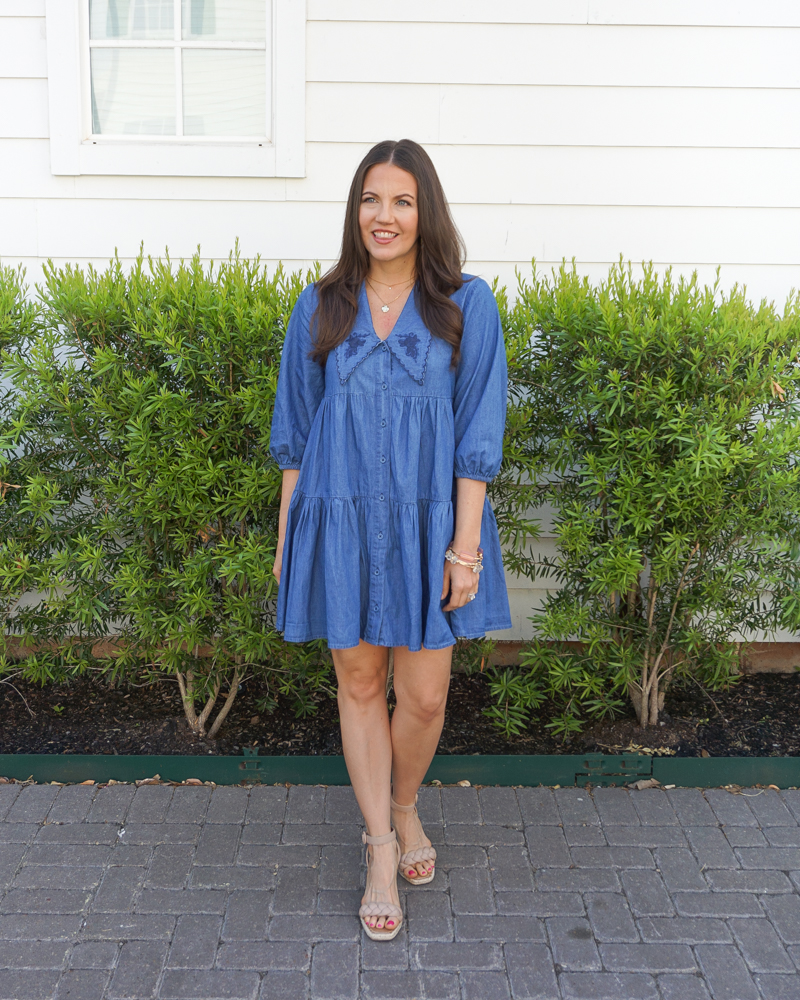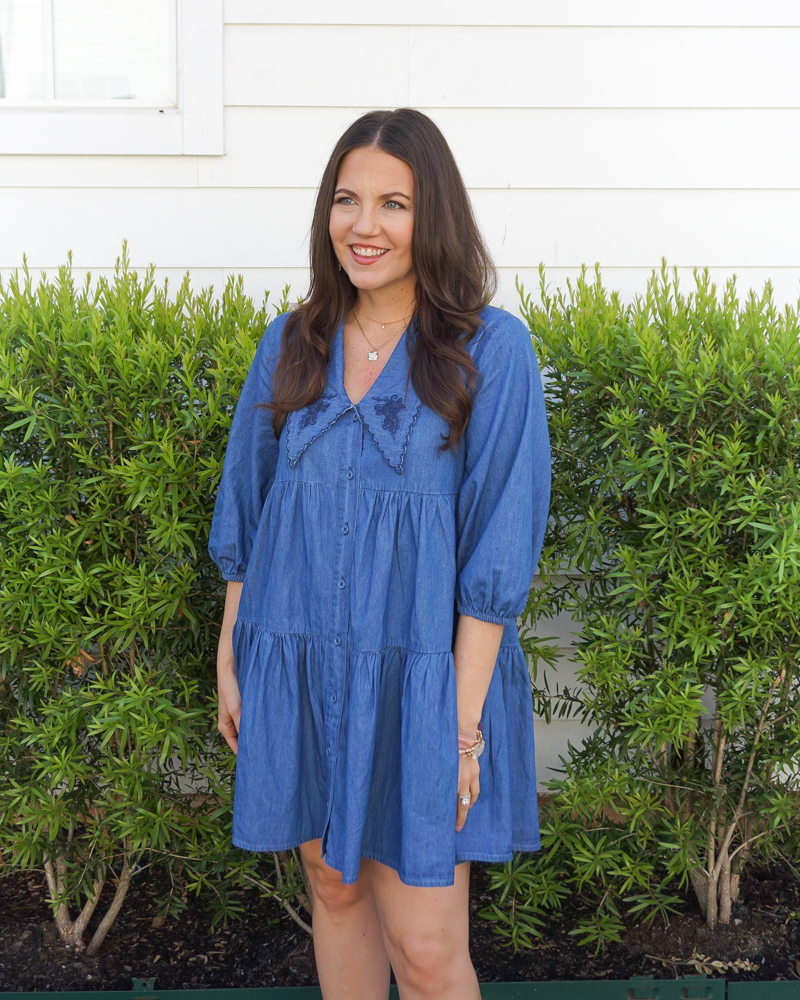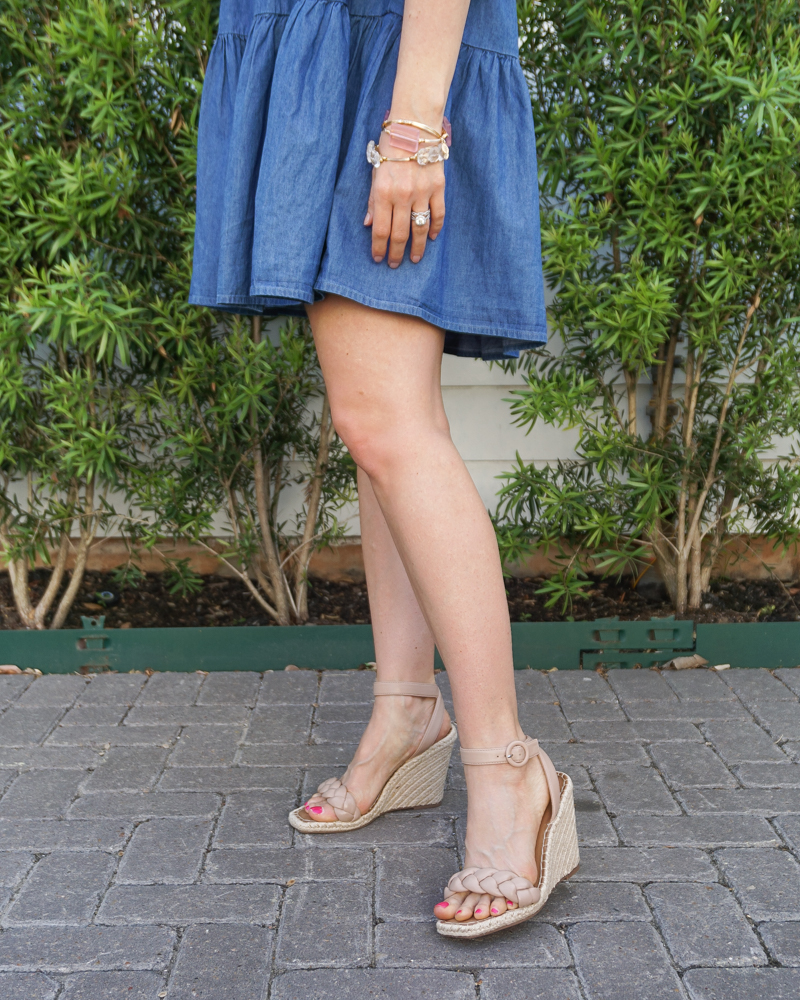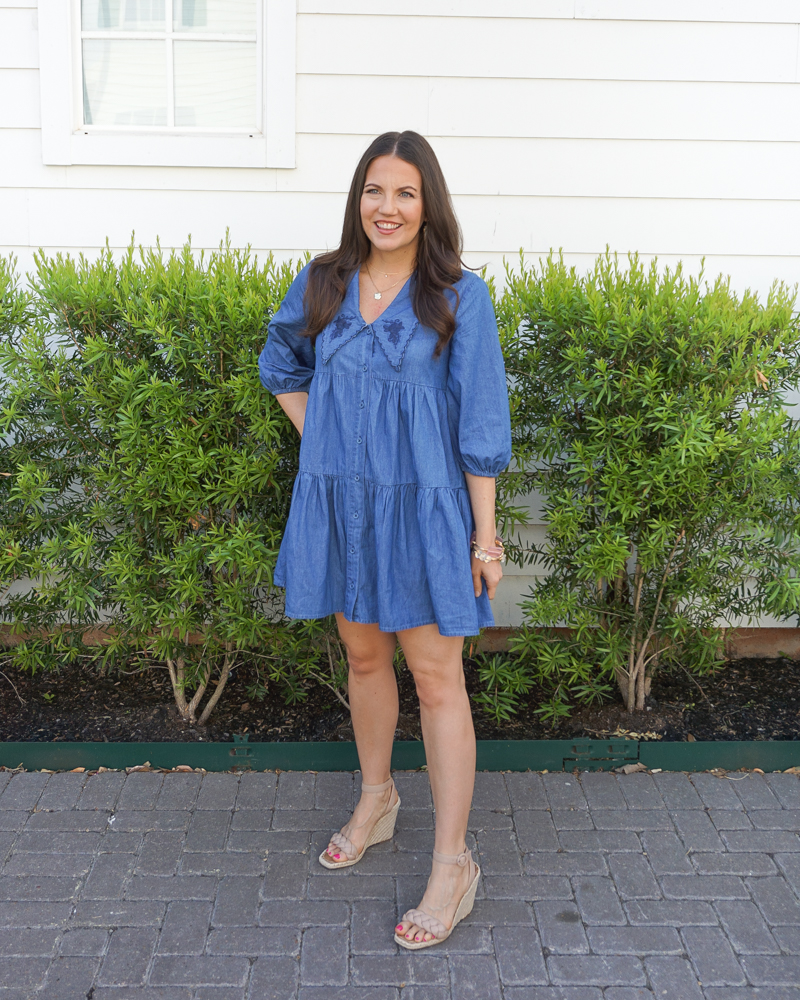 SHOP THE LOOK