Monthly Archives:
February 2017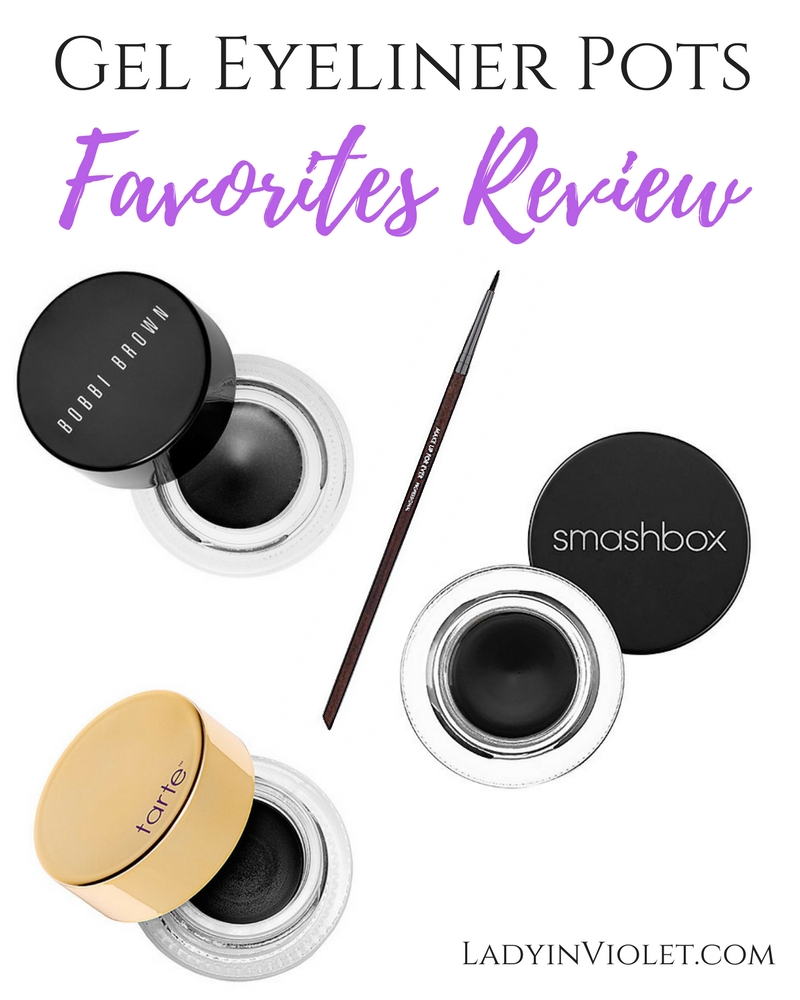 Hello Friends! I hope you all had a fun weekend.  Mine was really fun. We took my grandma to a Rockets basketball game for her birthday, and it was really fun.  Plus, they won.  I have another makeup review for you today, and it's all about one of my favorite products.
Many have that one makeup item that they always have to put on to feel put together.  Mine is eyeliner.  A few years ago, I was introduced to gel eyeliner pots.  Sephora was out of my favorite liquid eyeliner, and the sales girl suggested the Smashbox Jet Set eyeliner pot.  I fell in love and never looked back.  I have tried a few over the years and wanted to share a few of my favorite ones.  A few important factors for me are longevity, how easy it goes on, and does it transfer to my eyelid crease by the end of the day leaving an ugly and random black line.
SMASHBOX JET SET EYELINER –  My favorite thing about this one is how easily it glides on.  Some pots are a bit drier, so you have to do a couple swipes to go across the eye line.  This one is the perfect consistency to go on smooth in one swipe, and it leaves a nice thick dark line.  It dries quickly too, so no worries of accidental smudging.  This eyeliner also lasts all day with no need for a retouch if heading to happy hour after work.  Of my 3 favorites, this one has the most cross transfer to the eye lid crease.
BOBBI BROWN LONG WEAR GEL EYELINER – I tried this one out because I have heard so many good reviews of Bobbi Brown products.  This one applies a nice thick line that lasts all day.  It is the driest of the 3 which can make it need an extra swipe to go fully across the eyelid, but it also means it dries fast so no accidental smudge worries.  It does have a small amount of cross transfer by the end of the day.  Honestly, this product is good, but I think you can find better for a lower price.
TARTE CLAY POT LINER – This is my favorite of the three.  It's the lowest price by $1 and has very minimal cross transfer to the eyelid crease.  The line is thick, dark, and lasts all day.  This one has the softest consistency of the 3.  If you have been using a drier eyeliner pot, you need to be very gentle when swiping out color, so you don't plunge your brush deep into the pot. I would do this a lot the first few uses out of habit.  Once I adjusted to it, I loved how easy and smooth it went on.  It takes the longest to dry which can sometimes lead to smudging if you are not careful after applying.
These eyeliner pots are the perfect hybrid between a pencil and a liquid liner.   I loved the look of liquid, but hated applying it.  One wrong move and you would have to take all your eye makeup off and start over.  The thicker consistency of these gel eyeliners makes it SO MUCH easier to apply, but still have that liquid look.   If you feel the same way about your liquid liner, you should definitely try one of these out!
SHOP THE PRODUCTS