Monthly Archives:
September 2020
Oh my goodness, I can not believe it is already the last day of September.  This definitely was a blink and it's over kinda month!  We had our first cold front blow in this week, and I had a chance to pull out some of my lightweight sweaters.  I get cold easily, so for me sweater weather sometimes begins in the low 70s.  I'm definitely excited for the cooler temps, so we can start spending more time outdoors on walks and on our patio.
I quite enjoyed my sundresses this summer.  They were light and breezy and great for at home days.  I wanted to share a few ways to keep the sundress love going into fall with a few ways to restyle your dresses into fun new outfits.
Four Ways to Wear a Floral Print Sundress
FOR SPRING & SUMMER
Let's start with the original look of my sundress for the Spring and Summer warm weather days.  Since this dress a midi length, I opted to wear it with a wedge for a little added height.  The neutral color choice of my shoe is also a petite friendly trick for adding the illusion of a longer leg.  Great for using with longer dresses.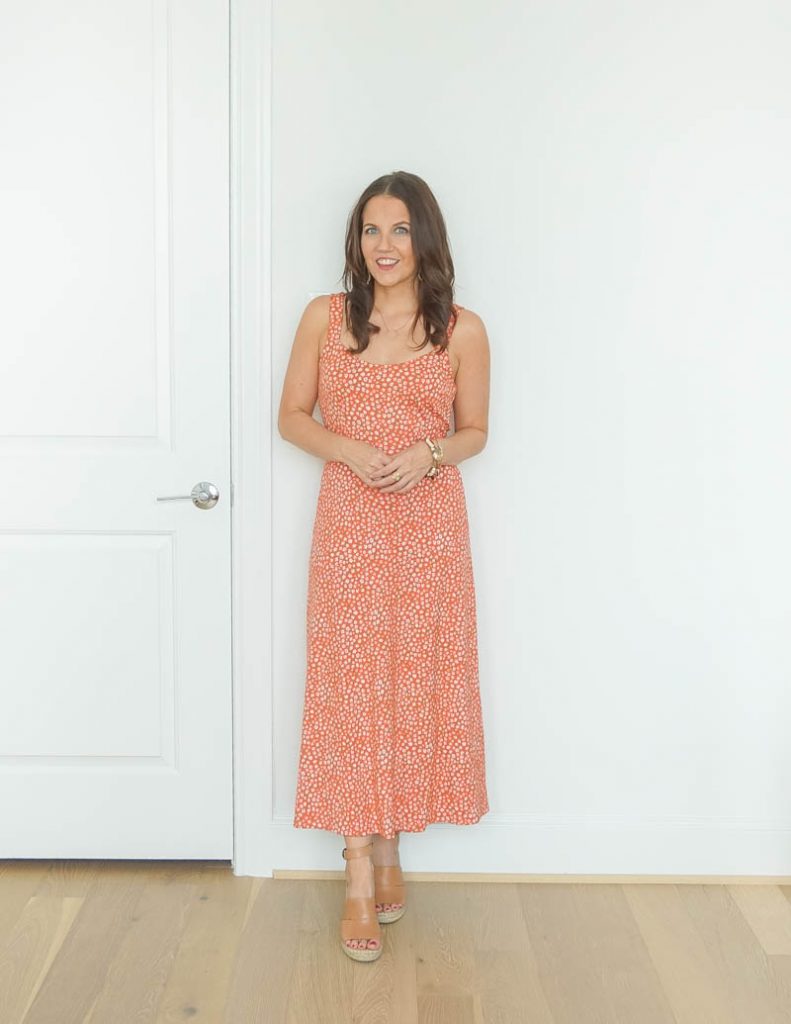 orange floral print dress | similar wedges | earrings | c/o necklace | stone bangles
FOR FALL
The easiest way to transition any dress into fall, add on a denim jacket.  This tip is great for fall, but also works in Spring when you might still need a layer.  A bootie is the shoe for fall and can instantly transform a dress into the fall season.  These booties have a lower profile, so it works well with the longer length of the dress.  Again, I chose a neutral color to create that height illusion.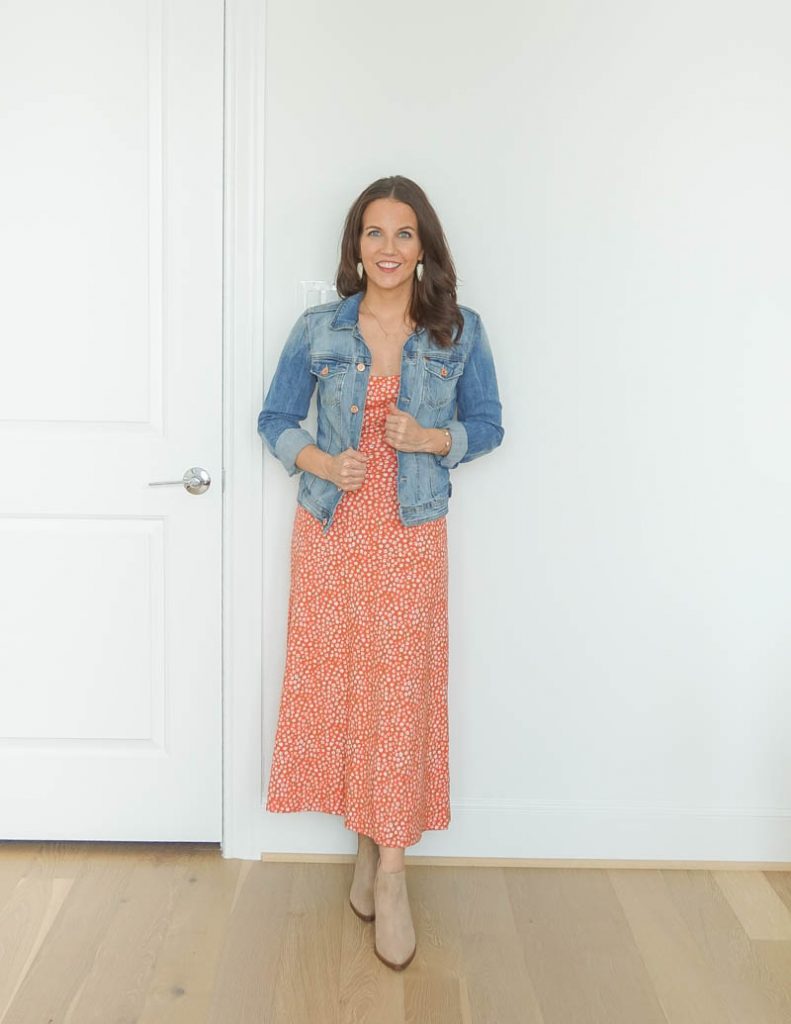 denim jacket | floral print sundress | booties | similar earrings | c/o necklace | similar bracelet
CASUAL DAYTIME OUTFIT
For a casual daytime look, I layered my dress over a white t-shirt and added a casual pair of white sneakers.  Adding a t-shirt under a sundress is also a quick and easy way to make it bra friendly.   Tossing on a comfy pair of sneakers make this outfit perfect for a day on your feet running errands.  You could also toss a denim jacket over this outfit for cooler weather.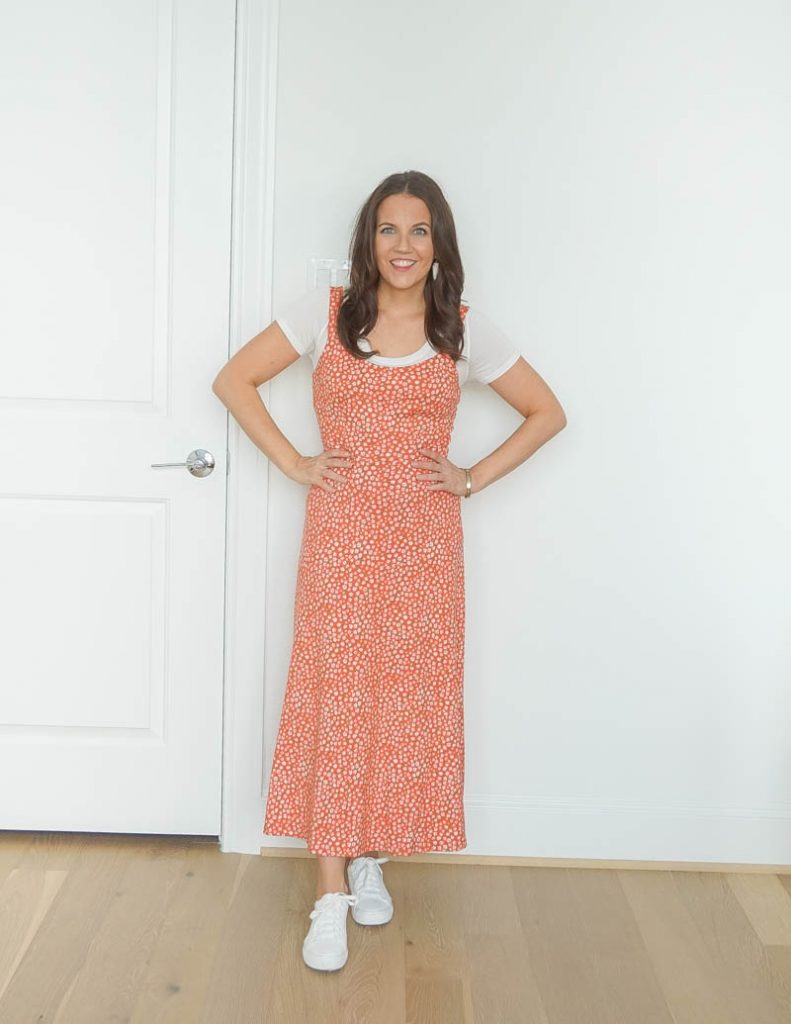 orange midi dress |similar white tee | c/o white sneakers | similar earrings | similar bracelet
FALL WORK OUTFIT
A long olive cardigan is the perfect way to make this sundress office friendly.  It covers both your shoulders and the open back.  You could go with a few different shoe options here like tan heels or loafers.  I really liked how my white slides helped the white in the print pop, so I chose them for my work outfit styling.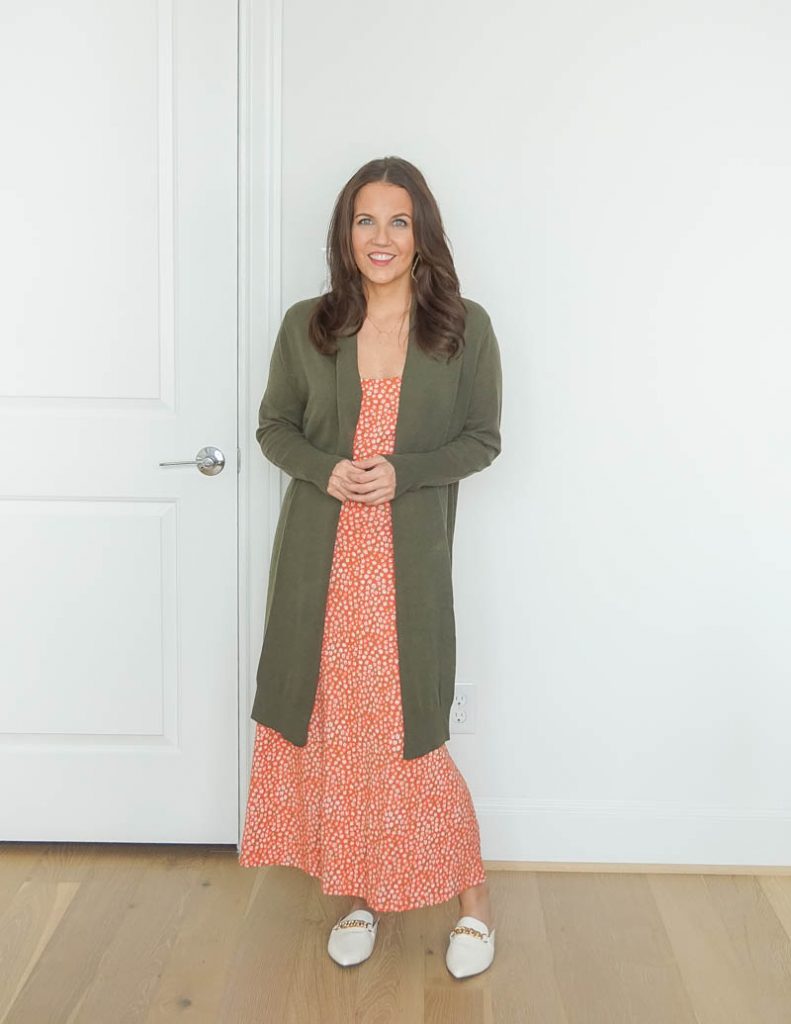 olive green cardigan | orange floral print dress | white slides | gold earrings | c/o necklace
Need help figuring out more ways to wear something in your closet??  Feel out THIS FORM and you may see it show up in a future post!
SHOP THE LOOKS

PIN NOW & SAVE FOR LATER