Hello friends!  Coming at you today with one of the prettiest floral tops.  It's a sheer overlay with a vintage floral dark pink print with a crew neckline and smock detailing at the end of the sleeves.  I love the vintage vibe this top gives off and how the sleeve detailing adds a bit more fullness and a small balloon effect to the sleeves.  It does come with a v-neck cami to pair underneath it.  It's going to be the perfect top for both fall and spring. Scroll down to see how I would wear it for different seasons and scenarios.
THREE WAYS TO WEAR A PINK FLORAL BLOUSE FOR FALL & SPRING
BUSINESS CASUAL OUTFIT
Dark wash flared jeans are my go to for a nice business casual outfit.  It helps give a professional office look while still wearing comfy jeans.  To keep the look polished, I tucked in the shirt and added a brown belt.  This shade of brown works well the dark pink of the top and dark blue of the jeans.  I also added in my tan suede heels to match my belt.  The dark pink and white colors in the top contrast perfectly with the dark blue of these jeans to really help the print pop.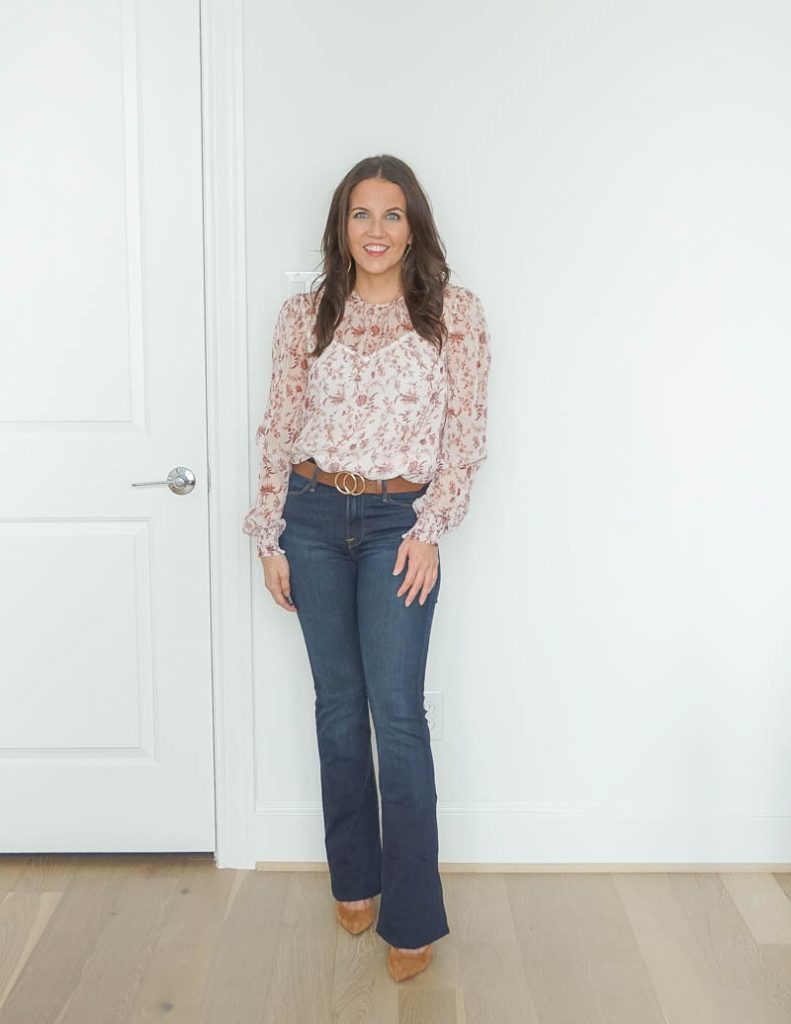 floral print blouse | flared jeans | brown belt | tan heels | gold earrings
CASUAL SPRING DAYTIME OUTFIT
For an easy spring outfit, pair this top with a light wash pair of jeans.  I pushed the sleeves up to 3/4 length to slightly change the look of the top and make it more warm and sunny weather friendly.  A quick sleeve push up is an easy way to change up the look of a long sleeve top.  You could go with a few different shoe options like light tan booties or a classic wedge.  I opted for these white slides.  I think they are a great way to add a little chicness to any outfit and still be super comfy.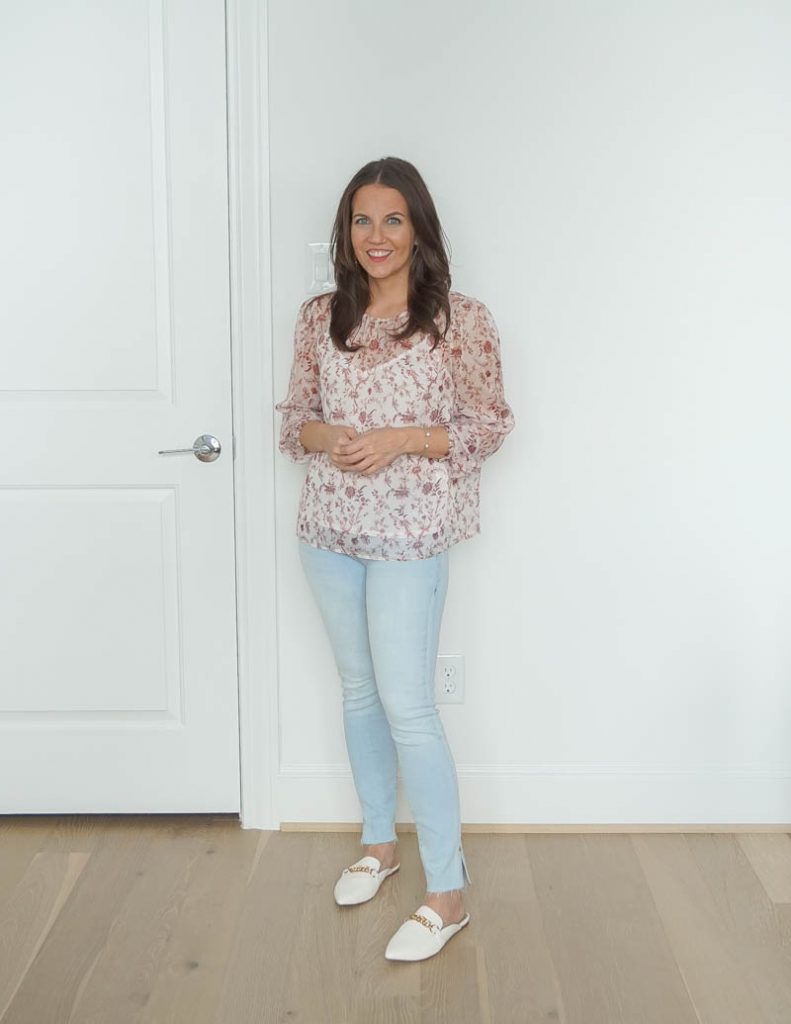 long sleeve floral top | light wash jeans | white slides | silver cuff bracelet
CASUAL FALL OUTFIT
** GREAT FOR THANKSGIVING!**
Is it too soon to be thinking about Thanksgiving outfits?  This olive green and pink color combo would be so perfect to wear to family dinner.  To keep with the fall earth tone feel of the top color combo, I paired this with my black skinny jeans and brown tall boots.  Black jeans and brown boots are one of my favorite combos for the fall season.  It works with a variety of colors, especially earth tones.  To lighten the look up a bit, you could also go with dark blue jeans and a lighter tan slouchy boot.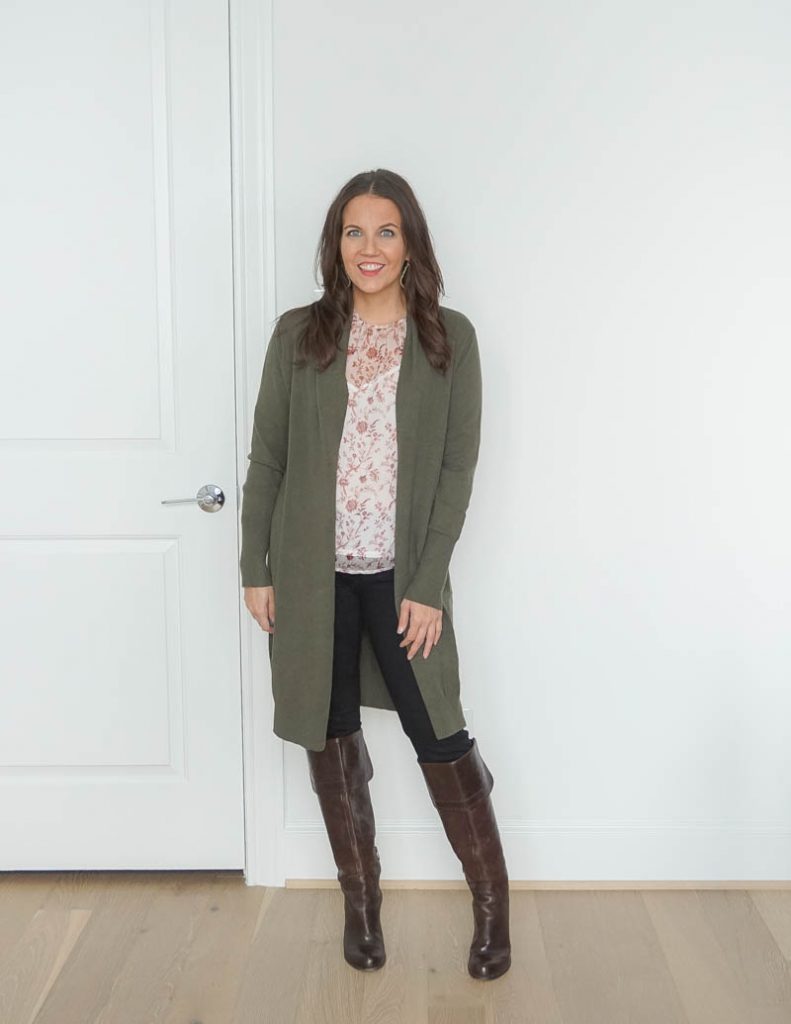 long olive green cardigan | floral blouse | black jeans | similar boots | gold earrings
Need help figuring out more ways to wear something in your closet??  Feel out THIS FORM and you may see it show up in a future post!
SHOP THE LOOKS
PIN NOW & SAVE FOR LATER
Love this post? You may also love: