Sometimes I go on a little bit of a color crush binge, and I don't realize it until I see the new items hanging together in my closet.  Lately it's been the color orange.  From the burnt orange dress shared a week ago to this floral print top from summer to today's short sleeve top, and one more orange item coming next week!
For today's post, I wanted to share how to wear the color orange year round by showcasing it with a few different jean colors that will work in all the different seasons.
Five Ways to Wear an Orange Top for Different Seasons
FOR SPRING, SUMMER, AND FALL
This first outfit will work well for spring, summer and fall.  A classic faded blue color works well with the earthtone orange.  To keep the look casual, I paired it with a nude colored loafer flat.  This light tan color also works well with the orange shade since they both have a hint of warmth to them.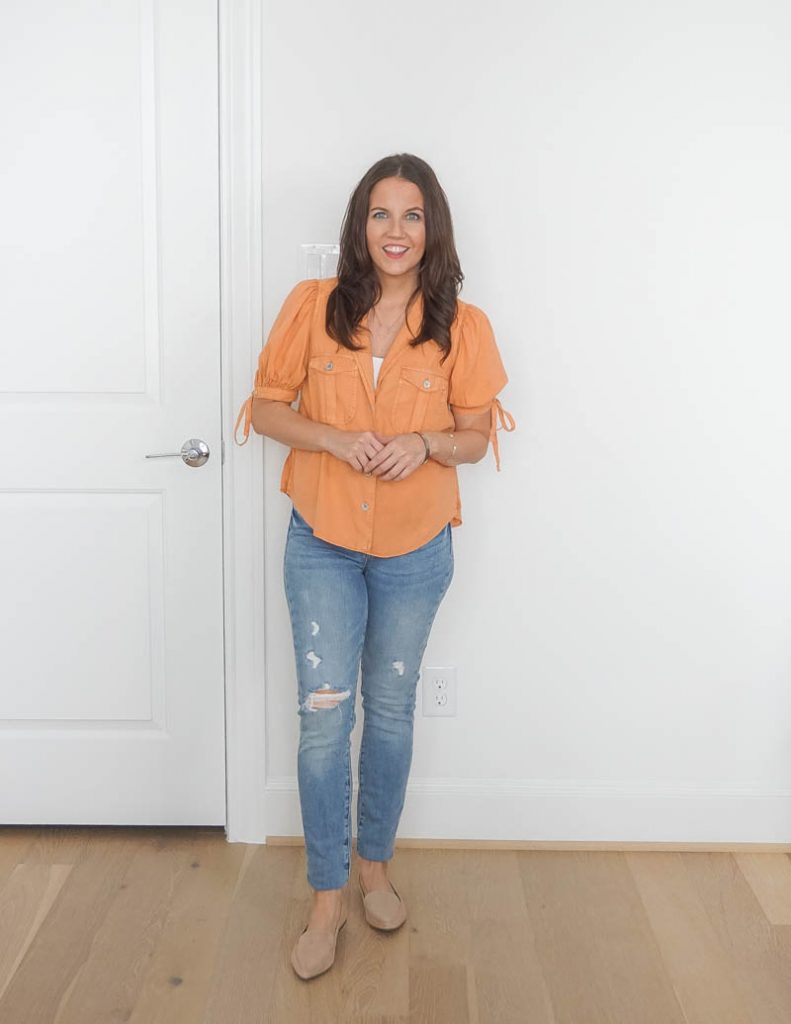 short sleeve blouse | distressed jeans | nude colored flats | similar bracelet | similar cuff
FOR SPRING AND SUMMER
For spring and summer, a light wash blue jean or white jean will work well to help make the orange really pop.  With the lighter blue jean, I paired this outfit with my white slides which provides just the right amount of contrast to the light blue.  For  a white jean, I would opt for a light brown sandal.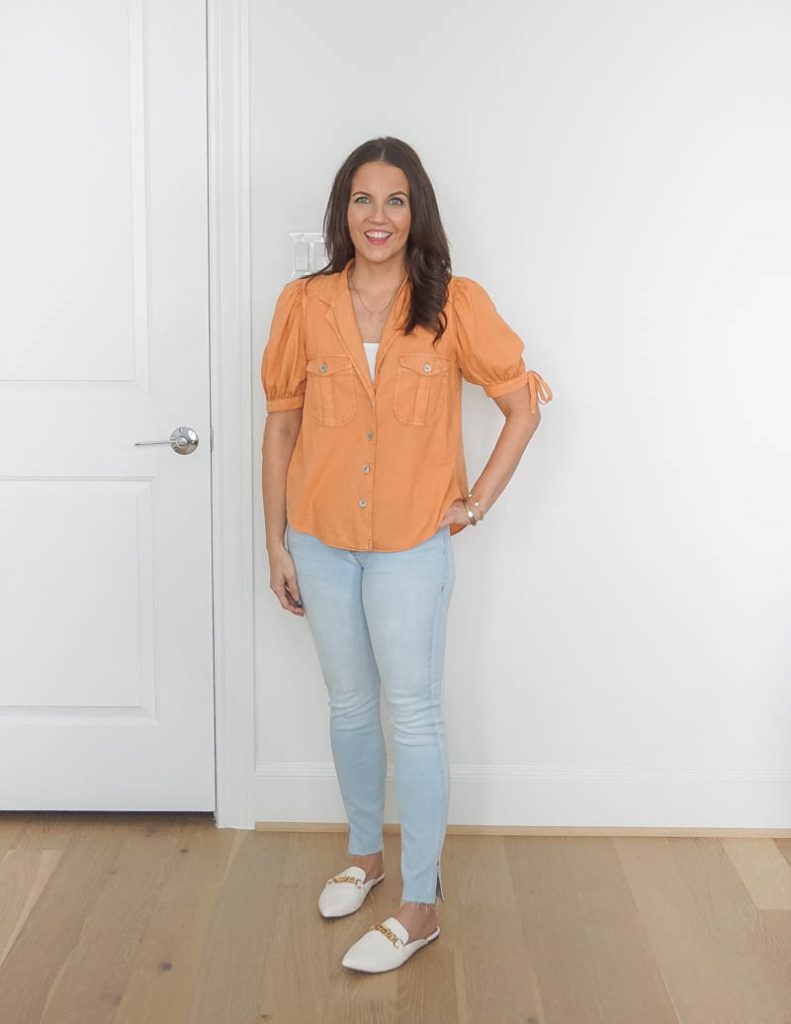 orange top |light wash jeans | white slides | c/o necklace
FOR SUMMER
Orange is such a fun color to wear in the summer months!  A faded black bottom really plays up the earthtone orange color of this top.  To add a little bit of a boho vibe to this outfit, I paired it with my light tan booties.  The light color also helps to add the illusion of a longer leg which I love as a petite styling tip.  You could also go with flat sandals or a fun wedge to change up the look a little.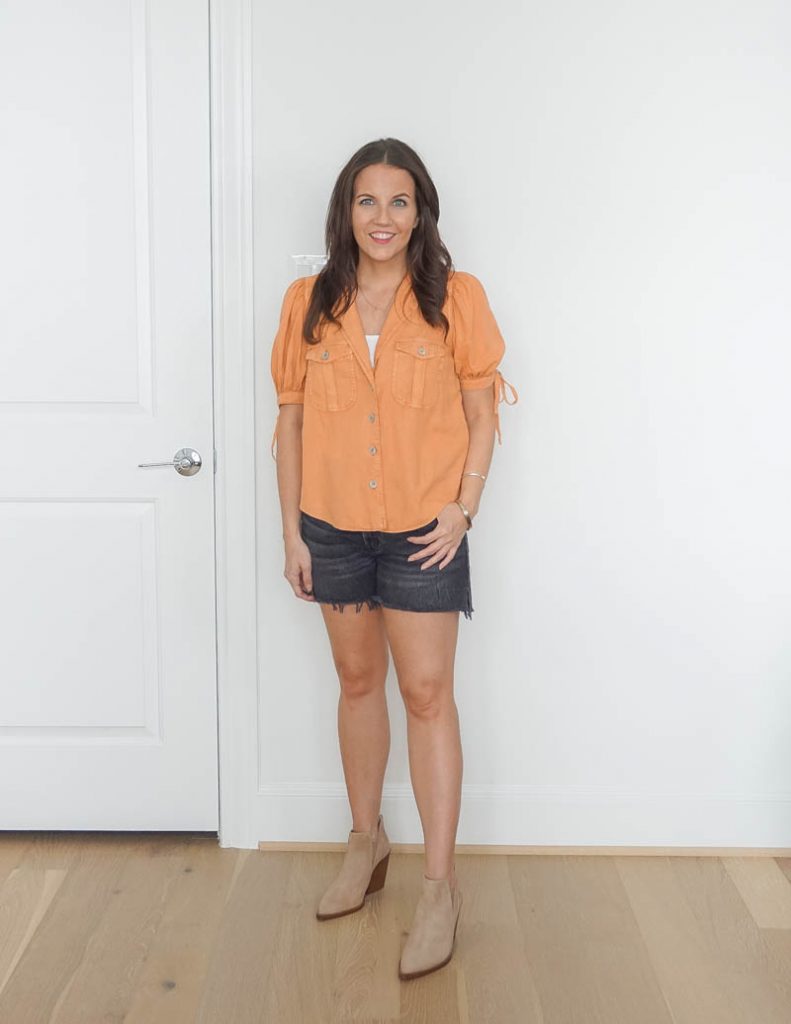 orange short sleeve top | faded black denim shorts | booties | c/onecklace | similar gold bangle | similar cuff
FOR EARLY FALL
In Texas, I feel like we have two falls – the early warm one and the late one with cooler jacket required temps.  For the warmer early fall time of year,  dark wash jean is a great option to bring orange into the fall season.  To play on the warmth in the top, I paired my darker congac brown mules with this outfit.  I cuffed my jeans a little higher than normal to make them just slightly above the ankle which can help make me look a little taller.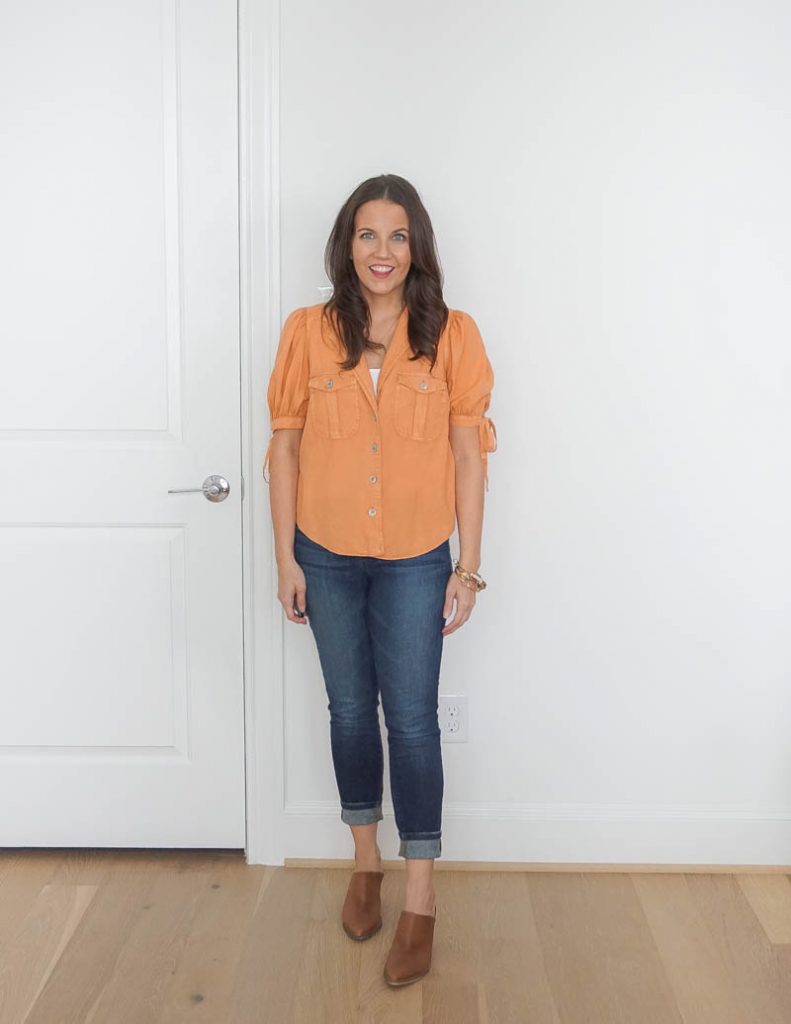 orange top | dark wash jeans | brown mules | stone bangles
FOR LATE FALL
When the cooler temps take over, a pair of black skinny jeans and dark brown over the knee boots will make this top perfect for late fall.  I opted for brown over a black boot to keep the look from having too much of a Halloween feel.  I chose a black denim, so I could easily toss on a blue denim jacket for a colder day and have a good contrast in my denim colors.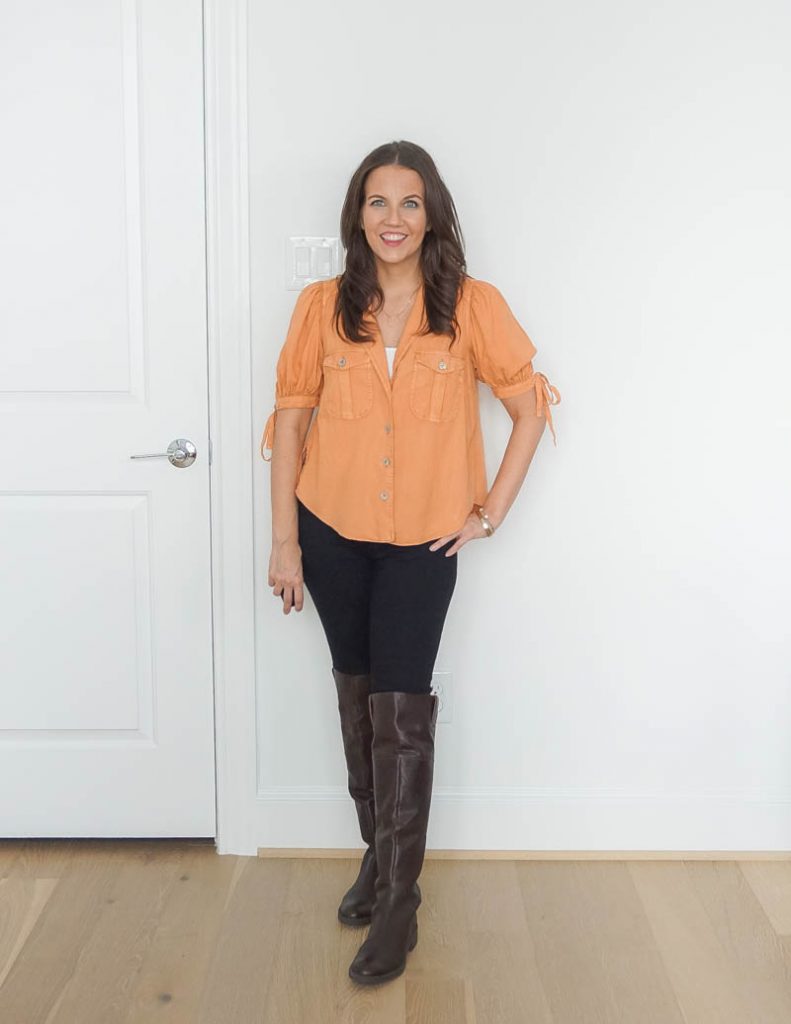 orange top | black skinny jeans | similar boots | similar bangle | similar cuff | c/o necklace
SHOP THE LOOKS

PIN NOW & SAVE FOR LATER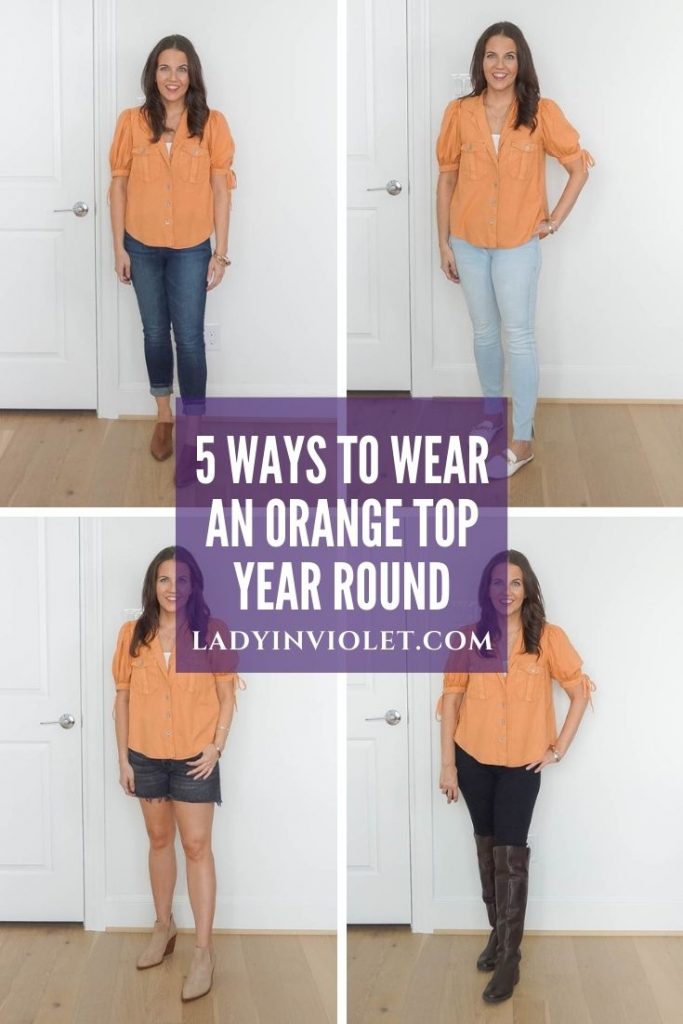 Love this post? You may also love: