Yearly Archives:
2020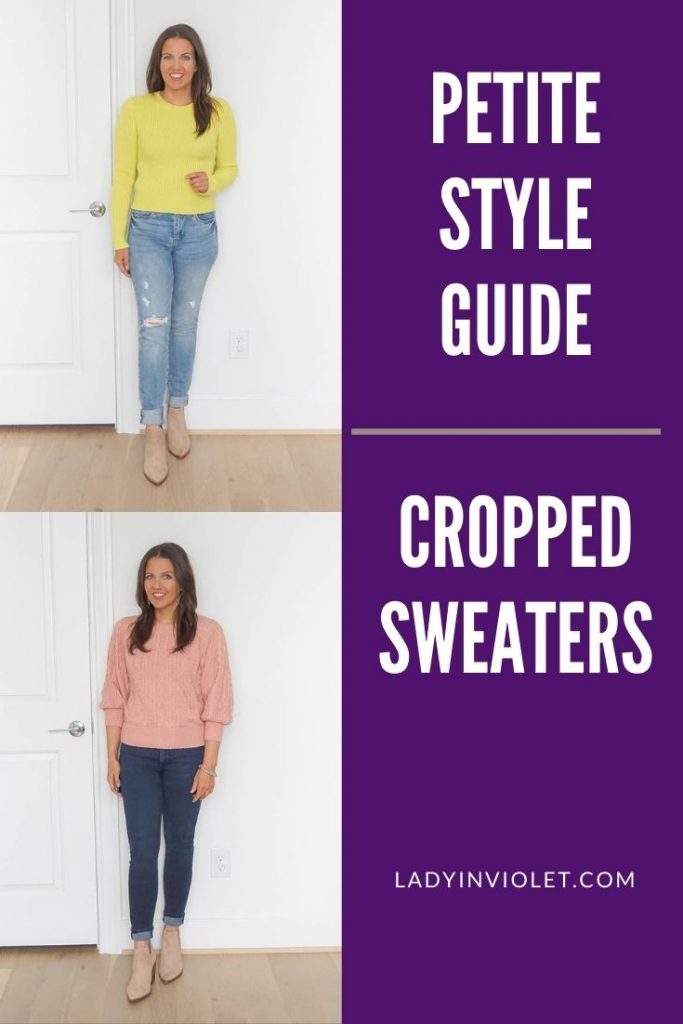 Being 5'3, I am always looking for tips and tricks to look a little bit taller.  These tricks usually involve choosing items that create the look of longer legs.  Cropped sweaters popularity grew this year, and I realized these short sweaters help with my long leg illusion.  I started adding all the cropped sweaters to my closet.
While the cropped sweater helps with the illusion, other styling tricks like high waisted jeans and showing a little ankle also help add to the illusion.  Check out the different outfits below to see my petite style guide for cropped sweaters.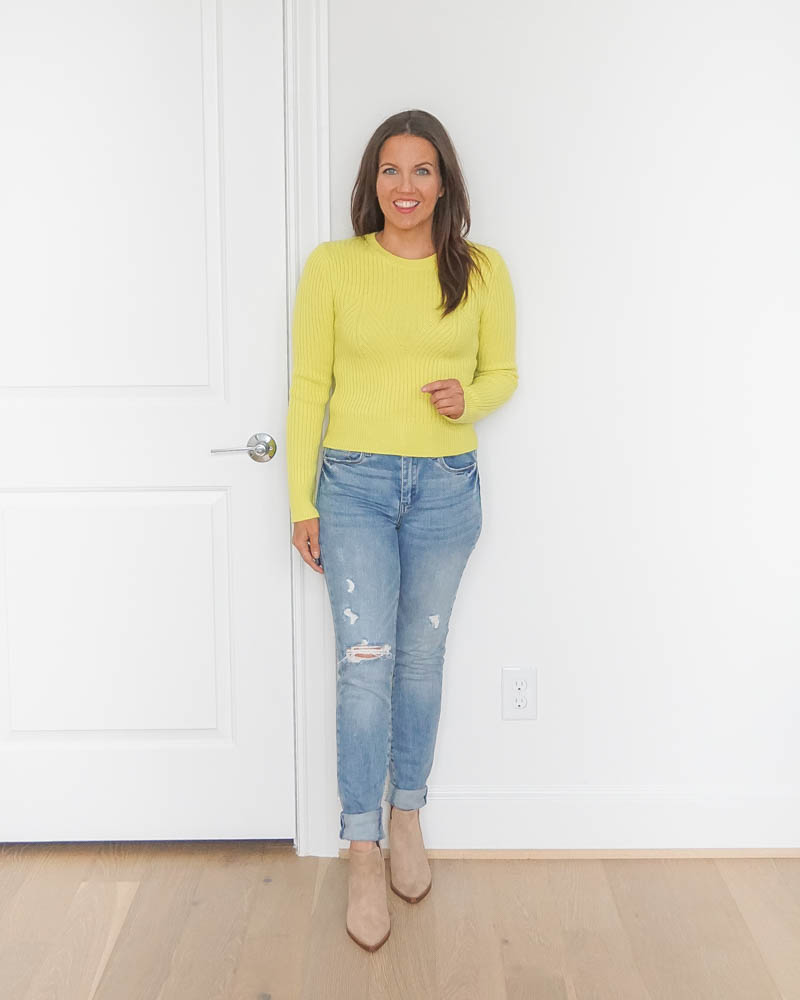 yellow cropped sweater | distressed jeans | booties
This cropped yellow sweater above was a great find.  It's fitted with stretch, so it feel super comfy.  The cut of the crop hits perfectly at the top of high waisted denim.  The higher waist of these jeans extends the look of the legs creating a long look, great for us petite gals or anyone wanting to have the legs for days look.
Quick Note on this sweater: The color is a mix between lime green and yellow leaning more towards yellow.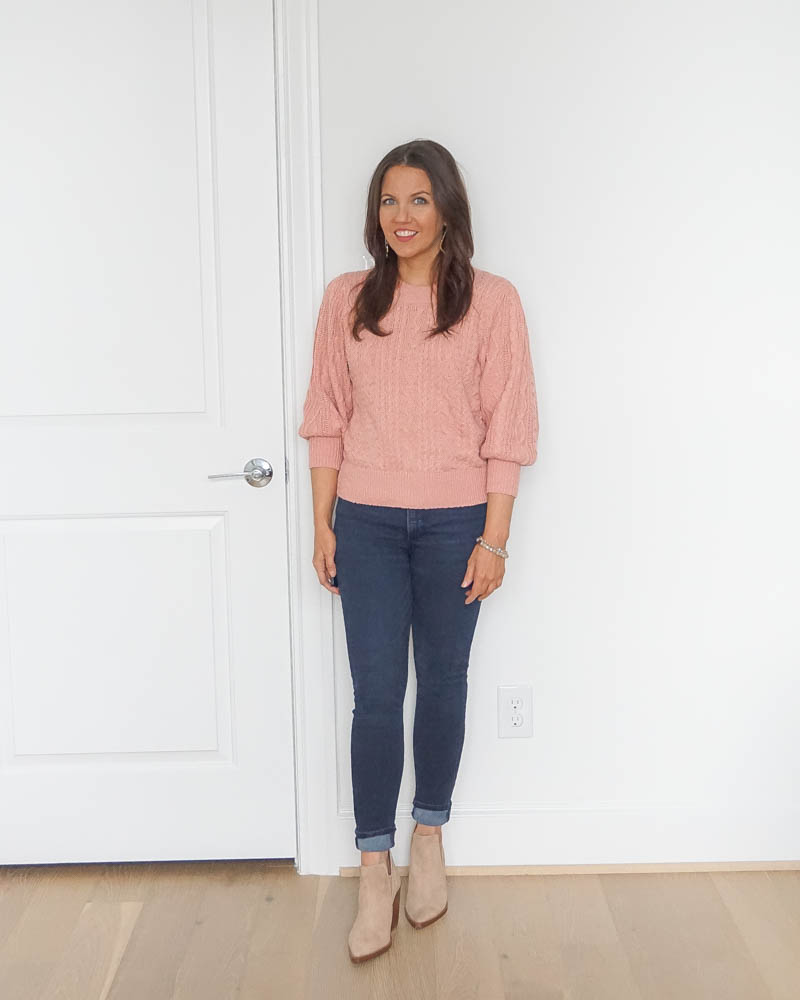 pink sweater | hight waisted jeans | booties | earrings | c/o bead bracelets
If you want a slightly longer crop to go just past a waist band, this pink sweater is good option. It also a little bit more volume and cozy fit. It still a shorter sweater, can be more comfy being a bit longer, and has that same great long leg effect.
Another petite styling trick, show some ankle.  I usually feel a little taller in pics when I'm showing just a hint of ankle. A quick cuff on your jeans will do the trick.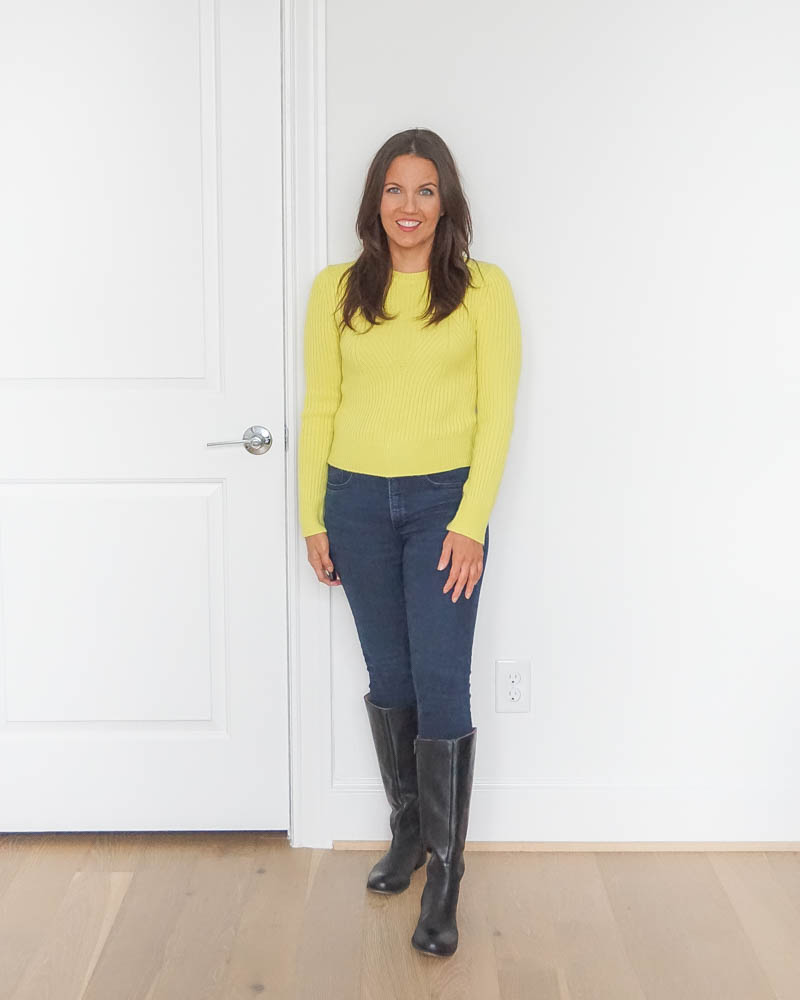 yellow sweater | high waisted jeans | black boots
If you love wearing tall boots, a shorter sweater is the perfect pairing!  A long tunic sweater and my boots can sometimes my feel stumpy and my frame overwhelmed depending on the sweater length and volume.  The shorter sweater leaves plenty of jean showing to help with the long leg illusion.
If you do a longer sweater and boot combo, I opt for a boot with a heel to give more overall height or do a front tuck of the sweater to show a bit more leg.   If you are looking for ideas for over the knee boots, check out my post here on styling OTK boots when you are on the shorter side.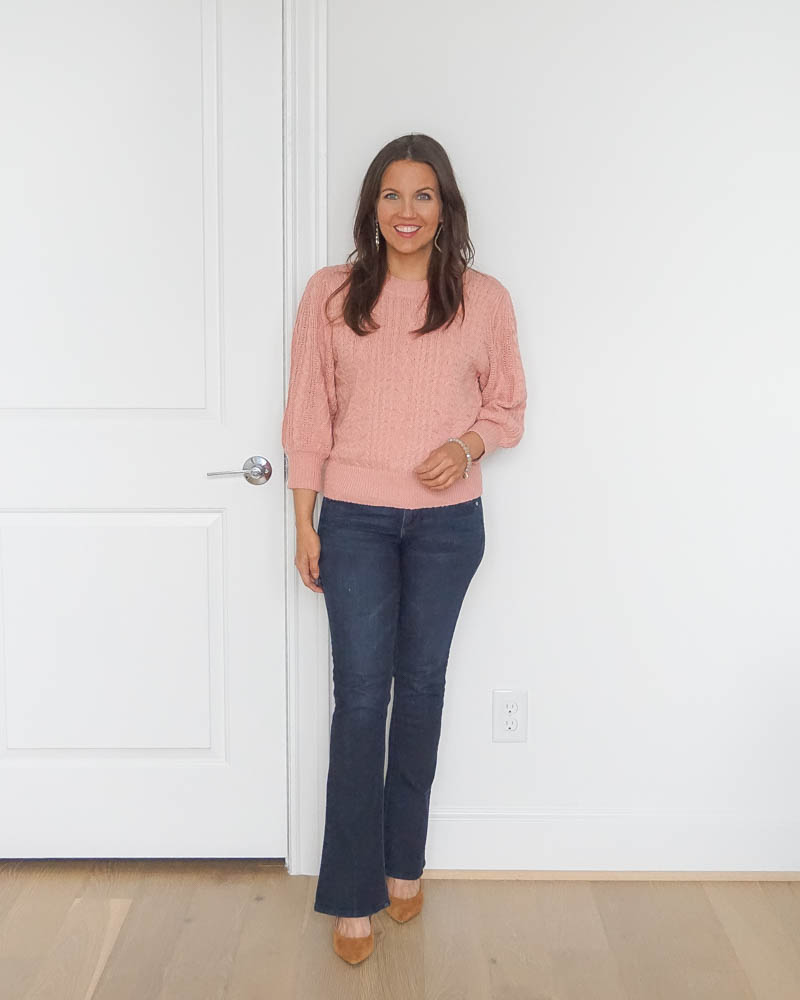 pink sweater | bootcut jeans | brown heels | earrings | c/o bead bracelets
All three previous looks showcased high waisted jeans which are perfect for the leg illusion that we are trying to achieve.  However, mid-rise jeans can work just as well.  Make sure your sweater will at least graze the top of your jeans so no skin shows in between.
I already have a few more cropped sweater coming in, so I can keep this petite styling trick working in my wardrobe all winter long.  Since most of my jeans are  mid-rise, I'm opting for more sweaters like the pink one that will work with multiple jean rises.
SHOP THE LOOKS