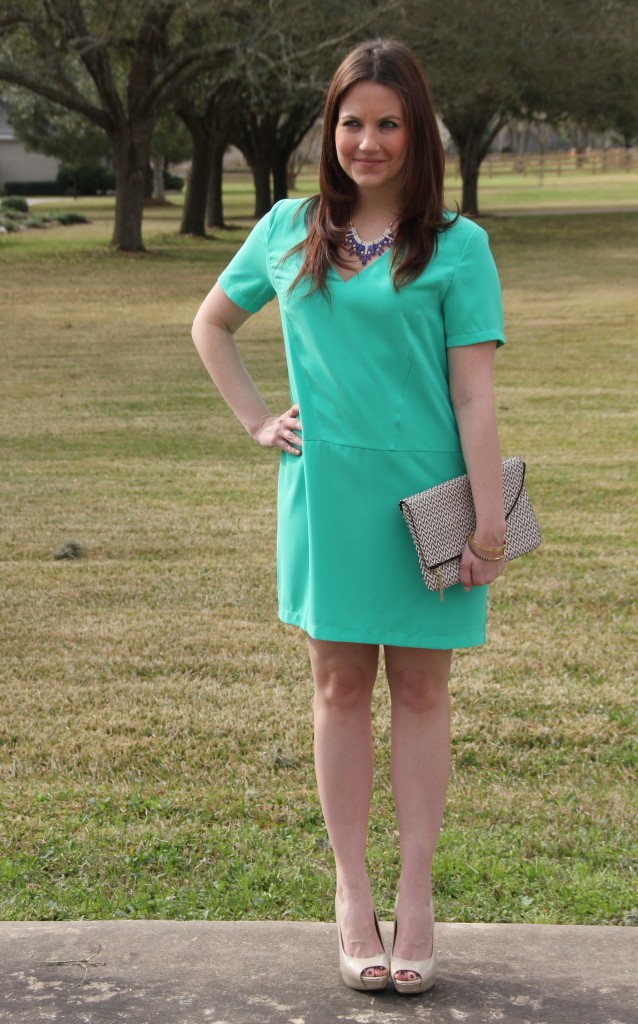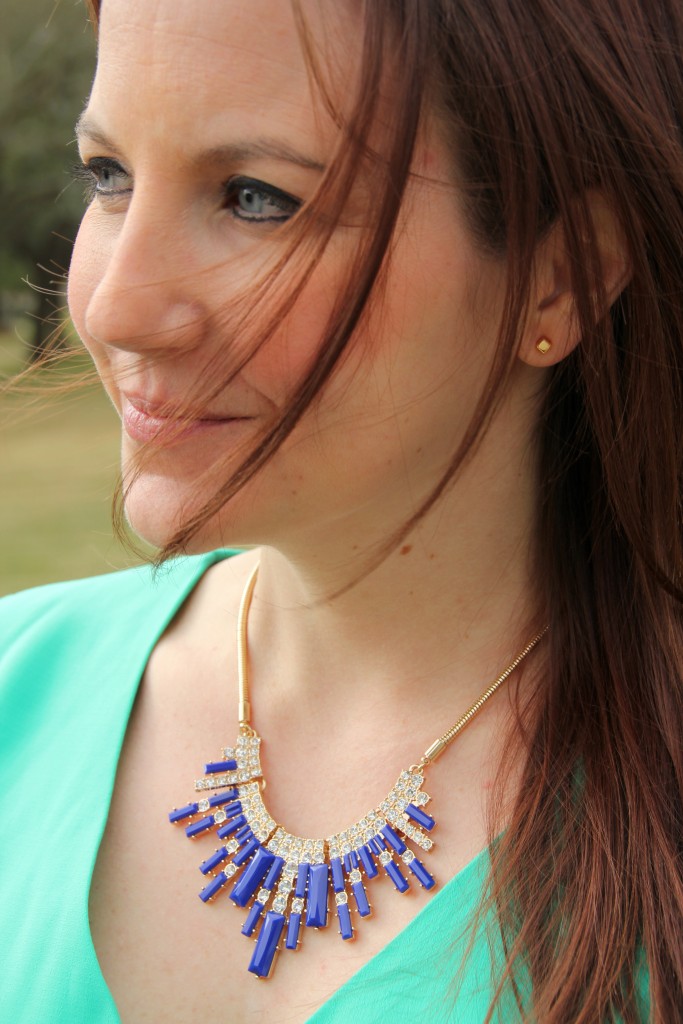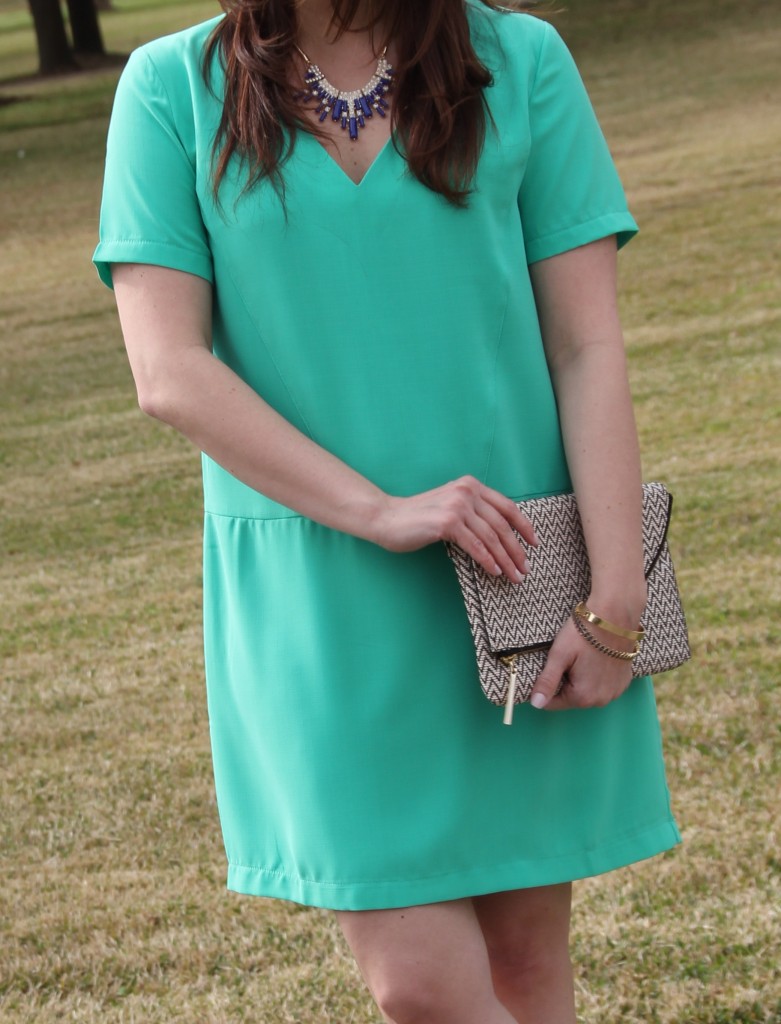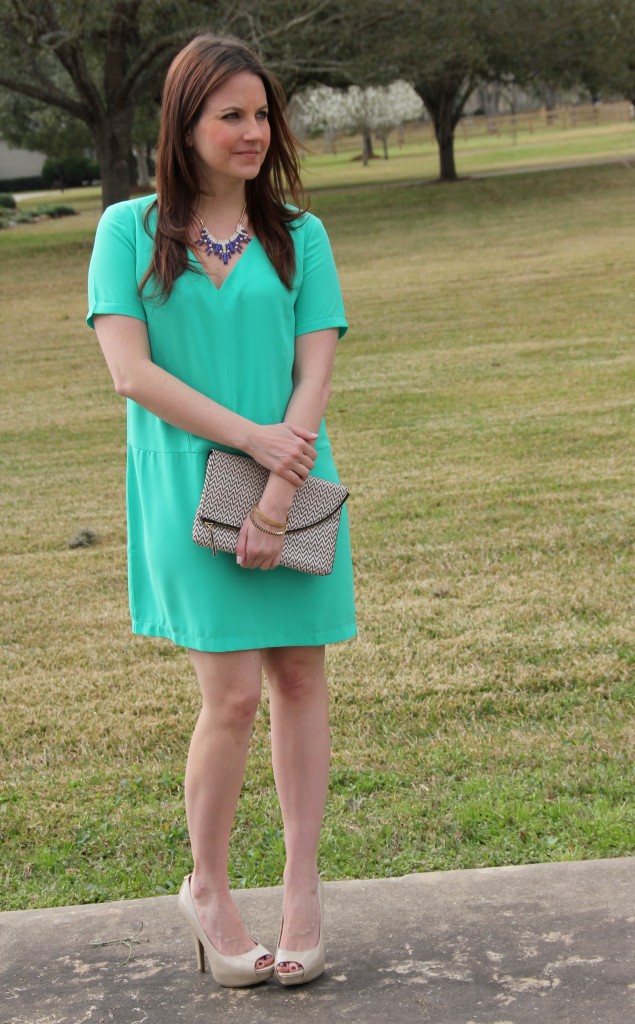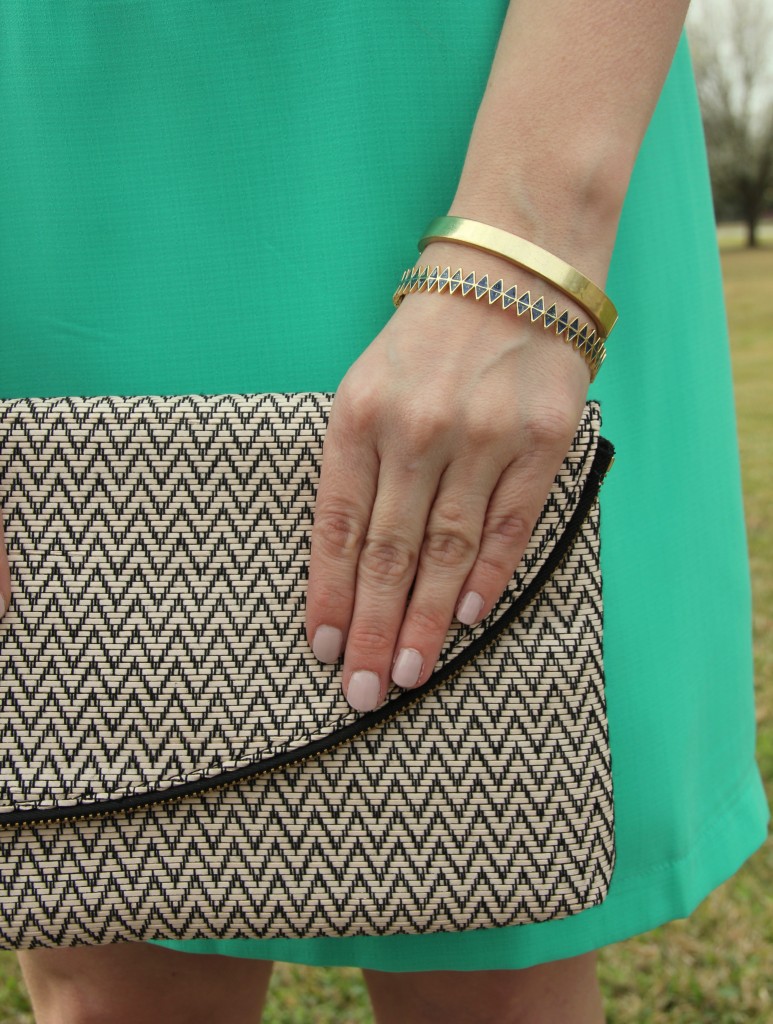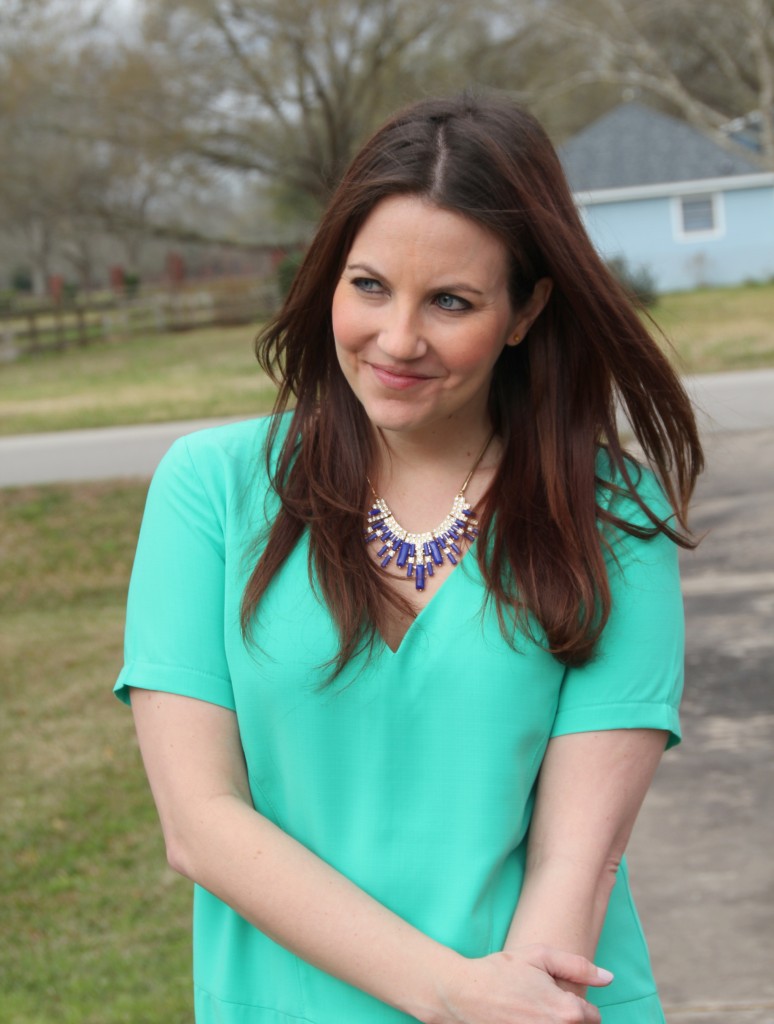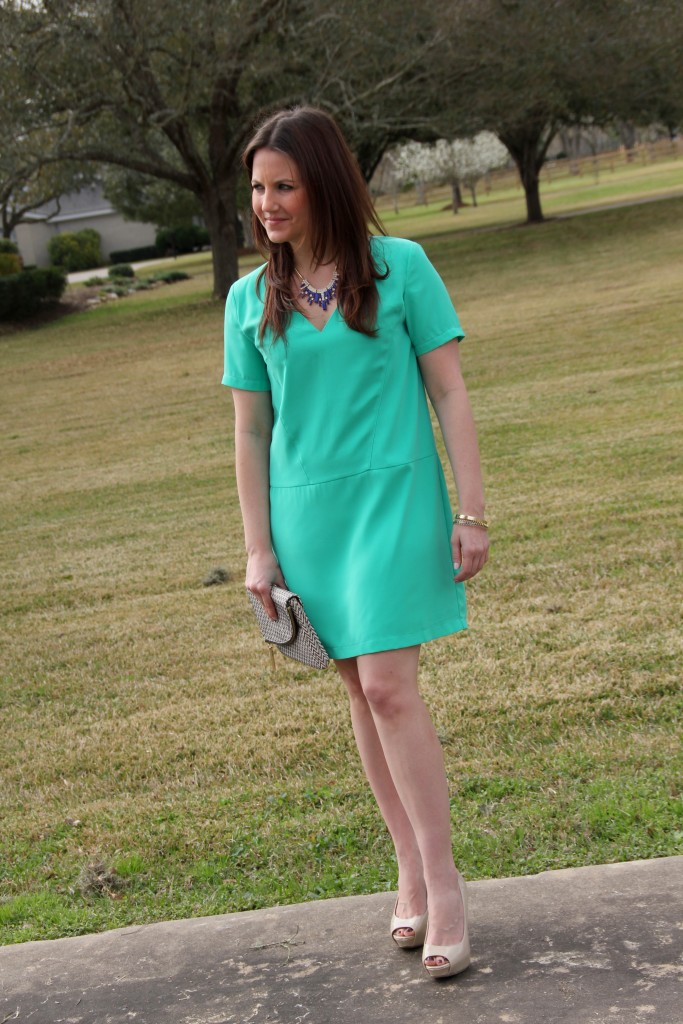 | DETAILS |
POMP & CIRCUMSTANCE Pretty Edgy Dress | GUESS Nude Pumps, Old [SIMILAR] | ELAINE TURNER Annabella Chevron Clutch | GORJANA Zoe Studs** | PERRY STREET Cicily Necklace ** | HOUSE OF HARLOW Reflector Stack Bangle**| BAUBLEBAR Slim Hinge Bangle, Old [SIMILAR] | JULEP Shari c/o
**  Jewelry from Rocksbox Subscription c/o
A couple weeks ago, I was contacted by Rocksbox to try out their jewelry subscription service for a few months on them.  I checked out their website and was immediately intrigued by their borrow or buy program.  If you read my blog regularly or follow my outfit selfies on Instagram, you may notice I tend to wear the same few jewelry pieces.  I can shop for days for clothes, shoes and purses, but I tend to stick to my tried and true jewelry pieces.  I only add a new piece or two every so often.  I also tend to stray from picking up too many statement pieces.  I love window shopping them, but usually do not buy because I am not sure if I can get enough wears to justify the cost.  This frame of mind is exactly why Rocksbox intrigued me.  I could try out new jewelry including statement pieces for a few weeks, and then send them back for more jewelry or if I really loved something, buy it for a discounted price.  So with a free trial offer in front of me, I decided to give it a try.  I received my first box last week and wanted to share my first impression of the service with you.
After signing up, I answered a few style questions like whether I wear more silver or gold and what my favorite types of jewelry are.  I also headed to the wishlist section to favorite a few items.  A Rocksbox personal stylist used this info to create a three piece jewelry ensemble just for me.  I have never done a subscription service before, and it was kind of exciting waiting for the box full of mystery jewelry to arrive.  Even more exciting was finally opening the box and seeing what jewelry was handpicked for me.  My immediate reaction was this is awesome!  I recieved a statement necklace, a bangle bracelet, and stud earrings.  I immediately thought of this mint dress I picked up from a local boutique to pair with the blue and gold of the statement necklace.  The v-neck of the dress fit perfectly with the cut of the necklace.  The stud earrings were from one of my favorite gold jewelry brands, Gorjana.  I was thrilled to see a piece from House of Harlow in my box. I have admired this jewelry line for a while, but have never purchased a piece.  I have enjoyed wearing these pieces over the past few days, even pairing them with an all black look last night for a sorority alumni event.  In terms  of if I plan to keep any of these pieces, probably not from this box.  I really like the stud earrings, they are probably the piece I would be most likely to purchase.   The statement necklace was fun to wear for a bit, but I am still a little trigger shy when it comes to adding a statement necklace to my collection especially one with a defined color.  I really like the bracelet, but it is a bit too big for my wrist.  I also kind of want to see what I receive in my next few boxes before I commit to any specific pieces.  What can I say, I like to see some options, but I do have one more fun and casual look planned for these jewels before I send them back for my next box.  You will have to wait until next week to see that one!
NOW the best part of all this, Rocksbox is giving you a ONE MONTH FREE trial too when you use code LADYINVIOLETXOXO at checkout!!  And keep checking back here and on instagram to see the different ways I am styling my Rocksbox jewelry from this and future boxes.
Also, how perfect is this dress for Easter?? I originally bought it to possibly wear for St. Patrick's Day, but I think it has definitely been upgraded to Easter!!
Follow Lady in Violet INSTAGRAM | TWITTER | FACEBOOK | BLOGLOVIN
[jetpack_subscription_form title=" " subscribe_text="Enter email to subscribe and receive notification of new posts by email." subscribe_button="Submit"]