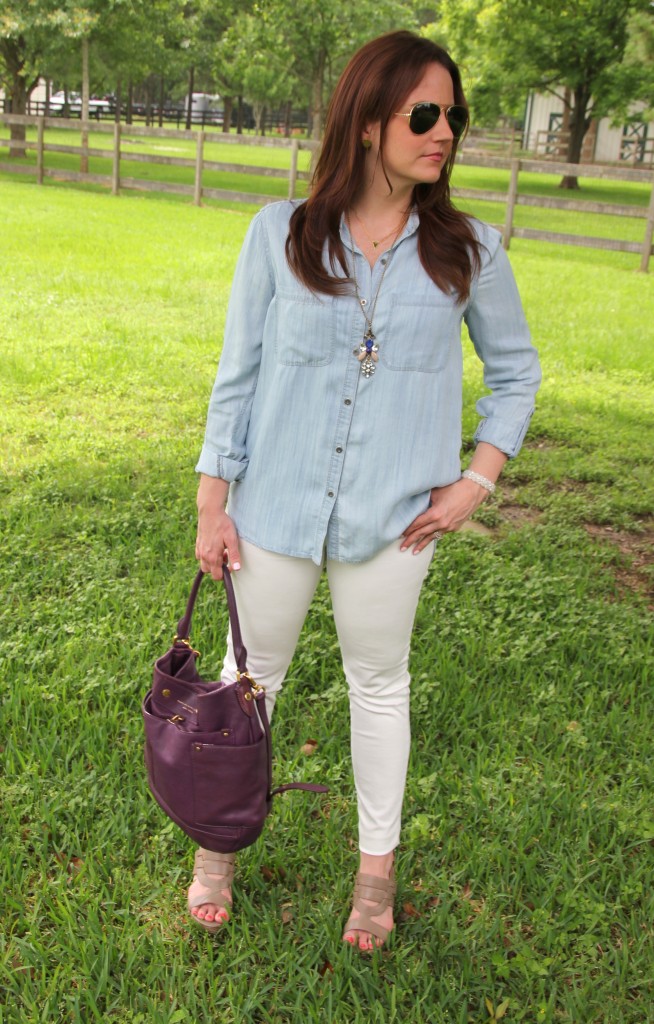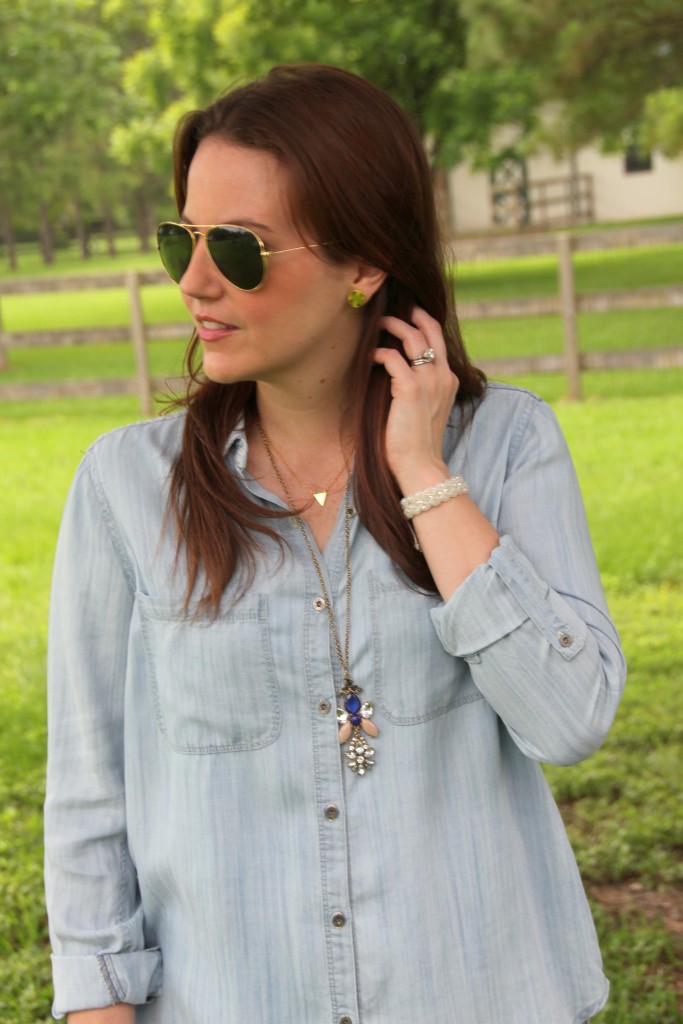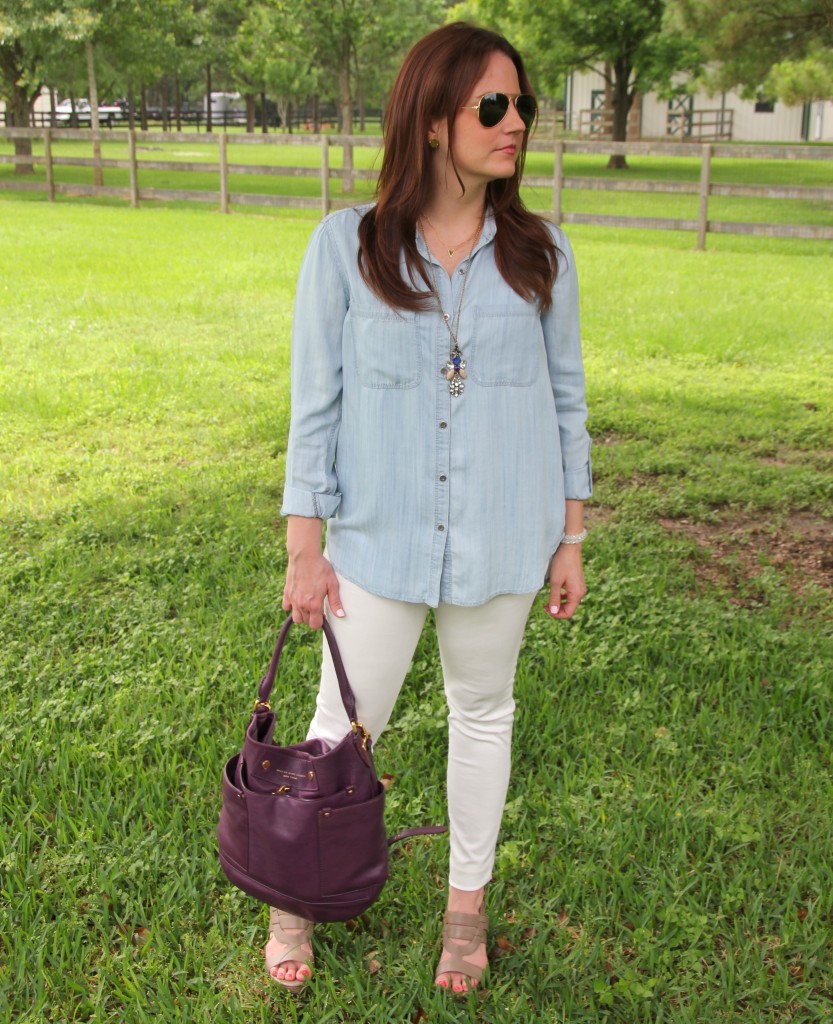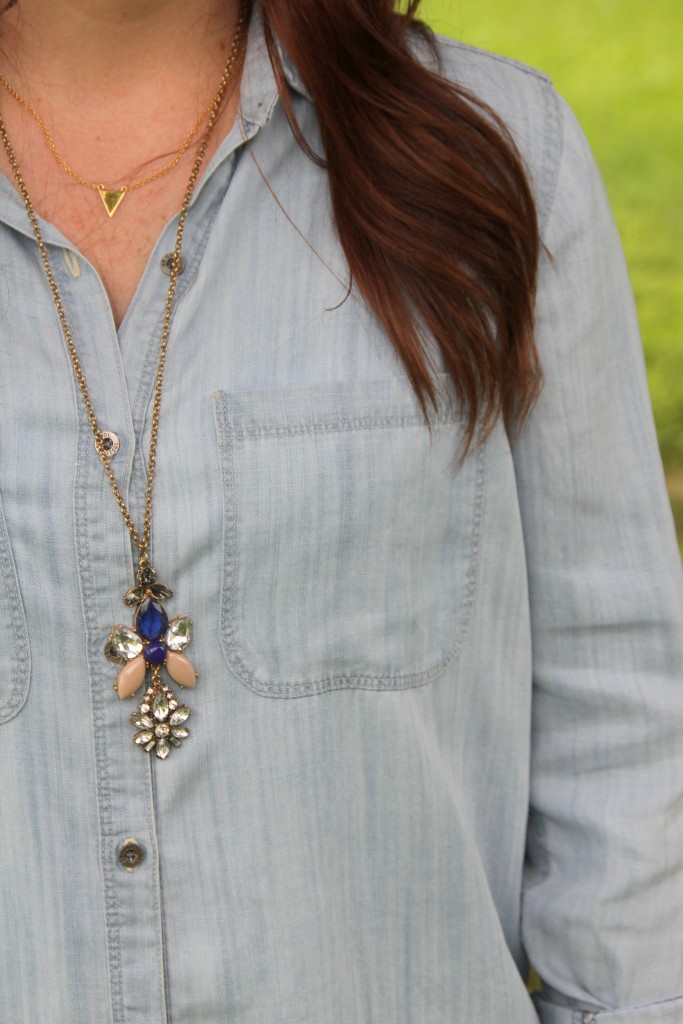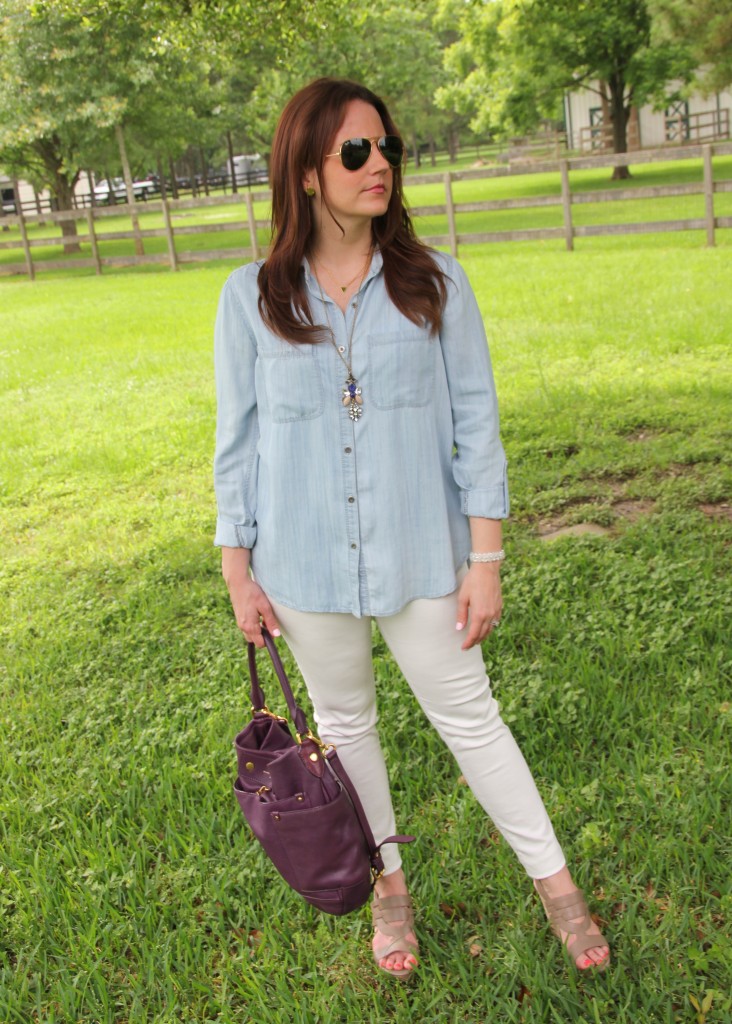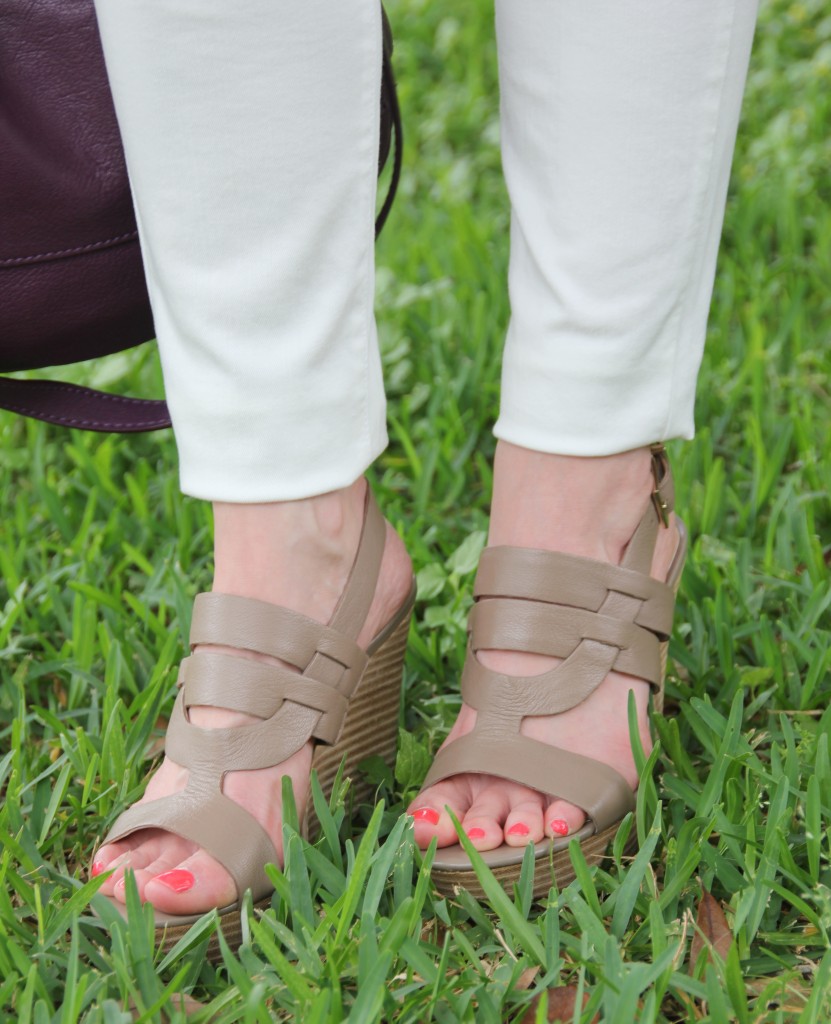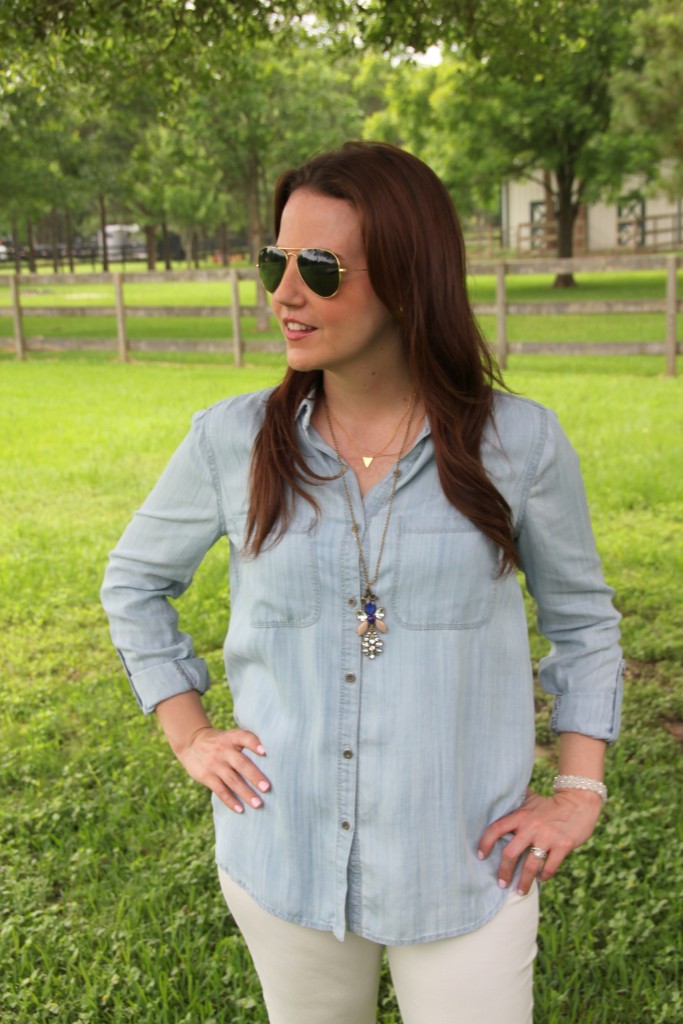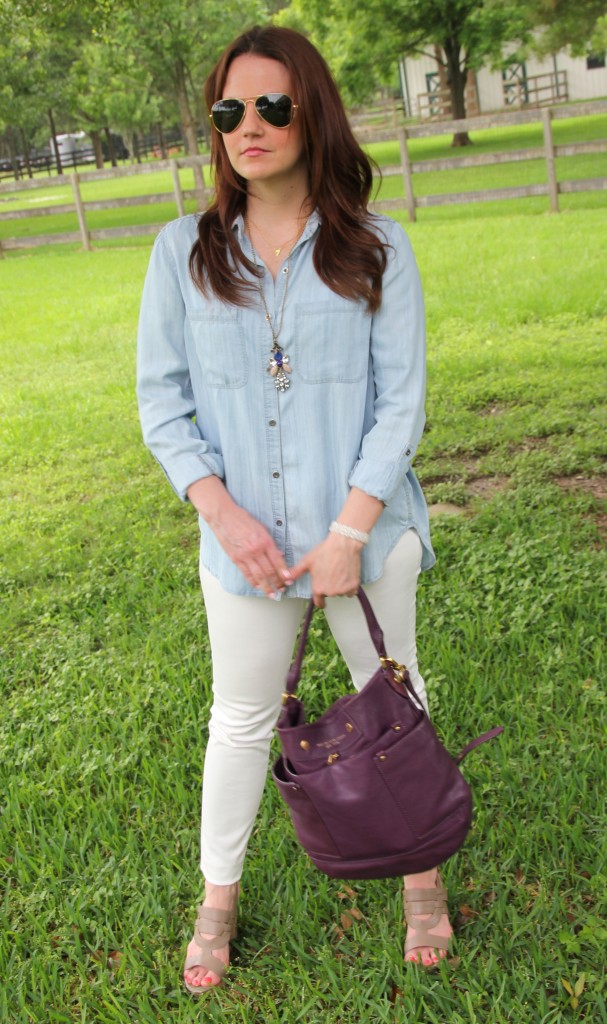 | DETAILS |
WILDBLOOM BOUTIQUE Chambray Shirt (call to order)  | DSTLD Skinny Ankle Jeans in Creme Tencel | SOLE SOCIETY Jenny Wedge Sandal | MARC BY MARC JACOBS Preppy Leather Hobo, old [SAME DESIGN IN NYLON] | BURDLIFE Butterfly Necklace | CHAN LUU White Crystal Cuff Bracelet | GORJANA Chloe Large Studs, Mika Necklace | RAYBAN Original Aviator Sunglasses | ESSIE Fiji | GLOMINERALS Lip Crayon in Empress Rose
AHHH!!!  It has been a crazy few days here in Houston! Monday night started a huge storm, and Tuesday we woke up to a city full of water! We were super lucky and only had some water in the bottom of one of our cars, so no major damage.  I ventured out a bit yesterday, and it was crazy to see cars just abandoned in the middle of streets as people fled to higher ground Monday night when the storm rolled in.  By the end of Tuesday, a majority of the water on the roadways had receded thank goodness!  Now just hoping for a small break in the rain so our bayous and majorly flooded areas can go down too! For all my Houston area readers, please stay safe and thanks to all those first responders and good Samaritans who helped people find safety yesterday!
Now let's talk some fashion, because this girl is ready to talk about something other than the weather for a bit!  My two favorite things to wear right now are my white denim and a chambray shirt.  I actually wore this outfit to work last Friday.  I was so proud of myself because I had a chili dog for lunch, and it did not end up on my white pants.  I have come along way from my initial ginormous fear of just walking out the door in these pants!  I decided it was time for a new lighter chambray shirt to wear in the summer months.  I found this one at local Houston boutique, Wildbloom in Rice Village.   I thought the color was spot on for the shade I was looking for.  I also like that the back fully covers my backside.  I still worry about sitting in something in my white jeans, baby steps.  If you are in Rice Village in Houston, you should check out this shop.  They have lots of fun clothes and jewelry at an array of prices.  This shirt was only like $39.  I shopped on a store-wide sale day, so I don't remember the exact original price.
When I was originally invited to the Burdlife Trunk show, I checked out their website and fell in love with this necklace.  As soon as I saw it in person at the show, I had to have it!  While this pendant necklace is a statement piece, the colors in the necklace also have a bit of neutrality to them.  This necklace looks great and stands out perfectly against neutral colors like black, white, or this lighter chambray, but it also works with brighter colors like green,  magenta and yellow.  The colors of this necklace make it perfect to wear all seasons!  Bonus in my book! Thanks for stopping by and don't forget to enter the Canon Rebel and Kate Spade giveaway!  Head to the bottom of last Tuesday's post to enter the rafflecopter!
RESTYLED & REMIXED
DSTLD JEANS: Tunics and Denim
MARC JACOBS HOBO BAG: Spring Work Look
Follow Lady in Violet INSTAGRAM | TWITTER | FACEBOOK | BLOGLOVIN | EMAIL SUBSCRIPTION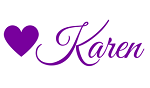 Love this post? You may also love: