Monthly Archives:
December 2015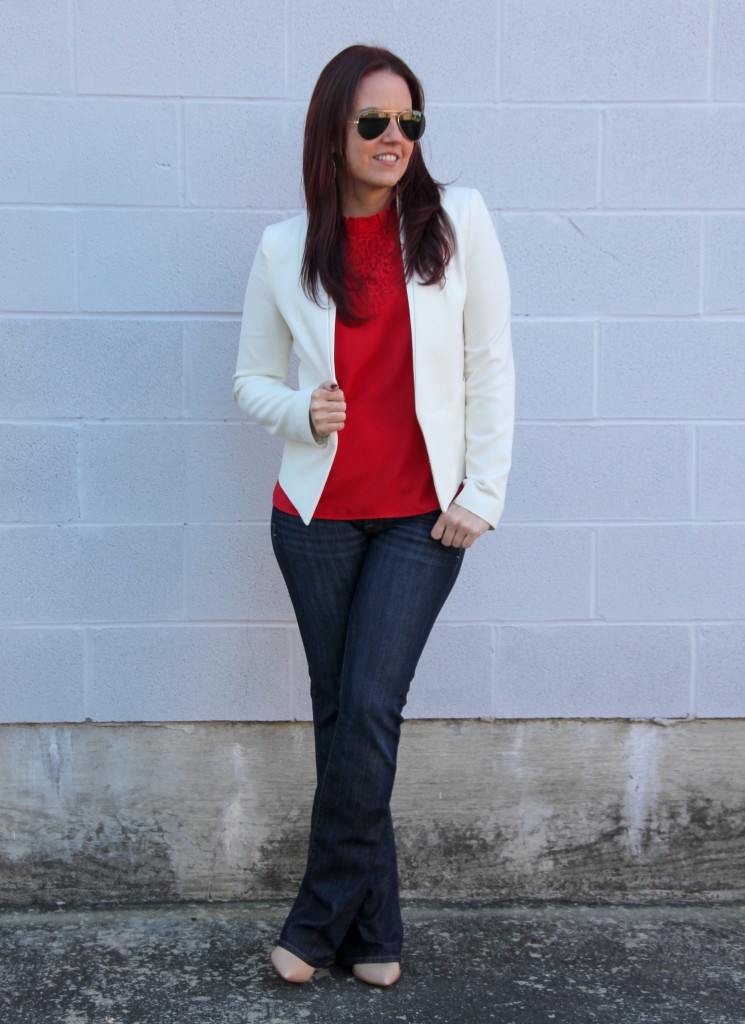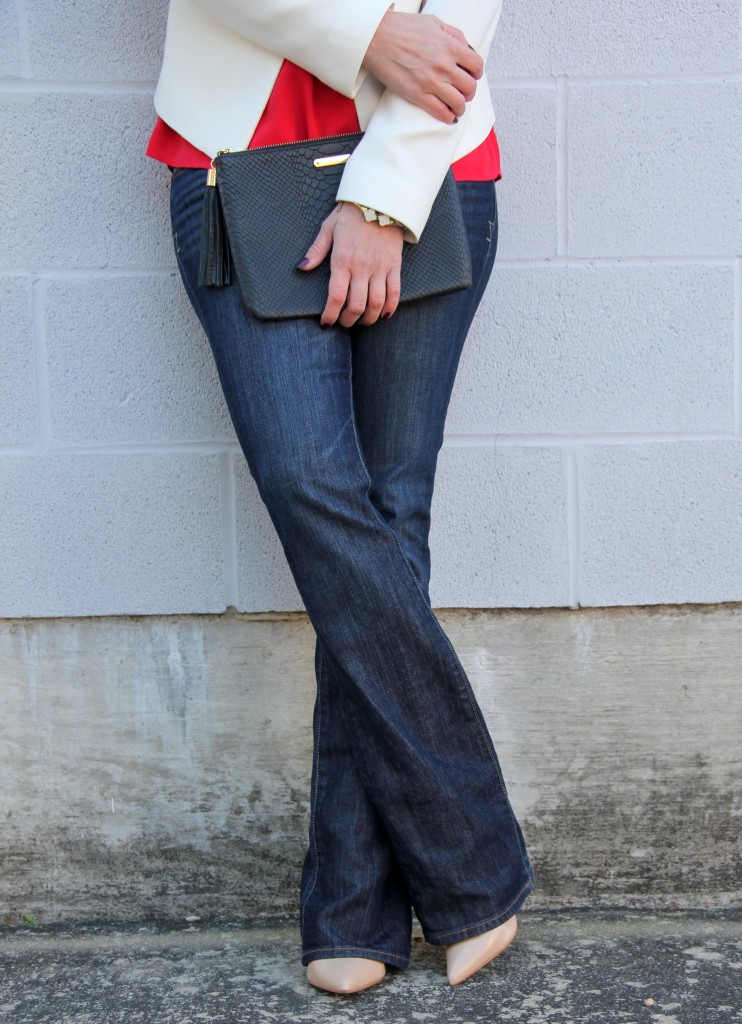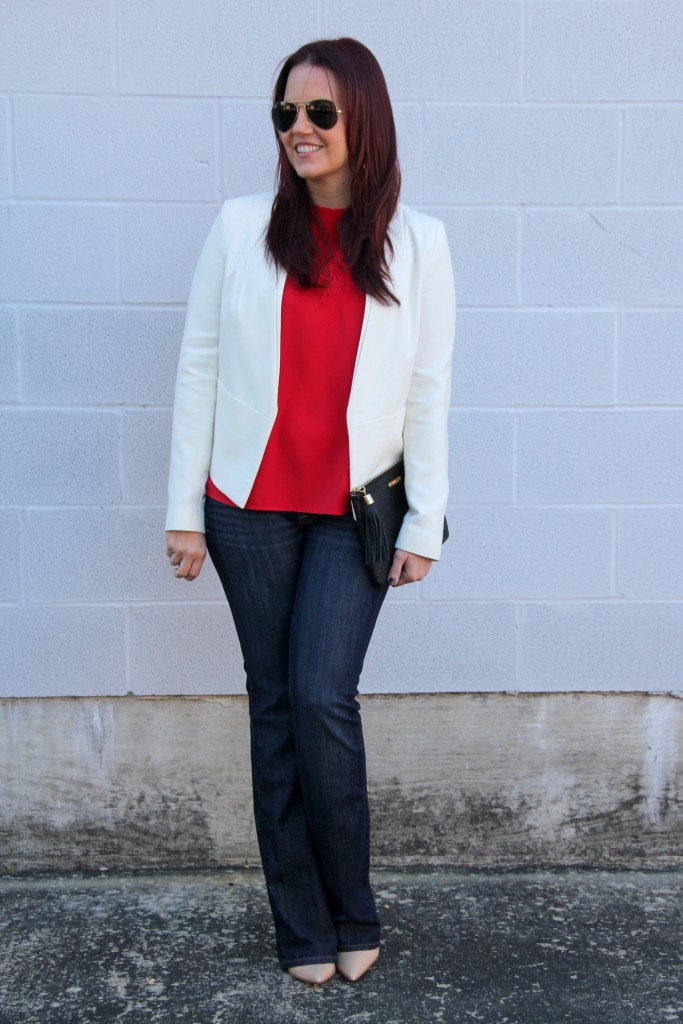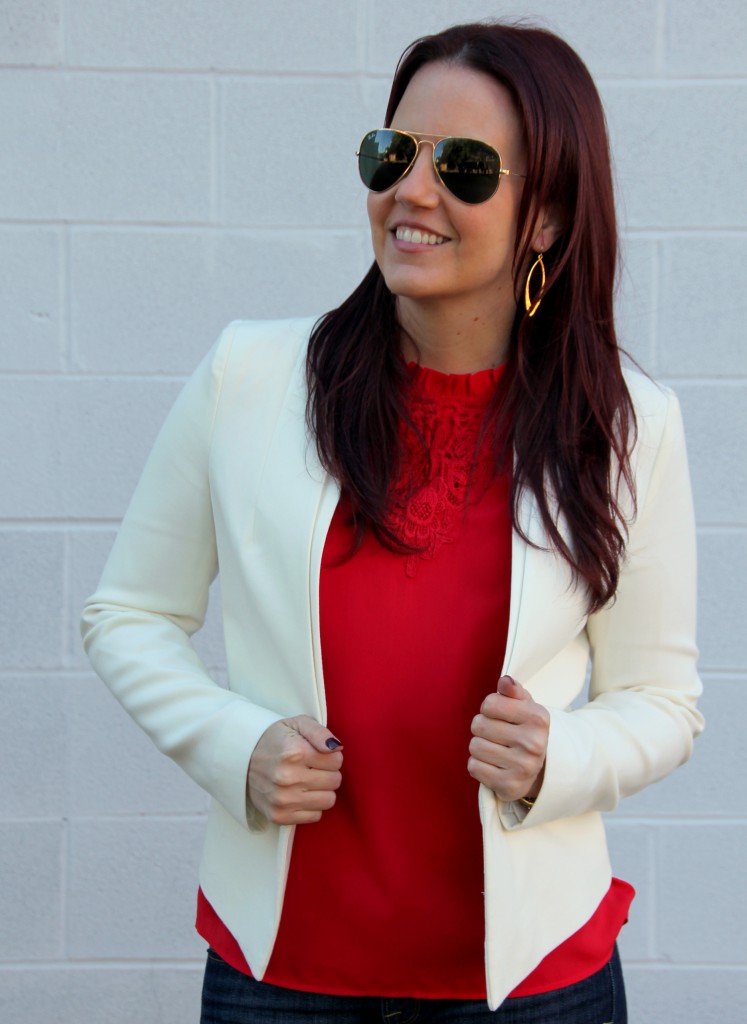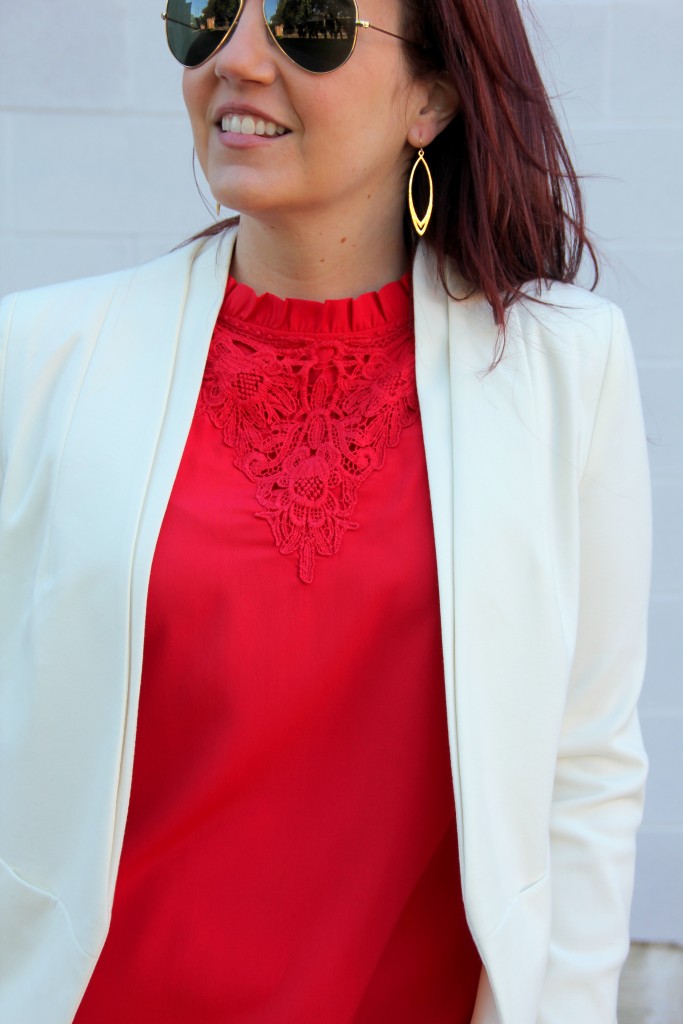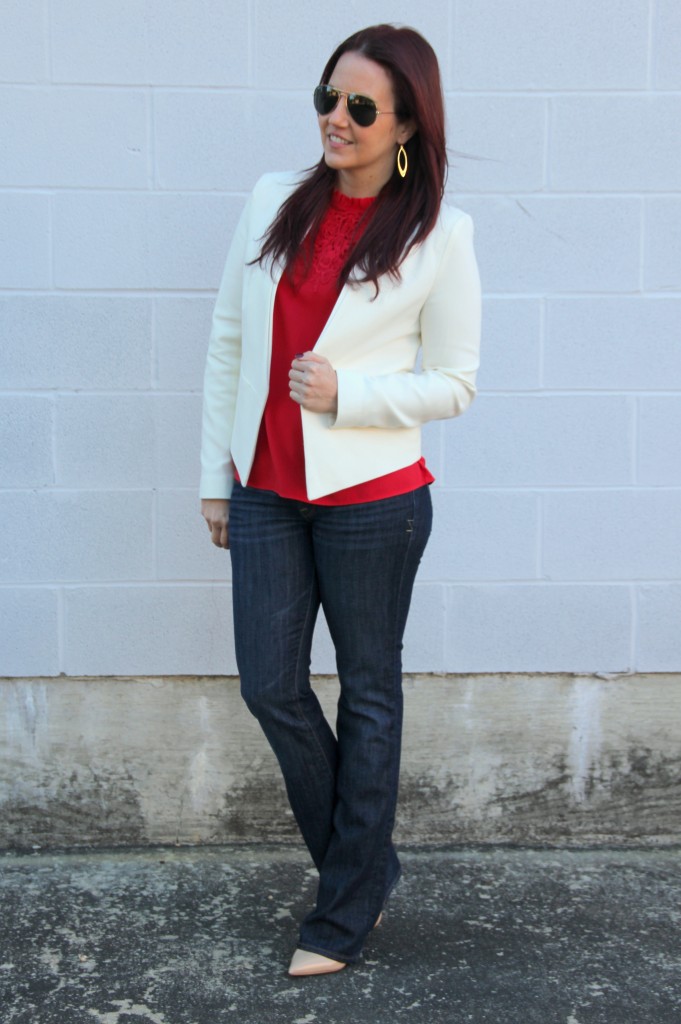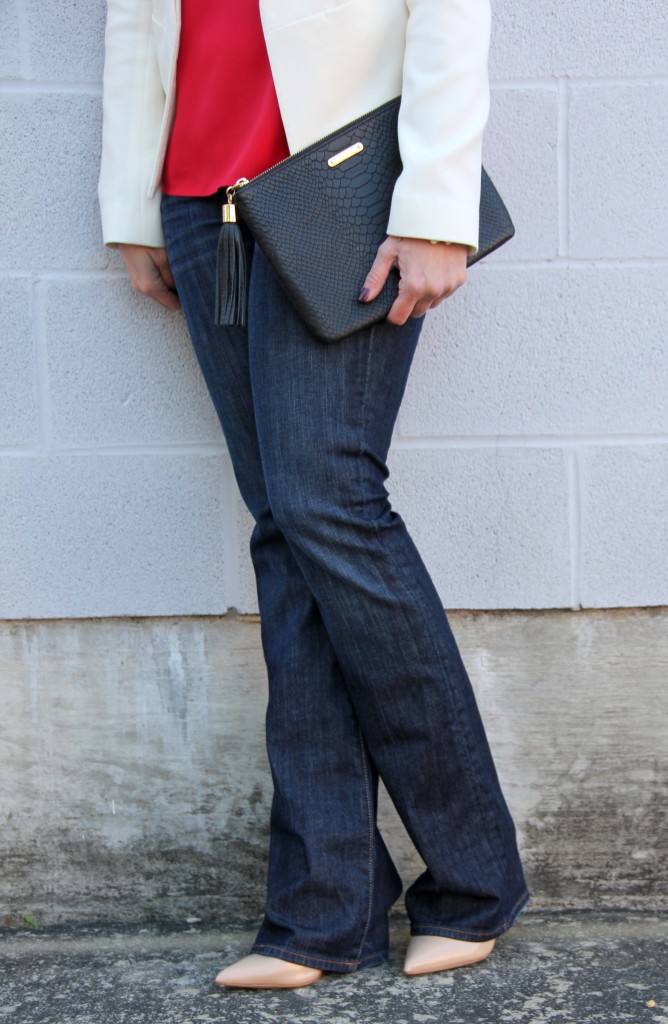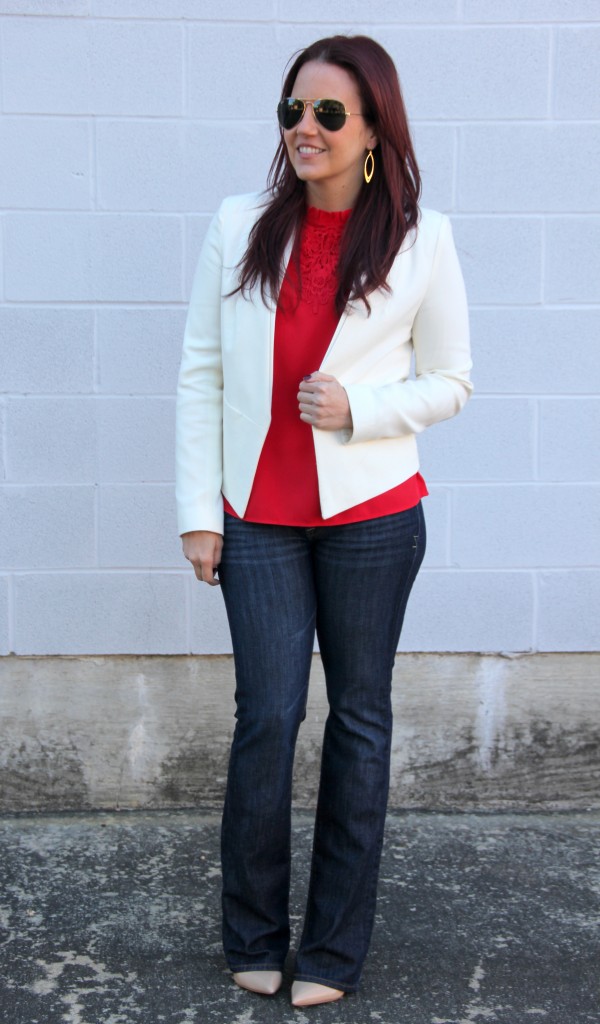 | DETAILS |
TOPSHOP Poppy Blazer [SIMILAR & ON SALE] | OASIS Red Shell Blouse [SIMILAR NECKLINE | LACE DETAILS | SIMILAR & ON SALE]  | LUCKY BRAND Flared Jeans [SIMILAR] | STEVE MADDEN Nude Pumps  (50% off!) | GIGI NY All in One Clutch  | SWELL CAROLINE c/o Signature Bracelet  | GORJANA Aldridge Earrings  | RAYBAN Aviator Sunglasses  | MAC Lipstick in Faux  | ESSIE Nail Polish in Sole Mate
When I head to Christmas parties, I sometimes like to plan an outfit with a holiday color theme.  I love red, white, and gold together in an outfit. Adding a blazer to an outfit can really help set the tone or overall feel for your look.  I have a cute fitted black blazer that I wear sometimes, but on occasion it kind of reminds of work or a suit.  I love the trend of white or colored blazers.  You can toss this white blazer over a fancy dress to help give it a more casual vibe, or pair it with a jeans look to help dress it up a bit.  When I chose this blazer, I liked it for it's open no button look.  I think it lends a trendy laid back feel to it.   The lace details at the neckline of this red blouse were a big selling point for me. I tend to pair this top with cardigans or blazers because I like how the lace peeks through from under the blazer.  This top is a few years old and I couldn't find anything identical, but I linked some sort of similar options for you.
My holiday festivities officially kick off tonight! My bestie's house is part of the Holiday Home Tour in the Heights of Houston.  As part of my best friend duties, I volunteered to help out tonight give tours of her house.  I have seen a couple pics of some of the holiday decor she has up, but I haven't seen it all yet.  She loves her holiday decor as much as me, so I know the whole house will be fabulous. I will share a few pics over on Snapchat (ladyinviolet) if you want a peek at her decorations!  Thanks for swinging by the blog this week and have a great weekend!
SHOP THE POST

Follow Lady in Violet INSTAGRAM | TWITTER | FACEBOOK | BLOGLOVIN | SUBSCRIBE