Tag Archives:
sunglasses search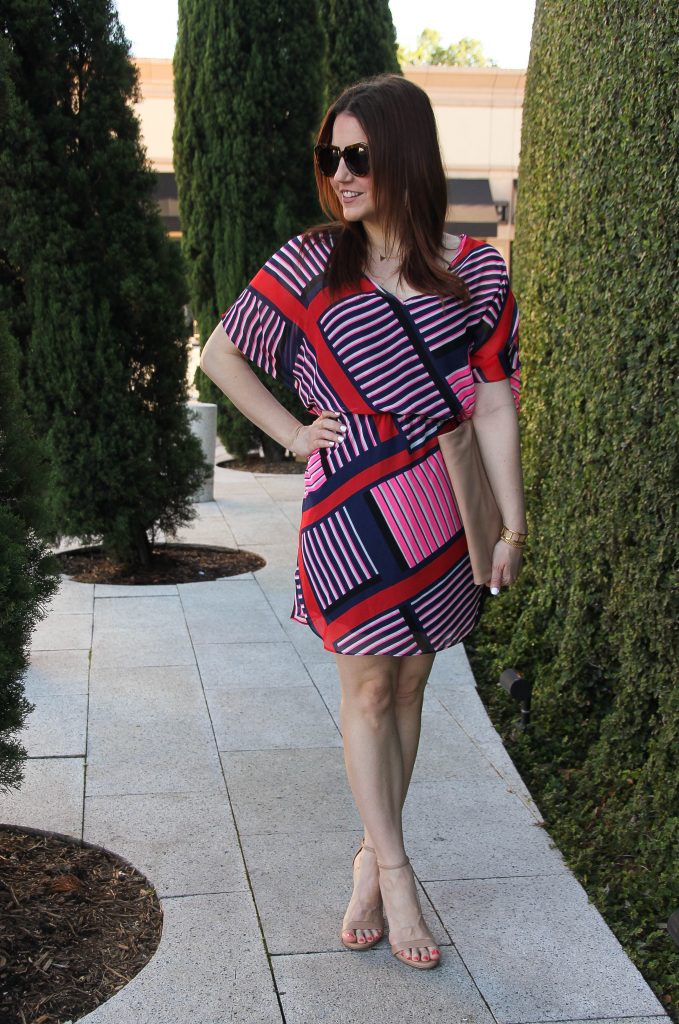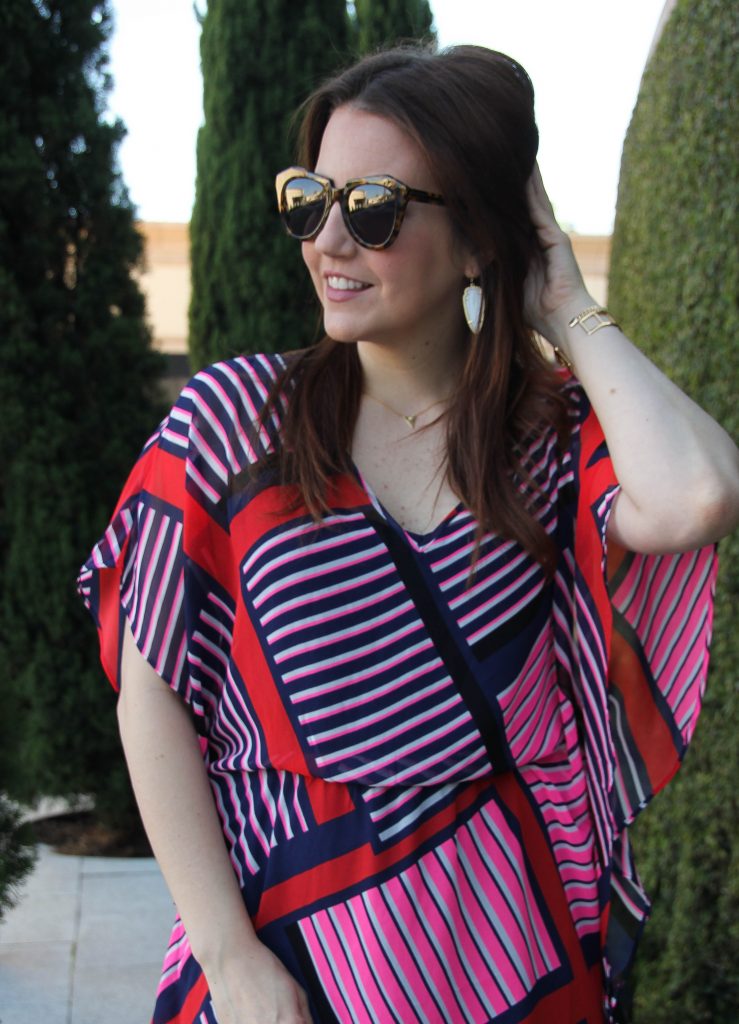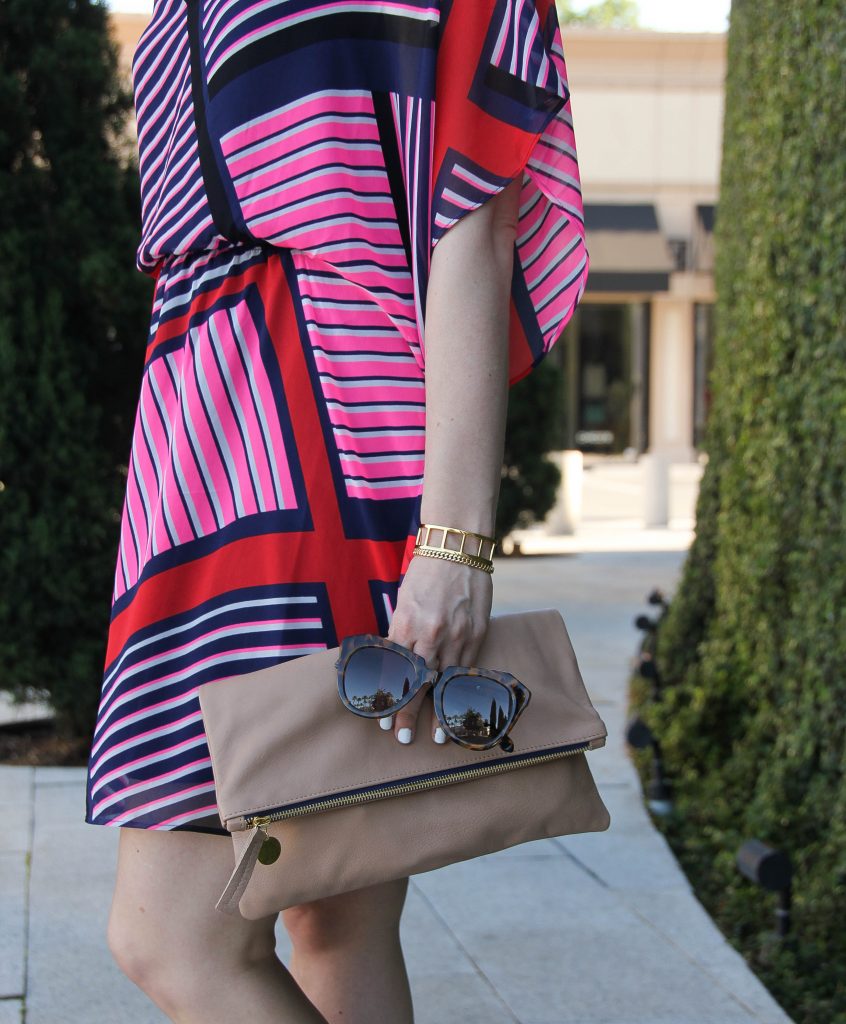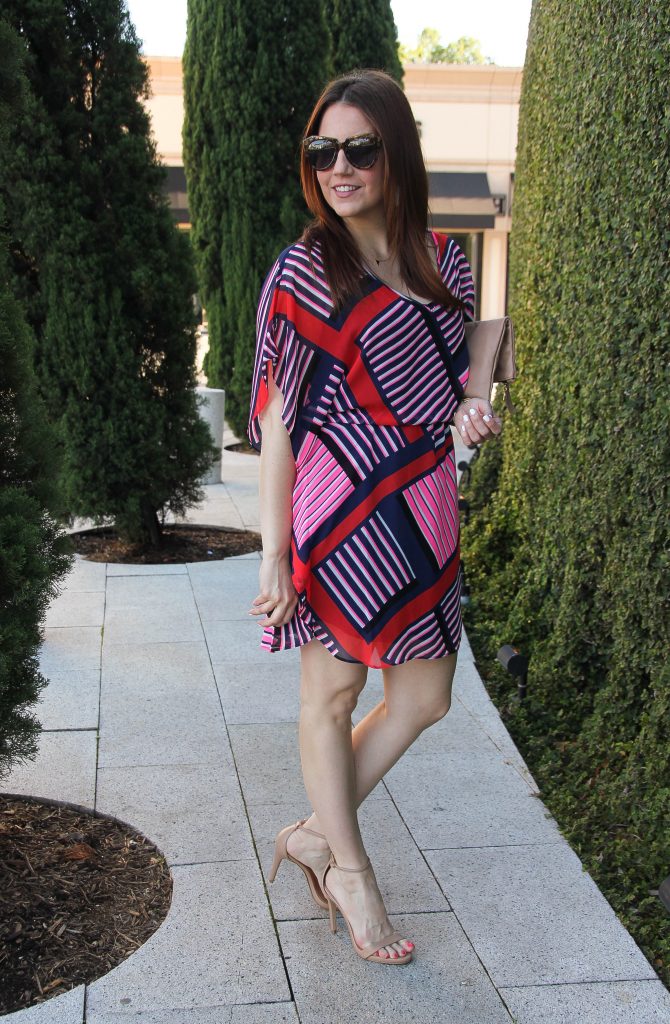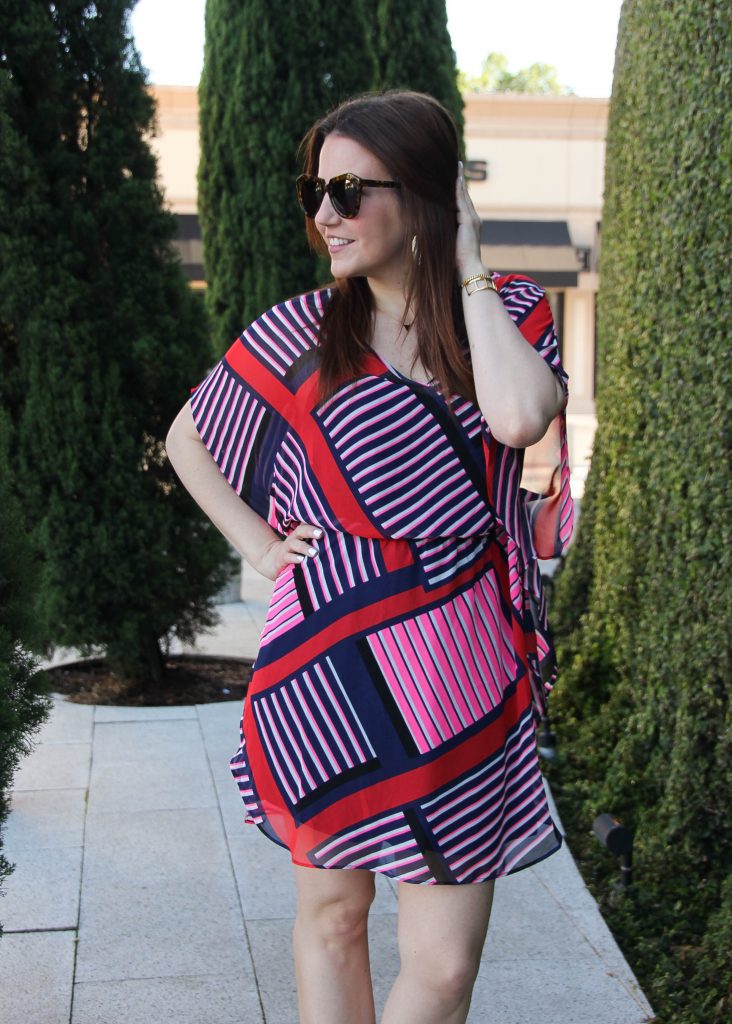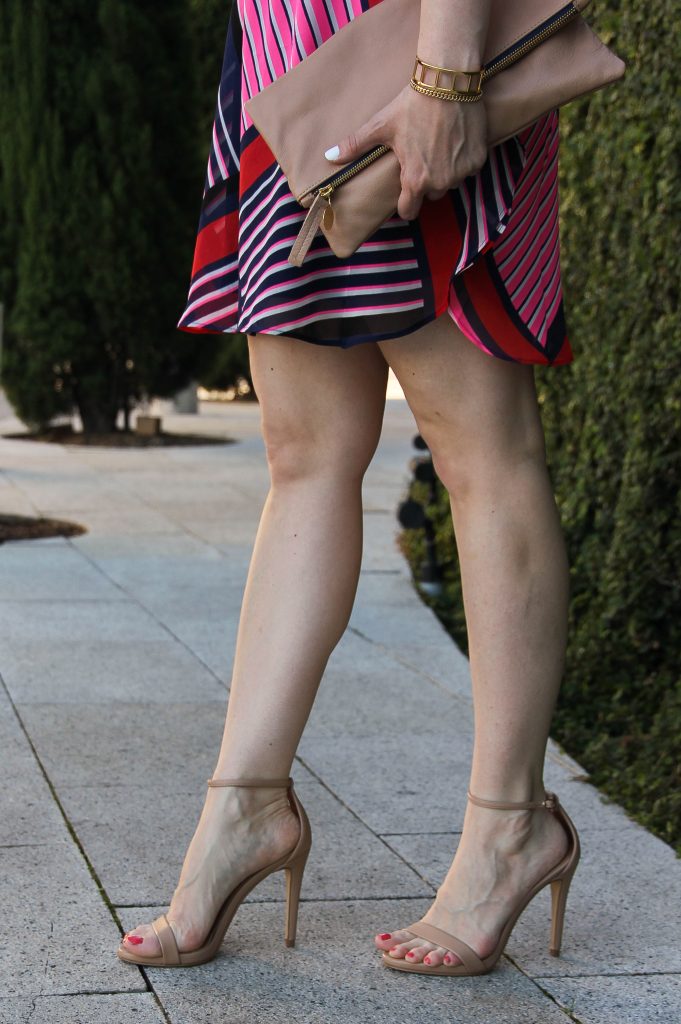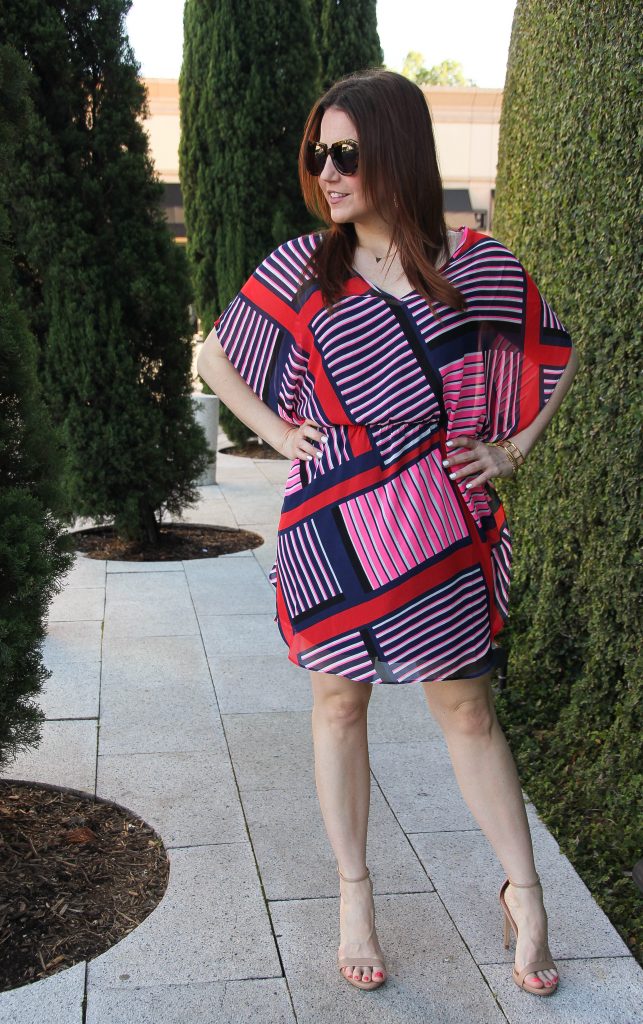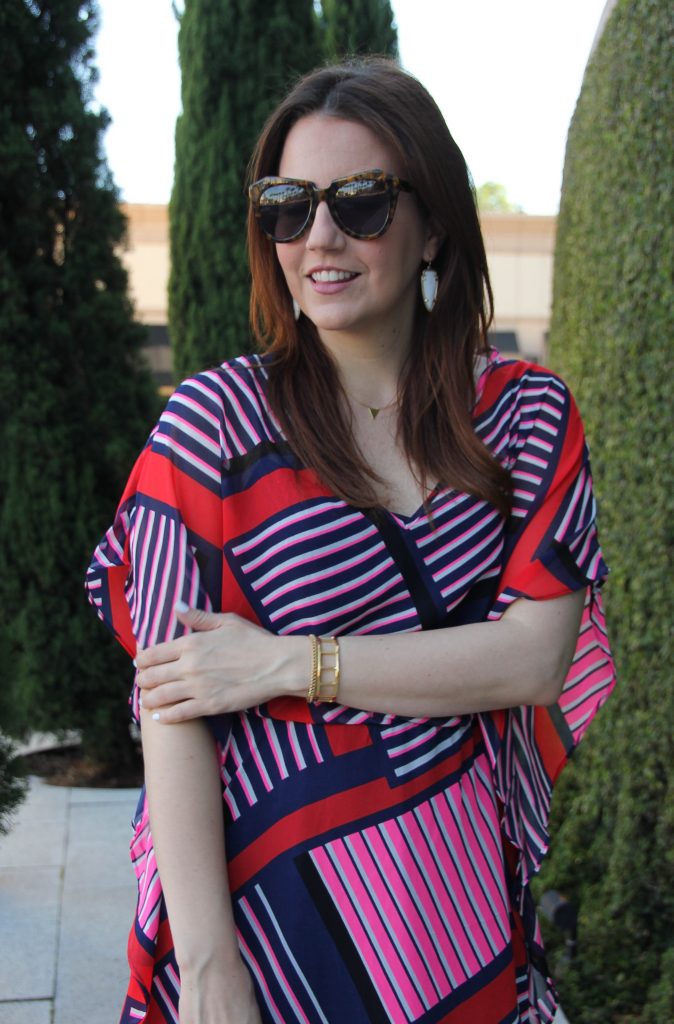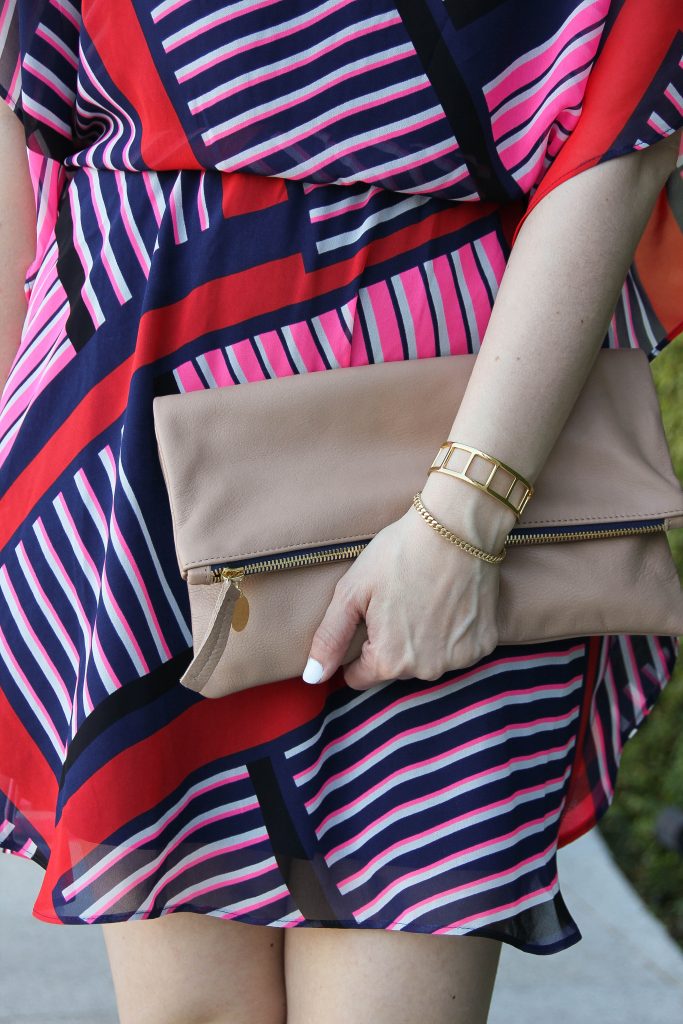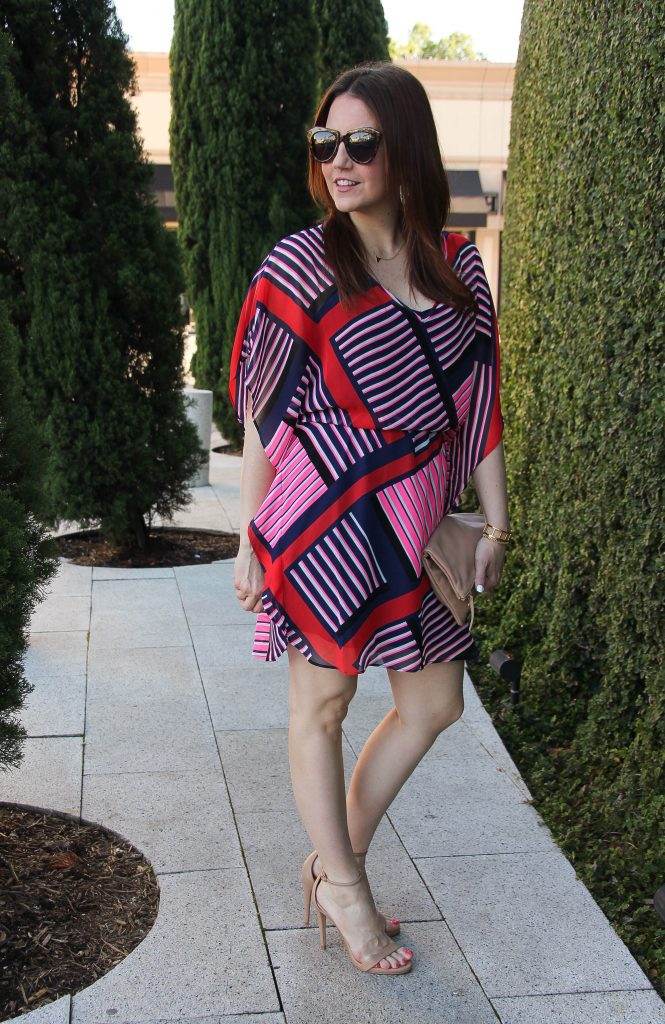 | DETAILS |
EXPRESS Caftan Dress  | STEVE MADDEN Stecy Sandal  | CLARE V Foldover Clutch  | GORJANA Mika Necklace  | KENDRA SCOTT Skylar Earrings  | BAUBLEBAR Ladder Cuff,  Links Bracelet (similar)  | KAREN WALKER (c/o Ditto) Number One Sunglasses ** Try One Month for Free with code LADYINVIOLET  | Nails: ESSIE Blanc  | Lips: MAC Faux
Hey Ya'll!!  I hope you had a fabulous weekend! My mom, sister, and I drove down to Galveston yesterday for the Historic Homes Tour.  You get to tour several area homes to learn about their past and how they were restored.  Many of the homes on this tour survived the 1900 Great Hurricane!  I love learning about the homes and seeing how they are decorated, plus the fun little family day!!  It was lots of walking and hot out, so now I'm a little tired.  One of those I really could use one more day this weekend kinda tired! Extra Coffee please!!
I originally grabbed this dress because on the hanger it looked a bit more casual, and I thought it would be perfect for vacation or nights out when we go to Galveston.  Once I tried it on though, I realized it was the perfect dress for work and happy hour.  I am always on the hunt for dresses that can be easily styled for both places.  I ended up wearing this a couple weeks ago for the Shop with Heart card launch party.  For work, I wore some nude peep toe pumps to make it more office friendly.  After work, all I had to do was change out my shoes to easily transition this dress for the event.  I love the print and colors of this dress.  It really helps give it a unique stand out look. Bonus, the dress is only $70 which is a pretty nice price considering how much I am planning on wearing it this summer!
I hope ya'll have a great week and thanks for stopping by!
SHOP THE POST
Follow Lady in Violet INSTAGRAM | TWITTER | FACEBOOK | BLOGLOVIN | SUBSCRIBE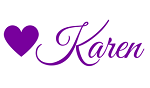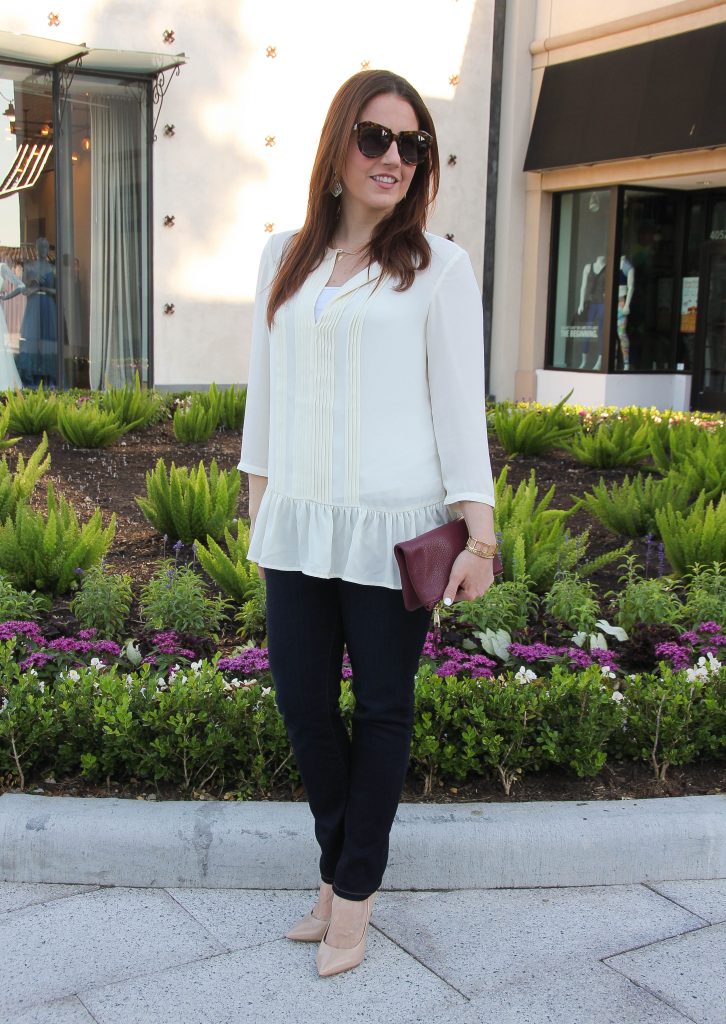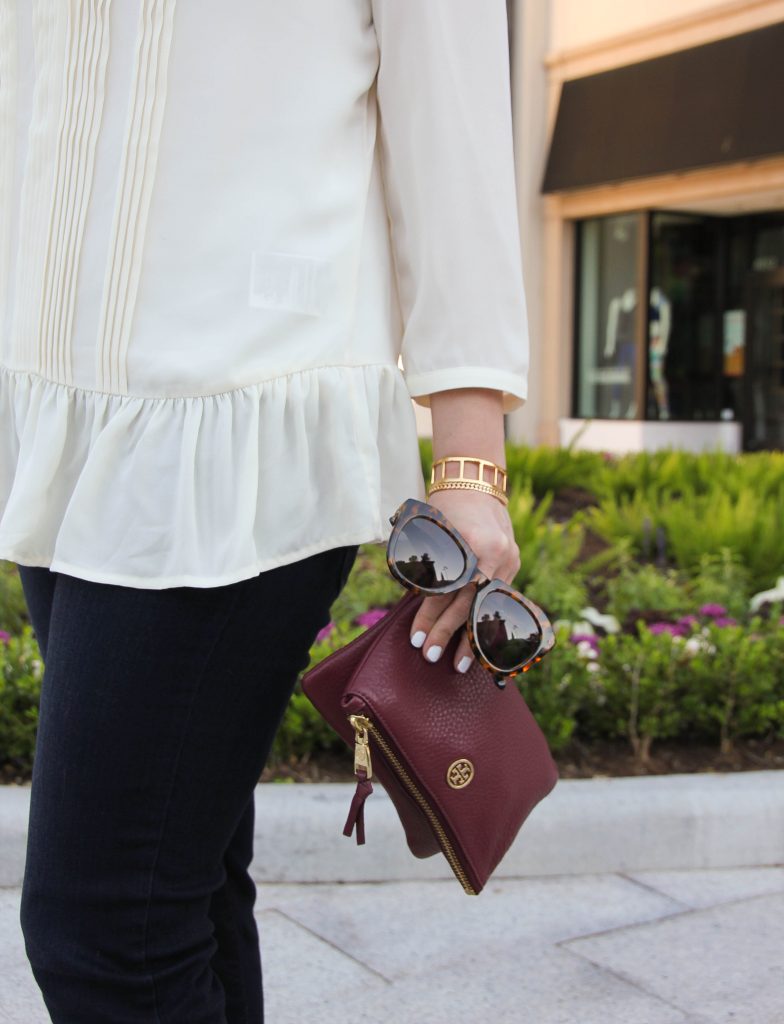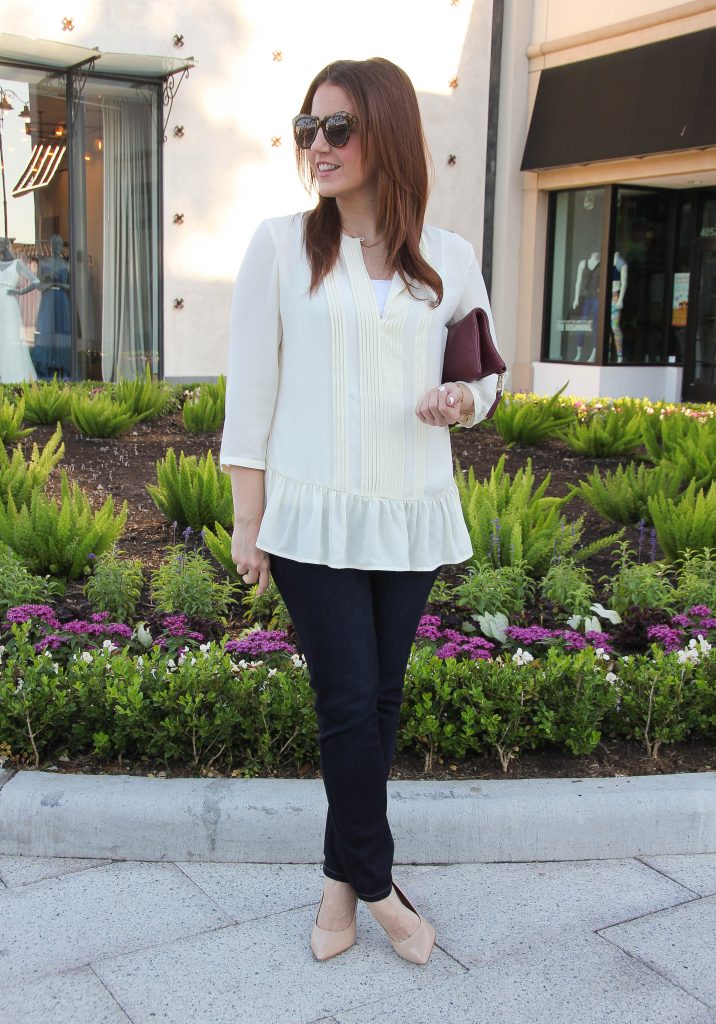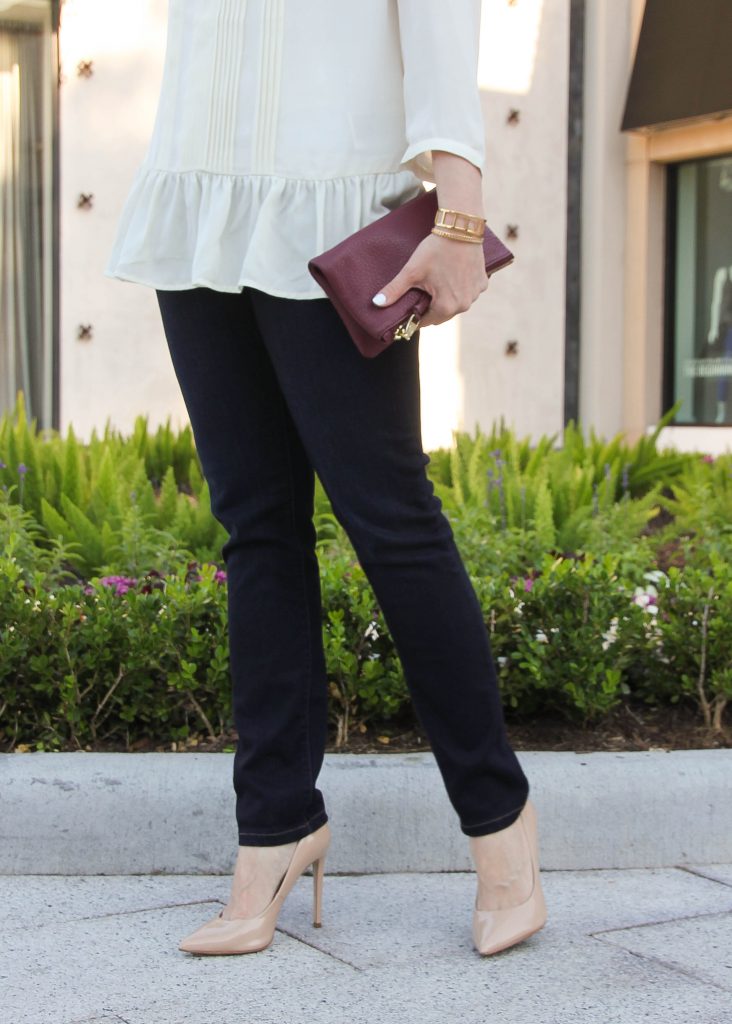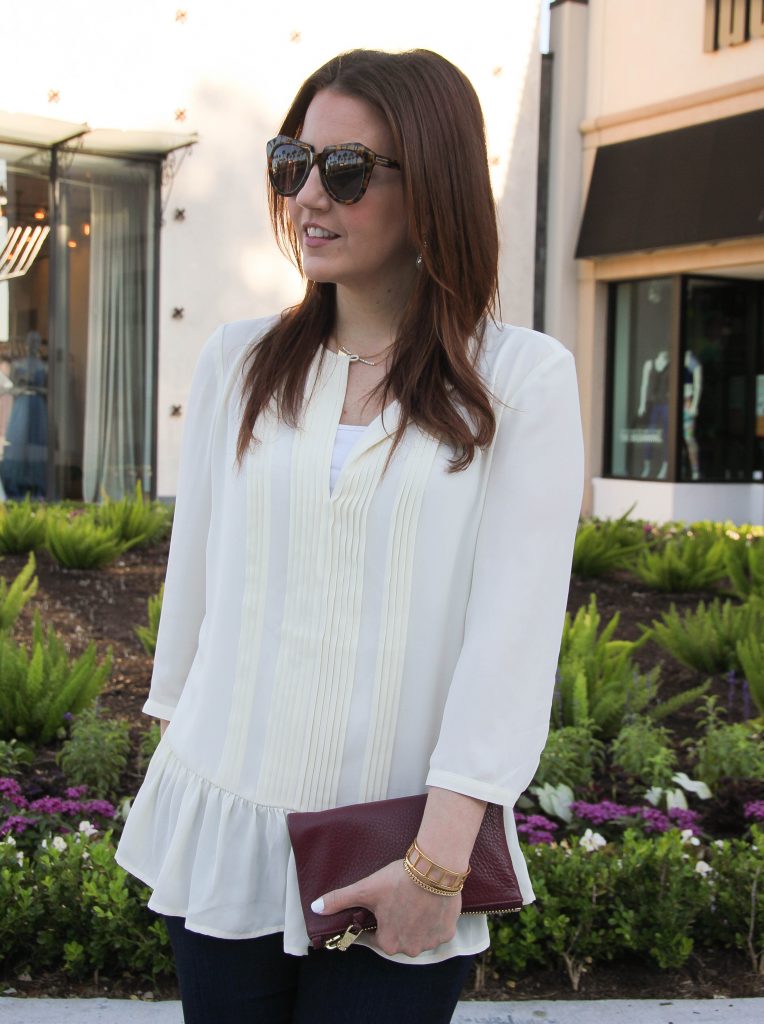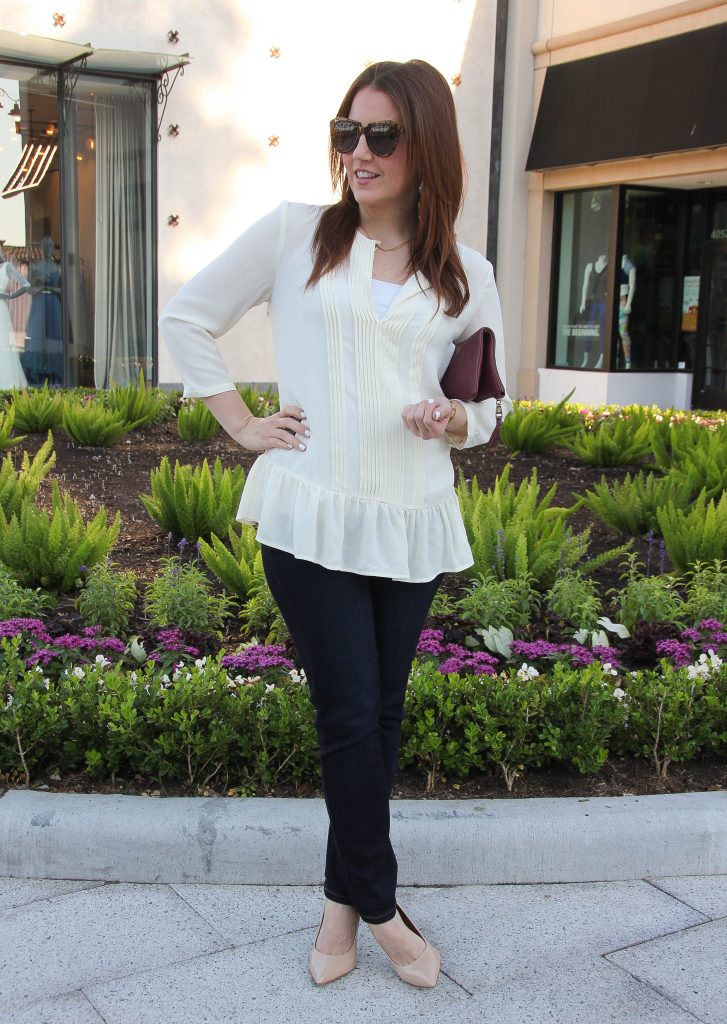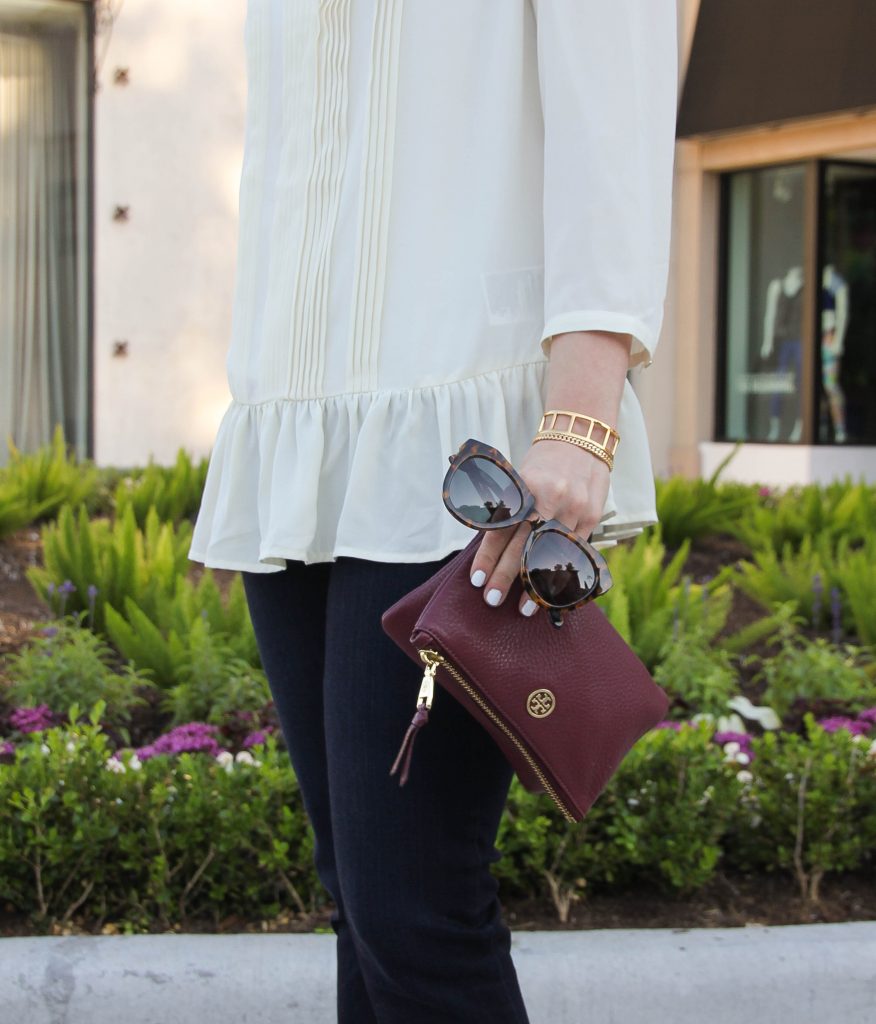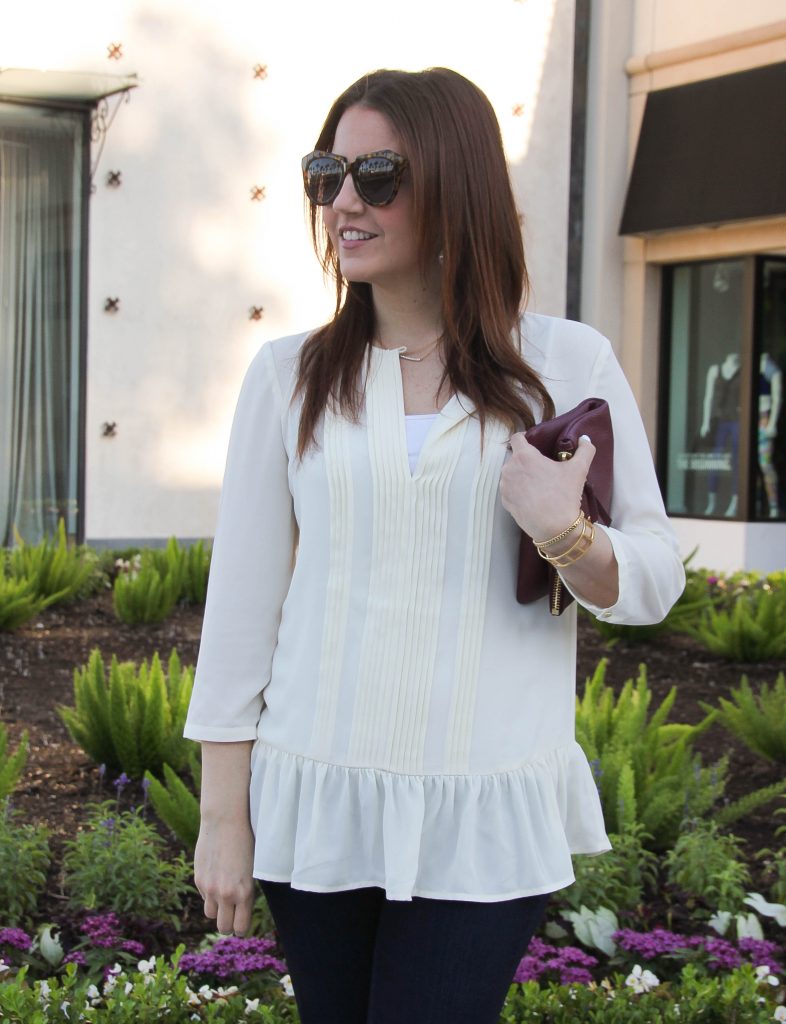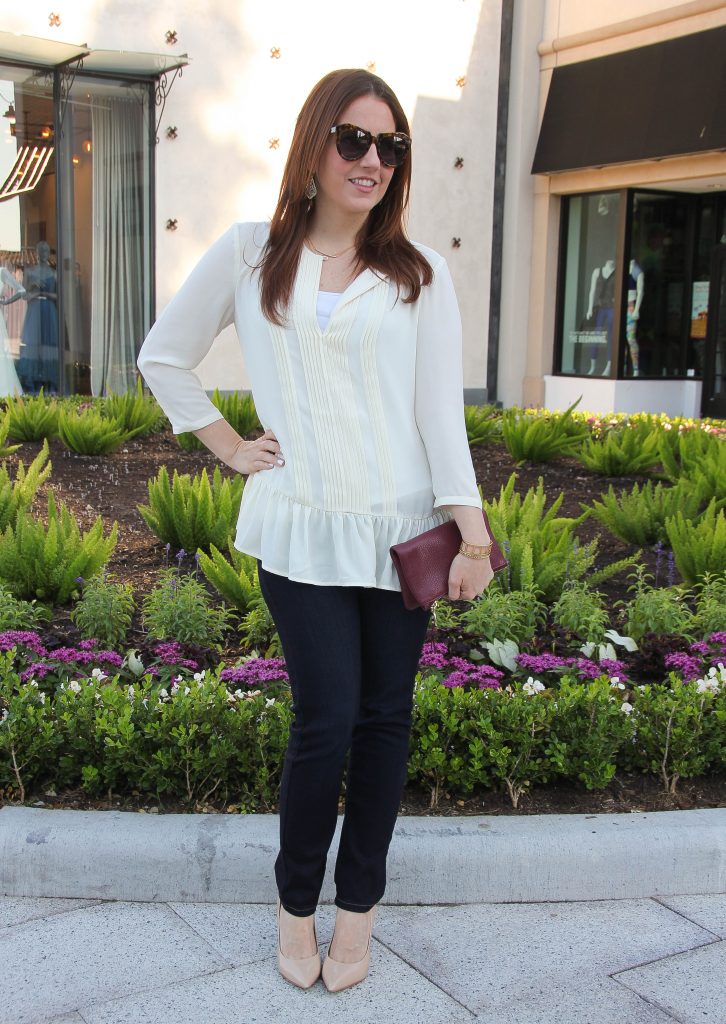 | DETAILS |
BANANA REPUBLIC Ruffle Blouse *ON SALE  | PAIGE DENIM Skyline Skinny Jeans  | STEVE MADDEN Proto Pumps  | TORY BURCH Robinson Fold-Over Crossbody/old (similar)  | KENDRA SCOTT c/0 Adair Earrings (similar) | GORJANA Mika Necklace,  Pave Bar Necklace  | BAUBLEBAR Ladder Cuff,  Cuban Links Bracelet (similar)  | KAREN WALKER (c/o Ditto) Number One **Try One Month Free with code LADYINVIOLET  | Lipstick: MAC Faux  | Nails: ESSIE Blanc
You may have noticed a certain pair of aviators missing from my blog posts lately.  I somehow managed to misplace my favorite everyday pair of Raybans a few weeks ago.  I know I came home from work with them, but that's about it.  I usually put them either back in their case or on top of the counter or dresser.  I'm super careful with all my pricier sunglasses.  I feel like I have searched everywhere, and I just cannot find them.  I also refuse to buy another pair right now, because I know they have to be here somewhere, and I will probably find them as soon as I buy new ones.
I did realize that maybe it was time to invest in a new different pair of everyday shades in addition to all my RayBan aviators.  One reason I always buy aviators is because I know they look good on my face shape.  I have several pairs of sunglasses in my dresser that looked great on in the store, but after I wore them for a week or two, I didn't like them anymore.  I found this website that allows you to rent sunglasses for a monthly rate and even buy a pair if you like them.  This is exactly what I need on my search for new sunglasses.  I want a fun designer pair, but if I'm going to shell out $100+, I want to be sure I love them!!!!
So be prepared over the next few months, I will be showcasing my sunglass rentals here on the blog.  I'm kinda excited to share this little shopping journey with you all.  I am renting sunglasses through Ditto, which by the way is giving all my readers a free month with code LADYINVIOLET!  I like this site because they carry many of the brands and styles I want to try out.   I'm going to keep each pair for a few weeks, so some may get featured in more outfit photos depending on my shooting schedule (which pretty much depends on the weather!).  I will be sure to include each pair I try in at least one or two posts, so you can see what Ditto has to offer.  I'm plan on sharing my reviews of each pair, and hopefully crown a new everyday sunnies winner by mid summer!
The first pair I requested was the Karen Walker Number One Sunglasses in Tortoise.  This pair hit on a few things I wanted to try – 1)a pair of Karen Walker sunnies,  2) Oversized Sunglasses, and 3)Tortoise frames.  The price tag on these is about $240-250, although I do seem to find them on sale every few months for under $200.   My first impression of these is that they feel super durable.  I feel like if I dropped these they would survive the fall, sorry not going to test that theory. 🙂  They do occasionally feel a bit heavy especially compared to my super lightweight aviators.  I've been wearing these for about a week, and I think I'm getting used to a little extra weight.  They do a good job blocking out the sun, and don't move around on my face too much.  I'm not 100% sold on the oversized look on my face.  Sometimes I love it, and then I see a photo and I'm like not so much.  I do like the tortoise frames though.  I think it softens the sunglasses a bit as compared to black frames.  I also think the tortoise is more versatile and can mix and match with both black and brown outfits, silver or gold jewelry, and all the bright summer colors.
What are your thoughts on the Karen Walker Number Ones? Love them or Pass?
Don't forget you can try out Ditto for FREE for one month with code LADYINVIOLET, and you too can sample a fun designer pair of shades!
SHOP THE POST
Follow Lady in Violet INSTAGRAM | TWITTER | FACEBOOK | BLOGLOVIN | SUBSCRIBE