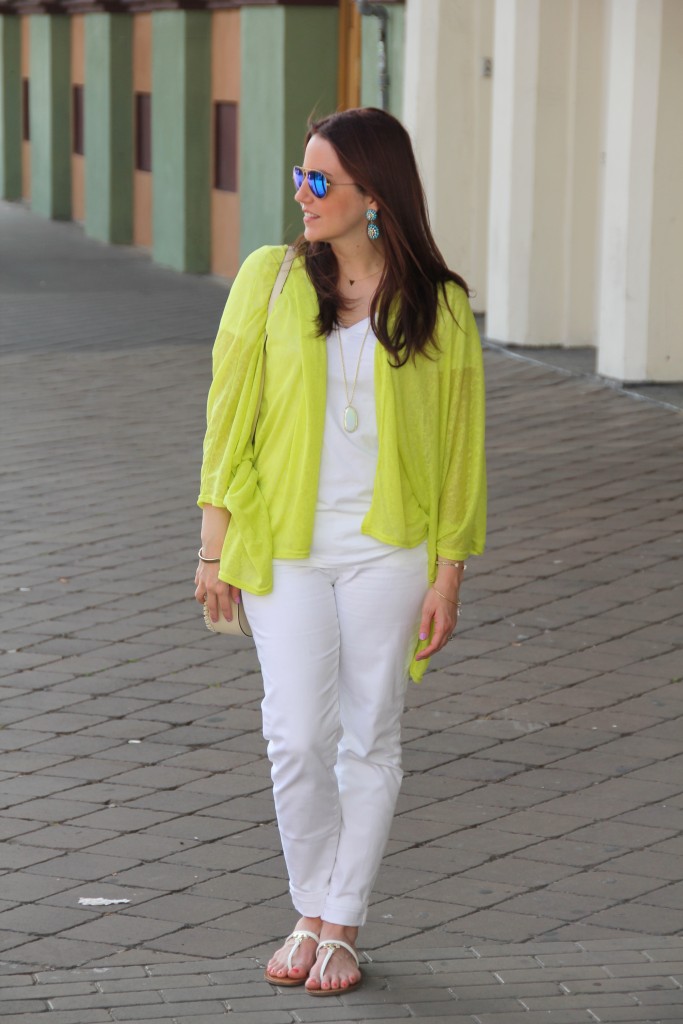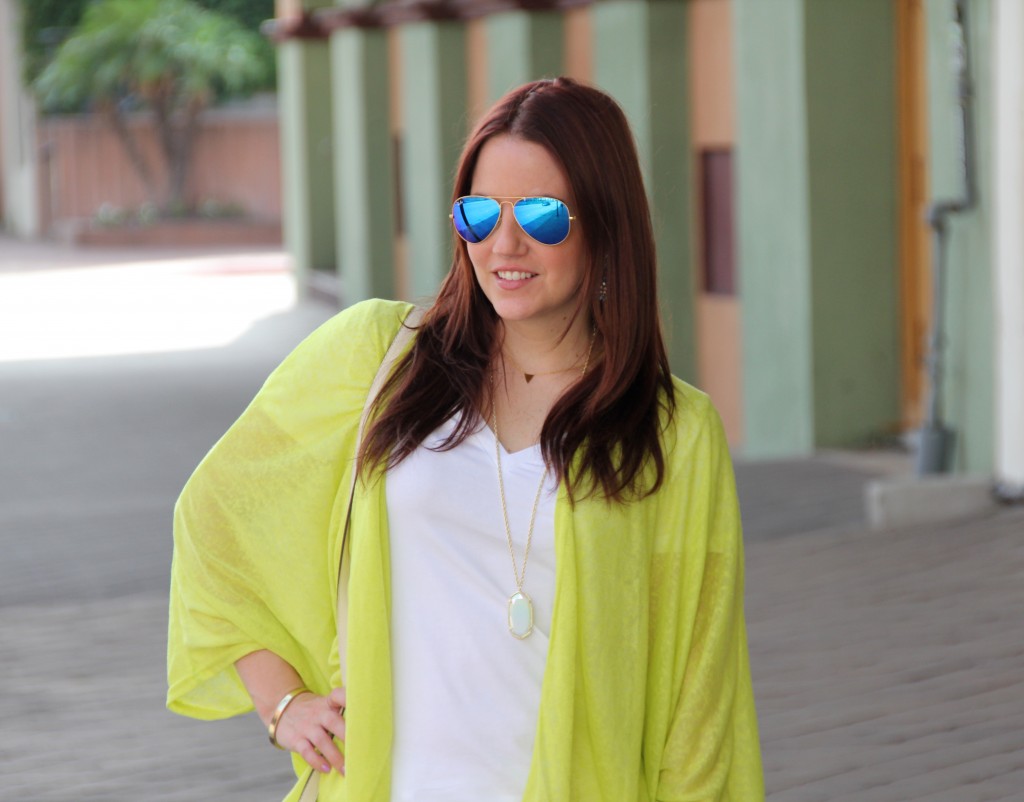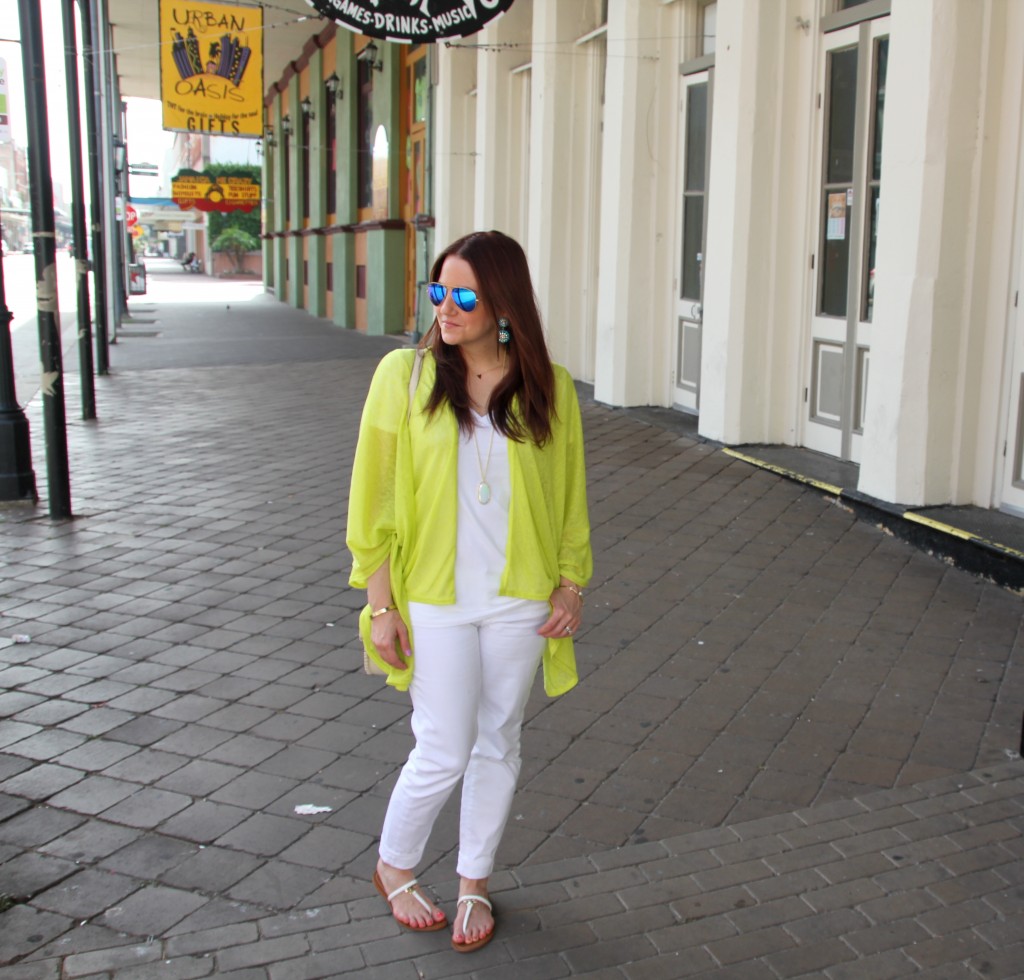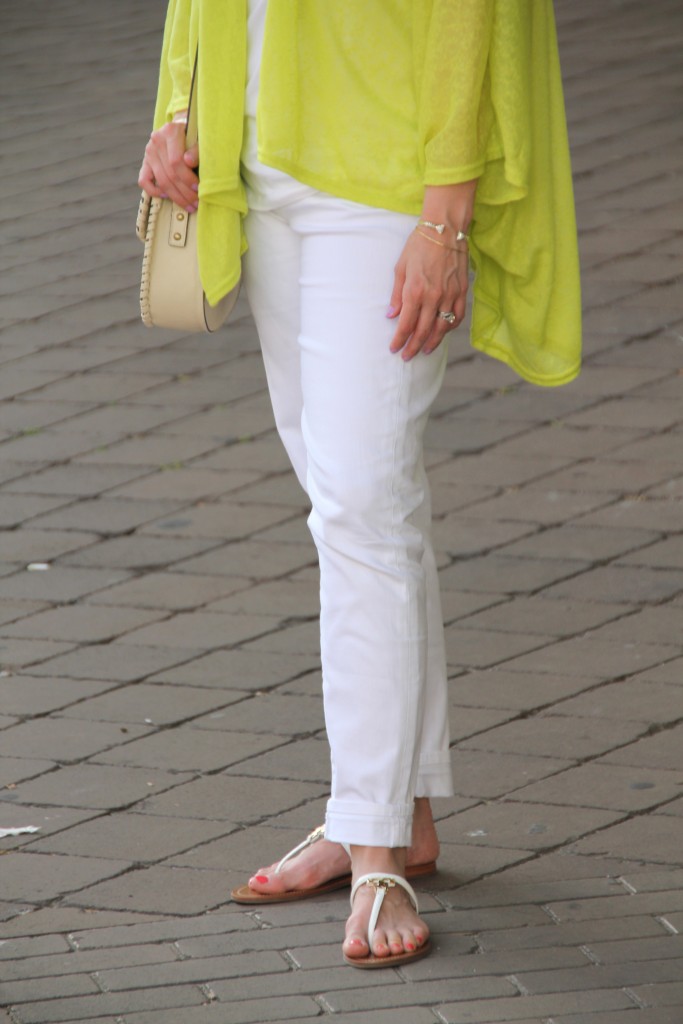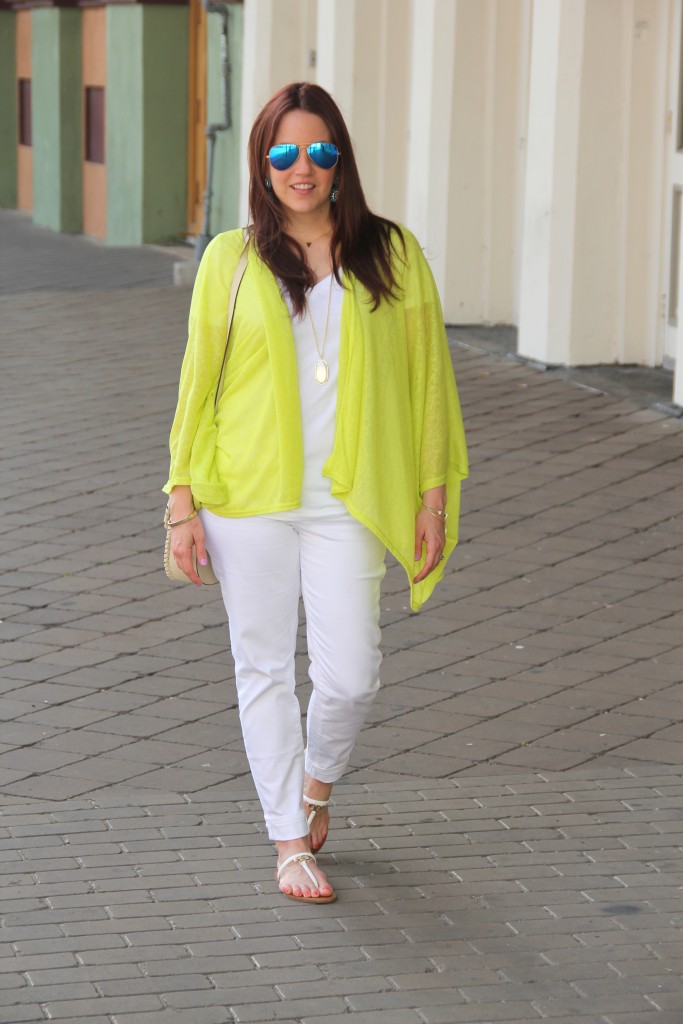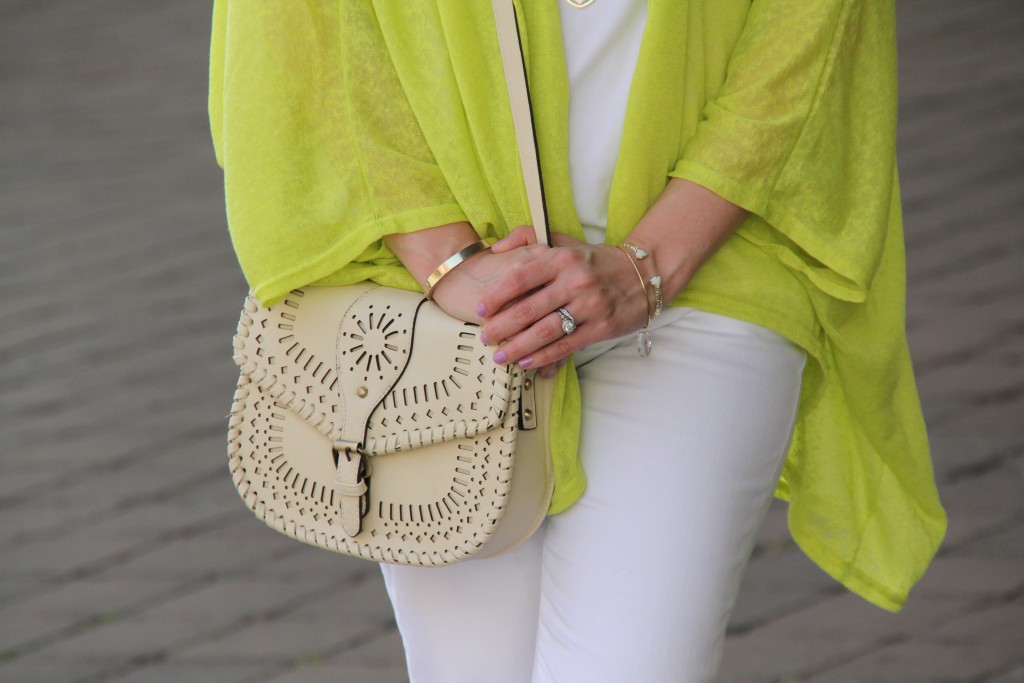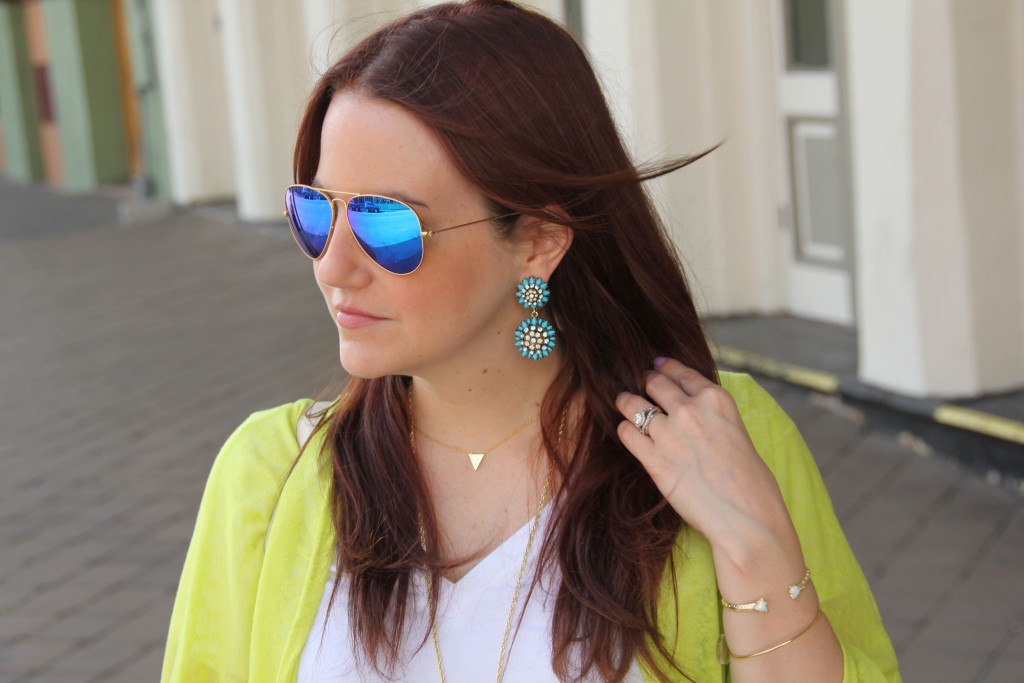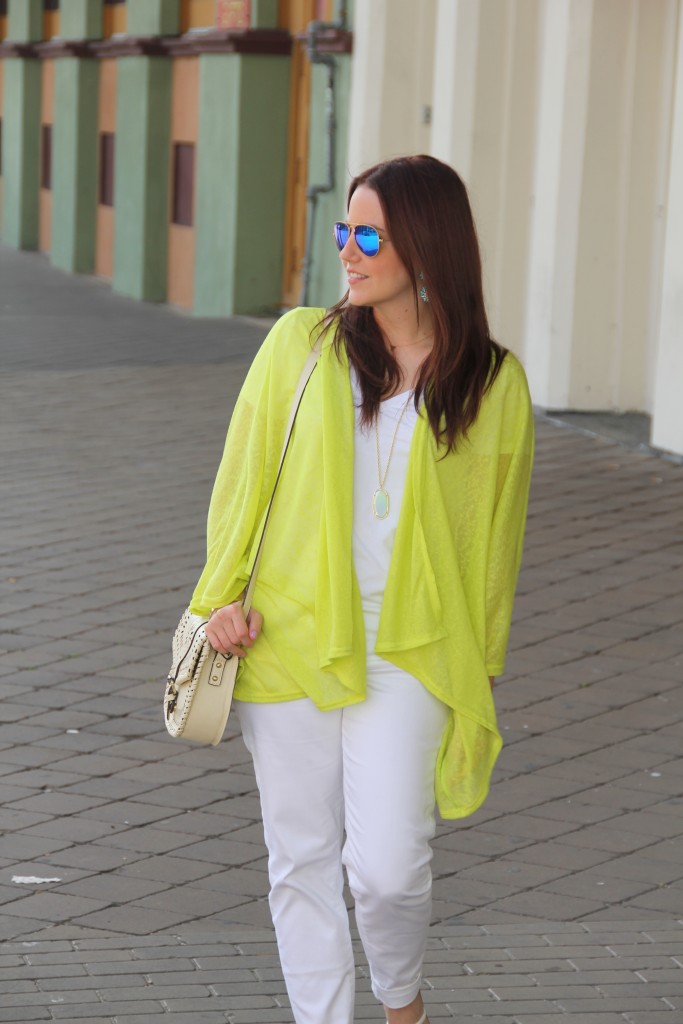 | DETAILS |
DRESS UP c/o Light as a Feather Kimono | H&M V-Neck Jersey Top | LUCKY BRAND Sienna Cigarette Jeans | TORY BURCH T Logo Leather Sandal | SOLE SOCIETY Kianna Satchel | KENDRA SCOTT c/o Rae Pendant Necklace, Grady Bracelet | GORJANA Mika Necklace | MOON & LOLA c/o Eden Pineapple Charm | BAUBLEBAR Crystal Dandelion Drops, Slim Hinge Bangle, Old [SIMILAR]  | RAYBAN Mirrorred Classic Aviators | MAC Lipstick in Faux | ESSIE Nail Polish in Under Where?
A trip to Galveston is not complete without a stop by the Strand!  The Strand is basically a street of shops and restaurants.  I love checking out some of the novelty stores to see what cute beach themed products they have in stock.  I also ALWAYS stop by La King's Confectionery for a sweet treat. This store is one part soda shop and one part candy store. Stepping in to the store is definitely stepping back in time.  I always grab a bag of the saltwater taffy.  If you go at the right time, you can even see them making the taffy right there in the store, and they usually toss out a couple samples to onlookers.  I'm a peanut butter lover, so my taffy bag is usually like half this flavor.  The Strand is also right next to the cruise ship terminal, so you will usually get a glimpse of one of Carnival Cruises mighty ships.  If you time it right, you can also watch the ships as they sail away usually around 4 or 5pm.  One of the newest and kind of interesting features on the strand and throughout Galveston is the Hurricane Ike water lines.  Hurricane Ike hit in 2008 and devastated the entire island.  Historic landmarks like the Balinese Room  known for hosting the Rat Pack were completely destroyed.  The Strand was majorly flooded with several feet of water.  Today, several walls along the strand mark the water line from the flooding.  Many businesses also include photos of their businesses after the Hurricane.  I always find it interesting to stop and look at the pictures.  You can really see just how resilient this city is.
You have probably noticed I don't really do flats a lot, even in Charleston I walked around all day in my wedges, but to visit the Strand I usually opt for flats.  This part of Galveston is over 100 years old, which means brick roads which are not always the easiest to walk on in wedges.  Also, the street sits lower than the shops and sidewalks, so lots of taking a step or two up and down as you walk along.  We stopped by the Strand before brunch one morning, so we could snap these photos before the crowds came in.  I just purchased a new pair of white denim! I was wearing my other pair so much I figured it was time.  I opted to buy a looser fitting pair and bonus they were on sale!  These are meant to fit like boyfriend jeans, but I went one size down so they would be kind of a mix between skinny and boyfriend fit.  I like the looser fit of the jeans, and how it allows for a little more breath-ability room on a warm day.  I am also loving this kimono I recieved at SBSCon.  Despite being July, there were definitely some nice breezes going on in the mornings.  This kimono was perfect to toss on over my all white outfit.  I also wore it over a sundress while lounging around our beach house.  It was so comfy. I love the bright color, it's perfect for summer.
The Historic Downtown area has some great restaurant options for brunch.  On the day we snapped these photos, we went to our favorite, Mosquito Cafe.  My favorite thing about this place is that they serve the very expensive Blue Mountain coffee for a not so expensive price plus refills!  I always get something different when we visit, and I have never been disappointed.  This place is popular so be prepared for a wait, but they are super efficient and keep things moving without diners feeling rushed.  Another favorite of mine is Mod Coffeehouse.  This cute little coffee house sits on Post Office, another popular street in Galveston for dining and bars.  They have designed some really amazing latte flavors like the Grasshopper and Squirrel, my two personal favorites.  I shared photos from both of these on my Instagram over the weekend.  We also tried a new place Farley Girls Cafe.  The people here were so sweet and really made you feel at home.  The food was also amazing!  While we were eating, some local firemen came in for brunch. I always think police and firemen know the really good places, so I considered it a good sign they were stopping in.  Our food was amazing!!  I had the Texas Eggs Benedict and it was sooo good that I finished the entire thing!!
I hope ya'll have been enjoying learning a little about Galveston.  I love this place and am loving sharing some of my favorite spots.  Check back Friday when I'm sharing all about the beaches and the absolute best place to be when the cruise ships leave!
RESTYLED & REMIXED
H&M V-NECK TOP: The Casual Professional
TORY BURCH SANDAL: The Summer Dress
Follow Lady in Violet INSTAGRAM | TWITTER | FACEBOOK | BLOGLOVIN | EMAIL SUBSCRIPTION