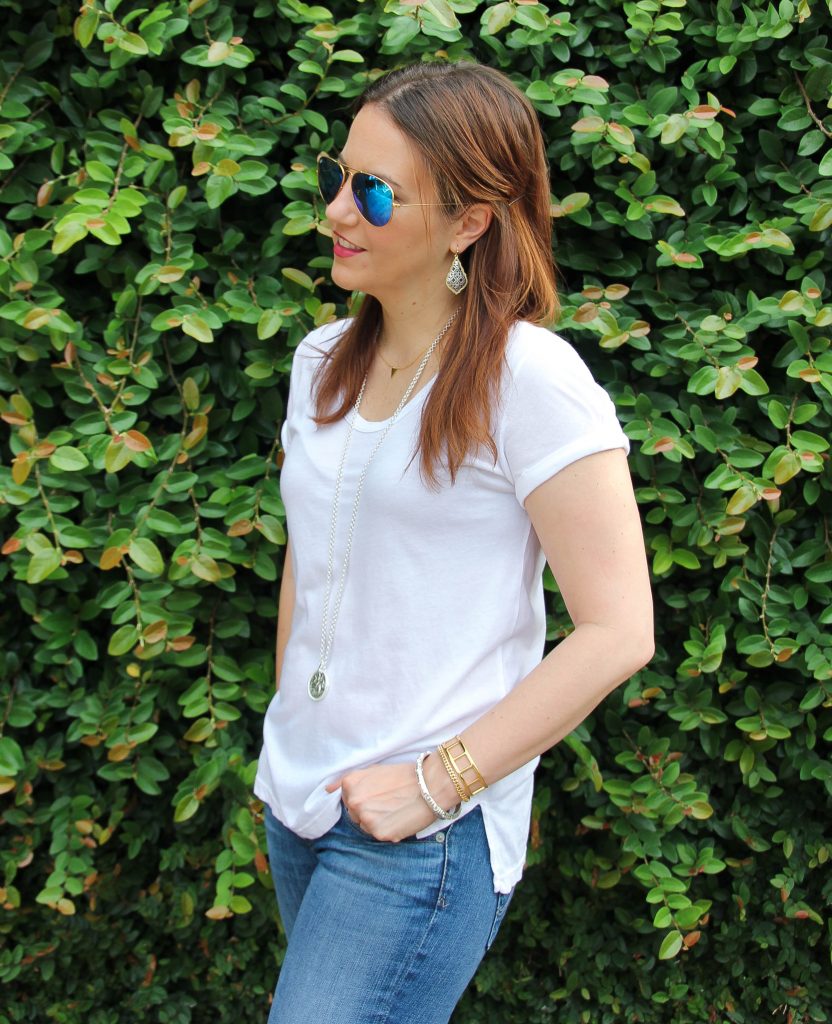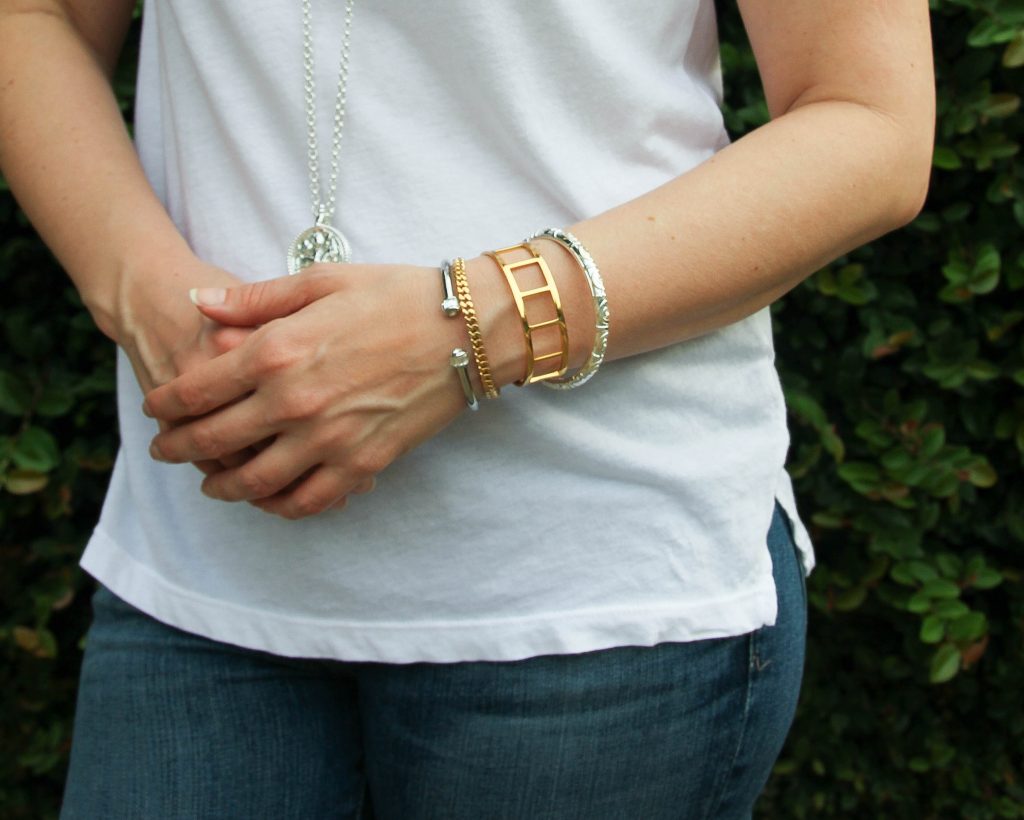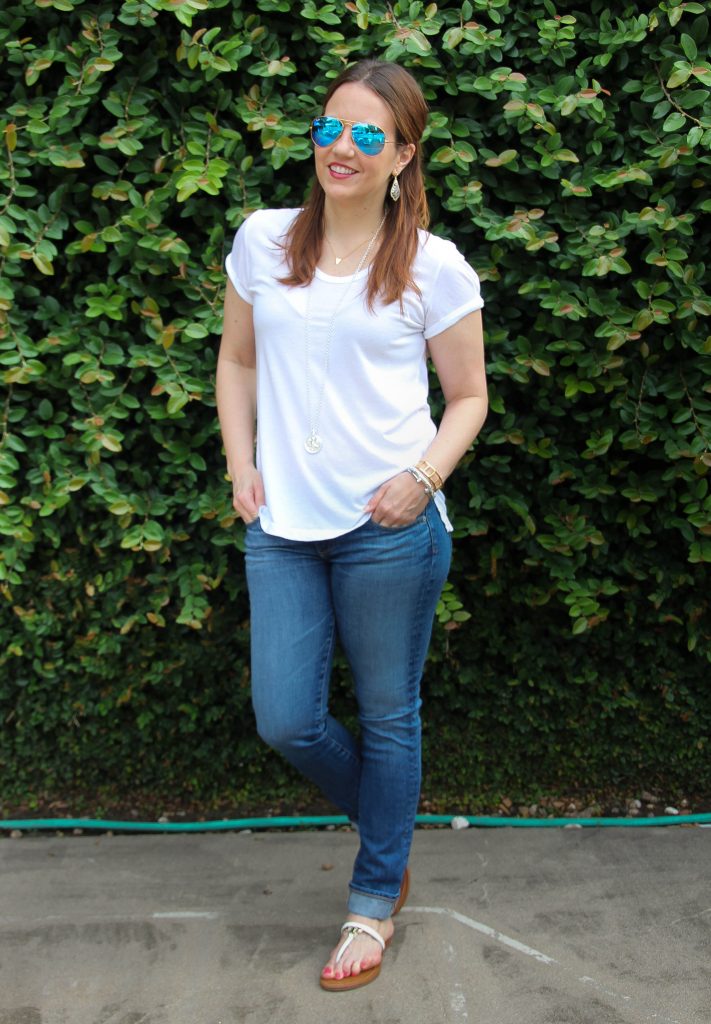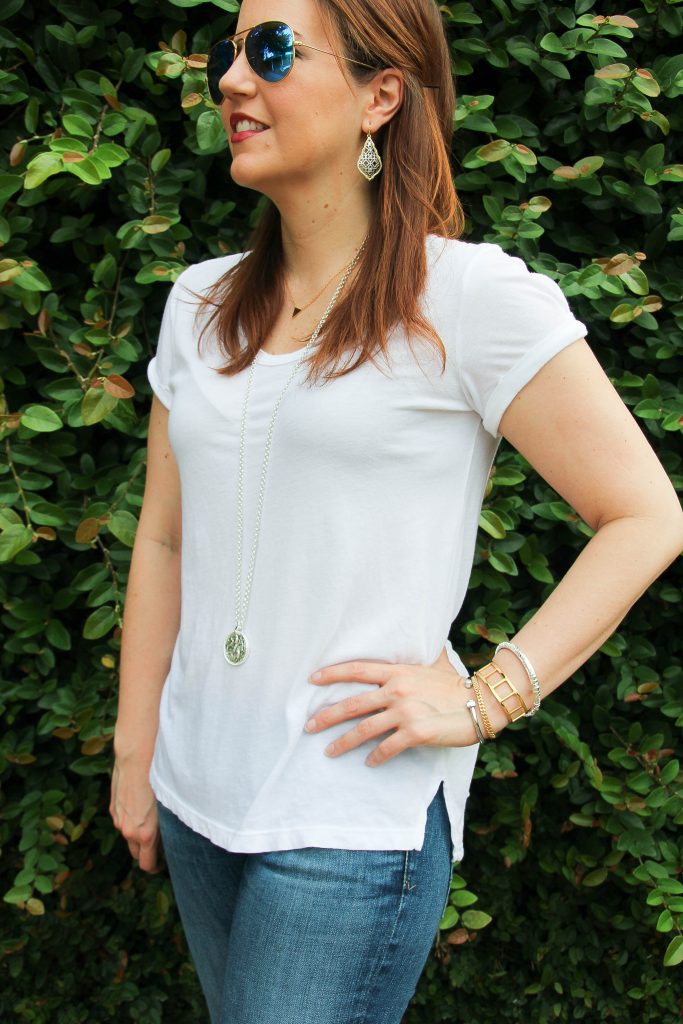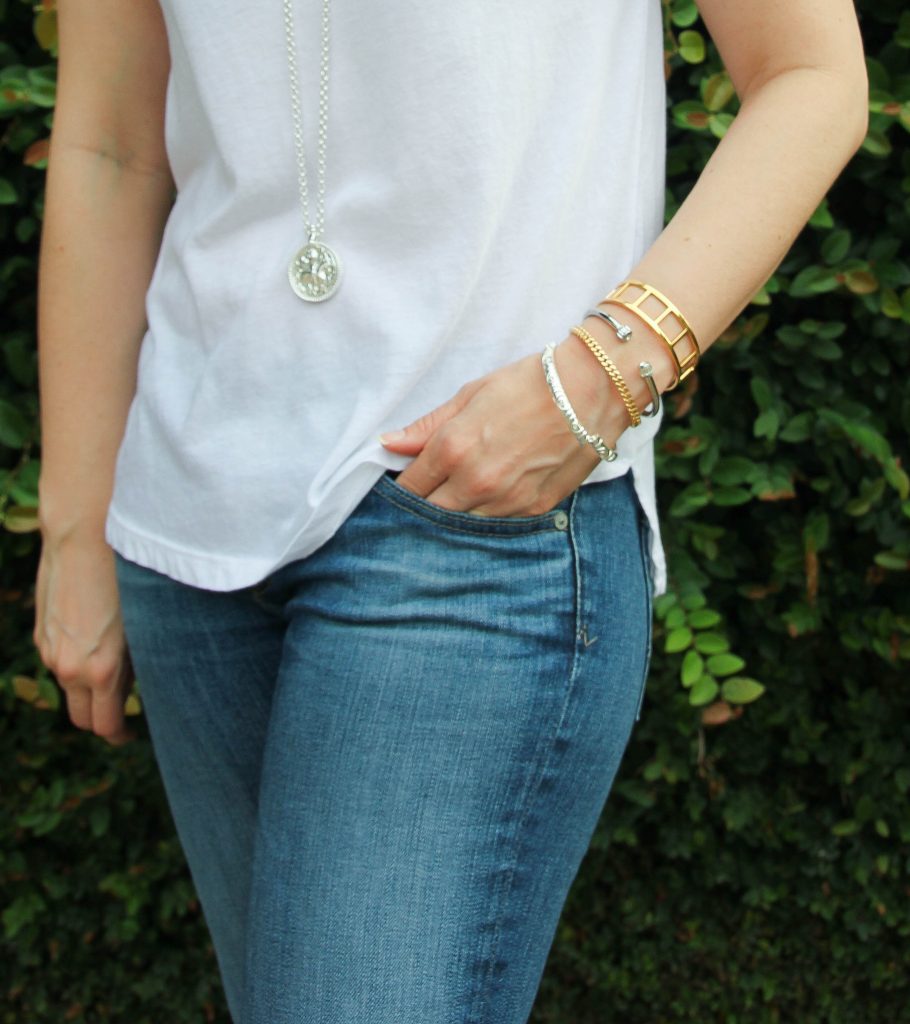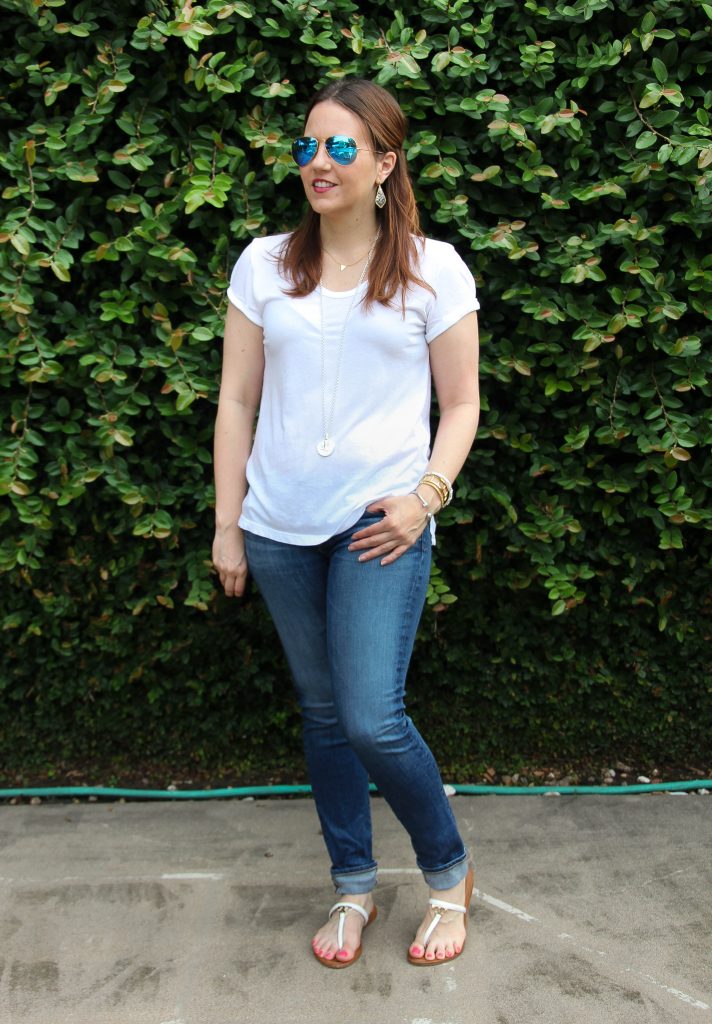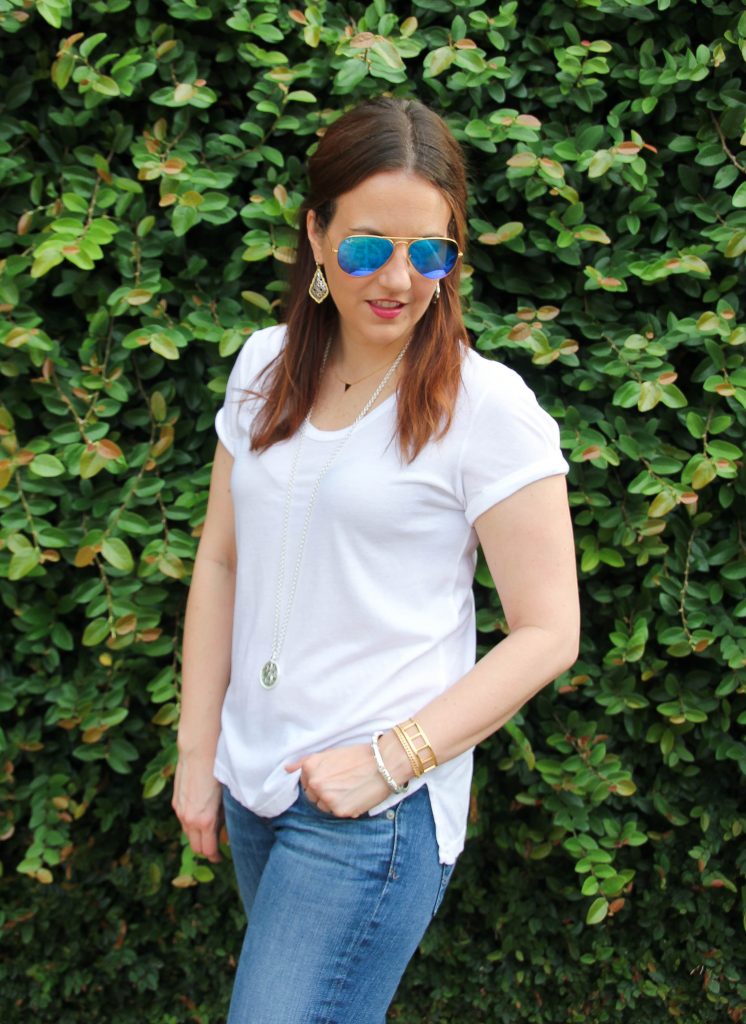 | DETAILS |
ANTHROPOLOGIE Roll Sleeve Tee  | AG Stilt Jeans (similar)  | TORY BURCH Sandals (white no longer available)  | KENDRA SCOTT c/o Earrings (similar)  | GORJANA Mika Necklace  | JULIE VOS Coin Pendant  |  BAUBLEBAR Cuban Links Cuff (similar),  Ladder Cuff  | HENRI BENDEL Cuff Bracelet  | RAYBAN Mirrored Aviators  |  Lips: MAC Craving
I definitely had an interesting day back to work yesterday.  During the work week, I watch news all the time at work and at the gym, but on weekends I watch zero news.  I had seen friends and family posting about the Brazos River flooding on Facebook, but I didn't think much about it.  Yesterday, I watched the news and learned my hometown is slowly flooding!  The Brazos runs pretty much right through the middle of my hometown.   It's sadly become a little normal for homes on the riverbanks to flood, but whole neighborhoods miles from the river are flooded.  It's just mind-blowing because my family has lived in this community for decades and have never seen it this bad.  So far, my parents' neighborhood is water-free, and I am hoping it stays that way!
But enough talk about that, let's talk jewelry and even more fun, mixing jewelry metals. A couple weeks ago I talked about my true love, silver jewelry.  I am really enjoying mixing my metals together right now too.  It's like a whole new realm of possibilities for my jewelry box.   I have played a little here and there, but have really tried embracing the idea more lately.
It all started with these earrings which are made of both silver and gold.  A few of my tips for anyone wanting to try this out – 1) stick to jewelry with the same shine.  Some of my jewelry is super polished, shiny and bright while other pieces have a more brushed or dark look.  I try to pair them together based on their shine factor.  All of these bracelets are super bright and shiny, so they compliment each other well.  2) Play with textures and shapes.  I think making each bracelet a different texture and design or necklace a different shape helps them look more cohesive. Kind of an opposites attract thing. 3) Make your own design.  For bracelets, alternate colors or group them together to create a cool color design.   4) Just go for it.  I stared small with this, by adding a bracelet here and there and slowly built up to just going all out.  I know I'm not the first person to do this, but I like that it is different.
Now go play dress up and try this out, it's really fun and will make you feel like you have a whole new jewelry box!  Thanks for stopping by and hometown friends, stay safe and dry!
SHOP THE LOOK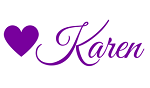 Love this post? You may also love: