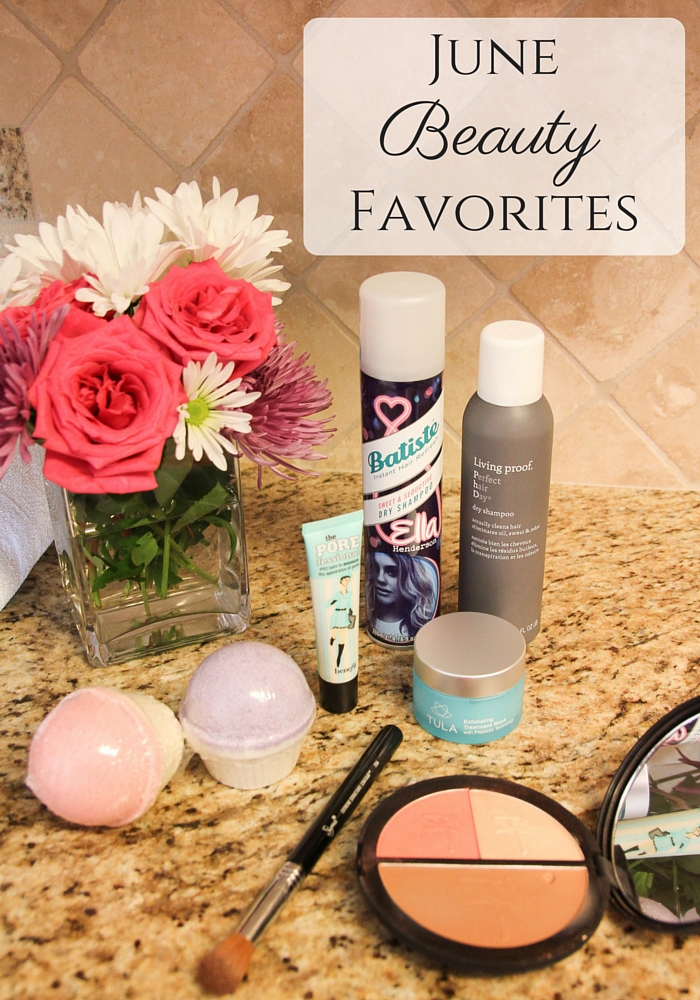 SHOP THE POST
| DETAILS |
BENEFIT Porefessional Primer  | IT COSMETICS c/o Face Pallete  | SIGMA BEAUTY Contour Brush  |  TULA Treatment Mask  | ECLAIR c/o Fizzy Bath Cupcakes  | BATISTE Dry Shampoo  | LIVING PROOF Dry Shampoo
Oh Friday, I am so excited to see you!  I am also very excited for this long 4th of July weekend!  I have relaxation time planned along with time with friends and family.  I cannot wait!
I'm really excited for this beauty post today too.  Some of these products are my ride or die, and some are new favorites.  They are all amazing, so let's jump right in.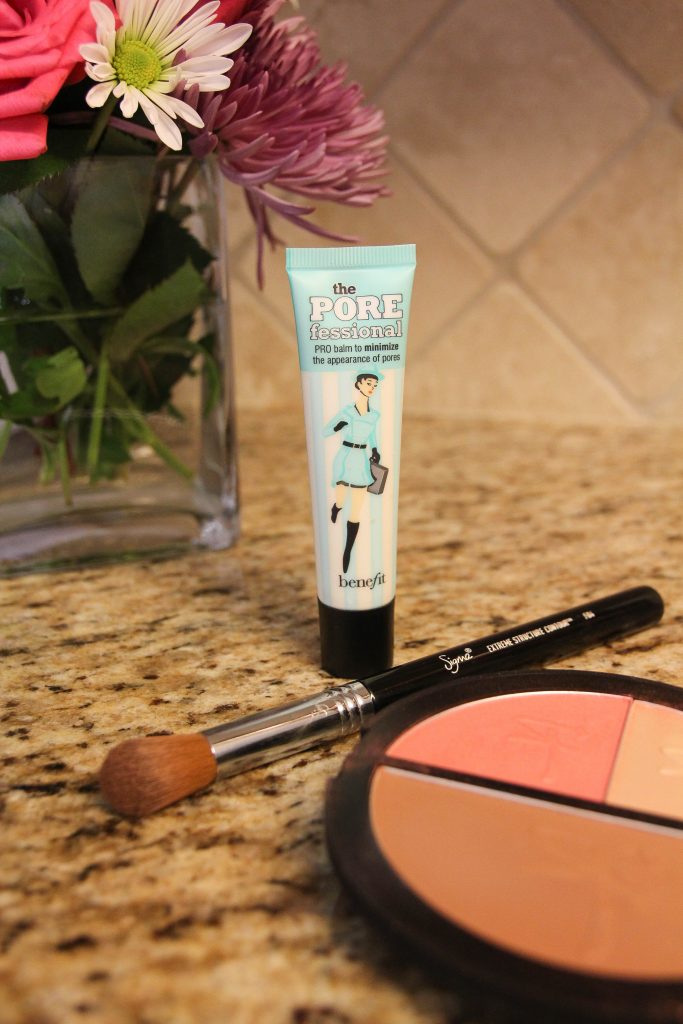 Porefessional Primer –  You may remember that I switched to liquid foundation a few months ago.  Some days I notice my foundation seeps into my fine lines and pores making them a little more noticeable than I would like.  I did some research and decided I needed a face primer.  I use this primer on top of my moisturizer and under my foundation.  There are so many different kinds of primers out there, so whatever your skin type there is probably one for it.  The primer kind of provides a smooth surface for your foundation and helps with the longevity of your makeup.
I had narrowed my choices down to a few options, but I just couldn't decide.  Luckily, my sister had tried almost all the primers I was considering.  She recommended this one from Benefit because it protected her pores from sinking foundation.  That plus it's a lower price point for a face primer.  I was sold and purchased a few days later.
I apply this with my fingertips primarily on my cheeks closest to my nose where my most obvious pores are and on my forehead.  I also do a light layer on my chin and nose.  The key is to let your primer sit for a few minutes before you apply your foundation.  Let it do it's work and create that smooth layer.  My foundation definitely goes on smoother, and I use less of it.  While this product doesn't hide your pores and wrinkles, I do think it is preventing my makeup from settling in them and making them more obvious.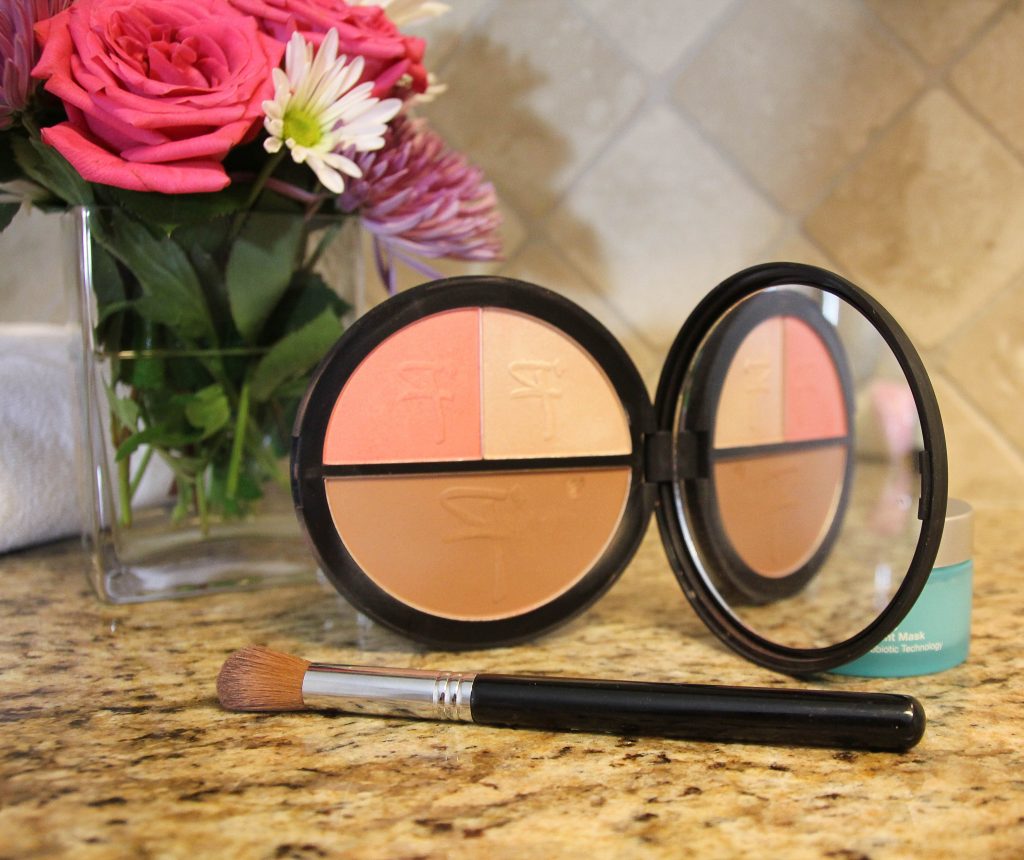 It Cosmetics Face Pallete & Sigma Brush –  Guess who bought a contour brush!  I picked this up during the Memorial Day sales.  I chose this one because I felt like it was a good starter contour brush that I could use to contour all areas of my face.  I already had this pallete from It Cosmetics.  It was part of a blog conference swag bag awhile back.  I like the bronzer color because it goes on light, but still provides definition.  I'm still learning, and I think the lighter shade provides me some learning space.
For the blush color, a little goes a long way.  I use one of my blush brushes to apply just on the apples of my cheeks.  I apply the lightest dusting of this color.  I haven't ventured into the third color yet, mostly because I need another brush.  The best part of this palette is that the back of the box shows you EXACTLY where on your face to apply each color!
Fizzy Bath Cupcakes –  Who doesn't love to wind down with a relaxing bath, glass a wine, maybe some Adele playing in the background?!?  I love baths.  They are so great for relaxing or brainstorming or just time to think through whatever is on your mind.   I'm pretty particular about what I put in my bath water.  I'm going to be sitting in this for a half hour, my skin is going to absorb whatever I put in the water.  I love these Eclair bath cupcakes because they are all natural with no harsh chemicals.  These also smell amazing!   They have some really great essential oils incorporated in them to help sooth and condition your skin.   Each one has different oils, so you can find the one that fits your relaxation needs.  The lavender is my favorite because I tend to take baths before bed, and the lavender smell is so soothing and relaxing.  If you are in Houston, I find these at my local HEB store where they have the specialty bath products.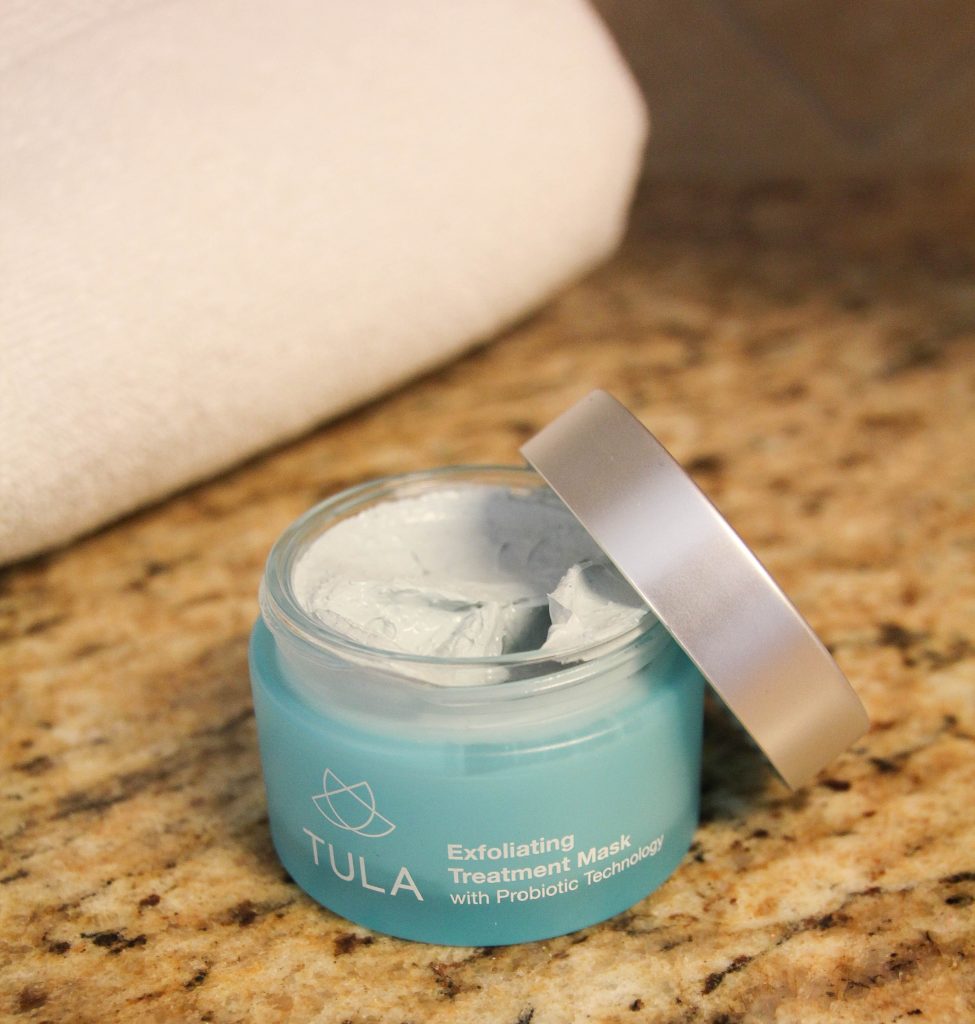 Tula Mask – This mask is AMAZING!  I received a small sampler at a blog conference a few months ago.  As soon as I realized my sampler was running low, I ordered the full size.  One of the main things I love about this mask is that it helps clear up my blemishes.  I am constantly trying new beauty products, and on occasion my skin will break out here and there.  I notice a difference in just the 10 minutes I wear the mask.  I also use it for overnight spot treatment on really bad breakouts.  It's not a miracle cure.  Blemishes don't disappear, but they are noticeably smaller.  I honestly don't think I have used another product that worked this well.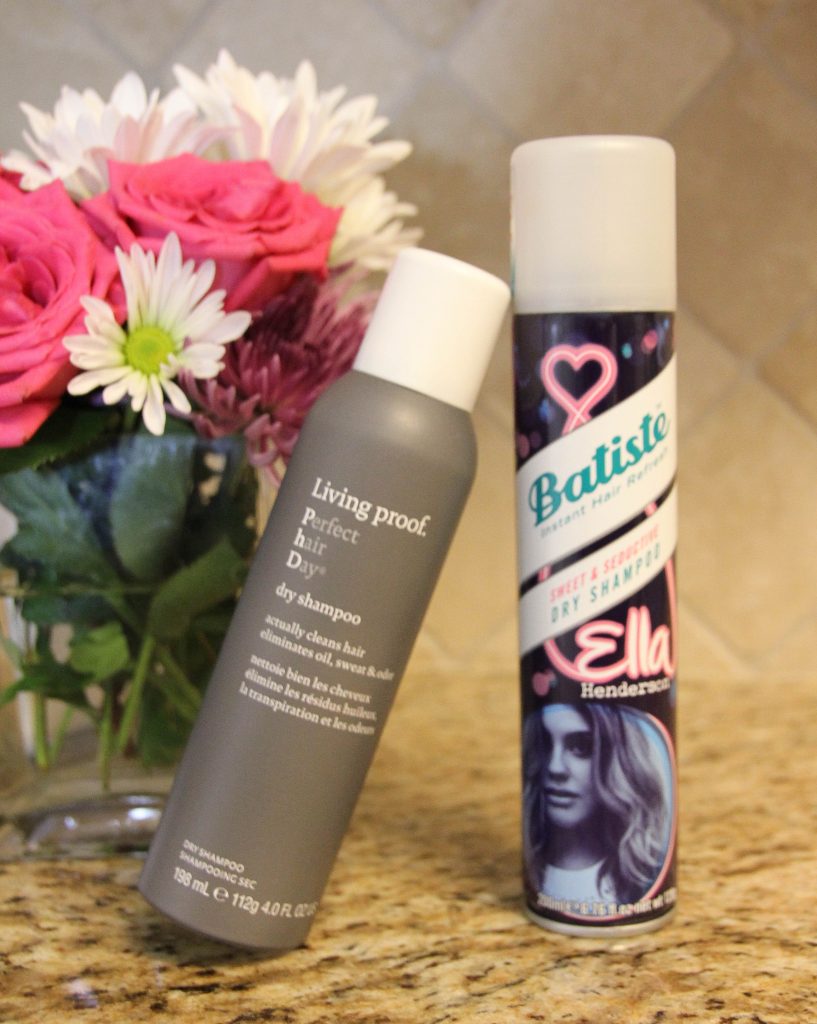 Dry Shampoo – I saved the best for last.  Dry Shampoo will seriously change your life.  It's that product that when I used it once was like where have you been all my life and why haven't I used you sooner.   I let my friend borrow the Living Proof one in Charleston one day, she bought her own as soon as we got back home.
I do a lot of damage to my hair on a daily basis.  I have naturally curly hair that I blowdry, hot iron, and the curl with another hot tool.  All of this can really dry out and damage my hair.  I like to go about 3-4 days between washing my hair to allow my natural oils to come in and help my hair out a little.  Before I used dry shampoo, I had to wash my hair every other day.
Dry shampoo basically absorbs the excess oil in your hair to make it look cleaner.  I refer to my hair based on what day it is since last washed.  Day 1 always looks amazing, it shines, it has volume and bounce.  Gorgeous.  Day 2 used to be flat bordering on greasy by the end of the day.  If I even went to a day 3 it was bun and ponytail only.  Dry shampoo makes days 2-4 look like day 1.
To use: Shake the can really well, spray on to your scalp/roots where your hair is greasy, allow to soak in and absorb the oil for a few minutes, shake out excess powder by rubbbing fingertips along roots were powder was sparyed.  Voila – looks clean hair. 🙂
Batiste is my favorite dry shampoo.  It smells good, it leave my hair feeling soft, and I think it sometimes still is working the next day.  Also it's only $8 and the can lasts awhile.  I pick mine up at the grocery store.   The con to this brand is that the powder that sprays is very white.  You have to shake the excess really well.  They make one for dark brown, but I have heard mixed reviews on this from finger staining when you shake to brown powder ending up on white shirts.
Living Proof is a pricier brand, and I feel like I go through it quickly.  The other draw back to this one, I feel like it makes my hair feel gritty to the touch.  It does add great texture to your hair though.  I like to use it on super humid days when I am going to be outside alot.  I think it helps add a little humidity protection, and the texture helps hold my curls in humidity too.
I kind of feel like maybe I should have written a post just about dry shampoo, but ya'll it really is a great product.  I have friends who use it everyday for oil prevention too.  They have to wash their hair everyday because of how oily their hair gets, this product helps them make it through the day without looking like a little grease ball by 5.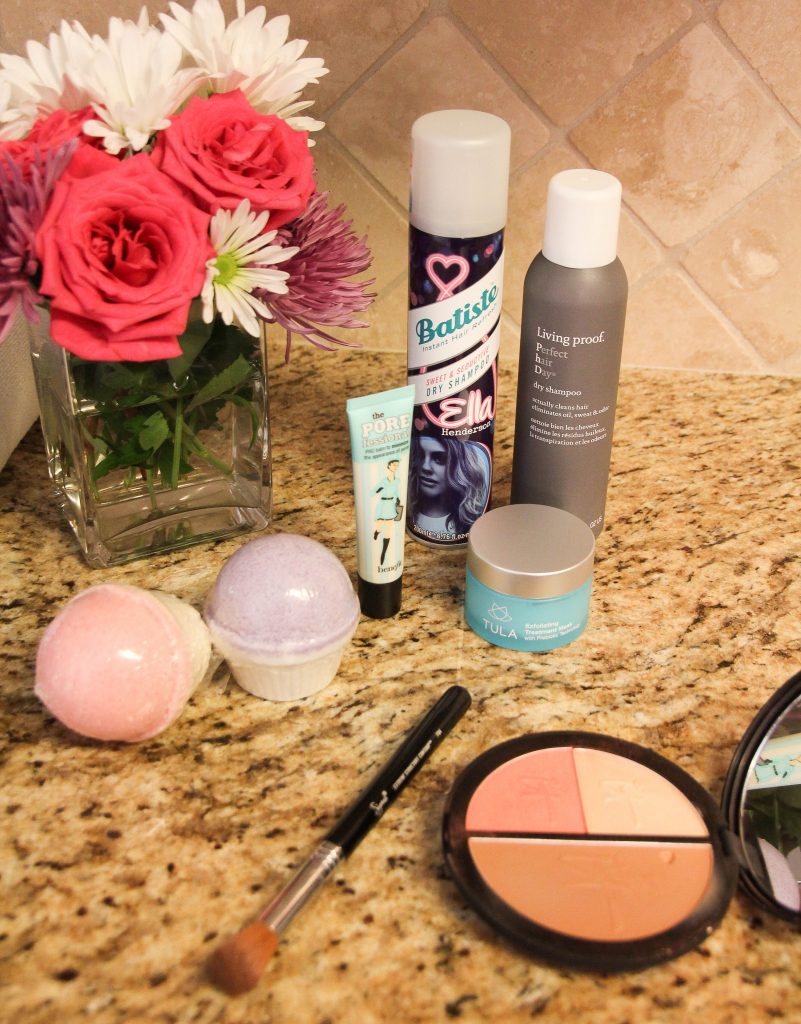 Well that was kind of long, but hey at least it's broken down into sections right?!?!  Before you head off into that long weekend, I wanted to let you know of a few HOT Holiday Sales going on this weekend.  I will be sharing a few more sales on Monday, so if you have a break from celebrating America, come check it out!  Thanks for stopping by and have a great weekend!
4TH OF JULY SALES
ANN TAYLOR – 40% off full-priced items with code JULY40
HENRI BENDEL – Take extra 10% off Semi-Annual Sale 50% off items
LOFT – 50% off everything with code JULY4TH
MACY'S – 20% off with code FOURTH
SHOP THE POST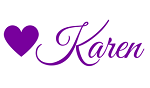 Love this post? You may also love: