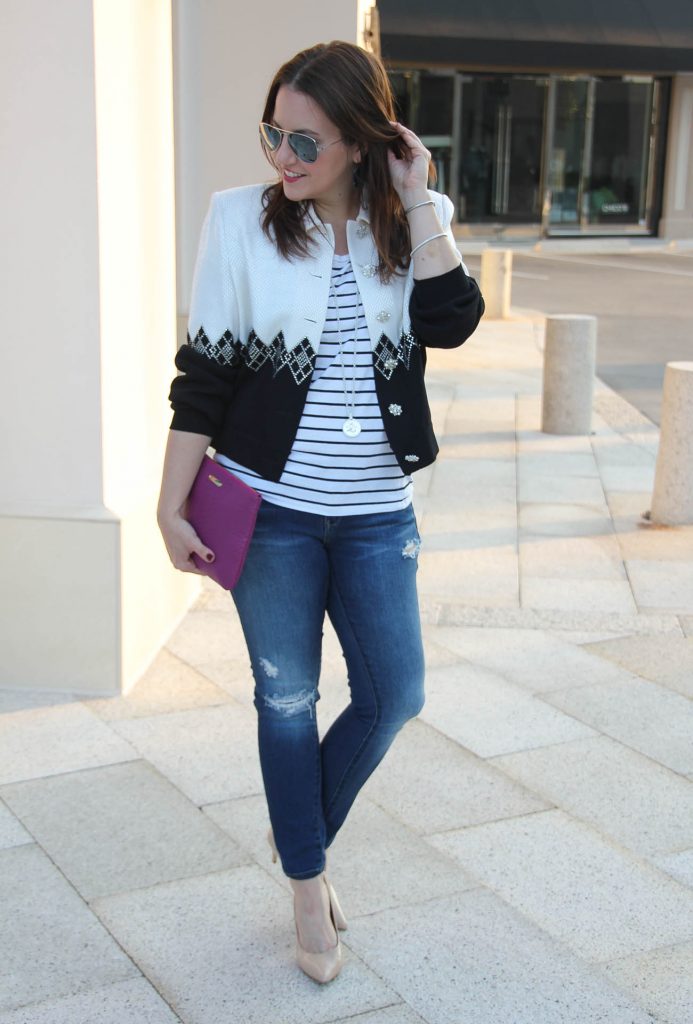 SHOP THE LOOK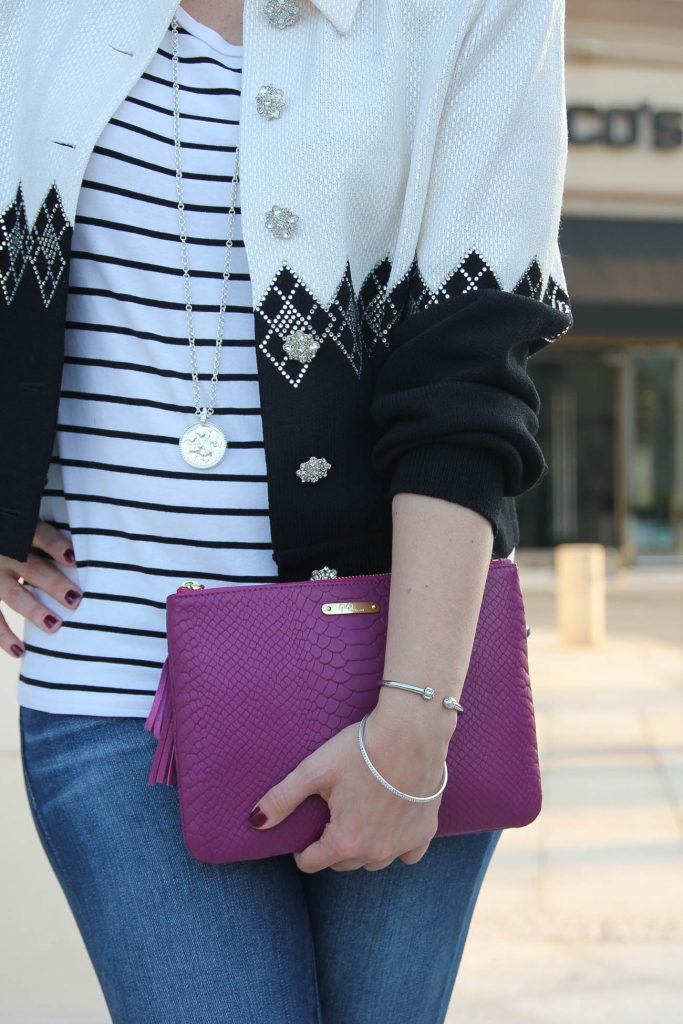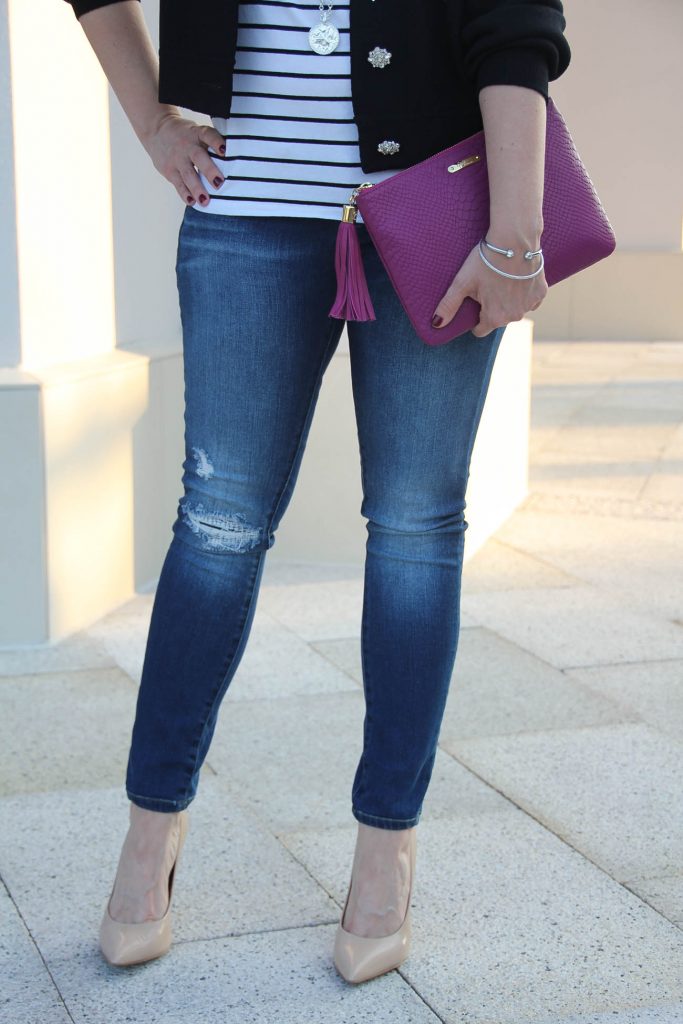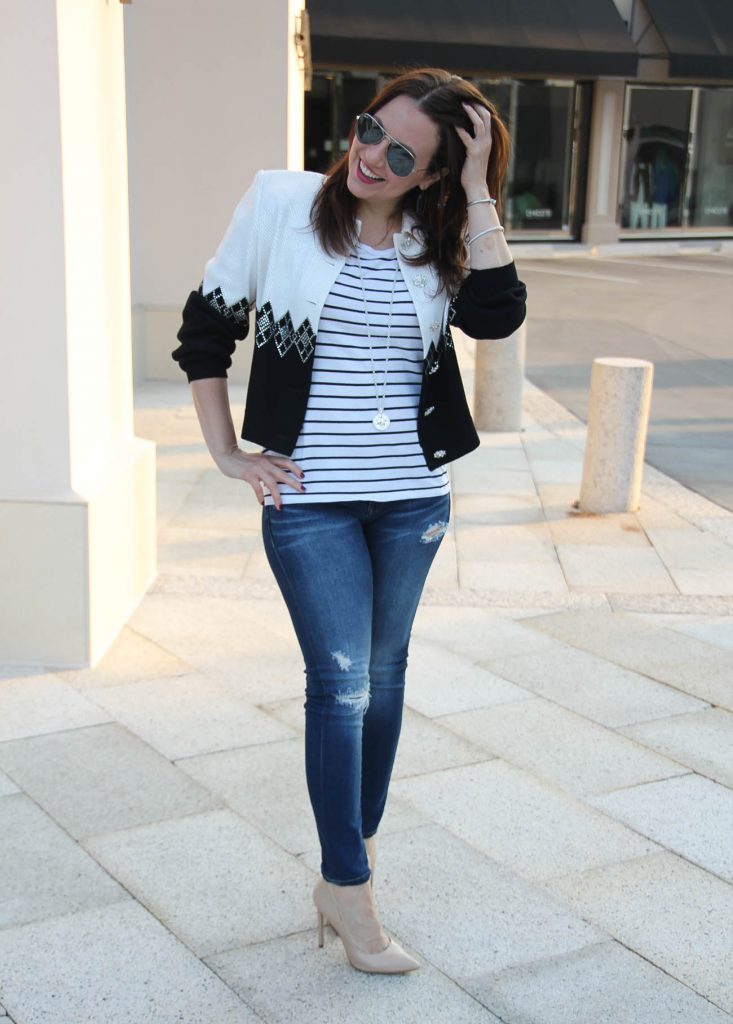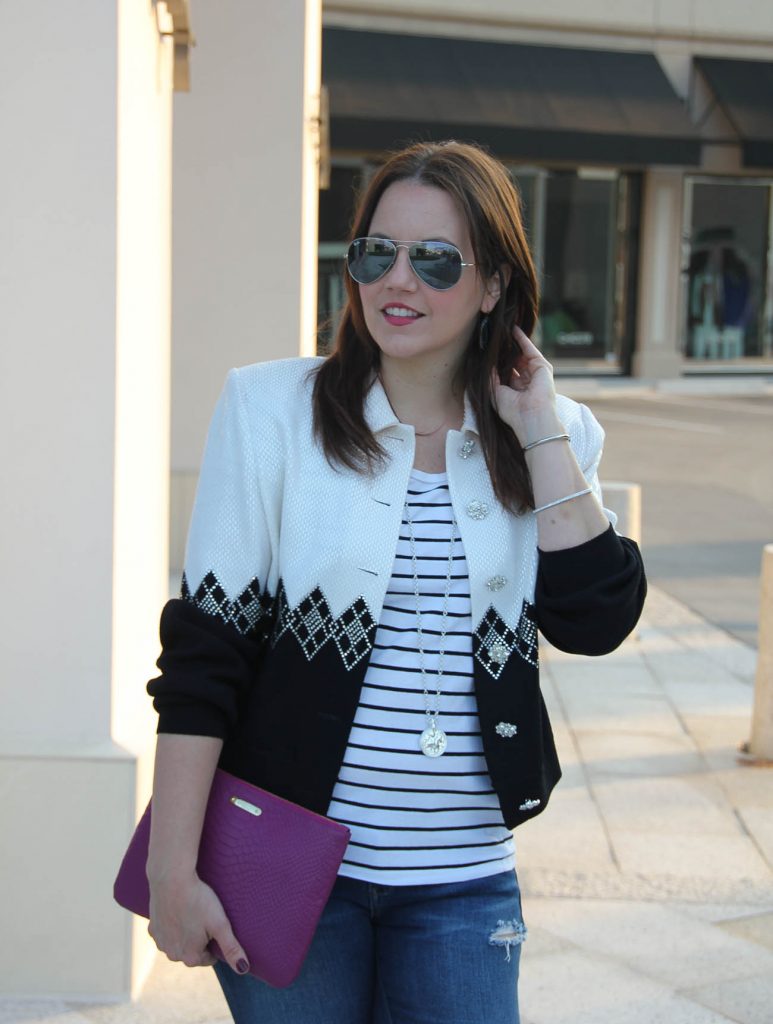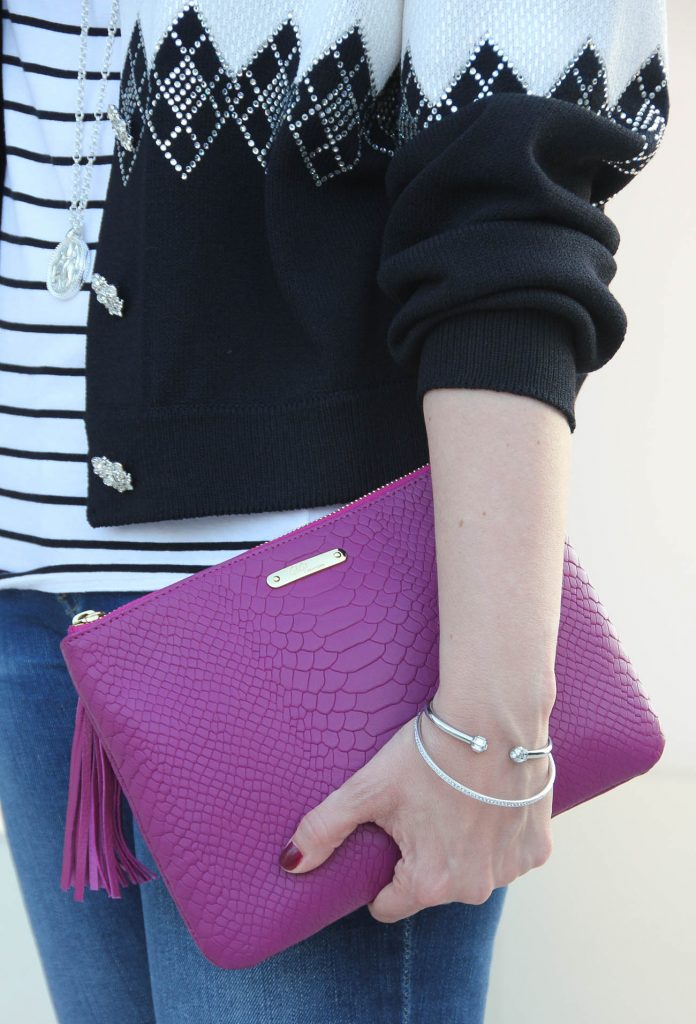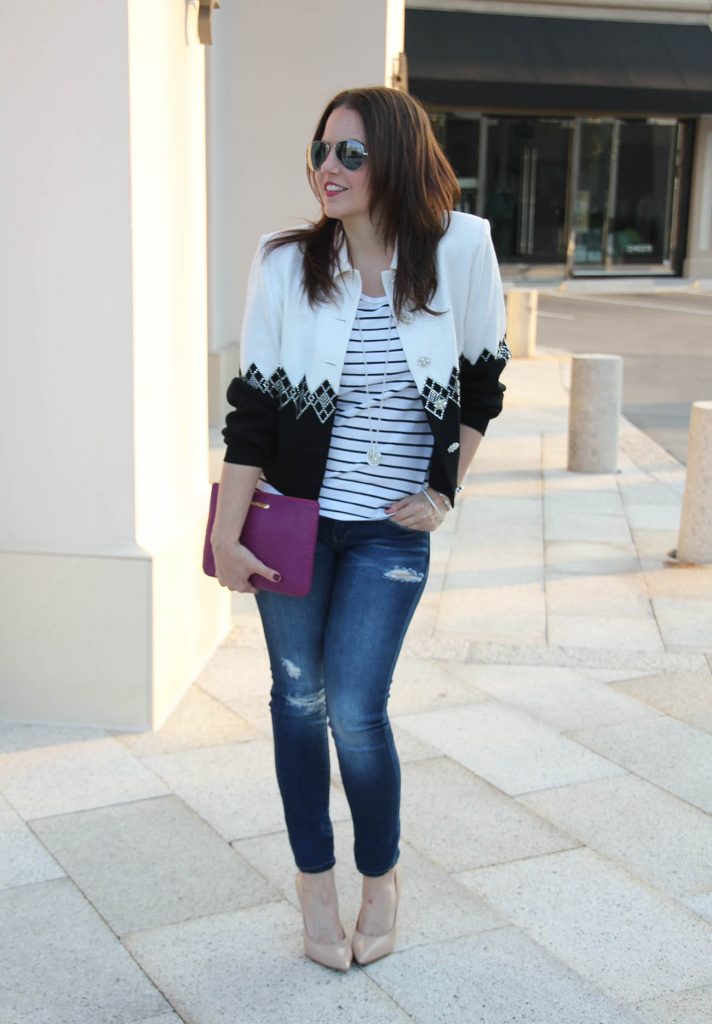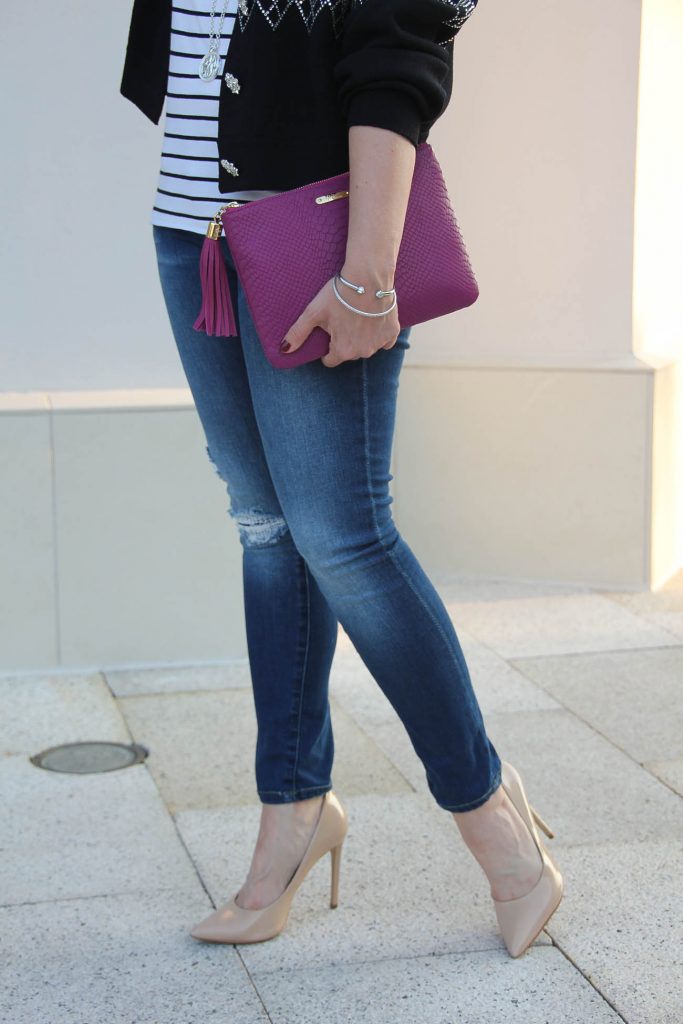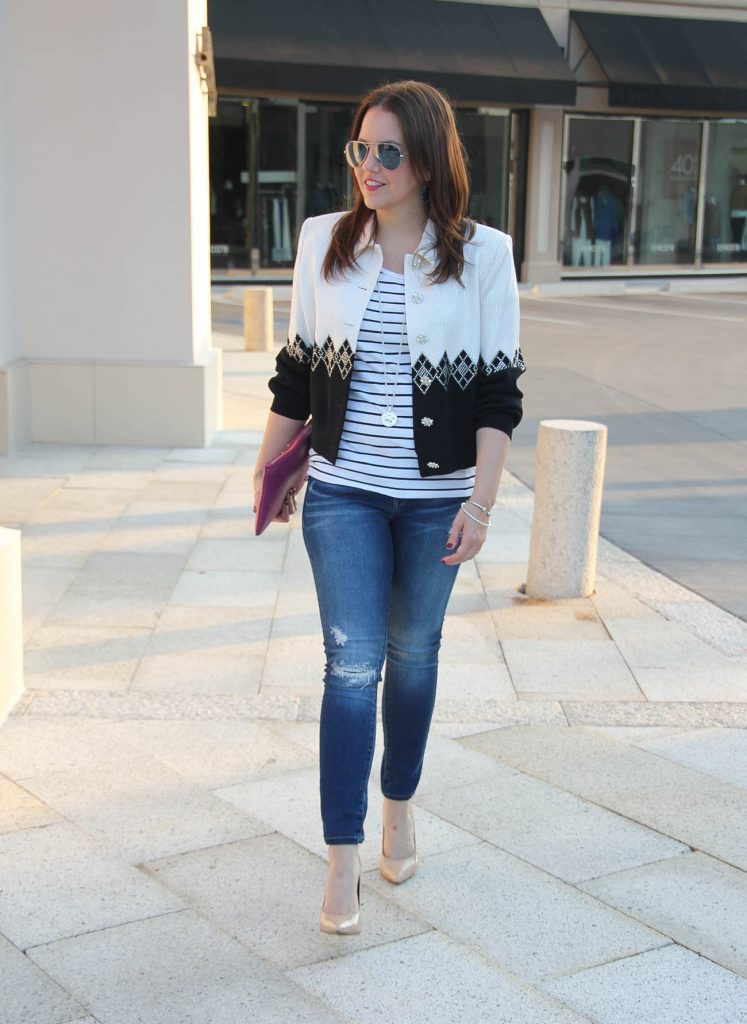 | DETAILS |
ST JOHN Vintage Jacket (o/l by Cheeky Vintage)  |  H&M Striped Tee (similar  | similar)  | BLANK NYC Distressed Jeans  |  STEVE MADDEN Blush Heels  (similar)  |  GIGI NY Magenta Clutch   |  JULIE VOS Coin Pendant Necklace  |  KENDRA SCOTT  Elle Earrings  | HENRI BENDEL Cuff Bracelet  |  NADRI Crystal Bangle  |  RAYBAN Mirrored Aviators  | Nails: ESSIE Bahama Mama  | Lips: MAC Craving
So I feel like this post title doesn't fully describe this jacket, but Vintage Blazer Bomber Hybrid Sequin Sweater Jacket seemed  a little weird/long. Ha!  I found this jacket at my favorite local vintage shop, Cheeky Vintage.  They have been super amazing to loan me a few vintage pieces that speak to today's hottest trends.  One thing I love about vintage is how you can find decades old pieces that look like they would be sold in stores today.  Just an FYI  – all the pieces will be marked (o/l) or own loan which means if you absolutely love it, you can give Cheeky a call and see if the item is still available.  Just reference my blog post, so they know which piece you are interested in.
My first thought when I saw this jacket was how cute would this look for a holiday party.  My second thought if I paired this with something super casual, I would feel so New York.  So in honor of fashion's biggest event, New York Fashion Week, I decided to share my own idea of New York street style.
This jacket reminds me of both a blazer and a bomber jacket put together. The bomber side coming from the slightly fitted waist design and sleeves of the sweater style of this jacket.  The blazer from the overall style lines and collar.  A bomber jacket is reminiscent of a varsity or letterman jacket from high school, but much cuter! They are also making a comeback right now with tons of cute styles out!  I loved the sequins and detailing on this jacket, so cute for a little date night or girl's night out.  For my styling of this jacket, I knew I wanted to go super casual underneath to play with that half fancy/ half casual look.  I think it's a great look when you are invited somewhere casual, but you still want to feel dressed up and put together.
I also love the idea of slightly pushing up the sleeves.  Cheeky did this, and it completely changed the whole vibe of the jacket.  I think it made the jacket feel more casual, and it made it blend seamlessly with the tee and jeans concept I had in mind.
This look would be so easy to replicate with any cute graphic tee or even a solid tee and your favorite pair of skinny jeans. Then add on a bomber jacket or a cute blazer and slightly push up the sleeves to create a more casual vibe.  I linked a few bomber jackets below too.
With Fashion Week about at the midway point, I love jumping on you tube or various fashion sites to see videos and pics from the shows!  I have also been glued to my snapchat feed where many bloggers are sharing video from inside the shows!  Next up on my to do list will be to buy The September Issue! I usually buy In Style and Vogue which are my two personal faves.  Anyone been keeping up with Fashion Week and have a must watch show?  Leave me a note in the comments, so I can check it out!
xo – Karen
SHOP THE LOOK
BOMBER JACKETS
Love this post? You may also love: