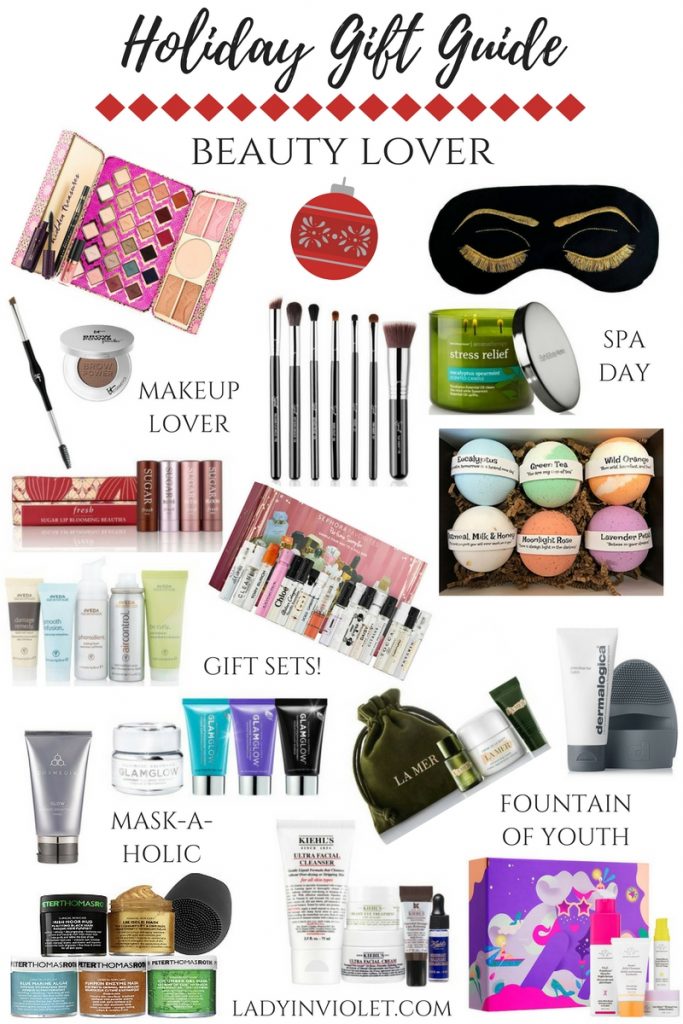 Hello friends!  Well this post is a little later in the day than my normal posting time, but yesterday we headed out to the Texas Renaissance Festival and I was so tired when we got home.  The festival was so fun!!  We ate yummy food like potato pancakes, watched some comedy shows, and attended a jousting event.  Then there is also the people watching.  Lots of people dress up in Renaissance attire, and I LOVE checking out all the costumes.  Ya'll people go ALL out for this festival!  It's so fun to see.  Anyway, it was sunny and hot, and after all day outside, well last night I was too tired to give this post the attention it deserved.
I love playing with different beauty products, so a Christmas Gift Guide for Beauty Lovers is always a favorite of mine to put together.  Many of the products featured are brands or exact products I have used and recommend.  A few are brands that I have heard rave reviews over and kind of want to try out myself.
My favorite section of this guide is the Spa Day section.  All 3 of these items paired with a nice bottle of wine is the perfect gift for anyone, beauty lover or not.  I mean you can't go wrong with the gift of relaxation.  Also, I think this is the most adorable eye mask ever!  It comes in a few different color combos too.
One of my favorite products in the guide is the eyebrow powder.  I received mine in a press kit, and it was life-changing.  I had been wanting a product to help fill in sparse areas of my brows, but I didn't need anything to dramatic.  The overall shape was fine, so I just needed something simple.  This product takes me less than 30 seconds to apply. I simply use it to slightly darken and fill in my brows.  I feel like it gives a natural look.  I'm wearing it in all my blog photos lately if you want to check it out in action.
Let's talk about a few brands I love on the guide.   Majority of my makeup brushes are by Sigma Beauty.  I purchased them last year on Black Friday.  They still look and feel new, so I highly recommend if you know someone in need a few new brushes or looking to start a brush set.
The Cosmedix mask is on of my current favorites.  It leaves my skin baby smooth after I use it.  It's one of my top masks for soft, smooth skin.  Also, I double cleanse my skin and this little balm and mit duo have been a fun addition to my night routine.  Plus, I like that I'm not throwing away all those little wipes every night.
Kiehl's is one brand that I constantly circle back too.  The kit I found includes my two favorite products from them – the face wash and Midnight Recovery Oil.  Another brand highlight is Aveda.  I've been using this lineup for a few months, and my hair is definitely healthier than when I started.
Multiple items in my guide are gift sets.  Gift sets are great if you don't really know a person's favorite brand preference or beauty items.  Sephora makes some sets that cross multiple brands.  If you know a brand they love or want to try, buy a sampler set.  I think skincare is always a safe bet, because I think it reaches a broader audience than say a brush set.
Well thanks for taking some time out of your weekend to check out some of my top beauty gifts of the season.  Don't forget you can find more ideas under my Holiday Shop page.  I'm currently working on more in depth reviews of some of these products too, so check back for those soon.  Ya'll have a fabulous day!
SHOP BEAUTY GIFTS