Monthly Archives:
December 2018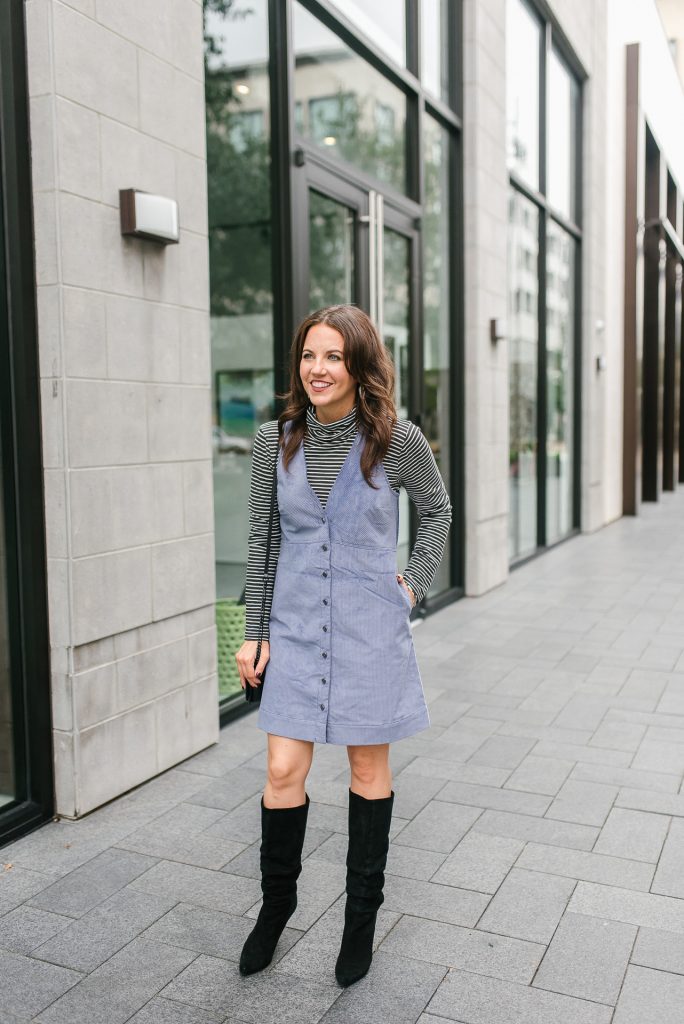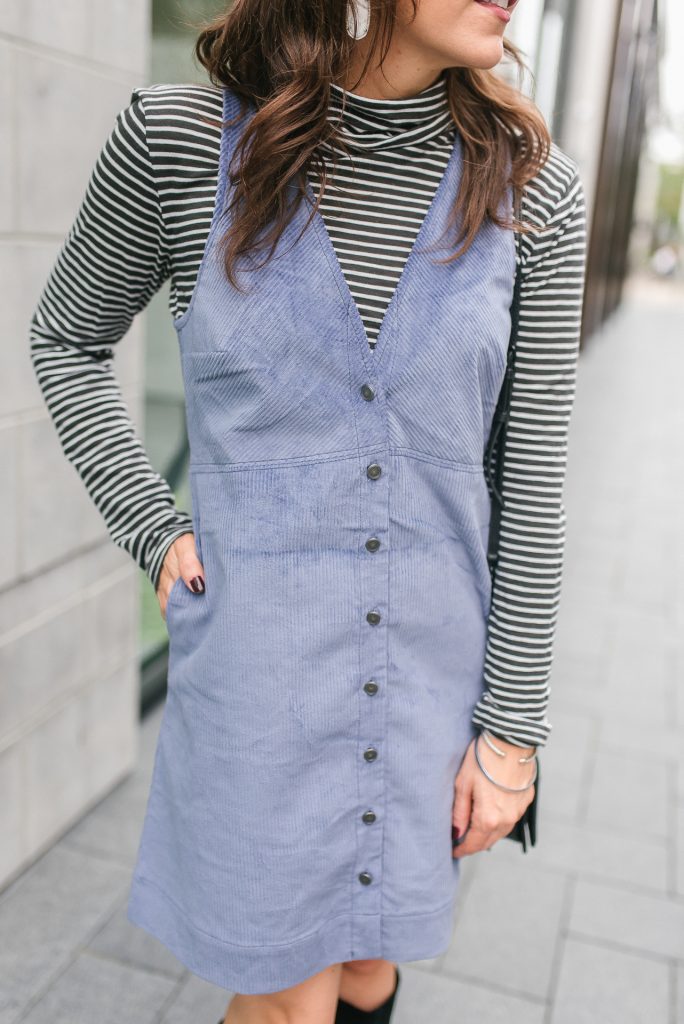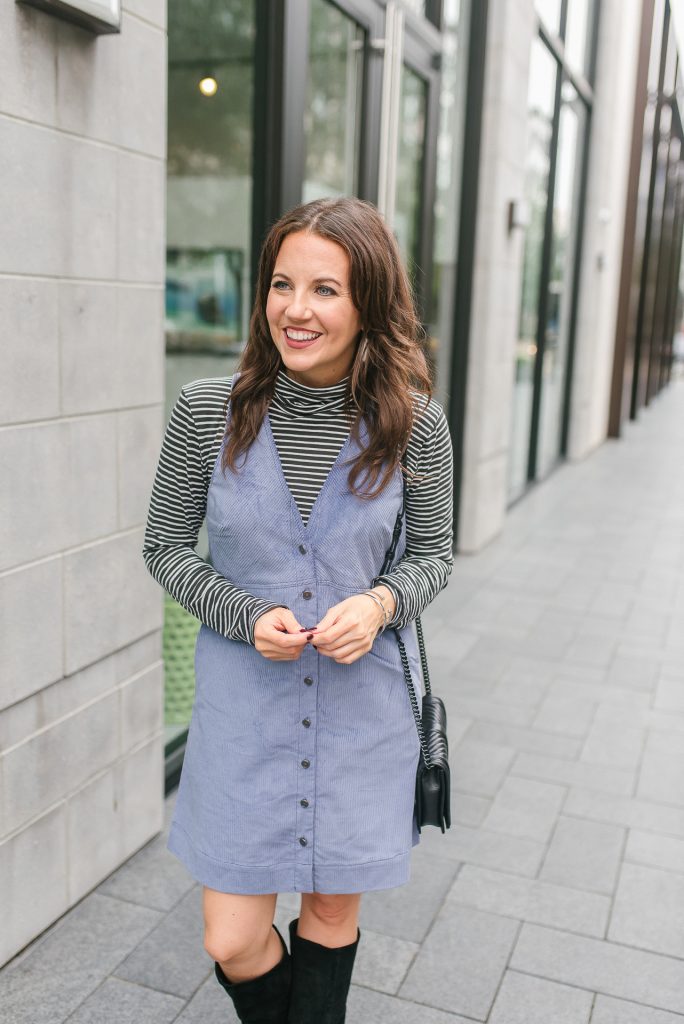 Hello Hello!  How was your weekend?  I had so much fun with friends on Saturday checking out Christmas lights and catching up.  It was super rainy Friday night, so I decided to stay in watch tv and have a spa night.  It was so relaxing!  I have a busy week of holiday parties, so it was just what I needed.
I have been on the market for a corduroy jumper dress for a few months. Originally, I was on the hunt for a brown, orange, or burgundy one.  Then, I found this blueish purple one.  I couldn't resist and immediately added to cart.  FYI, this brand always runs big. I'm wearing an XS.  The color is even more gorgeous in person.  This dress is perfect for layering over casual tees and turtlenecks. I loved it with this striped one, but you could also do a solid black or white crew neck tee.  For spring, this dress can be paired with a short sleeve tee to get even more use out of it.  I found it ON SALE for ya'll too!
I have one more fun holiday post coming for you this week along with my last gift guide of the holiday shopping season, and of course another fabulous outfit.  Stay tuned to the blog for all the fun!  I hope you all have a wonderful week!
Photography By: Banavenue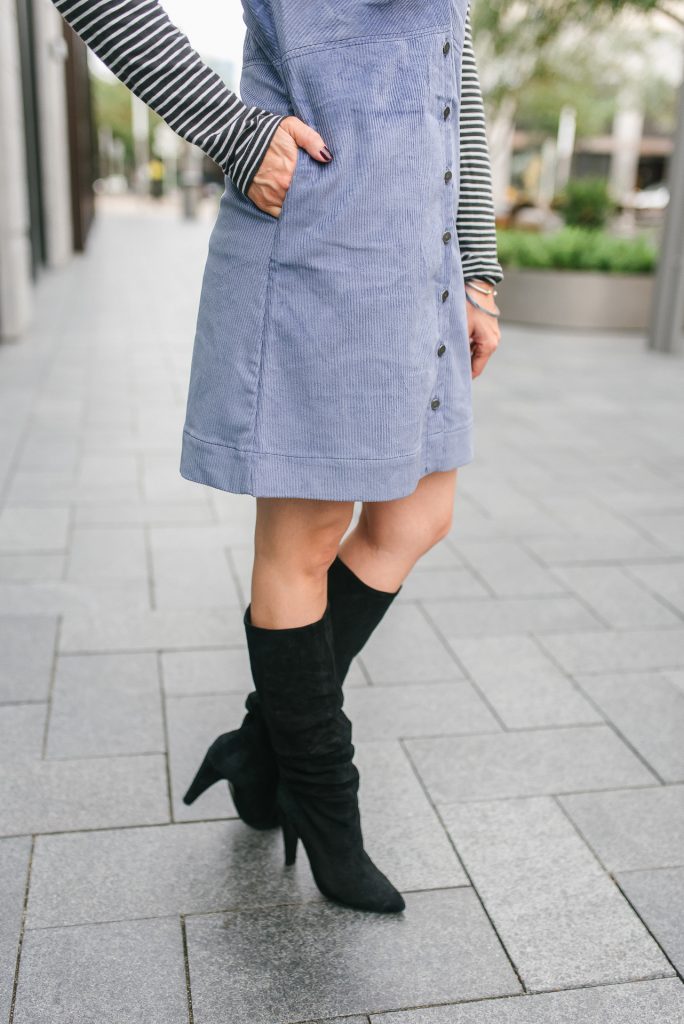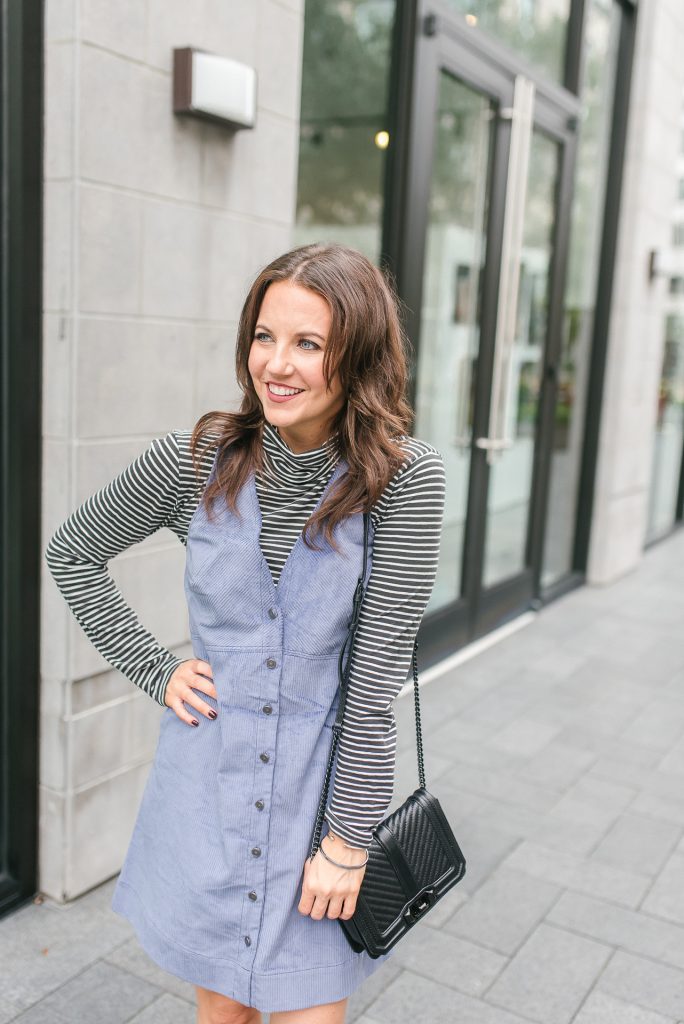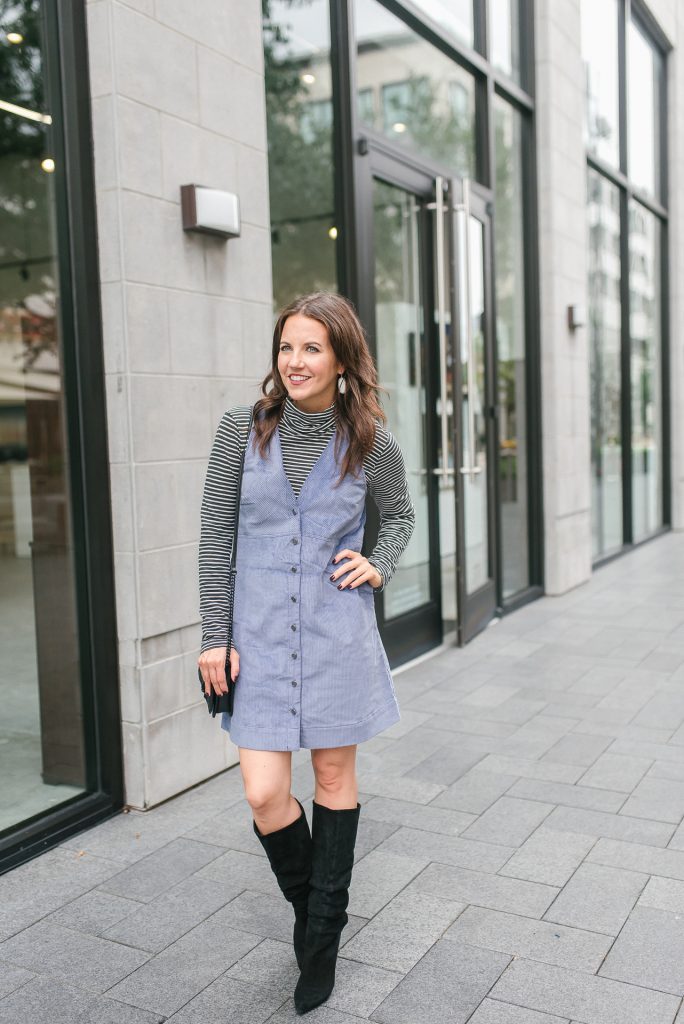 SHOP THE LOOK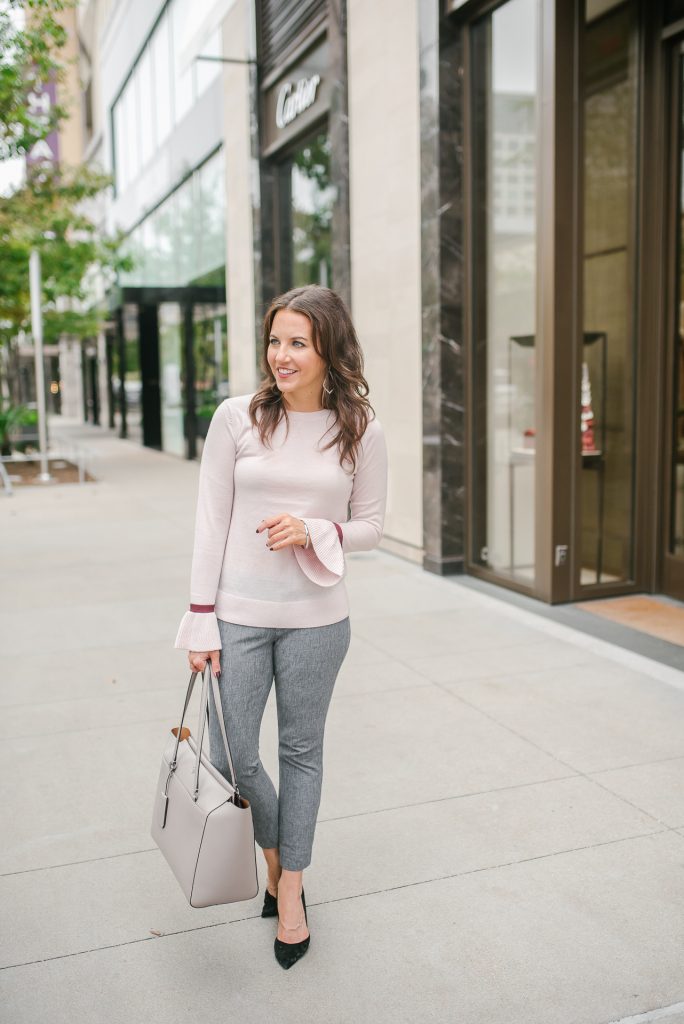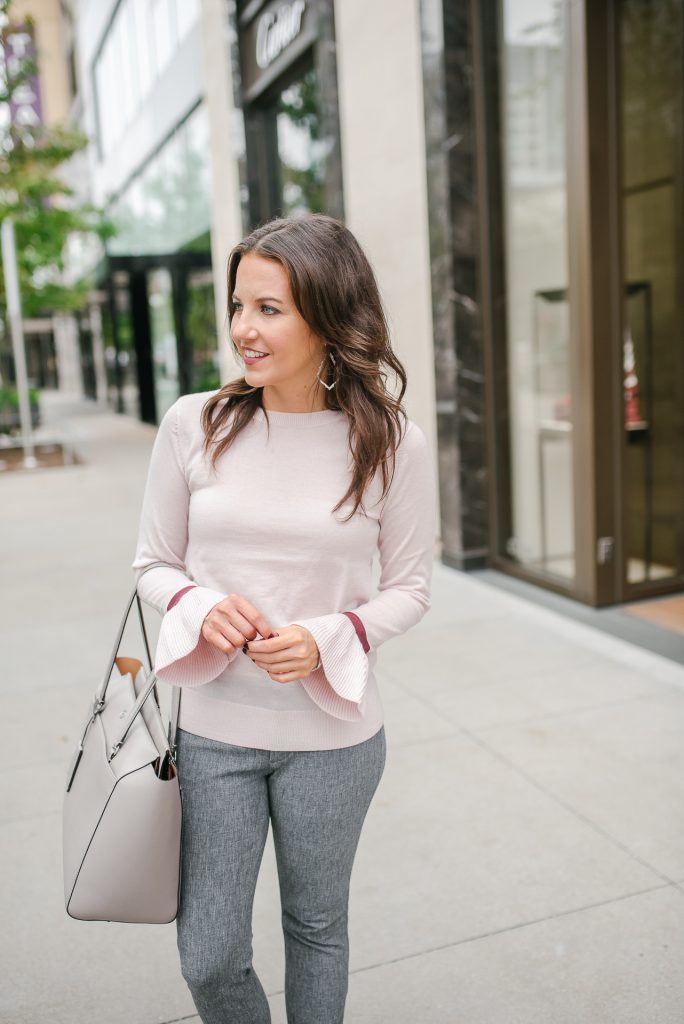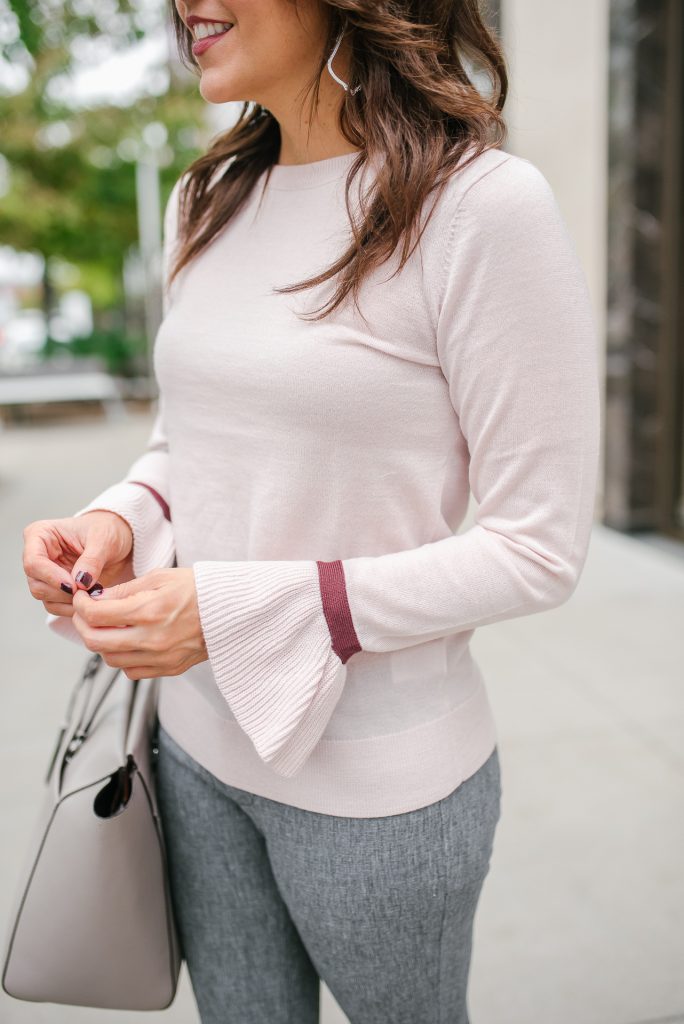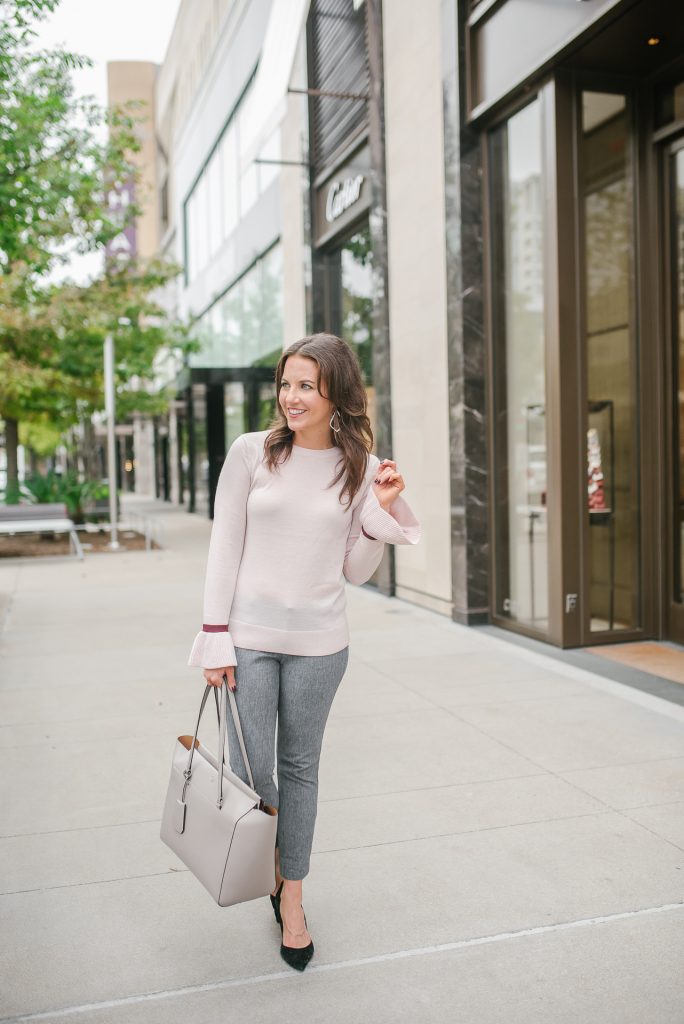 Happy Friday!!  Ending the week with a little work outfit inspiration for you.  I love cozy chunky knit sweaters, but with our winter weather usually on the warmer side most days I tend to gravitate to lightweight sweaters.  Also, you know I like to find sweaters that will work with both an office and casual outfit. This blush pink sweater fit the bill perfectly.
The ruffle sleeve details paired with the blush pink color adds such a pretty femininity to this sweater.  The burgundy ribbon  just adds to this feel.  It's a beautiful sweater to wear to work with slacks or tucked into a pencil skirt.  I opted for gray pants because I LOVE gray and pink together.  You could also wear black or play up the secondary color and go with burgundy skirt or pants.
For a more casual look, toss on a pair of gray or white jeans.  White jeans and a taupe boot would be perfect for a casual night out.   I paired this with silver jewelry and decided to skip the necklace.  If I paired this with jeans, I think it would perfect with a long rose gold necklace.
I'm officially kicking off holiday season this weekend with my first holiday party of the season.   I'm heading to the mall today to pick up the last of my gifts, and then it's off to gift wrap.  I always take a a few days off work in December for holiday shopping. I find it so much easier to do during the weekdays with less crowds. Stay tuned next week for a post all about my easy and beautiful way to wrap Christmas presents.  Also, did you catch yesterday's Holiday Home Tour??  You can check it out HERE for a little Christmas decorating inspo plus a few of my tips for decorating a small space.
Ya'll have a fabulous weekend, and thank you so much for taking some time to stop by this week!
Photography By: Banavenue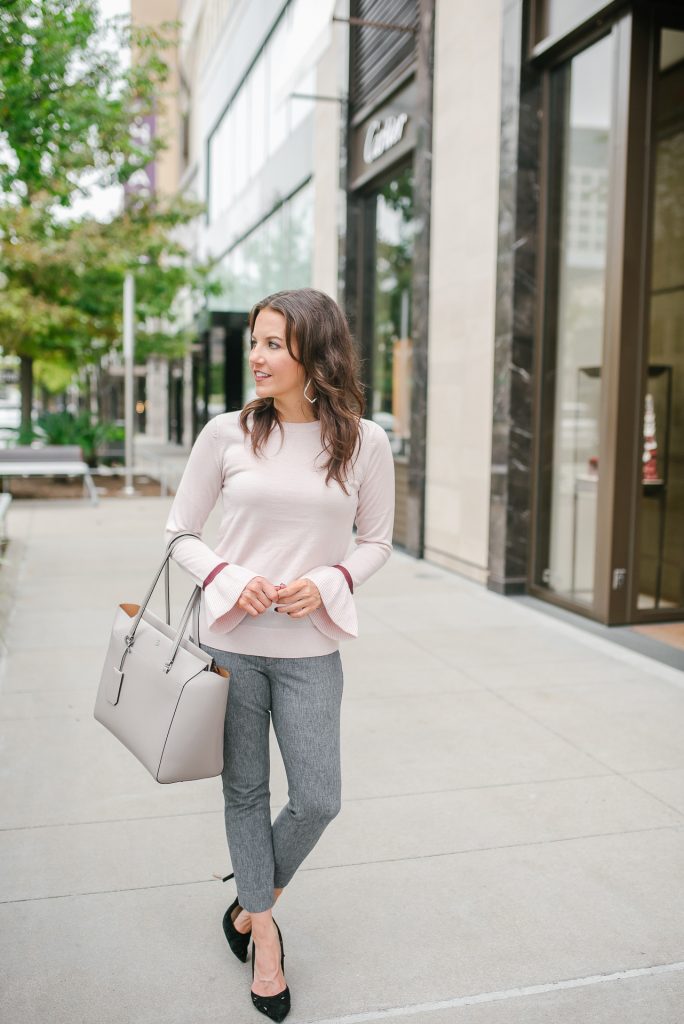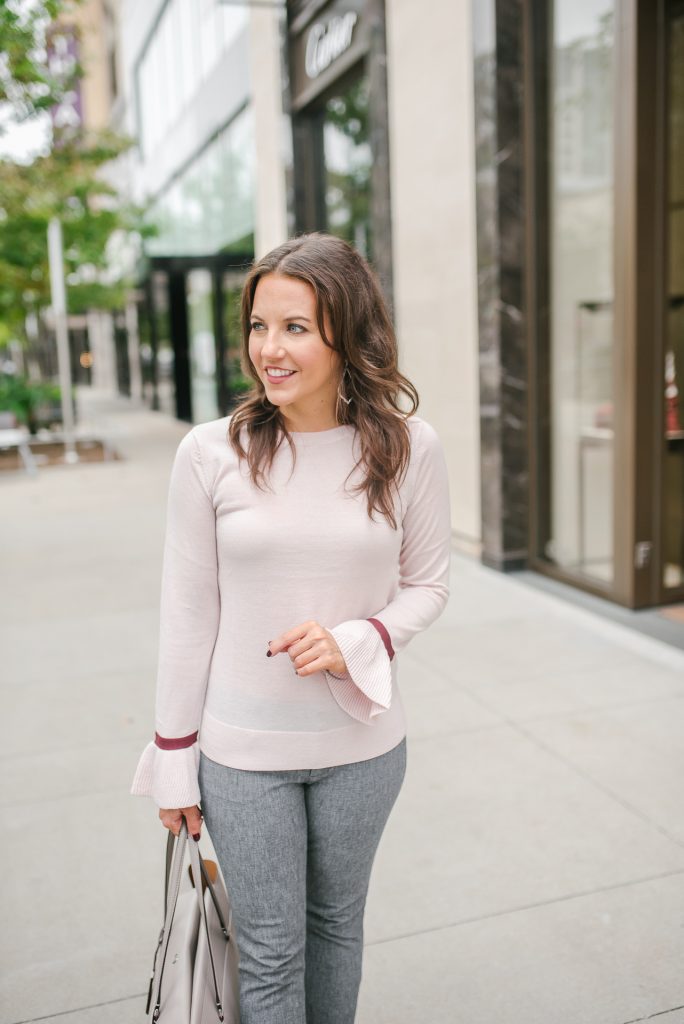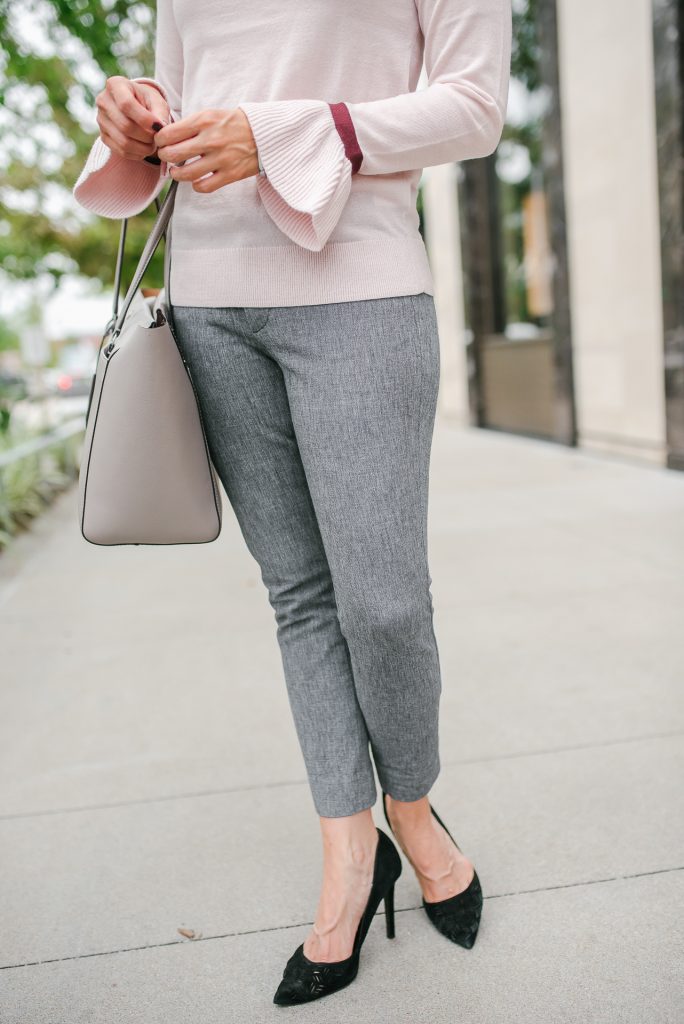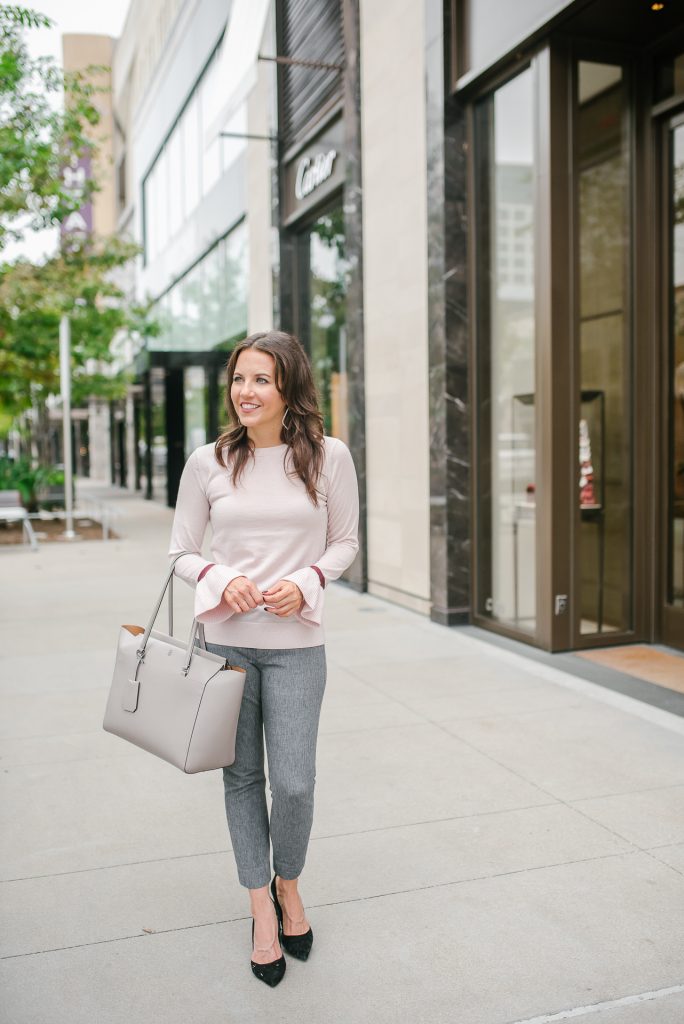 SHOP THE LOOK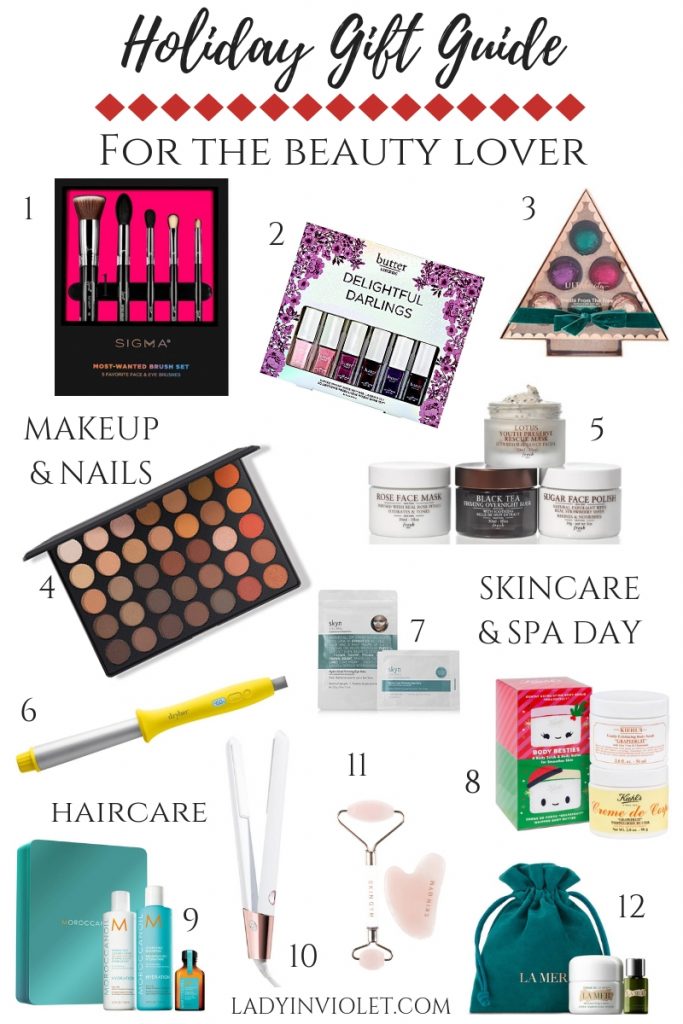 We are coming in at 20 days until Christmas and even less if you are an online shopper like me.  I looked over shipping deadlines for USPS, FedEx, and UPS.  Ground shipping aka the cheapest ends Dec 14, and the 20th and 21st look like pretty solid cutoffs across the board for priority/expensive shipping.  So if you want to save on shipping costs, you have about 7-9 days to get those orders in.   EEEK that does not feel that far away!
This time of year I feel like I hear from my guy friends a little extra needing some gift shopping help.  I've been pointing them to my jewelry gift guide and under $50 gift guide.  Today's gift guide is also perfect for the ladies. It is filled with beauty gift ideas for Christmas.  I broke it down into 3 categories, my personal favorite and one I think you can never go wrong with – Skincare and Spa, plus Makeup and Nails, and Haircare.
For skincare and spa, I went with brands and products I know are amazing plus a few popular items I want to try out.  Does anyone use one of these stone face rollers??  This is on my Christmas list for sure!  Beauty sets are fun for the holidays because it allows you to try out multiple products from a brand.  I love this for face masks since you can really use a good handful of different masks to combat different skin issues.
For makeup and nails, I included a starter kit of makeup brushes from my favorite brand.  I've owned mine for about 2 years, and they still look new.  I always put a nail polish set on my wish list.  It's fun opportunity to try out new colors or a new brand.  Butter London is a good one too.  It tends to last long and only need 1-2 coats.
My haircare picks are primarily tools.  T3 products have built a cult following and are supposed to be amazing.  I might cheat on my Chi and try out this flat iron straightener!  I also included a curling wand aka the new curling iron.  It's really great for creating loose curls.
What's your favorite beauty item? Any of these on your list?  Stay tuned to the blog tomorrow because I'm sharing something completely new!  A look inside my home at my holiday decorations!  I love decorating for Christmas and cannot wait to share it with you.  Be sure to come back tomorrow and check it out!
SHOP THE GIFTS