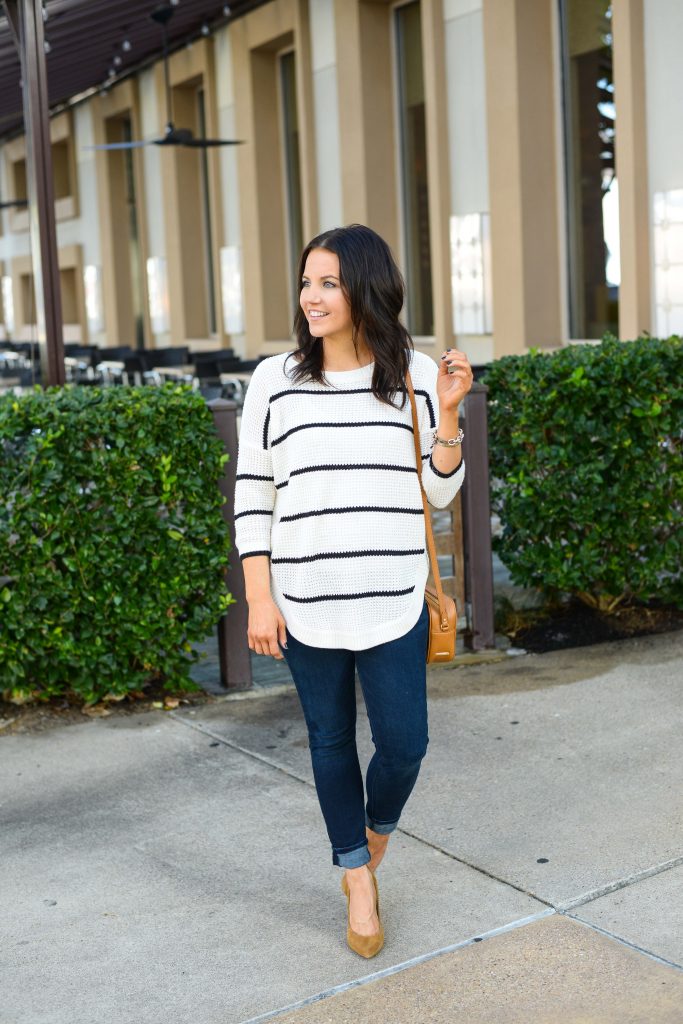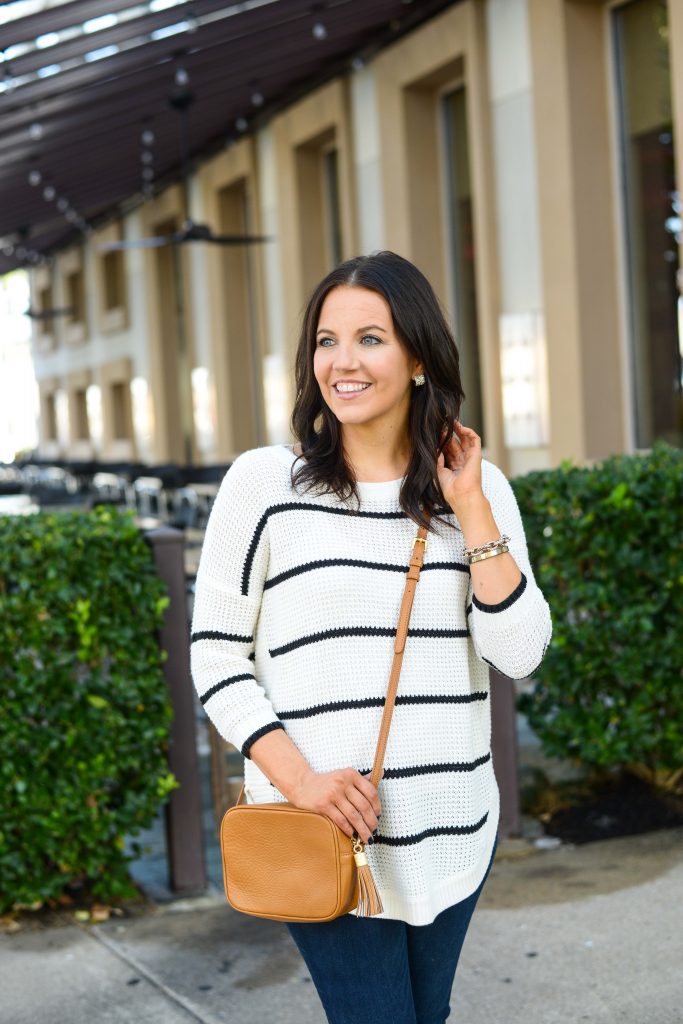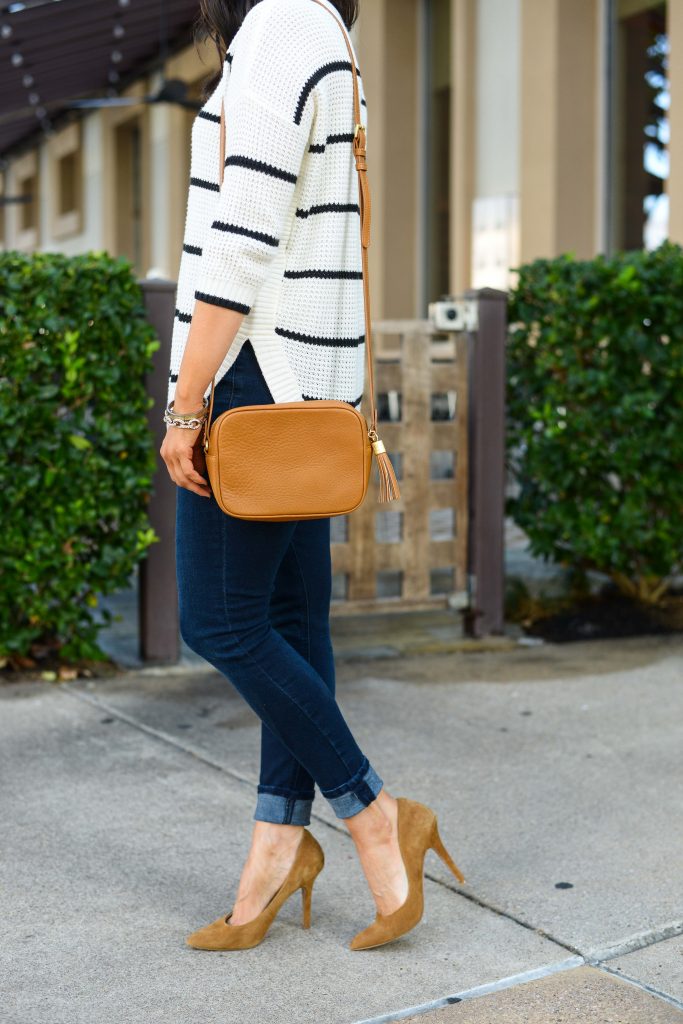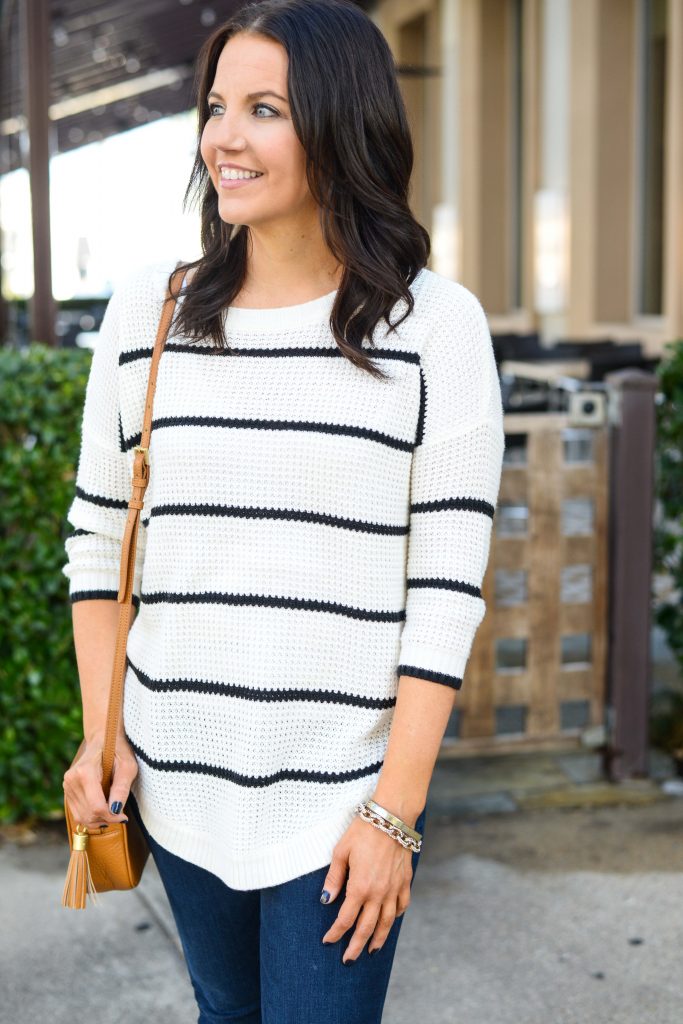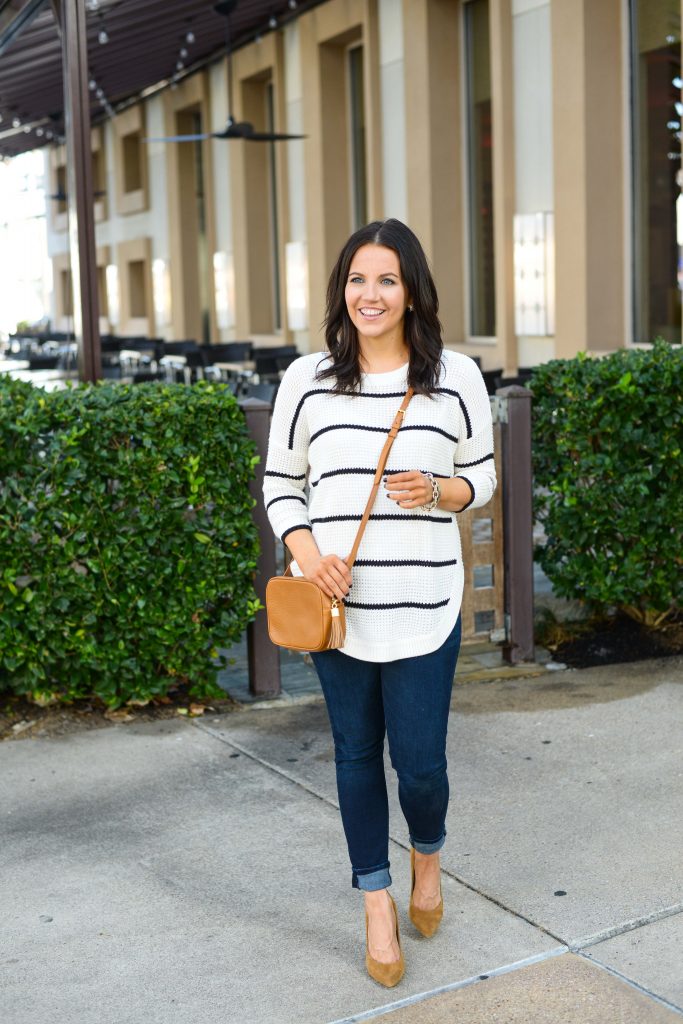 Can you believe we are about one week away from Christmas?!?!?  My shopping is done, but now the task of wrapping all the gifts!  I like to pick a night, put on a Hallmark Christmas movie, pour a glass of wine, and make a fun night of it.  I then put all the wrapped gifts away in my closet, so my dog will not chew on them while I'm at work. LOL. She's so good and doesn't chew on furniture or shoes, but she does love to chew on boxes.
My friends and I hit up a fun Christmas Light Walk this weekend.  It's a really fun event to attend.  A local neighborhood shuts down a couple streets and all the houses do it up with lights, and we walk around and check them out.  This week is filled with Christmas parties all around, so it's going to be very festive week!
I'm kicking off this blog week with a simple casual outfit idea, perfect for those of us in warm winter climates.  This striped tunic sweater is perfect with both jeans and leggings.  I paired it with my leather leggings and boots for Thanksgiving!  For today, I'm going with jeans and a few tan add ons.  The top is a bit more ivory than white, so it works perfectly with the brown shades.
Also, I'm kind of madly in love with my new crossbody bag! It's the perfect size for carrying on weekends. It holds all my weekend necessities – wallet, keys, sunglasses, phone, and lipstick.  It comes in a few different color options, but I chose this tan one.  This color will work year round and goes with tons of colors.  I have another bag in this shade that I carried so much, but it was just a bit bigger. I really wanted a slightly smaller one, and this one is perfect!
Next week will be a busy week of holiday festivities and travel, so I'm doing something I haven't done in forever – I'm taking the week off from blog posts!  I love putting all the posts together, so it's always hard for me to force myself to take a break.  With lots of holiday plans on the schedule next week, I really wanted to be focused and present.  As hard as it is to take a break, I am excited for the mini vacation.  I will  be doing some behind the scenes tech updates too.  So if you are checking out the blog next week, and something seems off that might be why.
The rest of this week will be filled with my best of posts from beauty favorites to my favorite, the top posts of 2019.  Then, I will be back December 30th with a look back at what I wore over the past month.  I can't believe it's almost 2020!  Hope you have a great week ahead!
Photography By: LA Photography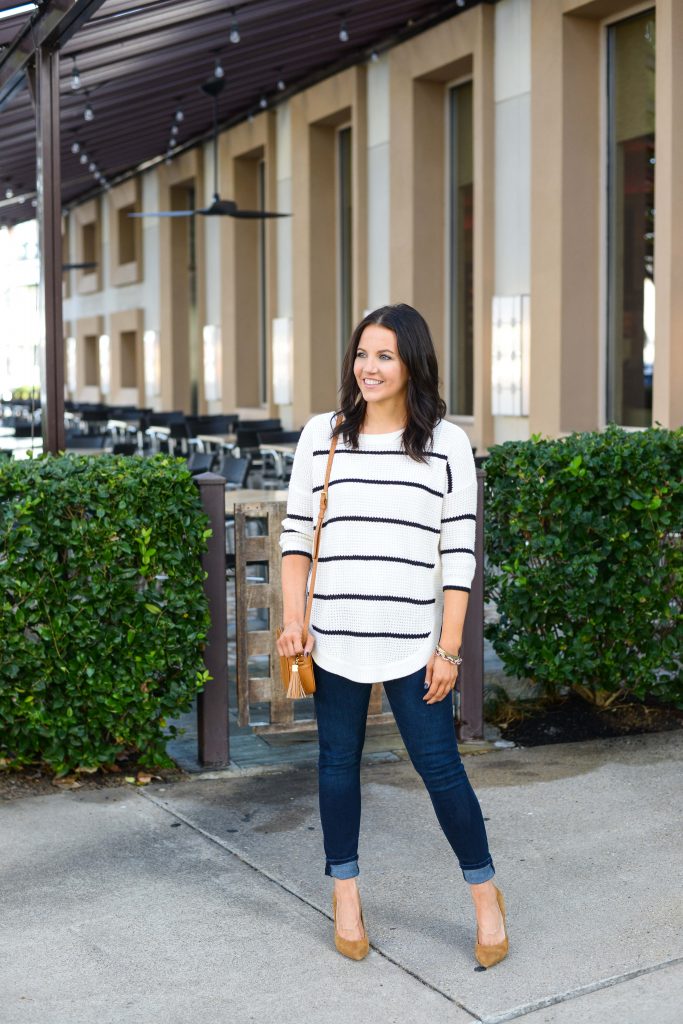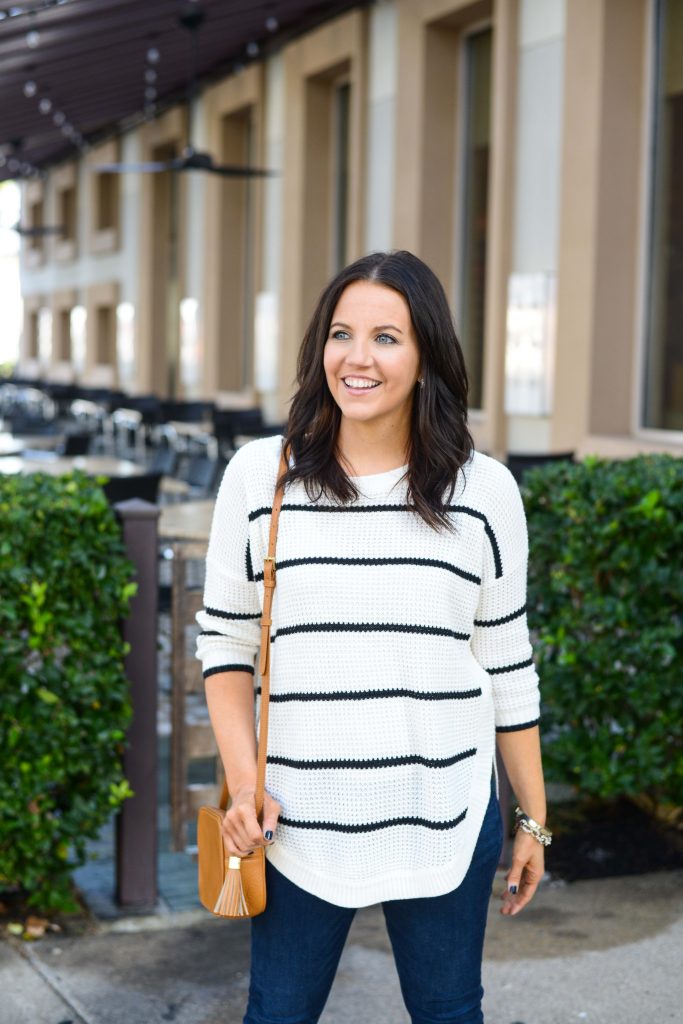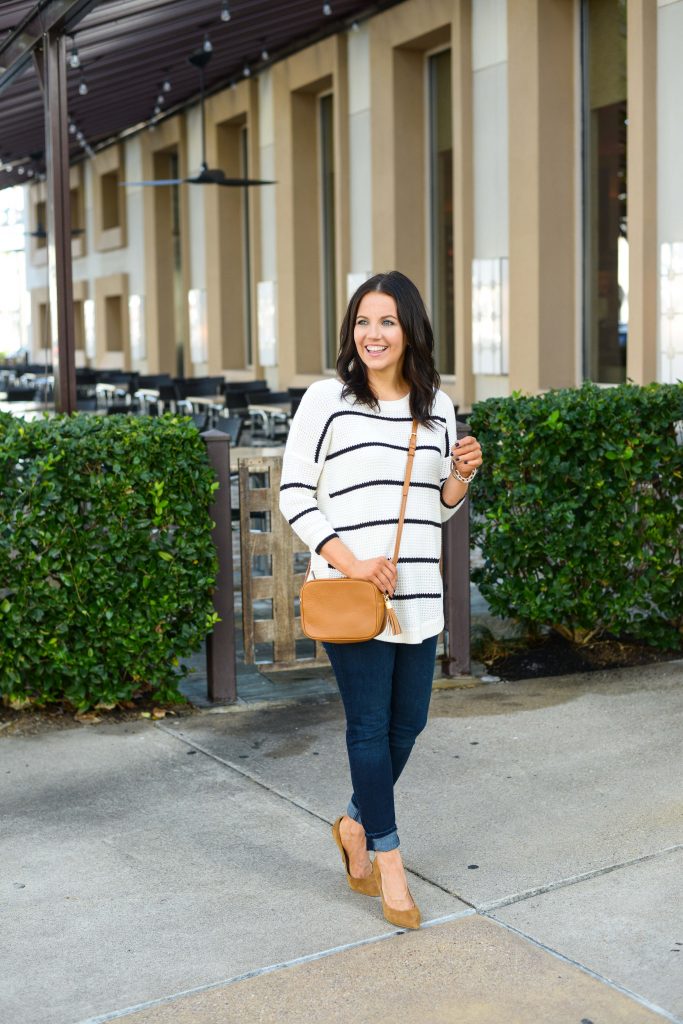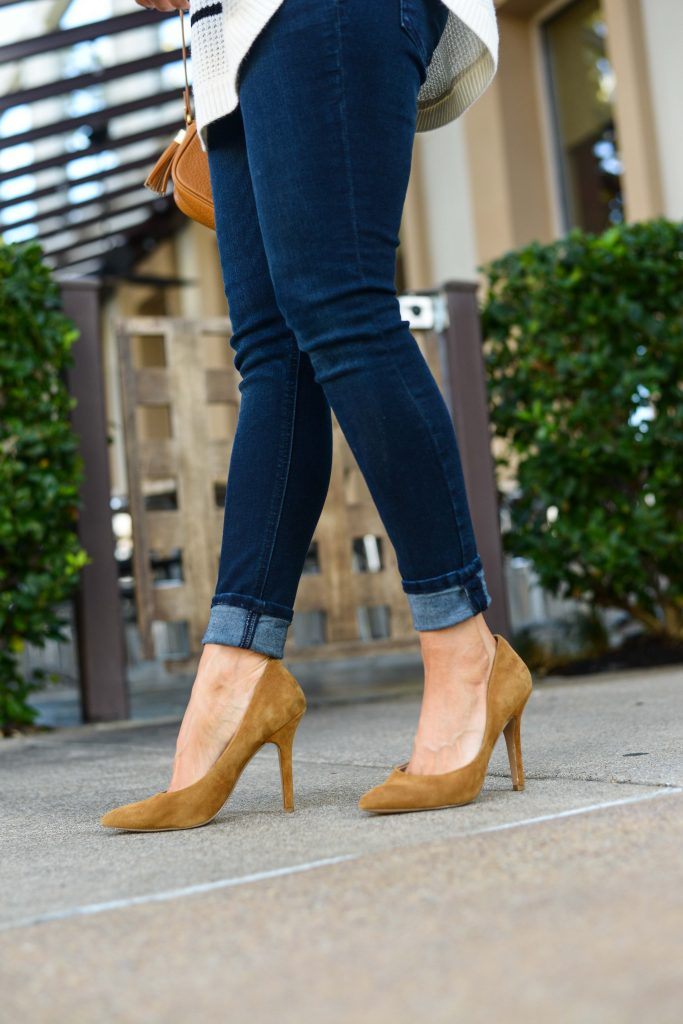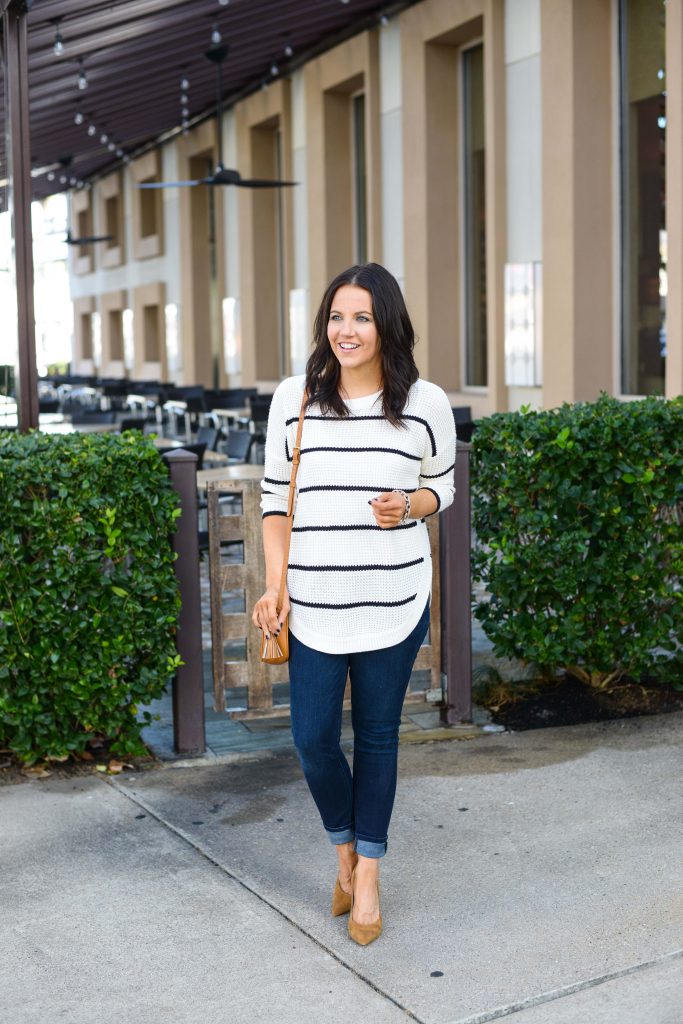 SHOP THE LOOK
Love this post? You may also love: