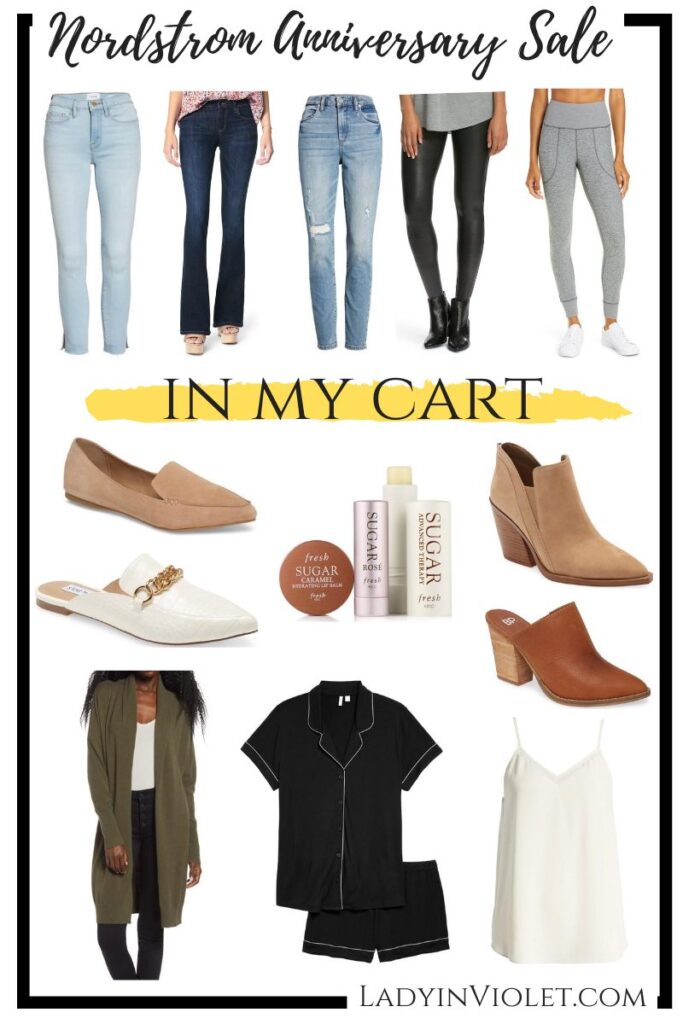 Hello Friends! The Nordstrom Anniversary Sale is officially open for all today.  I've heard that there may be a good restock today too.  If you had your eye on a sold out item, you may want to check on it this morning.  Many of my items are expected to arrive by the end of the week, and I will share my full review hopefully next week on my purchases.  BUT I wanted to give you all a little peek at what I purchased during the Nordstrom Anniversary Sale before everything really starts selling out.
A few difference this year from my past sale purchases, I have no dresses and very little tops in my cart.  Instead I stocked up on jeans, shoes, and cozies.  Two categories I always make multiple purchases in are shoes and denim.  Both of these are higher priced items so the discount really adds up.
For jeans, I decided to fill in some gaps in my closet by adding light wash jeans and flared denim.  I have tons of dark wash and black skinny jeans, so I opted out of purchasing new ones.  I'm still keeping my eye on a restock of these flared jeans.  Fingers crossed it comes back in my size! For shoes, I wanted a casual flat and a brown bootie.   I also purchased a few fun and trendy styles with a white slide and brown mule.  I'm always a sucker for the shoes section of the sale!
Outside of my top two categories, I added a few basics and wear around the house things.  The olive cardigan and ivory cami are filling a few layering gaps in my wardrobe.  I really wanted a cute pj set to lounge around the house in and a pair of joggers.  With stairs, I prefer jogger style pants over regular pj pants so I don't trip going up and down the stairs. With work from home life, I've been opting for comfy bralettes over regular bras, so I decided to try out this camilette to see how I like it.  I purchase this lip set every year in the sale.  It's one of my faves and keeps my lips smooth and hydrated.
Stay tuned to my Instagram Stories this week because I will be sharing video try-ons as items arrive.  I will also share a full post here once everything or most everything comes in.  Happy Sale Shopping Day!
SHOP THE SALE

Love this post? You may also love: