Monthly Archives:
April 2017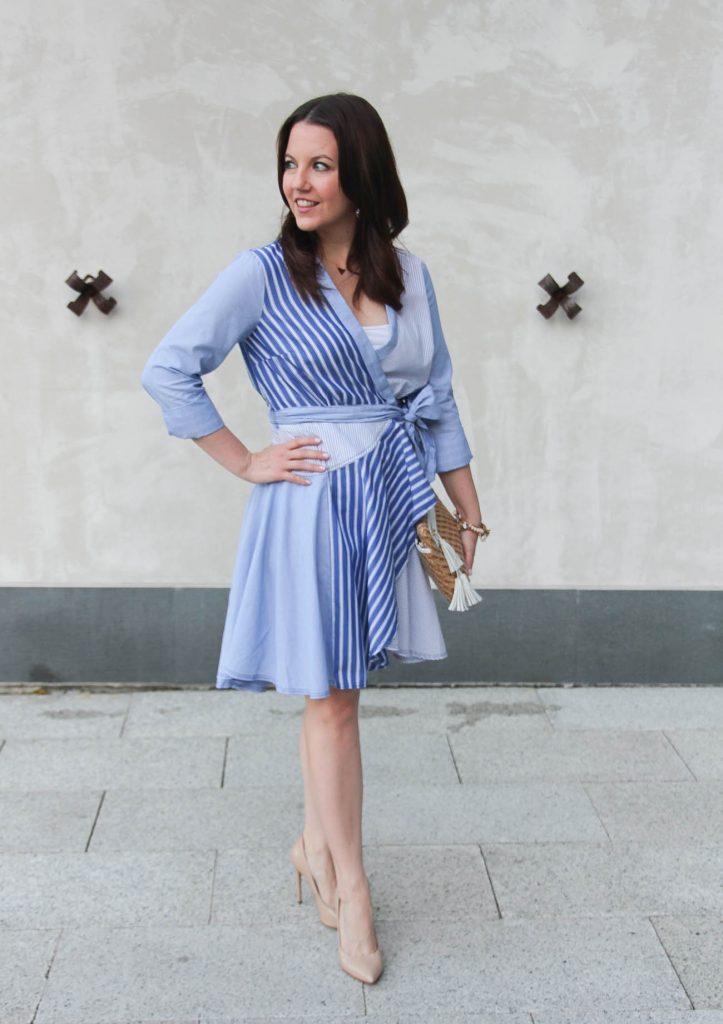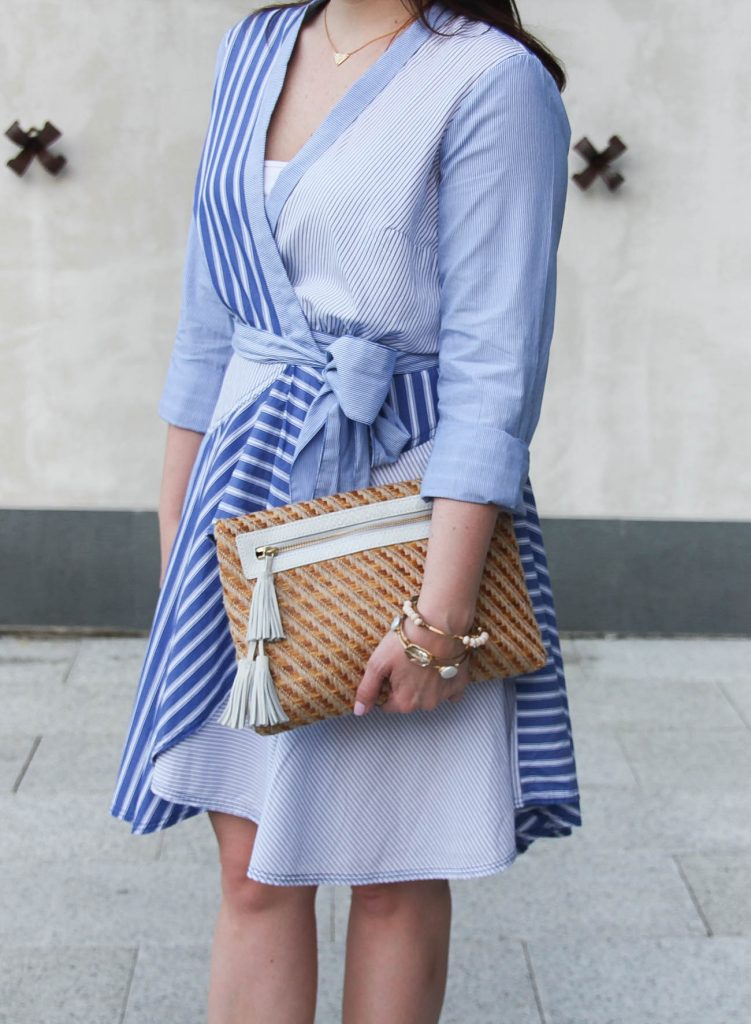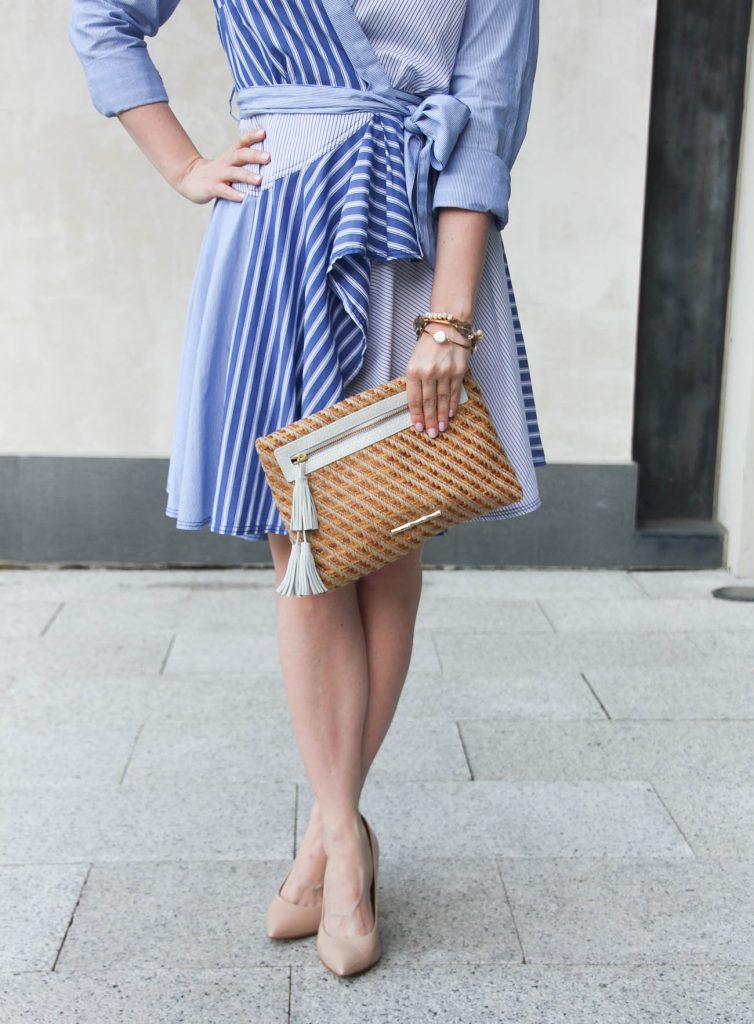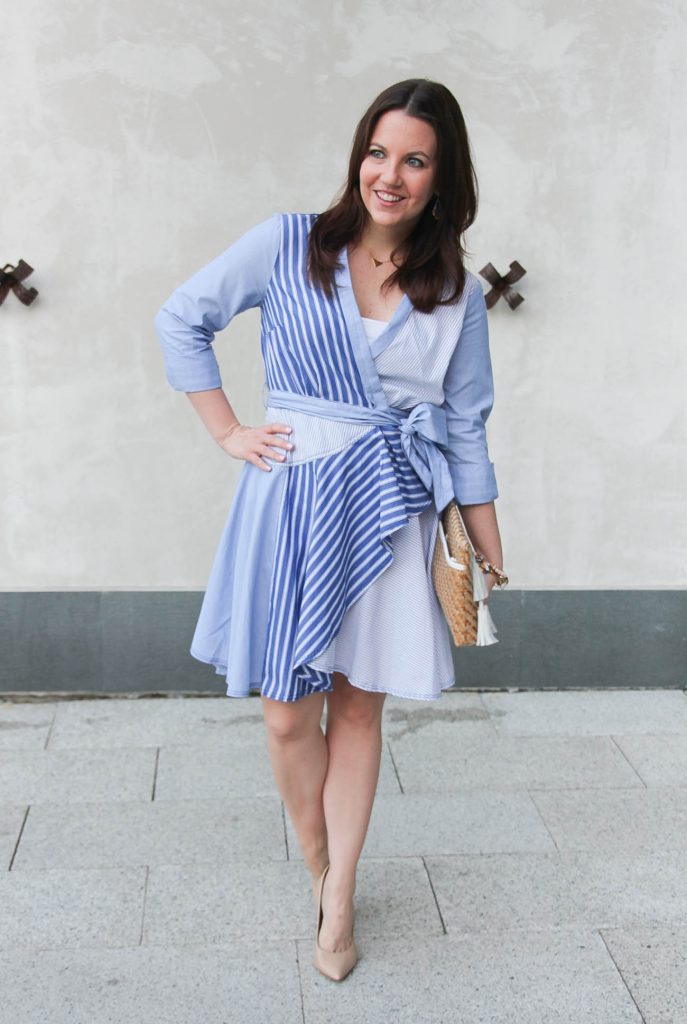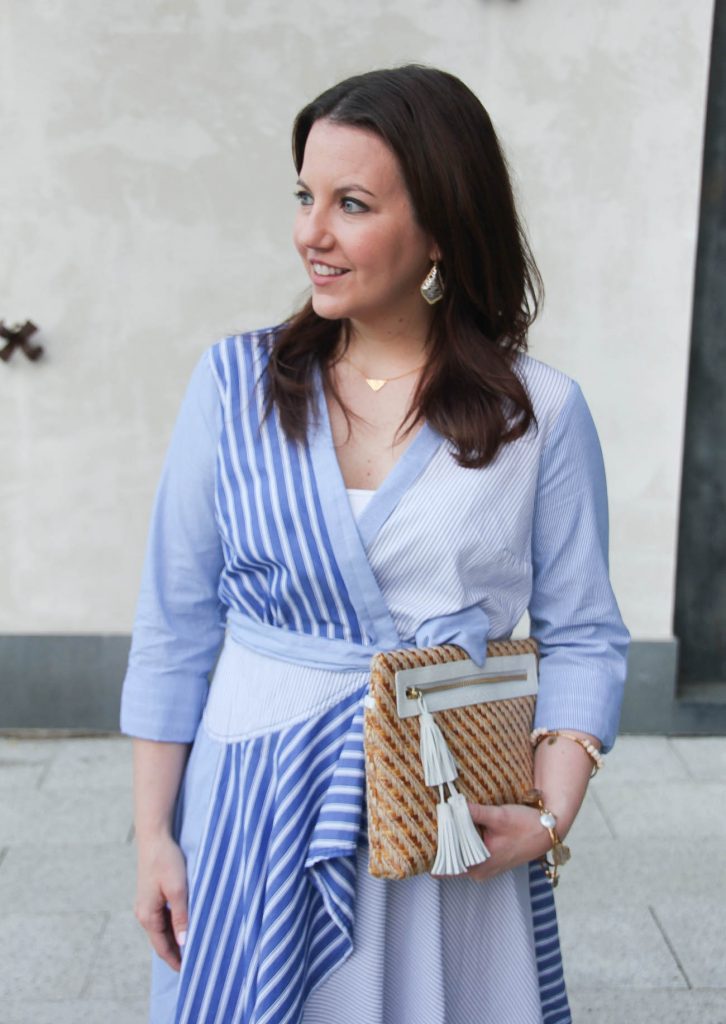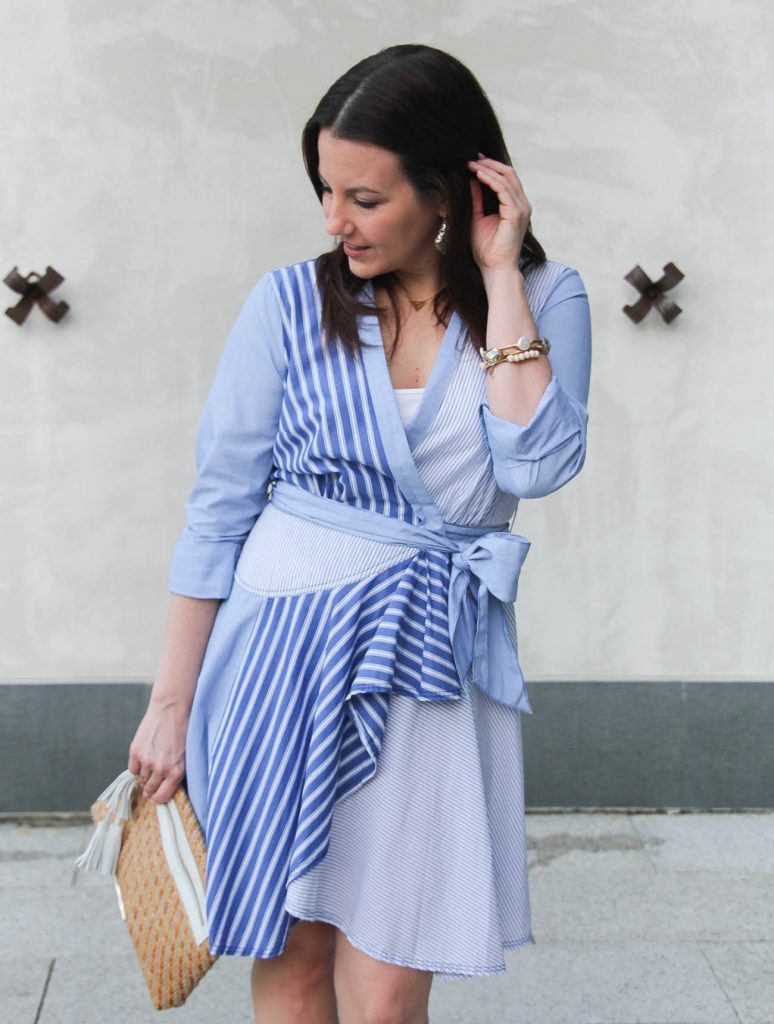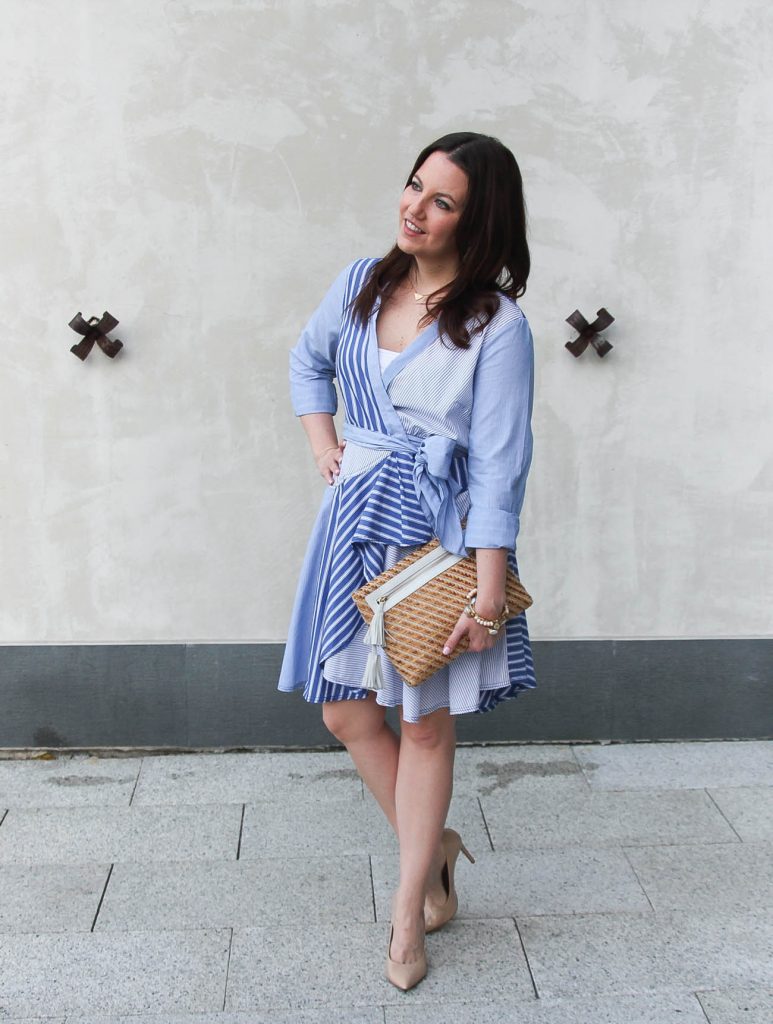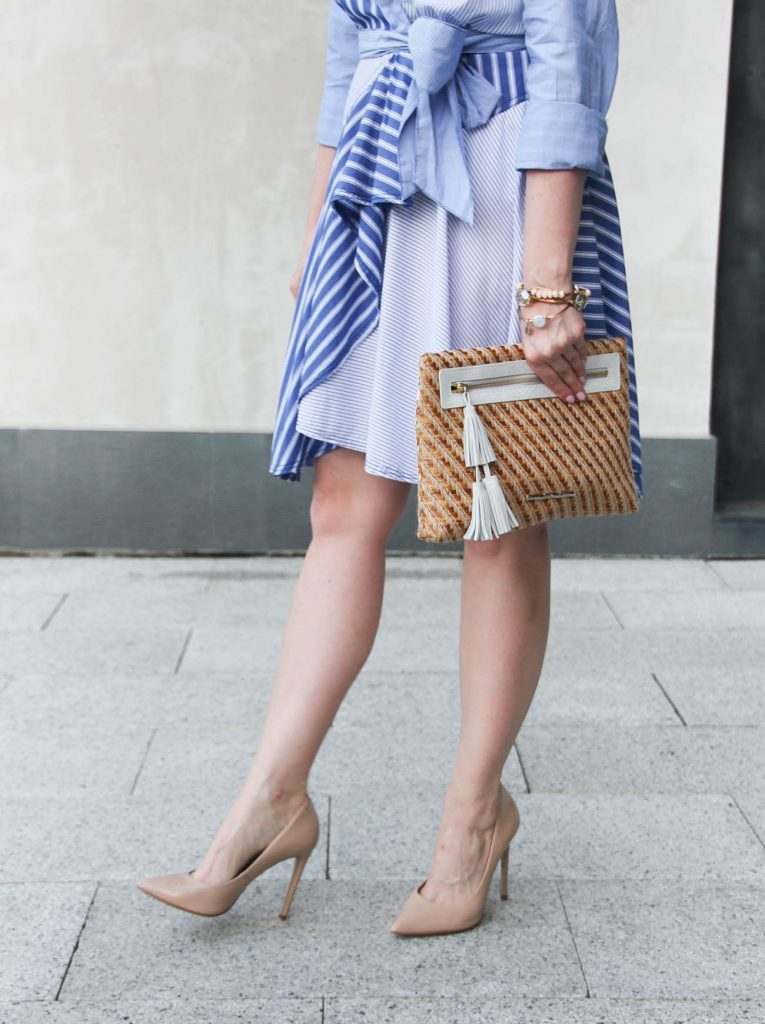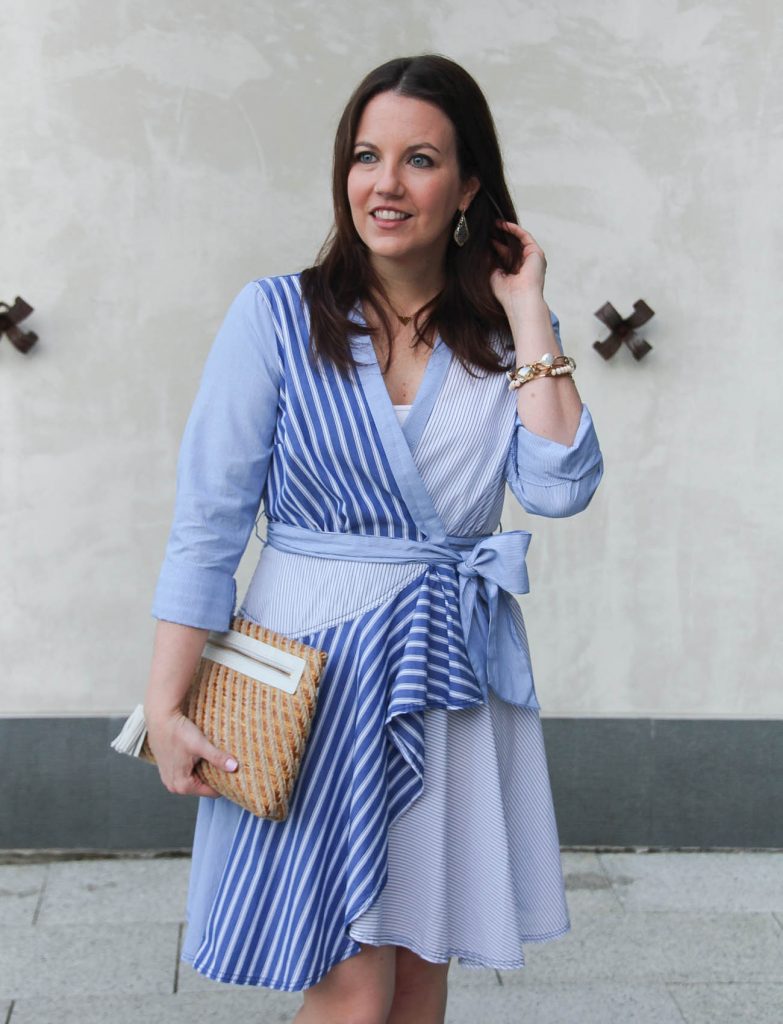 A few weeks ago, I needed a cute dress to wear to a luncheon.  I originally purchased this gorgeous fit and flare collar dress, but it arrived and was too small.  With only a few days before my luncheon, I decided to try Anthropologie.  I'm always so smitten with their dress selection, plus I had a gift card from Christmas.  Truth, I originally walked by this dress.  I liked the mixed material, but on the hanger it just didn't look anywhere near as pretty as it does on.
This beautiful embroidered yellow number was the dress I fell in love with, but they didn't have the petite size I needed.  I asked the dressing room attendant if she would grab me this blue dress as one final last resort.  I put it on and knew it was perfect, exactly the style of dress I needed for my luncheon.
This dress is a mixture of more than just different prints.  It's also a combined shirtdress and wrap dress.  A true wrap dress too, so you better double knot it.  The color and print of this Anthropologie shirtdress make it perfect for Easter too.  I love that it has a bit of modest look with the 3/4 length sleeves (which can also be full long sleeves) and just above the knee skirt.  Perfect for church on Sundays and you can wear it to work too.
Even better, it's currently marked down to $99!  For those interested in sizing, I'm wearing a 4 Regular.  You can also change out the heels for wedges to dress it down a little.   Have a great Wednesday ya'll!
SHOP THE LOOK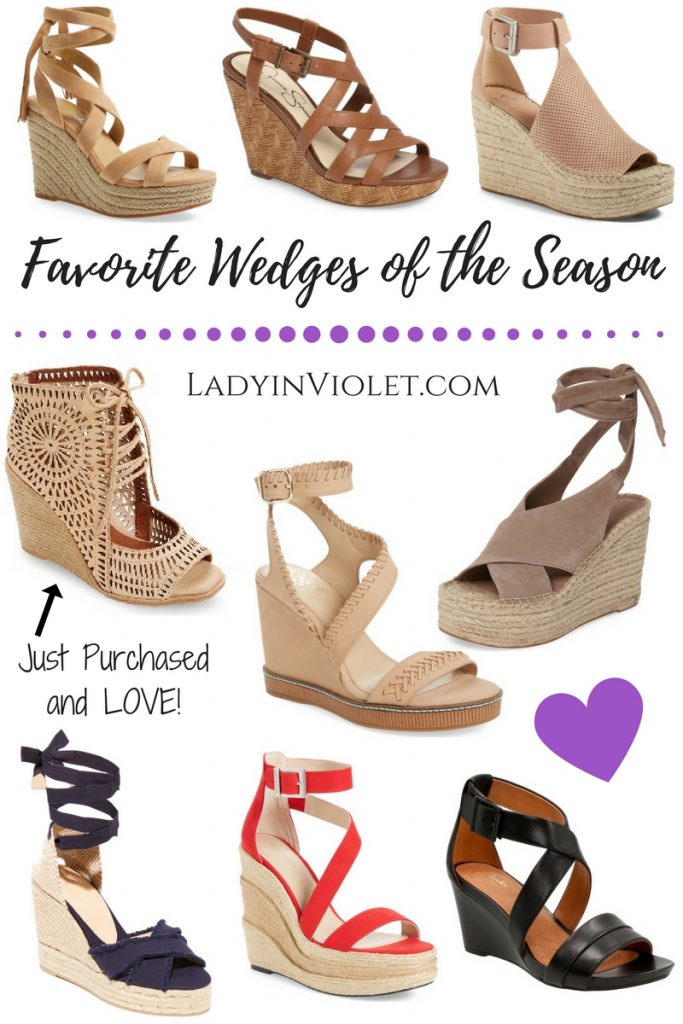 I'm going to make your Monday a little bit better because we are going to talk about shoes today!  Not just any shoes, my favorite kind of shoes – WEDGES!  This season I definitely think block heel sandals are the hot new style, but wedges are still going strong.
If you subscribe to my weekly newsletter, you saw a glimpse last week of my latest shoe buys which included these super gorgeous wedges.  I wore them to work on Friday, and I just can't get over how cute they are.  I have actually had my eye on them for a few years, but always found another pair I wanted more.  But this was their year, and I really wish I would have purchased them 2 years ago because they look cute with so many things from jeans to dresses.  They are pretty comfortable too.  In the morning, they rubbed the back of my heel a bit, but not bad and kind of normal for new shoes.  On a sizing note, many reviewers said these run big, but I ordered my normal size and they fit perfectly.  The laces in front let you loosen or tighten to fit your foot better.  I had to loosen a bit to make them the perfect fit.
These lace up wedges were my runner up this year, and I may still buy them if I find them on sale.  I have heard this brand is comfy, and these lace ups look back supported so they will keep they cute design around your ankle.  Ya'll know, I love all nude and taupe color wedges, but I did throw in a little color this year.  I have seen a few cute denim pairs this season. They would be perfect with white jeans or colorful sundresses.  I think everyone needs at least one black sandal for summer.  Mine don't get as much wear as my nude ones, but they are perfect to pair with white or black jeans.
A must have wedge sandals list would not be complete without the "it sandals" of the season.  This brand has two popular styles out right now, this one is the most popular, but I personally like the look of this one better because of the connection with the top strap.  If these are a little out of your price range, I found a $60 look-a-like pair HERE.
So 2 days left of my Whole30 you guys! I already have a bottle of Chardonnay chilling with plans to enjoy a glass or maybe just half a glass on day 31.  I was like crazy productive over the weekend like I finished my ENTIRE to do list.  I couldn't help but wonder if this is the increased energy I read about.  I should have my full review up next Monday, so be sure to check back for that, and on Wednesday, I'll be sharing the perfect Easter dress so be sure to stop by and check that out.  Ya'll have a great week and thanks for swinging by.
SHOP THE SHOES