Monthly Archives:
September 2020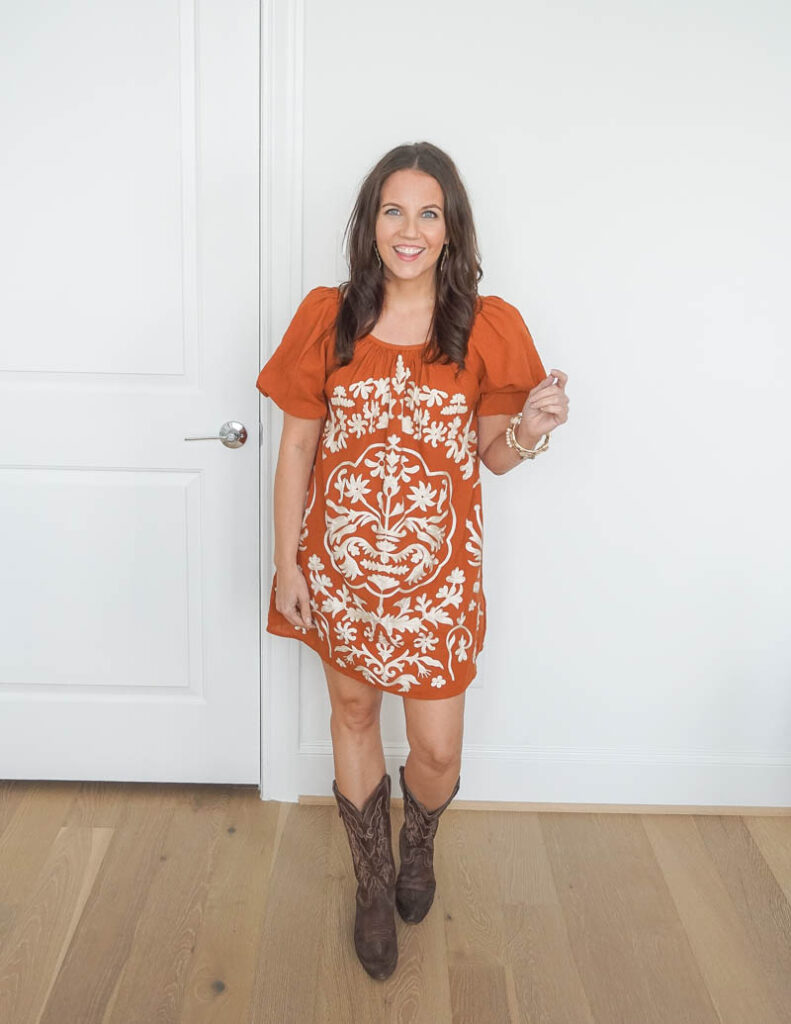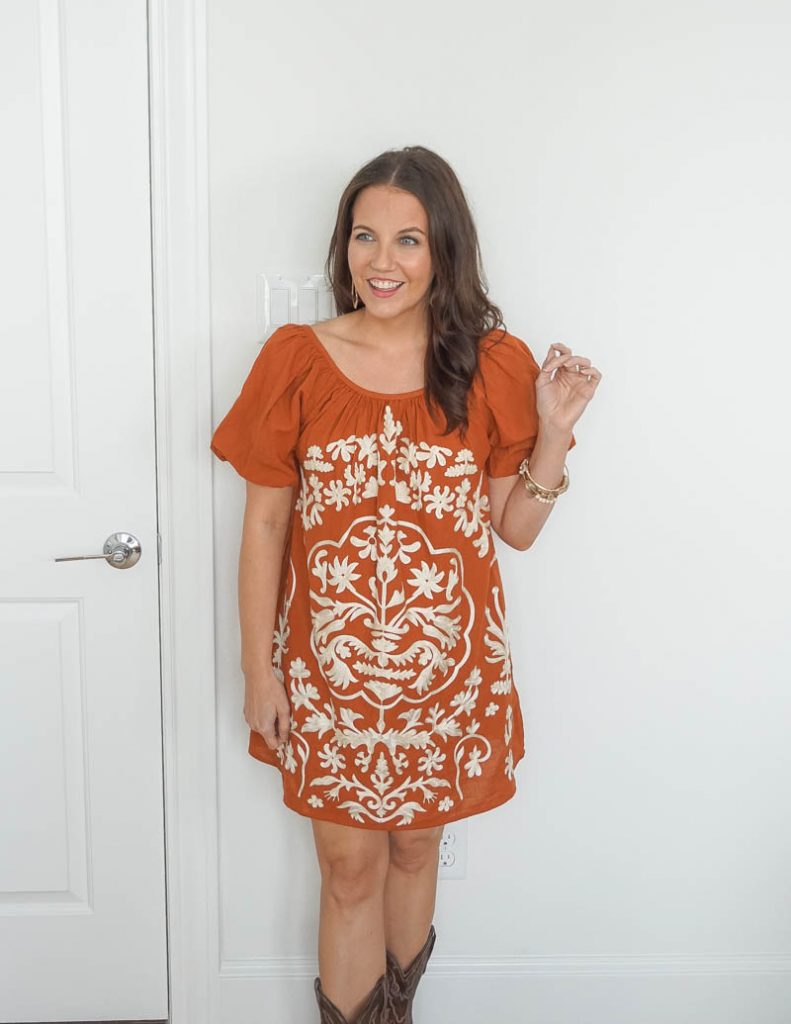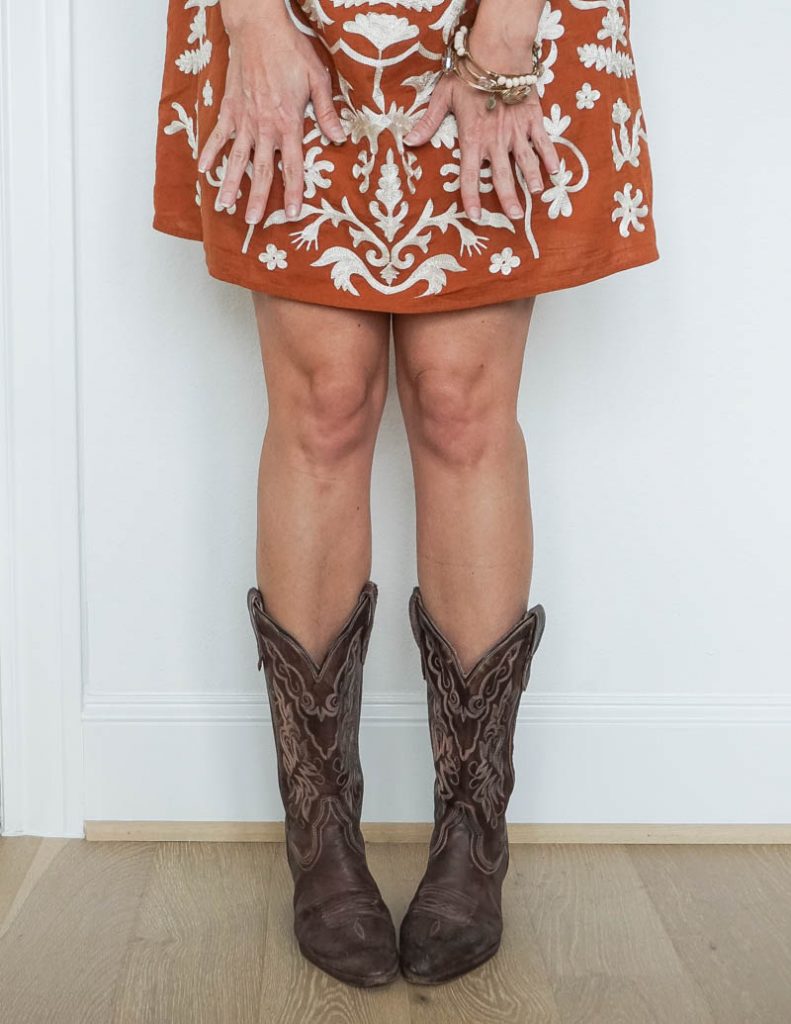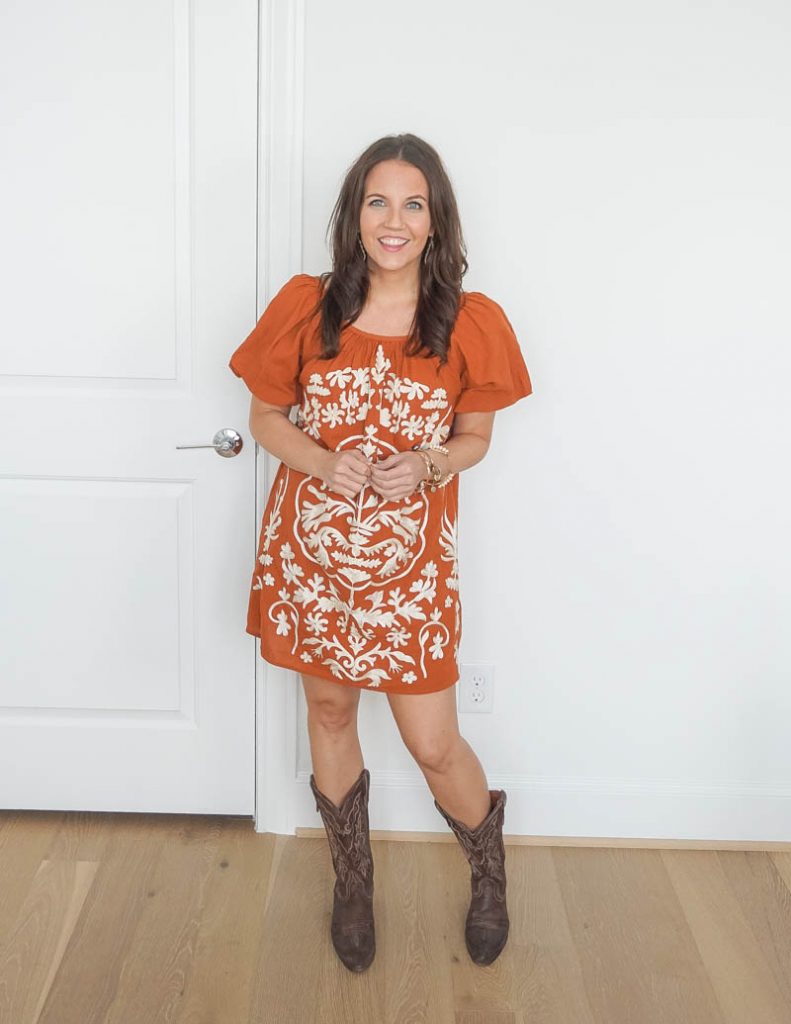 Happy Friday y'all! It was rainy and gloomy most of the week which left me feeling so sleepy. Not good following a 3 day weekend.  It did give me an excuse to stay in my loungewear all week though.  I've found getting dressed everyday really helps my productivity, but some days you just have to enjoy the lounging lifestyle look.
If you missed it, earlier this week I shared a little change that you will start seeing in some of my fashion posts.  I'm planning to start showing you more ways to wear pieces and across different seasons.  In this time of less events, I think it's important to know you can wear what you are buying multiple ways and for multiple seasons.  I'm also taking suggestions for items you would like me to style multiple ways, just head here to fill out the questions box.
I already have mutli-outfit posts for the rest of the month, but I wanted to share one last solo outfit.  Living in Texas, you can always use another western outfit for the rodeo, the state or county fair, or just a fun night out at an outdoor spot with friends. I'm quite obsessed with this mini dress! It was made to wear with cowboy boots!  I know the rodeo and fairs are probably not going to happen, so I will have to save this one for a future one.
In the meantime, a country western concert or just a casual evening out with friends at an outdoor spot would be perfect for this outfit.  You could add on a denim jacket for a bit cooler evening weather.  If you don't have cowboy boots, a pair of booties would work just as well.  For a cooler fall day or evening, toss on a tan or beige cardigan with a pair of flat over the knee boots.
I hope y'all have  a fabulous weekend!  I have plans to see a few friends, and I cannot wait to catch up with them.  It's also opening weekend of the NFL.  Steve and I have plans to make a pot of chili and spend the day watching the games.  It should be a good mix of fun and relaxing.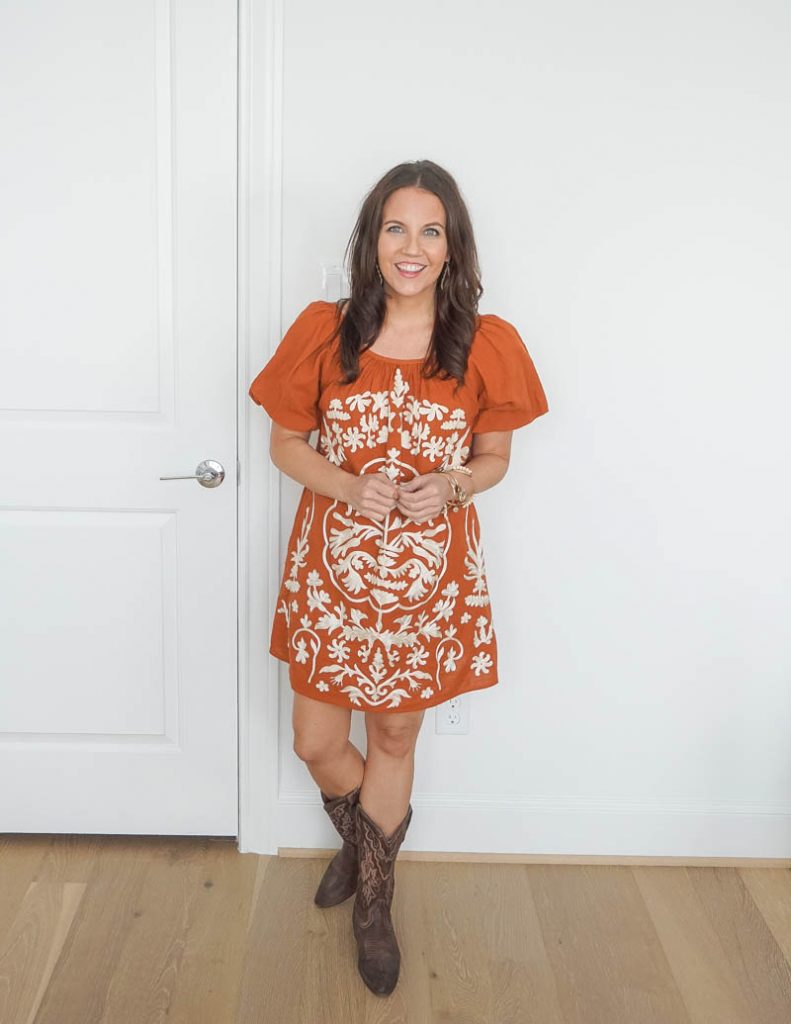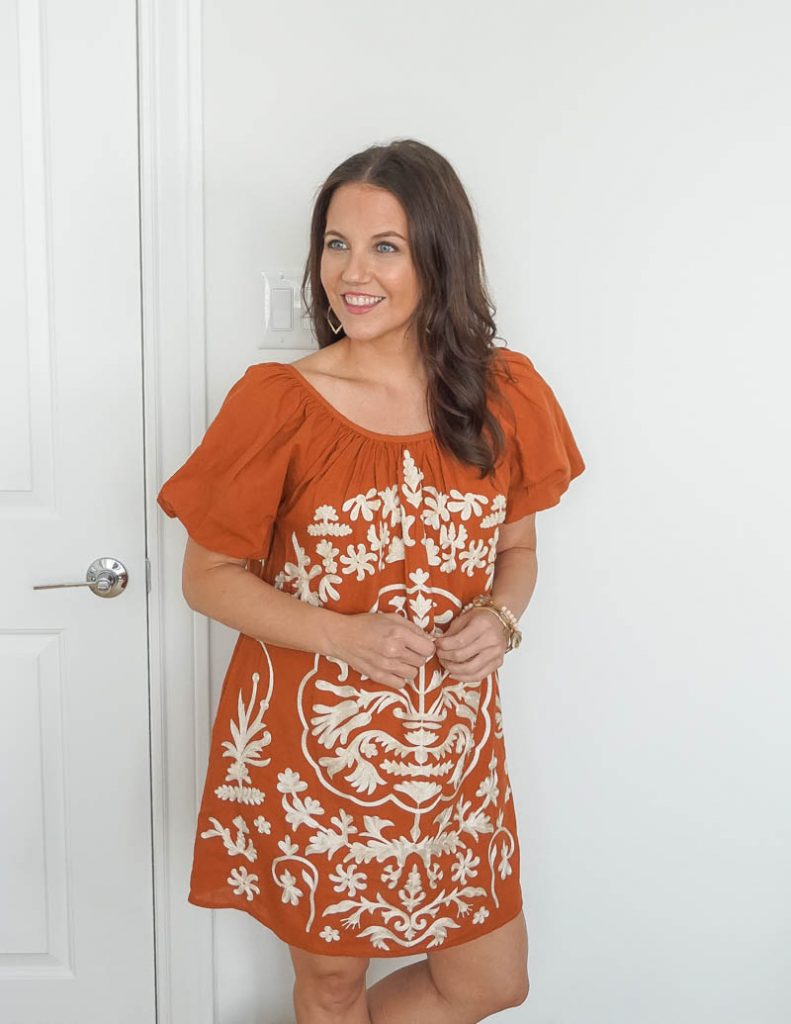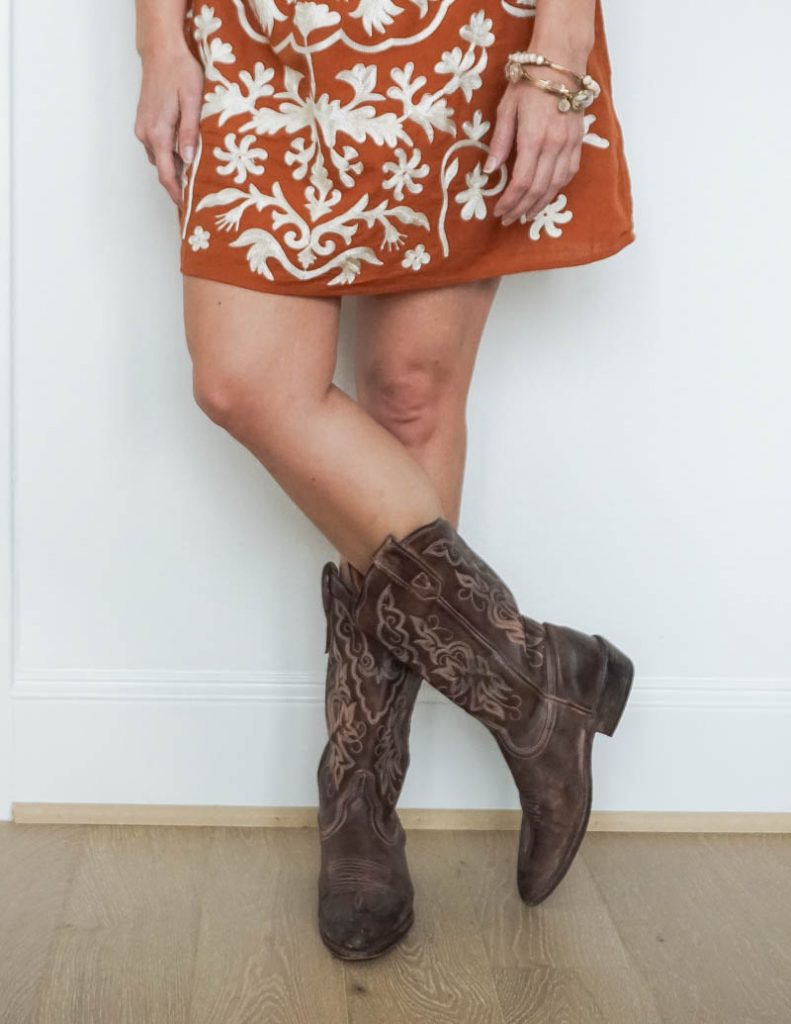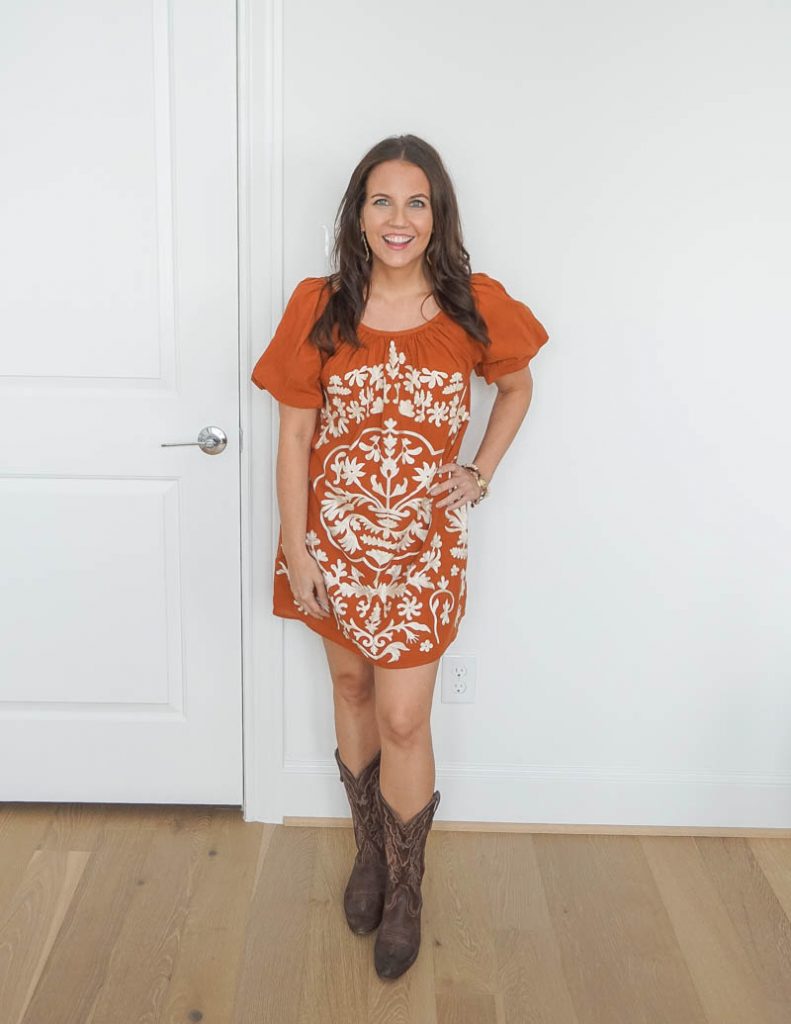 SHOP THE LOOK

Hello friends! I'm so excited to be launching a new look to my fashion posts this month!  My love for creating different outfits and finding as many ways to wear what is in my closet is strong, and I really wanted to find a way to bring that here to this space.  Earlier this spring, I tried out a few different post ideas and finally landed on showcasing multiple outfits in one post featuring a specific item, event, or style.  I hope these new posts will help you find new ways and more ways to wear the items shared here and give you some ideas for the items already in your closet. I still plan to sprinkle in individual outfits because sometimes an outfit just needs its own post.
If you have an item you would like to see featured and styled multiple ways, head to this dedicated page to make your request.  You may find it pop up in a future post.
This month will feature items styled across different seasons.  Being able to wear an item in 2-3 different seasons really adds value to it.  The more wears and use, the better return on your investment.
You may think light pink and lace is primarily reserved for spring, but with the right styling this pink lace top can also work for fall.  Heads up this lace top is not lined, and I'm wearing a white cami underneath it.  It's a good thick lace.  I love the smock detailing and ruffle on the end of the sleeve.  It really dresses up the top.
SIX WAYS TO WEAR A PINK LACE TOP
FOR SUMMER & SPRING
WITH SHORTS
This outfit will work for both spring and summer.  The faded black shorts help lend a more boho and casual vibe to pink lace.  My light tan booties are perfect to pair with shorts in the spring season.  The lighter color works really well the light pink of the top.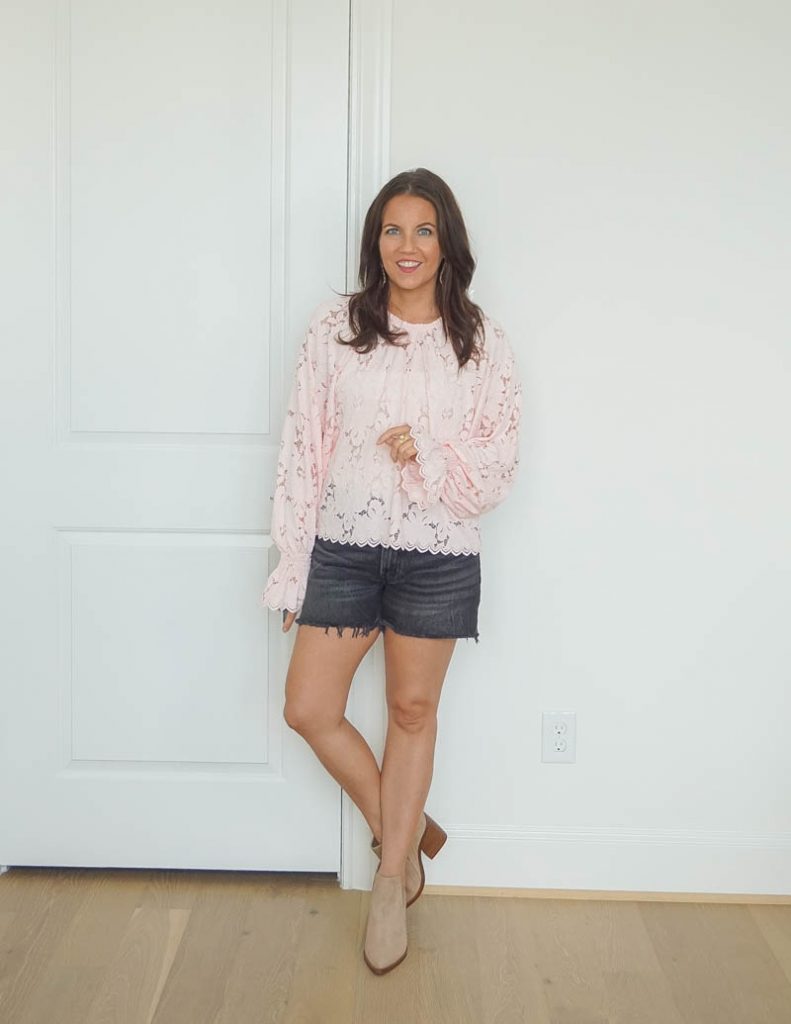 pink lace top | faded black shorts | booties |earrings
WITH WHITE JEANS
A spring outfit roundup would not be complete without white jeans.  A pastel pink color and white compliment each other well.  White jeans help keep this pink lace top feeling dressed up.  I added in my block heel sandals to dress this look up even more.  This outfit would be perfect for brunch, Easter, or a shower event.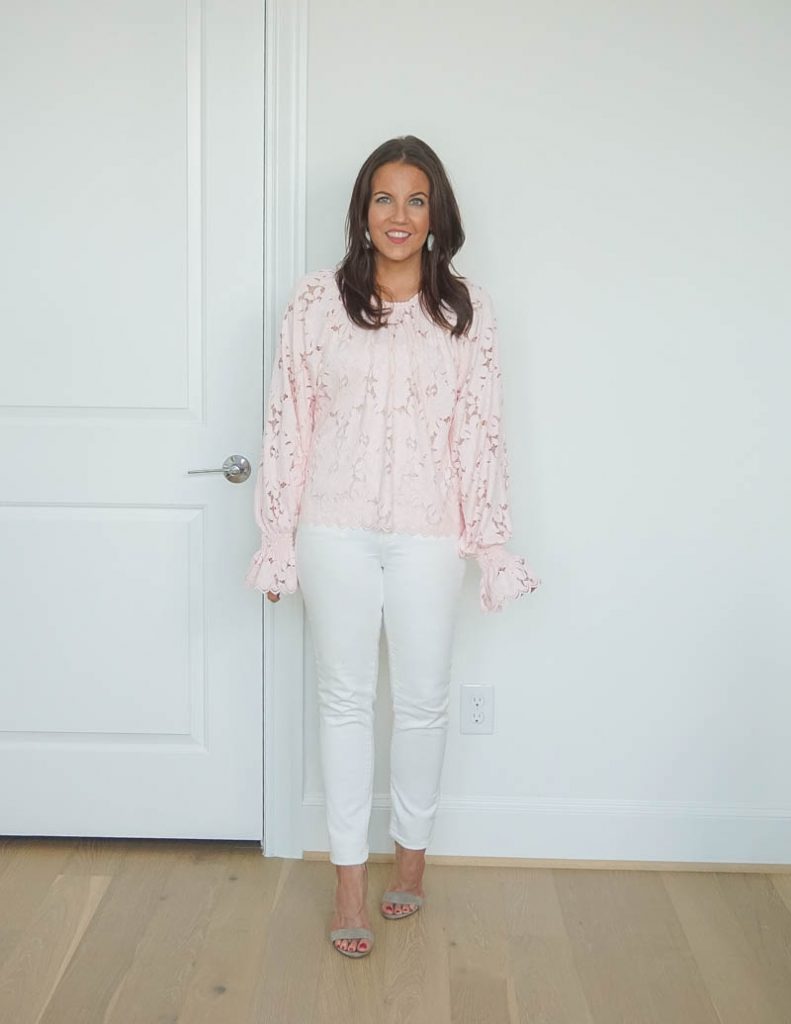 pink lace top | white skinny jeans | block heel sandals | earrings
WITH LIGHT WASH JEANS & WHITE SHOES
Light wash jeans are one of my new must have jean colors.  The two lighter shades work really well together for a light and airy spring outfit.  To keep my outfit light and bright, I added in a white pair of shoes.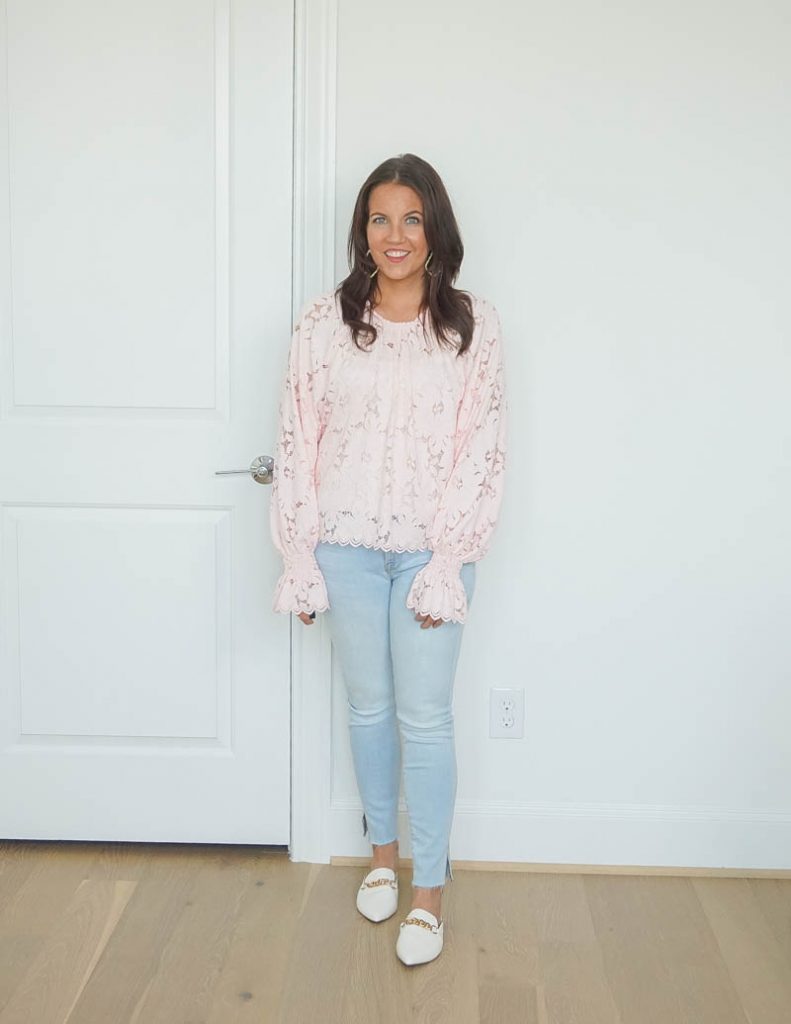 pink lace top | light wash jeans | white slides | earrings
FOR FALL
WITH FLARED JEANS
To transition this lace blouse into fall, I'm adding in darker colors.  For a dressy casual fall look, dark wash flared jeans are perfect.  The light pink really stands out next the dark blue.  Since this pink has more of an earth tone feel, I thought these dark tan heels really complimented the outfit.  This would work for casual office look, date night, or dinner with friends.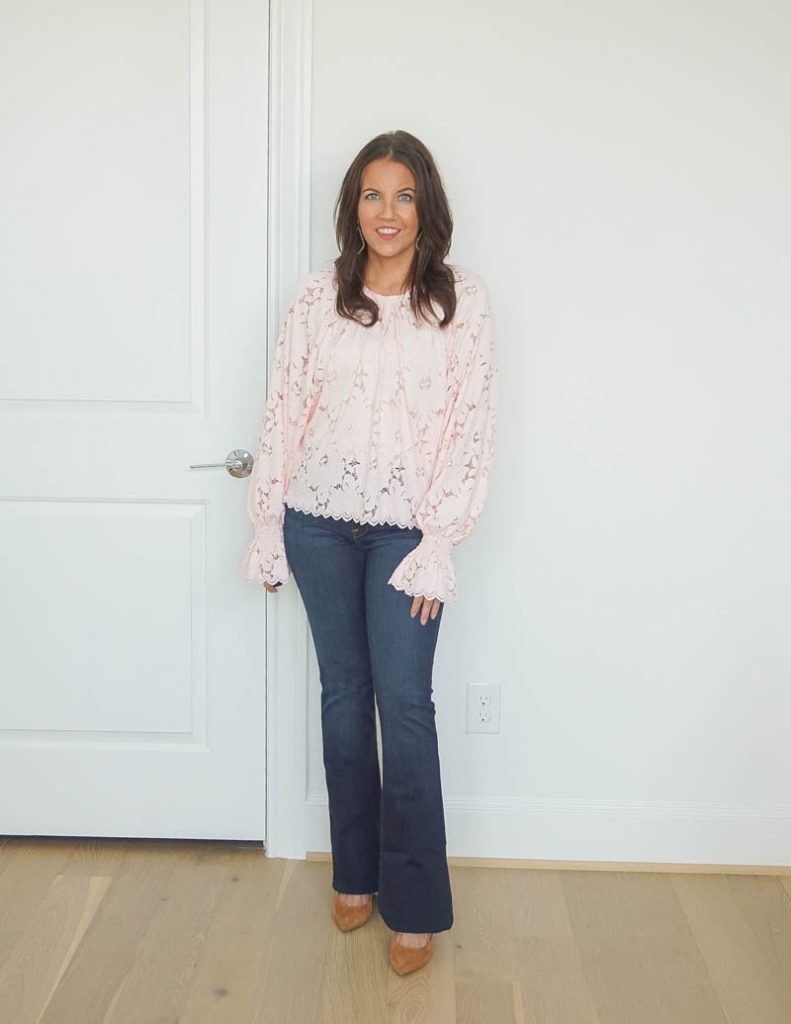 long sleeve lace top | flared jeans | heels | earrings
WITH DISTRESSED JEANS & LOAFERS
This outfit is the most versatile of the bunch working for both spring and fall.  Distressed jeans are an easy way to dress down a fancier top like this lace one.  To keep with the casual vibe, I paired it with my tan flats.  You could also add in a pair of tan booties for a more fall look.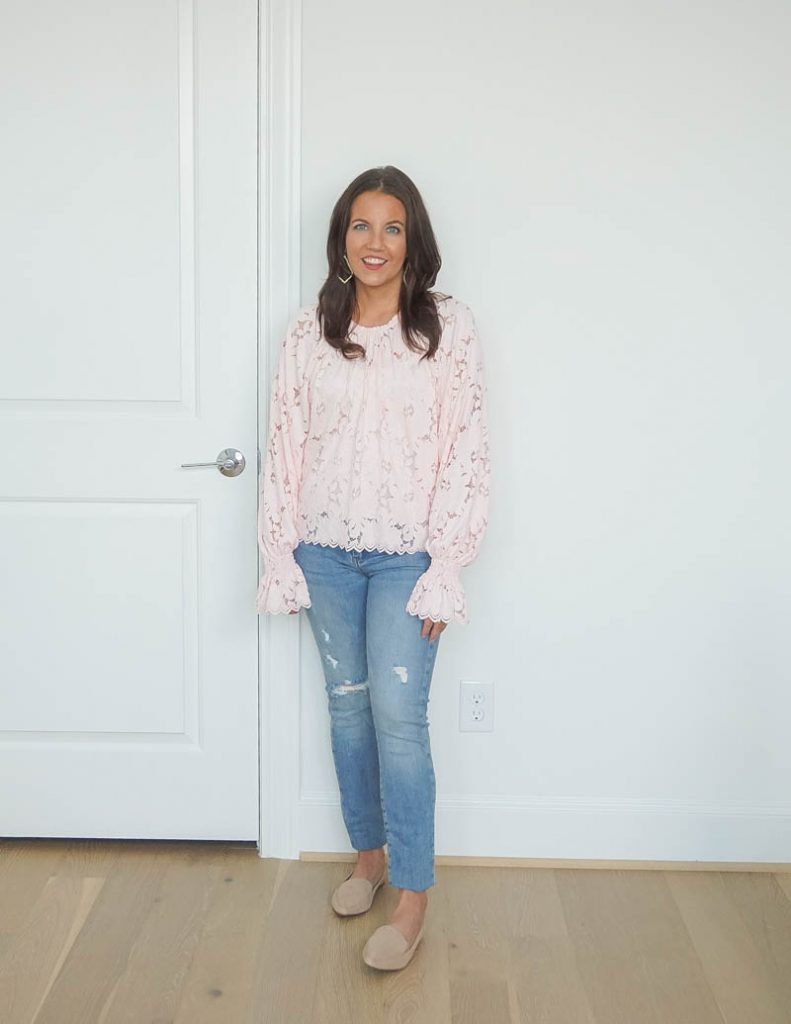 lace top | distressed jeans | flats | earrings
WITH BLACK JEANS  & MULES
Black is another color that really helps add contrast to the lighter pink of this top.  You could go with multiple shoe options here, a tall brown boot would work really well towards the end of fall.  For the early fall season, I'm really loving how this light pink works with the cognac brown of my mules.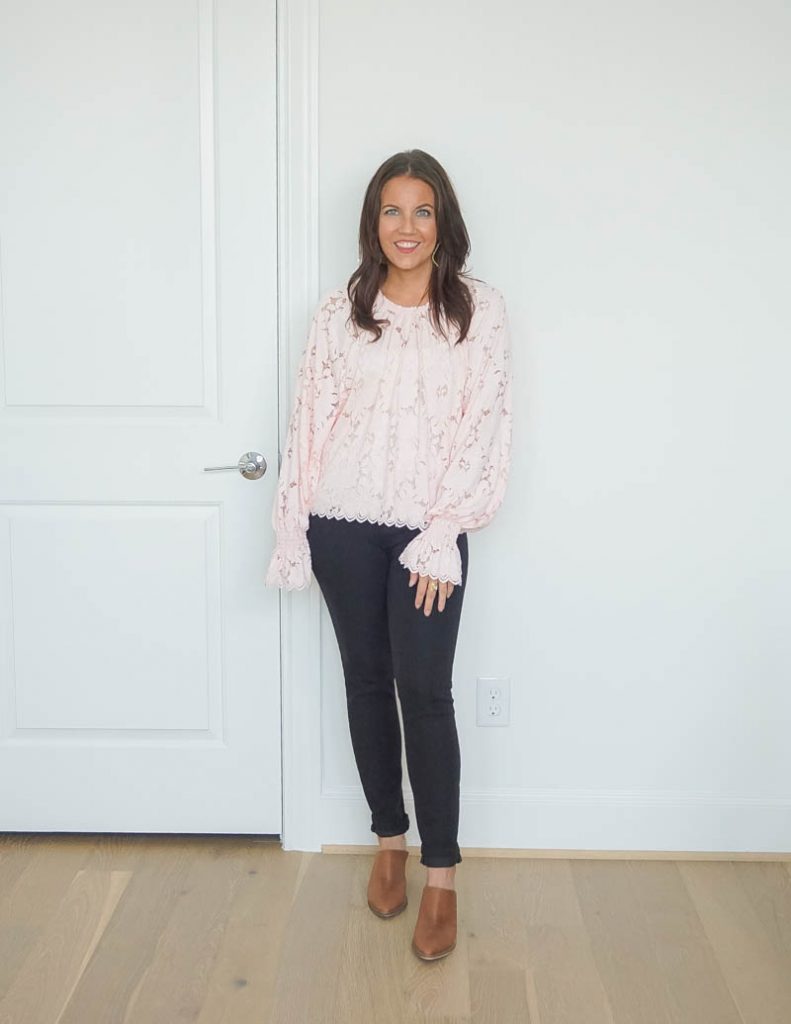 lace top | black jeans | brown mules | earrings
SHOP THE LOOKS

PIN NOW & SAVE FOR LATER!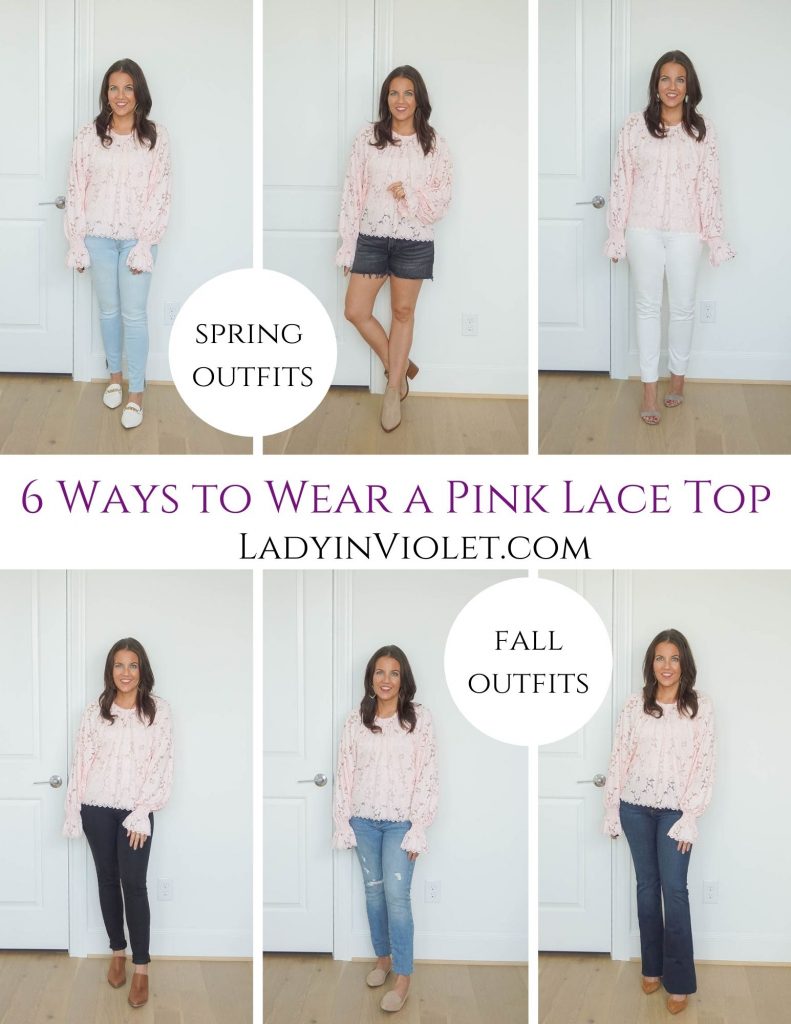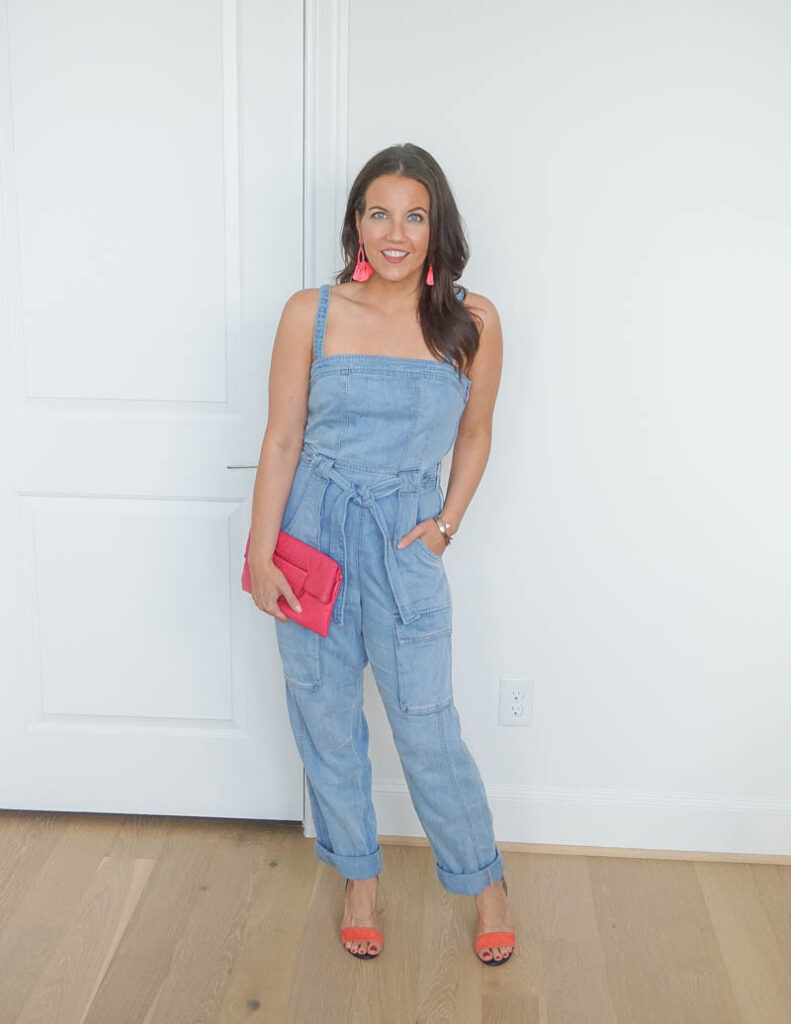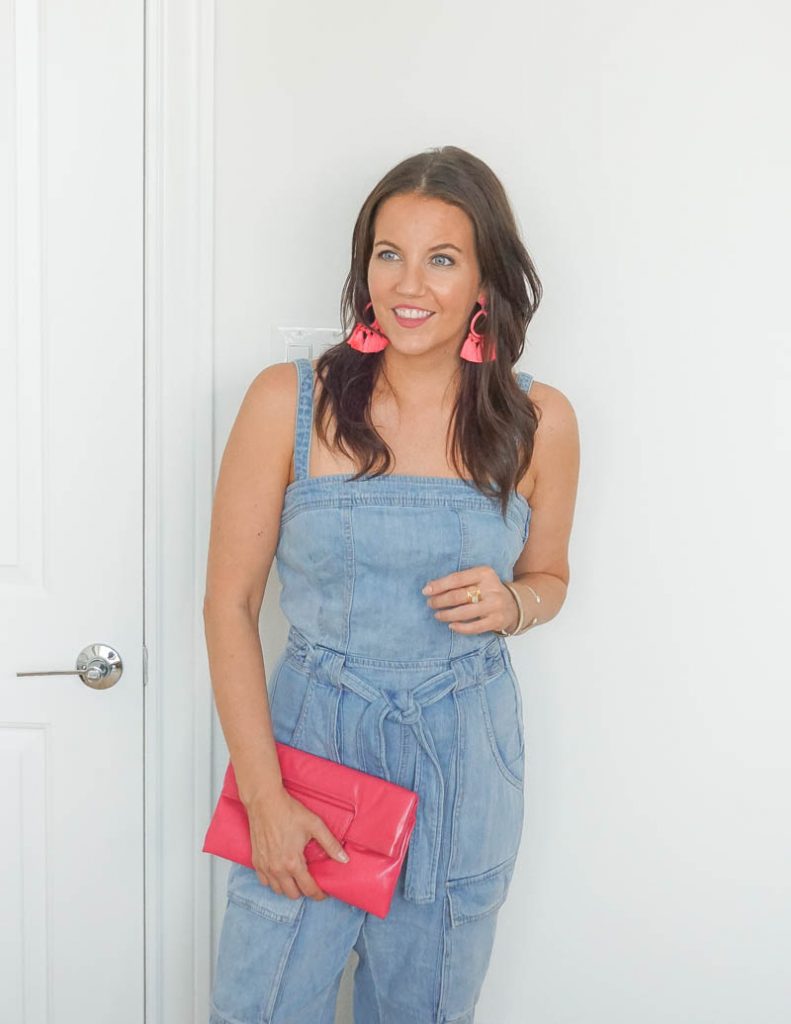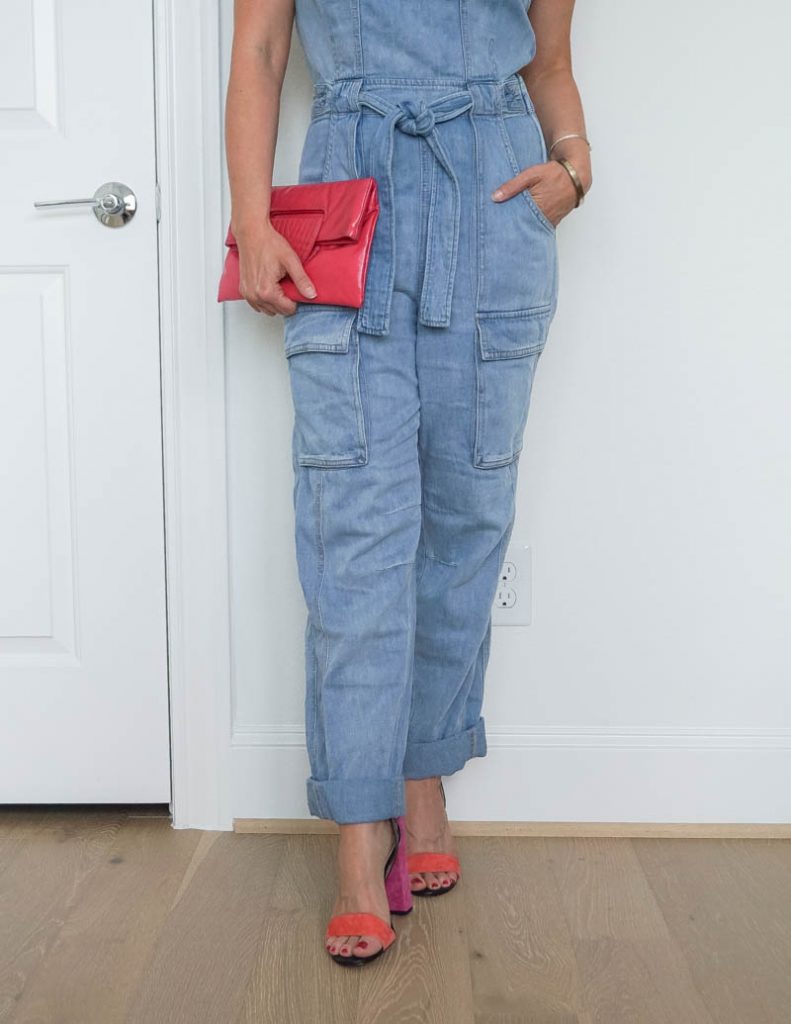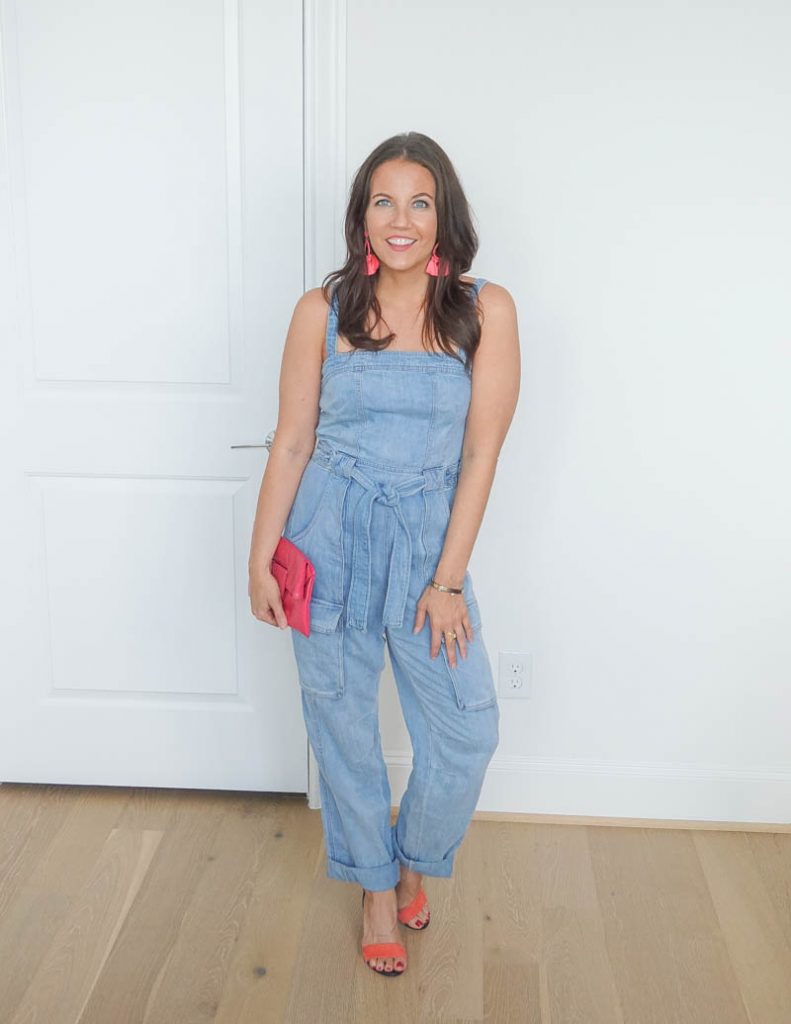 Happy September and Happy Fall-ish! I know it's still sweltering hot here in Houston.  Although, I did see some cooler temps in the forecast for next week.  With a long weekend ahead of us, I'm planning to soak up the sun with some time by the pool and do a little closet organization.  Since our house needs and wants list is still a bit long, we will probably take advantage of the Labor Day Sales to cross a thing or two off.
Since March, Steve and I have been out on TWO date nights.  Well one of them was technically a day date, but I'm counting it.  When one of our couple friends asked us out for a casual double date, we jumped at the chance to spend a night out of the house catching up with friends.  I also took the chance to dress up a little in this denim jumpsuit.  It's such a cute piece for date night.  I wore it with wedges, but I think I much prefer it with the pops of color in my shoes and earrings.
I have stayed away from the jumpsuit trend because I haven't found one that fit right yet.  This one fit perfect, and I love that the bottom can be rolled up to work for my petite height.  The fitted style of this denim number makes it perfect to wear all by itself, but you can easily get double duty by wearing these as overalls with a fitted top underneath.  See them worn here with an off the shoulder top.  You can dress them up with a pretty lace top or dress them down with a fitted tshirt.  Also, this jumpsuit does have small cutout on the back, but it's still bra-friendly.
Hope you all have a fabulous long weekend!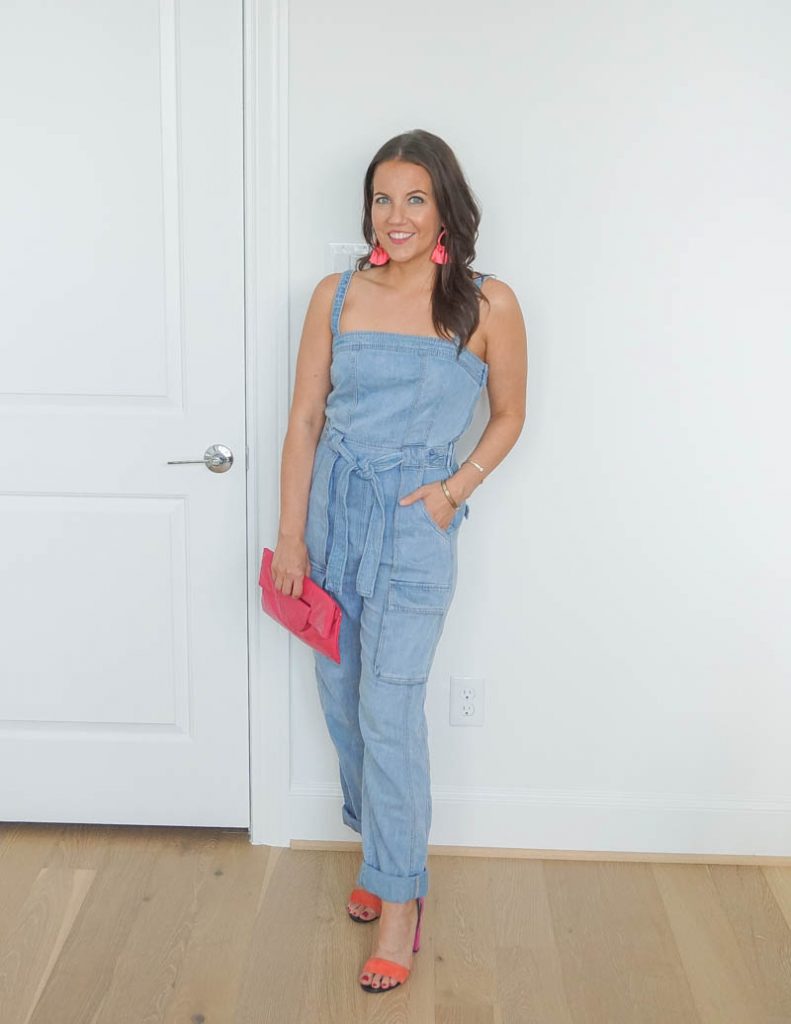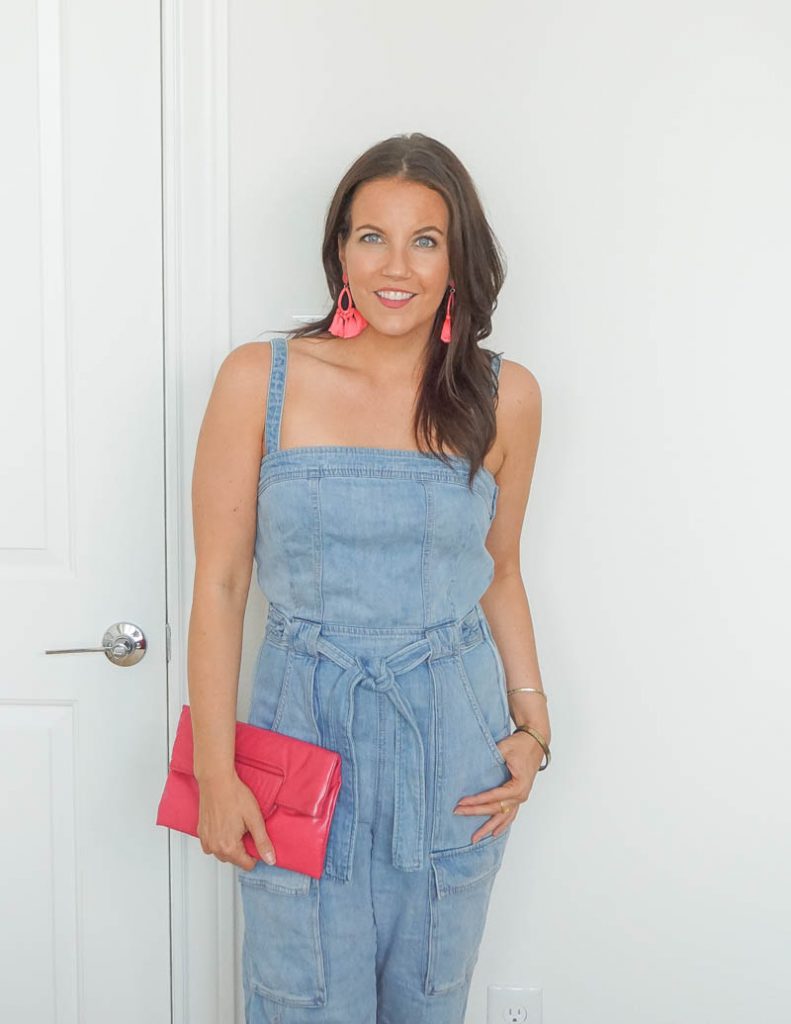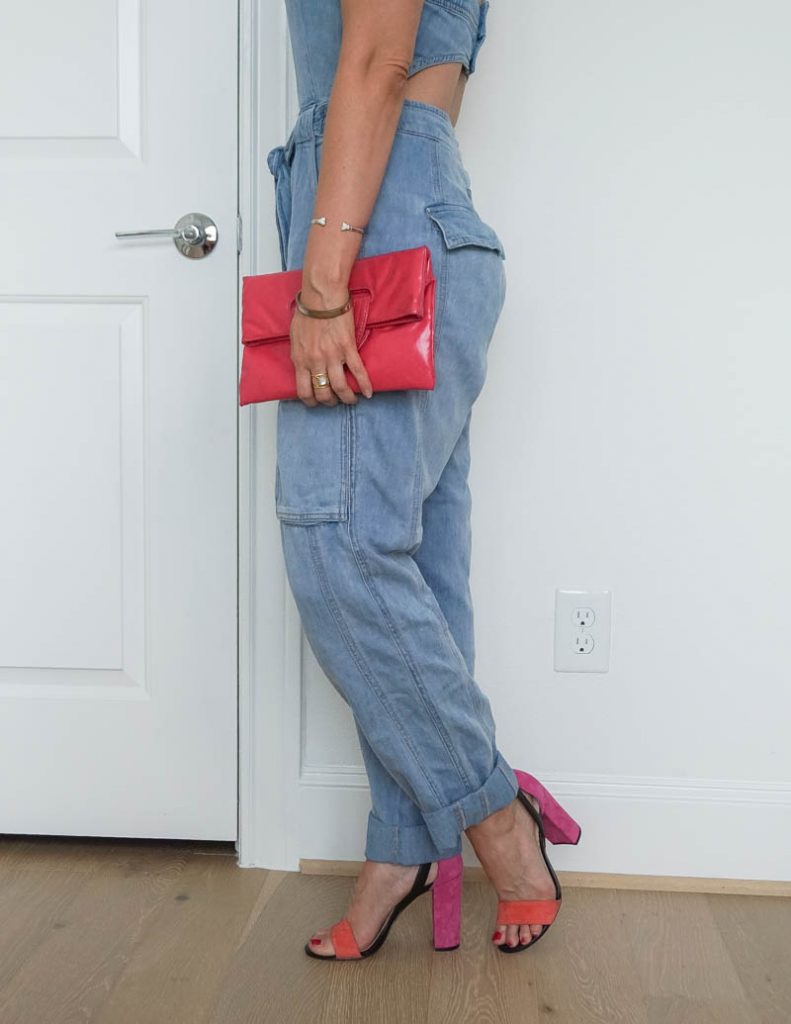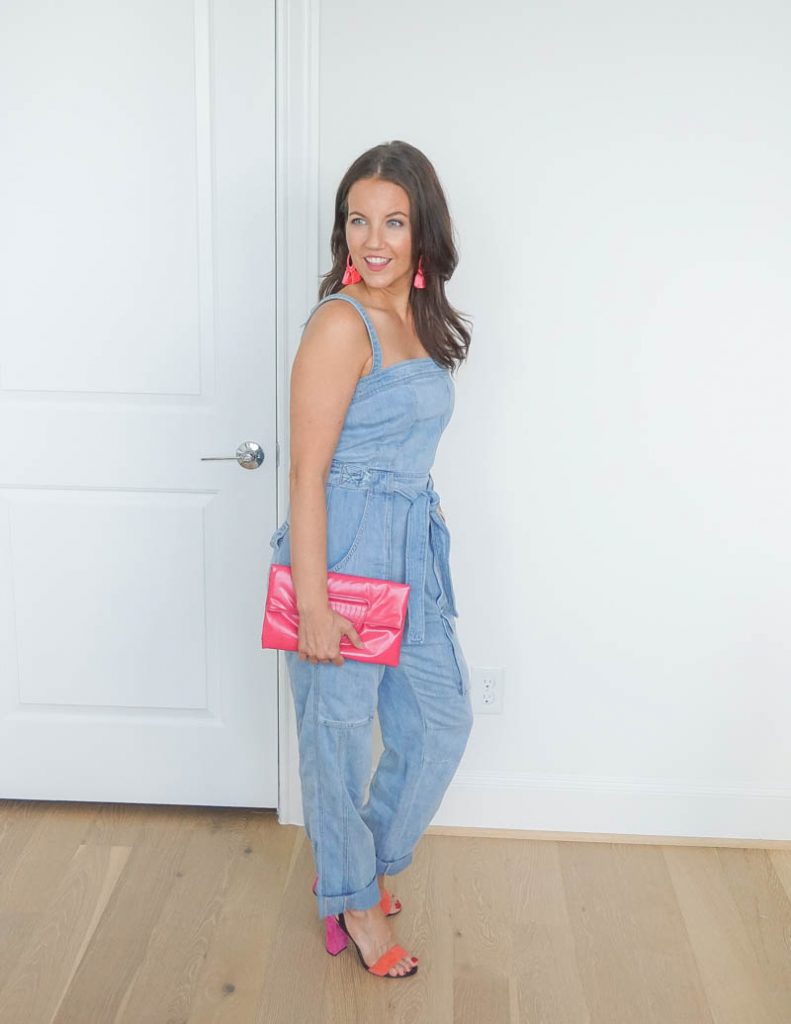 SHOP THE LOOK