Monthly Archives:
August 2022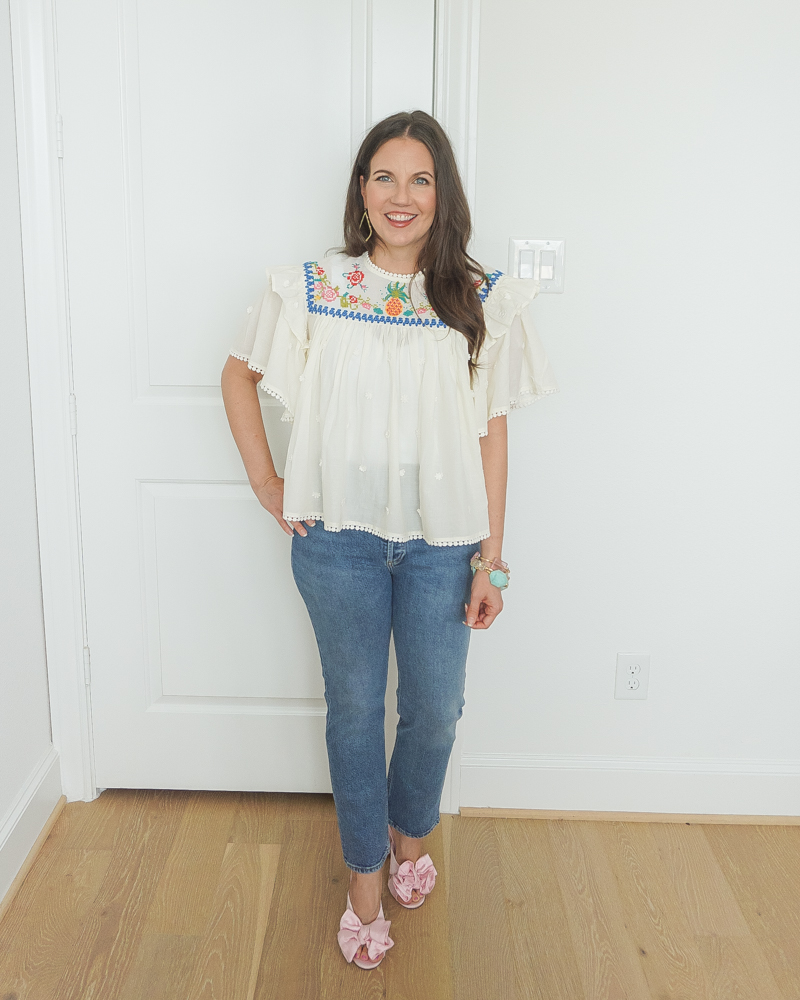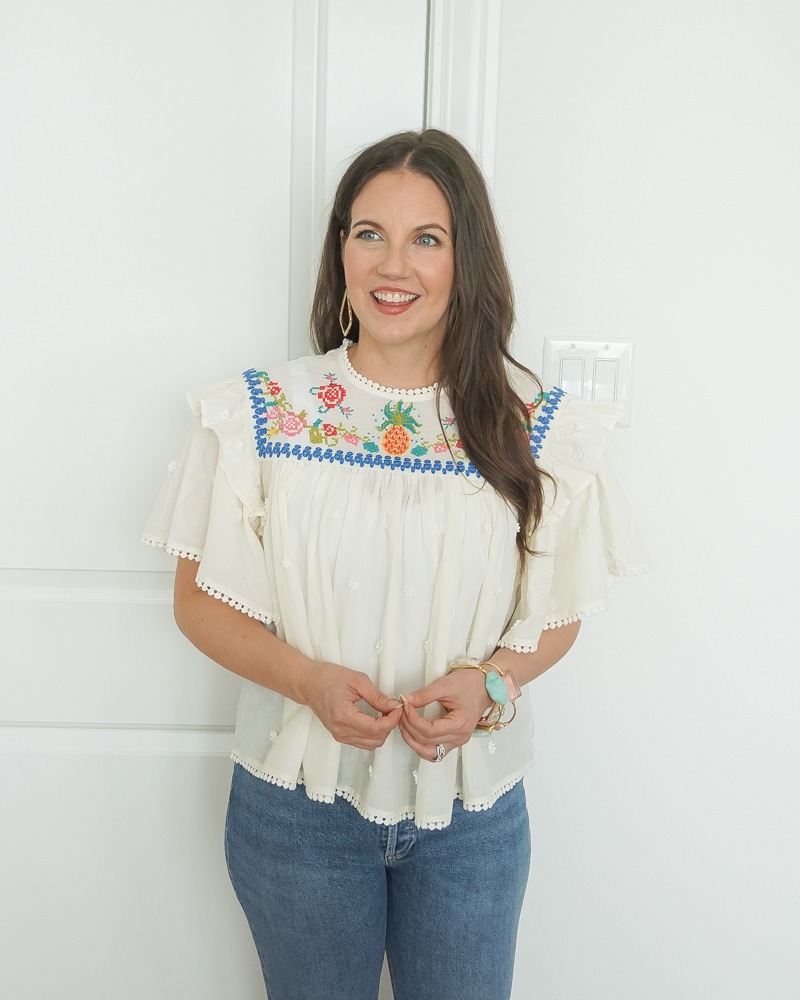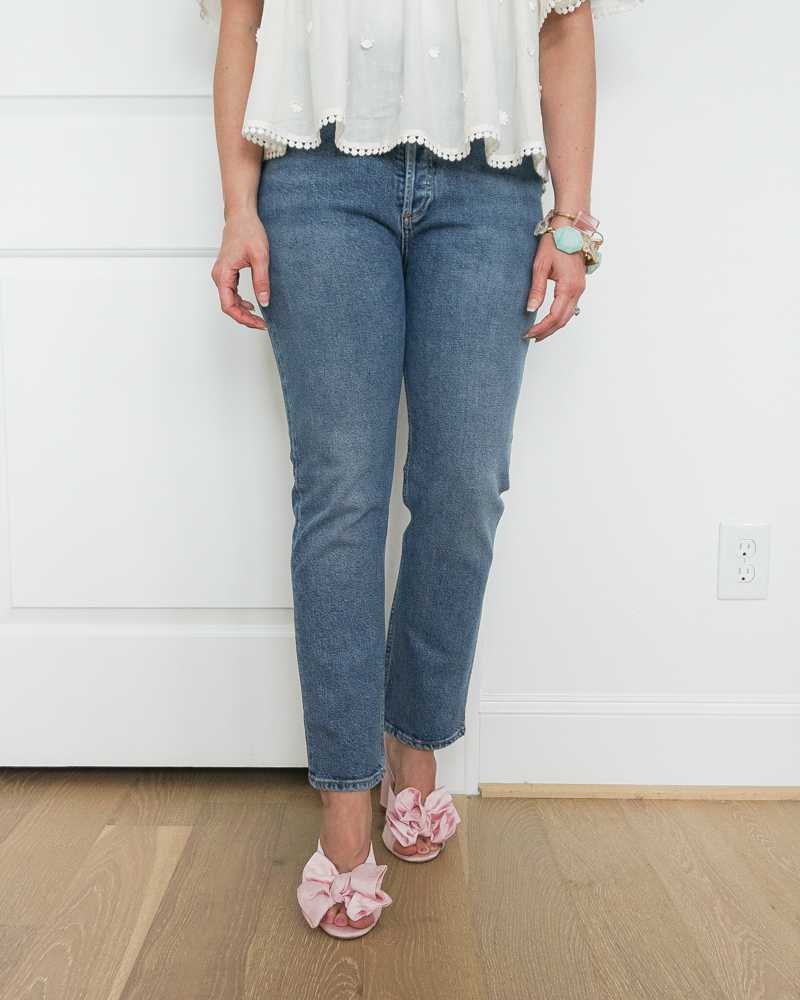 White Embroidered Blouse

How fun is this top?!? This white embroidered blouse is the perfect end of summer item that with a quick jean color switch can transition in to fall.  I paired this top with my high waisted jeans for a summer look perfect for grabbing brunch or dinner with your gal pals.  The flowy style of this top and cross stitch pattern are really fun, and my pink bow heels were the perfect pairing.  Both are fun and colorful and give all the summer style vibes.  If you look closely, you can see little embroidered flowers on the white portion of the top.
To transition this top into fall, trade the medium blue jeans for a dark blue or black pair of jeans.  A brown pair of booties or boots will complete the fall look.  This top is a bit sheer and needs a cami underneath it.
Sizing Notes: This top is oversized, so you may want to consider sizing down. I'm wearing an XS.  These jeans are a TTS fit. I ordered a half size up on the shoes which I noticed were on sale.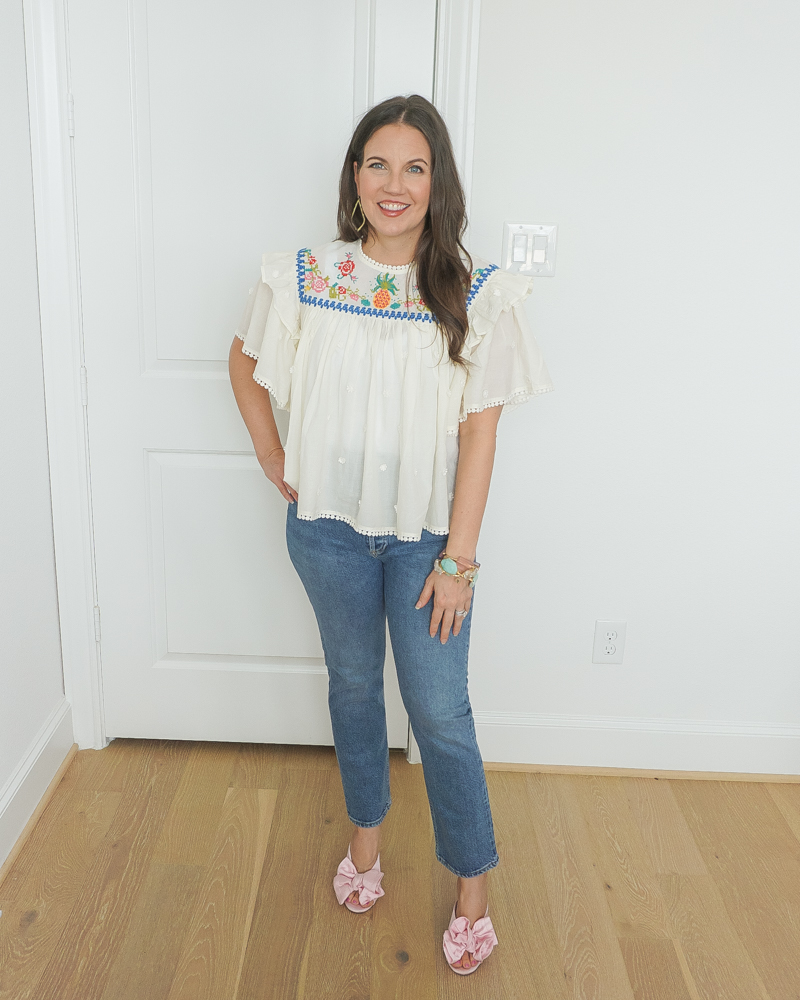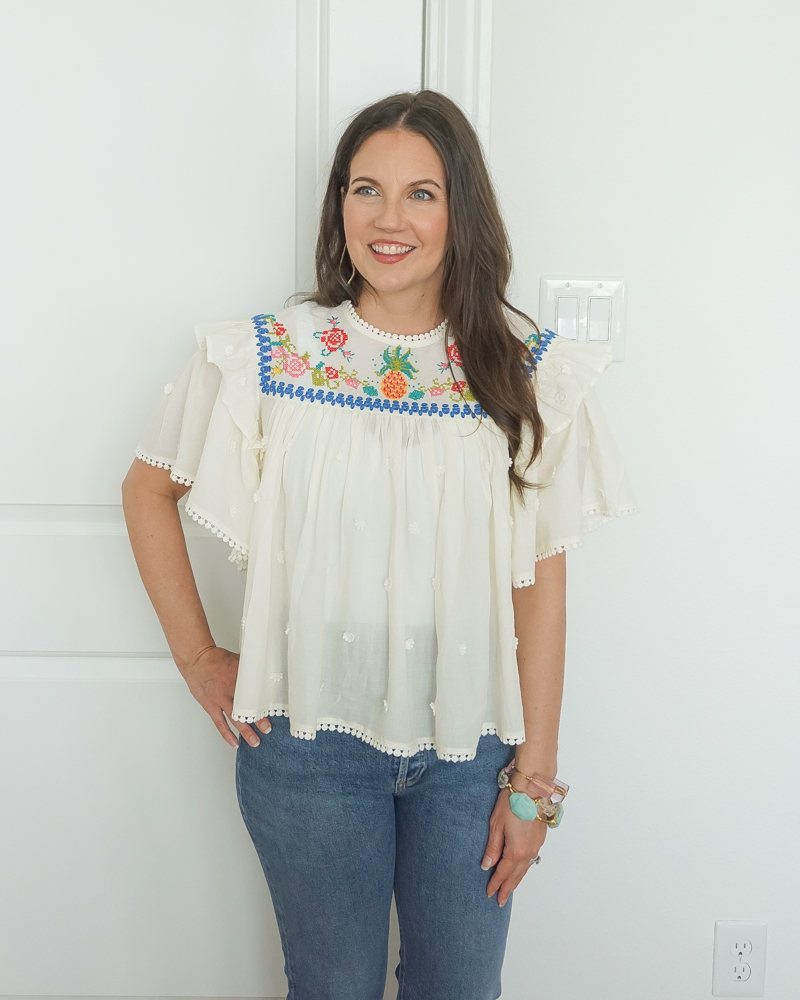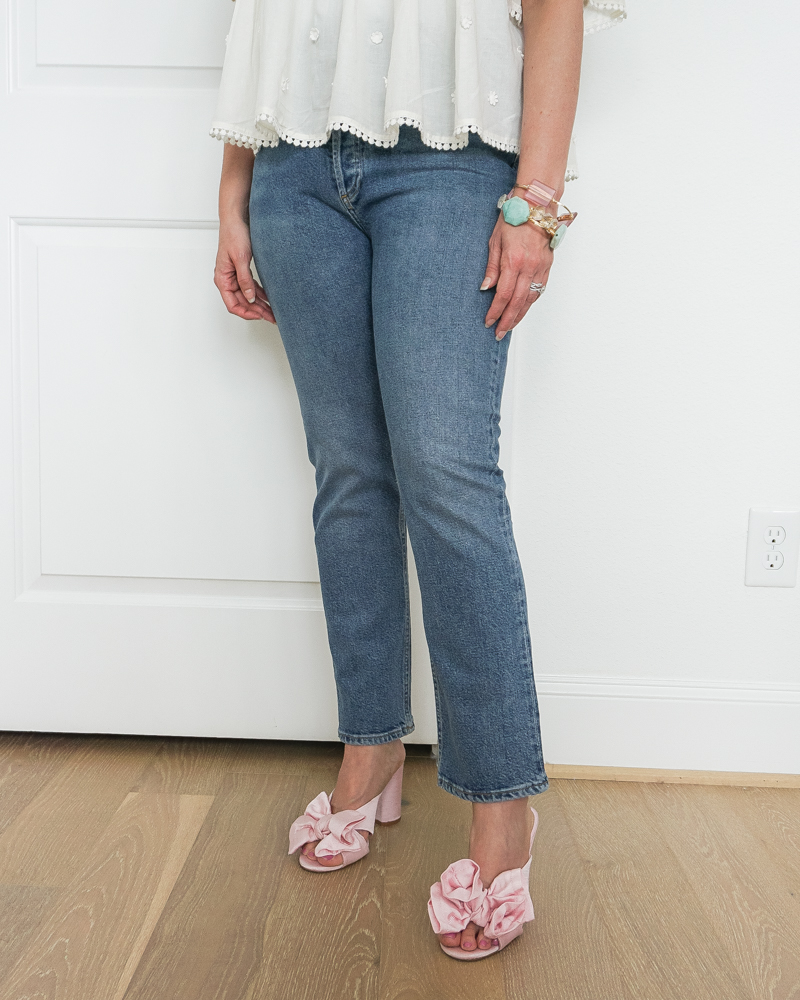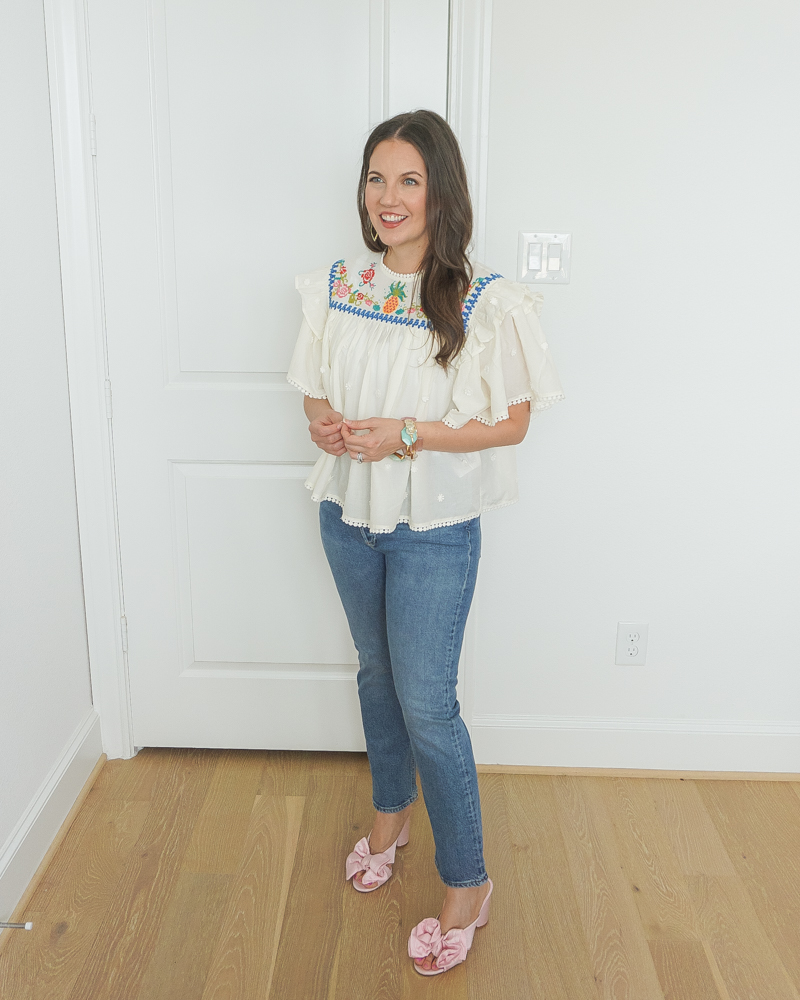 SHOP THE LOOK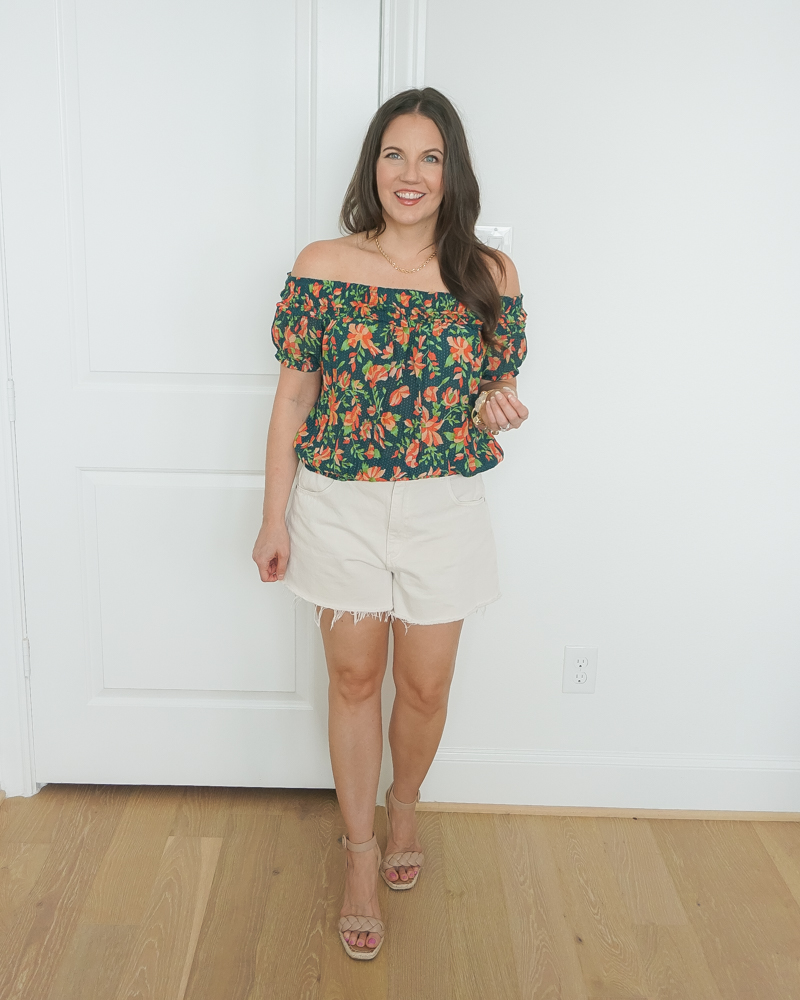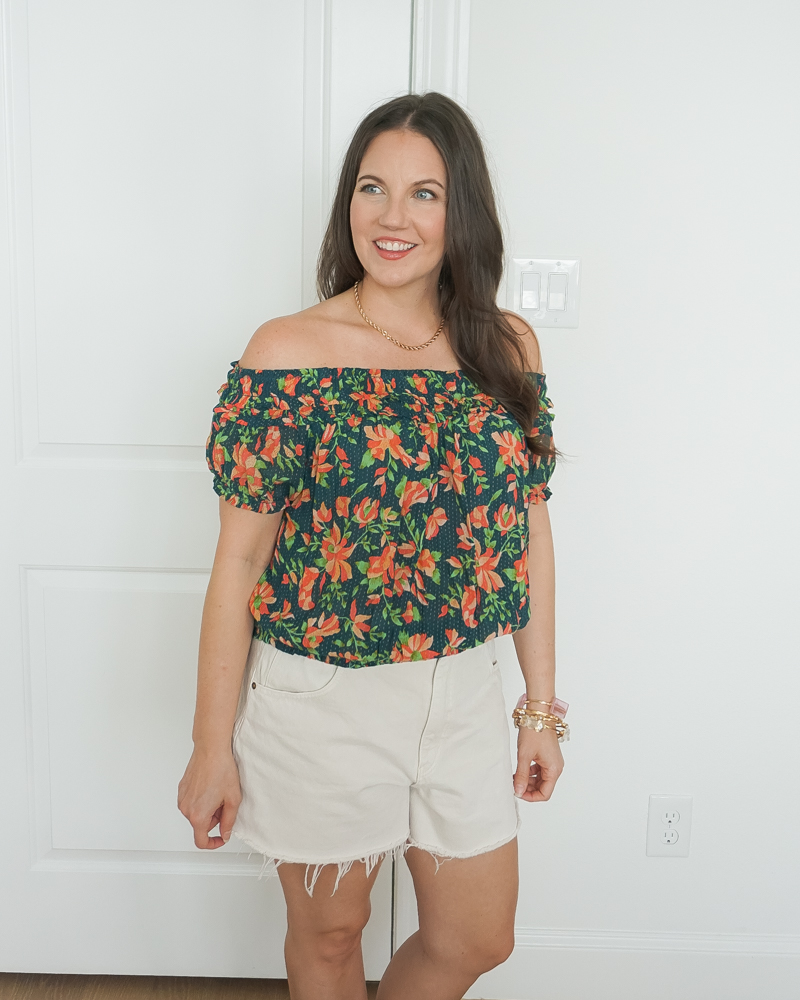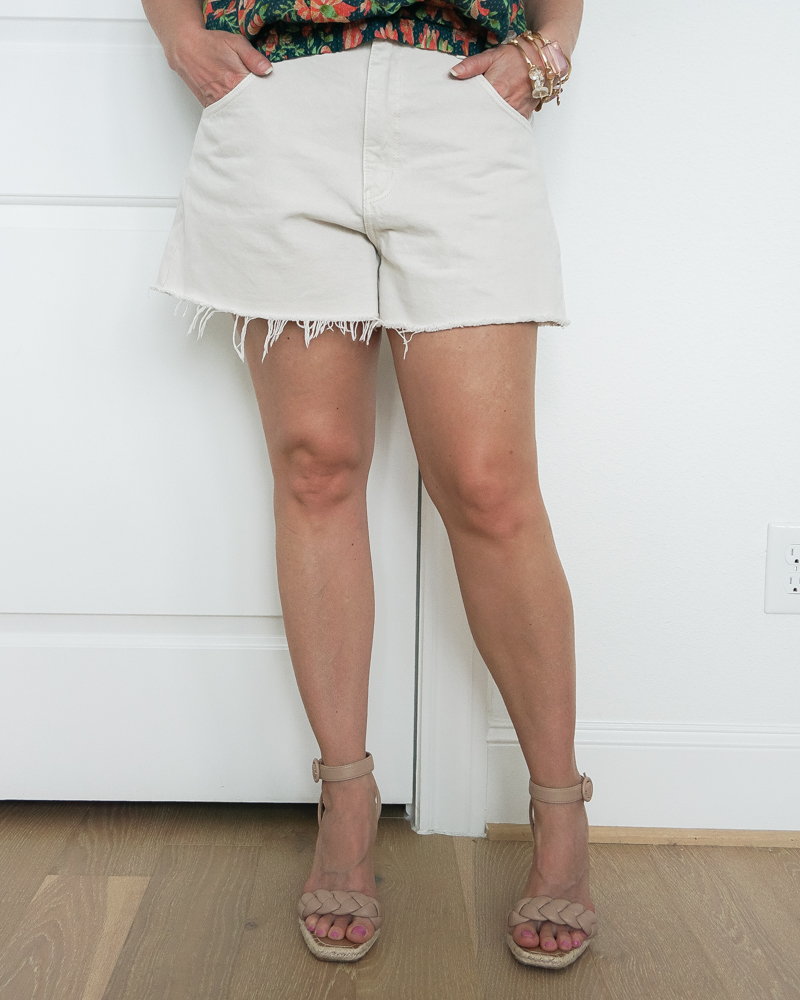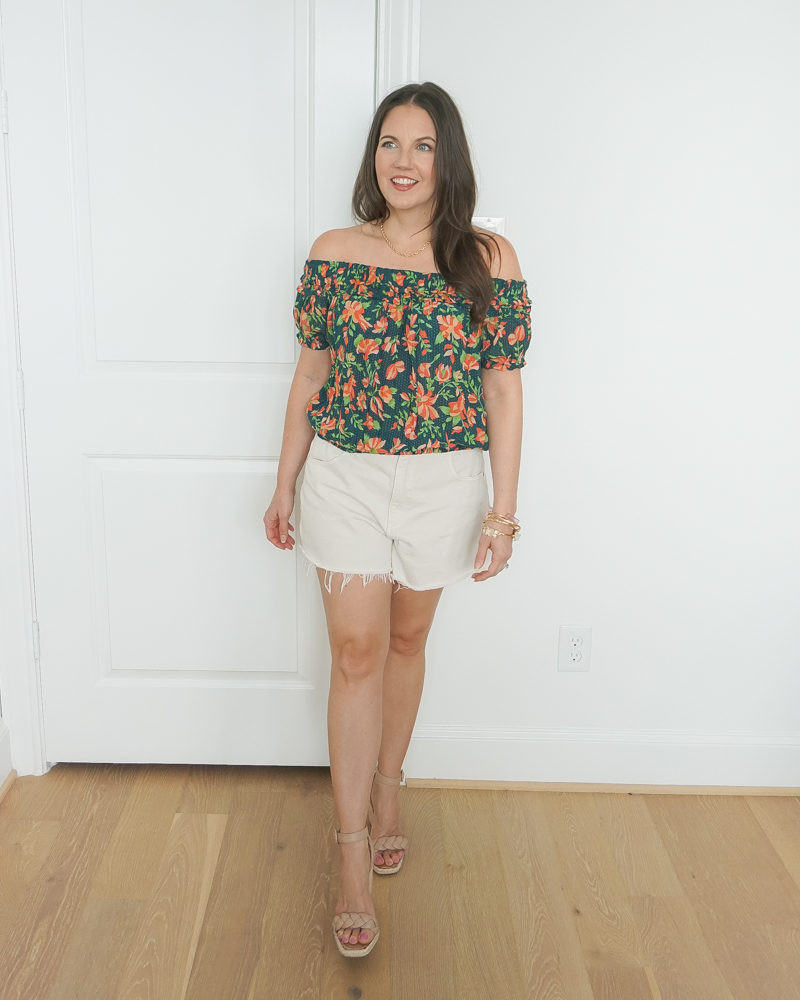 Off White Jean Shorts + Floral Off the Shoulder Top

I'm taking a dress break to give you a different option for these HOT summer days, a shorts outfit.  I wore this outfit for my mom's birthday lunch. It was the perfect summer outfit with a little celebration aspect with the fun off the shoulder top.  These off white jean shorts are so comfy! The style is a loose fit so no need to size up.  I like the off white color as I'm not as worried about stains and dirt compared to white shorts.  While white is great with bright and bold colors, I think this ivory color works best with earth tones.
My floral off the shoulder top was the perfect compliment to the off white color.  It's filled with complimentary earth tone colors that still have a bold summer feel.  It's a banded waist which helps it sit perfectly right at the waist.  No need to tuck in and risk the color coming through.  Although, I do think this denim is a good thickness, so I don't think that would happen.
A few different style ideas that you may have seen in my Instagram stories, I paired these shorts with a rose pink tank top for a more casual outfit.  For a dinner out, I paired this top with high waisted blue jeans.  A dark blue would be a great way to transition this top to fall.
Sizing Notes: I'm wearing a small in the top.  The shorts and sandals fit TTS.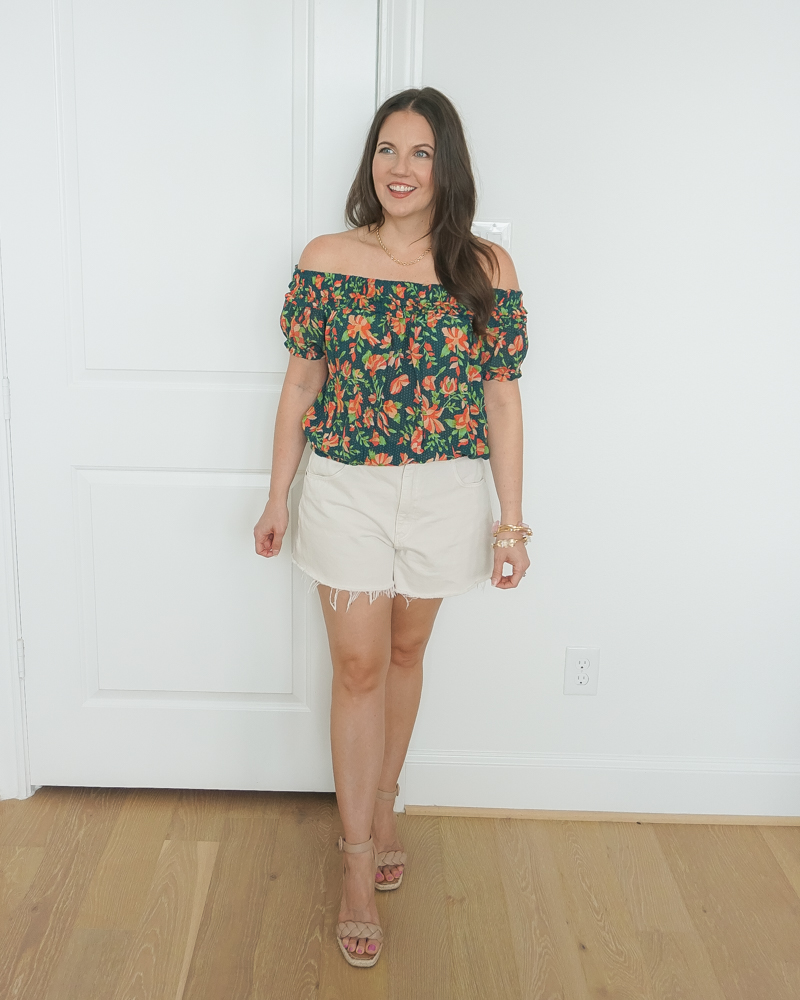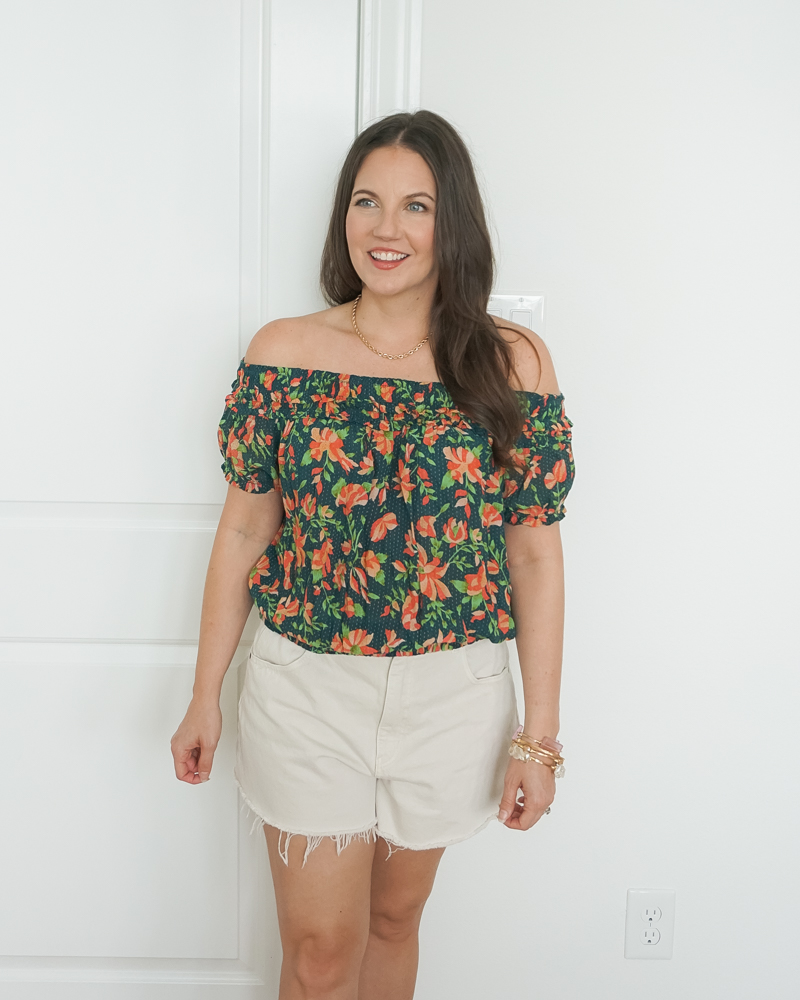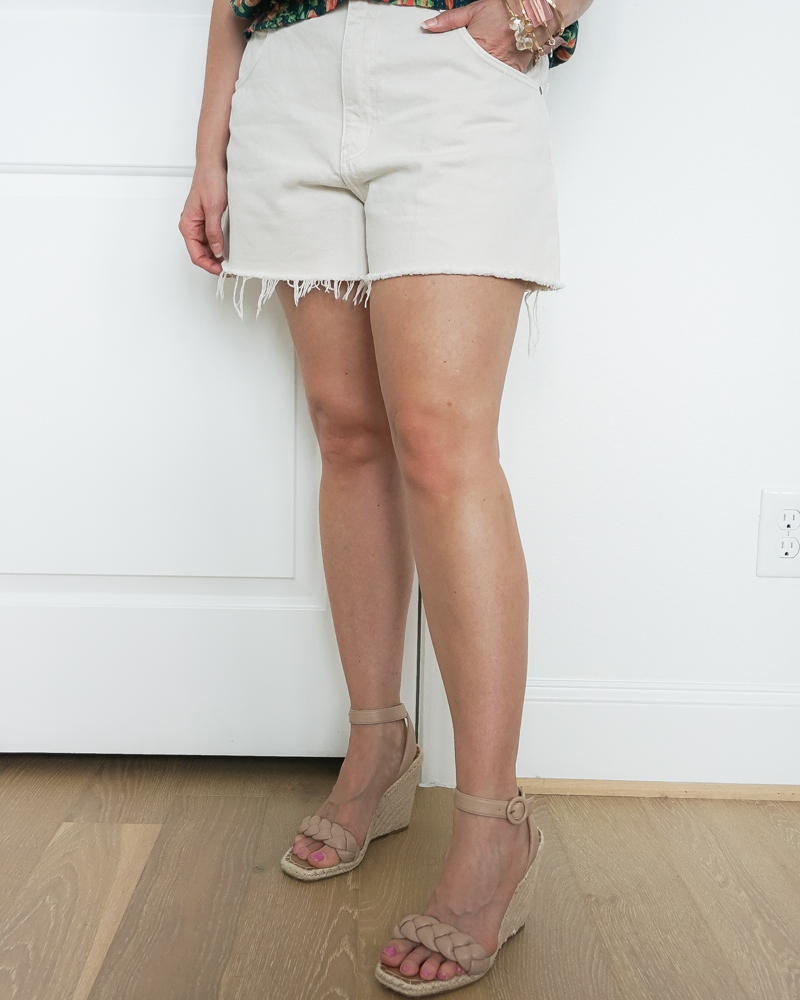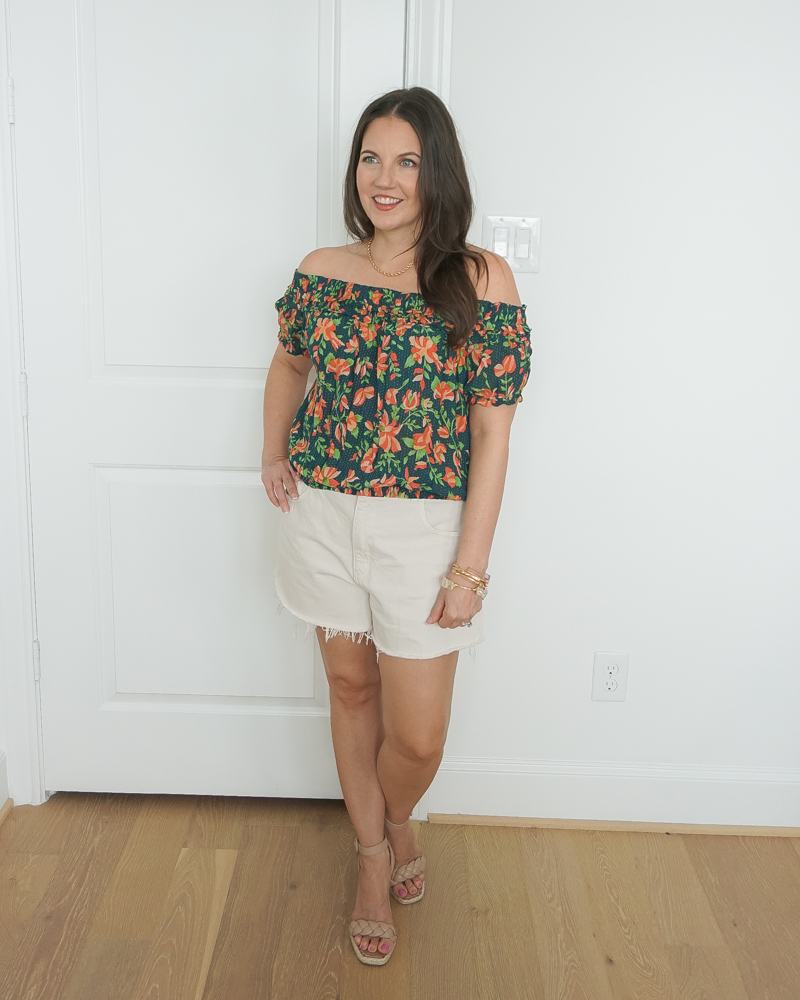 SHOP THE LOOK