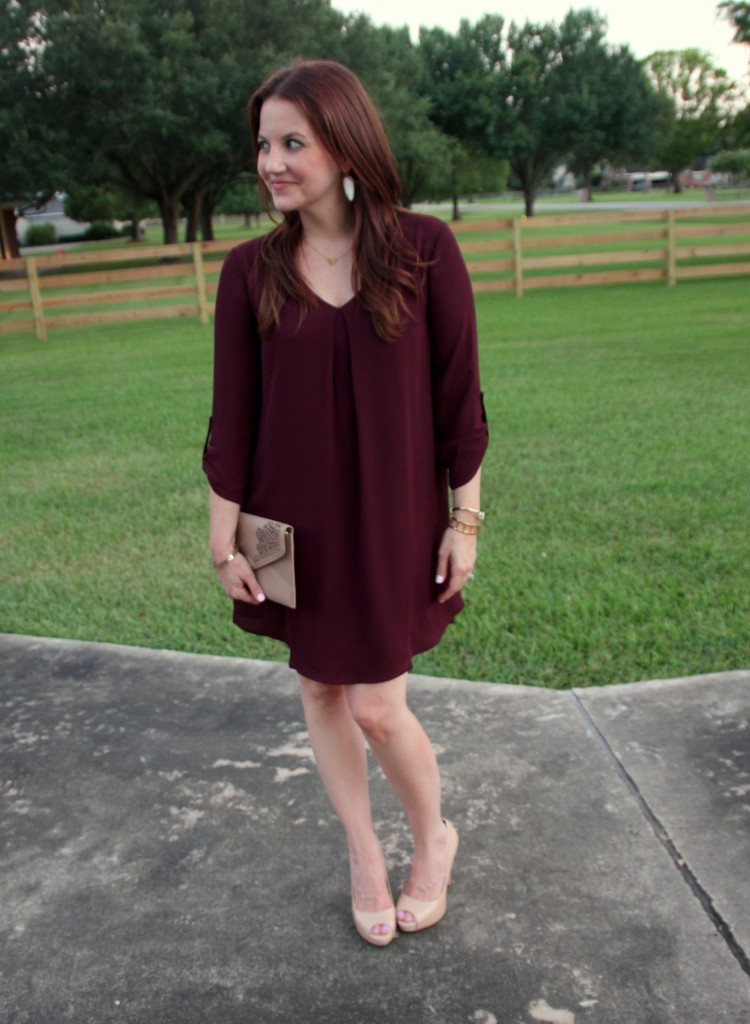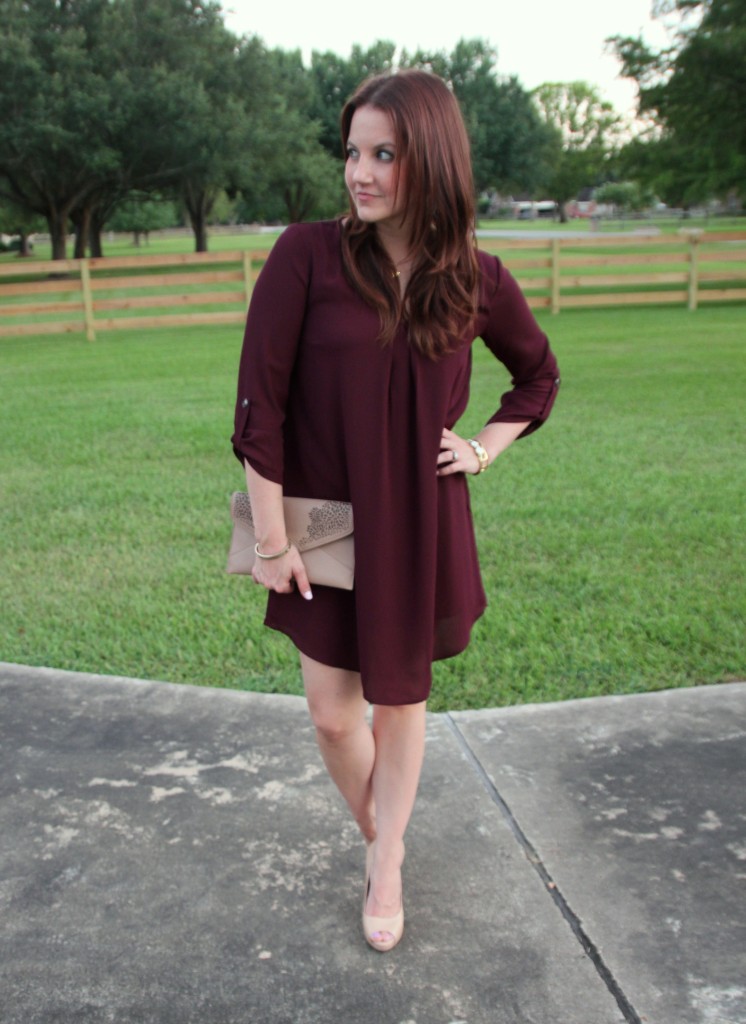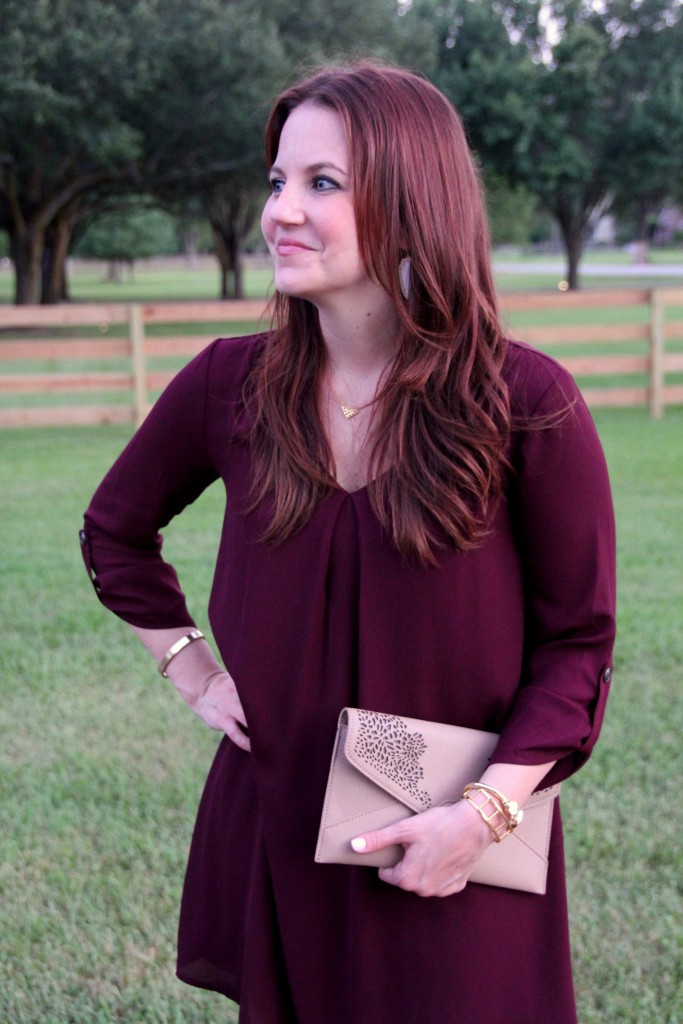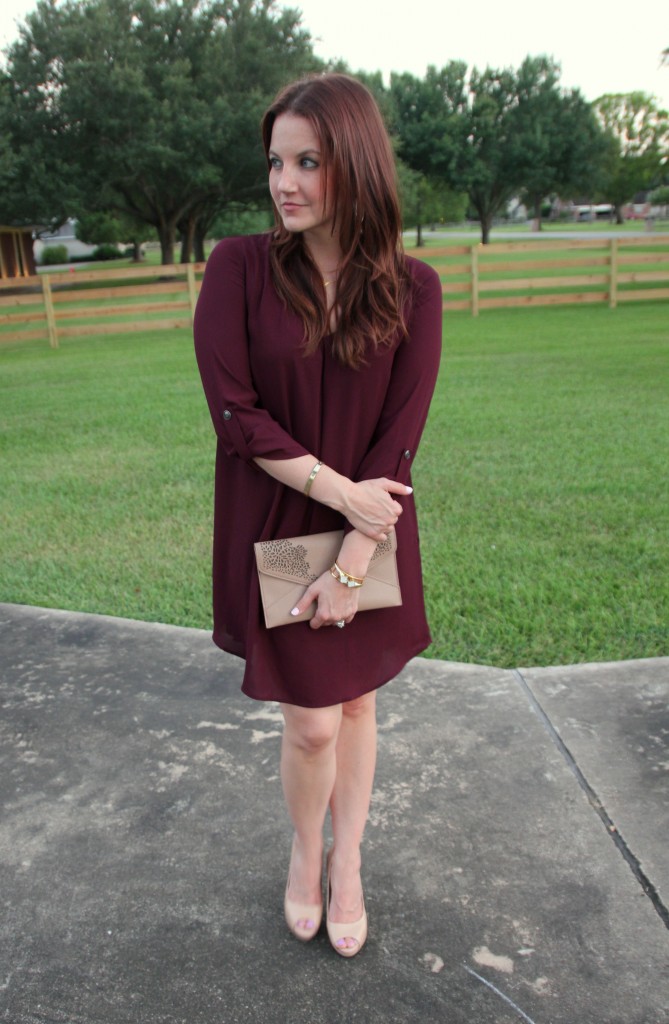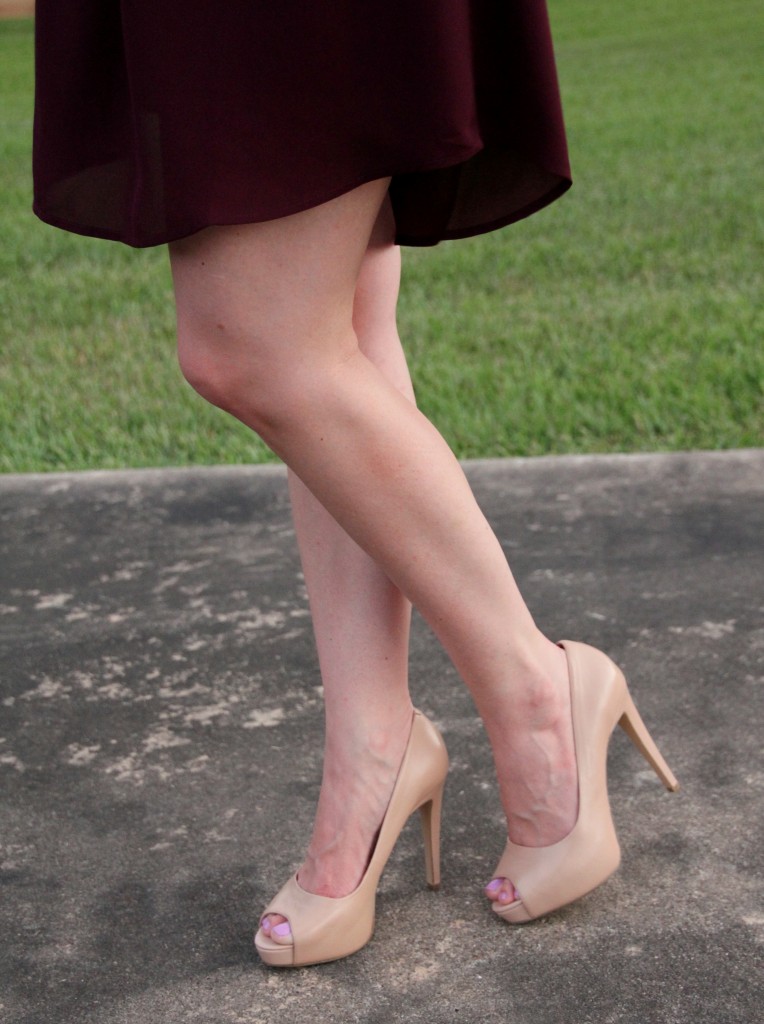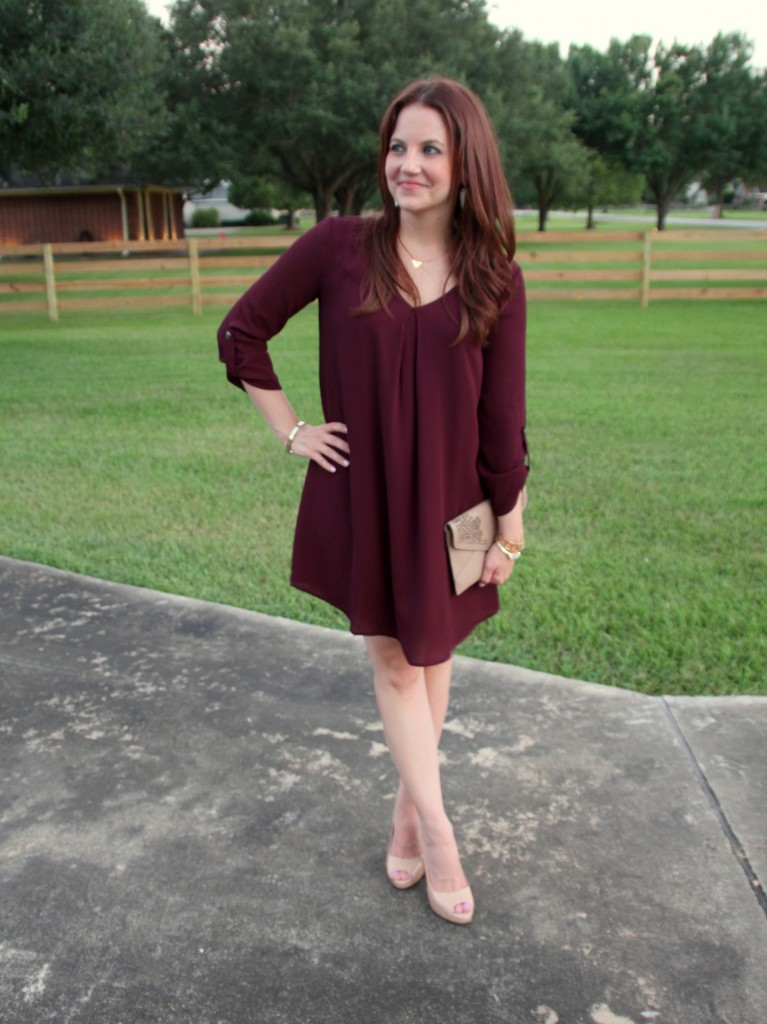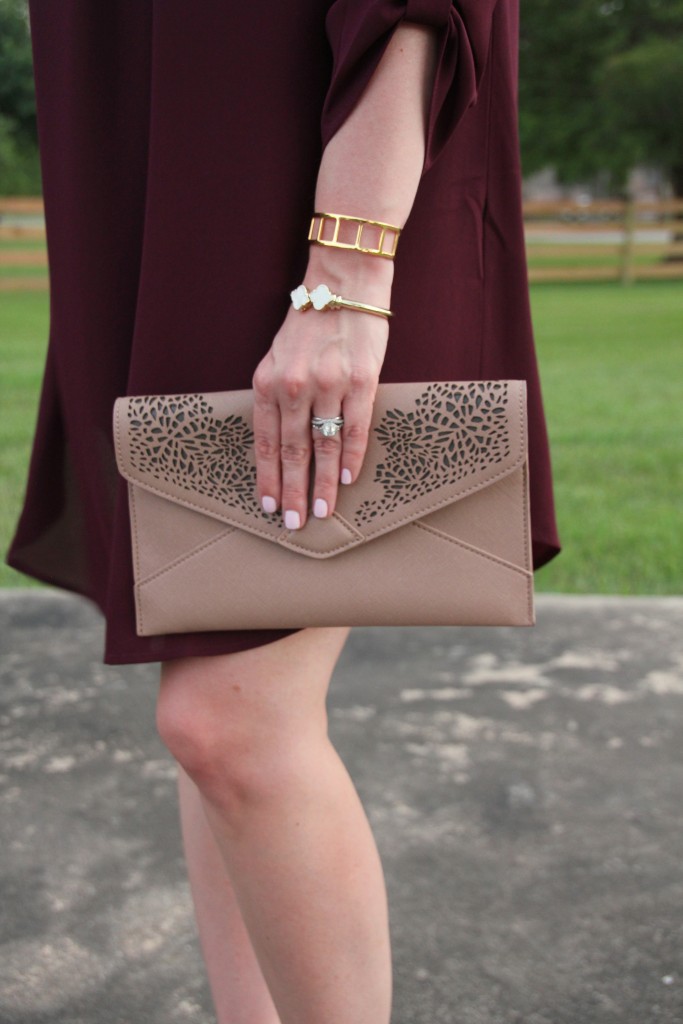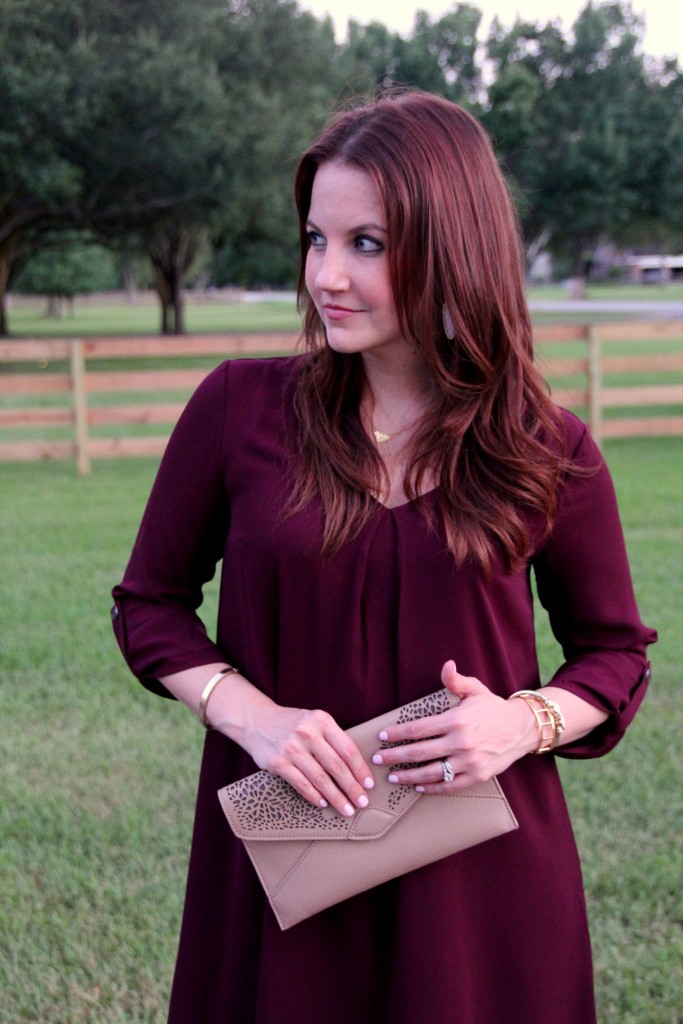 | DETAILS |
LUSH Karly Shift Dress *NSale Item! | CHARLES BY CHARLES DAVID Fox Platform Peep Toe Pump *Nsale Item | DANIELLE NICOLE Adeline Clutch | SWELL CAROLINE c/o Enamel Signature Bracelet | BAUBLEBAR Gold Ladder Cuff, Slim Hinge Bangle, old [SIMILAR]Zion Necklace| KENDRA SCOTT Skylar Earrings | MAC Lipstick in Faux | ESSIE Nail Color in Fiji
I love shopping the Nordstrom sale, but I hate waiting for cooler weather to wear all my fun new clothes.  I did pick up a few pieces that I could start styling now, and this dress is one of them.  It is a close race, but I'm pretty sure this is my favorite purchase from the sale.  This dress comes in a few other colors, but this wine color is so gorgeous!  I am always drawn to any clothes in this color because it mixes so well with others.  I can pair it with both brown and black shoes, or for summer a great nude pump.  These shoes were also a Nordstrom Sale purchase.  I loved that the color was close to my skin tone, so it intensifies the long leg illusion.  I'm 5'3, so a shoe that makes me look taller is pretty much an immediate add this to my cart item.  I wear my patent ones all the time in spring and summer, so I know these are going to be put to very good use!
For this look, I was trying to plan something for a wedding or an after work event.  I decided I wanted my jewelry to have a simple, sophisticated look.  I knew my new Swell Caroline bracelet would be the perfect compliment to this dress.  Swell Caroline has an amazing variety when it comes to jewelry.  They have tons of fun, colorful pieces and classic sophisticated styles.  They also have a huge selection of monogrammed pieces too!!  This bracelet has four color options, but I knew I wanted to go with white.  I love how the white pops against the gold.  I also think the white version has a high versatility factor which is a winner in my book.  I can wear it in all seasons and with an array of colors.  I have had fun mixing it in with my other bracelets (aka you will be seeing this beauty again).  I feel it was that missing piece to my arm stack. I have really been wanting to add a few colorful jewelry pieces to my collection, and this place will definitely be one of my first stops. Swell Caroline has more than just jewelry too! I have been eyeing this little beach tote for an upcoming girl's getaway weekend!
I hope you all had a fantastic weekend!!  I had so much fun spending time with my family and my mom for her birthday!!  Now off to tackle another work week!!  Thanks for stopping by the blog!
Follow Lady in Violet INSTAGRAM | TWITTER | FACEBOOK | BLOGLOVIN | EMAIL SUBSCRIPTION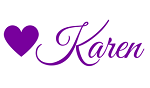 Love this post? You may also love: