Monthly Archives:
July 2015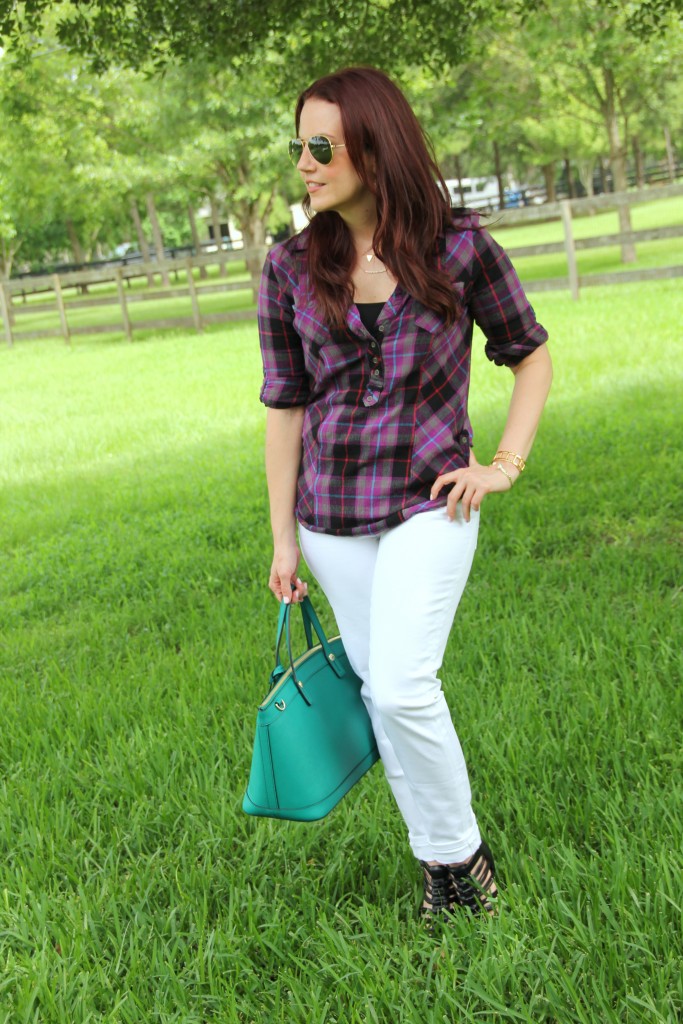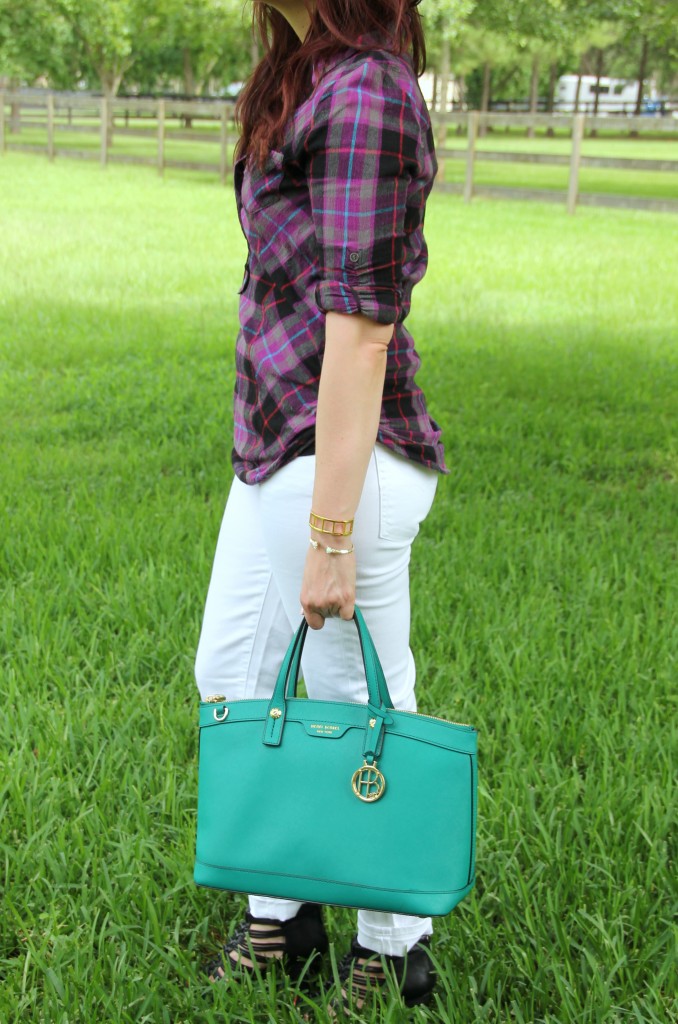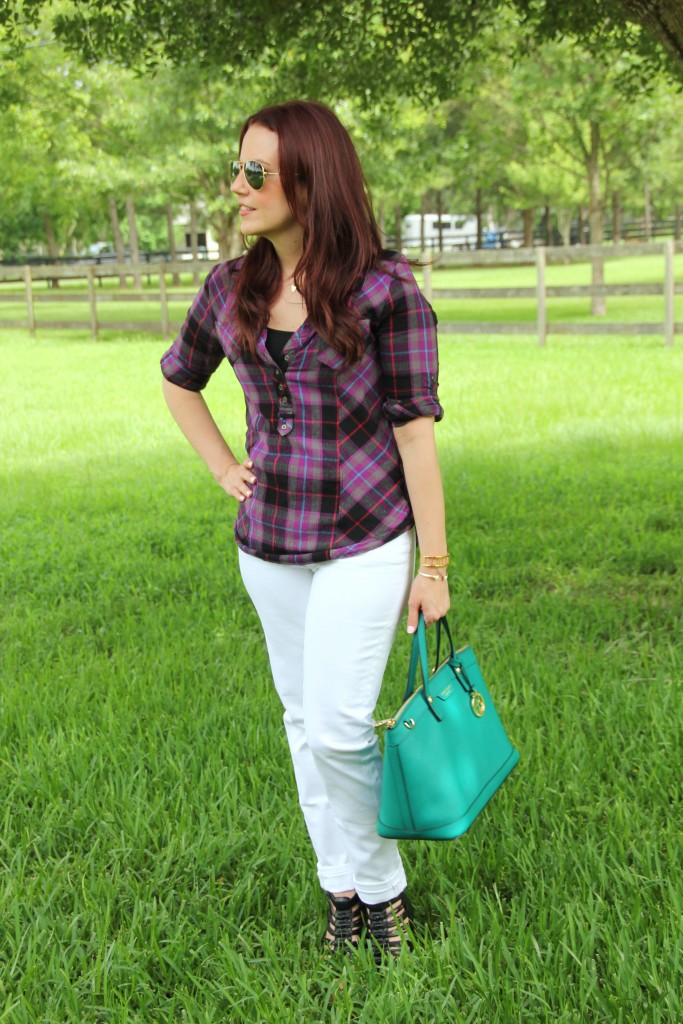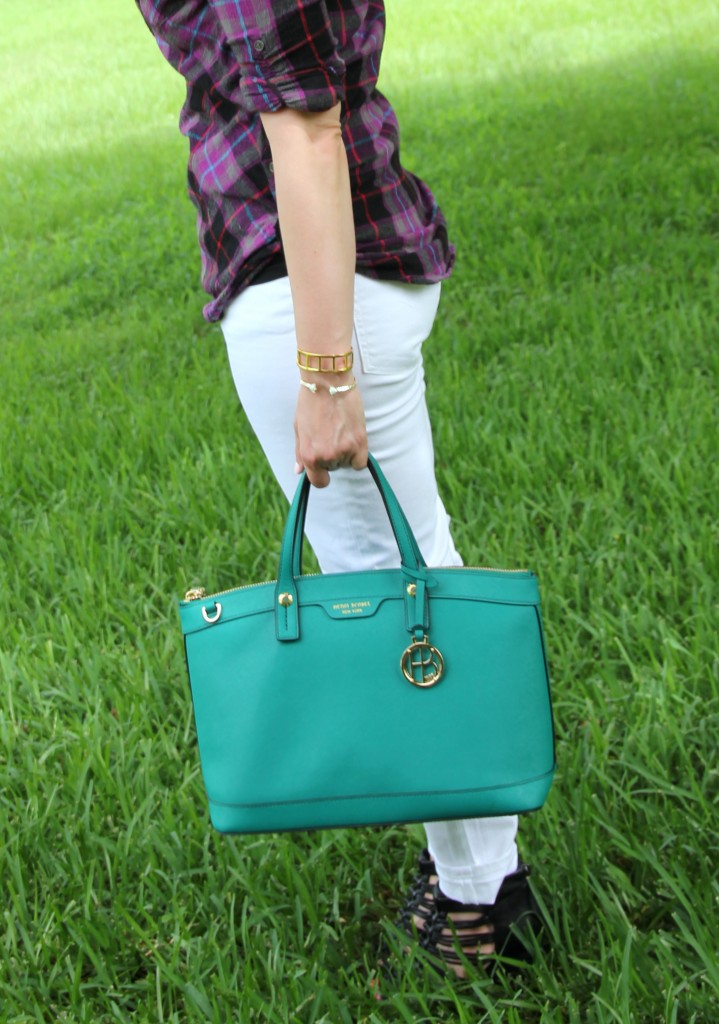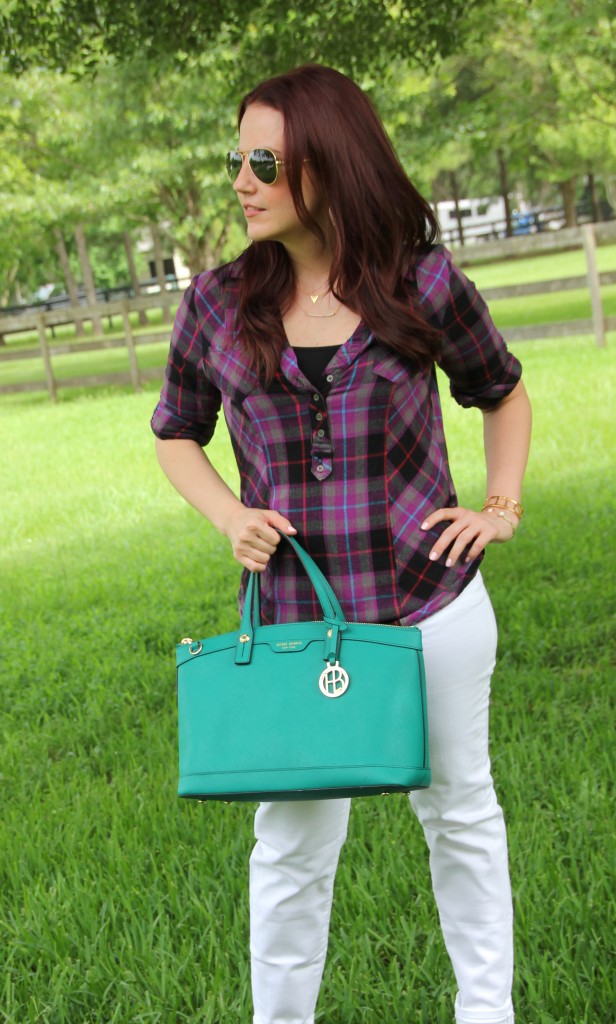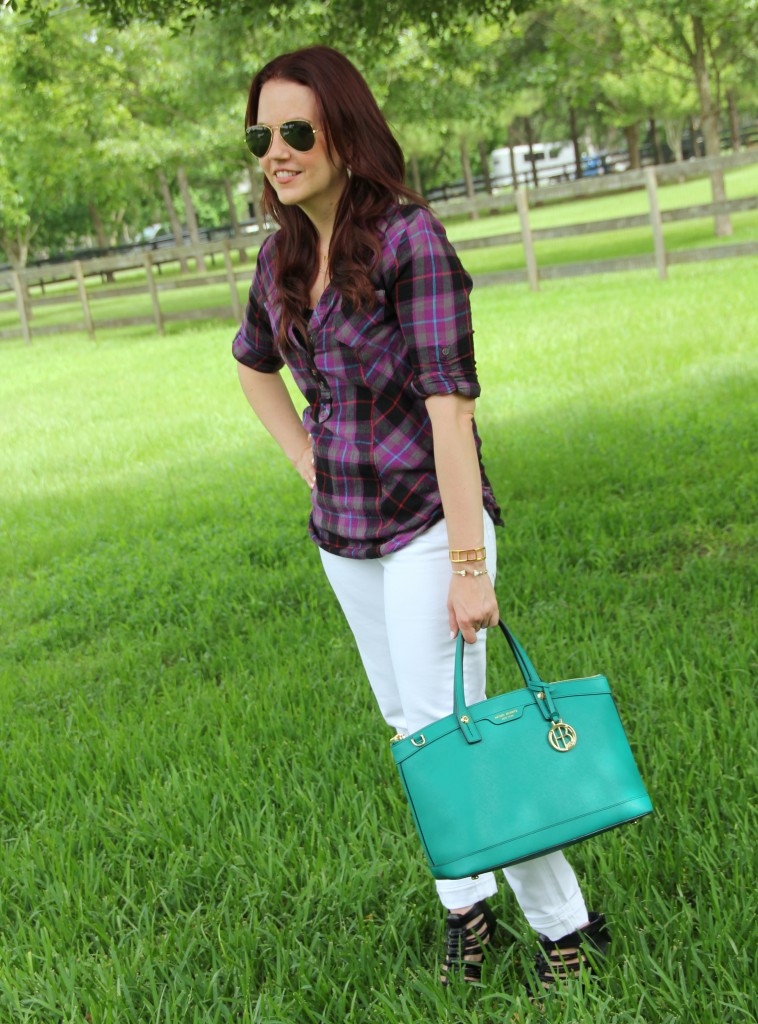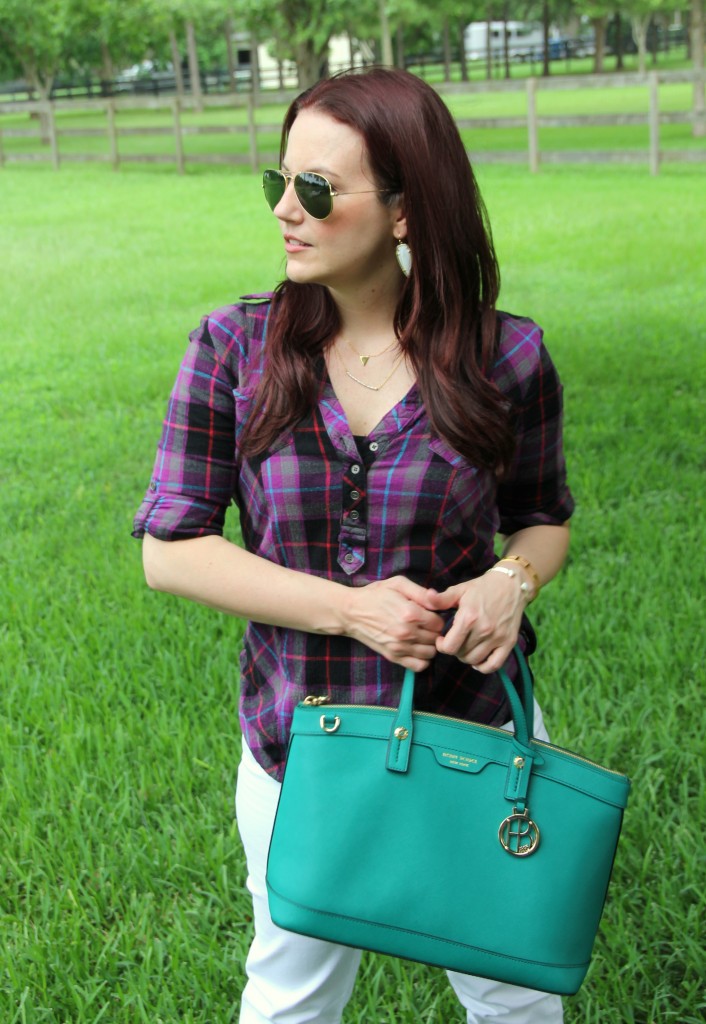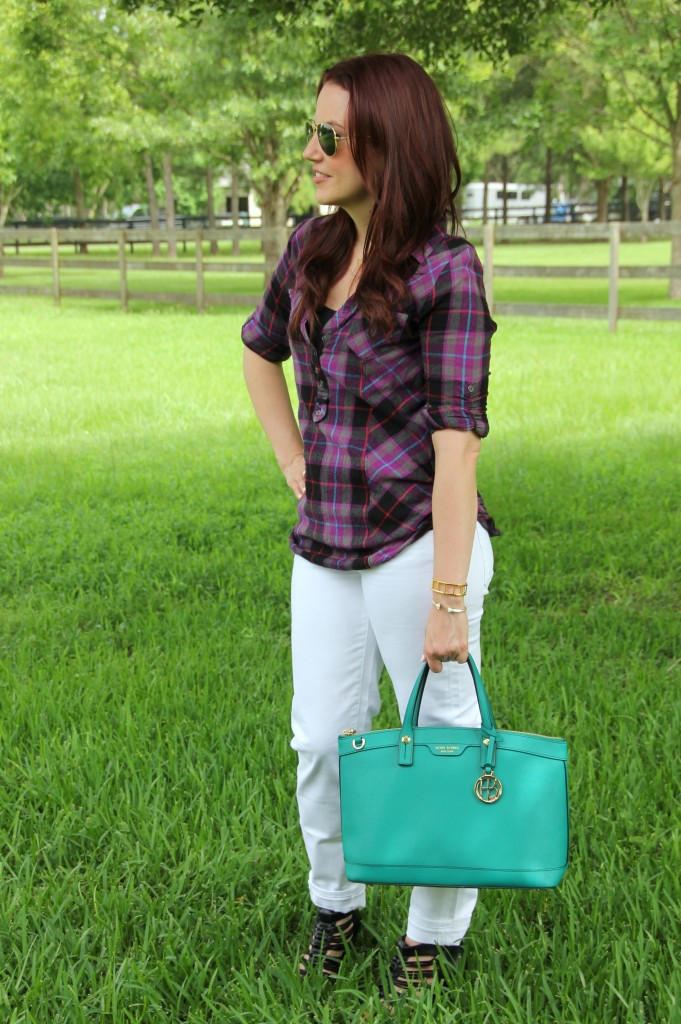 | DETAILS |
ARDEN B Flannel Top, Old [LOVE | ON SALE | ON MY NSALE WISH LIST] | LUCKY BRAND Sienna Cigarette Jeans [ALSO HERE] | SOLE SOCIETY Kimber Wedge Sandal | HENRI BENDEL c/o West 57th Satchel | BAUBLEBAR Gold Ladder Cuff | KENDRA SCOTT Grady Bracelet, Skylar Earrings | GORJANA Taner Pave Bar Necklace, Mika Necklace | RAY-BAN Original Aviator Sunglasses | MAC Lipstick in Faux | ESSIE Nail Polish in Fiji
Plaid, flannel, or buffalo check, I love it all!  I love seeing the different colors mixed together in these shirts.  I purchased this one years ago at Arden B because I loved this mix of the black, purple, red, and blue together.  The material of this shirt is lightweight, so it works perfect in summer when paired with shorts or white denim.  In the fall, I pair it with darker skinny jeans and boots.  If you find a good material, plaid shirts can be worn year-round.  I like to buy ones that are a little thinner because our warm weather last longer than others.  I also try and make sure I can roll the sleeves to my elbow or a ¾ length comfortably.  When the weather cools down, I love how these pair with leather or other fitted jackets and with long cardigans for a layered look.  For summer, I sometimes will toss a plaid over a camisole or tube top and tie around my waist during the hotter parts of the day.  This is also nice because while it is hot outside, everywhere is super cold inside.  The one I'm wearing only buttons half way, but all the ones linked button all the way. I picked some with some really pretty color options!  One is part of the Nordstrom Sale too!  If you have been thinking about buying a pair of white denim, it might be just the right time!  With the end of summer, I have been seeing them pop up on sale at many stores.  These Lucky ones are on sale!!
After four fabulous days relaxing and eating our way through Austin, TX, this Monday is definitely going to be a hard one.  But thanks to lots of coffee, I think I'll make it. 🙂  Happy Monday!!
RESTYLED & REMIXED
LUCKY BRAND JEANS: The White Outfit
SOLE SOCIETY WEDGES: Teal Jeans
Follow Lady in Violet INSTAGRAM | TWITTER | FACEBOOK | BLOGLOVIN | EMAIL SUBSCRIPTION