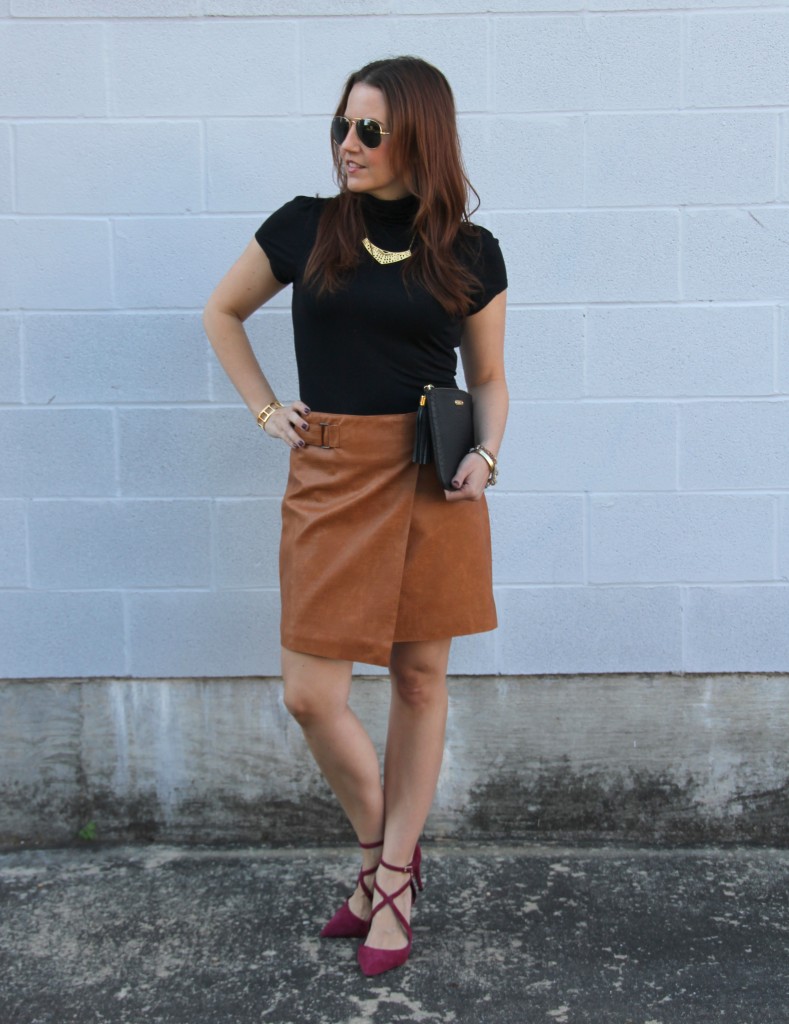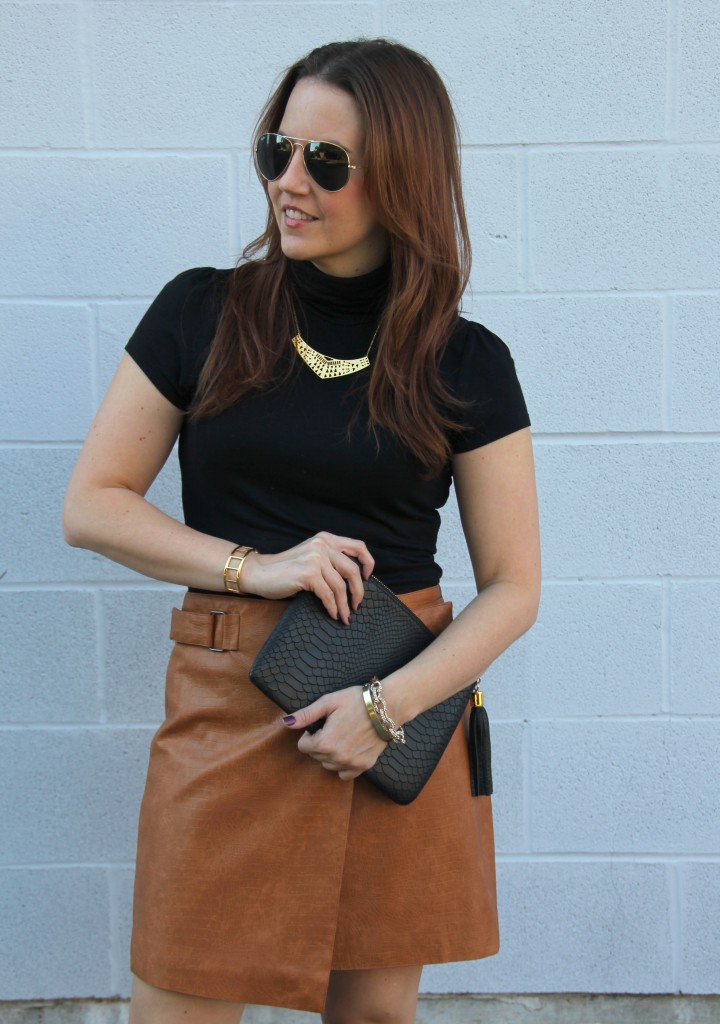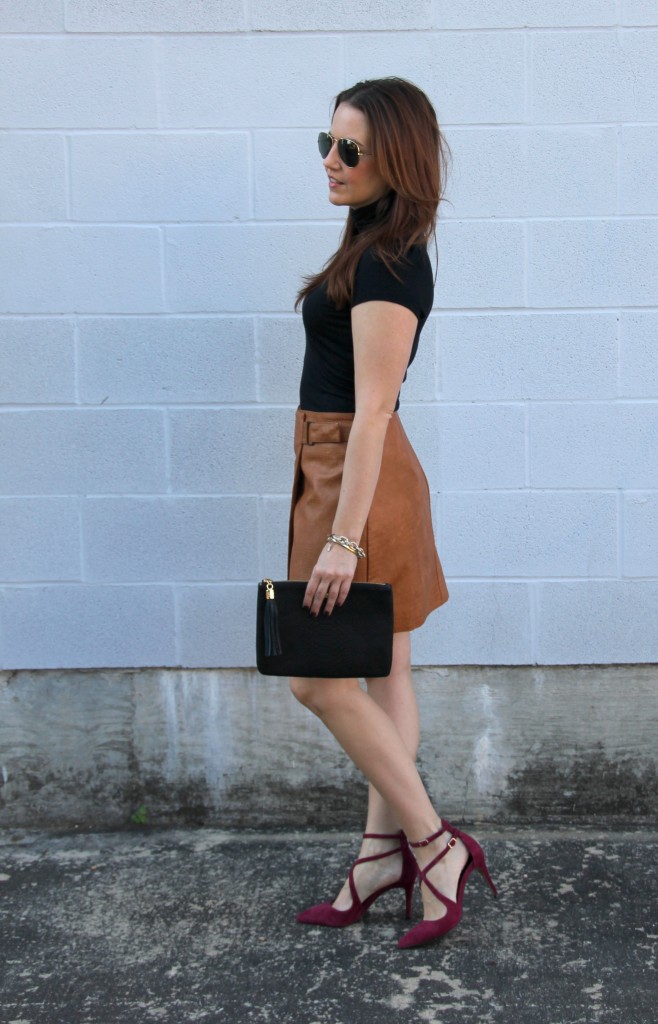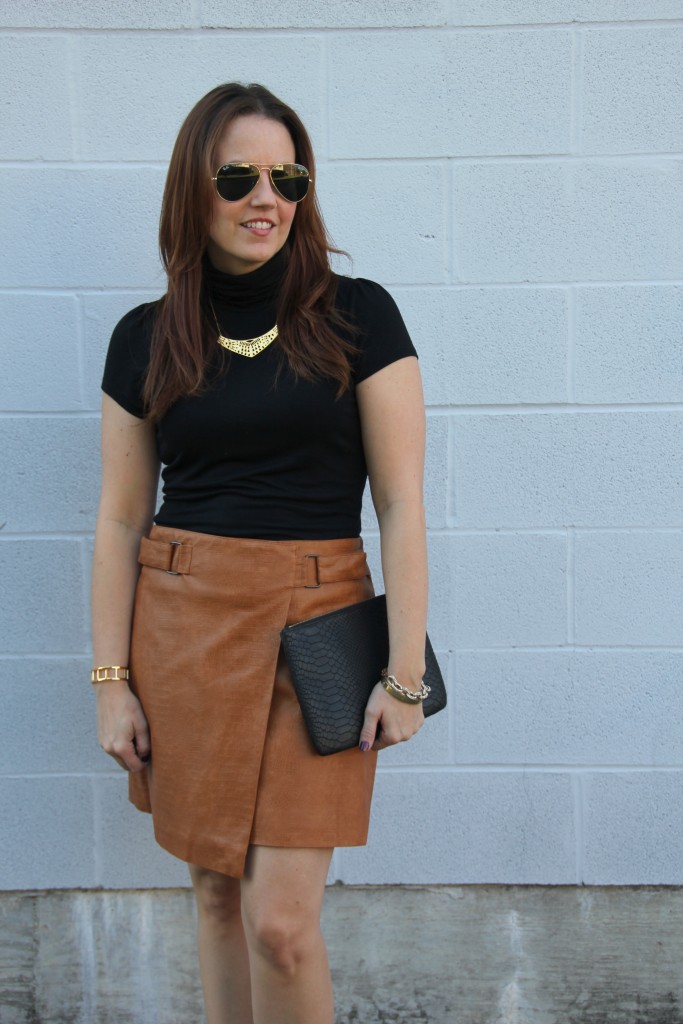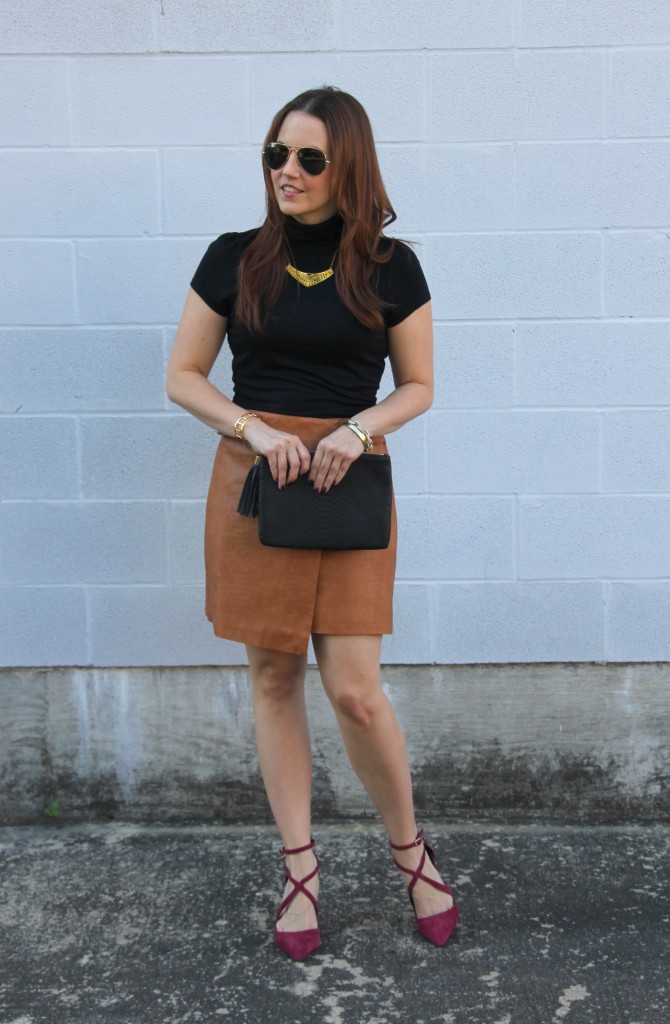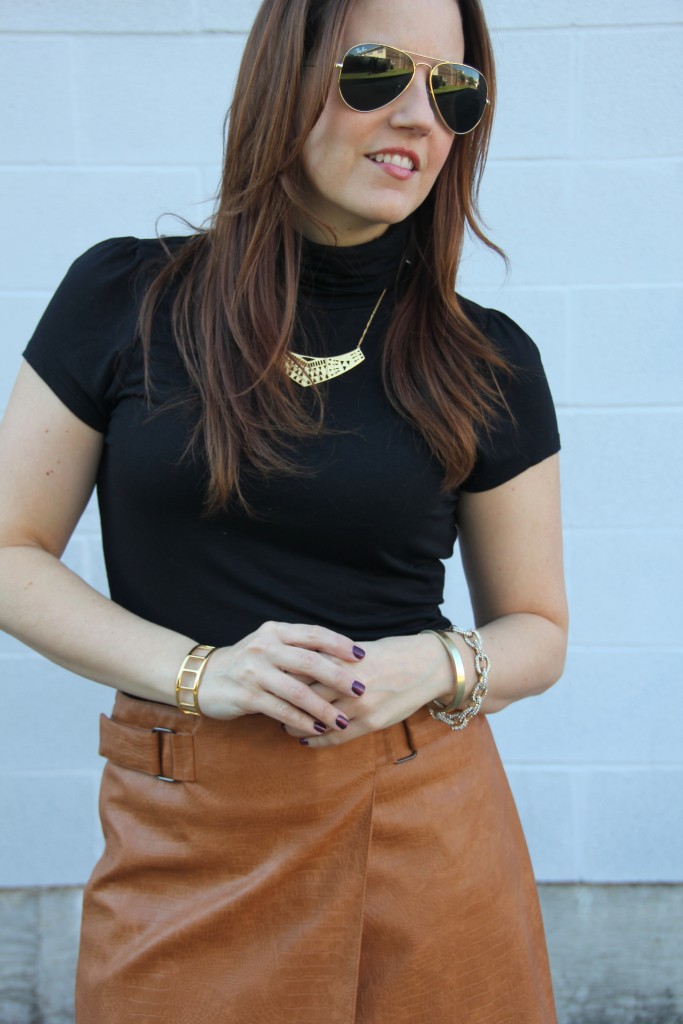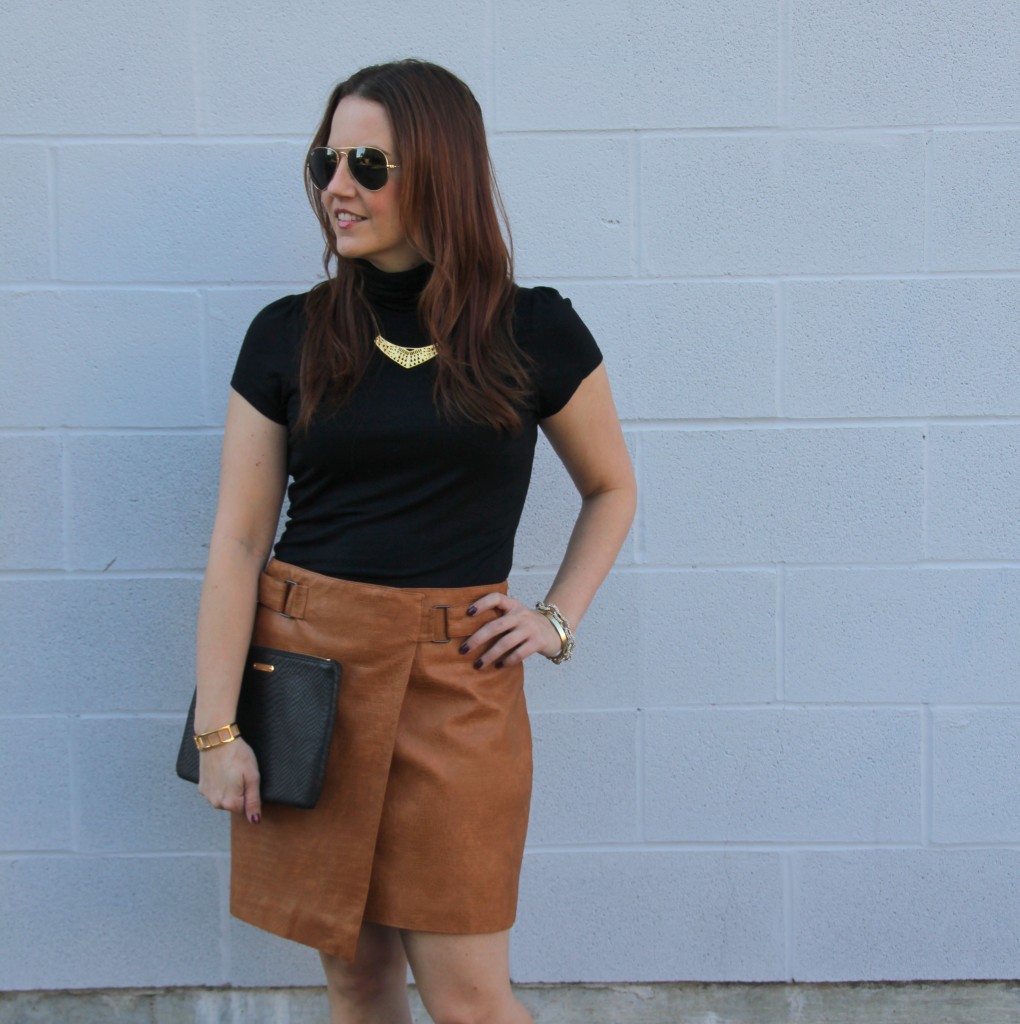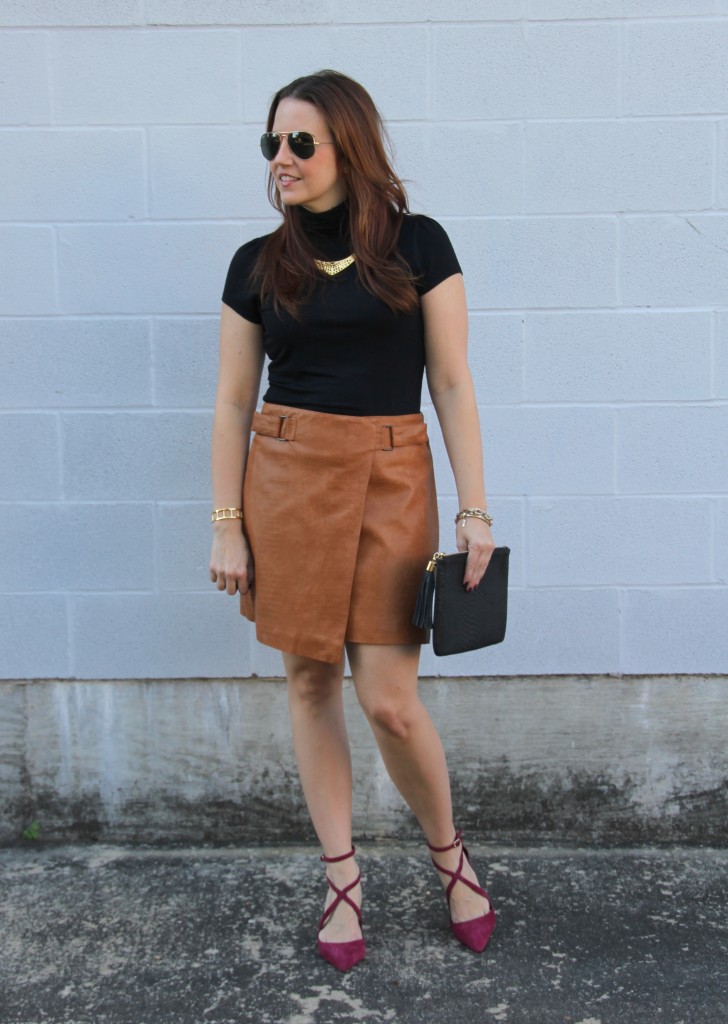 | DETAILS |
THE LIMITED Black Turtleneck [SIMILAR] | DO+BE Camel Leather Skirt [SIMILAR | SIMILAR IN SUEDE] | SOLE SOCIETY Lux Pointy Toe Pump | GIGI NY All in One Bag | GORJANA Chloe Stud Earrings, Zion Collar Necklace  | BAUBLEBAR Slim Hinge Bangle, Pavé Links Bracelet, Gold Ladder Cuff | RAY-BAN Classic Aviators | IT COSMETICS CC+ Lip Gloss in Love | FORMULA X BY SEPHORA Nail Color in Infinite
I don't know what I love more about this look, the skirt or the shoes! I picked this skirt up from the Dao Chloe Dao boutique in Houston a few weeks ago.  I liked this skirt when I first saw it, but I honestly have not had much luck with leather or faux leather skirts.  I really didn't think I was going to like it once I put it on, but I couldn't just walk by it.   I immediately fell even more in love as soon as I put it on!!  Standing in the fitting room, I imagined this skirt with tight turtlenecks and booties or heels and sweaters with tall black boots.  Leather is one of those materials where either it fits or it doesn't.  It doesn't really have any stretch.  This is the first leather skirt I have tried on that fit me perfect.  We really were meant for each other!  Since it is from a boutique, I don't have a link to it unless you want to call the boutique and see if they have anymore left.  I did however find a similar one and linked above as well as a cute suede version.
My other favorite item of this look is these shoes!!  I bought these with a birthday gift card.  I kept going back and forth on if I should buy them, and I am so happy I decided too!  I bought them from Nordstrom, and they have the most amazing no guilt return system.  It made me more confident in at least ordering these shoes.  As soon as I opened the box, I knew I made the right choice.  First off, they are the pantone color of the year, marsala, wine, maroon, burgundy, whatever you want to call this color.  I love it and how perfectly it works with the camel color of my skirt.  I also love the strap details on these shoes.  One of my concerns was how these shoes would look on my petite frame.  Occasionally when  a shoe has a straight strap across the ankle it can make me look shorter.  I think the slim version of the rest of the shoe helps to alleviate that short look from the top strap.  From the front these shoes remind me of ballet shoes with the strap placement.   I'm just so in love with these shoes, I could probably plan an outfit around them everyday.  This also means they will be repeat offenders on the blog all fall and winter!!  I have tried these on with my skinny jeans and they look equally amazing as they do with this skirt! I will have to share a look next week! Stay tuned!!
Also, I have to wish a HUGE Happy Birthday today to my first ever blog subscriber, my Aunt Jen!!!  Now I will see if she really reads my new post emails 😉  Thanks for stopping by the blog today!
Follow Lady in Violet INSTAGRAM | TWITTER | FACEBOOK | BLOGLOVIN | SUBSCRIBE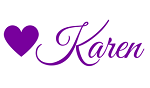 Love this post? You may also love: