| DETAILS |
1) SWELL CAROLINE Nameplate Necklace  |  2) MARLEY LILLY Cosmetic Bag  | 3) THE WELL APPOINTED HOUSE Personalized Garage Sign  | 4) KATE SPADE Pendant Initial Necklace  | 5) CARVED SOLUTIONS Cutting Board  | 6) LOVE ALWAYS Monogram Necklace (comes in different sizes)  | 7) COORDINATES COLLECTION Legend Bracelet  | 8) GIGI NY Bag Tags  | 9) BED, BATH, & BEYOND Monogram Towels
The beginning of November is always the start of my Christmas gift shopping.  I always start by making a list of the gifts I will need and then start searching for gift ideas for everyone on my list.  This year I'm hoping to help you with a little bit of your gift searching with my new Holiday Gift Guide page.   I spend more time then I should online window shopping, so I am putting it to good use and curating a page dedicated to fabulous gift ideas!  Even better, my organization OCD kicked in and I created a few sub-categories based on some of my popular holiday gift guides from last year.  You can find a direct link to the page in my navigation bar at the top or on my side bar under my pic.  In addition to the page, I will also be doing weekly gift guides too!  I love putting these together and decided why not do both!  If you would like more of something added to the gift guide page or would like to see a dedicated gift guide on something, please shoot me an email or leave it in the comments.
For my first gift guide of the season, I wanted start with something based on time needed for shipping.  Personalized and monogrammed gifts are such AMAZING Christmas gifts!!  They also take the longest to ship from the time ordered because they often have a production time of 2-4 weeks.  I personally love initial and full name necklaces.  The Swell Caroline nameplate necklace and this cute script one from Baublebar are both on my personal wish list this year.  They kind of remind me of the Carrie necklace from Sex and the City.   You can also go simple with just an initial or go big with the Love Always necklace which comes in a few different sizes.  If you are looking for something a little romantic or super personal, check out Coordinates Collection.  You can put the coordinates of any location like where you got married, first met, or where you call home.  I think it is such a sweet gift that can have more of a private or symbolic meaning between the giver and receiver.
I also included a few personalized items for the home.  Marley Lilly and The Well Appointed House have tons of cute ideas for personalized home gifts.  I probably could have made a gift guide for each site.  The Well Appointed Home also has a personalized stamp that can be used for a return address label.  A great idea for someone who just moved into a new home.  Another good place for a simple monogram gift with no production wait time is Bed, Bath, and Beyond.  I have quite a few monogrammed items from them like the towels, cups, and even a wine stopper.
If you are thinking about getting a personalized gift for someone, I highly recommend ordering this week so you don't have to pay extra for speedy shipping.  Most items on this list take 2-4 weeks to produce plus an additional 1-2 weeks to ship.  Don't forget to check out my gift guide page for even more gift ideas!
STOCKING STUFFERS!

Follow Lady in Violet INSTAGRAM | TWITTER | FACEBOOK | BLOGLOVIN | SUBSCRIBE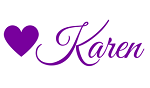 Love this post? You may also love: