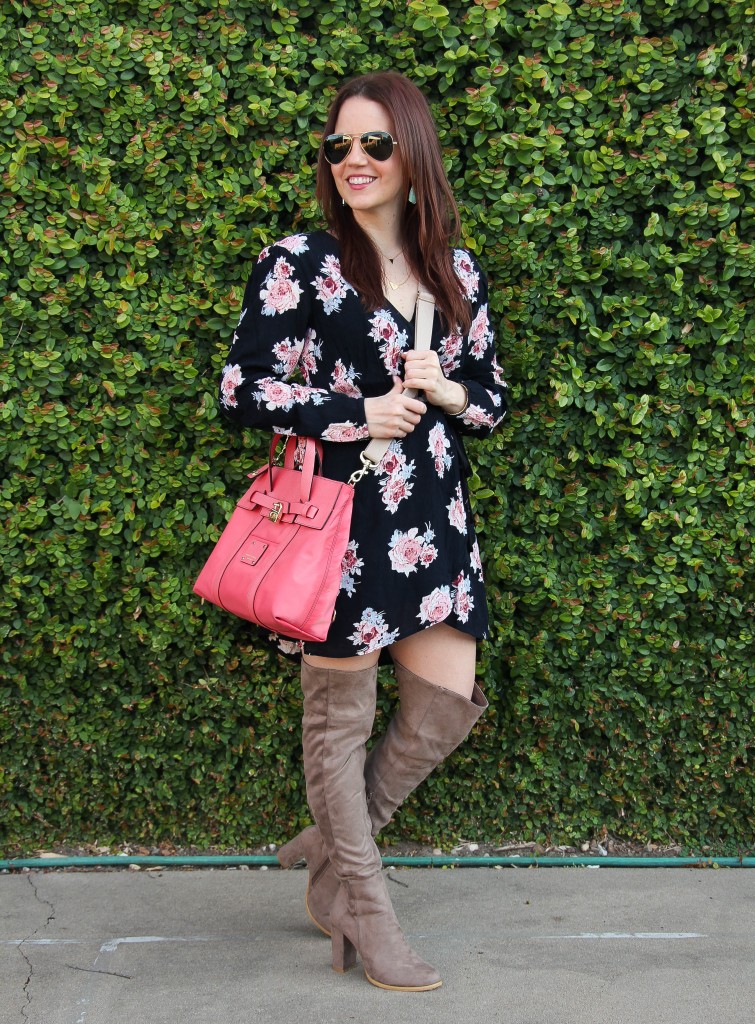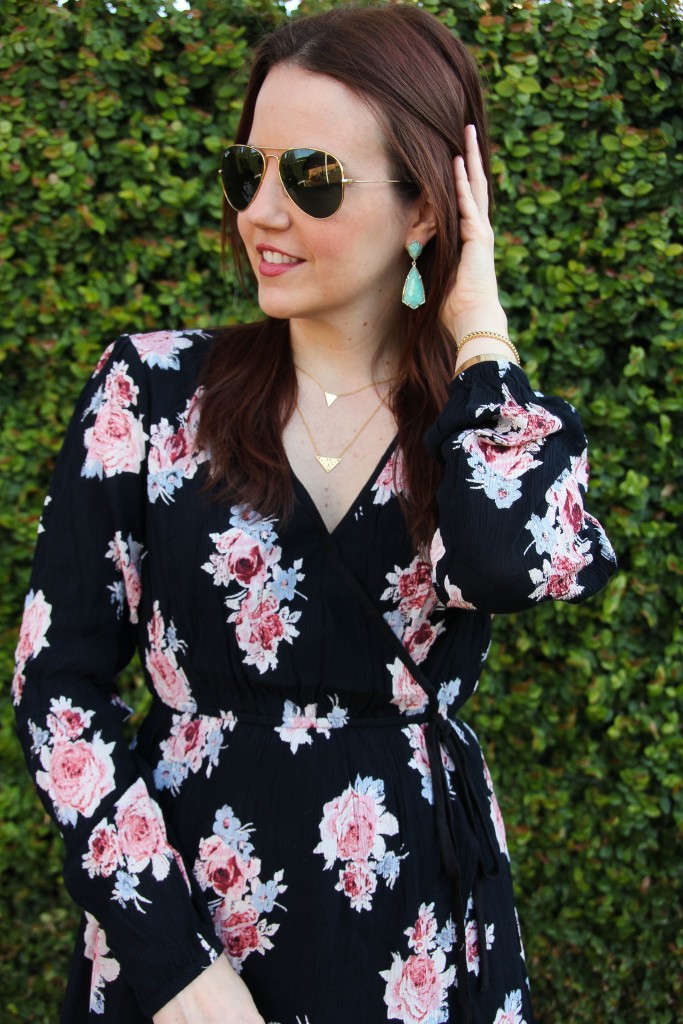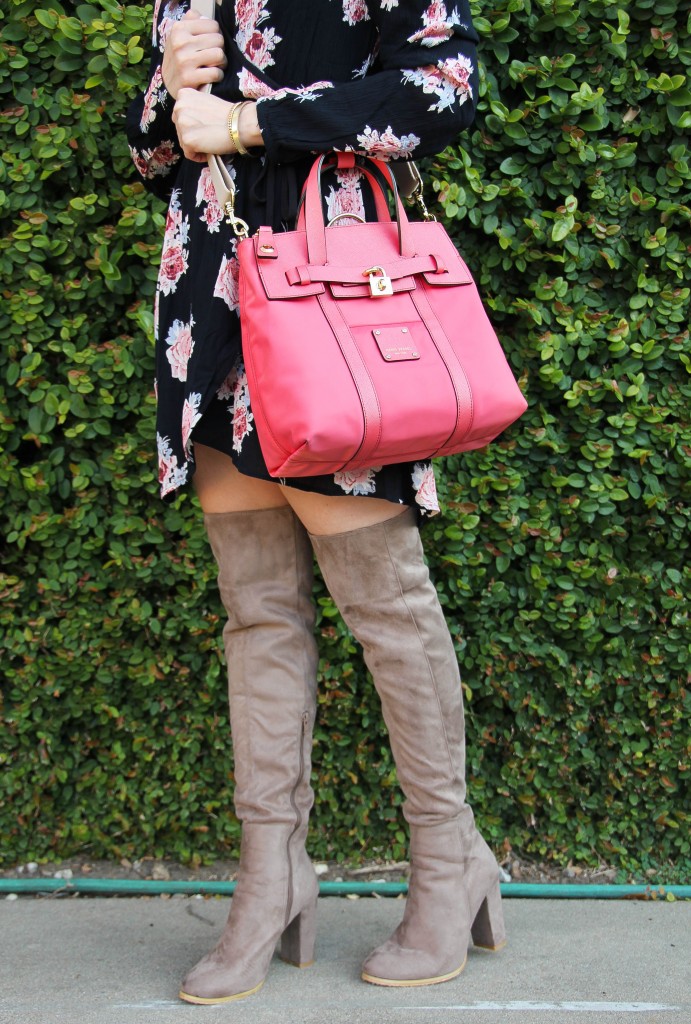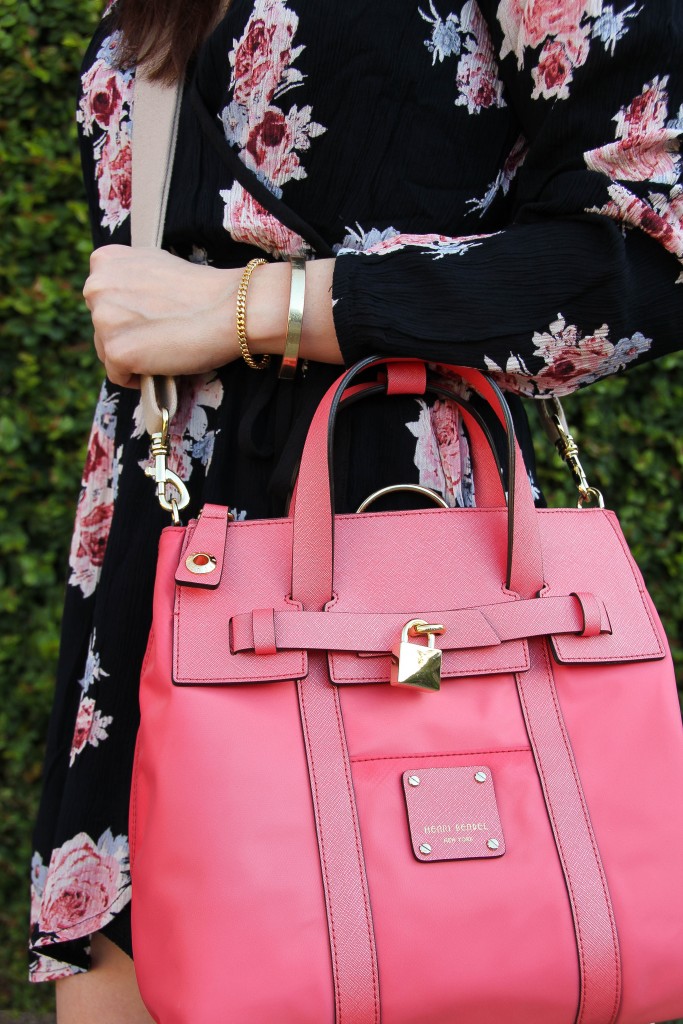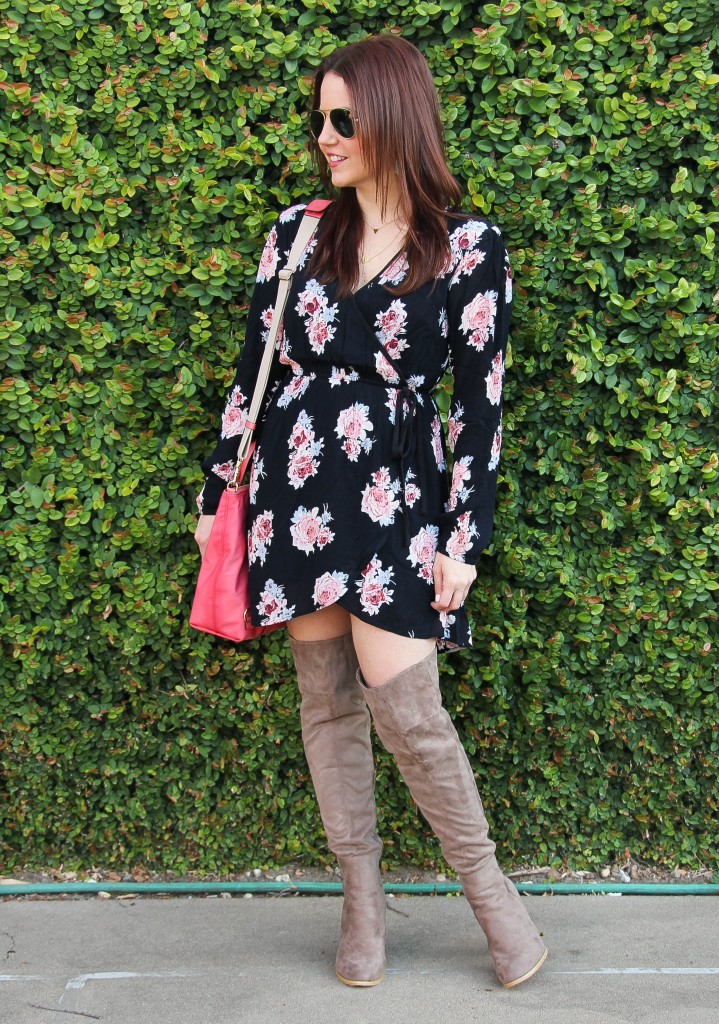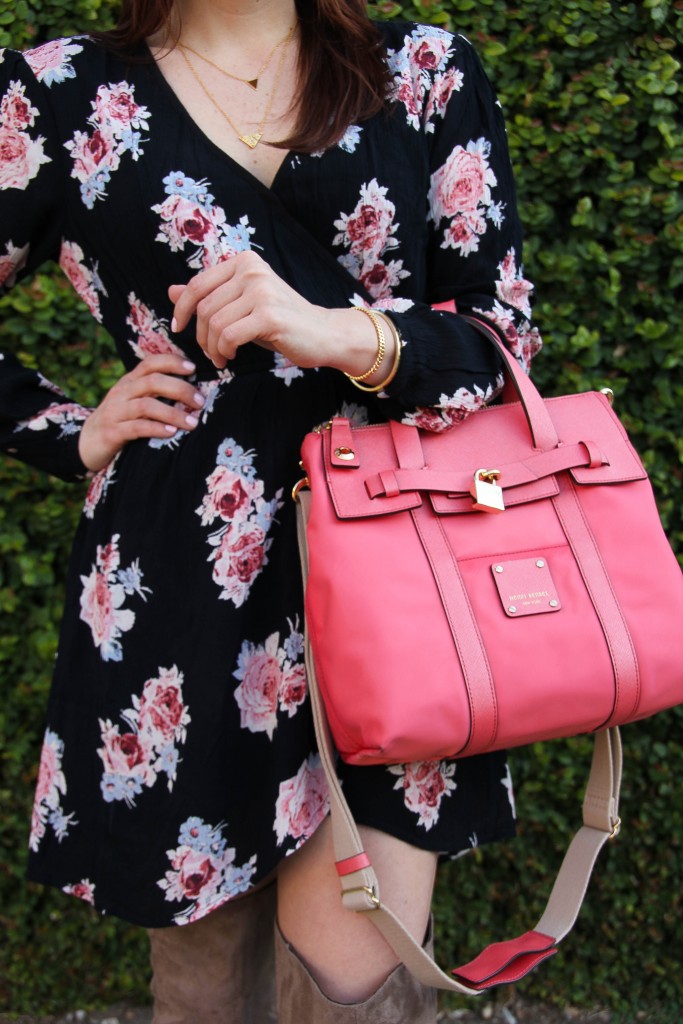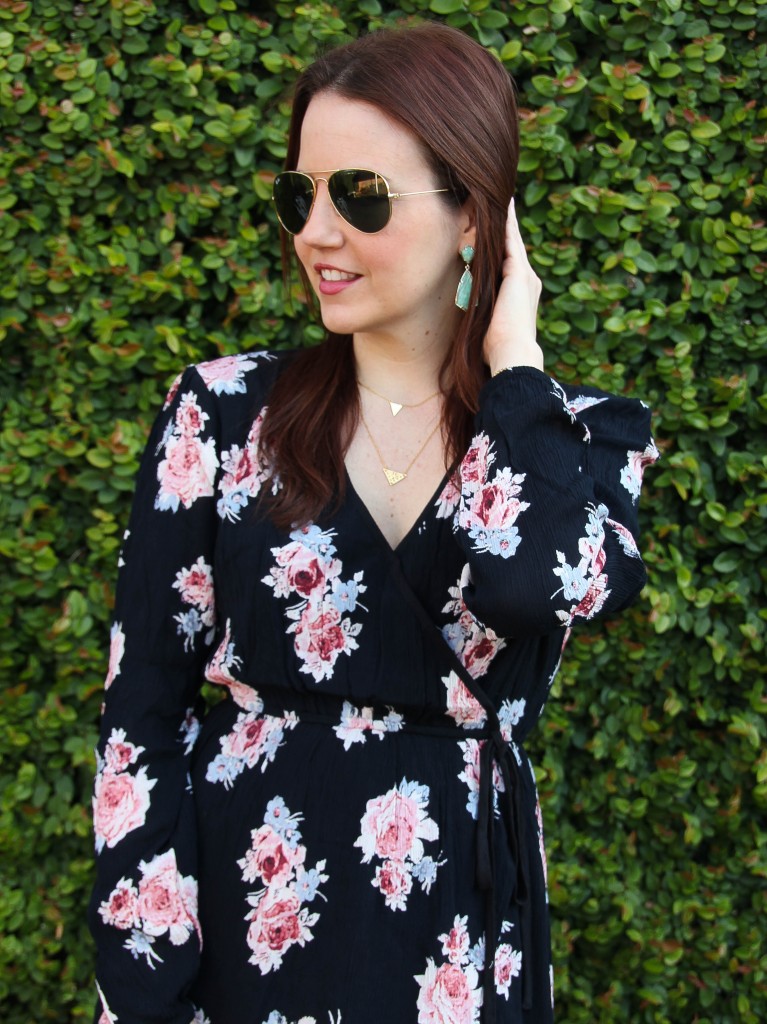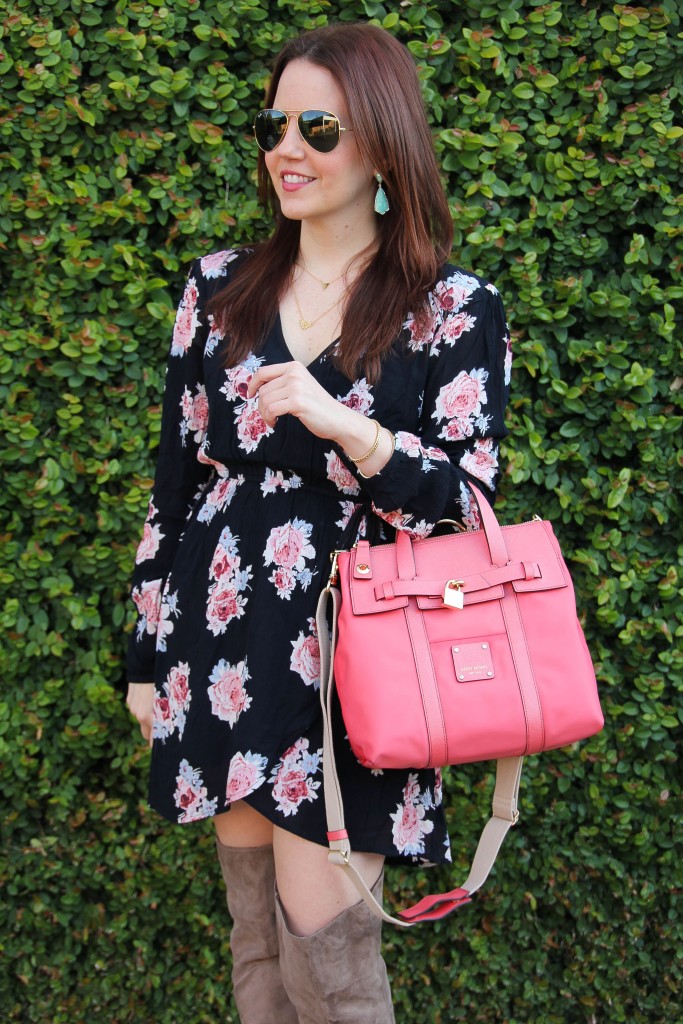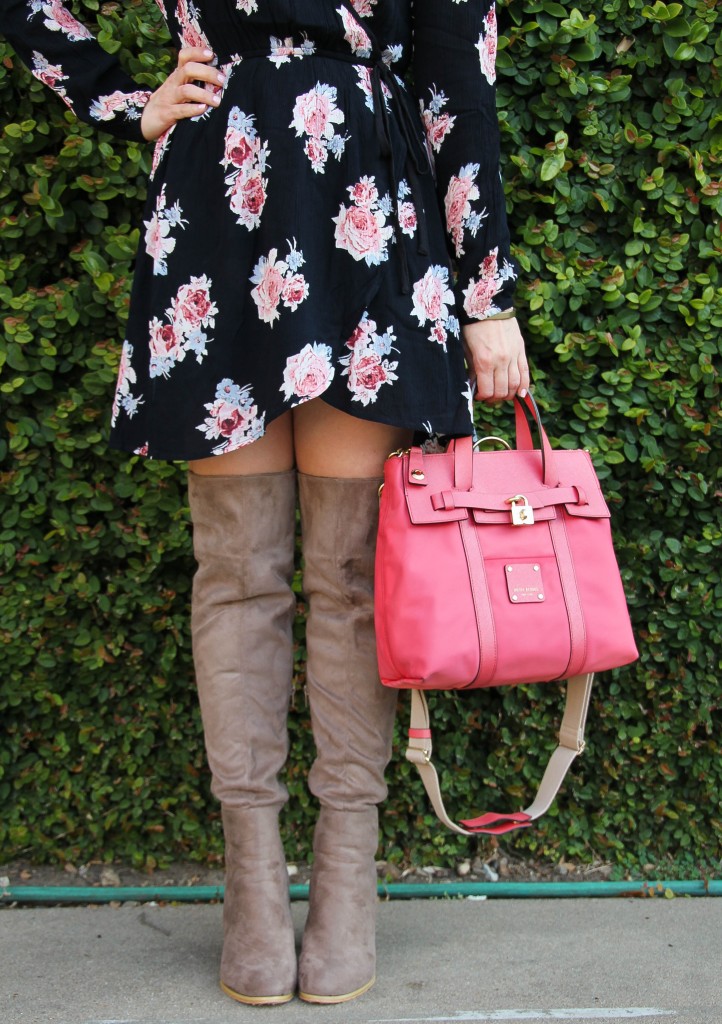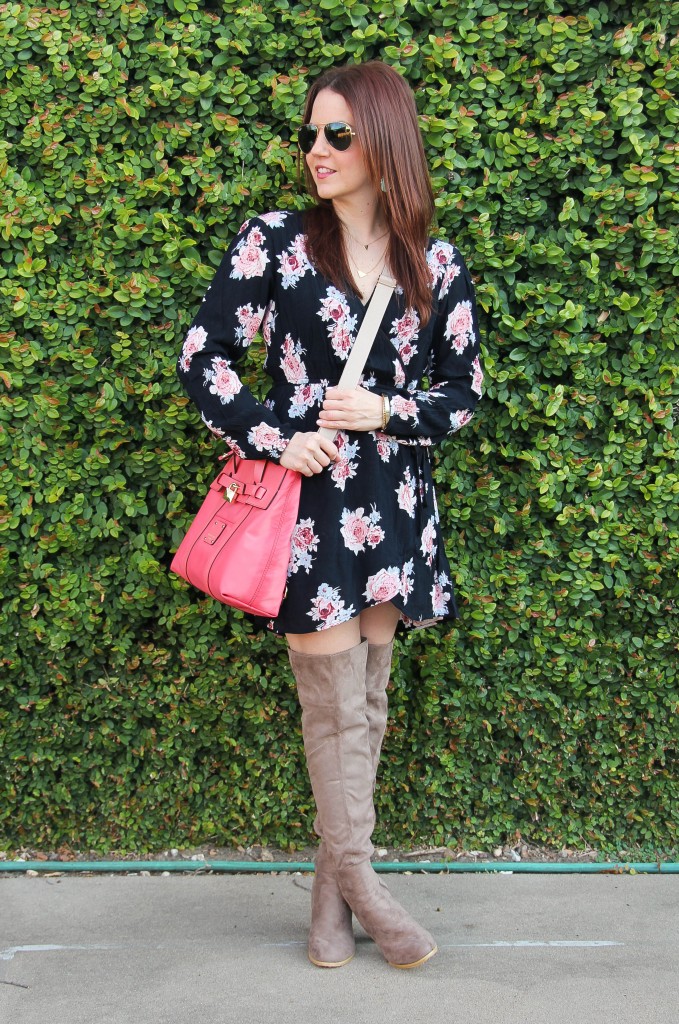 | DETAILS |
BAND OF GYPSIES Wrap Dress  (Short-Sleeve Version) | DAISY STREET Over the Knee Boots (SIMILAR)  | HENRI BENDEL c/o Jetsetter Mini Bag 20% off! | KENDRA SCOTT Carey Earrings in Amazonite  | BAUBLEBAR Cuban Links Cuff,  Slim Hinge Bangle  | GORJANA Mika Necklace,  Zion Necklace/old  | RAYBAN Aviator Sunnies  | ESSIE Nails in Fiji  | MAC Lipstick in Craving
I am bracing for rain over the next few days in Houston.  I have had a busy few weeks with no sign of slowing down, so it's kind of like the bad weather is forcing me to take a little break.  This past weekend, I headed home to celebrate the 2nd birthday of the cutest little guy/informal housewarming for a close friend.  She happened to recently move less than 5 minutes from my parents' house and now lives in my old stomping ground!  I also was able to head to my favorite mexican restaurant, Larry's, with some friends.  I am always bragging  on this place, so I loved the opportunity to finally share it with them.
The party happened to be the same weekend as my cousin's bridal shower, so I decided to have a little slumber party at my parents' house instead of driving back and forth.  My youngest cousin is getting married, and I just can't believe it.  I swear last year we were all just kids running around our grandparents' backyard trying to avoid washing dishes after a holiday dinner!
I am excited to buy a pretty new dress for her wedding though! I'll take any excuse to shop! Keep an eye on my current cravings on the shop page, I'm sure some will be finding their way to the list.
Speaking of pretty new dresses, how cute is the little floral number!  I love a bright floral print on a dark background.   By the way, it also comes in a short-sleeve version that would be perfect to wear in summer or in about another month here in Houston.  I love finding cute dresses with long sleeves to wear on weekends this time of year.  We are in that hot all day, cool all night season.  The short dress is perfect for the heat, and long sleeves keep me warm at night.   On weekends, I am sometimes going non-stop and may not have time to head home and change, so a dress that can work in different temps and for different occasions is perfection!  This dark floral dress is also going to be perfect to wear in the fall too!
I wanted to let ya'll know that Henri Bendel is having a sale which makes my cute pink bag 20% off! It's a buy more, save more so grab a friend who loves pretty purses to get it for even less!  And yes this is the same bag I have previously posted as a backpack.  You can also wear it as a crossbody.  Now that I have been carrying it for awhile, I noticed I primarily wear it this way.  It is so easy to switch it back and forth with a couple snaps and hooks.
Happy Wednesday Ya'll!!  I'm going to go swim to work now, just kidding. 🙂
SHOP THE LOOK

Follow Lady in Violet INSTAGRAM | TWITTER | FACEBOOK | BLOGLOVIN | SUBSCRIBE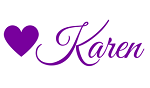 Love this post? You may also love: