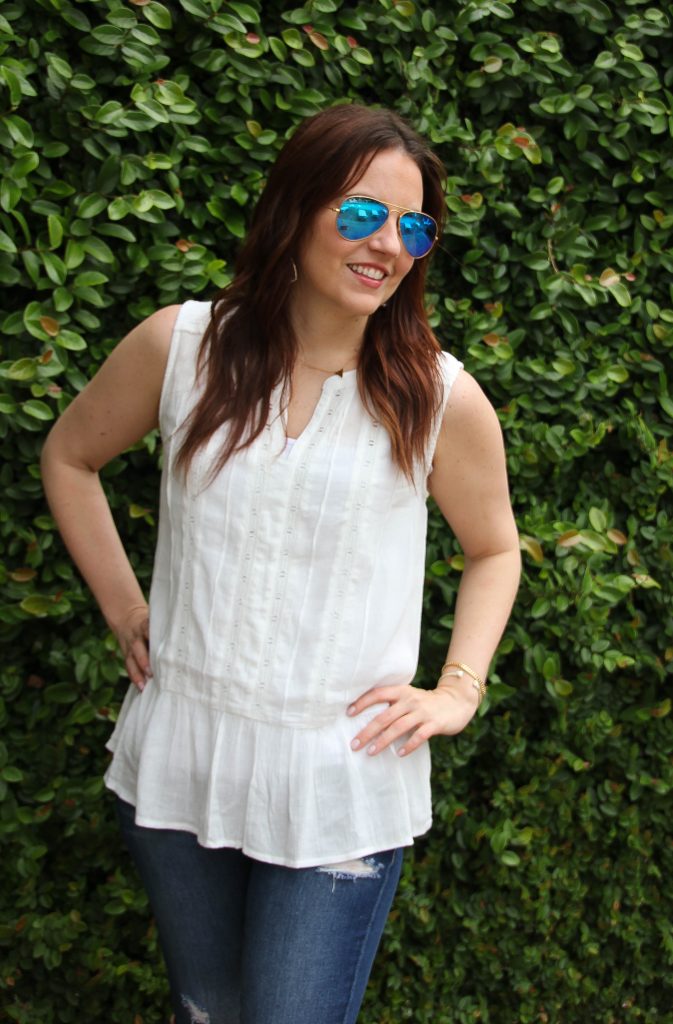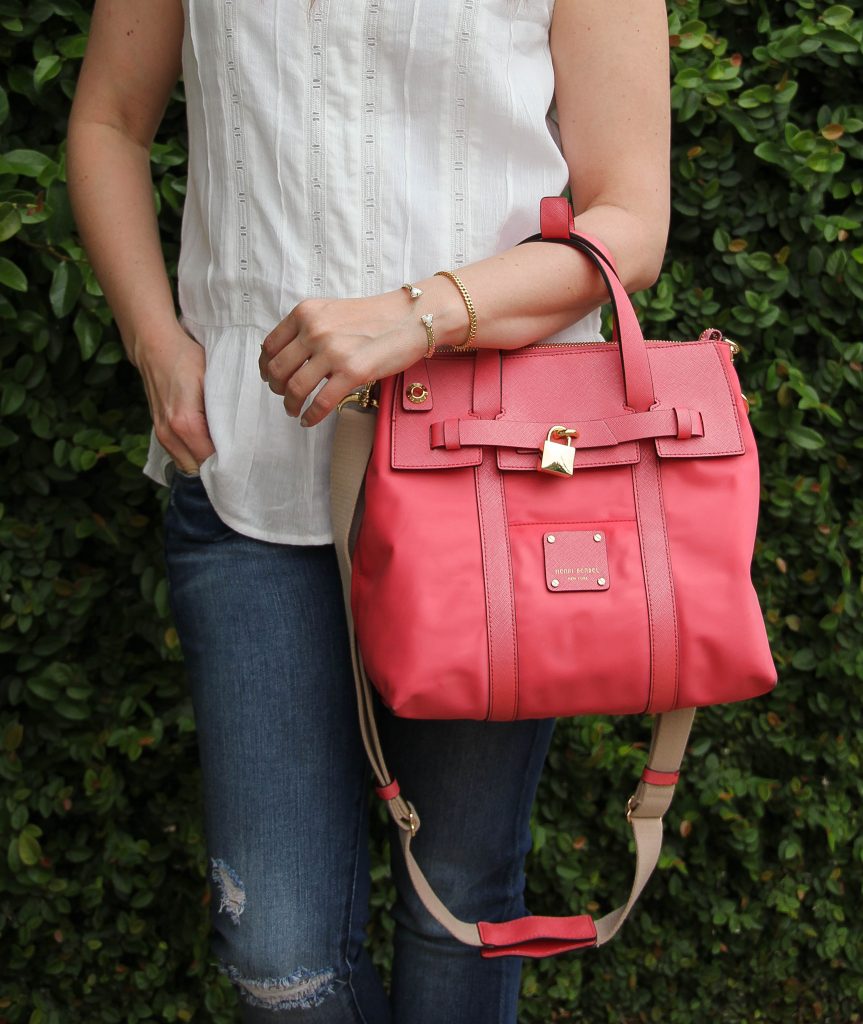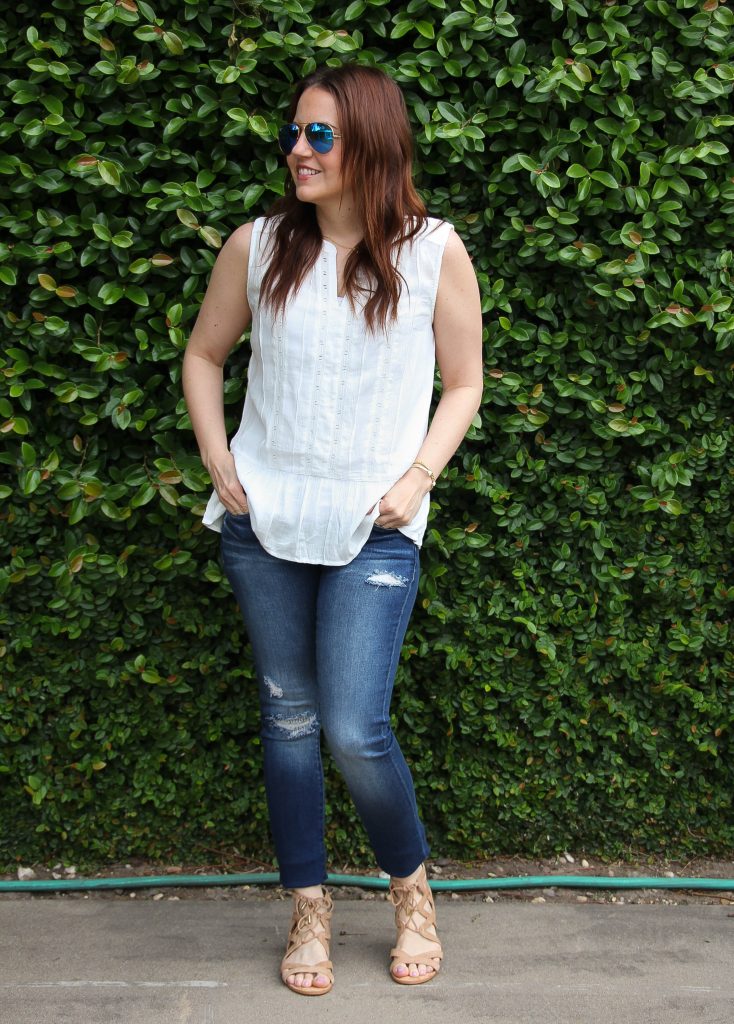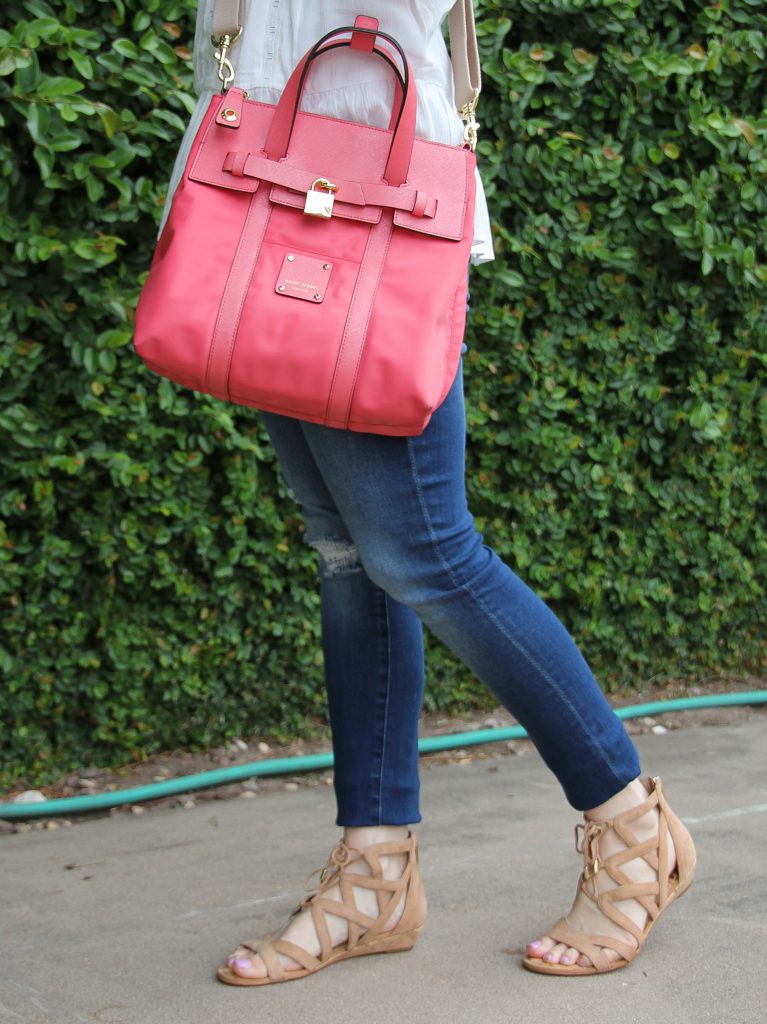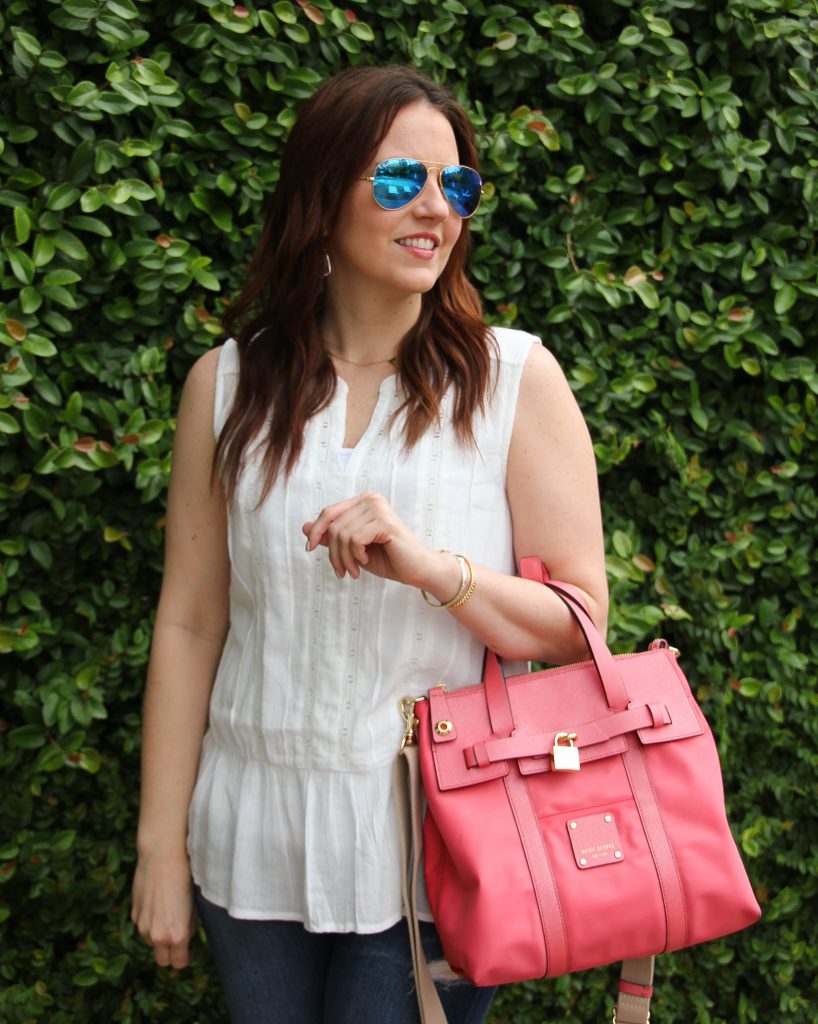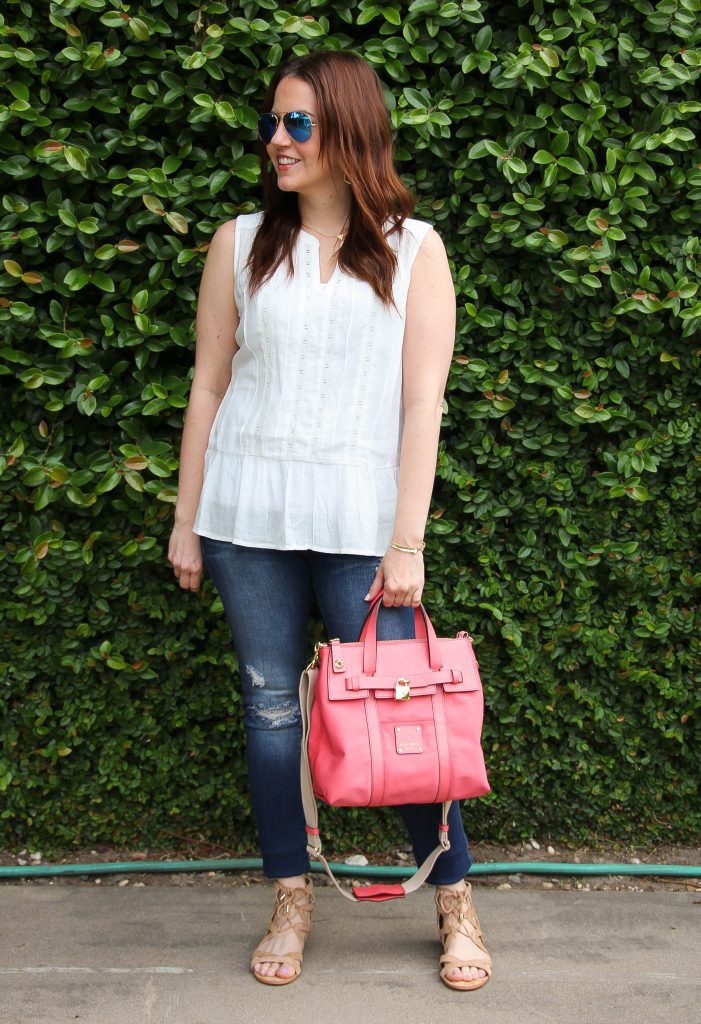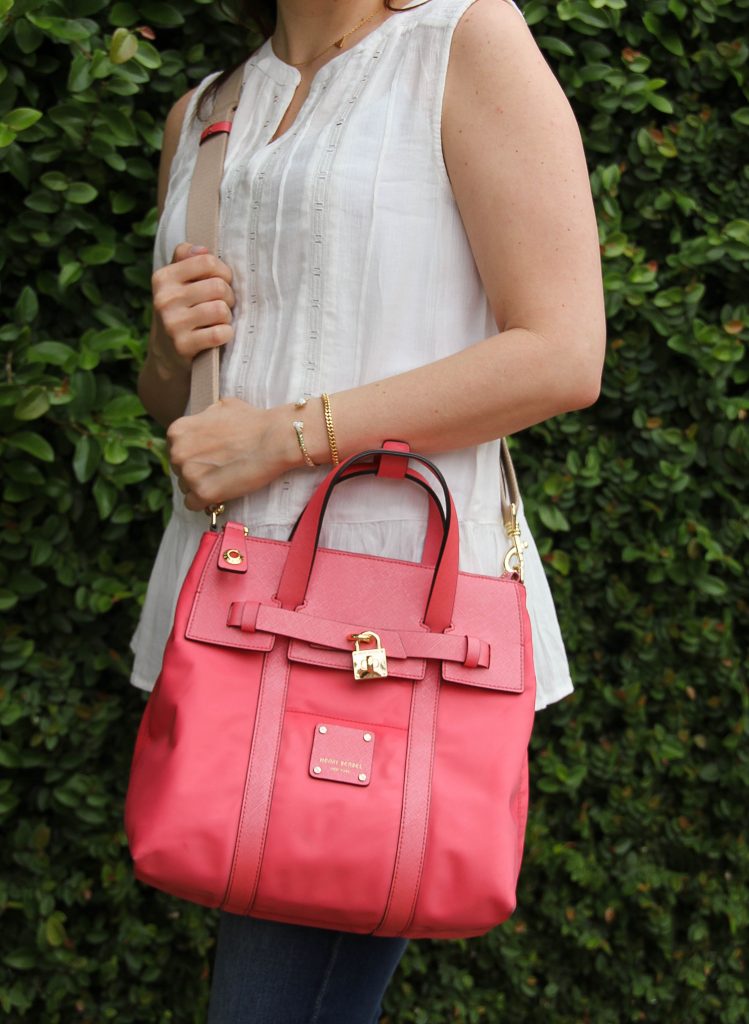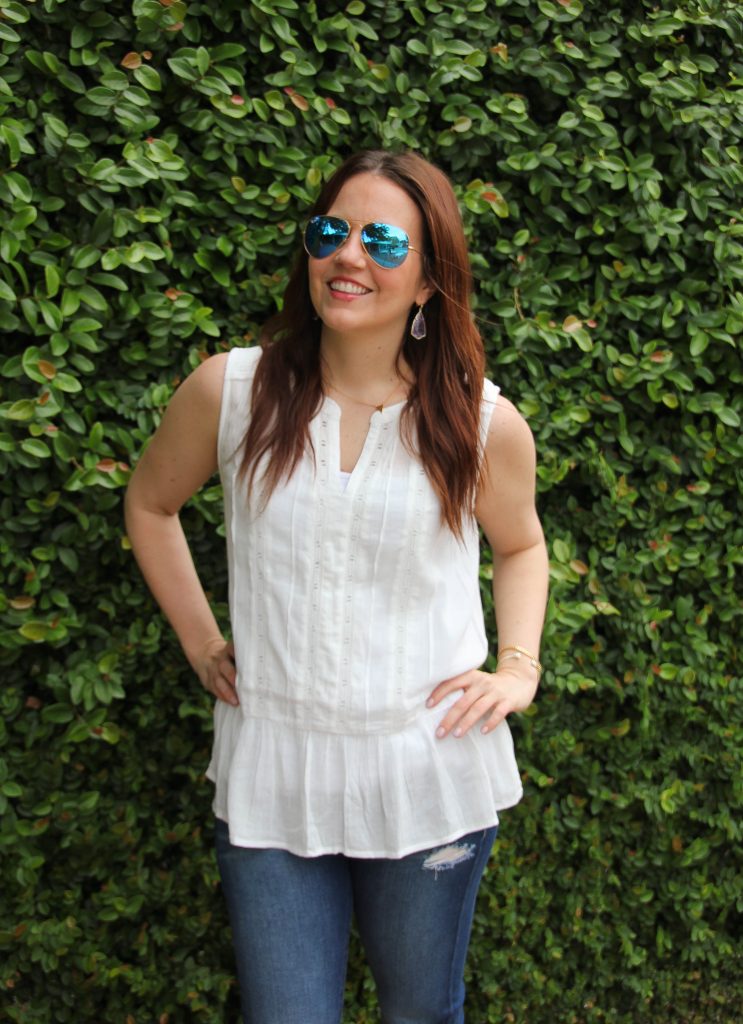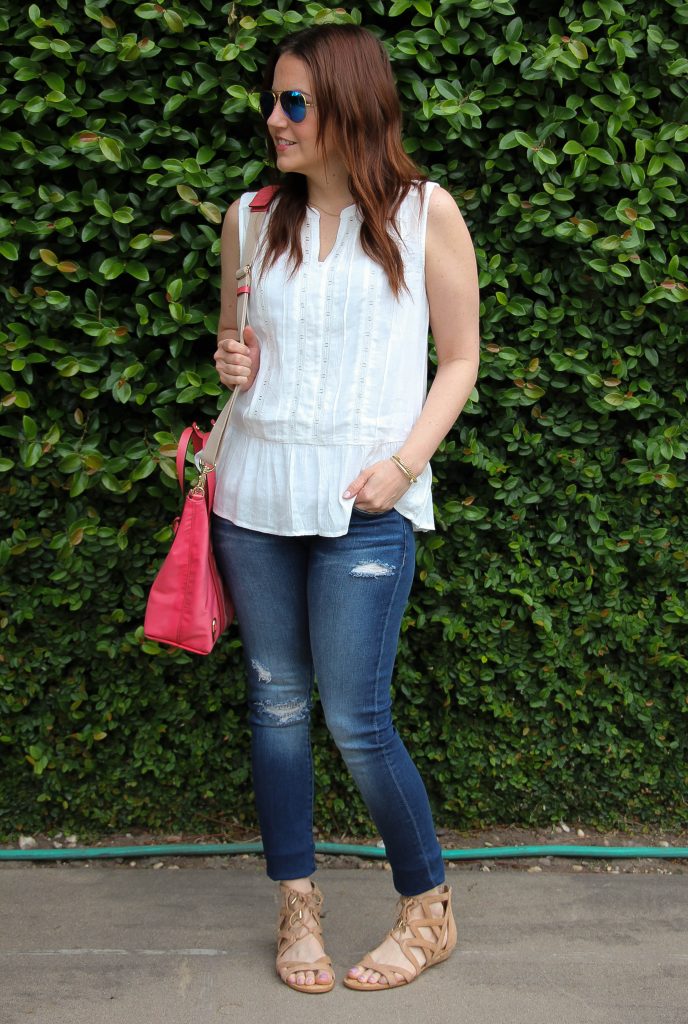 | DETAILS |
CASLON Sleeveless Blouse  | BLANK NY Distressed Denim  | SAM EDELMAN Dawson Sandal  | HENRI BENDEL c/o Mini Jetsetter  | KENDRA SCOTT Carla Earrings,  Grady Bracelet (similar)  | GORJANA Mika Necklace  | BAUBLEBAR Cuban Links Cuff  | RAYBAN Blue Mirrored Aviators  | Lipstick: IT COSMETICS Love | Nails: JULEP Shari
I am so happy today is Friday, but not for my normal ready for the weekend reason.  Today, Houston is not forecasted to have any rain!!  On Monday morning, the entire city was pounded with tons of rain.  The city shut down as streets and neighborhoods were flooded, but that was only the beginning.  The massive amounts of rain filled our creeks, bayous and rivers causing them to overflow into area neigborhoods.  A little bit of flooding in certain areas has become normal in Houston when we have a hard rain, but this time the flooding affected many new areas as most of our creeks and bayous crested or hit "flood stage."   Our news is filled with images of people being rescued by boats and giant trucks because none of us realized how crazy the flooding would be.  On top of that, Houston has had sporadic storms every day since only adding to the problem.  My family and I are all very lucky to not have flooding in our homes or cars.   Our weather forecast now is filled with sunshine and very little rain, something all of us here in Houston are grateful for!
All of this craziness this week has made my vacation feel like forever ago!  It's hard to believe it was just last weekend.  I wore this outfit out during our first full day in Charleston.  I love this as the perfect summer vacation outfit.  The weather in Charleston ended up being a bit cooler than we expected, so I tossed this cardigan on over my top.  If you are looking for a easy breezy summer top, this is it!  I love the cute eyelet details and the ruffle.  The material is really lightweight perfect for the hot summer days to come.  I also cannot brag on these sandals enough.  I wore them all 3 days in Charleston for massive amounts of walking.  My friend has a FitBit, and we walked around 8-10 miles per day.  I liked that these sandals are enclosed.  I think it helps add support during hours of walking.  Some of my other friends were sporting Converse shoes, and all said they were very comfy for our walking adventures.  I may need to invest in them for my next trip!
For all my Houston area ladies, the Shop with Heart card officially starts today and runs for 10 days through May 1st.  This is the ultimate shop for a cause program.  All you have to do is purchase a $50 Shop with Heart card at participating locations, and then save 20% on all your purchases of regularly priced items through May 1st at all the participating locations.  And the participating stores are AMAZING!!  The list includes everything from local boutiques like Dao Chloe Dao, KB Kasuals,  and Dimensions to nationwide retailers like Kate Spade, Kendra Scott, and Pottery Barn.  Check out the Shop with Heart site to learn more, find a location to buy a card, and a list of all participating merchant locations! The locations are spread out all throughout the Houston area including The Woodlands, Sugarland, Pearland, and more.  100% of proceeds from Card sales benefit the American Heart Association.  It's a great time to pick up that perfect Mother's Day gift or give your spring and summer wardrobe a little update!
Thanks for swinging by, and I hope you all have a fabulous weekend!
SHOP THE POST
Follow Lady in Violet INSTAGRAM | TWITTER | FACEBOOK | BLOGLOVIN | SUBSCRIBE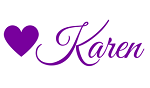 Love this post? You may also love: