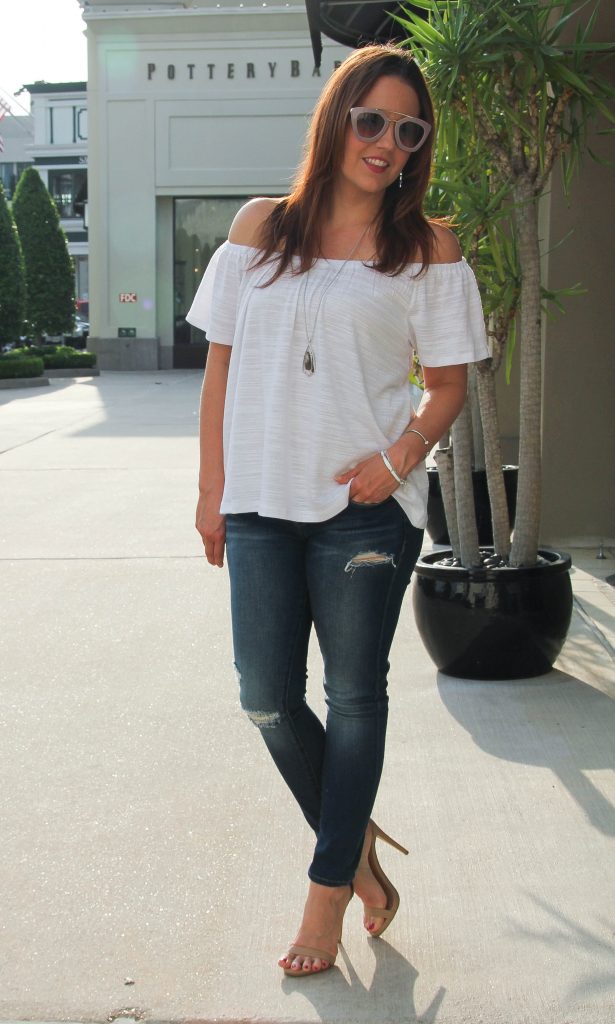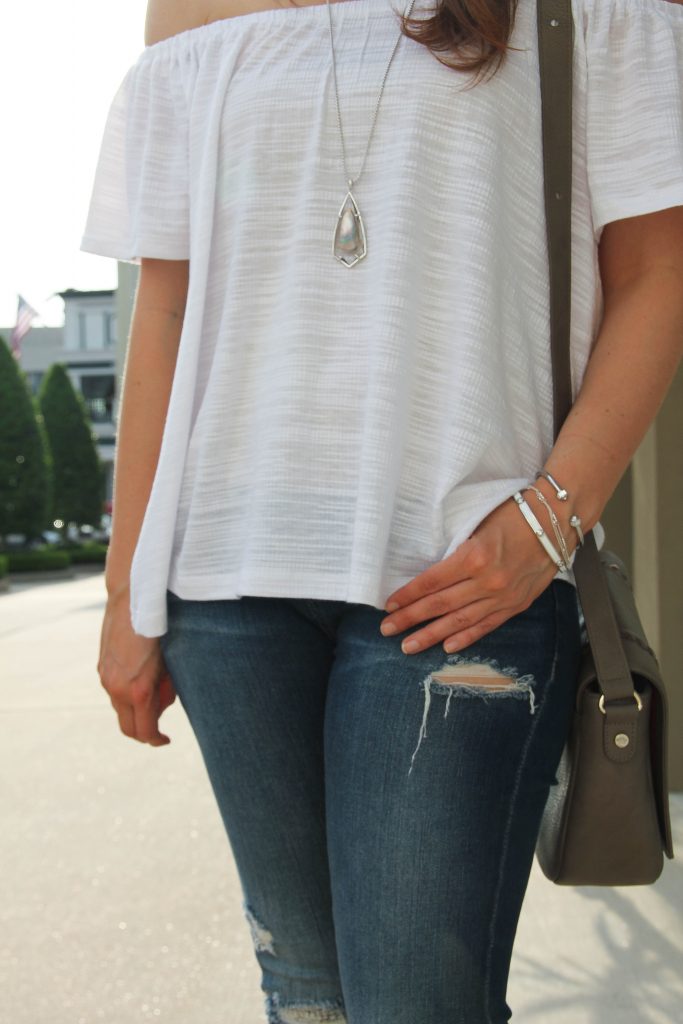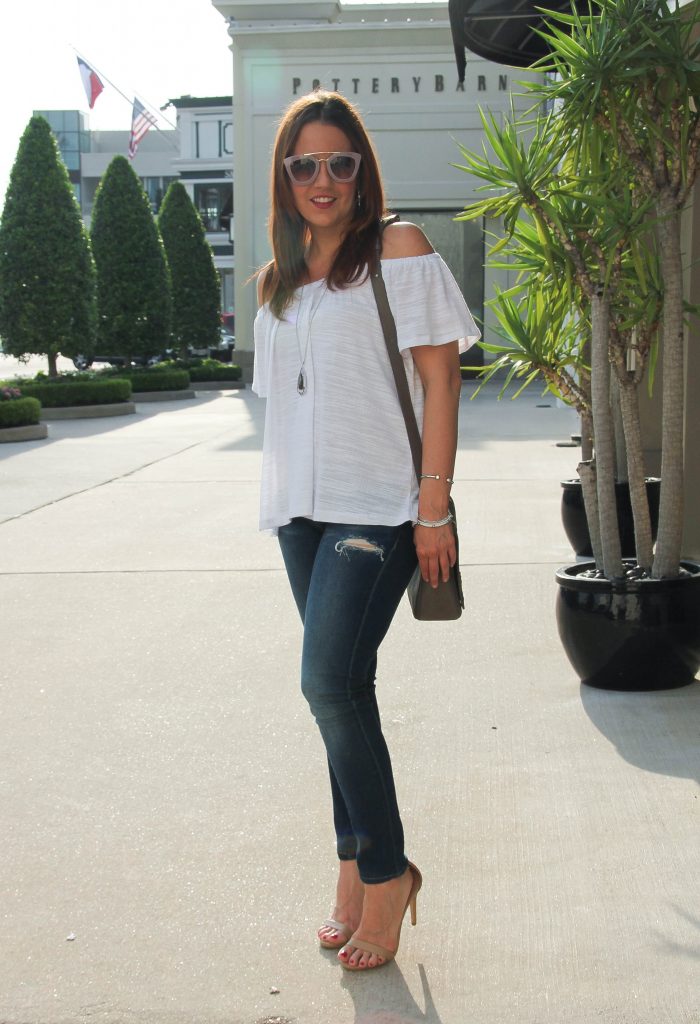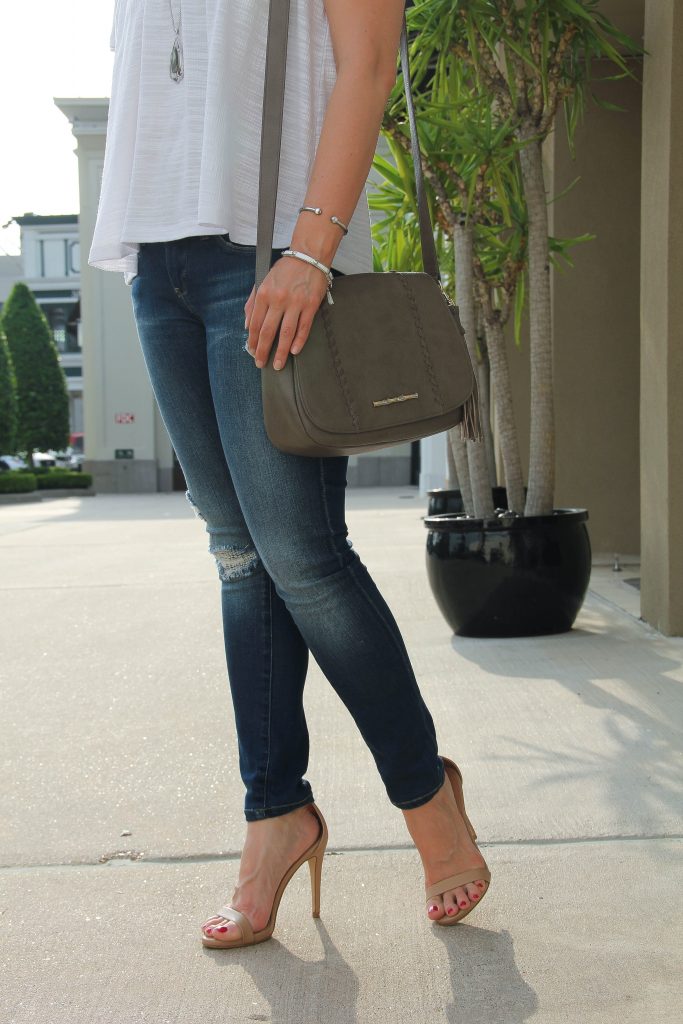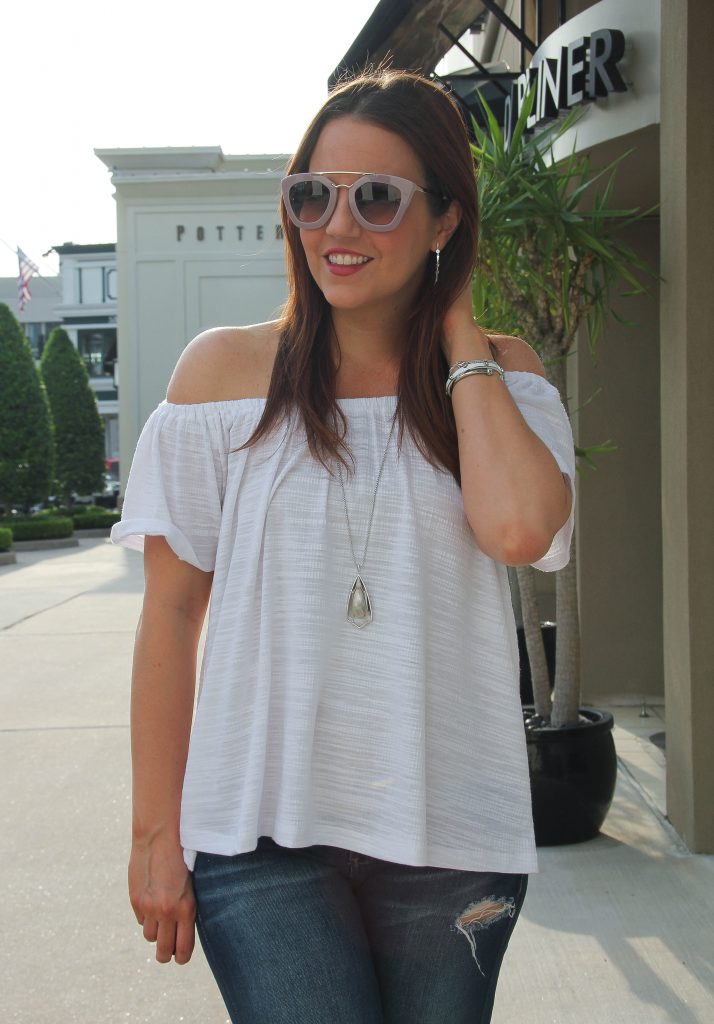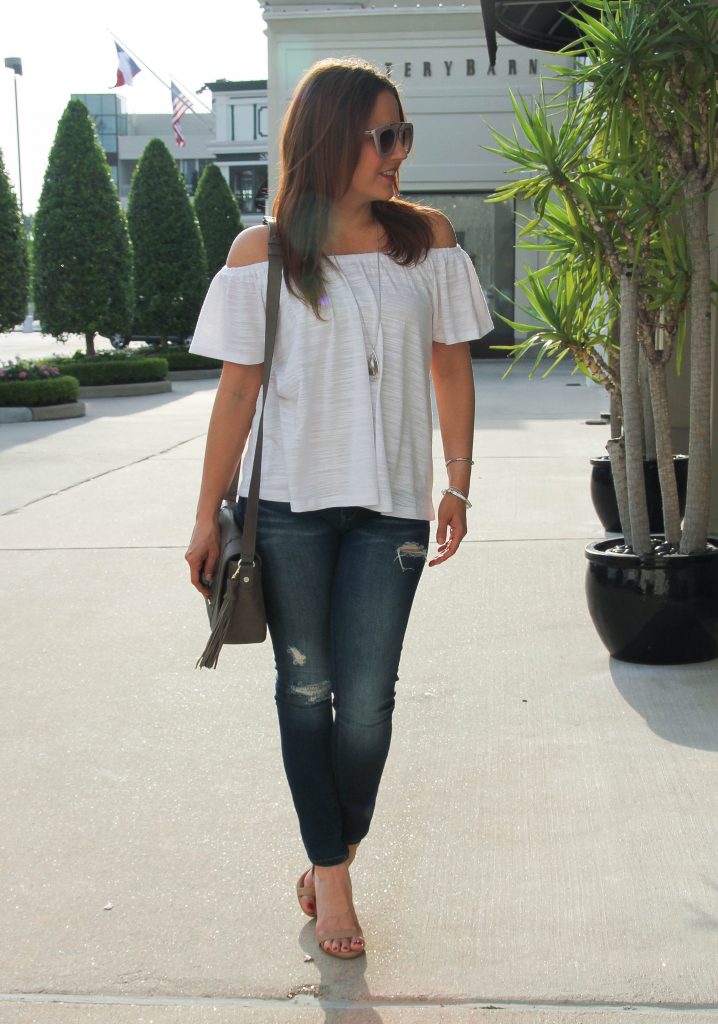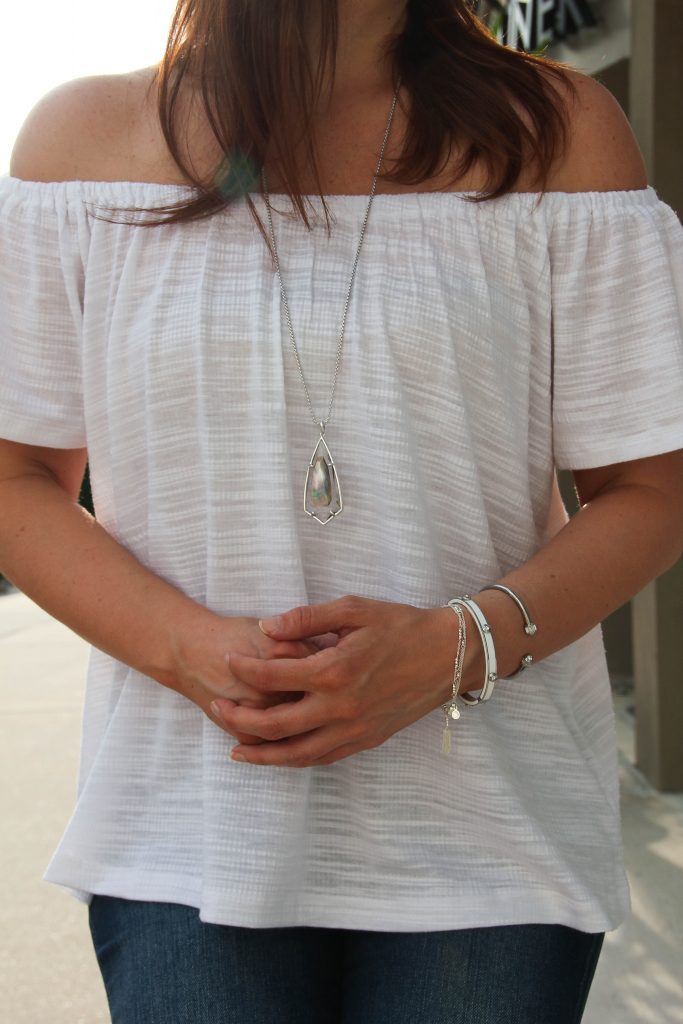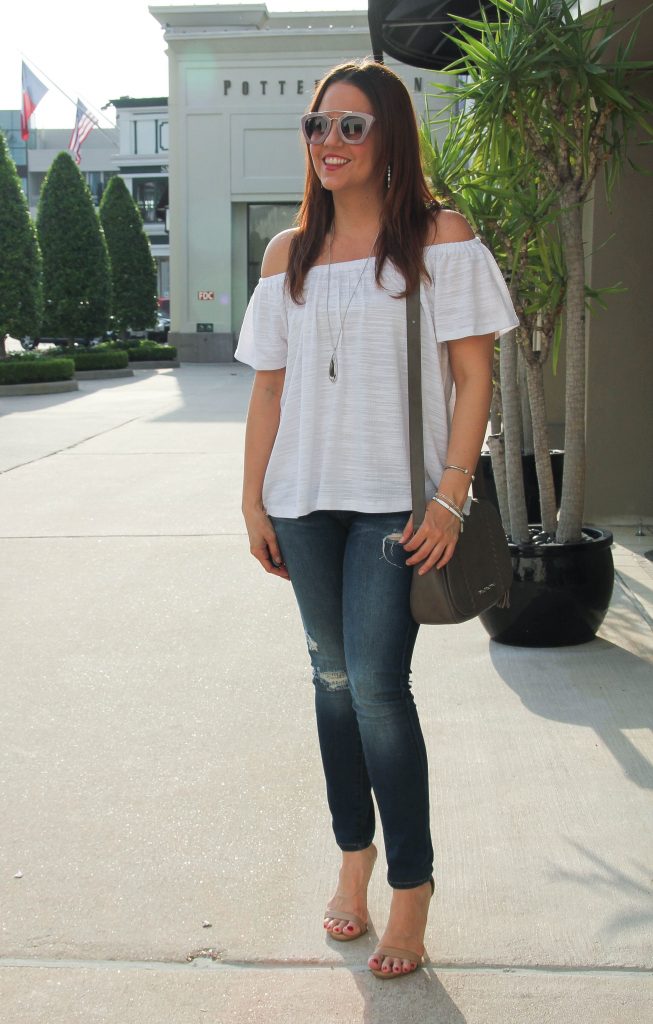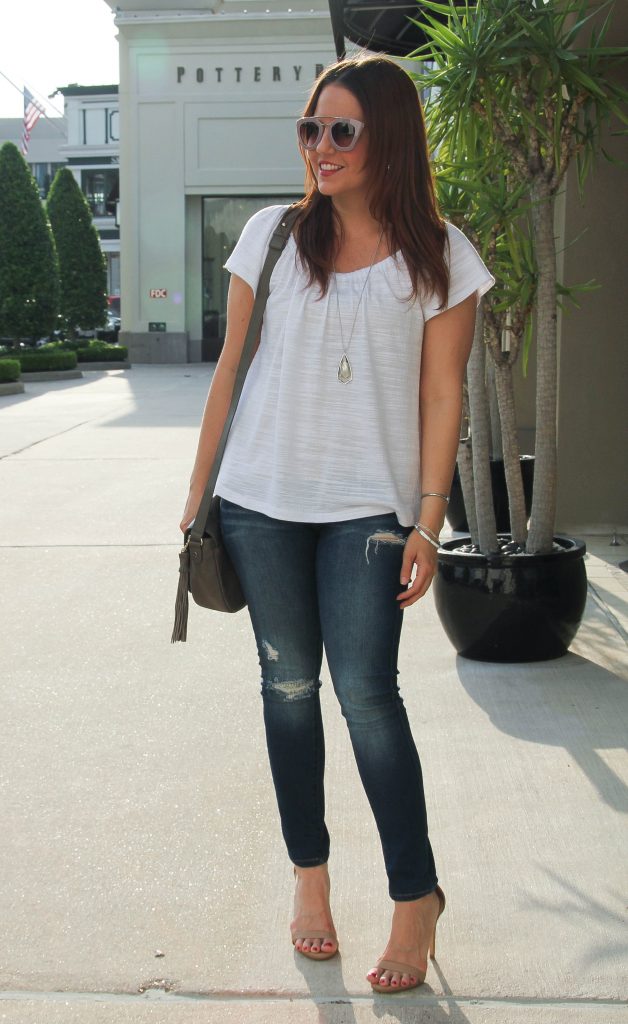 | DETAILS |
ANTHROPOLOGIE Off The Shoulder Blouse  | BLANK NYC Distressed Denim  | STEVE MADDEN Stecy Sandals  | ELAINE TURNER Saddle Bag (similar |  similar clutch)  | KENDRA SCOTT Carole Necklace in Black Pearl  | GORJANA Tavia Earrings,  Joplin Bracelet  | HENRI BENDEL Hinged Cuff,  Miss Bendel Bangle *ON SALE! | PRADA (c/o Ditto) Sunglasses  ** Try One Month Free with code LADYINVIOLET  | Lips: MAC Craving
Hey! Ok so first off I had the most amazing weekend! It kicked off with a spin class and frozen mimosas for my friend Ashley's birthday, followed by a Sunday afternoon blogger workshop with guest speaker Ashley of Sugar & Cloth, and concluded with Afternoon Tea at Bistro Menil to celebrate my FIVE friends who have birthdays in May.  It also rained tons, but thankfully not interrupting any of my fun activities! I sometimes find the more fun the weekend, the harder the Monday is, so I'll take an extra cup of coffee thank you!
I'm kicking off the week with one of my favorite trends right now – the off the shoulder blouse.  I added my second one to my wardrobe, and I LOVE this one!!  It also keeps with the color that is coming in strong for summer, white.  The material is lightweight which is always great for summer heat.  I like the length not too long but goes just long enough.  The top is an elastic band so with this style you can also pop the arms up and wear it like a normal tee.  I really like the tops that have this option in case this is a short lived trend, I can still wear this shirt next summer. Check out that last picture to see this top worn this alternate style.   One thing I have noticed with so many of these tops especially a white off the shoulder top is that they are a wee bit sheer.  I purchased this top to wear underneath mine.  It's a great length so it doesn't show even under shorter tops like this one.
Something about the clean white top and distressed denim had me reaching for my silver jewelry to complete this look.  I just loved how the black pearl looked against the white, and the simple long earrings were the perfect accent to the off the shoulder look.  I also tossed on a few of my new bracelets to create an on trend but still sophisticated look.
Now about that second cup of coffee! 🙂  Thanks for swinging by ya'll!!
OH and if you are in Houston and interested in attending a future blogger workshop, sign up for the Houston Blogger Union.  My friend Jillian started the Houston chapter, and we had our first get together this weekend.  I have heard sneak peeks of what is coming, and trust me you want to join!
SHOP THE LOOK
Follow Lady in Violet INSTAGRAM | TWITTER | FACEBOOK | BLOGLOVIN | SUBSCRIBE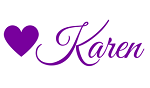 Love this post? You may also love: