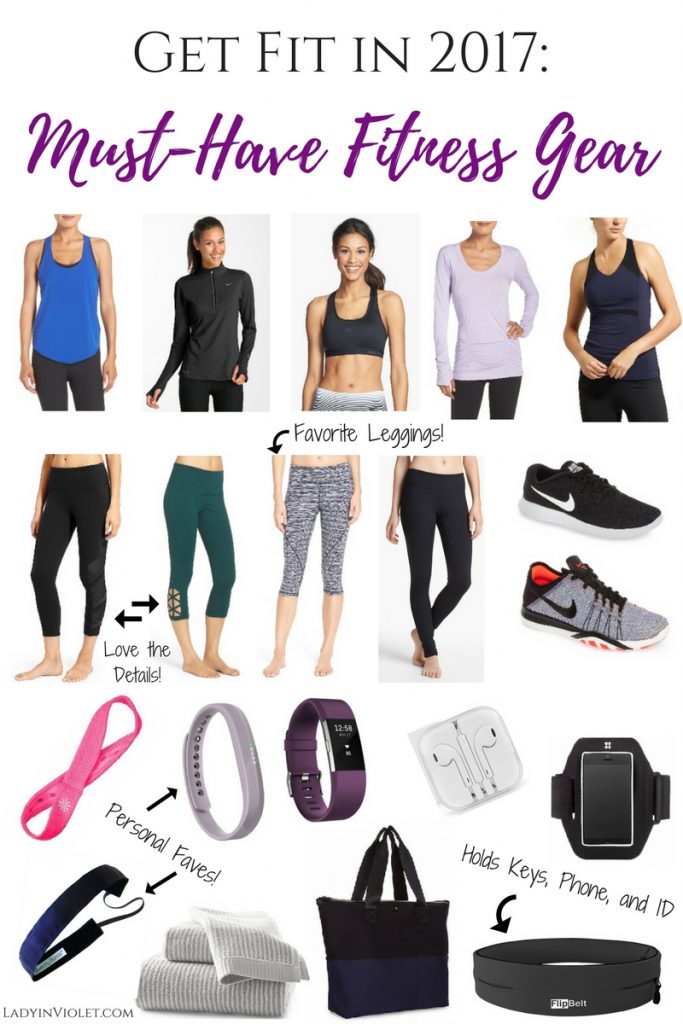 I always turn into such a gym slacker at the end of the year.  Probably a combination of being busy and a bit lazy.  I work out weekdays at 5am.  Sometimes when the holiday hustle and bustle is in full swing, I choose that extra hour of sleep over hitting the gym.  The new year is always my excuse to kick my butt back into gear.  I wanted to share some of my must have fitness gear for working out for anyone making a resolution to get fit in 2017 or just wanting some cute new workout gear to keep you motivated.
My gym wardrobe mainly consists of capri leggings and tanks.  I own this pair in multiple fun colors.  They have fun prints and are a nice thick stretchy material.  I own the long version too in black, but I primarily wear them as loungewear or athleisure.  I have always preferred a cropped legging for working out. Many pairs come with such cute details like mesh panels or cutouts to give your look a little added flair.  For cold morning or days when I chose to walk the neighborhood, I love these long sleeve jackets and tees with the thumb hole.  It helps keep your sleeves in place and adds a little warmth to your hands.
When I shop for sports bras or built in bra tops, I always look for something with medium support.  It provides the perfect security for active cardio like the elliptical or running, but it is still comfy for a yoga class.   Other tops I love are muscle tees and racerback tanks.  You can also take old tshirts and turn them into workout tops by cutting off the sleeves and opening up the neckline.
I'm pretty picky about the shoes I wear to workout.  The wrong fit or type of shoe can lead to injury.  I typically look for a running or training shoe because that fits my needs best.  If you can, go to the store and try them on.  Walk around a bit, make sure nothing rubs, the sole is comfortable, and your foot feels supported.  Luke's Locker is amazing for helping you find the perfect shoe in Houston!
I hate my hair in my face while working out, so a headband is a must have for me.  This one is my favorite of all time!!  I have owned it for years, and it stays perfectly in place for my entire workout.  If you are at the store, look for a headband with some kind of grip on the inside to help it from slipping.
One gadget helping me stay on track this year is my fitbit.   I received this one for Christmas and have been using it for motivation to get moving through the holidays. I love that you can set challenges for yourself or with a group of friends.  My January goal is to hit 10,000 steps everyday.
Motivating music is big for my workouts.  I stick with the basic headphones that came with my phone, and they work perfect.   Majority of the time, I keep my phone in a waist band. This one also had room for ID and keys.   I'm not a fan of the arm band ones because I find they stretch to quickly, but some people don't like something around their waist.  It's a great alternative and still does a good job.  If you head to they gym, don't forget your towel.  I bought a few hand towels that are solely for me to take to the gym.
For anyone starting a new fitness routine or kick starting the old habit, I wish you much luck!!  My main rule is I have to at least go and do 30 minutes of cardio.  I find the hardest part is just getting up and going.  I never regret it once I'm there, and I usually do way more than just 30 minutes of cardio.  Stick with it, 5am workouts sucked in the beginning, but now I love starting my day that way.
SHOP THE FITNESS GEAR
Love this post? You may also love: