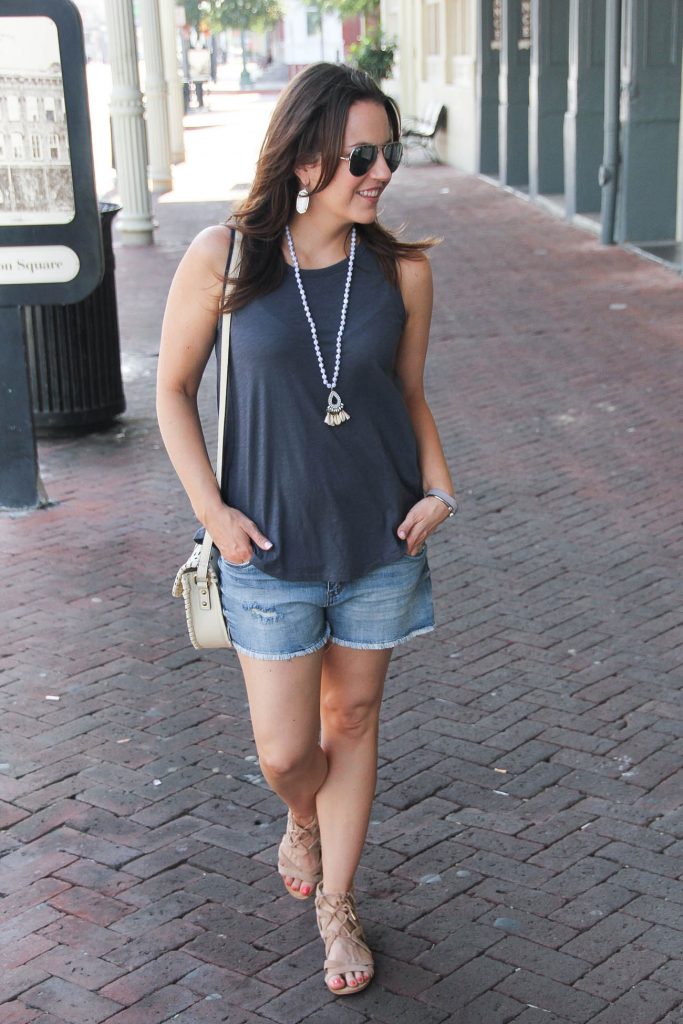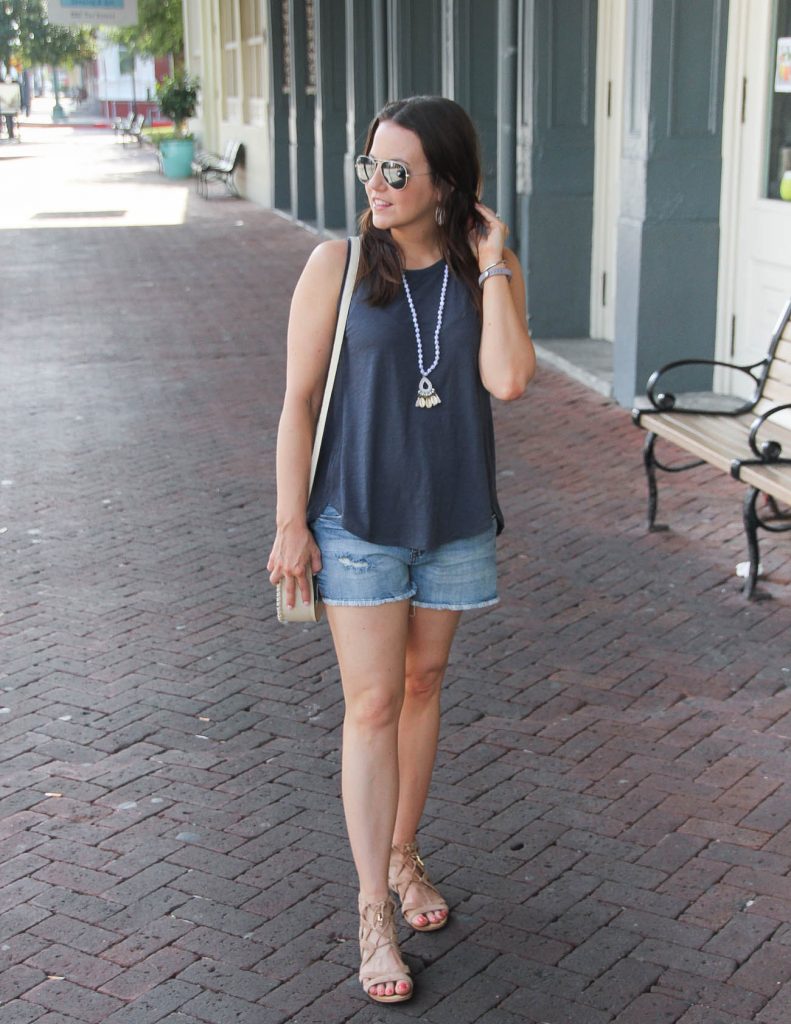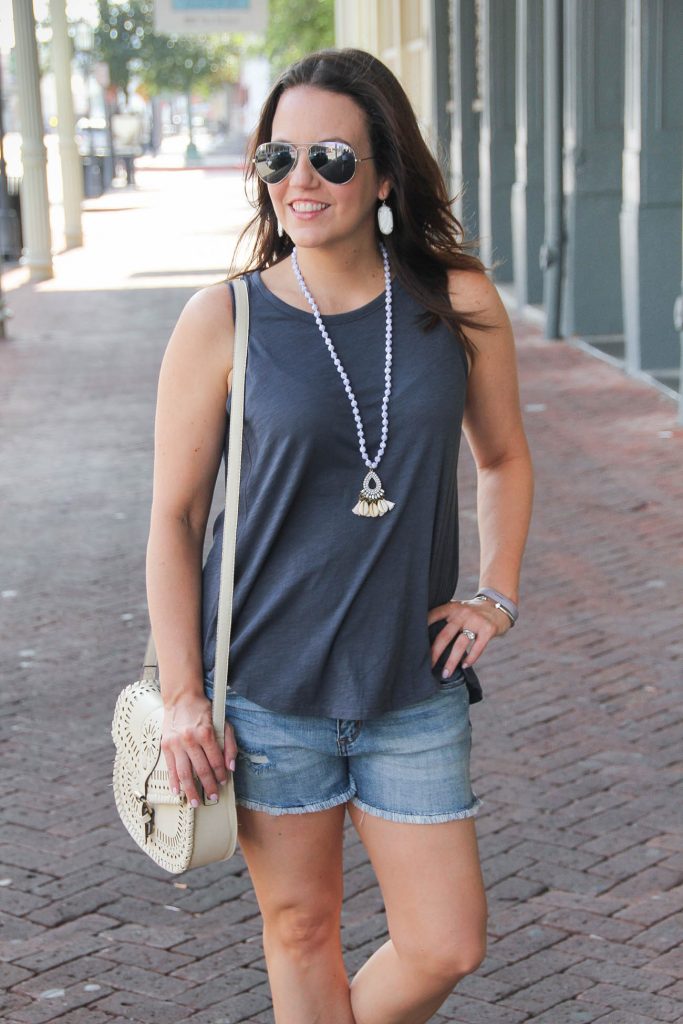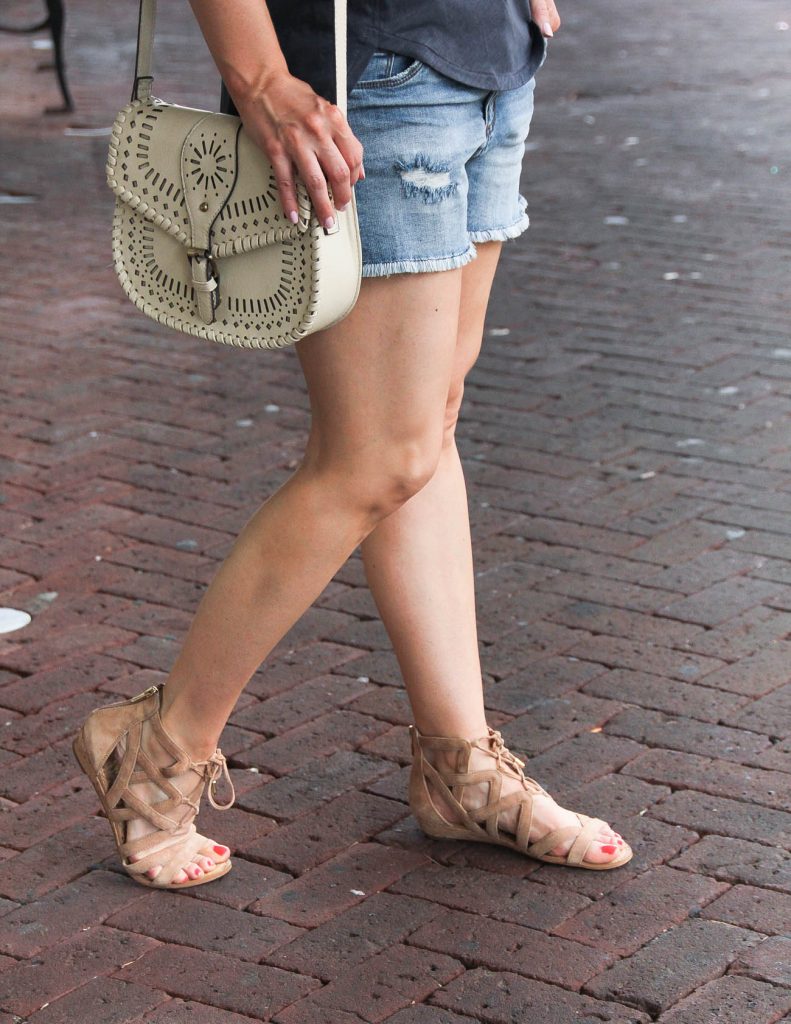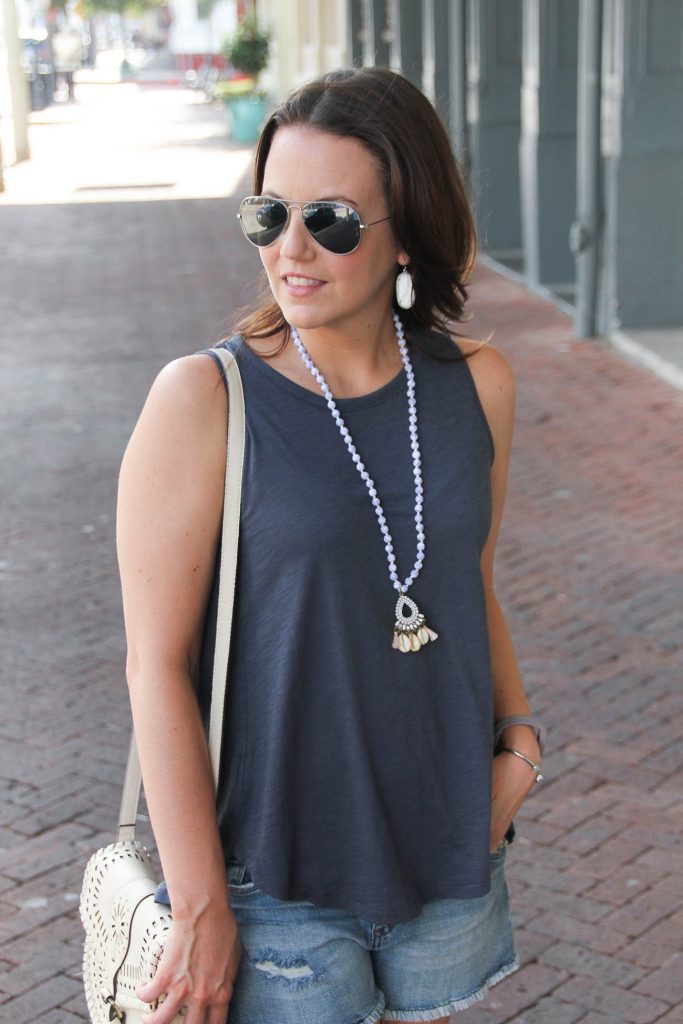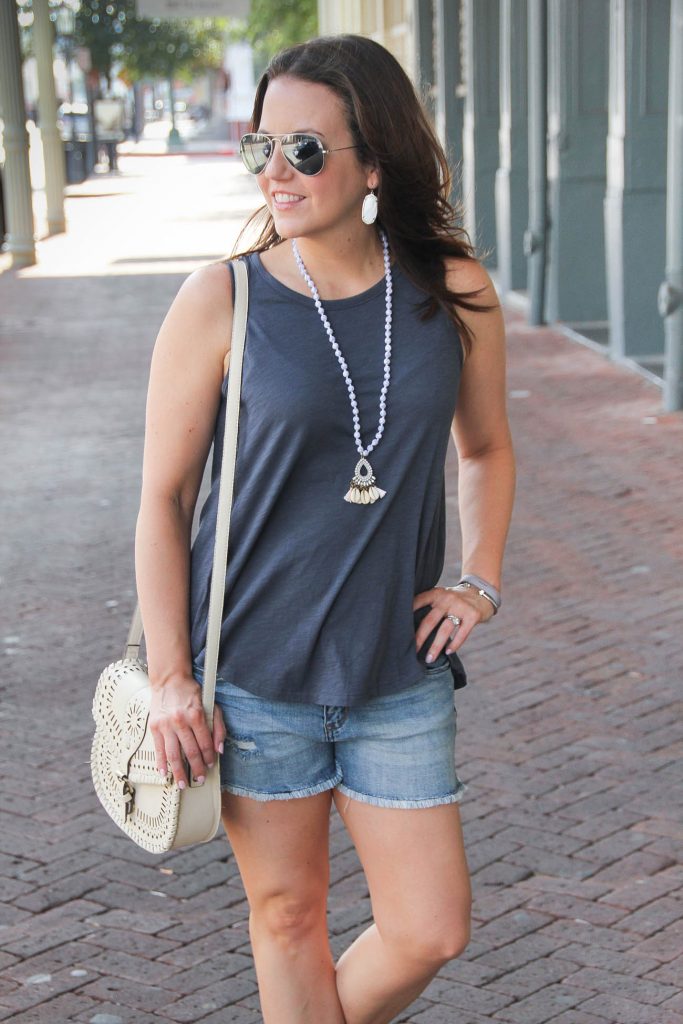 Hello lovelies! How was your week so far?  The hot Texas summer is officially here you guys.  June was a little cooler than normal, so I was beginning to think maybe it was going to be one of those summers where you don't immediately start sweating as soon as you walk out the door.  I think July 1 hit and it was like Hello Heat!
While I love to always look cute and stylish, these hot summer days also have me craving lightweight and breathable wardrobe pieces that can help me last hours outdoors.  I love this top for just that kind of all day outside necessity.  It's a thin material, but not overly sheer.  You don't need to layer on another top underneath it, so it a great lightweight feel.  The swing tank style also help with air flow to keep you nice and cool with every breeze.
Shorts are always a good idea on a hot summer day.  These denim ones or my favorite cotton shorts are perfect to pair with tees and tanks.  These caged sandals were a highlight purchase last summer.  I walked all around Charleston in them, so they are comfy.  Plus the caged design helps keep your feet cool too.
I wore this outfit out in Galveston on a day we did a little exploring, and it definitely kept me nice and cool and super comfortable too.   A little bonus for today's post, I wanted to share some of my favorite places to eat in Galveston, TX.  We love to always try and find a new restaurant or two every time we go, and of course stop back in to visit past favorites.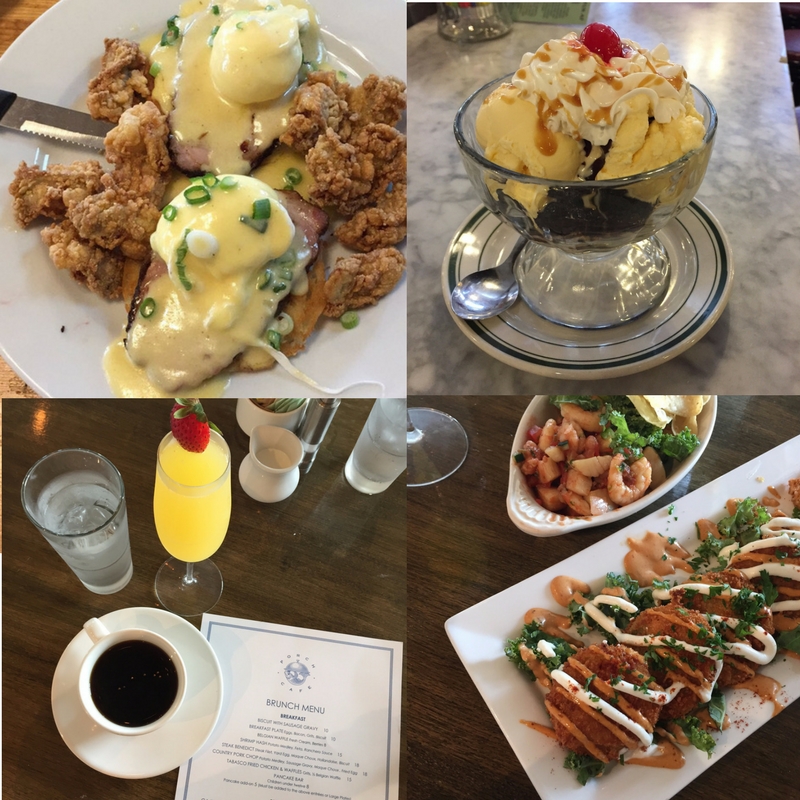 Pictured Above: Oysters Benedict from Sunflower Bakery, Hot Lava Cake Sundae from Star Drug Store, Coffee and Mimosa from Porch Cafe,  Ceviche and Fried Green Tomatoes from Porch Cafe
BEST PLACES TO EAT IN GALVESTON, TX
Our meals in Galveston usually include a Brunch, late afternoon snack of coffee, and dinner.  We opt for a late breakfast (aka brunch) instead of lunch so we can have a full day to explore or hit the beach.
BRUNCH
Mosquito Cafe – One of our favorites for weekend brunch!  They do get busy and usually have a line out the door, so I recommend arriving early.  This place is proof that real food can be delicious without all the bells and whistles.  Classic breakfast dishes, but oh so good.  They also serve my favorite Blue Mountain Coffee.  The dessert section is very tempting, and the Lemon cake is amazing.  They serve lunch and dinner, but we have only had brunch here.
Sunflower Bakery – This cafe came highly recommended, and I can see why!  I had the oysters benedict and practically licked my plate clean.  The oysters had such a fresh taste which moved this spot straight to our We'll be back list.  We didn't try the desserts, but they all looked amazing including a chocolate tart that I will probably try next time.  We were seated right away, but a wait was forming by the time we left.
Porch Cafe – This cafe is nestled in the middle of Beachtown.  This little neighborhood is charming and adorable and worth a stop by itself.  Porch cafe offers indoor and outdoor porch seating.   The design of the restaurant has a very southern feel to it.  We tried a few different dishes, and everything was delicious.  We both agreed the Seafood Au Gratin was one of the best dishes we have had in Galveston, like ever.  They also take reservations, WIN!
Farley Girls Cafe –  This restaurant has classic brunch dishes and a few fun flavor mixups.  My husband orders the OMG and loves it each time.  I love the Texas Eggs Benedict, but I also love just about any food smothered in queso.  This restaurant does get busy, but I have never had a long wait at all.  They also have a parking lot next door, but you have to get your parking validated by the restaurant.
SNACKS AND COFFEE
Mod Coffee – If you need a morning or afternoon cup of coffee, Mod Coffeehouse is a cute little spot to stop in on.  If you enjoy your coffee there, you also get some pretty latte art.  My favorites are the Honey Bee and the Grasshopper.  On cooler days, they also have a small outdoor seating area on the sidewalk surrounded by vines.
Star Drug Store  – This cute little soda shop has a full menu, but it's a perfect spot for an afternoon ice cream snack.  The decor is so cute, and the Lava Sundae is amazing!
La King's Confectionery  – A must stop shop on the strand to get your sugar fix!  I always stop by to pick up a bag of salt water taffy and occasionally a little fudge.  They have hundreds of different kinds of candies.!  It's fun to just walk around and check them all out. On certain days, you can also watch them make the taffy which is quite a sight to see!  The other side of the store is a soda fountain serving drinks and ice cream.
DINNER
Rudy and Paco  – A nice romantic spot for an evening dinner.  The food is delicious too.  I can't remember the exact dish I had, but I know it was one of the Red Snapper dishes and really good.  They do have a dress code during dinner.
Gaido's Seafood Restaurant – I consider this one of those you have to eat their at least once places.  It's one of those Galveston institutions.  I highly recommend reservations for dinner. This restaurant is a great place to come to for your seafood fix.
Fisherman's Wharf  – A good handful of the restaurants on the island are part of the Landry's group.  Of all of them, this one is my favorite. They have good classic seafood dishes.  They do tend to have a wait, so I recommend arriving early or making a reservation. The Shrimp Kisses are always a favorite of mine.
Mario's Seawall Italian & Pizzeria  – A great place to come for a good classic Italian dinner.  I always get something different when we stop here, but the Viva Italy is a great mix of 3 Italian dinner classics.
If you have visited the island, I would love to hear about your favorite restaurants.  We are always on the hunt for more of the best places to eat in Galveston, TX.  Leave your recommendations in the comments, so we can add them to our list!
Love this post? You may also love: