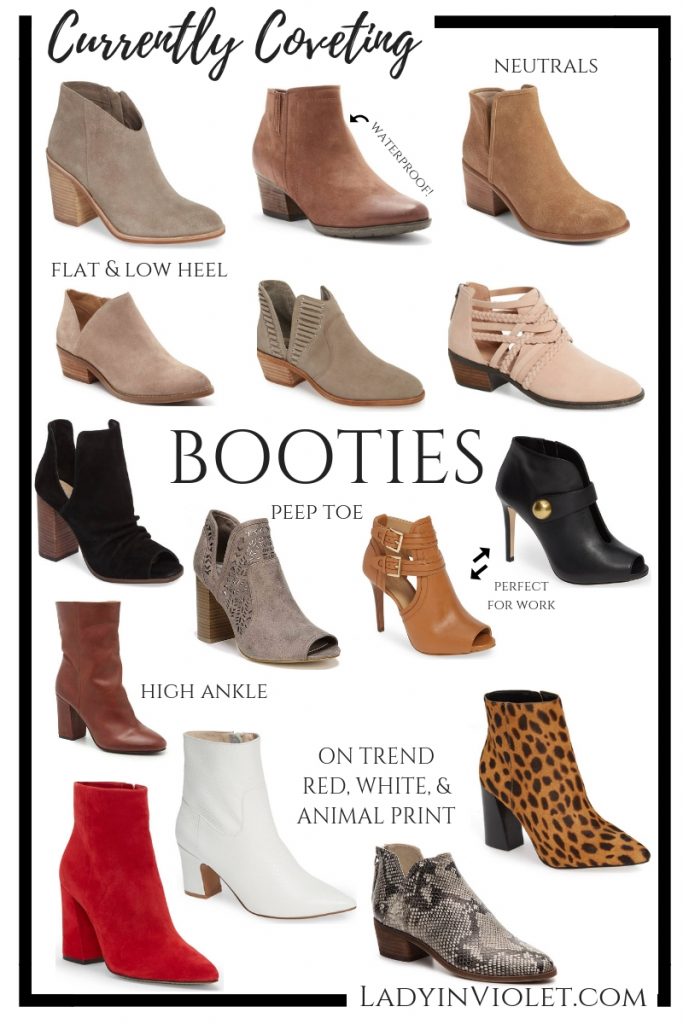 Let's talk shoes, more specifically FALL BOOTIES!  I love booties because you can start wearing them at the start of fall when the weather is still warmer and wear most of them through spring.  If you live in the south, you can usually wear peep toe booties in the winter except for those few freezing weeks each year.  I rounded up some classic neutral styles including a few low heel/flat styles for you.  One of them is waterproof!  I just learned about waterproof booties from a friend.  She had a few pairs from this brand, and I loved how cute and stylish they look.  We have had a rainy fall and we usually get lots of rain in the spring, so I may need to get a pair!
I added another peep toe bootie to my shoe collection this month.  I have had my eye on them for awhile, and finally just broke down and bought them.  I love that I can wear them both to work and with jeans.  This year's hot bootie trend is all about making a statement.  The hot color trend is red and white, and the hot print is leopard and python.  Almost all of these booties come in different color options. So if you like the style but not the color, you may be in luck to find your preferred color option.  Also, about half of the booties I picked this year are under $100 and all are under $200.
Thanks for stopping by and Happy Shoe Shopping!
SHOP THE BOOTIES
Love this post? You may also love: