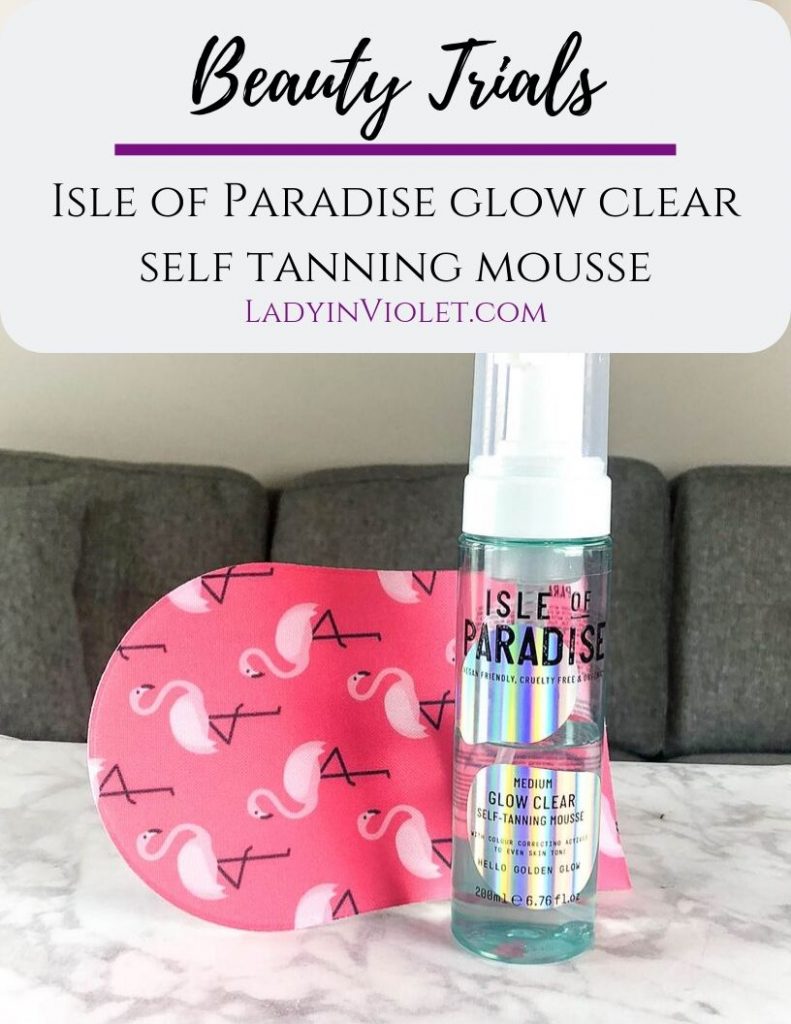 Hello Hello! I'm so excited for this new Beauty Trials series!!  I'm always trying out and playing with new beauty products, some I buy, some PR companies send over to me.  For beauty products, I like to try them for a few days or weeks depending on the type of product before giving them my stamp of approval.  I was trying to group like products and routines, but I find this can take months of trying out different products before a post comes together.  I really wanted to share products I love with you immediately, and the idea of this series was born.  The series will be a product review of one product I'm currently trying out and my thoughts on it.  Hope you enjoy this new series!
My love affair with self tanner is no hidden secret.  A few months back, I even wrote a post on how to apply self tanner.  Since then, I have been trialing a few different products to share my thoughts on some of the best self tanners on the market.  Isle of Paradise tanning products have become super popular! You may have heard of their drops which are on my to try list.  When I went to check out the drops at the store, I stumbled upon the Isle of Paradise Clear Glow Self Tanning Mousse.  In my quest to add more clean beauty products to my routine, I was excited to find a clean self-tanning product!
So what is a clear tanning mousse?
Most self tanners have some sort of guide color in the mixture that helps you see where you have applied the tanner and helps ensure you don't miss a spot.  When you shower off your tanner, this guide color washes off.  The guide color is also what tends to stain your sheets and clothes.  The clear mousse is the same tanning product minus the guide color.
Pros of No Guide Color
No staining!  I wore this product to bed a couple nights and no stained sheets.  I read reviews about people wearing this out and about in everyday happenings, so I decided to try it out.  I applied the self tanning mousse on 3 different mornings before I started my hair and makeup routine for ample time to dry.  I then proceeded to apply my face moisturizer and makeup like normal.  I also wore different style outfits each day – a loose shift dress, flared jeans and skinny jeans.  I also wore a white cami underneath tops on the two jeans days.
The results – No staining of my clothes! The white cami was fitted and both days I didn't see even the smidge of self tanner. I do think my legs were a little darker from the dress day vs the skinny jeans day, but not by much.  I didn't see any uneven coloring from my clothes rubbing or from applying makeup over the product.
Cons of No Guide Color
You can't see where you are applying the tanner.  If you have never used self tanner before, I would start with a product with guide color.  This will help you learn the areas you need to focus on when applying a clear mousse.  I know I always miss under my arm, so I go slow when using the clear mousse and make sure I hit this spot.  As a regular self tannner, this product would probably be pretty easy to use since you are used to applying tanner and know how to apply for full and even coverage.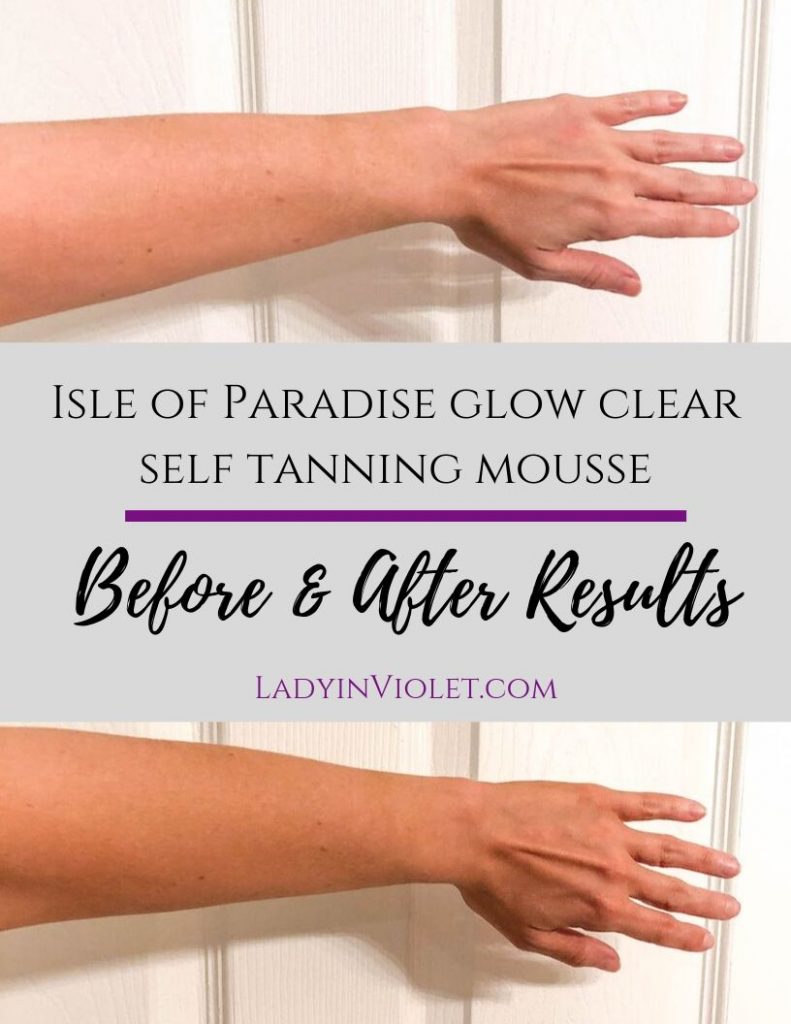 What about my results?
I opted for the medium green shade.  This mousse is supposed to have color correcting in it, and green helps cover red which is my color correcting issue.  I do notice some color after using this tanner.  It's not as dark as I normally go.  I did like the color and would use it in the winter when I don't want that fresh off the beach look.  After I run out, I plan to try the purple dark shade just to see how it works.  The tan lasts about 3 days until I feel the need to reapply.
How long does the bottle last?
I have been using this for about 3 weeks, and I'm about halfway through my bottle.  I would guess that I can get about 12-14 tans out of the bottle.
Overall Thoughts:
This self tanning mousse will be a staple in my line up for sure!  I love that I can wear it to work and that you don't need to shower after 6 hours to wash off guide color. When I sleep in it, it saves me precious morning (aka sleep) time before I go to the gym.  For yearly use, I would like the color to be a little darker which is why I plan to try the dark shade.  If you want to say goodbye to stained clothes and sheets, this is your product!
SHOP THE PRODUCTS
Love this post? You may also love: