Monthly Archives:
September 2019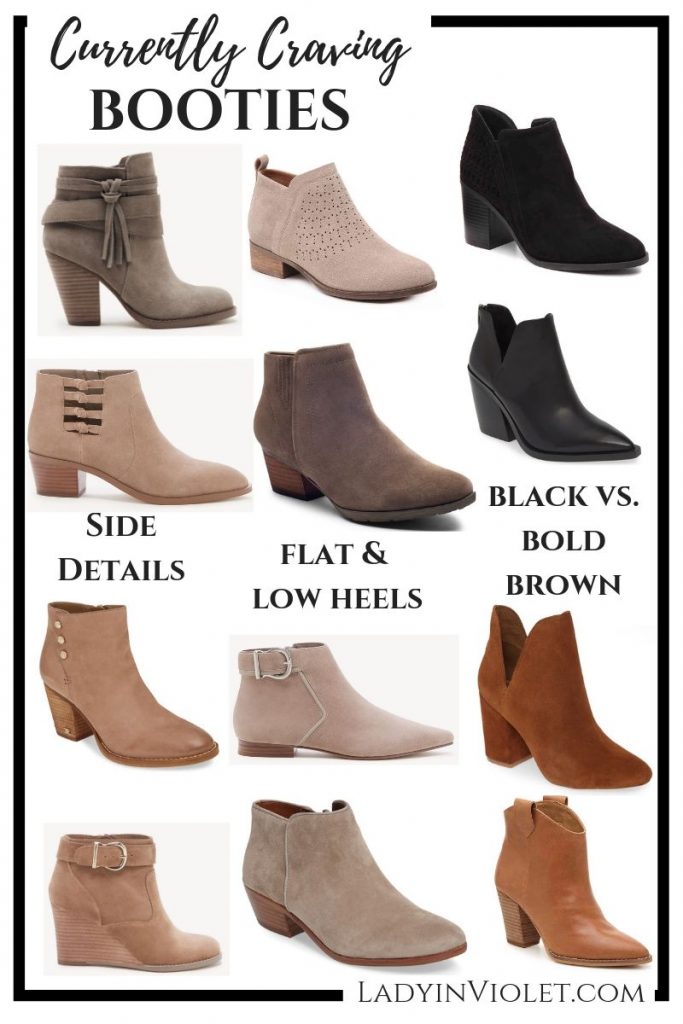 It's that time of year for a little seasonal shoe round up!  September is here, pumpkin everything is hitting stores and coffee shops, and it's time to start pulling out those booties again!  If you are in need of a new pair, I have rounded up some of my top picks for the season.  If you don't need a new pair this year, consider this a little mid-week eye candy.
I divided up my picks into 3 sections this year – cute details, the always popular flats, and a bold but still versatile color.  I think for the side details the top is my favorite, but the others are all close runner ups. I also included a wedge bootie.  A friend of mine has a pair similar to these and raves about how comfy they are compared to her heeled booties.
For our flats section, I found a few different styles from great basics to fun details.  The second pair is also waterproof! I learned about this brand from a friend who used to live in Seattle.  With how rainy it gets in Houston sometimes, I am considering adding a pair from this brand soon.
Animal prints are pretty popular this season, and many of these booties also come in a print.  Personally, I'm not 100% ready to buy a printed bootie. I love my printed heels, but I don't know how I would like the bootie look on me.  I will say though I've seen some really cute outfits with them!  For me, I think a bold neutral color like black or cognac brown is a better option.  It will still give me versatility with my wardrobe and the stronger color will stand out just enough.  While I normally lean towards suede for my booties, I found a few cute leather pairs that I think really work with the strong color choice.
So which bootie style is your favorite?  If you want even more help prepping your fall wardrobe, my free wardrobe checklist dowload is available HERE!
SHOP THE SHOES