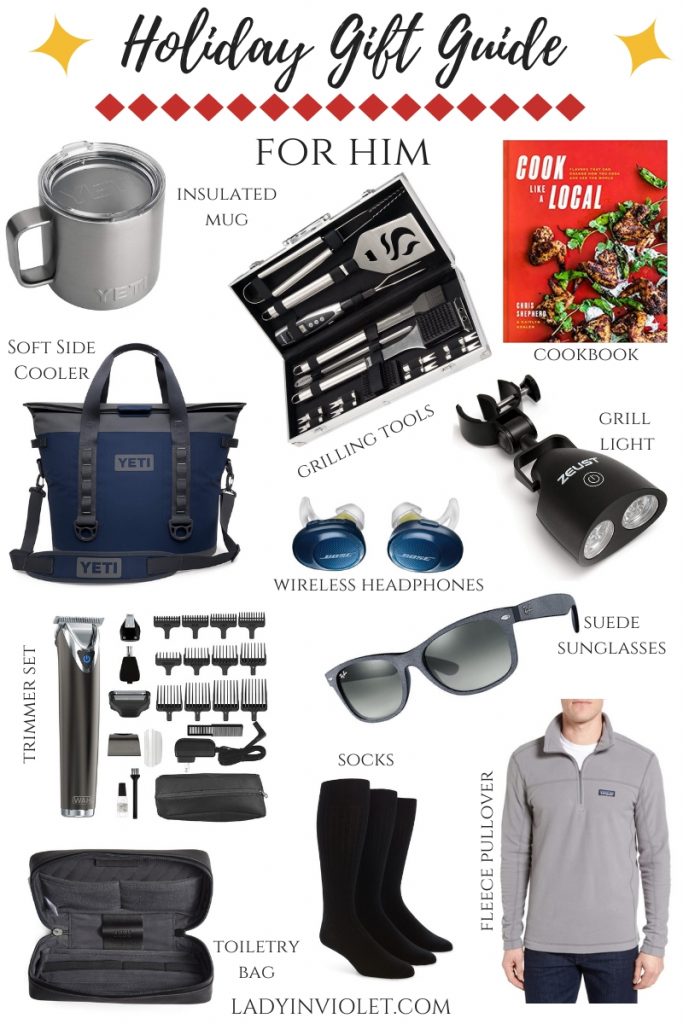 Today's gift guide is Man Approved! 😉  My boyfriend helped pull together a few of these Christmas gift ideas for men.  I figured he would be a good resource and utilized the drive to College Station this past weekend to pick his brain a little.  He came up with some really good ideas, and then I just filled in a few with some of my favorites to round out the guide.  As always, I tried to hit a variety of men from cooks to outdoorsy to stylish.
A few spotlight items:
SOCKS – Yep, as basic as Christmas gifts come!  This brand is one of my boyfriend's faves, although he usually prefers one of the prints.  He says they are super comfy and worth the splurge!
SOFT SIDE COOLER – I attended a pool party over the summer, and a few party goers brought these coolers.  These coolers are much easier to carry than the normal hard ones, and still super sturdy.  You can also still feel them with lots of ice and beverages!
TOILETRIES BAG – I include one of these every year, because I think it's such a good idea!  This year, I found one with organizational compartments to make travel even easier.
GRILL LIGHT – Another idea from my boyfriend was a grill light.  If your guy is a big griller, this will help with any night time grilling and is a much better option than a flashlight or phone light.  It's heat and weather resistant and can clamp on to free up hands for grilling.
Still stumped for a gift idea?  I found a few more items shown below.  You could also opt for something like a gift card to their favorite restaurant, an order from Omaha Steaks or something similar, or an experience gift like sports or concert tickets.
CHRISTMAS GIFT IDEAS FOR MEN
Love this post? You may also love: