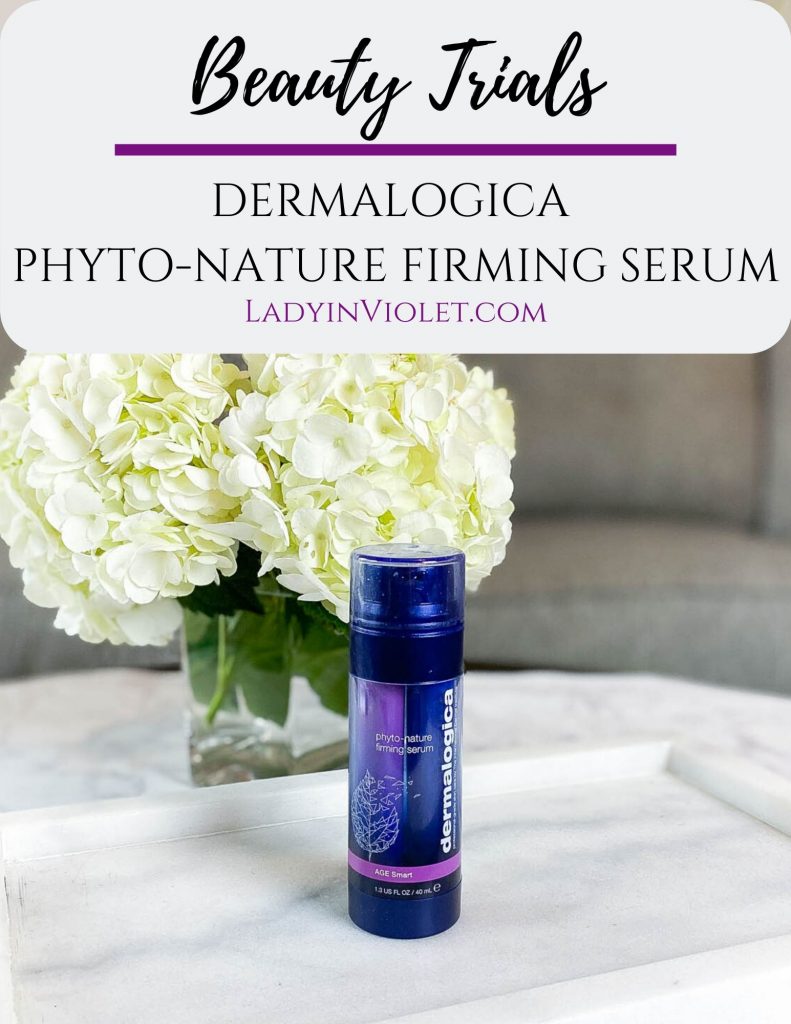 (gifted by Dermalogica, the decision to review and opinions shared are my own)
A few months ago, Dermalogica sent me one of their newest products, a 2 in 1 firming serum, to try out.  I'm a long time fan of Dermalogica's skincare products because they always deliver great results for me.  The Dermalogica Phyto-Nature Firming serum claims to both firm and lift with results like reducing fine lines and delivering luminosity after one use and reducing visible wrinkles after 4 weeks.  Dermalogica is a clean skincare brand, and this serum features an ingredient list free of parabens, artificial fragrances and colors.
The ingredient list includes plant-derived bio-extracts to visibly tighten skin, Amazonian Camu Camu to help prolong radiance, Hyaluronic Acid delivering a filler effect, and the antioxidant Moroccan Rockrose Extract and Madagascar Green Coffee Bean to visibly revitalize skin and help decrease the appearance of fine lines and wrinkles.
I primarily used the product twice daily both in the morning right after my shower so it had time to soak in and in the evening before bed.  Since I like mixing up my skincare routine in the evenings, I did not use solely this product but I did use it quite a bit.
Overall, I was pretty pleased with this product.  After the first night time use, I did notice more of a glow in the morning.  I felt my skin looked more hydrated reducing the appearance of some fine lines.  When I use this product several days in a row, I can tell fine lines and wrinkles are improving.  I think the forehead area was where I really saw a difference and improvement.  It didn't completely erase lines, but I did notice them improve and look less deep.
It's a pretty simple product to apply.  It contains 2 products that come out as one when you pump.  I used 2 pumps with each application.  It went on light and absorbed quickly.  I was usually able to start my makeup routine not too long after applying.  I like to give morning serums at least 10 minutes to soak in, but I had a few days I was in a rush and did less time.
If you are looking for a clean skincare serum, this would be a really good option.  I will say I don't think it would be my top serum choice over all beauty brands, but it would be pretty high on my list. For just clean skincare products, it would be a little higher on the serums  list.
SHOP THE PRODUCT