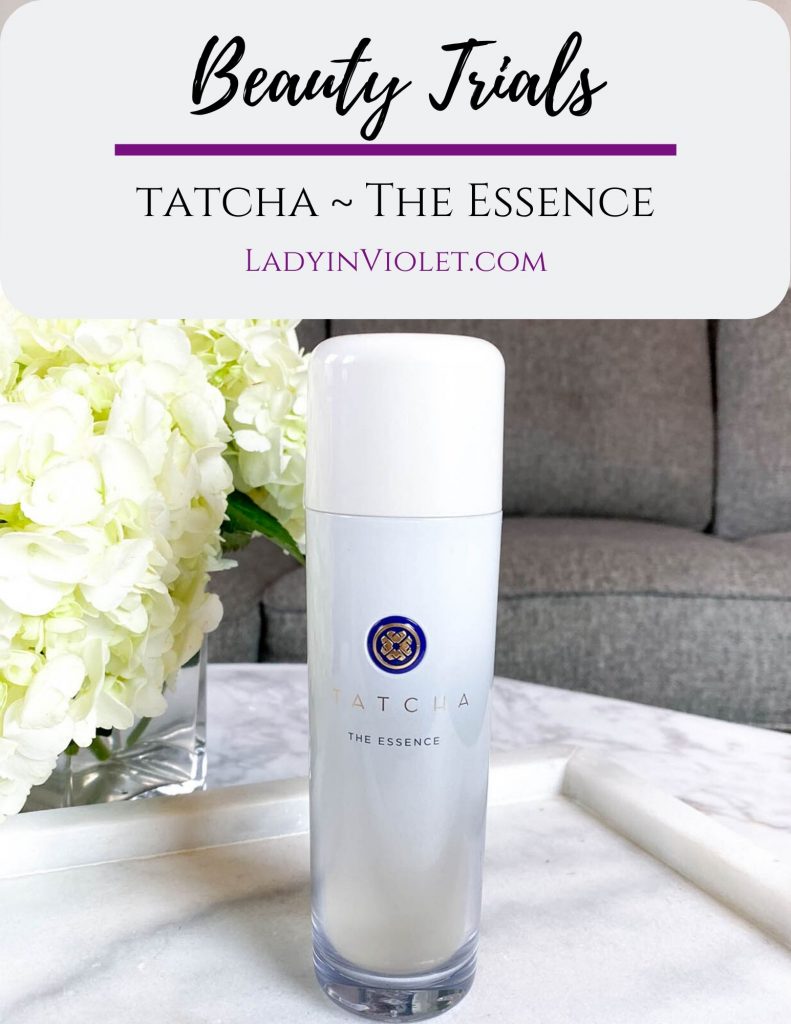 Get ready ya'll because I have lots of beauty content coming at you over the next couple months.  I spent so much of last year trying out different products and routines, and I can't wait to share with you!
I'm kicking my 2020 beauty off with review of Tatcha The Essence. It's a new to me product and brand.  A friend first told me about the Tatcha brand and how much they loved their products.  I decided to try out one of the more popular products from Tatcha,  The Essence.
If you have never heard of the Tatcha brand before, here's a little backtstory. Tatcha was founded by Victoria Tsai after a chance encounter with a modern-day geisha that changed her skin.  She learned classical Japanese beauty secrets passed down by generations that took a less is more approach to skincare.  She learned that the foundation of a geisha's beauty ritual is rooted in a trio of powerful nutrients—green tea, rice, and algae. She combined what she learned and a little science to create the Tatcha line.
What is Tatcha The Essence?
It's a water like product filled with anti-aging Japanese superfoods that will help hydrate, smooth, and resurface the skin.  All of which should also help your other skincare products work better.
Why I wanted to try this out?
I'm a big fan of my micro-needling tool which helps open up your skin and allow skincare products to seep in deeper and work better.  While reading about Tatcha The Essence, it sounded like it might do something similar with just a few splashes of the product on my face.  Plus during winter, I need all the hydration help!
How do I use it?
I currently only use this in the evening, but you can use it both morning and night.  After I wash my face, I pour about 1/4 teaspoon into the palm of my hand.  I use my fingers to lightly apply the water onto my face.  Then, I use my fingers to lightly press the water into my face and spread around to make sure I cover my entire face.  I let it soak in for a minute or two and follow up with my serums and moisturizers.
My Results
I have noticed an improvement in hydration of my skin.  Winter is typically when my skin is a little drier, and I use extra moisturizer.  I haven't really had to do that while using this product.  I also think it helped my skin survive the chaos of the holidays.  All the yummy food, sugar, and alcohol that happens during the holiday season usually takes a small toll on my skin with redness, unevenness, and breakouts.  I used this all of December and didn't really have any skin inflammation issues during the holidays.  I noticed a more even skintone and less fine lines with use of this product.  I think this is probably a combo of the product plus it helping my serums work a little extra.
Overall, I'm planning to keep using this product and will probably make it a regular in my winter skincare routine.  Hope ya'll enjoyed my Tatcha The Essence review and that ya'll are liking the Beauty Trials series! I'm looking forward to continuing it this year!
SHOP THE PRODUCT
Love this post? You may also love: