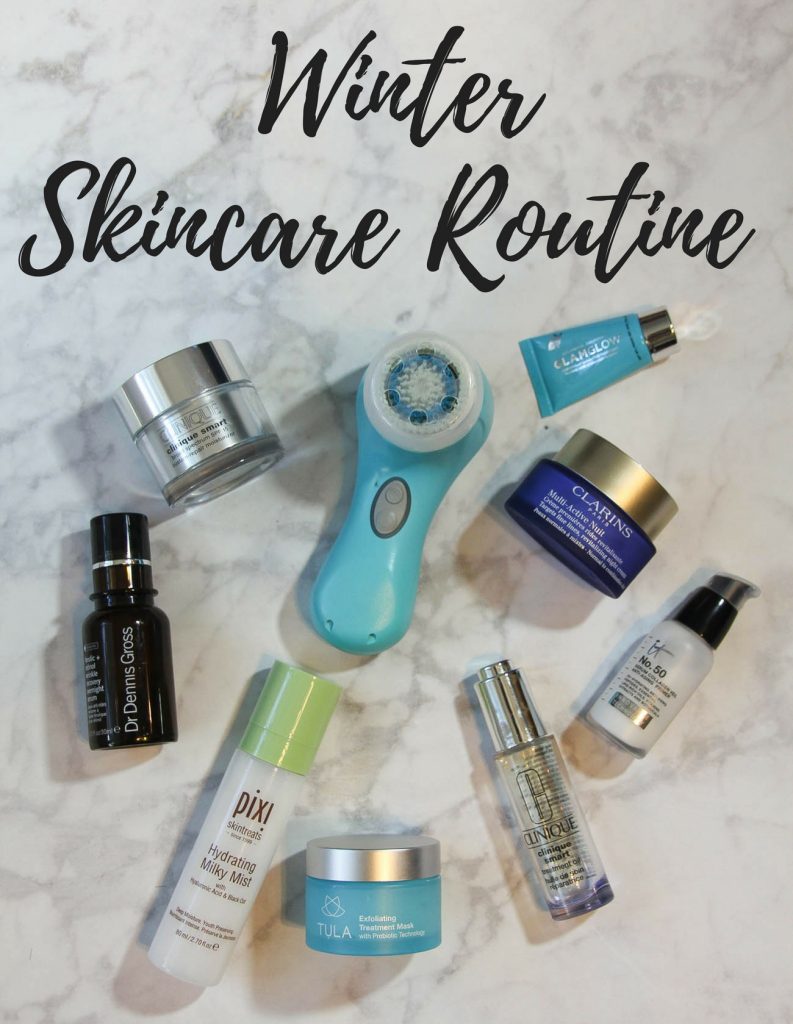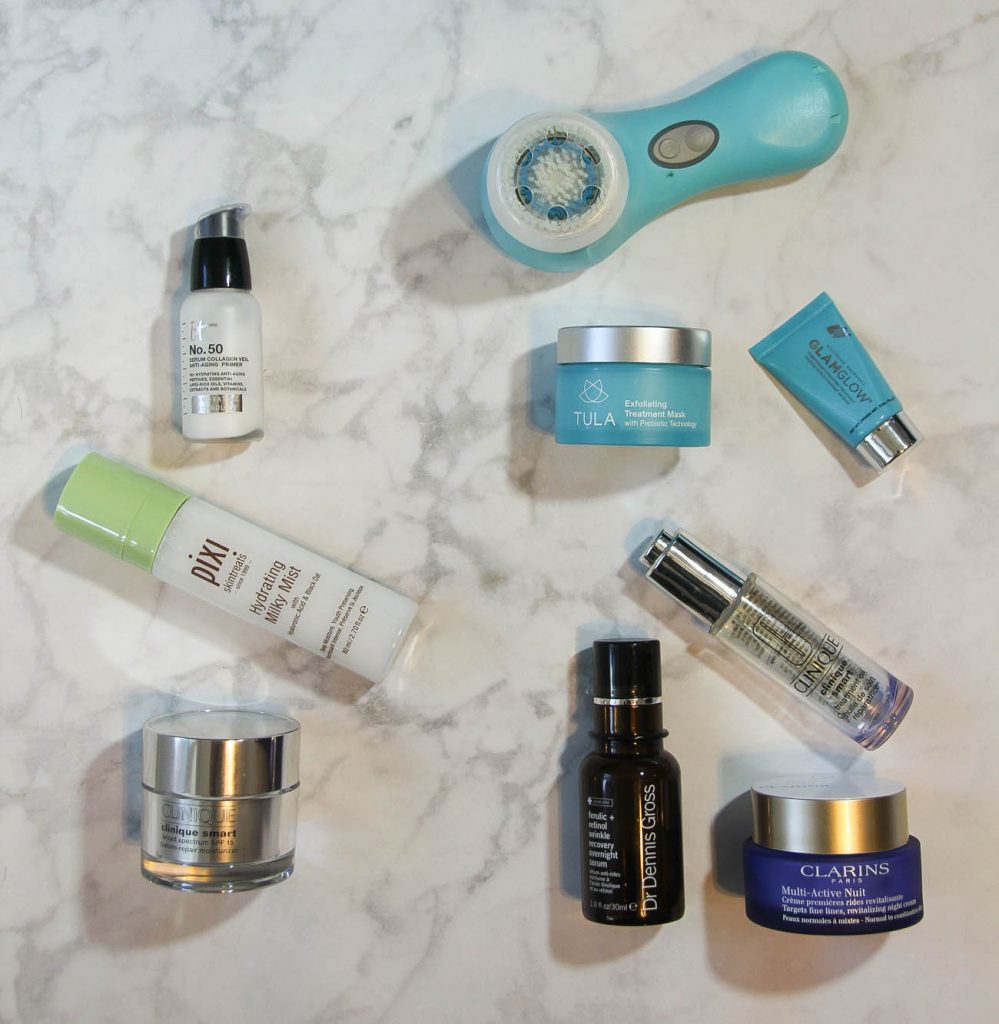 Last year, one of my goals was to improve my skincare routine.  I tried multiple products and various routines, and by the end of the year I felt I had a pretty good routine going.  Then I went and had a facial in December.  I was surprised to hear that I needed to be moisturizing and exfoliating more often to reduce dryness and the amount of dead skin cells I had causing those fine lines I was trying so hard to erase.
I went back to my cabinet of products and re-worked my routine.  The seasons had changed and my skincare routine needed to as well.  After a few weeks of playing around, I feel like I found a winter skincare routine that is helping my skin glow and stay hydrated.  I kept some of the products from my previous routine, added a few more, and changed up my overall application schedule.  Below is my step by step winter skincare routine for anyone looking for a little change up of their regular routine.
MORNING SKINCARE ROUTINE
I hit the gym most weekday mornings, so my routine starts with a quick face wash in my post workout shower.  After my shower, I apply this serum/primer to help hydrate and provide all those beneficial anti-aging nutrients to my skin.  A little goes a long way with this product, and I love how moisturizing and thick it is.  I allow this serum to soak in while making my coffee before moving on to the rest of my morning routine.
I use this hydrating mist under my morning moisturizer to add even more hydration to my skin.  I lightly spritz it on and let it set for a minute or two usually while I straighten my hair for the day.  After trying a few different morning moisturizers, I ended the year back with this Clinique one. I loved the results I received from using it for a couple months, and I have yet to find another product that helps moisturize and even out my skintone as well as this one.  Plus, it has SPF which is a major bonus in my skincare book.  I allow all these products to set and soak in before starting my daily makeup routine.
NIGHT SKINCARE ROUTINE
Every evening my routine varies just a little bit.  I rotate hydrating, exfoliating, and using my anti-wrinkle retinol serum.  I typically exfoliate 2-3 times a week, hyrdrate-3-4 times a week, and use my anti-wrinkle serum 1-2 times a week.  While every week is a little different depending on my schedule, I try to do a 2-1-2 routine, with the  2 days of hyrdating followed by either exfoliating or my ant-wrinkle serum.  Some weeks I will only put a day between exfoliating.  I really gauge how my skin looks and feels to determine which I need more of.
All of my routines start with a thorough face cleansing removing all the makeup from the day.  For my hydrating days, I will apply my hydrating mist followed by my night moisturizer or do a hydrating face mask followed by my moisturizer.  I try to do the mask at least once per week.  For exfoliating days, I will do either my Clarisonic exfoliating brush or an exfoliating face mask usually followed up with my treatment oil.   Occasionally, I will use my regular moisturizer instead of the oil.  I find that while effective, my anti-wrinkle retinol serum can be a bit drying in winter months.  For these months, I'm only applying 1-2 times a week.  When I apply it, I only apply this one product to my skin.  I know other products can interfere with retinol, so I don't want to apply anything that will take away from it's effectiveness.
Overall, I have been really happy with my results this past month or so using this routine.  I definitely can tell a difference in my skin from early December.  It's not as dull from too many dead skin cells clogging pores and enhancing fine lines, and I really feel my overall hydration has greatly improved.  Do you make any changes to your skincare routine with different seasons?  Any products you swear by during the winter months?  I'd love to hear about them!
SHOP THE PRODUCTS
Love this post? You may also love: