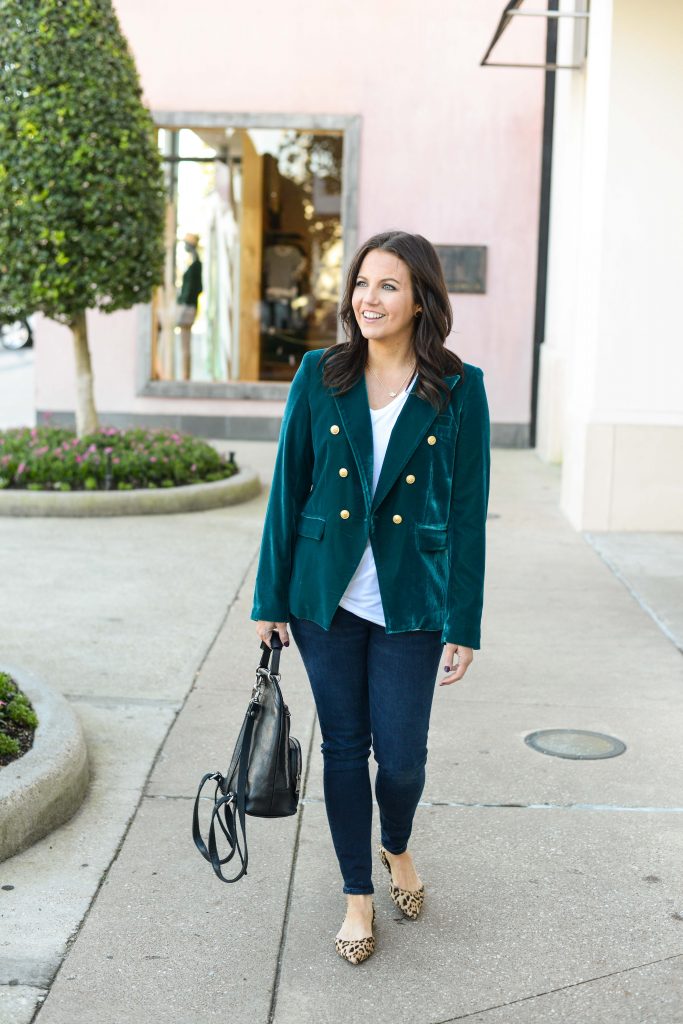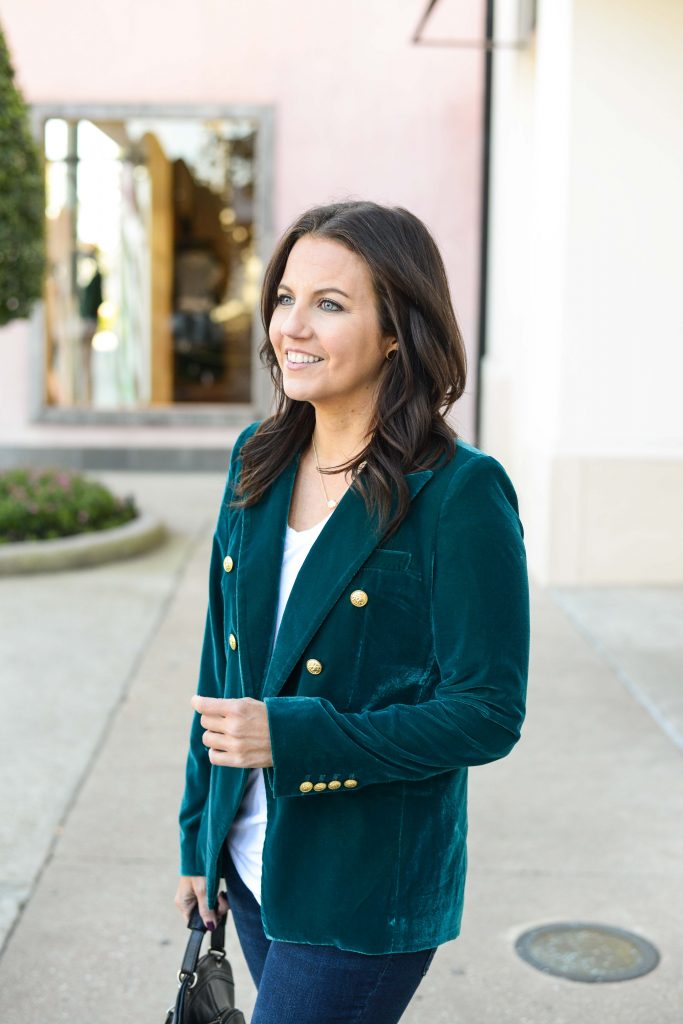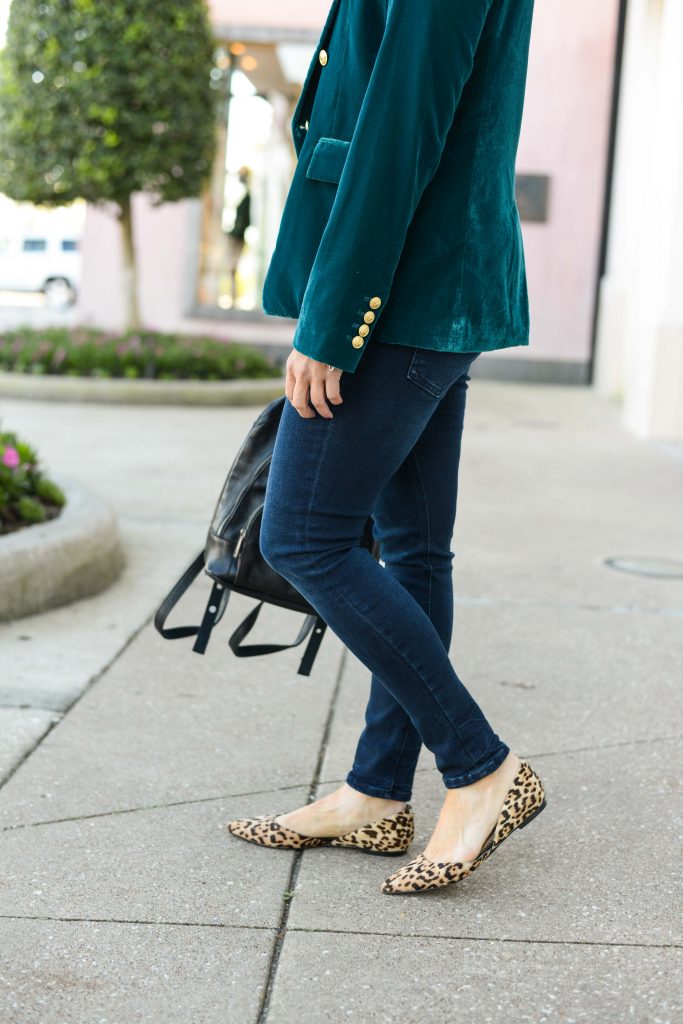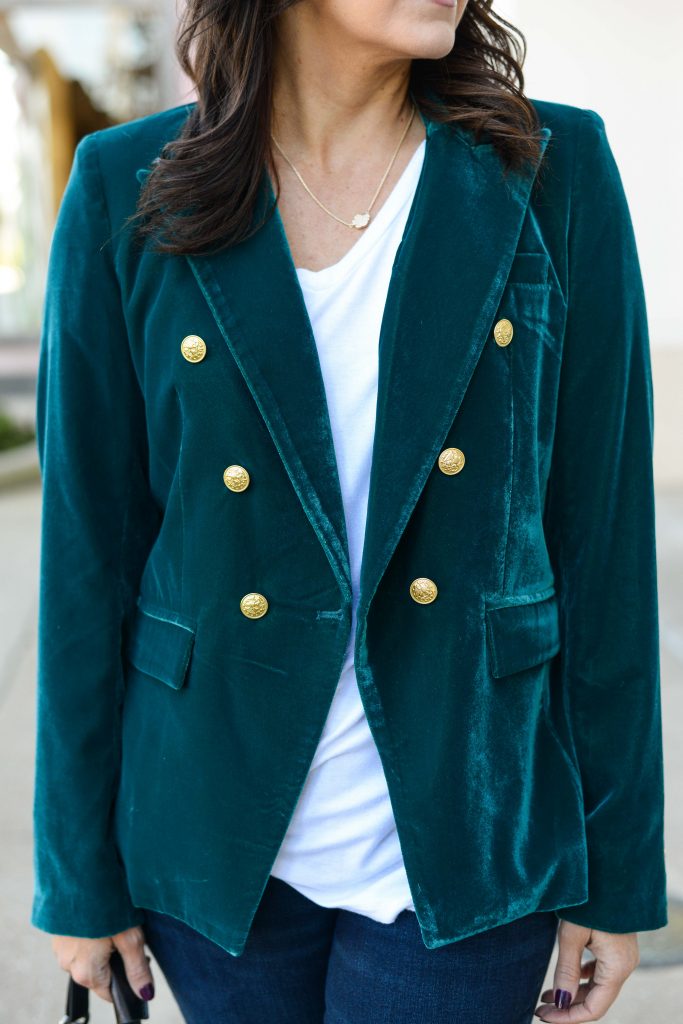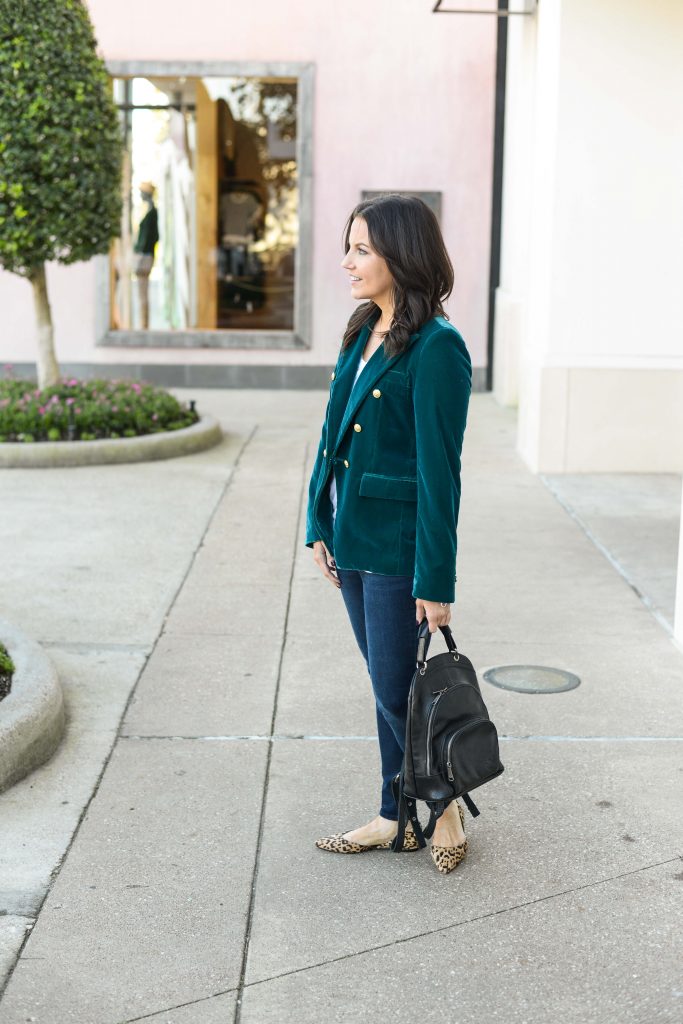 I tend to be the friend who dresses a little extra. When a gathering call for something casual, I'm probably going to find a way to and in something extra, fancy, a good statement maker.  I love finding pieces that I can dress up or down.  One of my favorite pieces to dress down is a blazer.  The graphic tee and blazer trend caught on in the past few years, and I love it.  I think this trend is popular for the more traditional material stye for blazers.  So today, I'm sharing some of the ways I dress down those special fabrics with how to dress down a velvet blazer.  These tips could also work for materials like sequins, tweed, and jacquard.
First, let's talk about this teal green velvet blazer.  It was an amazing sale find!!  Every January, local boutiques in Houston gather at a convention center for one big epic sale.  A local sorority alum group organizes it and a portion of proceeds benefit a charity. A girlfriend and I have made it a tradition of going because you can score some amazing deals like this jacket.  It retails for close to $400, and I got it for $75.  The color is gorgeous, it fits like a glove, and I can't walk away from a great velvet blazer that's under $100. (FYI – I didn't find it online for that amazing price, but I did find it on sale!)
Normally pieces like this one are on the pricier side which is why I like to find many ways to style them.  This jacket is going to be great to pair with dresses, suits, and jumpsuits for events and holiday parties, but I wanted to make this jacket work for more than just parties.  So how do I dress down a velvet blazer into a chic and effortless outfit…
Pair with a solid t-shirt in a complimentary color.  Black and white or ivory are easy choices for this combo.  If you like to color mix, you can try mixing in another color.  For this teal, I think lighter pastel colors would work beautifully.  For the more adventurous style gals, you can also pair a graphic tee underneath your blazer.
Add simple jewelry pieces.  The jacket is going to be the statement maker on a casual outfit, so keep your jewelry minimal and simple.  I opted for my classic gold stud earrings and a short necklace.
Opt for blue jeans.  Black and white jeans can sometimes make a look appear a little dressier, so opt for more casual blue colors or distressed jeans.
Pair with a casual flat.  My normal route for dressy casual looks is to add in a heel.  This jacket has a very dressy look.  So to keep this look more weekend casual, I opted for a pair of flats to keep my look from being too dressy casual.  You could opt for a neutral flat or sneaker.  I thought the leopard print complimented the color and style of the jacket, so I decided to add it in.   The fun print also helps add to the dressed down feel of the look.
These few simple styling tips can have you looking fabulous and casual for brunch with your gal pals in no time.  If you try out this look and share on Instagram, I would love if you could tag me (@karenkocich) in your story or post so I can check it out.  I love seeing how you take the looks I share and use them to inspire your wardrobe and outfits.
Photography By: LA Photography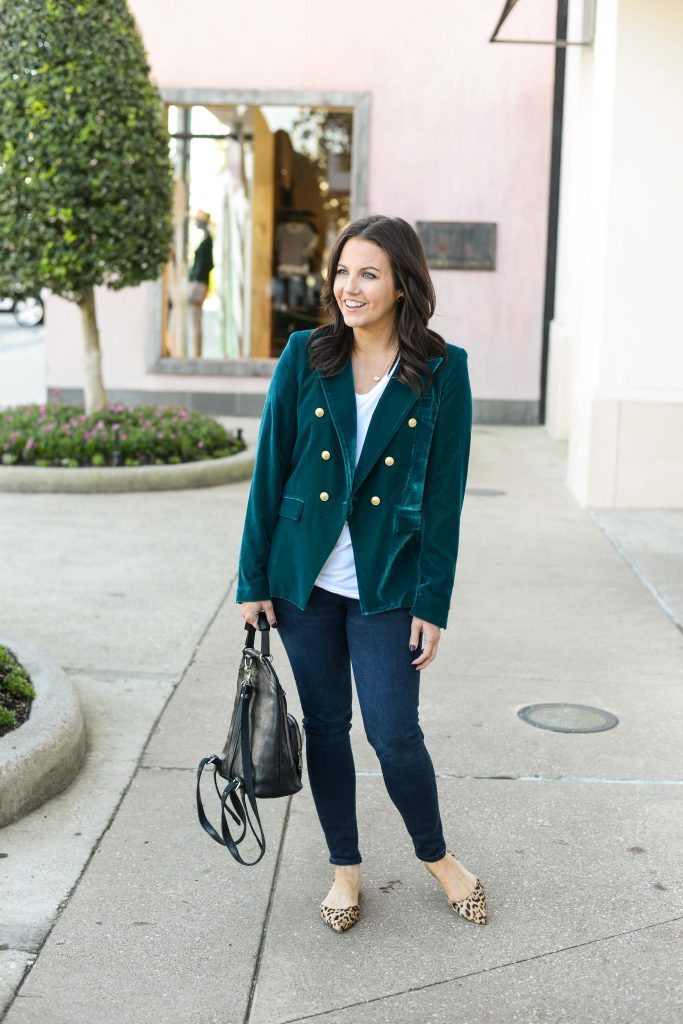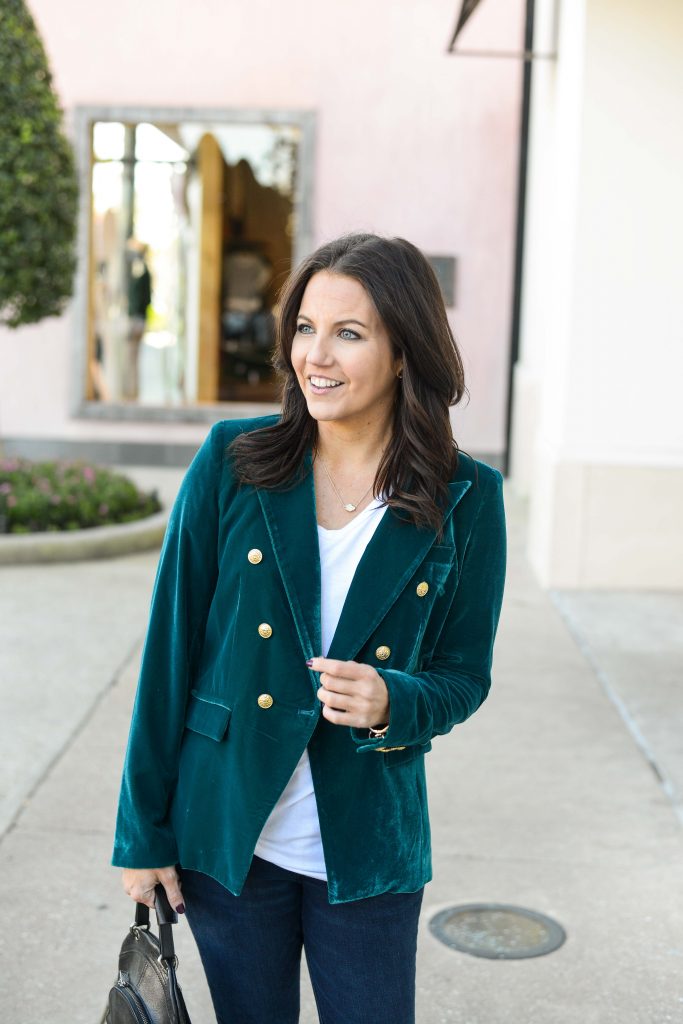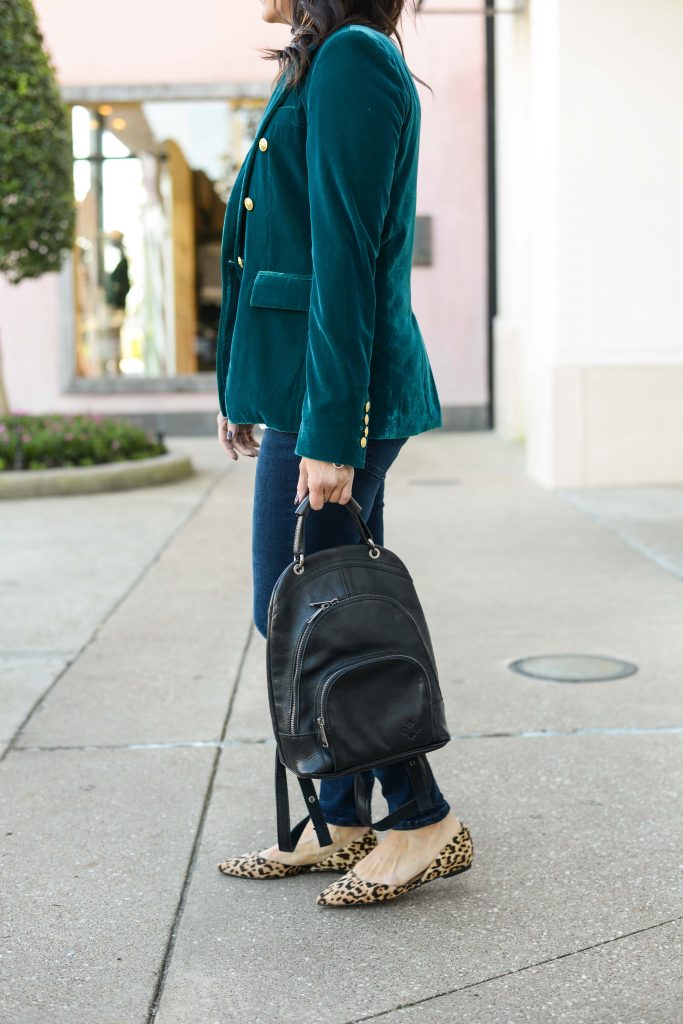 SHOP THE LOOK
Love this post? You may also love: