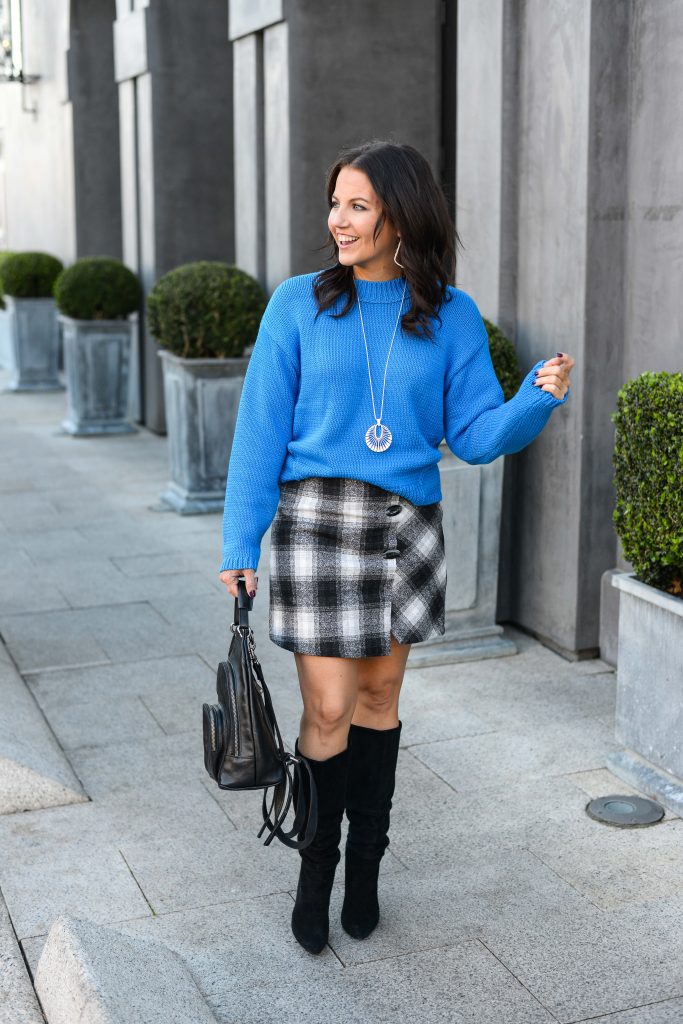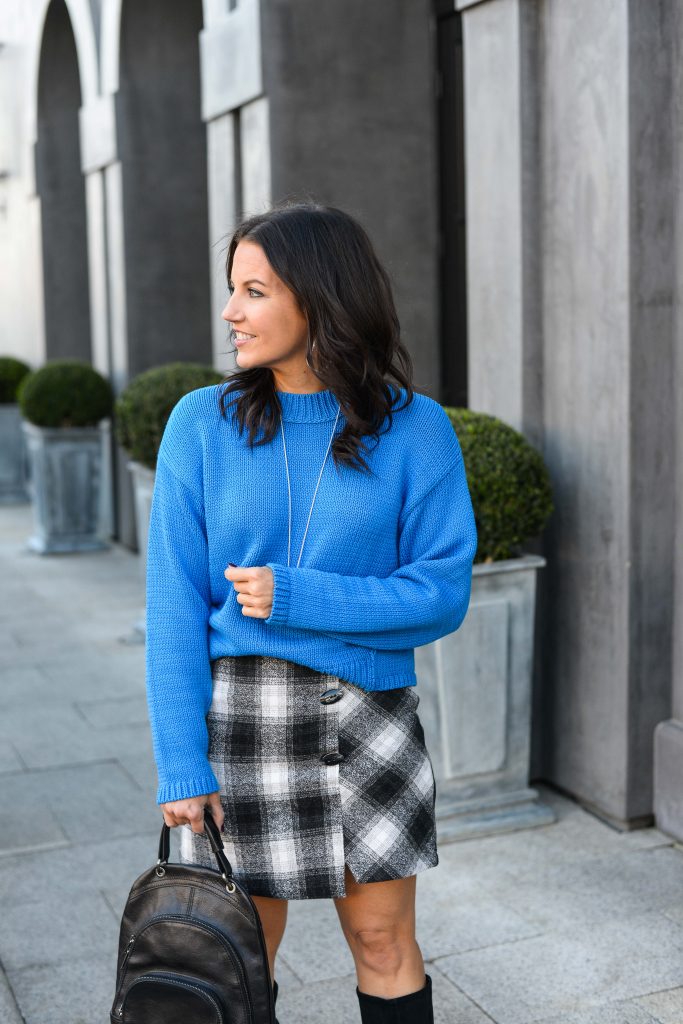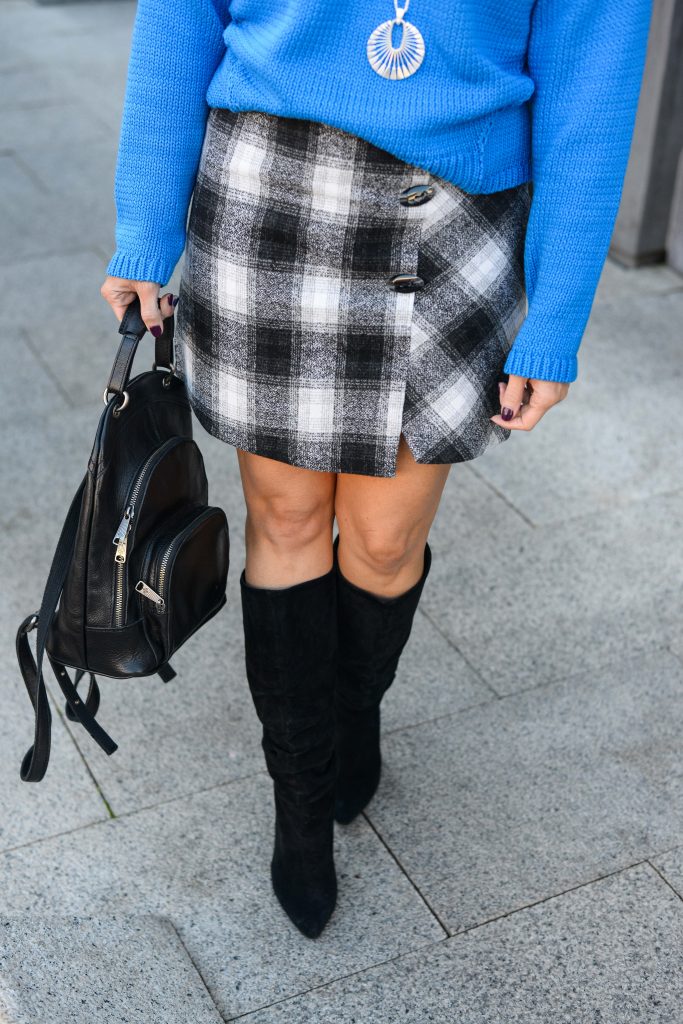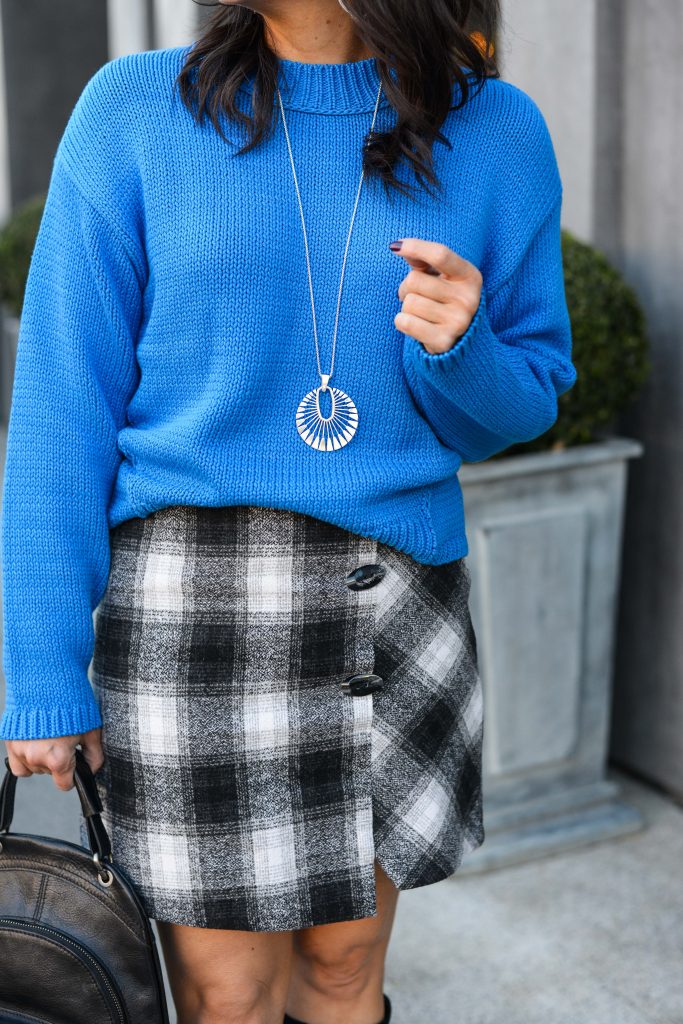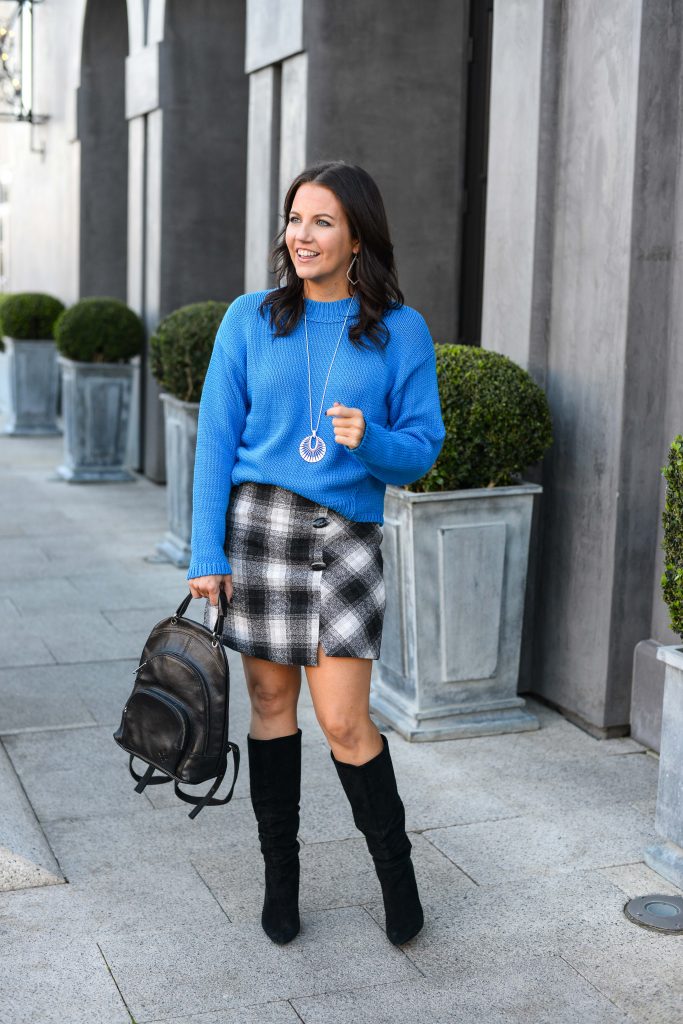 Boxy sweaters and mini skirts are such a fun outfit combo for fall and winter.  It's great for date night or grabbing dinner with friends.  I will even wear different versions of this look to work.  If you are looking to give this combo a try this season, I wanted to share a few of my top tips on how to wear a sweater and mini skirt combo.
 Choose a boxy cropped or shorter sweater.  I look for sweaters that will come 1-2 inches past the waist of the sweater.  If your sweater is too long, it will hide your skirt and make it look extra mini.  A boxy or slightly oversized fit will also help balance out the look of a more fitted mini skirt.
Add a small front tuck to your sweater. I think a front tuck can help show off the skirt a little more and give a little definition to the waist line. For us petite gals, it also helps add a little length to our look.  I usually tuck the front in right at my belly button and then fold the sides under.  One of my sides come undone in this pic from the wind, and I didn't realize it until after we finished shooting the outfit.
Add the right accessories.  With the sweater and mini skirt combo, I like to add in prints and textures with my skirt and sweater.  Plaid is a great print to pair with knits during colder weather.  A long pendant necklace is the perfect accessory over a solid color sweater, and tall boots will complete the look and help keeps your legs warm.
Now as for this outfit, the blue sweater was inspired by the pantone color of the year, classic blue.  Whenever the pantone color hits, I love scrolling through new releases to see how this color is incorporated.  My sweater comes in a few color options, but the bright neon blue was the perfect color to wear now and into spring.  This sweater is thick, but lightweight. It's going to be perfect to wear with shorts or white jeans on cool Spring evenings.
I'm always checking out Chicwish's new skirt options.  It's one of my favorite places for trendy and cute skirts.   I could not resist this cute plaid one when I saw it.  For colder days, I can pair it with sweaters.  For warmer fall and winter days, this will pair perfectly with a fitted black tee or turtleneck similar to this previous outfit.  It's a mini design and the lining on the inside is a pair of shorts.  I didn't realize this until I went to put them on.  It's kind of a nice feature to have for a short skirt.
My weekend was pretty busy, but also super relaxing.  I enjoyed a nice dinner with some of my boyfriend's friends and family on Friday.  The weather was perfect for enjoying a glass of wine outside.  I had a pretty chill Saturday night and finally watched Taylor Swift's new documentary on Netflix. I'm a big fan of her music, and it was pretty cool seeing an inside peek at her life.  On Sunday, my bff and I went out to brunch for a little catch up session.  We went to this yummy restaurant that I love, and she had not been to yet. Overall, it was good recharge for the week ahead.  I hope your weekend went well, and you have a fabulous week ahead!
Photography By: LA Photography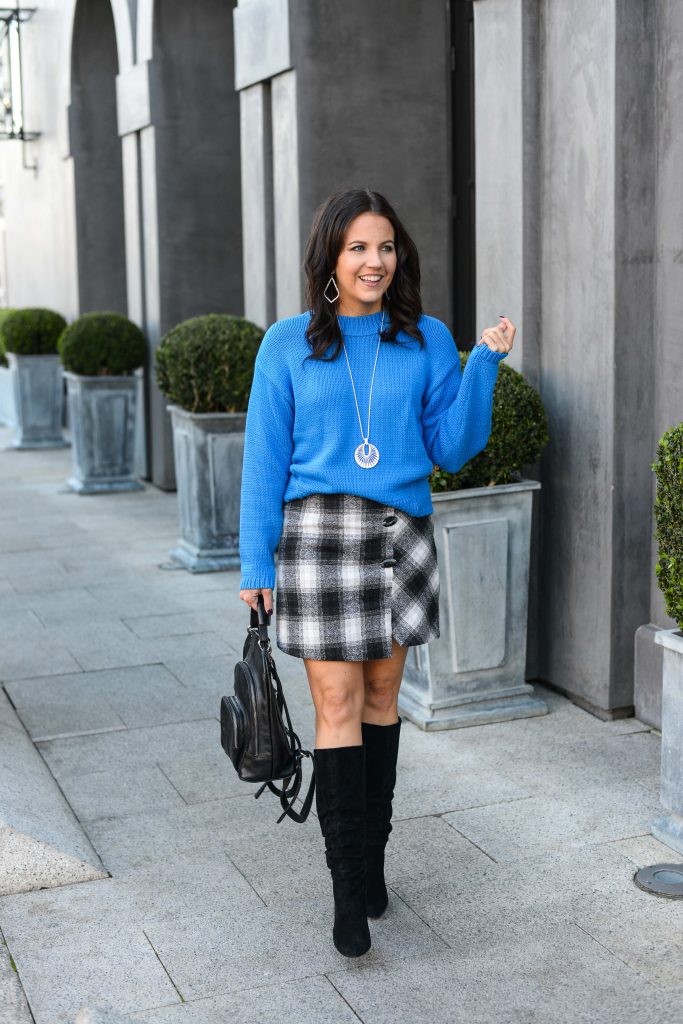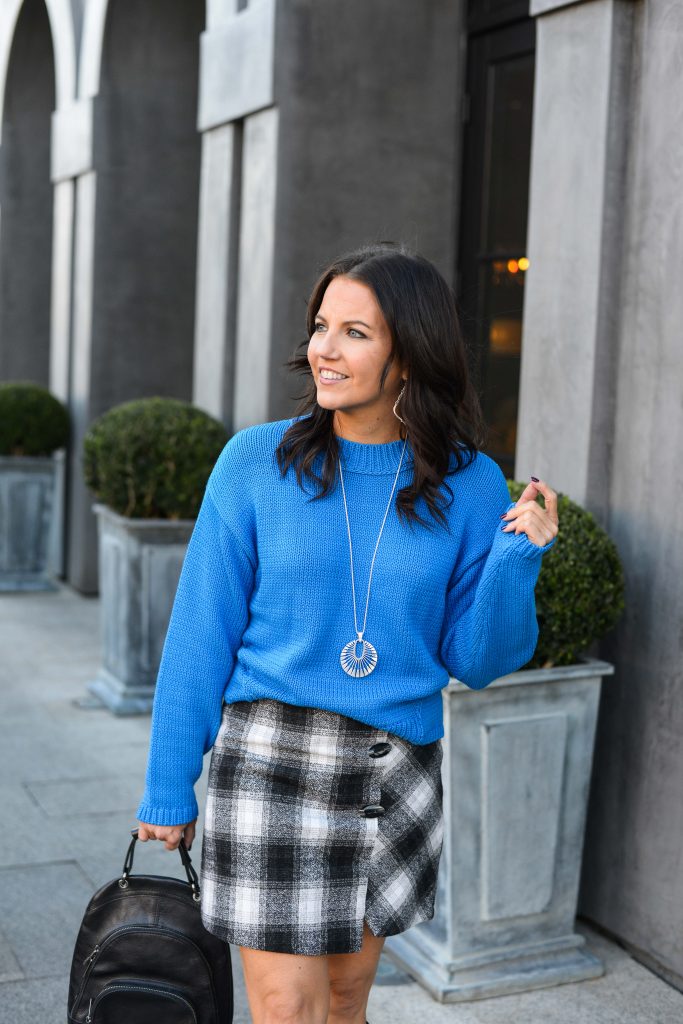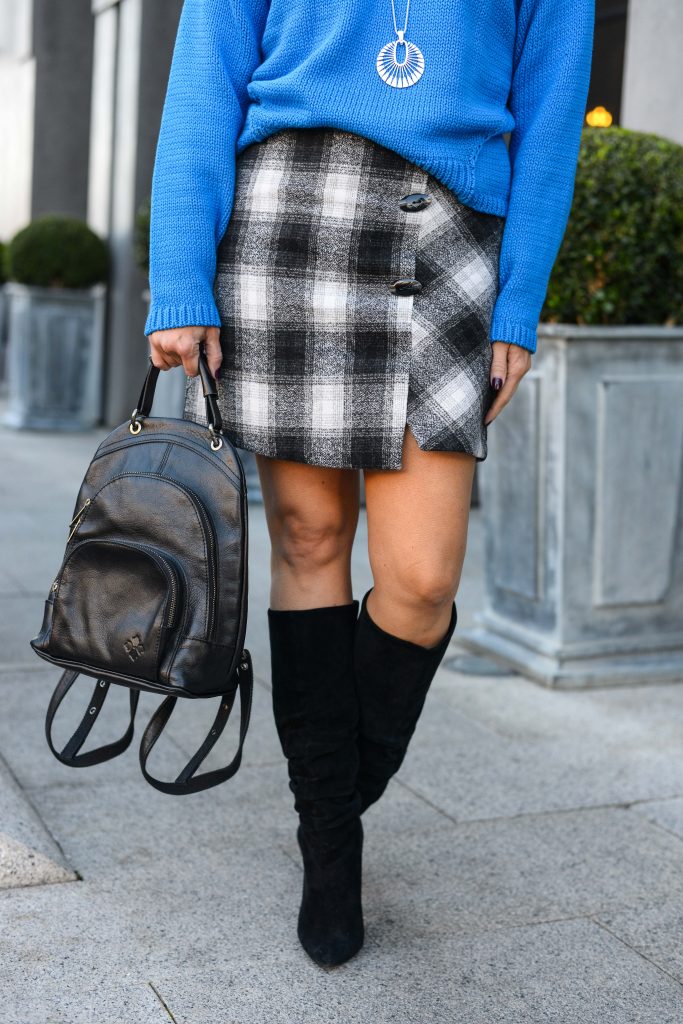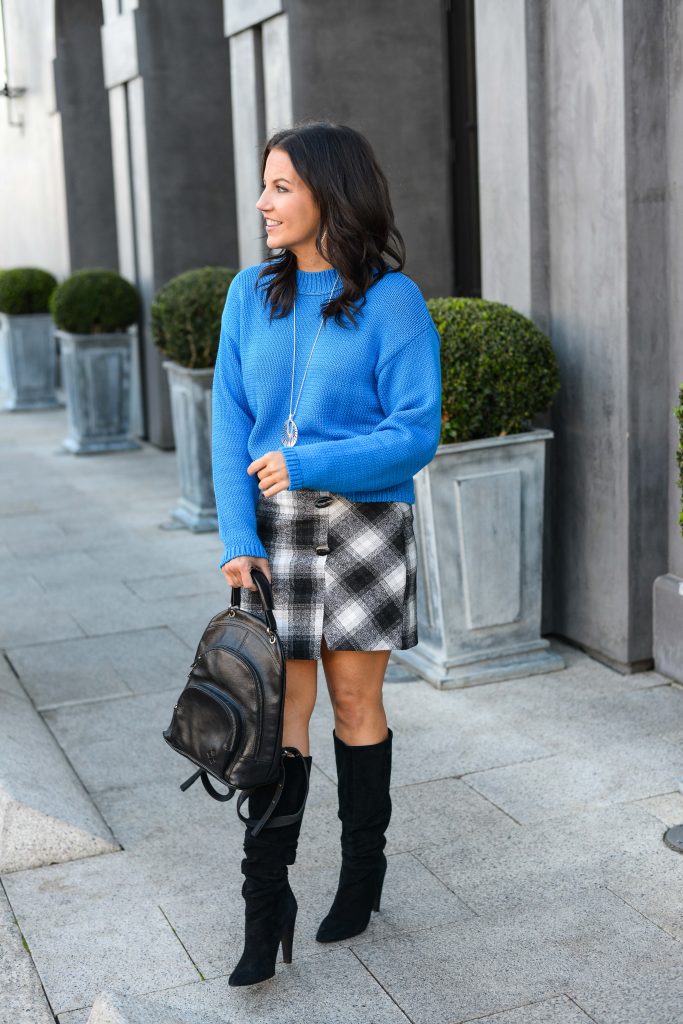 SHOP THE LOOK
Love this post? You may also love: