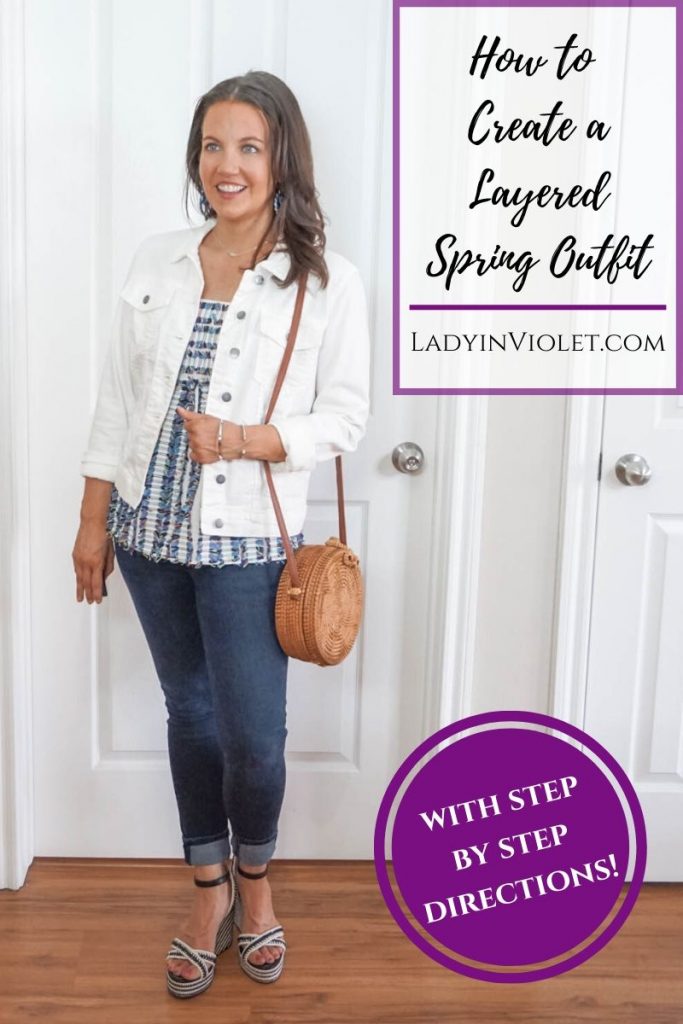 Hello Hello! I'm continuing my series on how I put together my outfits with a step by step look at how to create a layered spring outfit.   Before I start putting together my outfit, I always start with one piece that I want to wear and style around it.  For this look, it was my cute new striped babydoll top.  It has some really fun and colorful details and will be perfect to wear all Spring and Summer.  Once I have my starter piece the outfit building process begins.  Keep scrolling to see how I put together this casual spring look.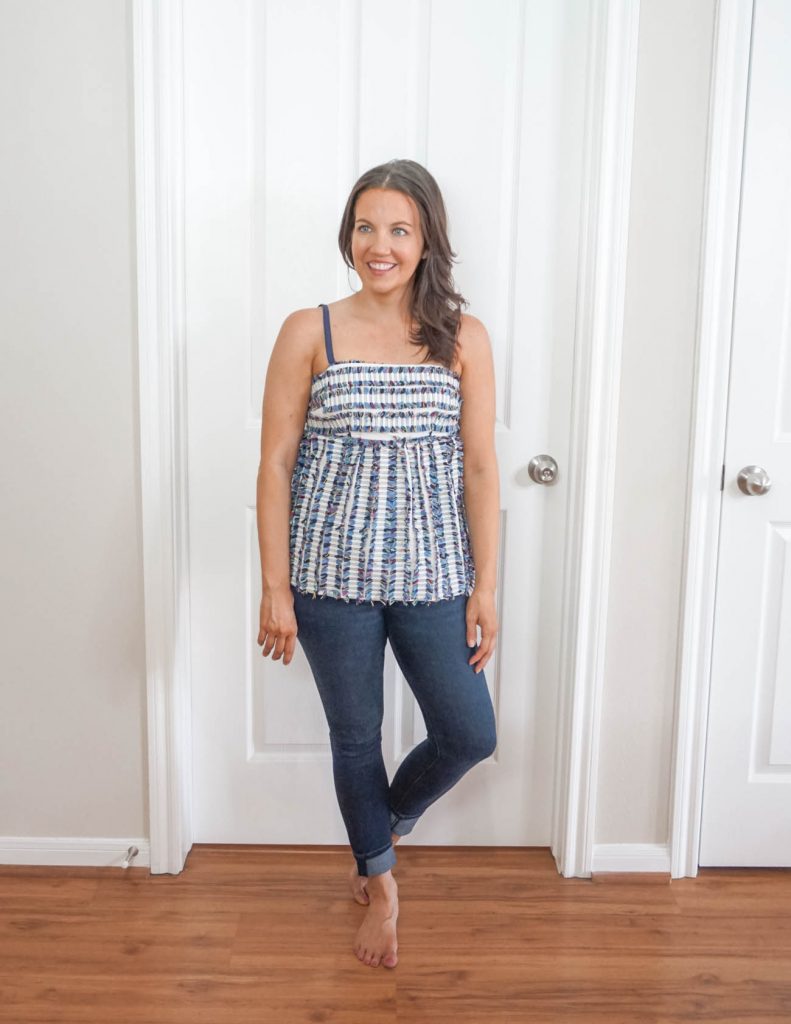 STEP 1: Start with your base.  Camisole tops are great for layering in warm weather seasons.  You can also start with a cap sleeve or short sleeve top.  Since it may warm up during the day, you want a top that can be worn stand alone if you need to take your outer layer off.  This top has different shades of blue, so I paired it wit my dark blue jeans.  It would also pair well with gray and black jeans.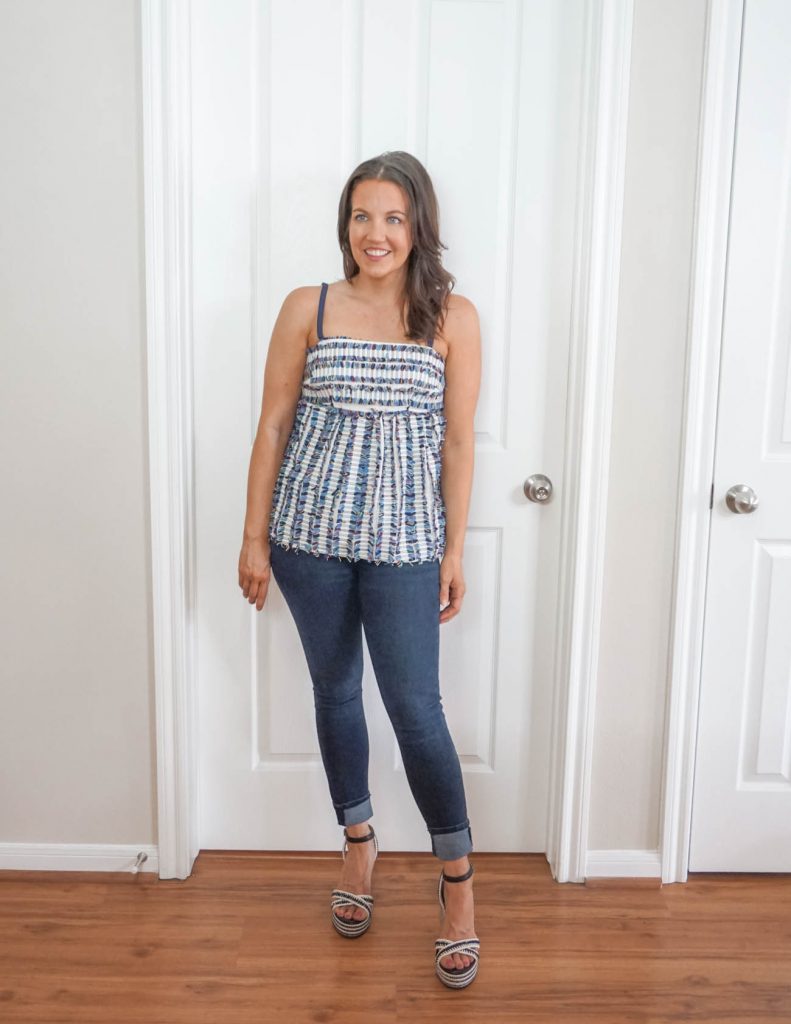 STEP 2: Once you have decided on your base look, it's time for shoes.  I chose my black espadrille wedges for a fun daytime look that can also transition to a casual evening look.  You could also opt for flat sandals or a more brown wedge with this top.  I thought the espadrille style of shoe paired really well with the colorful design on this top.  The black contrast on the shoe also has a similar feel as the white and blue contrast on the top.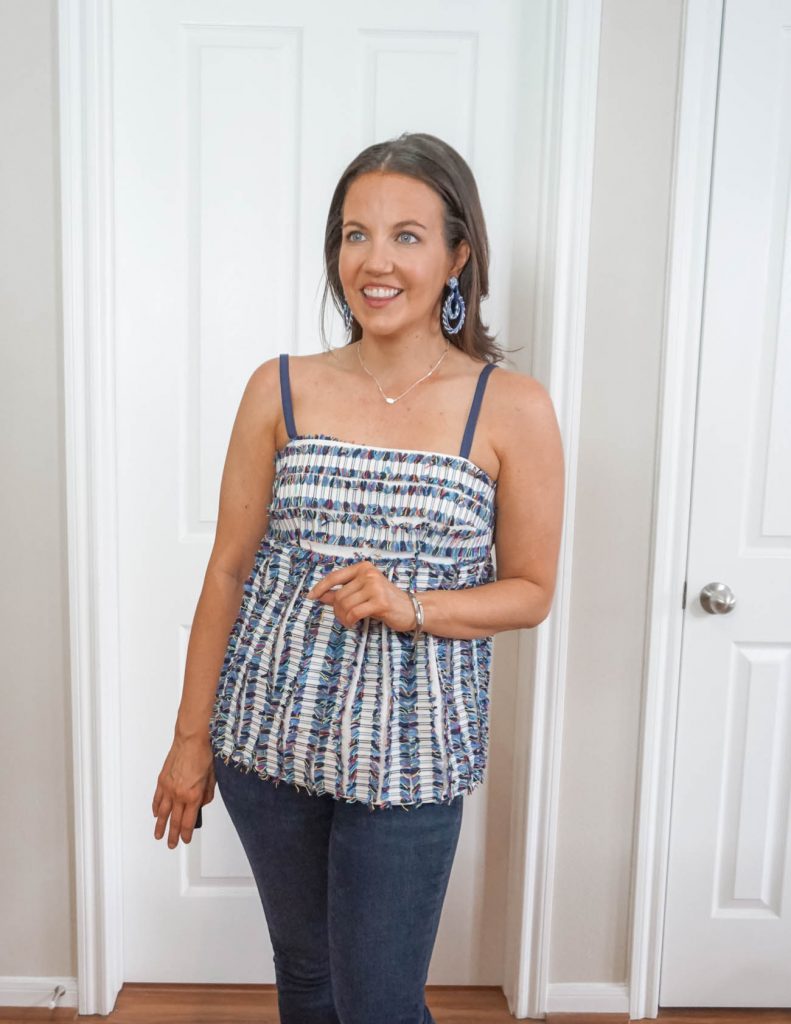 STEP 3: Add your jewelry. I usually start with my earrings and add from there.  These blue statement earrings might have been made for this top!  The blue and white design are the perfect compliment. If you want to pull out one of the other colors in the top, you could easily use another color statement earring.  To let the top shine a little more, you could add in a simple gold or silver earring.
Since I opted for statement earrings, I went with a simple silver necklace.  Both statement earrings and a statement necklace will compete especially with such a statement top, so only choose one.  I also added in a few simple silver bracelets to complete my jewelry look.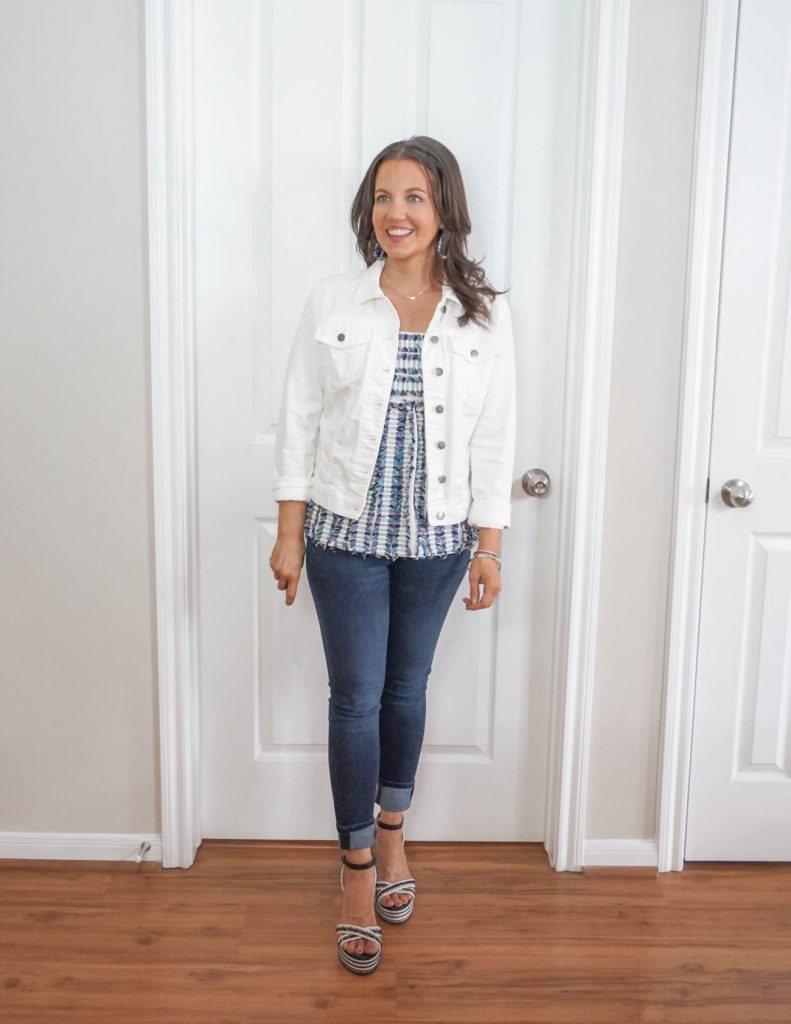 STEP 4: Add your layering piece.  For spring, I love adding on a denim jacket.  It adds a structured feel to the overall look and keeps it feeling casual.  With a denim jacket, you can slightly roll up the sleeves for a warm weather look.  With all the blue in my outfit, I opted for my white denim jacket.  The white helped add a little balance to the look, and it helps the fun details on the top standout.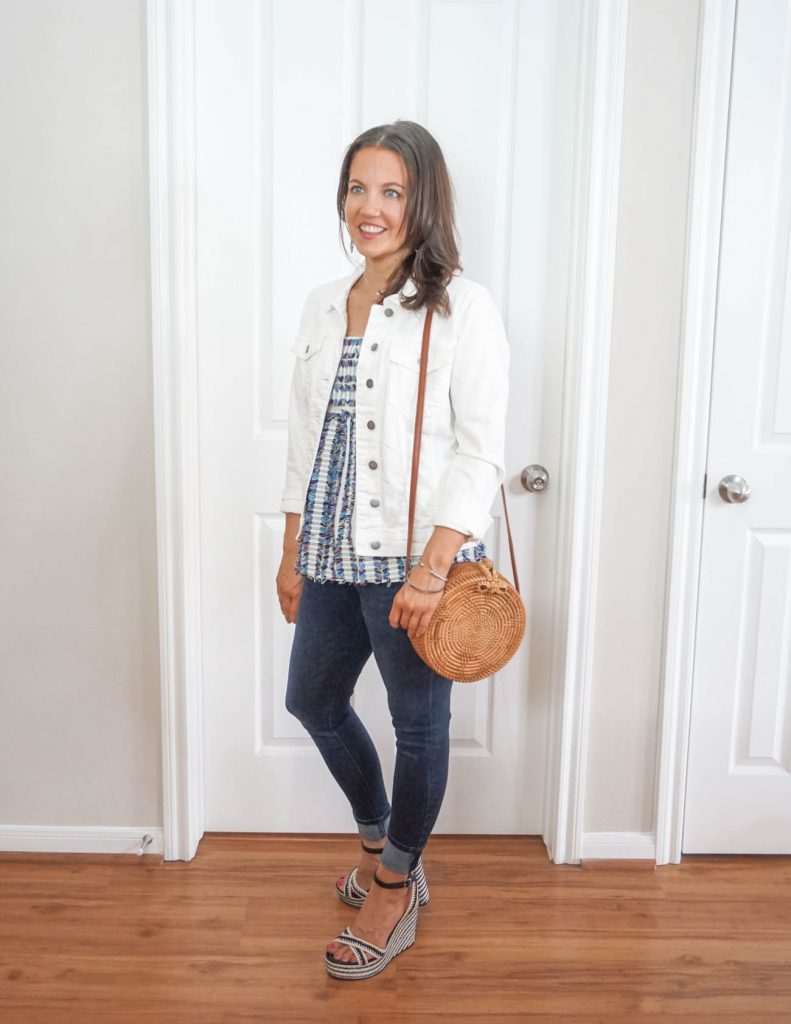 STEP 5: Pick your bag.  My circle straw bag worked well with the different elements of this look.  It compliments the wedges and top and adds to the casual vibe of the outfit.  The light brown also adds a little pop of color to the overall look.  Another option would be to pick a complimentary color from the colors in the top.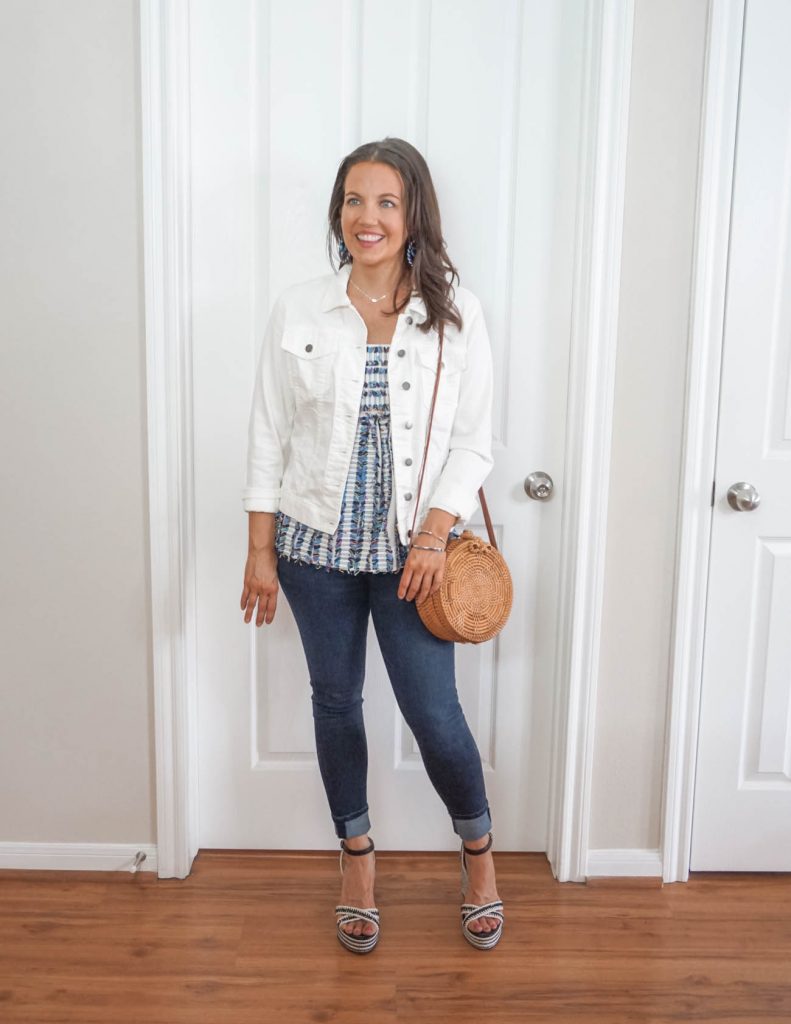 There you have it – 5 Steps to one super cute and casual spring layered outfit.  What kind of outfit would you like me to style next for this series?  Let me know in the comments below!
Have a fabulous week ya'll!
SHOP THE LOOK
Love this post? You may also love: