Over the past couple of months, I've been playing with my skincare routines.  With the weather changing, my skin has different needs.  In winter, I focus my routine on all the hydration.  In the Spring and Summer, Houston's humidity helps give me a hydration boost so I can work in more variety into my routine.  Over the past few months, I have slowly transitioned into this simple morning skincare routine that helps brighten, nourish, and protect.  I'm breaking down the steps and products for you below.
MORNING SKINCARE ROUTINE STEPS
Step 1: De-Puffing Eye Cream or Eye Mask – My morning skincare routine starts with some sort of eye treatment.  On most weekday mornings, I use this de-puffing eye cream.  It's quick and easy, and I think it helps with de-puffing my eyes in the morning and helping me look more awake.
On weekends or when I have a little more time in the morning, I like to apply a gel eye mask.  Most eye masks need to stay on for about 10-15 minutes.  It's the perfect mix with coffee for a relaxing morning.  I've been using these Vitamin C masks to help brighten up my under eye.
Step 2: Vitamin C Serum –  After my eye treatment, I add a serum to my skin.  I'll rotate these around but I really like using a Vitamin C Serum in the morning.  It helps brighten skin, improves collagen health, and helps with skin texture and uneven skintone.  The biggest benefit I like from using a Vitamin C Serum is the skin brightening and glow it gives my skin.
Step 3: Moisturizer –  I let my serum soak in for a minute or two, and then add on my moisturizer.  To help with anti-aging, I've been trying to add in more products that promote cell turnover.  I've read this process slows as we age and causes fine lines and dull skin.  I was excited to find this moisturizer that helps promote new cell turnover.  It has a lightweight feel, so it's great for daytime and works well under makeup.
Step 4: Sunscreen – Once my moisturizer has time to absorb, I apply a thin layer of sunscreen.  In cooler months, I don't always do this step.  As we head into summer, sunscreen is a staple in my skincare routine.   This one intrigued me because in addition to protecting against UVA/UVB rays, it also mentions blue light protection.  I like that it doesn't feel oily, but it does have a very slight white look when applied.
Once I am done with that last step, I let everything set and soak in for a few minutes before moving into my makeup routine for the day.  All of these products work well under makeup which is a must for any product in my morning routine.  Stay tuned in the coming weeks, I will be breaking down my new evening skincare routine for you too.  It's not as simple as this one, but these two routines together are making my skin look smoother and healthier.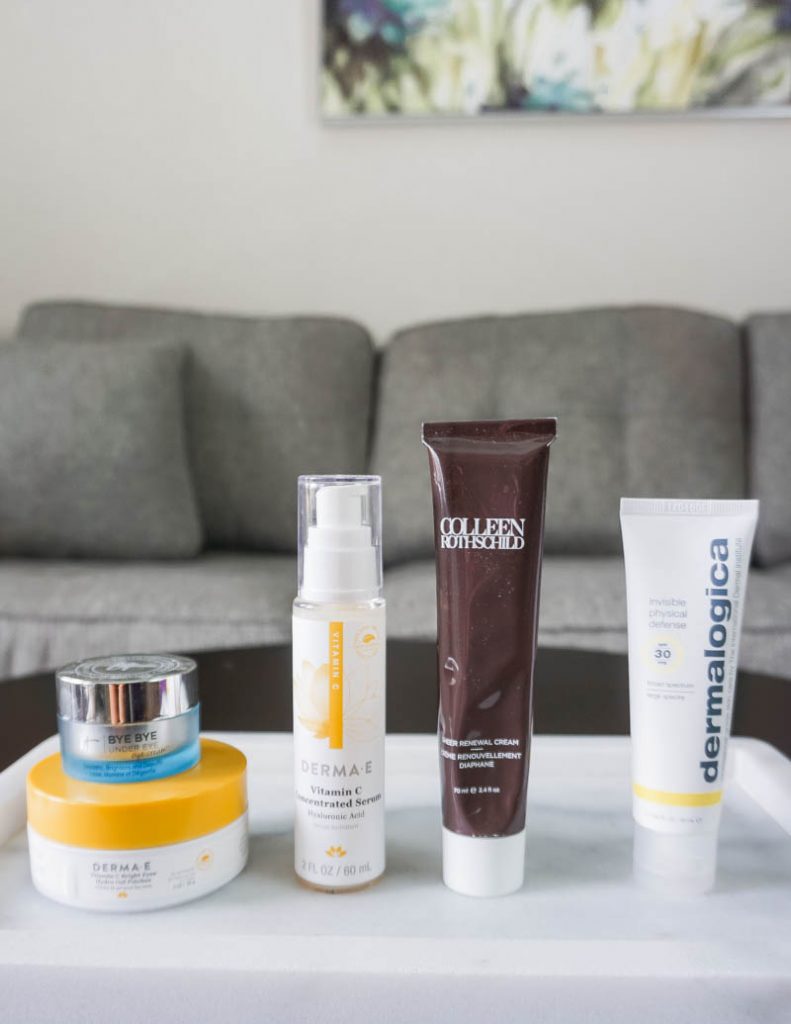 SHOP THE PRODUCTS

Love this post? You may also love: