Monthly Archives:
February 2022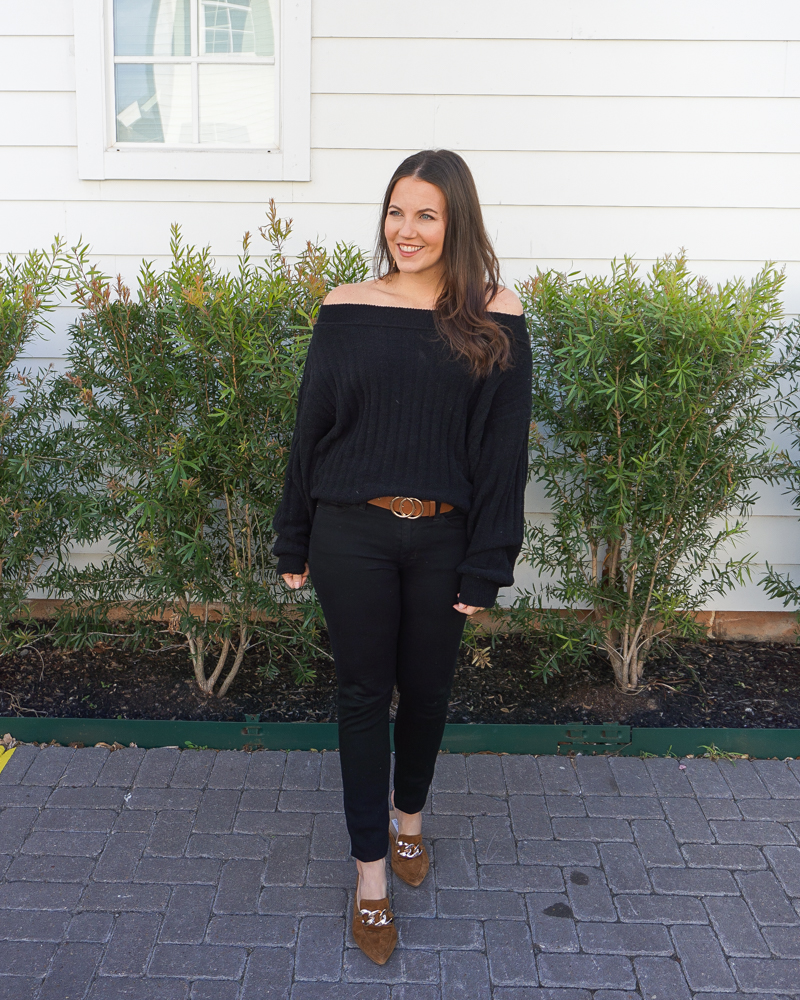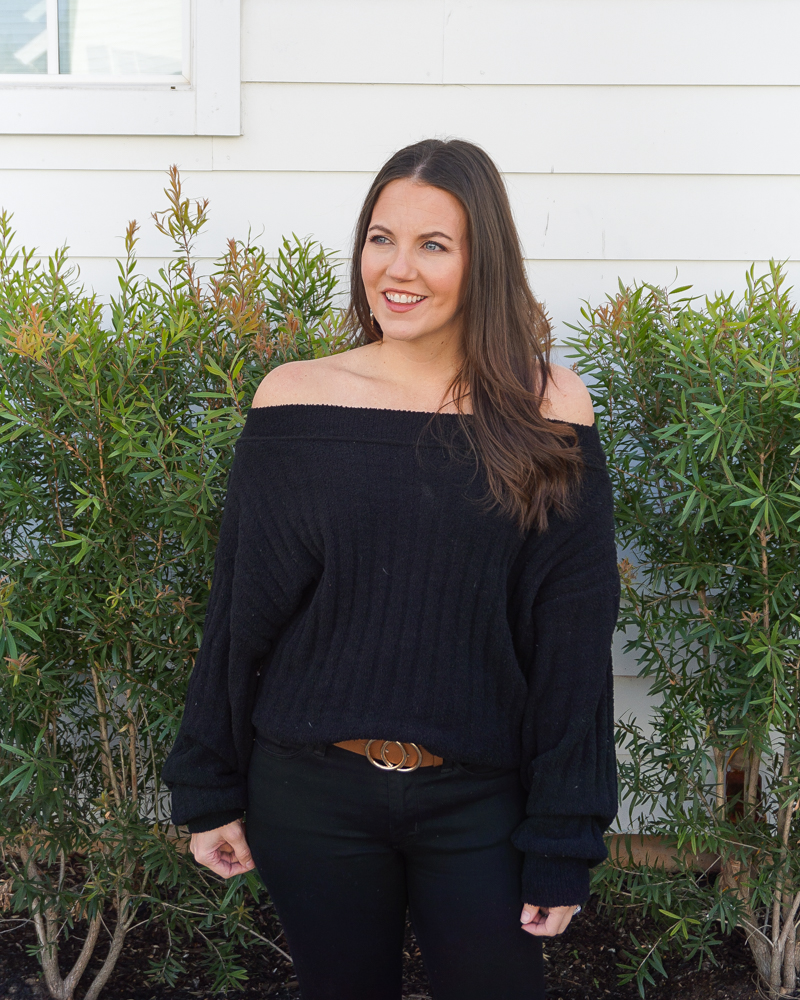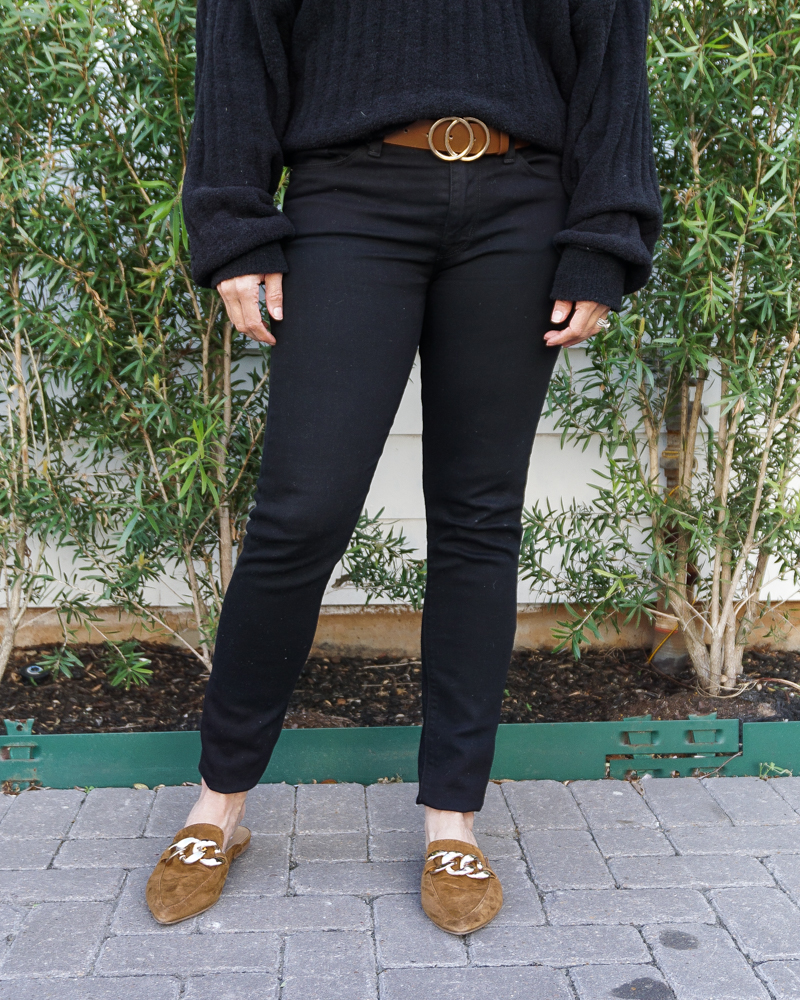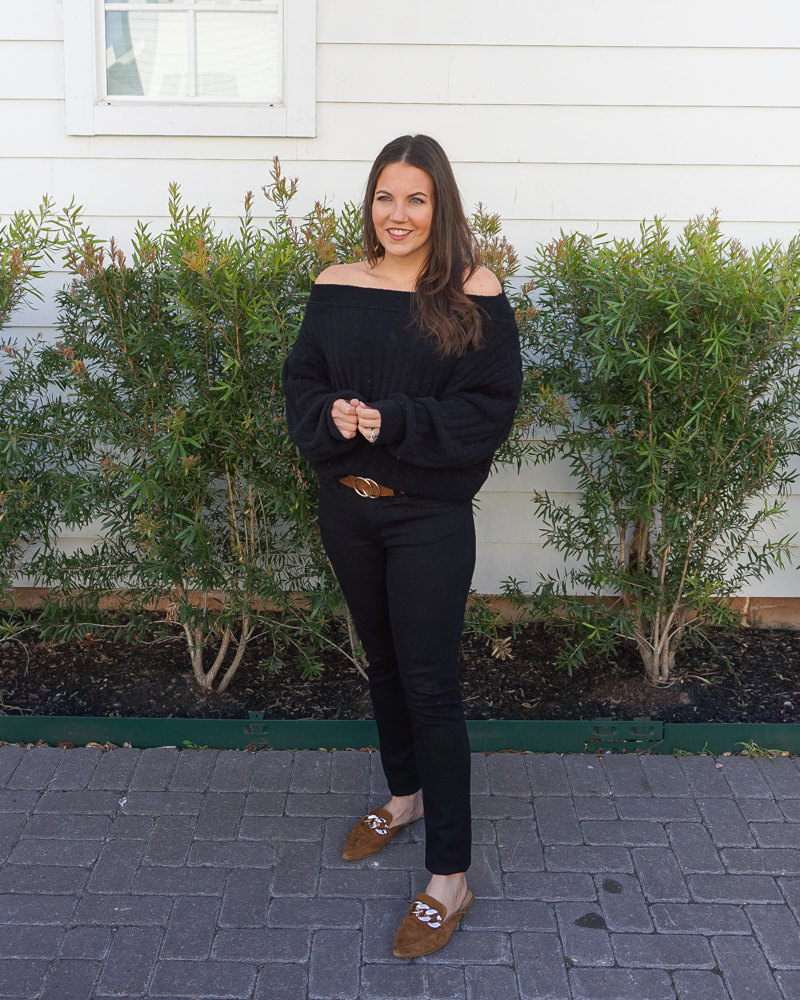 THE SOFTEST BLACK SWEATER
I'm wrapping up sweater season here on the blog, and I've saved the softest for last!  I've been loving all the soft, feels like a blanket sweaters this season, but this one, hands down, the softest black sweater.  It's become one of my favorite loungewear sweaters to toss on with a black bralette and leggings. It feels like I'm wrapping myself in a blanket. If I could, I would wear it everyday.  On lounge days, it falls to more of a one shoulder fit.  The open neckline gives you a little variety on how you can wear it. I shared 3 ways in this Instagram post.
For a chic monochramtic outfit, I opted for the off shoulder style of this sweater.  Brown and black used to be such a mixing no, but I love using brown to break up an all black outfit.  It adds a pop of color and works really well with black.  I think the combo has an effortless look to it.  You could also do a black belt and black heels to keep this outfit all one color and your outfit will probably increase on the chic factor scale.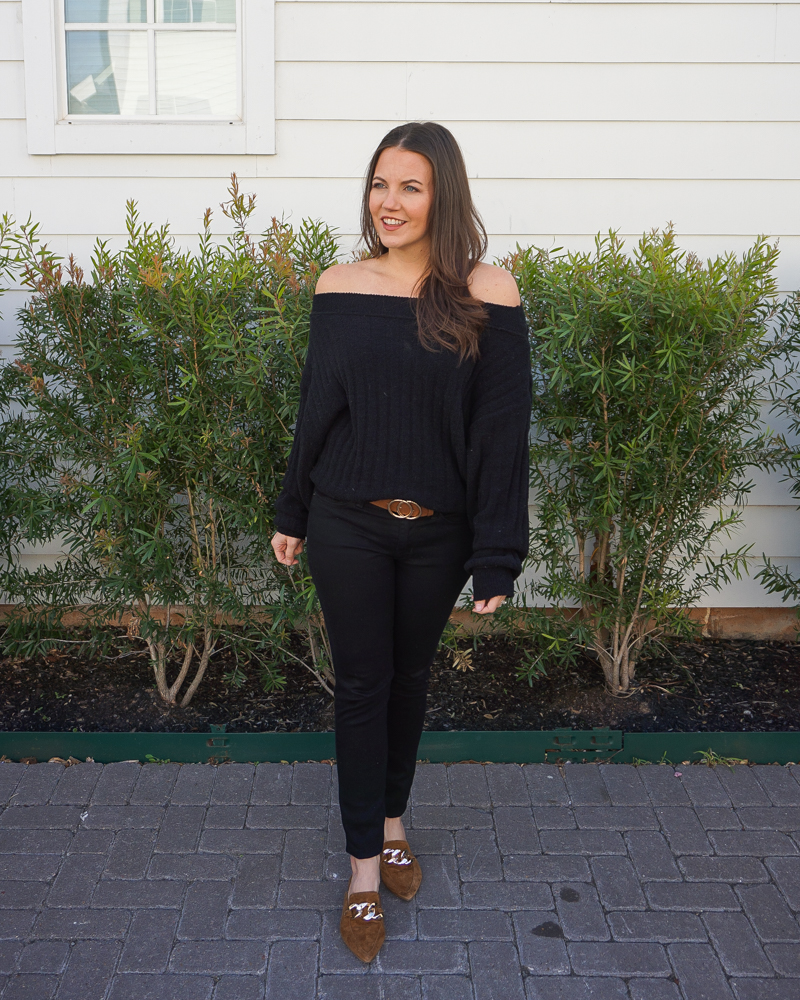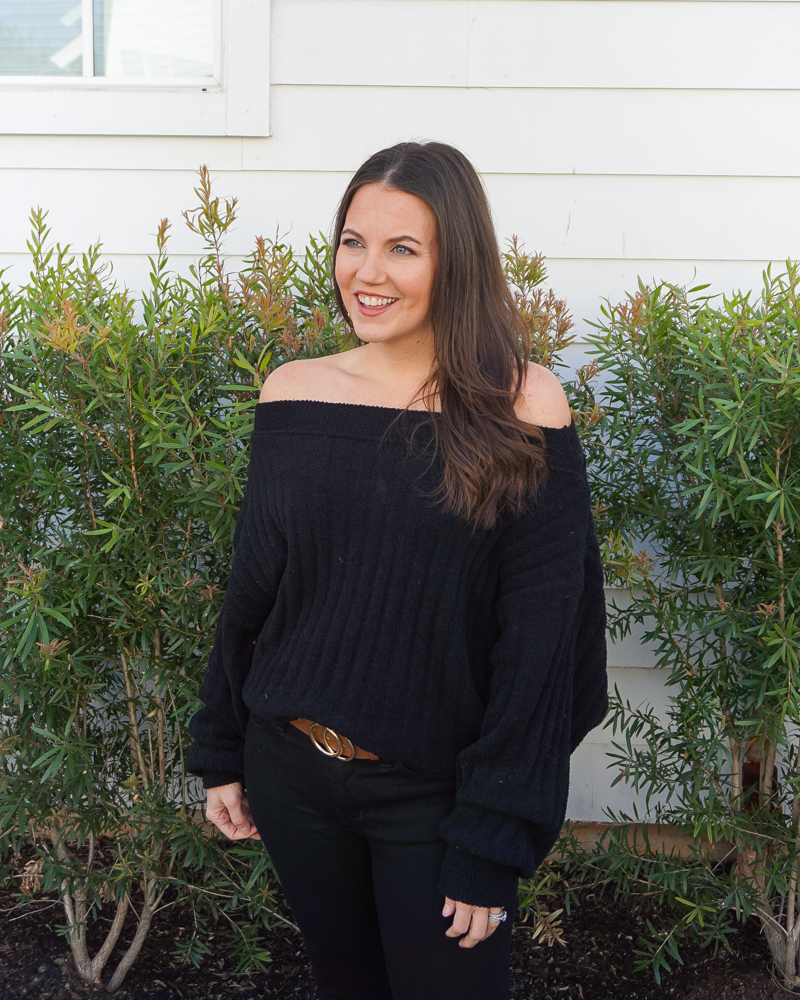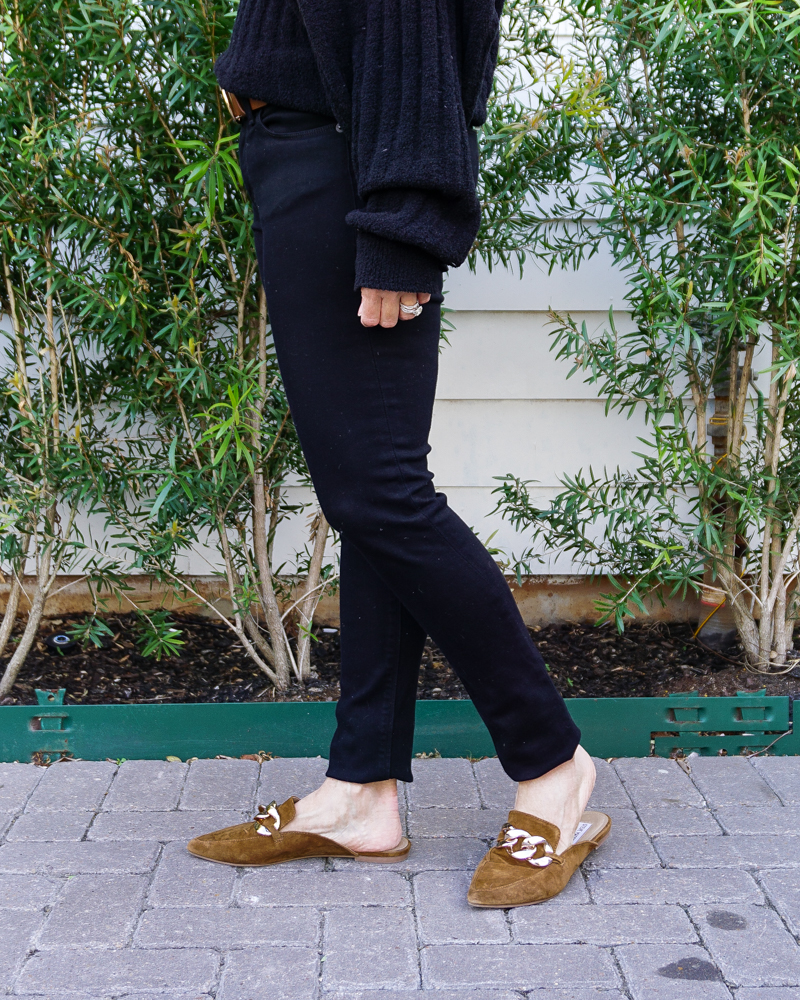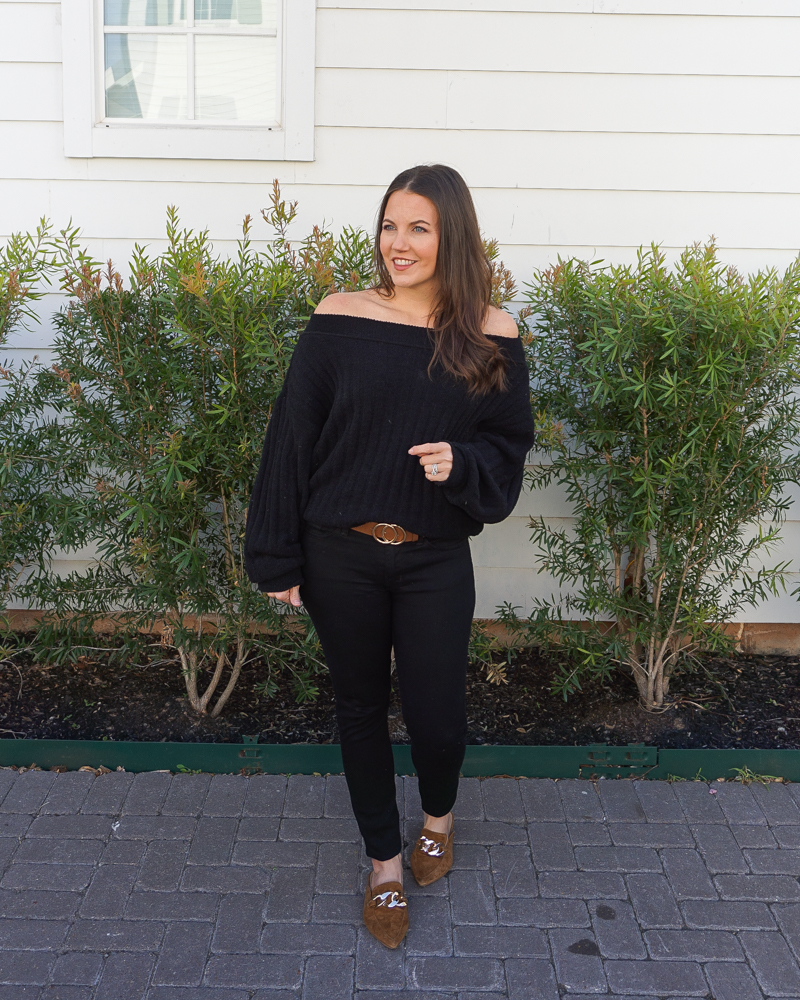 SHOP THE LOOK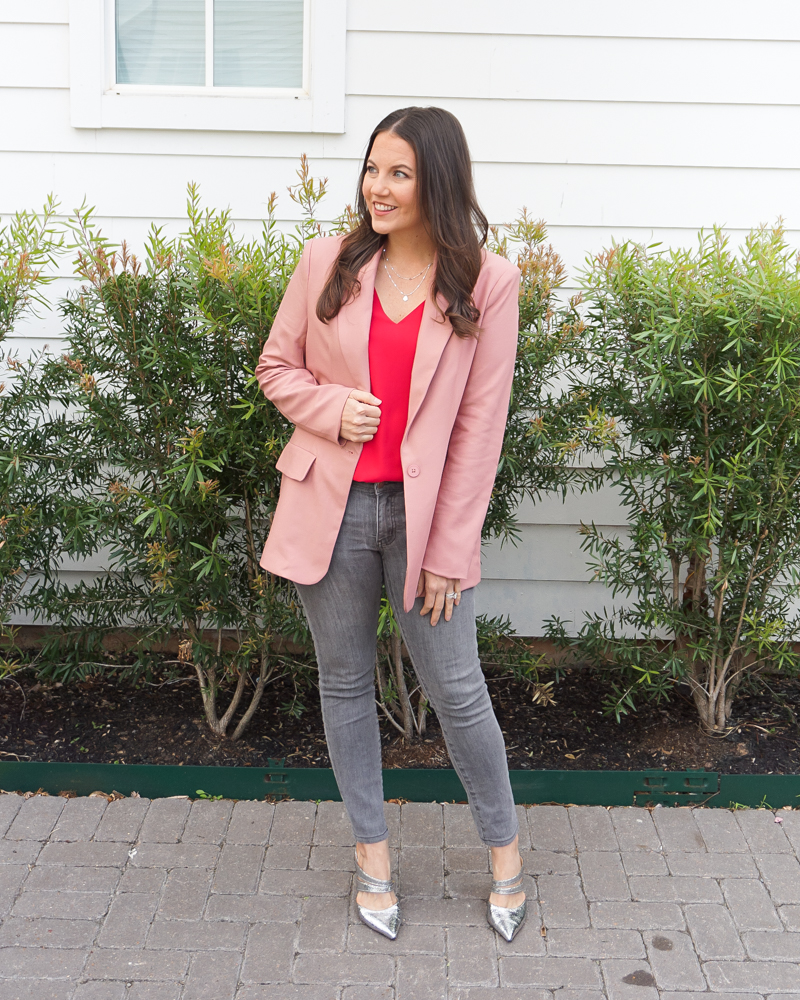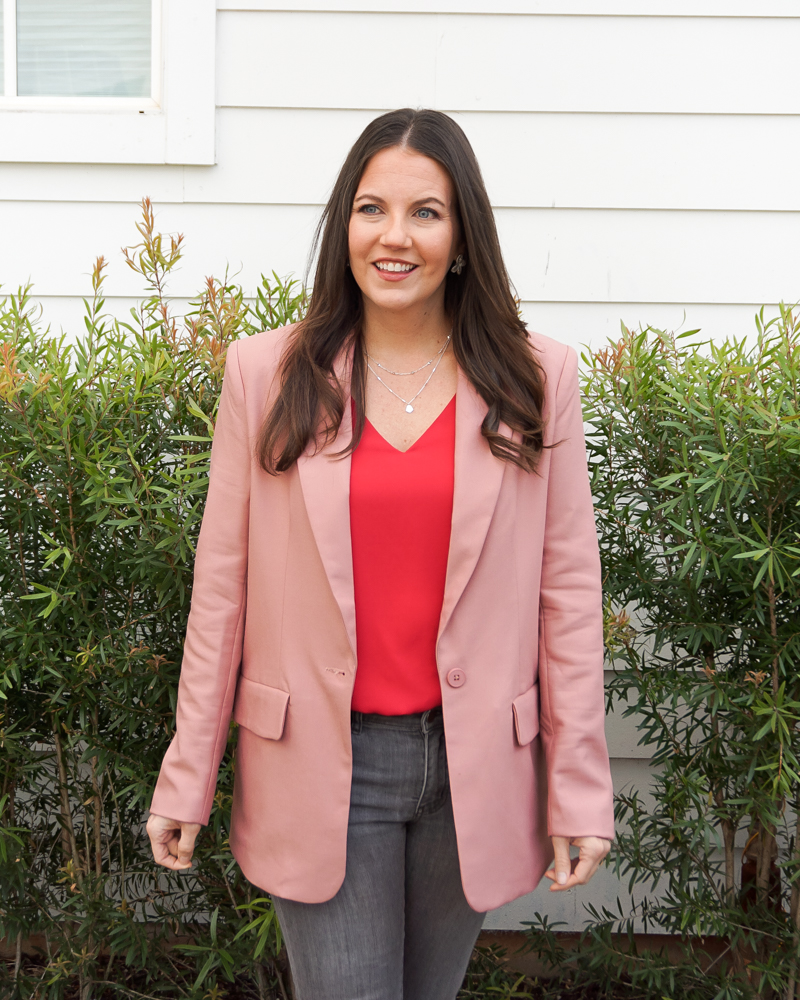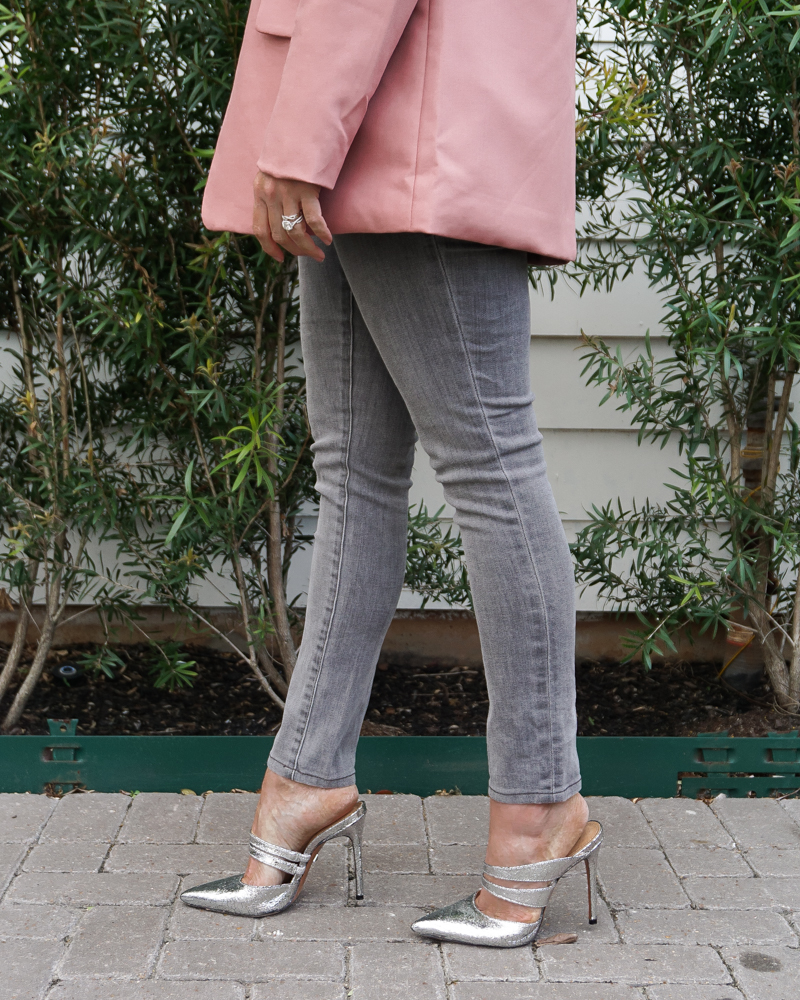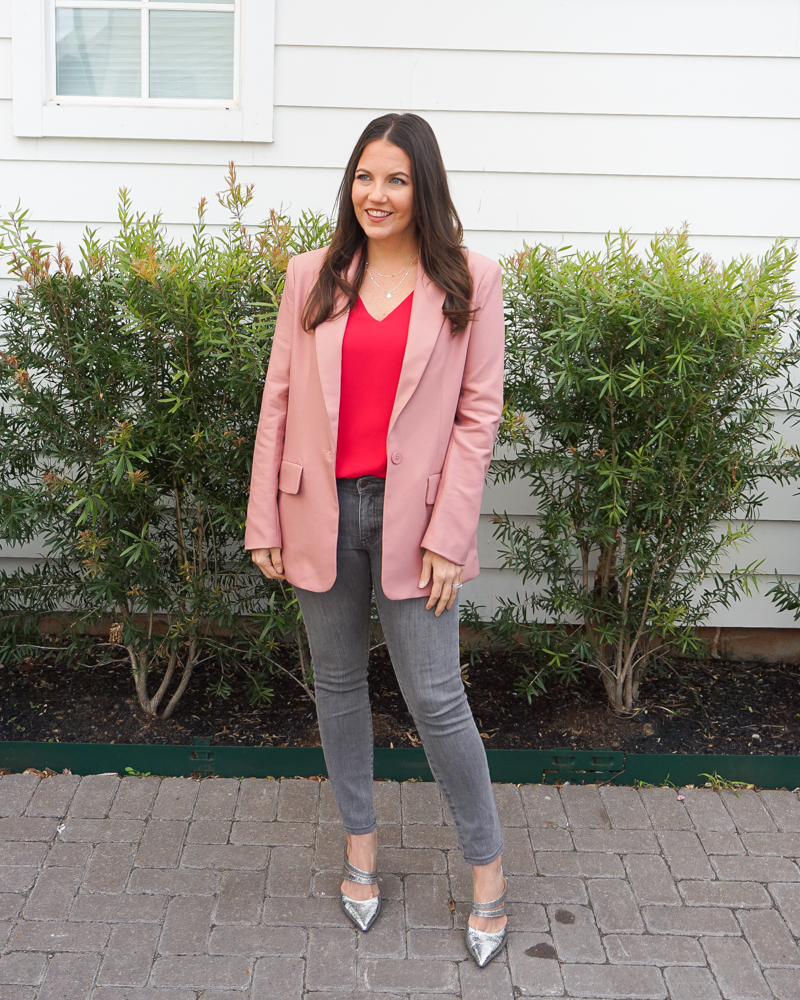 HOW TO STYLE A PINK BLAZER FOR VALENTINE'S DAY
I'm sharing more than just how to style a pink blazer for Valentine's Day. At the end of this post, I shared four more outfit ideas with this blazer.  This light pink blazer will be perfect for the February holiday and be great to transition into the spring season.  A blazer is a great staple to have in your wardrobe that can be dressed up for the office or down for brunch with your gal pals.
I can't think of a better color combo than pink and red for Valentine's Day.  It's one of my favorites, and one combo that I shared in this previous post.  That look was a bit more dressy date night while today's outfit leans a little more to the casual side.  I opted to pair my pink and red combo with a light gray pair of jeans.  A white pair of jeans would be another great option to really make the red and pink colors pop.  A silver metallic heel is the perfect sparkly accessory to dress up this look and make it Valentine's Day ready.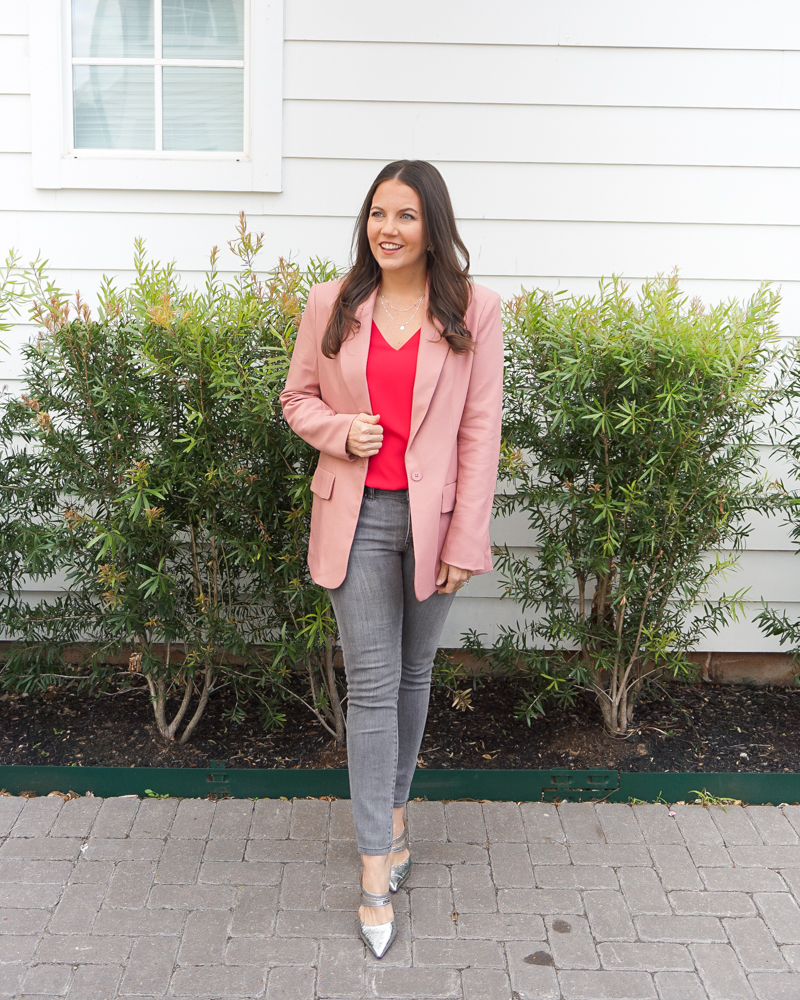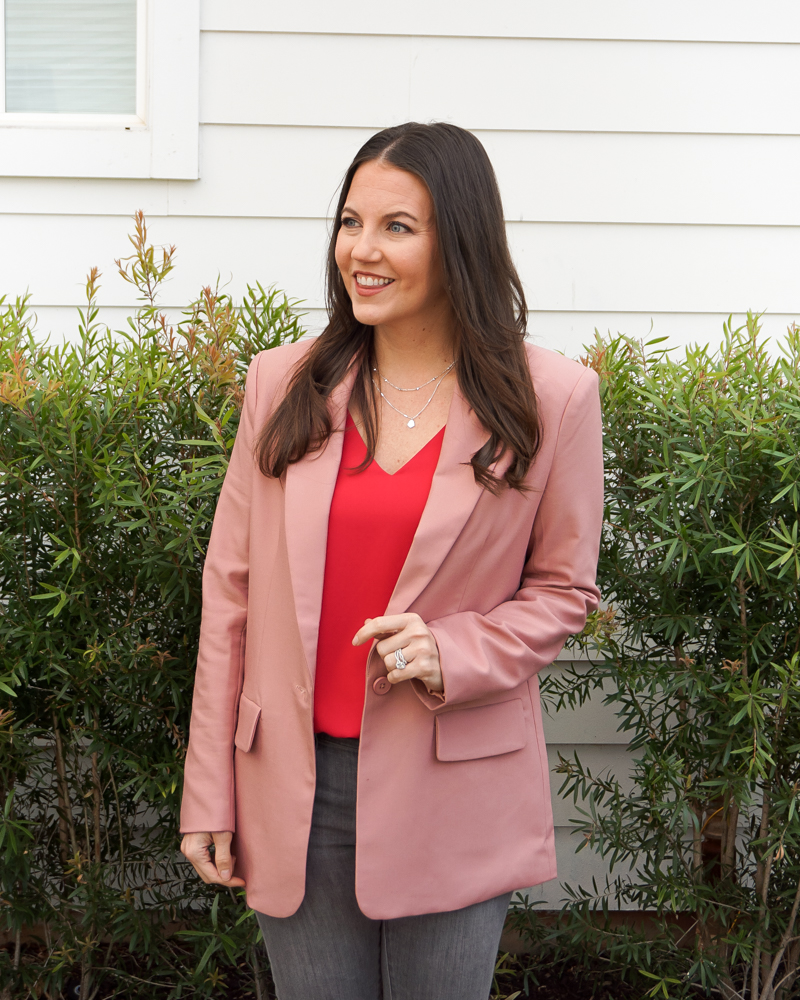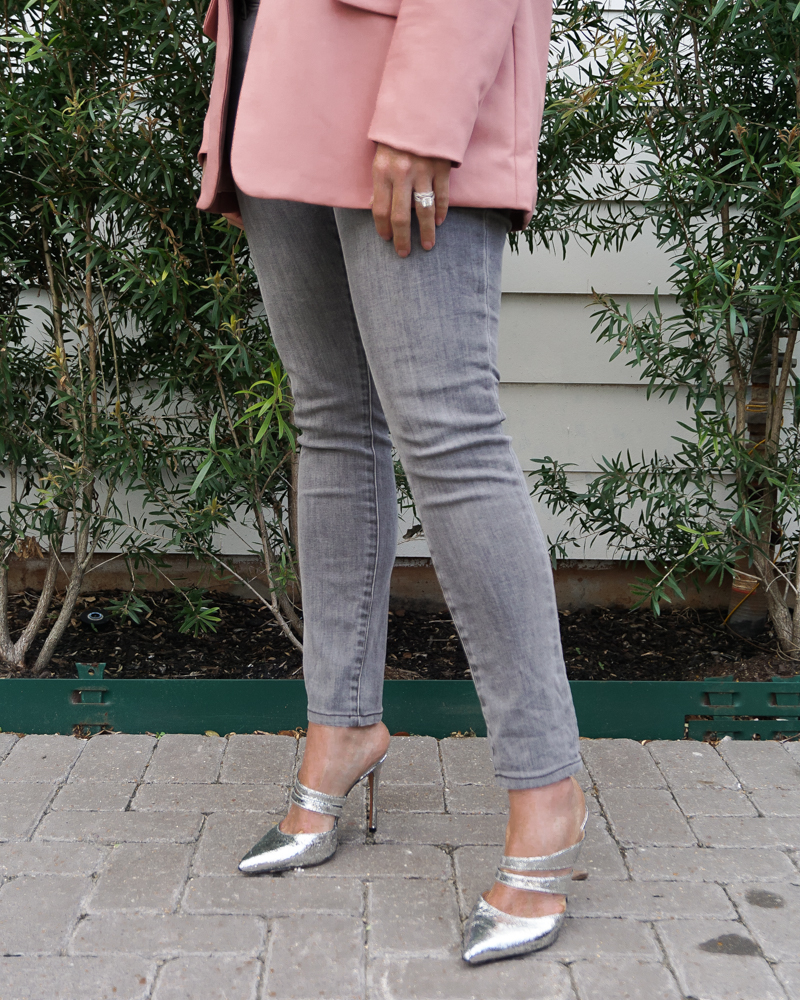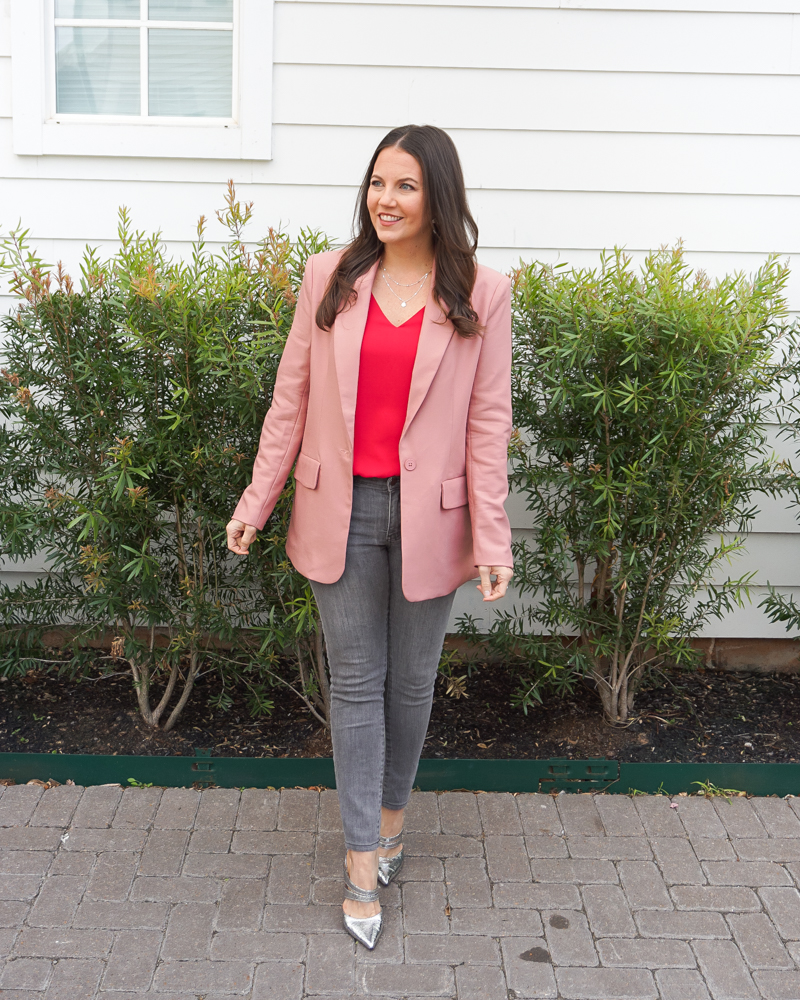 SHOP THE LOOK
Four More Ways to Style a Pink Blazer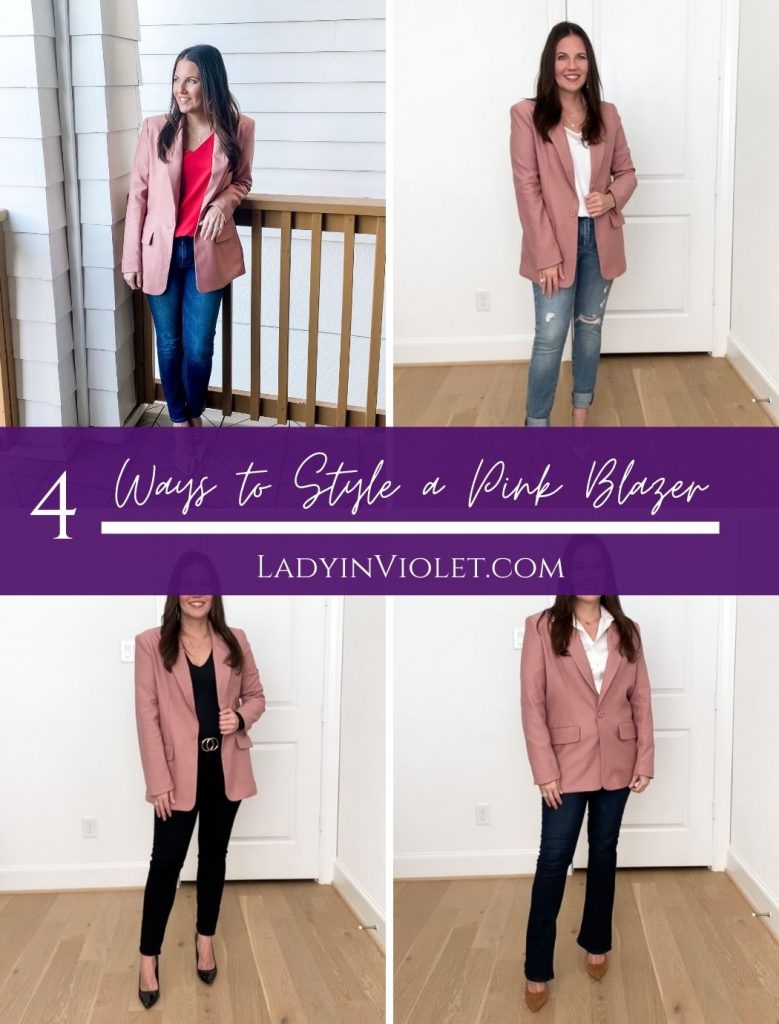 OUTFIT 1: pink blazer | similar red cami | jeans | similar silver heels | necklace | earrings
OUTFIT 2: pink blazer | white cami | distressed jeans | similar heels | necklace | earrings
OUTFIT 3:  pink blazer | black bodysuit | black jeans | black belt | patent heels | gold necklace | gold earrings
OUTFIT 4: pink blazer | similar button down blouse | bootcut jeans | belt | similar heels | necklace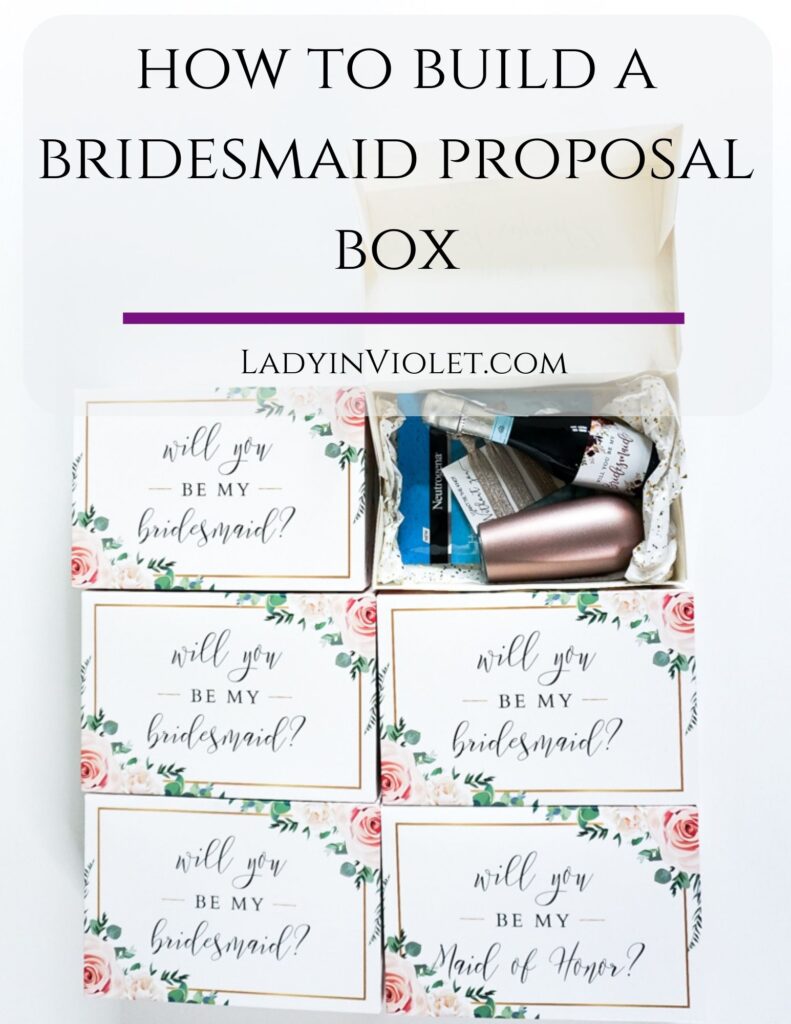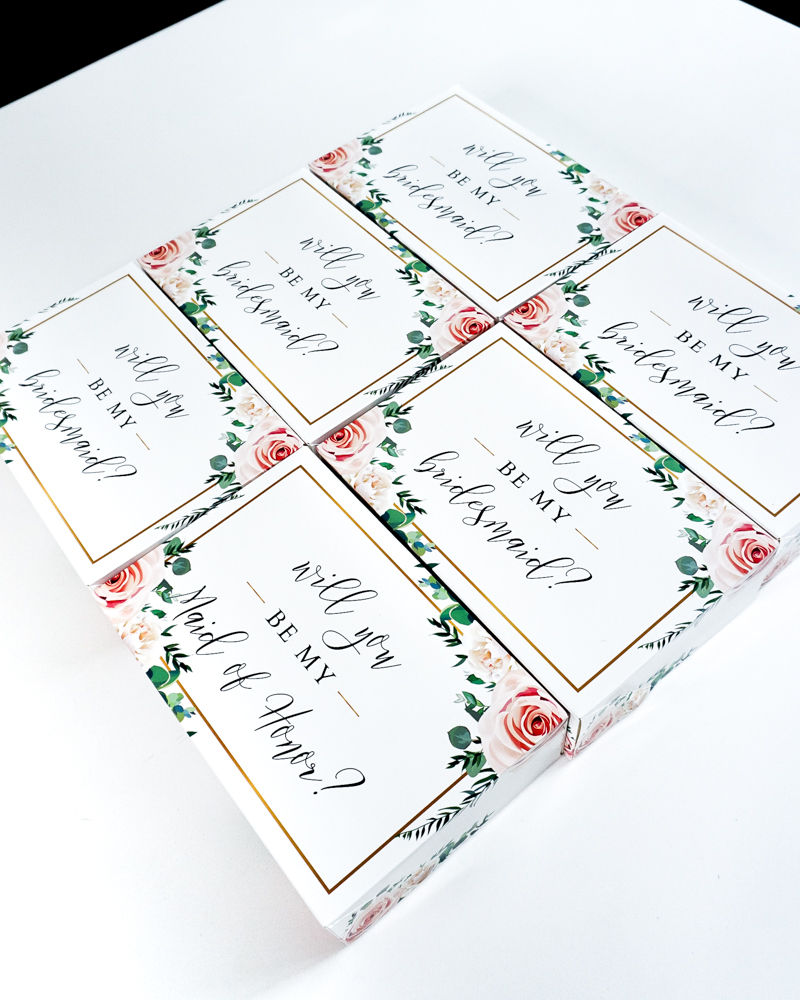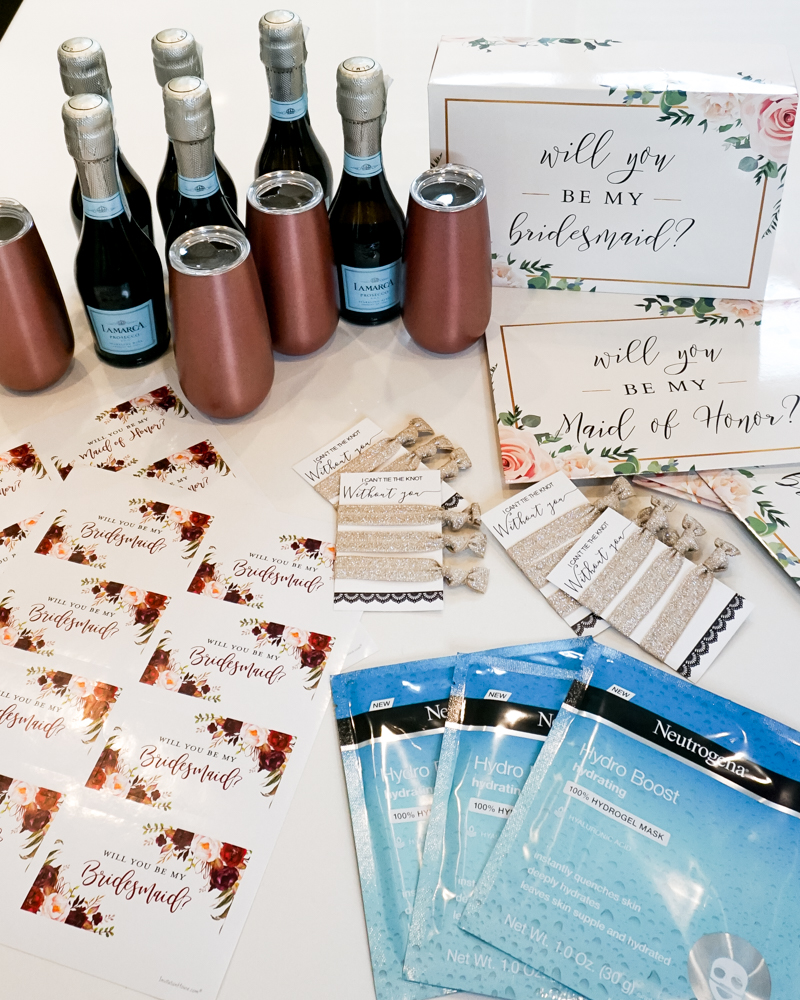 HOW TO BUILD A BRIDESMAID PROPOSAL BOX
Once you say yes to your proposal, it's time to start building your wedding team.  A bridesmaid proposal box is a fun and cute way to ask your future bridesmaids if they will stand next to you on your big day.  There is no one way on how to build a bridesmaid proposal box.  You could personalize each one per bridesmaid, create a theme for your box, or gift a few of your favorite things.
You can also find these boxes already made, but I chose the DIY approach which is more budget friendly and customizable.  I chose to go with a combo of themed gifts and a few of my favorite things for my box.  I searched for empty boxes which come in a variety of sizes, styles, and price ranges.  I ended up with these pretty white floral ones because the price was right, the wording was exactly what I wanted, and the look was very me.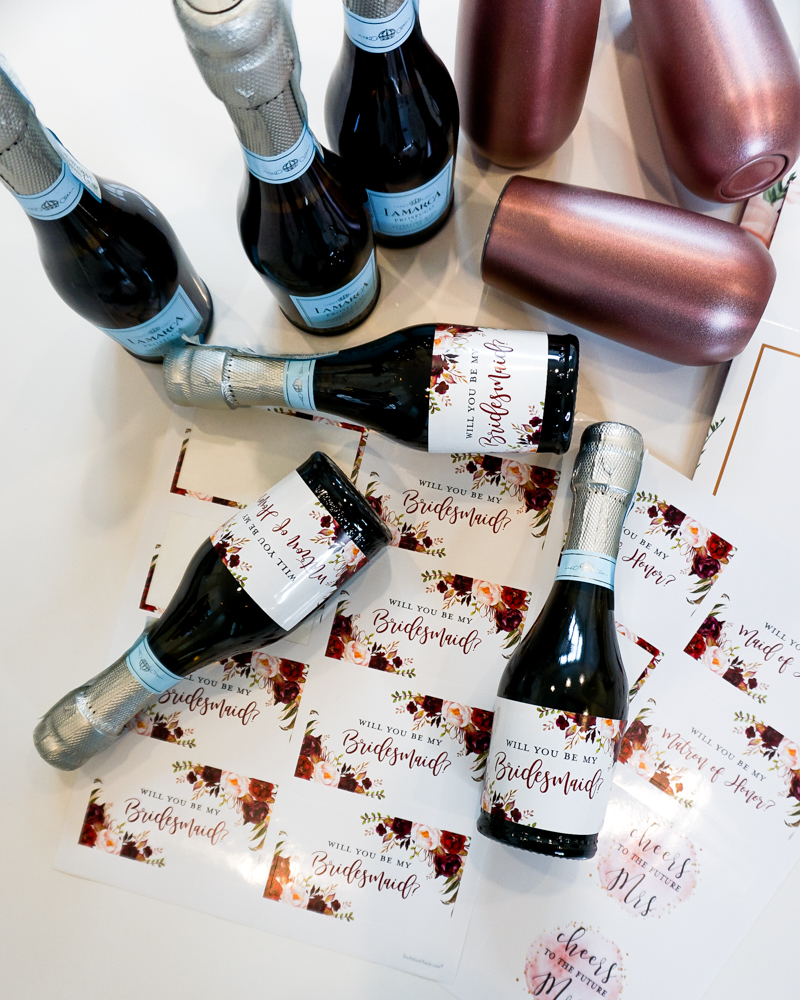 My box theme was a celebratory getting ready for the big day with your girls theme.
I've seen some boxes with full size bottles of wine and customized labels.  With the size I chose for my box, I needed a mini sized bottles.  These mini proseccos were the perfect size and a great celebratory wine choice.  I found labels that were similar in style to my box design.  You can also find shops on Etsy that will make customized labels for you.
These rose colored stemless wine tumblers were the perfect compliment to my mini prosecco, and a great reusable item to add to the box.  I had not yet decided on wedding colors, so I opted for a color that would match my box theme.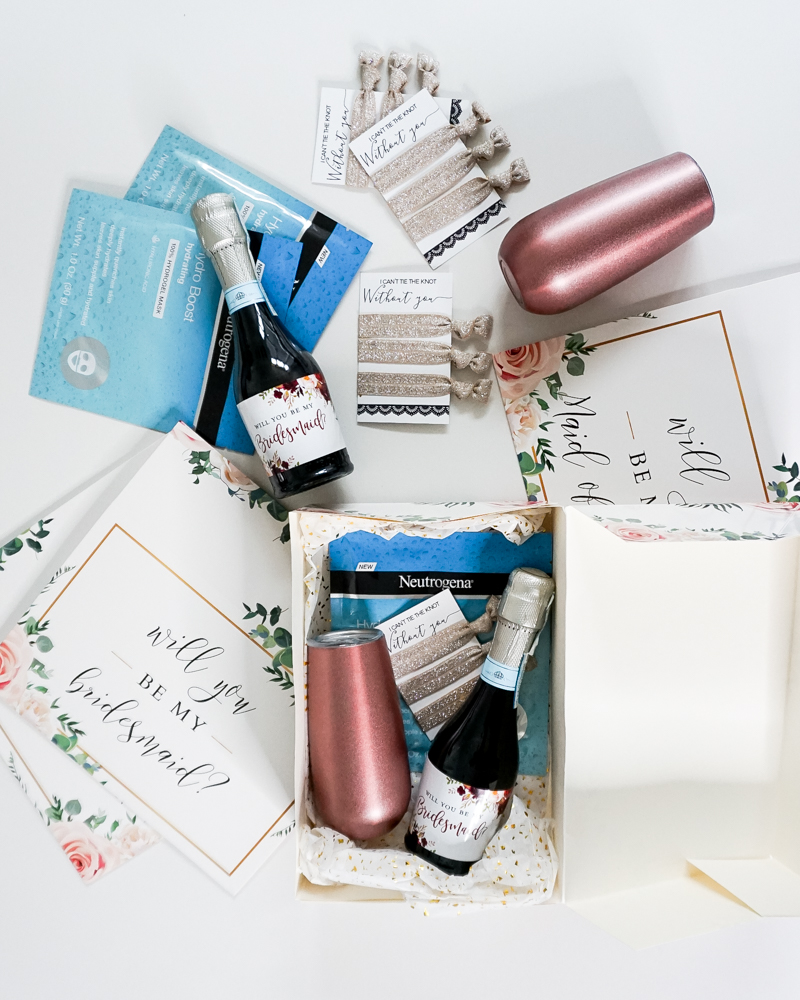 To keep with my getting ready theme, I tossed in one of my favorite sheet face masks.  It's one of my favorites for hydrating skin.  A sheet mask requires a pony tail holder, and these sparkly gold ones were the perfect pairing. I love the little quote on the packaging too.
These four items completed my box.  I pictured my bridesmaids sipping prosecco out of there wine tumbler with a face mask on and hair pulled back. Sounds like the perfect girls' night in, and exactly the theme I wanted for my box.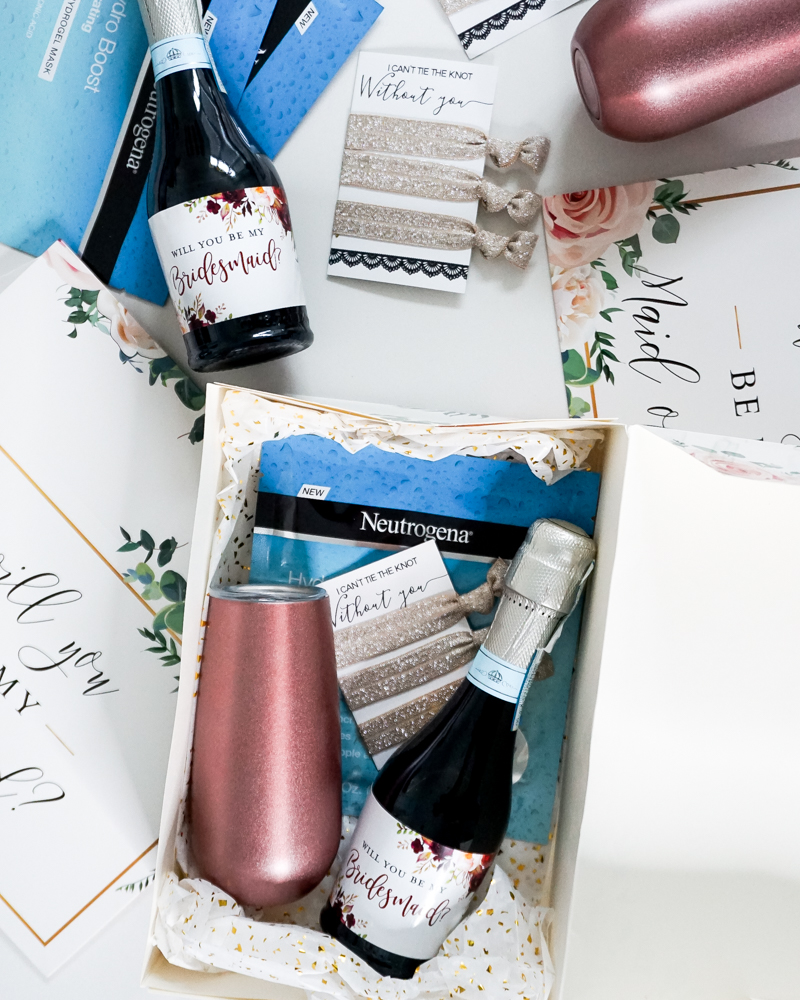 You can add more or less working with what is in your budget. I think the question the gift box asks is way more important than anything inside.  The inside goodies are just the added icing on the cake.  When planning your box, I would make sure the box fits you and your girl group and whatever you put inside will be perfect.
Other ideas: personalized or wedding theme cookies, lip balm, a candle, jewelry, personalized cup with straw, coffee mug, robe, pajamas, sleeping mask, cosmetic bag, trinked dish, monogrammed compact mirror, personalized note cards, body butter, bath bomb.  You could also just send a beautiful flower arrangement with a proposal card attached.
How do you deliver your bridesmaid proposal boxes?
I did 3 seperate deliveries.  My bridesmaids included 4 friends and 2 sisters.  My girlfriends and I periodically get together, so I snuck my boxes in to one of those beforehand to pass out.  It helped that my Maid of Honor was the host that month, so I could give her the Maid of Honor box first before everyone arrived.  For my sister and sister-in-law, I gave them their boxes at family gatherings.
Other delivery ideas: Drop off the box at their house.  Send it in the mail. (Note: You can't ship alcohol to all places.) Host a small dinner party or happy hour for your bridesmaids.  Invite each out to coffee or dinner individually.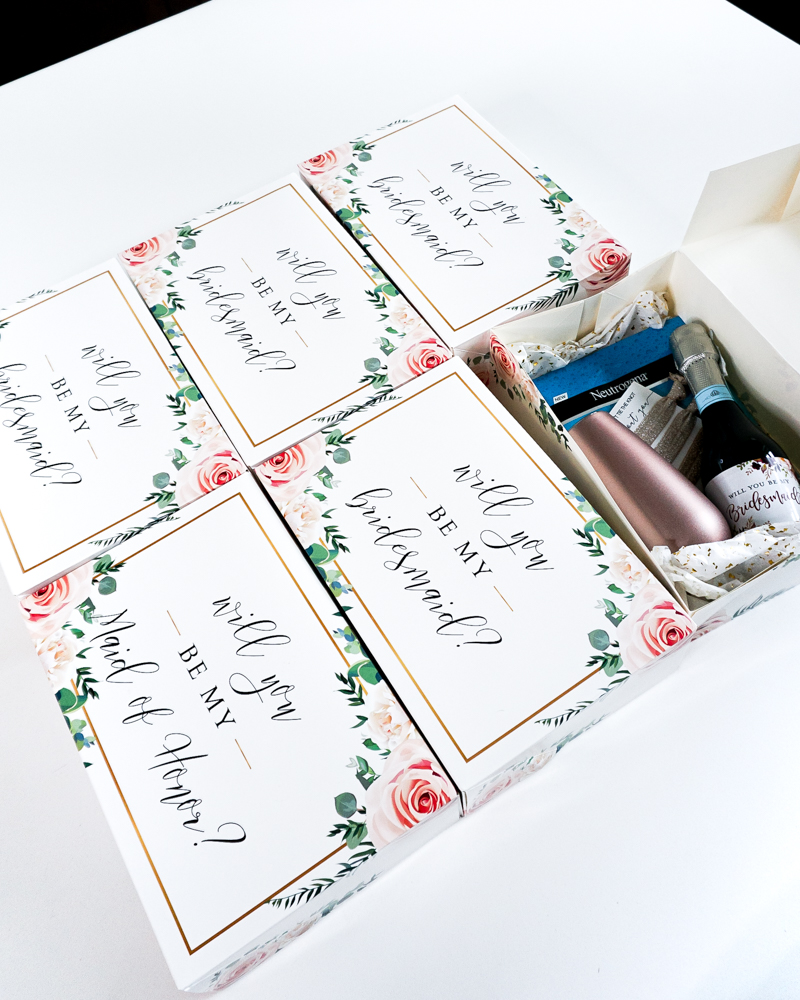 These boxes were fun to put together and pass out.  Picking our wedding party was one of the first things we did, so these boxes were my first wedding project.
SHOP THE BOXES