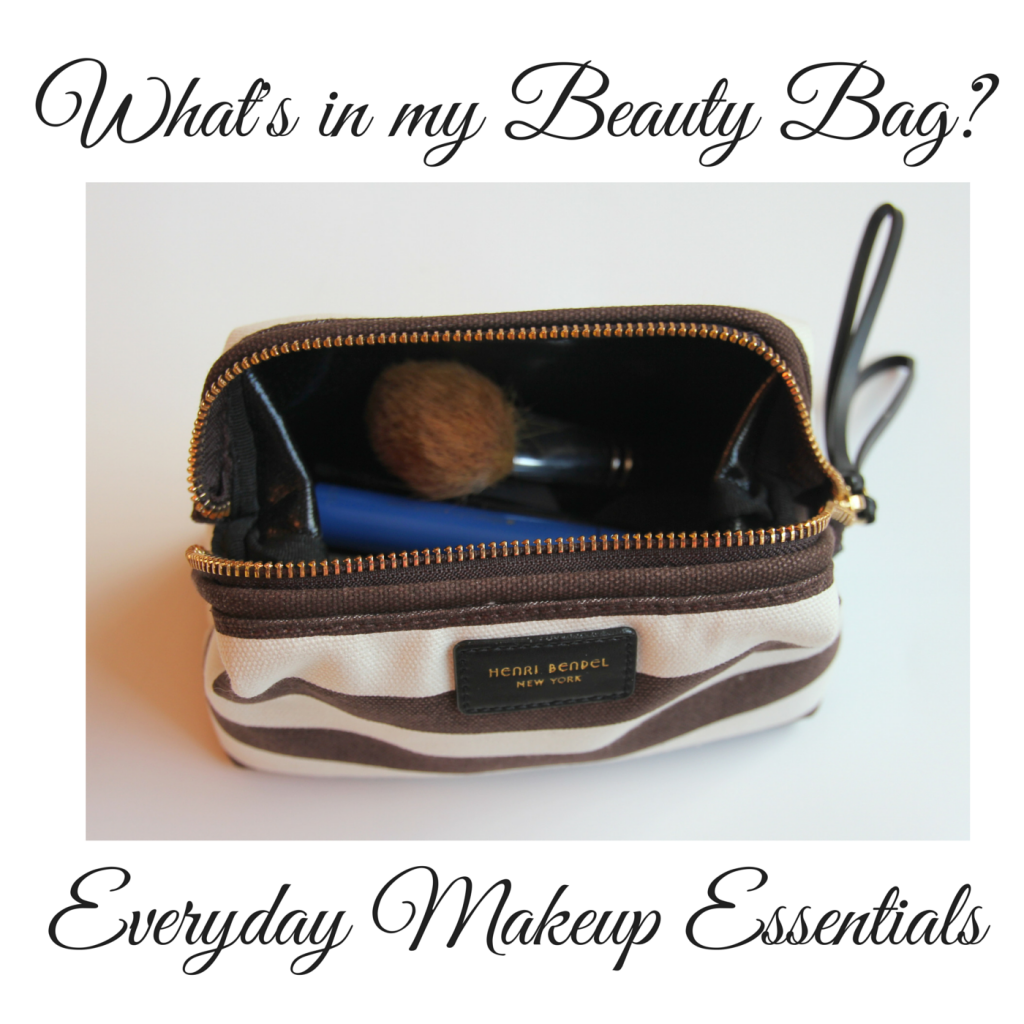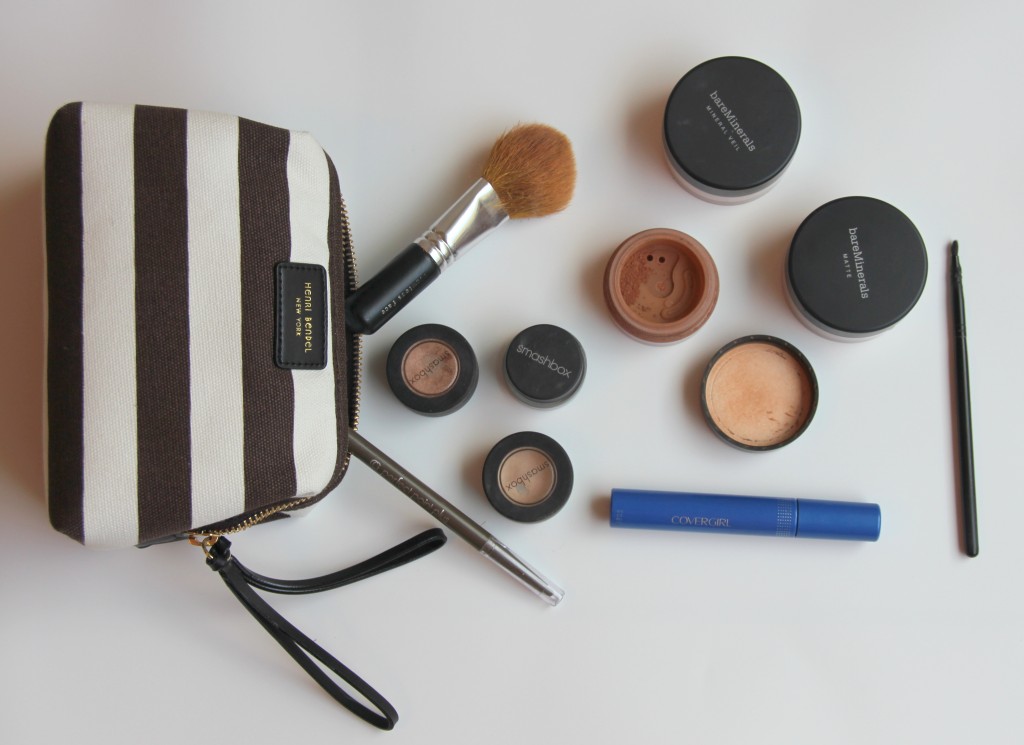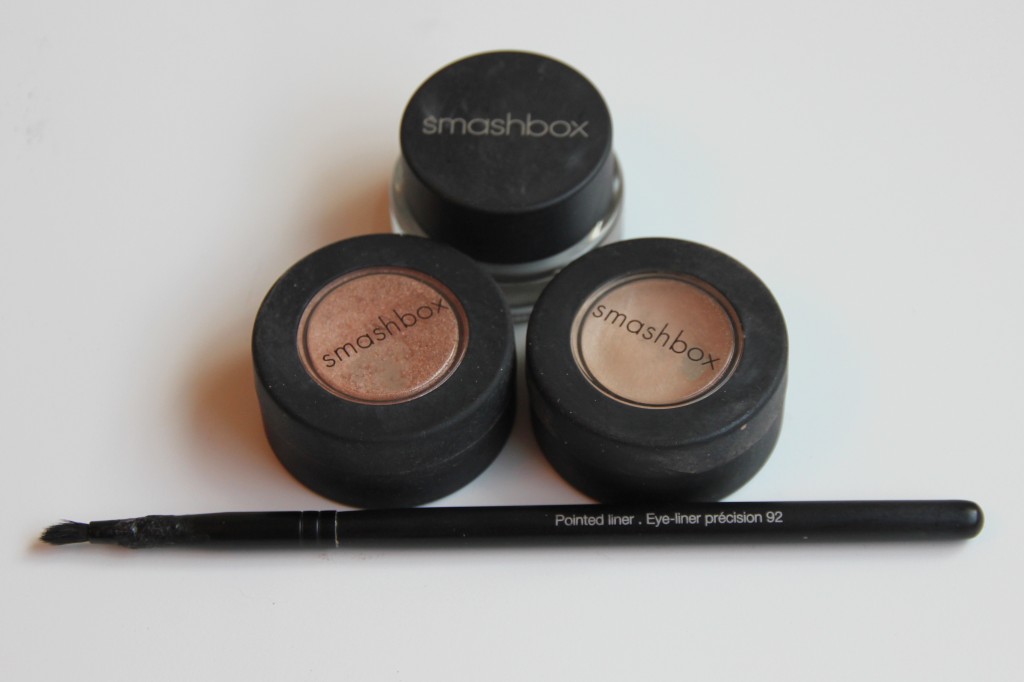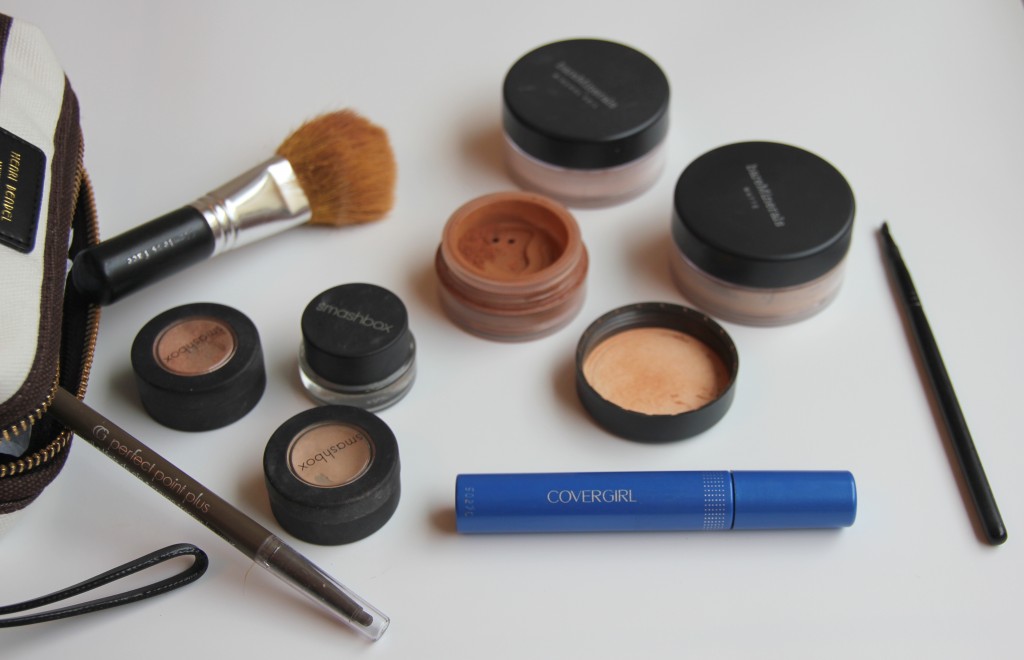 | DETAILS |
BARE MINERALS Matte SPF 15 Foundation, All-Over Face Color in Warmth, Mineral Veil, Full Coverage Flawless Face Brush  | SMASHBOX Single Eye Shadow in Bliss and Shell | SMASHBOX Jet Set Waterproof Gel Eyeliner | SEPHORA Classic Precision Liner Brush #92 | COVERGIRL Perfect Point Plus Eyeliner | COVERGIRL Professional Start Waterproof Mascara | HENRI BENDEL Small Signature Stripe Canvas Dopp Kit
I thought it would be fun to start a new monthly feature all about BEAUTY products!  Fashion and styling is my first love, but I also love talking makeup, hair products, and beauty secrets too.  I hope to use this monthly feature to share products that are old favorites and new loves.  I thought for my first feature, I would share some of my everyday makeup essentials.  I have used the Bare Minerals system for years!!!  I can't even tell you how long.  I have never been big on wearing liquid foundations for everyday wear, so I wanted a powder that also provided good coverage.  I start by applying a daily moisturizer to my face, and concealer for any trouble spots or blemishes.  Then, I apply a layer of the Matte Foundation.  I always get the SPF version to add a little sun protection.  I follow up with just a touch of the Warmth color.  Be careful on this one, a little goes a long way!!  I finish up my foundation coverage with a light dusting of the mineral veil which just kind of gives a nice finishing look.
After that it is on to eyes.  Eye makeup is probably one of my favorite things.  I remember when I was young, my dad gave me an eyeshadow box with like 100 colors for Christmas.  Thirteenish-year old me was in heaven!!!   For my everyday eye makeup, I keep things a little simple.  I stick with a neutral cream color for under my eyebrow, and this shimmery tan color for on my eyelid.  For my lower lash line, I use this Covergirl liner in gray.  I think the gray helps the eye pop without the intensity of lining my whole eye in a dark black color.  I do also have it in black to transition my eyes to a night look, plus for touchups of my upper lash line.  I used to love liquid eye liner until my Sephora salesperson introduced me to the Jet Set eye liner.  This is another product I have been using for years!!  You do have to use a brush to apply, and my favorite is the pointed liner by Sephora.  This eye liner is a thick gel that goes on smooth like a liquid liner, but you have a little more flexibility than liquid if you make a mistake and no drying time.  The color lasts all day on my eye, unlike a pencil which can fade a bit throughout the day. This small container lasts me for what feels like forever or at least about 4 months.  I only apply it to my upper lash line.  I finish up my eyes with waterproof mascara in a dark black color.  I started wearing this Covergirl mascara in college when I was usually broke from shopping too much.  I still love it, and have never really looked into a fancier mascara.
I hope you enjoy this new monthly beauty feature!  If you have any other questions regarding any of these products, feel free to shoot me an email at karen@ladyinviolet.com.
Follow Lady in Violet INSTAGRAM | TWITTER | FACEBOOK | BLOGLOVIN | EMAIL SUBSCRIPTION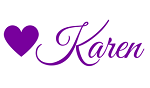 Love this post? You may also love: